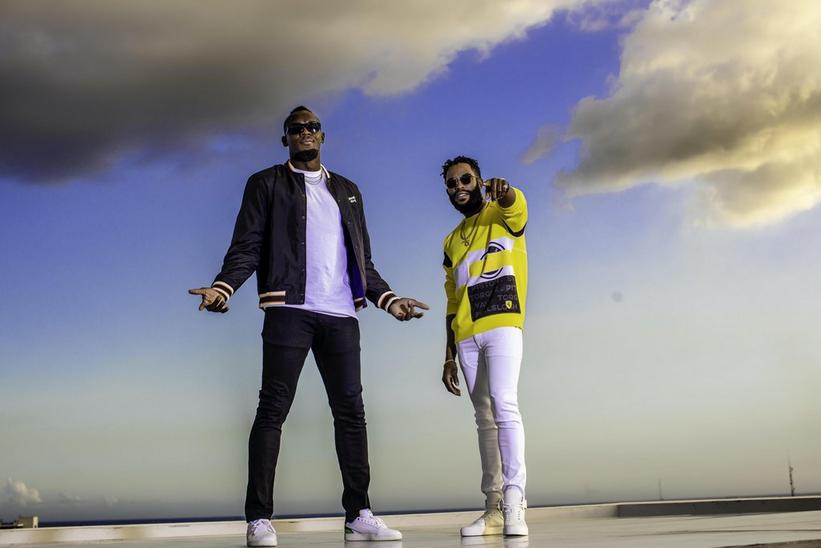 Usain Bolt & Nugent "NJ" Walker
news
Olympian Usain Bolt Gives Track New Meaning In Debut Reggae Album, 'Country Yutes'
Jamaican gold medalist and musician Usain Bolt joins GRAMMY.com to discuss his musical upbringing, working with best friend NJ on his new album, 'Country Yutes,' and his run-in with Drake
GRAMMYs
/
Sep 10, 2021 - 01:11 am
It's only right Usain Bolt is in a sprinter van.
It's just past noon and the Jamaican gold medal sprinter is in a cozy Dolce & Gabbana hoodie traveling towards London where the weather's cooled off and the twilight summer September sun's blocked by clouds. Lately, Bolt's got a melodic itch he can't scratch hard enough if he had more than two hands. He owes this burning calling to cherished childhood memories tagging along with his father Wellesley to community concerts. It was there he grew up on Bob Marley, Bounty Killer and Beenie Man.
The itch gives way to a craving and the craving gives way to an insatiable appetite for RAD music–or reggae, Afrobeats and dancehall–all packaged up into an album aptly called Country Yutes, a body of music winking at Bolt's past as a kid in rural Sherwood Content, a small town in Trelawny Parish, Jamaica.
Following his family's relocation to the city Kingston in his promising youth, Bolt felt less than welcomed coming from what he calls the country. His story makes a full circle now, as he recorded the very album winking at those Sherwood Content days inside Kingston Big Yard recording studio in the Eastwood Park neighborhood.
This may come as a surprise to those more tapped into Bolt's sprints on tracks rather than his vocals. Either way, his runs on the tracks making up Country Yutes issue informed direction when it comes to respecting the storied sounds he's contributing to. At 35 years old, Bolt's activity in music dates back to a self-released 2019 mixtape. He's worked on music with dancehall stars such as Dexta Daps and Baby Cham. More comfortable in his role as a DJ Khaled-esque vibes curator and executive producer than ever before, Usain Bolt kept things close to home on Country Yutes, enlisting a childhood best friend Nugent "NJ" Walker to play leadman.
Speaking to Reggaeville, NJ let on that he played the keyboard in church. The friends assembled Country Yutes in a single room within the two-room studio note by note. The songs happened naturally. Released Sept. 3 on A-Team Lifestyle and United Masters, Bolt joins GRAMMY.com to discuss his musical upbringing, his album, and his run-in with Drake.
What's your earliest memory of music?
I'm from the country. Growing up, we started listening to Bob Marley at the age of six because there was a thing in Jamaica called Round-Robin that our parents would go to. At a young age, my dad would take me to go to the early part and send me home at night. That's my earliest part of all this.
Related: Popcaan Talks 'FIXTAPE,' Working With Drake And The Globalization Of Dancehall And Reggae
How musical is your family?
None of us played any instrument. I tried to play piano once. I wasn't very good.
Did you take lessons?
Mainly just in school and in music class, it was a little bit more difficult than I thought, so I just stuck to track and field.
Is the album title Country Yutes referencing your childhood?
Yeah, that's where I'm from. It's something that I came up with true to life. When we came to Kingston, we faced some challenges like oh, we're from the country. We got some negative feedback, some classicism. We're country. That's how we came up with the actual name of the album.
When was the first time you walked into a recording studio for this album?
It was sometime last year. Music was something we actually wanted to do. We felt the energy. Late last year we felt like we should do an album to put ourselves out there. That's when we started thinking about getting rhythms together.
Did you record in the United States?
No, in Jamaica. All in Jamaica.
In Trelawny?
In Kingston. We live in Kingston now.
What was the name of the studio?
Big Yards studio.
Read: How Music Is Helping The NBA's Top Lyricists Rebound In Orlando "Bubble," At-Home Quarantines & Beyond
Why do you think artists want to be athletes and athletes want to be artists?
We enjoy music as athletes. It helped hype us up or calm us down depending on the type of genre. For the artists, it's all about the hype to come to a sporting event to watch athletes perform at a high level. For me I've really been into that from a young age.
Why do you think it's taken so long for dancehall to become this popular globally?
I don't know, but for me dancehall music was always there. Shabba Ranks… all these guys over the years. Bob Marley impacted the world so much. People are really taking to it. People are putting effort into their music. Reggae music and dancehall have been on the scene for a minute. Hip-hop people always talk about reggae and dancehall. For me, Afrobeats came onto the scene and impacted the music industry.
What was the first song you made for the album?
"LIVING THE DREAM" was the first single we put out for the album. They said we shouldn't do music because we're track athletes. We did it to show people. As a youth, I didn't know I could be the fastest man in the world. Just living the dream and working hard, you know what I mean.
What was the last song you made for the album?
"RIP MY G." It's really about my friend Germaine Mason. He was a Jamaican high jumper who represented Great Britain. He died in a motorcycle accident in 2016. For me, that's what it was all about. We wanted to pay tribute to him.
Will you release more music videos?
Yeah but we're waiting to see what people like and then we'll do some videos for those.
How many songwriters did you bring in?
It was just my best friend and I. We just listened to music, put pen to paper, had different ideas and made it happen.
Were there songs you had to leave off the album?
Yeah, definitely. A few songs.
Sample clearance issues?
No, in music you have to be true to yourself. They just didn't fit.
Will you tour this album?
All depends on how it goes. The world is crazy right now but then again we'll see.
How much unreleased music do you have in the vault?
We just started music. We have a few but not a lot. We're working with a few artists over time. We just got into music.
What inspired the song "Days Like This?"
For me, it's just what people go through. Ups and downs. People look at me and think I live a perfect life. The album is about different levels. We're trying to show the world we're here to stay. We want to show them we're more than one dimension. That's why we switch from reggae and dancehall, with messages to music that makes you think.
What was the vision for the album cover?
NJ and I sat down and discussed. We took a weekend. We actually like the one we came up with. It gives a certain energy. I really enjoy it.
Did you sequence this tracklist yourself?
I'm not even going to lie, NJ did most of the sequencing. He sequenced the tracks how he wanted it.
What are your thoughts on dancehall in the States?
I think it fell off a bit but it's starting to come back. Koffee is always on top doing great [there]. It's just one of those things.
Lately, have you had time to record?
We dabble here and there but the focus is on the promotion, to get it to every corner of the world. The focus is to get it out and promote it as much as possible.
Why do you think athletes get backlash when they do something different?
People put us in a box. They want us to keep going until we retire. For me, track and field was great for me. That was a chapter of my life. Now I want to move onto another chapter. I never really listen to critiques. I've been going through that all my life. It's a part of it. I'm just going to work hard and dedicate myself to my craft.
What was your vision for the features?
It's just people that we know from the start. We're not trying to do too much, that's why there's only two features. It's just to get the music out there so people can see the level we're at and the moves we can make. When people start hearing and believing, we'll do more collaborations with different people.
Do you feel as if you could have gotten any features you wanted?
I'm not even truly thinking about that off bat. We got a lot of pushback at the start. It was all about just making music; "Yo we're serious." We didn't want to go to anybody and say, because I know them, "Let's do a collab," and they do it just because.
I want them to do it because I want them to believe in the music we're making. I didn't reach out to anyone. For me, this album is everything. I want to hear feedback and what people really think about the music and the work that we put in and if they think it's good or if it could be better. That's why we put time into it and put it out there for people to hear.
Do you think major labels and artists will respect you more for that?
I definitely think so. People could do it because of who I am, but I don't want them to do me a favor. I want them to see I really put the effort in.
Have you received feedback from industry people?
[In] the interviews I've done, I've gotten positive feedback. It's all been positive. Hopefully we continue on that trend.
How come we didn't see any bars on this album like we did in your late night television rap battle with James Corden a few years back?
I definitely want to mix it up but I have to start somewhere. So for me I want to start with reggae music and stick to our culture and then I can veer off in different ways.
Have you noticed the difference between making music and the actual music business?
Definitely. It's difficult, that's one thing I've learned. It's one of the major reasons why I did the first album with mainly just my friend. It's hard to get my people to record. I said 12, they show up at 6. They want to record for two hours and go. I said, you know what, let's just do this first and then we can start putting things together in a few years for a proper, different album.
What inspired the label name A-Team Lifestyle?
A-Team Lifestyle is something my friends and I came up with. We hang out all the time. That's our lifestyle. It's a lifestyle of what we live and we're just going to put it into the music.
Did you record most of this album during the day or at night?
Anytime we got inspired but I think it was mostly at night. It was easier. Quieter. Not as many people in and out.
Do you think that's because you lived a full day and had the opportunity to extract your daily experience at night?
For me, it was just better. The energy was just better. Sometimes our friend would be there. Sometimes it would be just us. Sometimes we'd just feed off the rhythm with friends and throw ideas out there.
What are your studio rules?
We don't have studio rules. I don't think we're there [yet].
So you don't have any pet peeves in the studio?
For me, we always just try to give ideas. If you really don't like something, speak up. That's one thing I've learned. A lot of guys don't like to be told that that shit doesn't sound good. They think you're a weird person. But sometimes you need someone to tell you that. Speak up so then we can discuss it.
Were you working out during the listening of this album?
Yeah. I'll listen and say we need more bass here or move the tune a little bit. It's good to listen to the music in the gym sometimes. I didn't do it a lot but I did a few times.
Would the gym and the road-trip be good listening environments for this album?
The gym overall and the road trip are the two things you will enjoy. Those give you time to listen to the full album while you're working out or traveling so you can pick your favorite song and pick your playlist.
Have you given some thought to building a home studio?
Definitely. I'm actually in the process of getting my house done. We just adjusted to put the studio inside.
Have you gotten into the habit of recording voice notes when inspired or when you think of a good idea?
Definitely. I keep a notepad. If I hear something, I would text it to NJ and say "What do you think about this?" One thing I've learned is music is different nowadays. Back in the day I think people were too focused on getting music too perfect. Because of social media, no matter how silly it might sound to you, that's what people might like.
How will your social media presence benefit your album?
I think it will help. A lot of my fans are stuck on me being a track athlete but they are coming around. It will take time. They give me good energy and good vibes. I'm getting new fans who are into music.
Do you plan on DJing?
DJing is something I will do. My biggest goal is to be like a DJ Khaled. When I was running, I would DJ at the after-parties. I understand music as a DJ. I'm not perfect but I can do it. I'm a hype guy.
Which celebrity artists have you met and received advice from?
I've had that discussion with Drake, he's really cool. We talked about life in general and how tough music is, especially about the tours he was doing. That was something.
What would you tell your 18-year-old self?
I really don't know. Well, it would be pertaining to track and field. Get serious early in life. That's what I would tell him.
Up Close & Personal: DJ Khaled Talks 'KHALED KHALED,' Brotherhood With JAY-Z & Nas, And Deep Love Of Reggae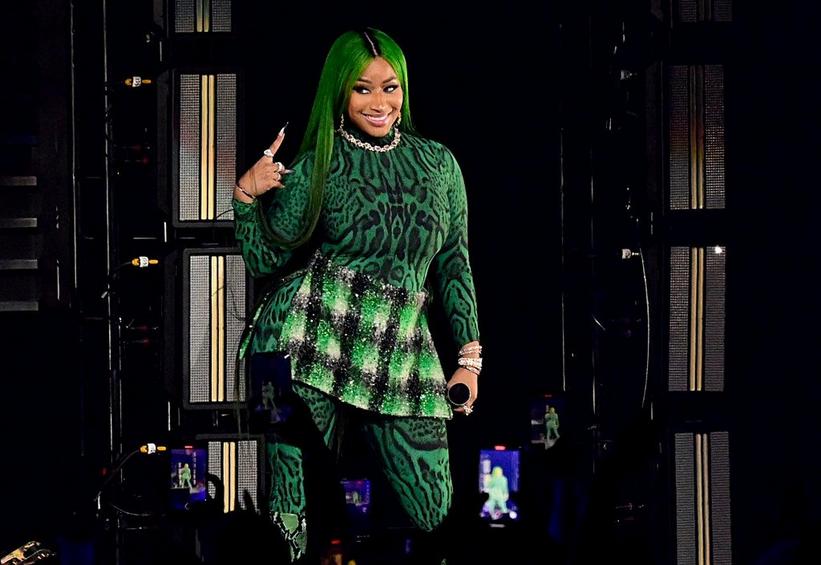 Nicki Minaj performs at Powerhouse NYC in October 2022.
Photo: Roy Rochlin/Getty Images for iHeartRadio
list
The Nicki Minaj Essentials: 15 Singles To Showcase Her Rap and Pop Versatility
Celebrating Nicki Minaj's new record label and her first single of 2023, "Red Ruby Da Sleeze," take a listen to 15 songs that highlight her talent as an MC and singer.
GRAMMYs
/
Mar 10, 2023 - 04:40 pm
Nicki Minaj is making some serious moves right now. Within the same week, the 10-time GRAMMY nominee released her first single of the year, "Red Ruby Da Sleeze," and announced that she has started her own record label — which has already signed several artists, including Rico Danna, a rapper from her hometown neighborhood of South Jamaica in Queens.
This multi-hyphenate star is clearly stepping on the gas for 2023. But as her Barbz know, Minaj has been hustling for more than 15 years, and it's still paying off: Just last year, the rapper landed her third No. 1 on the Billboard Hot 100 with "Super Freaky Girl" — her first unaccompanied chart-topper. 
As the latest Nicki chapter begins, get familiar with the essential songs in her discography that brought her to this point. Starting with the standout track from her very first mixtape, GRAMMY.com presents a roadmap to understanding the music of Nicki Minaj.
"Can't Stop, Won't Stop" (2007)
Minaj collaborated with Lil Wayne — an early mentor — on her first mixtape, Playtime Is Over. It's the first hint of the musical chemistry between the two, as they trade rhymes over the instrumental of "Can't Stop, Won't Stop" by Young Gunz.
"Now, it's not hard to find me/ Top behind me/ You be Harry Potter, and I'll be Hermione," Minaj rapped to Tunechi on the track, foreshadowing how big they'd become together in the years to come.
"Itty Bitty Piggy" (2009)
The breakout song from her third mixtape Beam Me Up Scotty, Minaj declares that she's "the baddest in the game" on "Itty Bitty Piggy."
"It's me — I win, you lose!" she taunts on the track. Elsewhere, Minaj also shows off her confidence by offering to sign her fans' boobs and inviting other female rappers to pick her fruit out and to be her personal shoppers.
"Up Out My Face (Remix)" (2010)
Mariah Carey recruited Minaj for this sassy duet that serves as an early warning shot that she was ready for her pop music close-up. She distinguishes herself by rapping about cheaters and scrubs in American and English accents.
"My Chick Bad" (2010)
Minaj's sports and horror icon-laden verse on Ludacris' "My Chick Bad" shows how she was morphing into an outsized pop culture character of her own.
"Running down the court, I'm dunkin' on 'em, Lisa Leslie," she rapped, namechecking a WNBA star. On the track, she also compares herself to Friday the 13th movie killer Jason Vorhees and Freddy Kreuger from Nightmare on Elm Street.
"Moment 4 Life" (2010)
"Moment 4 Life," which features a guest verse from Drake, is the song that catapulted her from the early fame of appearing on songs from other artists to becoming recognized as a solo artist in her own right. The sixth collaboration between the two friends is also the most acclaimed of their work together, as the song was nominated for Best Rap Performance at the 54th GRAMMYs.
"In this very moment, I'm king," she proclaimed on the song.
"Roman's Revenge" (2010)
A week after dropping jaws with her guest verse as her alter ego "Roman Zolanski" on Kanye West's "Monster" (which also features Jay-Z, Rick Ross and Bon Iver), Minaj released her own full-length song called "Roman's Revenge." It's an electric duet featuring Eminem that finds her spitting lyrical fire like "a dungeon dragon."
"Super Bass" (2011)
Minaj's first solo top five hit — landing at No. 3 on the Billboard Hot 100 — solidified her pop star status with its catchy, sung chorus. The endearingly bouncy love song has earned a rare Diamond certification for sales of more than 10 million in the U.S. — her only single to achieve the feat to date.
"Starships" (2012)
Though Minaj had flirted with EDM-style tracks alongside David Guetta in 2011, her own club track "Starships" has the most soaring energy. Produced by RedOne, the song showcases Minaj's versatility with singing and rapping for an international audience.
"Anaconda" (2014)
A playful interpolation of Sir Mix-A-Lot's 1992 booty-popping hit "Baby Got Back," "Anaconda" is one of many examples of Minaj's sampling prowess. On the fun, uptempo track, she celebrates the pleasures of "missing no meals" and shouts out bodies that have extra to grab. The cheeky tune nabbed Minaj her first GRAMMY nomination for Best Rap Song in 2015.
"Bang Bang" (2014)
An infectious hit that earned Minaj her sole nomination for Best Pop Duo/Group Performance, "Bang Bang" positioned Minaj as a pop star alongside Jessie J and Ariana Grande. As she raps on the song, she brings "Nicki full throttle" with her verse, with dextrous rhyming as well as vocals that keep up with the powerful pipes of her collaborators.
"Truffle Butter" (2015)
Arguably the highlight of Minaj's collaborations with Drake and Lil Wayne, "Truffle Butter" finds the three rappers flowing over a slowed-down and pleasingly off-kilter dance beat, which was sampled from Maya Jane Coles' 2011 house music stunner, "What They Say." "Truffle Butter" earned Minaj one of her three GRAMMY nominations in 2016, and her second for Best Rap Performance.
"Chun-Li" (2018)
In this boom-bap-style track, Minaj takes on the role of Chun-Li, the woman in the Street Fighter video game series, spitting her verses over a horn riff that propels the listener into an action adventure. Though the character is not an antagonistic player in the game, Minaj crafts Chun-Li as a villain, spitting, "They need rappers like me/ So they can get on their f—ing keyboards and make me/ The bad guy, Chun-Li."
"Tusa" (2019)
Recognizing Minaj's global appeal, Colombian reggaeton artist Karol G reached out to collaborate on "Tusa." The bilingual song brought some significant firsts for Minaj: it was No. 1 on the Hot Latin Songs chart in the United States, topped pop charts all over South America and was nominated for both Record Of The Year and Song Of The Year at the Latin GRAMMYs in 2020.
"In her verse, she says: 'It's me and Karol G, and we let the rats talk.' I died, I revived, I died and revived again until I understood Nicki Minaj had said my name in her verse," Karol G excitedly told Billboard.
"Do We Have a Problem" (2022)
Minaj's versatility as an MC shines on her recent collaboration with Lil Baby, which is accompanied by a mini movie where she plays a sexy and fearsome double agent. Her lyrical fierceness is distinct from her pop songs, and is a welcome return to her earliest approach to rapping — with her voice taking multiple tempo twists and turns along the way.
"Red Ruby Da Sleeze" (2023)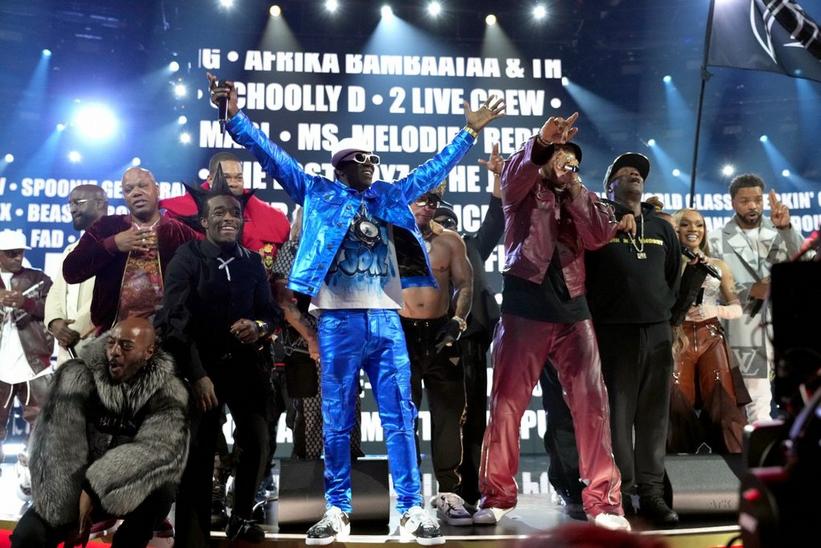 LL Cool J, Flavor Flav, Busta Rhymes, Lil Uzi Vert, Nelly, Spliff Star, Queen Latifah, Ice-T, Chuck D, Joseph Simmons, Darryl McDaniels, Grandmaster Flash, and Black Thought at the 2023 GRAMMYs
Photo: Kevin Mazur/Getty Images for the Recording Academy
list
How Hip-Hop Took Over The 2023 GRAMMYs, From The Golden Anniversary To 'God Did'
It's the 50th anniversary of hip-hop, but the 2023 GRAMMYs celebrations didn't stop at the epic, MC-saturated blowout. Here are five ways the genre took over Music's Biggest Night.
GRAMMYs
/
Feb 6, 2023 - 10:06 pm
The 2023 GRAMMYs' ambitious, world-beating tribute to hip-hop's 50th anniversary is getting a lot of ink — for a very good reason.
Featuring an ensemble ranging from progenitors like Grandmaster Flash and Run-DMC, to legends such as Too Short and Missy Elliott, and modern-day practitioners like Lil Baby, GloRilla and Lil Uzi Vert, the tribute segment was stunning not only on a logistical level, but on conceptual, emotional and historical planes.
But the Recording Academy's tribute to this landmark in time wasn't siphoned off to that 15-minute segment — not even close. In fact, the entirety of Music's Biggest Night radiated with the courageous, intrepid, forward-thinking spirit of hip-hop.
The tribute performance was just one of many nods to rap during GRAMMY week. Days before, Lil Wayne, Missy Elliott and Dr. Dre were honored by the Recording Academy's Black Music Collective in a ceremony that contained performances by Snoop Dogg, 2 Chainz and Ciara. And the pre-GRAMMY gala featured a performance from Weezy, Latto and Lil Baby.
At Music's Biggest Night, the hip-hop love roared fully to life. Here are five ways hip-hop took over the 2023 GRAMMYs, a foreshadowing of an entire year in celebration of the epochal artform — with the extended hip-hop tribute as a springboard.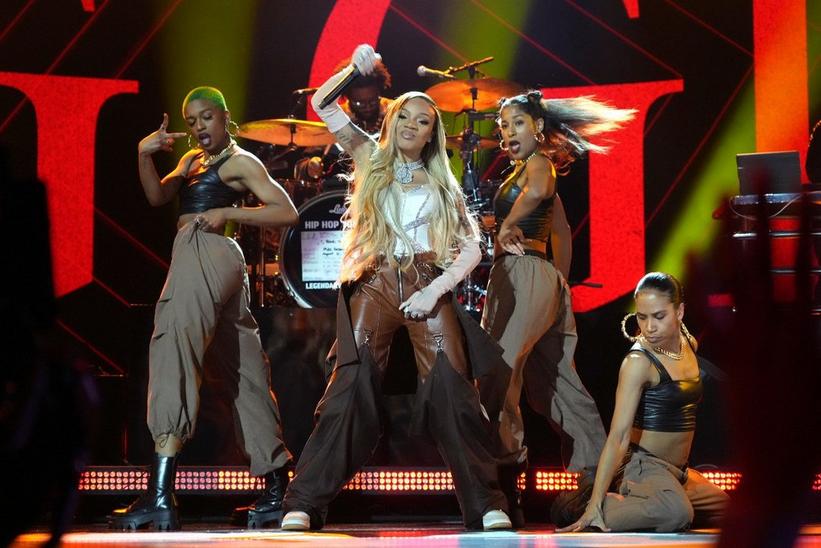 GloRilla performing at the 2023 GRAMMYs. Photo: Getty Images for the Recording Academy
A Global Hip-Hop Rager For The Ages
Until Music's Biggest Night, to fit hip-hop's evolution and essence into 15 minutes would seem logistically untenable. But the Academy did the impossible.
The Questlove-curated set moved lightning-quick from '70s and '80s pioneers, to 2000s radio dominators like Nelly, all the way to the current era.
Like with the last Super Bowl's ensemble cast of rap greats, the result was emotionally walloping, historically edifying and visually spectacular.
Most importantly, the music was exceptional — a tip of the hat to a precious form of American expression. To anyone who still subscribes to some form of stigma — you don't know what you're missing.
The Rap Categories Contained Serious Jewels
Let's take a step back, though, and examine the 2023 GRAMMYs' hip-hop nominees and winners themselves.
Kendrick Lamar was well-represented in both the General and Rap fields, and commensurately for Mr. Morale and the Big Steppers and Lamar's non-album single "The Heart Pt. 5."
For the former, Lamar won Best Rap Album; for the latter, Best Rap Song and Best Rap Performance. With the success of "The Heart Pt. 5," he is now the most-awarded artist in the latter category.
Together, these offerings comprise something of a creative and emotional watershed for Lamar. As for Pusha T, It's Almost Dry — nominated for Best Rap Album — contained some of his most crystal-sharp coke raps to date.
Plus, the sheer range of guests on DJ Khaled's GOD DID — nominated for Best Rap Album — could be the ultimate testament to his indomitable spirit, curatorial acumen and infectious sense of largesse.
This also applies to fellow nominees from Future, who won Best Melodic Rap Performance for "WAIT FOR U," to Jack Harlow, who was nominated liberally throughout the Rap field.
Given the level of craft throughout, hip-hop isn't just ripe to be celebrated for its past, but for its boundless future.
Dr. Dre Was Presented With A Global Impact Award
At the 2023 GRAMMYs, seven-time GRAMMY winner Dr. Dre was the recipient of the inaugural Dr. Dre Global Impact Award for his multitude of achievements through his innovative, multi-decade career.
Dr. Dre was presented the award after a plethora of televised bona fides, and offered his thanks to the Recording Academy and Black Music Collective for the prestigious honor in light of the Recording Academy's celebration of the 50th anniversary of hip-hop.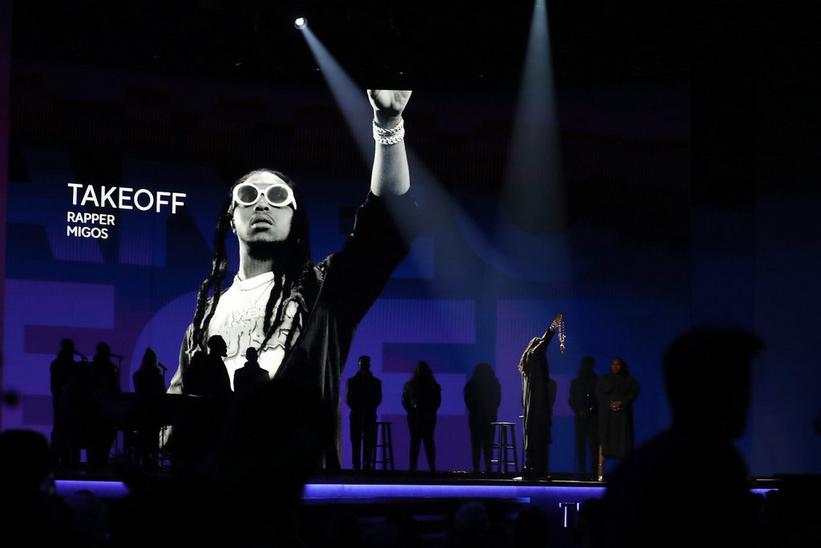 A tribute to Takeoff during the 2023 GRAMMYs. Photo: Getty Images for the Recording Academy
Quavo Performed A Moving Tribute To The Late Takeoff
There's a bittersweetness to celebrating hip-hop on a global scale in 2023, as so many of its best and brightest have died far too young in recent years.
Among these tragedies was the senseless death of Takeoff, one-third of the family-bound rap trio Migos, along with Offset and Quavo.
Read More: Remembering Takeoff: Why The Unassuming Rapper Was Foundational To Migos
As part of the In Memoriam segment, backed by worship ensemble Maverick City Music, Quavo honored his late nephew with a soul-searing version of "Without You."
"Tears rollin' down my eyes / Can't tell you how many times I cried," he rapped before an empty microphone stand, poignantly hung with Takeoff's chain. "Days ain't the same without you / I don't know if I'm the same without you."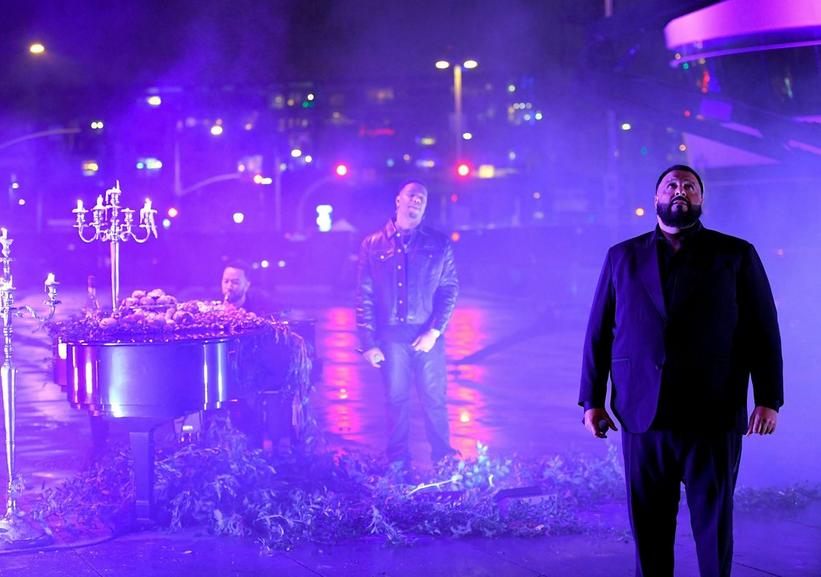 John Legend, Fridayy, and DJ Khaled performing at the 2023 GRAMMYs. Photo: Kevork Djansezian/Getty Images for The Recording Academy
DJ Khaled & Company Closed The Curtain With "GOD DID"
At the end of the ceremony, DJ Khaled brought out collaborators Jay-Z, John Legend, Lil Wayne, Fridayy, and Rick Ross for a rendition of GOD DID's title track, which was nominated for Song Of The Year, Best Rap Song and Best Rap Performance.
Seated horizontally in an opulent, Last Supper-esque tableau, the stars sang their hooks while bathed in purple light, closing out the 2023 GRAMMYs with laconic flair.
It was a fitting conclusion to Music's Biggest Night, one that placed hip-hop where it belongs: on the top shelf.
2023 GRAMMY Nominations: See The Complete Winners & Nominees List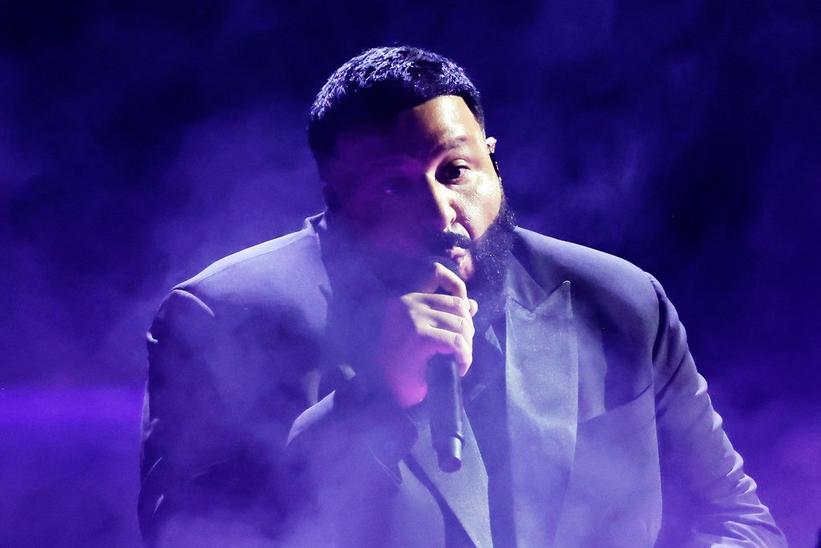 DJ Khaled performing at the 2023 GRAMMYs.
Photo: Kevin Winter/Getty Images for The Recording Academy
news
DJ Khaled Brings "God Did" To Life Alongside Jay-Z, Lil Wayne, Rick Ross, John Legend, & Fridayy | 2023 GRAMMYs
Music's Biggest Night wrapped up in star-studded fashion thanks to DJ Khaled, who joined his "GOD DID" collaborators Rick Ross, Lil Wayne, John Legend, Jay-Z and Fridayy for an epic show-closing performance.
GRAMMYs
/
Feb 6, 2023 - 05:28 am
DJ Khaled closed out the 2023 GRAMMYs with a star-studded squad including Jay-Z, John Legend, Lil Wayne, Fridayy, and Rick Ross on their collab "GOD DID."
Spilling into the street outside L.A.'s Crypto.com Arena, the assembled MCs and singers spit their verses and sang their hooks awash in purple light, with Legend seated behind a piano covered in flowers while the rest sat at an opulent, overflowing table in the style of the Last Supper.
"They didn't want us to win! So I made sure I was on the GRAMMYs stage with the biggest! This is for hip-hop!" Khaled shouted in between verses by Ross and Lil Wayne. And later, Jay-Z stole the spotlight as he testified, "These ain't songs, these is hymns 'cause I'm him/ It's the Psalm 151, this New Testament/ The book of Hov/ Jesus turned water to wine/ For Hove, it just took a stove."
The praiseworthy banger raked in three nominations at this year's awards show, including Song Of The Year, Best Rap Song and Best Rap Performance. The album GOD DID was up for Best Rap Album.
The superproducer scored a sixth nomination in the Best Melodic Rap Performance category for "BEAUTIFUL," the Future and SZA-assisted album cut off GOD DID. He nabbed an additional nomination as a guest artist on Mary J. Blige's Good Morning Gorgeous (Deluxe), which is nominated for Album Of The Year.
Over the course of 2022, GOD DID earned Khaled his seventh career Top 10 hit on the Billboard Hot 100 thanks to lead single "Staying Alive" featuring Drake and Lil Baby. It also became his fourth chart-topping album on the Billboard 200.
Check out the complete list of winners and nominees at the 2023 GRAMMYs.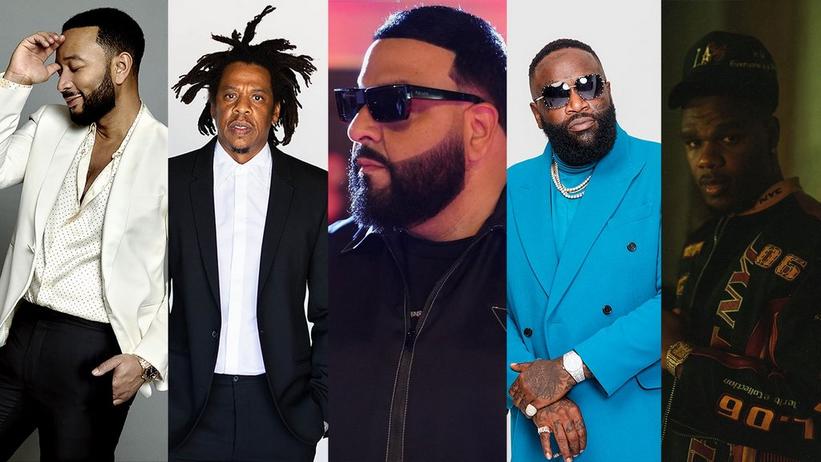 (L to R): John Legend, Jay-Z, DJ Khaled, Rick Ross, Fridayy
Photos Courtesy of the Artists
news
DJ Khaled To Perform "God Did" At 2023 GRAMMYs With Musical Collaborators Fridayy, Jay-Z, John Legend, Lil Wayne, And Rick Ross
The GRAMMY-nominated performer will perform at Music's Biggest Night broadcast live from Crypto.com Arena in Los Angeles Sunday, Feb. 5.
GRAMMYs
/
Feb 3, 2023 - 07:56 pm
GRAMMY-nominee DJ Khaled is set to appear on the 2023 GRAMMYs telecast with his musical collaborators Fridayy, Jay-Z, John Legend, Lil Wayne, and Rick Ross to perform "God Did", his track nominated for this year's Song Of The Year.
DJ Khaled is nominated for six GRAMMY Awards this year, with five of those nominations for "God Did" including, Song Of The Year ("God Did"), Album Of The Year (God Did), Best Rap Song ("God Did"), Best Rap Album (God Did), Best Rap Performance ("God Did"), and Best Melodic Rap Performance ("Beautiful").
Music's Biggest Night will be broadcast live from Crypto.com Arena in Los Angeles Sunday, Feb. 5 (8:00 - 11:30 PM, live ET/5:00 - 8:30 PM, live PT). It will air on the CBS Television Network, stream live and on demand on Paramount+.
Before, during and after the 2023 GRAMMYs, head to live.GRAMMY.com for exclusive, never-before-seen content, including red carpet interviews, behind-the-scenes content, the full livestream of the 2023 GRAMMY Awards Premiere Ceremony, and much more.