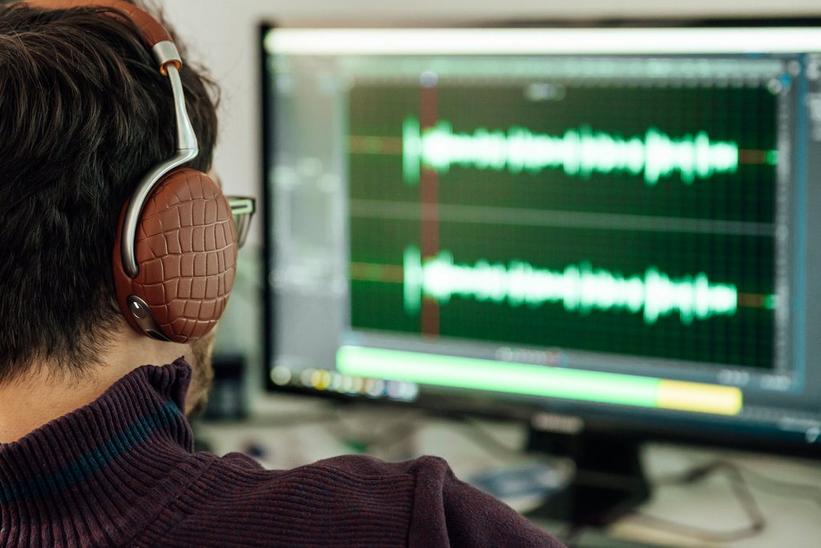 Photo: Eduard Goricev / EyeEm
feature
The Expanding Universe of Music Sync: How It Works, Understanding The Opportunities
Sync is one of the hottest parts of the music industry today, offering new opportunities for songwriters and recording artists. In this explainer, GRAMMY.com unpacks the sync landscape, from different sync opportunities to how professionals get paid.
GRAMMYs
/
May 3, 2023 - 02:34 pm
The following article does not represent the opinions or recommendations of the Recording Academy or its staff. 
When Kate Bush's "Running Up That Hill" was featured on a May 2022 episode of the popular Netflix streaming series "Stranger Things," the response was staggering. First released in 1985, "Running Up That Hill" re-entered the UK singles chart, eventually reaching the No. 2 spot. In the U.S., the song peaked at No. 3. Meanwhile, Spotify streams for the 37-year-old song increased by 9,900 percent in the U.S. alone.
The renewed runaway success of Bush's signature tune might have been unexpected, but its use in "Stranger Things" was deliberate: The song was chosen to synchronize with the onscreen images. Grieving over the death of her brother, Sadie Sink's character Max draws strength from repeated listens to the song.
Thanks to these kinds of uses of music, songwriters and artists are finding a potential new source of strength in their own careers. And that practice of song placement in motion pictures — music sync — is one of the hottest parts of the music industry today. 
Music sync offers new opportunities for songwriters and recording artists alike, whether they're music industry veterans or young artists seeking to find their way in the music business landscape.
In its mid-year 2022 report on music revenue, the Recording Industry Association of America estimated the value of "synchronization royalties" for the first six months of the year at $178 million. That figure represents a 29.9 percent increase over the same period a year earlier. According to research service Music & Copyright, as much as 17 percent of all music publishing revenues now come from sync licensing.
What Are The Primary Markets & Emerging Opportunities For Music Sync?
The bulk of music synchronization opportunities come from the traditional markets of film, television, advertisements and gaming. Catalog music from established artists, contemporary material and new music written specifically to sync with the images on screen can all become key components in these audiovisual media. 
Film and television applications account for the majority of sync uses in recent years; that growth tracks with the significant upswing in streamed content from services like Disney+, HBO Max, Hulu, Netflix, Peacock, and Paramount+. Figures on the use of sync in gaming aren't as easily available, but anecdotal evidence suggests that it's greater than thought, and growing, too.
Rich Robinson of Warner Chappell Music notes that his company has observed an industry-wide increase both in sync content and in the variety of platforms for it, though more traditional media remain strong. "We've definitely seen a growth in TV over the longer term," he says, adding that the market for sync licensing in advertising can be volatile. "How [much] brands spend on advertising is intrinsically linked to the economic climate."
However, "media these days is so expansive," says Sam Loughlin, Creative Licensing & Production Services Manager at digital music distributor Music Gateway. "Podcasts, audiobooks and e-sports are huge these days. And obviously, there's social media as well."
Global Sync Licensing Trend Report, a 2022 white paper commissioned by music licensing platform Songtradr and Digital Music News, also identified new placement opportunities in gaming, long-form web content and fitness platforms.
Wendy Griffiths, owner of sync licensing agency Truly Music, adds motion picture trailers and TV show promos to the list. Separate from the films and programs themselves, these works have their own sync needs. The market for promos of shows on various subscription streaming services are now as big of a sync market as TV or advertisements, she says.
TV network promos and the world of sports each have their own music sync needs, too. "There are so many opportunities for artists in the sports world," says Griffiths, "because they license a high volume of music." Robbie Hancock, a singer/songwriter and head of artist networking community Sync or Swim Music, adds the use of instrumental cues and slot machine music. "And overhead music: I've gotten music licensed for burger joints and shopping malls."
How Will Sync Be Used In Future Applications?
Technology is also driving the widening of the market for sync. Complex and evolving concepts like the metaverse (virtual- and augmented-reality experiences), web3 (a next-iteration version of the internet that employs token-based economic models) and NFTs (digital identifiers that can be sold or traded) are finding their way into modern life and popular culture — and sync opportunities are developing alongside them. 
"We're watching the development of the metaverse closely and what that will bring in terms of more sync opportunities," says Wende Crowley, Sony Music Publishing's Senior VP of Creative Marketing, Film & TV. Robinson expresses a similar perspective and notes that at Warner Chappell, they're following the growth in NFTs and other technologies, and the ways in which sync might figure into their futures.
Robinson points to so-called microsync or micro-licensing (for user-generated content like that found on TikTok) as another potential growth market sector. This form of sync didn't exist a decade ago.
"The industry is clearly trying to figure out how to monetize music in these metaverses and virtual worlds," notes Griffiths. And music synchronization is finding its way into those media.
Are Particular Artists Best Suited For Sync?
Music supervisors for film and TV typically provide a brief explaining their needs, and it's the job of sync consultants to address those needs. In response, sync agents often seek to cultivate a roster of artists that's as wide as it is deep.
For music synchronization in commercials, artists who have an existing following have an advantage, says Loughlin. But for many other sync applications, the sound and character of the music — and its suitability in a particular audiovisual context — is of greater importance than the name behind the music.
"There are probably ideal artists for different types of syncs," says Jon Mizrachi, Head of Sync at Brooklyn licensing agency Bodega Sync. "But I don't know that there's one particular kind of artist overall who's just great for everything." 
He explains that every use of sync is on a project by project basis, specific to the media in which the music will be used. "Something that's really great for ads could be terrible for film and TV," he says. "Something that's good for video games could be really bad for trailers."
"Songwriters who can write emotional music that will support scenes get placed more often," says Hancock. Music supervisors for film and television often look for "a song with universal lyrics [focused upon] one emotion." He says that such sync placements are characterized not by "the artist and the song being the star, but [instead] supporting a scene, the director's vision, or the actors on screen.
"The best suited sync artist would be one that is open to studying sync," Hancock says. "They realize that there's a lot that they still need to educate [themselves] on in order to get licenses in sync, whether they're going through labels, music publishers, music libraries or direct to music supervisors."
What Types Of Music Are Popular For Sync?
"Perhaps the most intriguing sync trend of 2021 was the clear-cut preference for music that accentuated the visual media at hand," concluded the Digital Music News white paper. And that accentuating quality can take many forms, depending on the context.
In the ad world, for example, Southern rock and Americana are hot. "Automotive brands sometimes want songs with a masculine, country-style voice," says Griffiths. When it comes to film and TV, she has noticed an increasing demand for international music. "We've made a concerted effort" in that area, she says, noting that her company has even established contacts in the Eastern bloc.
Griffiths notes that many ad agencies looking for music sync want "new, cool, edgy, discover-it-first" music. At the same time, sync opportunities are by no means all about new music. "Catalog is king," says Griffiths. Her company is seeing a "revitalization of catalog and classic tracks" from the 1950s through the '90s — a potential opportunity for artists who have been in the business for a while. "I jump on anything from [those eras], especially if it's a hit or has a recognizable quality."
The 2022 white paper identified dance and electronic as the genres experiencing the most popularity in sync, followed by R&B, rock, hip-hop, blues and country. Not surprisingly – against a backdrop of a global pandemic – it also identified the most popular moods evoked by sync music as happy, hopeful and uplifting.
"With ever-expanding streaming content, we have more opportunities across all genres," says Crowley. "Much more [now] than previous years where there were distinct sounds and trends that tended to sync more than others. Now we're seeing equal opportunity across the board; from Americana to hip-hop, it's all fair game."
What Should Artists Keep In Mind When Seeking Sync Opportunities?
There's a growing contingent of songwriters and recording artists who choose to focus primarily on creating music for sync opportunities. Such artists are often characterized not by a specific sound or style; rather, their defining quality is versatility. 
Sam Loughlin, Creative Licensing & Production Services Manager at digital music distributor Music Gateway, believes that creating music in various genres is a good strategy for songwriters seeking to gain a foothold in the sync field, but he cautions against taking that approach too far.
"If someone has never written a rap track before, then they do it and it's not very good, obviously it's not going to compete with the guys that are doing rap day in and day out."
Most every industry professional interviewed for this story emphasizes one specific point. "There isn't really a right or wrong way to go about it as long as the music is authentic," says Loughlin. "Don't chase a trend," concurs Wende Crowley, Sony Music Publishing's Senior VP of Creative Marketing, Film & TV. "Authenticity is the key."
"The [first] things that I look for are quality production and quality songwriting, then a particular type of songwriting that's not narrative or specific," says  Mizrachi. Lyrics that mention a person's name, a place or a brand automatically limit their potential use in sync applications. "If a song is telling its own story, it can sometimes contradict the action that is going on in the scene," Crowley says. "The more general the lyrics, the more opportunity they will have to work [with the] picture."
Who Gets Paid For Sync Licensing, And How? 
The potential bragging rights and increased profile that can come from having one's songs featured in a sync arrangement are significant. But there's a bottom-line benefit as well, and it's important to understand how payment is structured in the world of music synchronization.
The two primary parties involved on the receiving end of sync payments are publishing rights holders and master rights holders. Publishing rights holders, explains Loughlin, "control the concept of the song: lyrics and melodies." Master rights holders control the recording itself.
As Mizrachi explains, the most common formula of distribution to those parties is 50/50, an arrangement known in the business as MFN ("Most Favored Nations"). But depending on the situation, each side can be subdivided among additional parties. 
"For a famous track, these rights will likely sit with a music publisher who represents the songwriters, and a record label that will own the recording," Sam Loughlin notes. "The publisher will take their share and distribute the rest to the songwriter or songwriters, based on their contribution percentages."
Mizrachi adds that owners of publishing rights may receive "two income streams if the production is aired on television: upfront fees for licensing (paid by the production) and additional back-end performance royalties" paid by the entity that aired it.
The master rights often belong to the artist, but again, other parties can be involved. A record label may have exclusive rights to the recording or even ownership of the master recordings per a record deal with the artist. Mizrachi takes a breath and adds, "The terms of such a deal vary and can be very complicated."
Loughlin notes additional important details that shouldn't be overlooked. "For a cover recording, the master owner usually gets less." And for independent singer-songwriter-artists who handle their own publishing and aren't signed to a label deal, "they may own 100 percent of their rights, meaning that they receive 100 percent of the publishing and master fees."
Griffiths notes that a band generally shares publishing equally have approval rights to the manner in which their songs are used; songwriters who own a small percentage of the copyright generally defer to the artist/band member with a larger share. As always, there's an important and major exception: When an artist sells their catalog — as many classic artists have done of late — they give up those approval rights.
"If the artist wants to control the master and copyright, they need work-for-hire agreements with everyone contributing to the work," Hancock cautions. "That includes engineers and producers that they have hired." The alternative, he notes, is to cut those parties in as collaborators. In that case they, too, are entitled to a share.
Sorting out as many potential conflicts or complications as possible before pursuing sync opportunities is important, says Hancock. He encourages artists and songwriters to make sure their music is easy to clear for use. "Have a designation for power of attorney to ensure they only need to go to one person to license the music," he advises.
In film and television, music supervisors are often the people who make decisions regarding sync. "They want you to have your ducks in a row by pre-clearing your music before it even gets to them," Hancock emphasizes. "The last thing a music supervisor wants — especially if, say, the show is airing tomorrow — is to have to talk to five band members about the deal."
What Does The Future Of Sync Look (And Sound) Like?
The widespread demand for music synchronization means that music supervisors are on the lookout for music of most every kind. That means that artists who choose not to allow sync of their music could be met with a dismissive shrug. 
"If you're like, 'I'm too cool to license my music,' [for television]" Mizrachi explains, ". "There are going to be 20 other artists with music that can accomplish the same thing." 
British singer/songwriter Bishop Briggs has two albums, two EPs and a Billboard hit ("River," No. 3 on the U.S. Alternative Chart) to her credit' she's also found success in the world of music sync. According to online database Tunefind.com, Briggs has placed 31 songs in 153 sync appearances. "Whenever my music gets synced, it feels like I get to be a tiny part of the storytelling of whichever moment it's placed in," she tells GRAMMY.com.
To date, Australian artist Tones & I has released one album, an EP and a dozen-plus singles including the worldwide No. 1 smash "Dance Monkey." Sync licensing is turning into a significant part of her career, too: 12 of her songs have shown up across more than 55 sync placements. "Sync gives [my songs] a whole new life, and a pathway for the music to reach further than imagined," she says.
A songwriter himself – and one with 1,500 successful sync placements – Hancock offers a bit of wisdom on the subject of music synchronization. "As musicians, we [should] do more of what we can control – which is make more music – and then trust our partners to place the music." 
And he urges artists to not let rejection discourage them. If a given song is passed over for a particular project, "It doesn't mean there's anything wrong with it," he says. "It just means that it's not the right fit for that specific use, whether it's a film or TV show or documentary or commercial. Just keep going and keep putting out music."
"Big things are happening in the multibillion-dollar sync space," concludes the Digital Music News white paper. "And even bigger things are on the way." For artists interested in pursuing sync, the future looks bright. "I've been doing this for almost 20 years," says Mizrachi. "There are more sync opportunities now than there have ever been."
The Vinyl Shortage, Explained: How Long Waits, Costly Materials & High Demand Are Changing What's On Your Turntable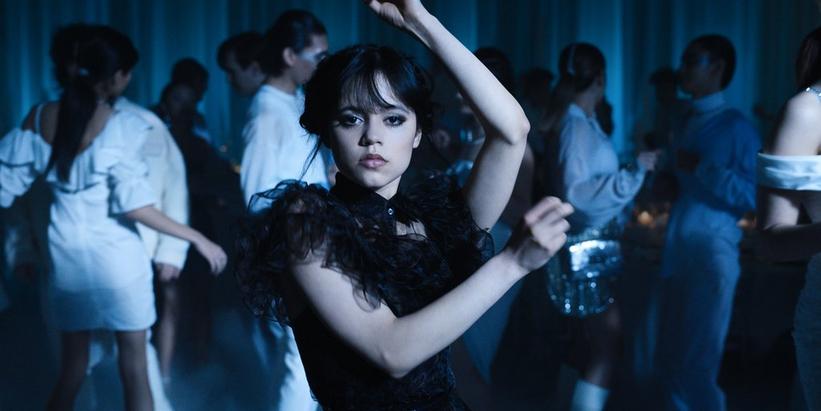 Jenny Ortega as Wednesday Addams, doing the now-viral dance to the Cramps' "Goo Goo Muck"
Photo COURTESY OF NETFLIX
list
From "Stranger Things" To "Beef": How TV Shows Are Giving New Life To Pop Songs From The Past
From '70s love ballads to aughts pop-rock singles, television is leaning into nostalgia by incorporating decades-old pop songs into their narratives. Check out seven tracks that hit TV series ushered back into the mainstream for a new wave of music fans.
GRAMMYs
/
May 16, 2023 - 01:16 pm
Thanks to the prevalence of streaming platforms and social media, it's become easier than ever for a song to be catapulted to the top of the charts. And combining hot pop tracks with must-see TV is a recipe for a viral moment — and a boost in sales for music makers. 
For some artists, licensing music to a popular show is one of the fastest ways to rack up streams and downloads, attract a wider audience, and secure a new stream of revenue. sLuckily for music makers who hope to land a sync deal on a major streamer, the market is thriving. In the first half of 2022, synchronization royalties were valued at $178 million according to the Recording Industry Association of America's mid-year report — a $50 million increase compared to the same period in 2020.  
While sync licensing can offer exposure to new talent, it can also introduce older artists to a new wave of fans — see Harry Nilsson's dozen or so uses in "Russian Doll," which brought the singer renewed attention 25 years after his death — or elevate a song from obscurity, as with Malvina Reynolds, whose 1962 song "Little Boxes" became the theme song for the Emmy-winning Showtime dramedy "Weeds."
As syncs gain ground in the music industry, expect more pop hits from yesteryear to make a viral comeback — and some, like Kate Bush's "Running Up That Hill," may break world records in the process. Check out seven pop tracks that experienced a resurgence on TV. Spoilers ahead.
"Running Up That Hill" Unlocked The Key To Survival
From memes of Eleven stealing waffles to epic Halloween displays, the hit Netflix show "Stranger Things" has had its fair share of viral success across social media — including breathing life into classic rock songs from the '80s. When music supervisor Nora Felder was tasked with finding the perfect song for the showdown between Vecna and Max in the season 4 episode "Dear Billy," Kate Bush's alt-rock classic "Running Up That Hill" was high on the list. 
"It immediately struck me with its deep chords of the possible connection to Max's emotional struggles and took on more significance as Bush's song marinated in my conscious awareness," Fedler told Variety in 2022. 
The song, which peaked at No. 30 on the US Billboard Hot 100 chart in 1985, was an instant hit among "Stranger Things" fans. Shortly after season 4 hit Netflix, Bush landed the first Top 10 Billboard 100 hit of her career; the song reentered the charts and peaked at No. 4. And on the heels of this milestone, the visionary singer will take her place alongside the greatest artists in music history when she gets inducted into the Rock and Roll Hall of Fame later this year. 
"Long Long Time" Underscored A Post-Apocalyptic Love Story
Toward the end of one of the most touching episodes of 2023, HBO's post-apocalyptic drama "The Last of Us" brought fans to tears when "Long Long Time" crackled to life on an old truck radio, punctuating the love story between two beloved characters. Linda Ronstadt's GRAMMY-nominated 1970 ballad of enduring unrequited love received a huge bump on the streaming, racking up a 4,000-percent increase in streams on Spotify alone.
"I knew that song needed to hit certain things about longing and aching and endlessly unrequited love," Craig Mazin, TLOS director and executive producer, told Variety. "I could not find the right song for the life of me. I was trying and trying, and then I texted my friend Seth Rudetsky, who is the host of SiriusXM on Broadway and a savant. I told him, 'Here's all the things I need,' and two seconds later: Linda Ronstadt, 'Long, Long Time.' I was like, there it is. That's it!"
"Drive" Highlighted Characters' Motivations, On & Off The Road
When selecting a song for "Beef" — a show about a pair of elder millennials on a mission to destroy each other's lives over a road-rage incident — Incubus' breakthrough single "Drive" might not be the first track to come to mind. Even though the characters are introduced to each other while driving, music supervisor Tiffany Anders and "Beef" creator Lee Sung Jin chose the song because it touches on how fear can drive a person's behaviors and actions. 
Anders and the creators used the 1999 track in two different ways. First, Danny (Steven Yeun) offers a compelling performance in front of an audience of adoring parishioners. As the credits roll, Danny's cover transitions into the track by Incubus. Thanks to the sync, "Drive" received a 15-percent bump in streams while quadrupling its weekly digital downloads shortly after the series launched on Netflix. After a clip of Yeun's performance went viral, Incubus lead singer Brandon Boyd uploaded his playful reaction to the cover on TikTok.  
"Cornflake Girl" Drew Lyrical Connections In A '90s Teen Drama
From props and dialogue to a stacked musical lineup, the Showtime drama "Yellowjackets" is a love letter to the 1990s. The gripping, suspense series follows the aftermath of a plane crash that leaves an all-girl high school soccer team stranded in the middle of nowhere with a narrative that unfolds in 1996 and the present day. To reinforce the nostalgia, the series brought in a slew of actors from hit '90s movies to play present-day versions of the distressed high schoolers: Juliette Lewis, Christina Ricci and Lauren Ambrose. 
The sounds of the '90s are also given new life in the series. Among them, Tori Amos' 1994 single "Cornflake Girl" was deployed during a pivotal scene in the season 2 opener. (The song also closes out an episode of the A24 revenge comedy "Beef.") "The lyrics in connection with the ending of the first episode felt like a befitting underlying message," music supervisor Nora Felder, who also revived Bush's "Running Up That Hill," told Variety.  
"I've always felt that the meanings behind Tori Amos' lyrics tend to be multi-layered, which adds to their fascination. When I first heard 'Cornflake Girl,' my take on its core meaning was that it deals primarily with betrayals between women," Felder continued. "'Cornflake Girl' adds to the anticipation of things to come with these rich multilayered and downright compelling female characters, our Yellowjackets."
"I Was Made For Lovin' You" Brought Disco To The Battlefield 
Released in 1979, KISS' platinum-selling hit marked a new era for the group and was initially met with criticism for featuring elements of disco, instead of the band's usual hard rock. Decades later, "The Umbrella Academy" ushered the track back into the pop-culture conversation — for an epic fight scene between a group of assassins known as the Swedes and series' heroes Lila, Diego and Five. 
More than four decades after its release, "I Was Made for Lovin' You" received over 4 million U.S. streams in August 2020, a month after the Emmy-nominated series' launch.
Based on the graphic novels created by My Chemical Romance's Gerard Way, the Netflix superhero series is known for repurposing pop anthems for fight scenes. Included in the soundtrack are They Might Be Giants' "Istanbul (Not Constantinople)" in the pilot and Frank Sinatra's "My Way" in the season 2 opener.
"Master Of Puppets" Summoned The Underworld In The Most Metal Way Possible
Season 4 of "Stranger Things" had another knock-out musical moment, courtesy of GRAMMY-winning heavy metal rockers Metallica. In the season finale, edgy fan-favorite Eddie Munson attempts to draw Vecna's underlings' attention in the Upside Down by playing the title track of the band's 1986 album as loudly as possible.   
"It was another one of those 'it has to be this song,' moments," Felder told Variety. "This part of the story was anticipated to be a pivotal and especially hair-raising scene in which Eddie heroically stood tall for the fight of his life. I believe the Duffer Brothers felt that playing 'Master of Puppets' throughout the extended scene was the clear choice. No other song was discussed further, and we jumped in to clear it straight away."
Metallica embraced the song's resurgence and expressed gratitude for the wave of love being shared across social media for the influential thrash metal banger. "It's an incredible honor to be such a big part of Eddie's journey and to once again be keeping company with all of the other amazing artists featured in the show," the band said in a statement about the track which received a 400 percent bump in streams after the series launch. 
"Goo Goo Muck" Made Wednesday Addams Go Viral
This supernatural horror comedy follows the clever and morose Wednesday Addams as she tries to find the culprit behind a local murder spree while navigating the never-ending drama at Nevermore High. As with all great series about high schoolers, there's always peak drama at the school dance. Wednesday's spin on the trope took social media by storm thanks to a dance sequence set to the Cramps' 1981 psychobilly cover of "Goo Goo Muck." 
Across TikTok and YouTube, fans donned their best Wednesday getup to recreate her dance routine, giving the novelty song about a monster that lurks at night a major bump in streams and a new lease on life. According to Billboard, two weeks after the show hit the streaming platform, listeners in the U.S. streamed "Goo Goo Muck" more than 2 million times.  
The Expanding Universe of Music Sync: How It Works, What Are The Opportunities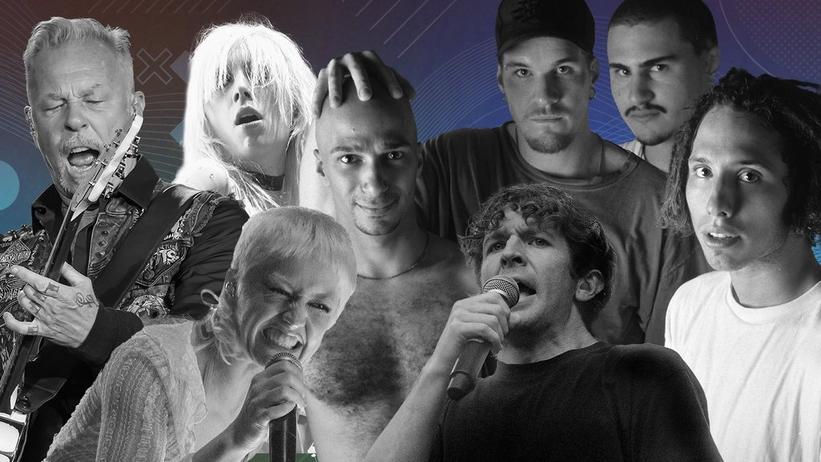 (Clockwise from left): James Hetfield of Metallica, Starcrawler's Arrow de Wilde, Rage Against The Machine, Amy Taylor of Amyl & the Sniffers, Turnstile's Brendan Yates
Photos: Michael Hickey/Getty Images; Gus Stewart/Redferns; David Wolff-Patrick/Redferns; Gie Knaeps/Getty Images; Josh Brasted/FilmMagic
list
2022 In Review: 5 Trends That Defined Rock
Our concept of and interest in various forms of rock is expanding. Whatever rock is, it's not dead, and GRAMMY.com has rounded up five trends that attest to the strong pulse of rock music in 2022.
GRAMMYs
/
Dec 30, 2022 - 06:37 pm
Can rock 'n' roll be defined as the loud blues- and guitar-based stylings purveyed by everyone from the Rolling Stones to Greta Van Fleet? Perhaps it's the smart, Brit-punk energy of Idles, or the lush new wave-alt-rock stylings of Phoenix? Or maybe rock is really in the grooves of stoner/doom band Windhand, or classic thunder of NWOBHM icons Iron Maiden?
In a word, yes.
Established radio formats and charts have long organized and codified an ever-increasing amount of bands, artists and songs. But that organization is a trap, making it necessary to divide rock  — sometimes randomly and incorrectly — into pigeon holes. Terrestrial and satellite radio and streaming service playlists remain divided, creating categories such as active rock, classic rock, or Adult Alternative. Yet these categories inevitably leave out key bands and songs, or include questionable entries.
In reality, listeners aren't bound to genre as in the past. Today's music world is proof positive that as lines blur, our concept of and interest in various forms of rock is expanding. An arena might see the fans at a Rage Against The Machine or Ghost show coming back on a different night to see Harry Styles or Rhianna.
The colloquial expression "I know it when I see it" (first used as a threshold test for obscenity in a 1964 Supreme Court case!) could also be applied to an attempt to define rock. Whatever rock is, it's not dead, and these five trends that attest to the strong pulse of rock music in 2022.
Girl Power Makes A Comeback
Although powerful women like Lizzo and Lady Gaga top the pop charts — female representation is more scarce in the higher echelons of the rock world. While Lzzy Hale of Halestorm and Taylor Momsen of the Pretty Reckless play with the boys at the big venues, a new wave of rock bands featuring women and all-female bands are bubbling up, claiming their power.
From Los Angeles comes punk-glam-pop-rock powerhouse lineup Starcrawler, fronted by bold changeling Arrow De Wilde. On the darker City of Angels tip is the heavy charm of "satanic doo-wop" band Twin Temple, who made major inroads opening arena shows for Ghost. Also making noise from SoCal are garage-rock trio L.A. Witch, self-described "California doom boogie" band Death Valley Girls, disarming old-soul singer Lauren Ruth Ward, punk singer/guitarist Suzi Moon, and a host of other creatively bold women.
NYC is home to the firebrand vocalists of SuSu (Liza Colby, Kia Warren) and Woodstock, NY birthed fuzzy punk weirdos the Bobby Lees. Elsewhere, Australia's  Amyl & The Sniffers bring propulsive, in-your-face songs like "Guided by Angels" and 'Hertz." Other shining lights include former Melvins collaborator and bilingual powerhouse Teri Gender Bender, plus plenty of young women making noise, like Pinkshift. While punk schoolgirls the Linda Lindas owe more to X than the Runaways, their cohort gives hope that the kids are alright.   
Classics Rock The Small Screen
Rock, mainstream and otherwise, helped make some of the coolest television shows even better in 2022. "Stranger Things" gave the 36-year-old Metallica song "Master of Puppets" new life among a younger crowd. (During their Lollapalooza set, Metallica paid tribute to the sci-fi show, and jammed with actor Joseph Quinn backstage.)
The Cramps' goth-kitsch stylings made an appearance on TV sets via Tim Burton's "Wednesday." The titular Wednesday Addams character danced her way into weird-girl hall of fame with the lo-fi legends' 1981 version of "Goo Goo Muck." (And let's not forget Ms. Addams' stellar cello version of the Stones' "Paint It Black.")
The psycho-billy/horror-punk track was streamed on-demand over 2 million times in the U.S. — a more than 8,650 percent increase from the average 47 weeks before this year, Billboard reported. While it's not quite Kate Bush-in-"Stranger Things"-numbers, it's a nice bump that indicates a new generation of listeners for the wild and wooly lo-fi legends.
Other 2022 small-screen rock surprises include the sci-fi German epic period drama 1899, which uses a cover of Jefferson Airplane's "White Rabbit" as its theme music. In an interesting anachronistic approach, the surreal period show uses songs that wouldn't be created for more than six decades. The classic rock cuts include "Child in Time" by Deep Purple, Echo and the Bunnymen's "The Killing Moon" and Black Sabbath's "The Wizard." The sometimes-subtle song use certainly led to Shazams from kids and cheers from older folks.
Festivals Continue To Diversify
Once upon a time (not that long ago!) Ozzfest and Family Values were the "metal" festivals, Lollapalooza ruled the alternative nation, and rarely would the twain meet. (In a nod to the times, Ozzfest held a free, online-only virtual 2022 version that didn't exactly draw raves from rock fans.) But 2022 saw the continuation of a sea change, with heaviness becoming the common denominator in a variety of festivals.
As demonstrated by Metallica at Lollapalooza 2022, and Nine Inch Nails and Slipknot billed alongside KISS and Red Hot Chili Peppers at the four-day Louder Than Life fest in Kentucky, sub-genres of industrial, metal, glam and alt-funk are meshing with ever-increasing ease. At Psycho Las Vegas, thrash band Suicidal Tendencies were billed alongside Bone Thugs-N-Harmony, while Wu-Tang Rapper GZA headlined a night that also featured black metal group Mayhem.
Vegas was also a destination in 2022 for the inaugural '90s and 'early-2000s When We Were Young Festival, which served up nostalgia (and a few contemporary acts) from 64 of the biggest names in pop-punk, emo and hardcore. The sold-out event featured performances by My Chemical Romance, Avril Lavigne, AFI and Dashboard Confessional — acts which, back in the day, were often seen as reflecting separate subgenres.
Diverse rock festivals will continue in 2023 with the inaugural Sick New World festival. Set for May, the festival will feature bands once in the "nu metal"-plus genre — such as System Of A Down, Korn, Deftones and Incubus — alongside more diverse groups like Evanescence, GRAMMY-nominated hardcore hitmakers Turnstile, Chevelle, Mr. Bungle, Placebo, Spiritbox, and the Sisters of Mercy.
A Reignited Rage
Rage Against The Machine were one of the bigger bands that reunited for a tour in 2022 — joining the ranks of Pantera, the Mars Volta, Biohazard, Yellowcard, God Forbid, Roxy Music, the Gaslight Anthem, Taproot, and Sunny Day Real Estate.
But their tour was a long time coming. Rage first announced dates for a reunion tour in 2020  — their first full-length world jaunt in 20 years — but were sidelined by COVID. As the pandemic  raged on, racial and political unrest gripped America and the world, making Rage's political musical messages in songs like "Killing in the Name" as relevant as ever.
The bright side? Rage's self-titled debut (which celebrated its 30th anniversary in November) jumped back on to the Billboard 200 charts. So when the quartet played their first concert in 11 years on July 9, 2022 in East Troy, Wisconsin, hopes were high — and fan expectations were more than met. Yet two days after the tour began, singer Zach De La Rocha injured his leg; one month later, they canceled the European leg of their tour on doctor's orders, and the remaining shows on the 2023 North American leg of the tour were scuttled due to the severity of de la Rocha's injury.
Rage closed things out with an incendiary three-night stand at Madison Square Garden beginning Aug. 11. De La Rocha was carried onstage by crew members and sang seated on an amp — but he brought the noise.
Backing Tracks Get The Spotlight
As metal and rock stalwarts continue to perform into their 60s and 70s (Mick Jagger turns 80 in 2023), fans still demand that their heroes sound like they did in their heyday, so it's likely they might need some assistance. While it's been a not-so-hidden secret that Ozzy used singer Robert Mason, hidden offstage, to supplement his vocals, bands like Aerosmith make backing tracks less of a secret, using singing keyboard players.
In October, a Twitter war began after Falling in Reverse canceled an Illinois festival gig, citing lost laptops. Reverse's Ronnie Radke posted an explanatory video message on TikTok where he said the band had "no other option" to cancel, because "as a band in 2022, you need your laptops. It's like driving a car without an engine."
Motley Crue bassist Nikki Sixx jumped online to agree with the use of backing tracks, but Sirius XM DJ/author Eddie Trunk was astonished. "First I heard about this I thought it was a joke to wind me up. How much longer are fans, promoters , media, just going to accept the epidemic of live rock shows… not really being live?"
Former Skid Row singer Sebastian Bach, a veteran of Broadway, concurred with Trunk, while Radke tweeted at the metal DJ, writing: "you wanna talk hella s— about laptops but go watch kiss lip sync, Steven Tyler plays the piano then half way through the song he stands on top of piano while it sill [sic] plays yet here we are acting like they all don't use tracks you f—ing idiot."
Blackie Lawless, whose 40-year celebration tour with metal band W.A.S.P. earned rave reviews, admitted to using backing tracks. "If I'm a fan and I'm coming to a show, I want that thing to sound as good as it can," he said during a fan meet and greet that was posted on YouTube."When we go into a studio — and let me clarify that statement; that's me singing — we do choruses, we double, triple, quadruple the vocals," he said. "When I listened to live YouTube [recordings of our shows] and we weren't doing that, it sounded thin. When we started supplementing it, it sounded better.
"If I'm a fan and I'm coming to a show, I want that thing to sound as good as it can," he continued. "There are other bands — the QUEENs of the world — they cannot duplicate 24 vocals at one time. That's what they do on those records. If you want it to sound like those records, you've gotta have some help."
Even if Falling in Reverse got blowback from peers, their transparency is becoming the new norm. It brings the fans closer to their heroes, mere mortals who struggle with addiction, have personal lives, and occasionally use backing tracks.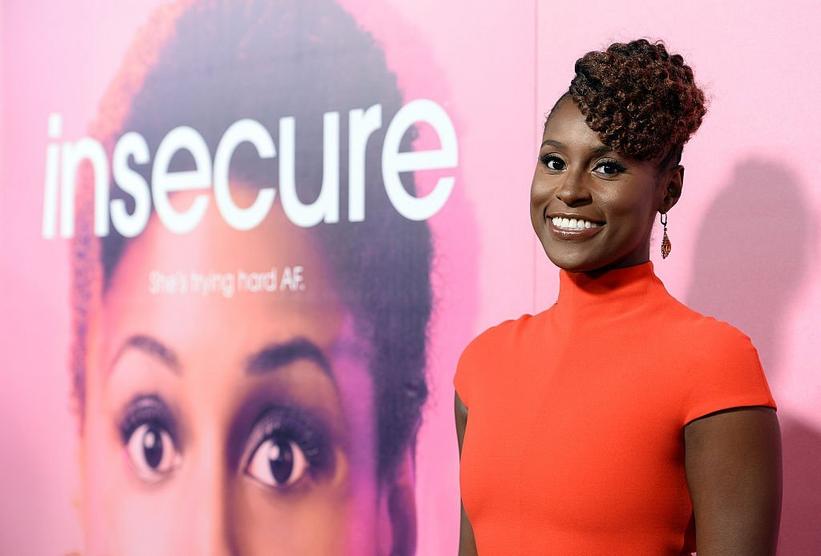 Photo: Amanda Edwards/Getty Images
news
Poll: From "Insecure" To "Euphoria," What On-Air TV Show Has Your Favorite Soundtrack?
There's also "Atlanta," "Empire," "GLOW," "POSE," "High Fidelity," "Stranger Things," and "Westworld"—let us know which show has your favorite tunes!
GRAMMYs
/
Apr 17, 2020 - 02:38 am
With quarantine meaning more time to catch up on shows and movies for many of us, we want to know: What current TV show do you think has been serving up the best tunes? Vote in our poll below and read on for more info on the music behind some of the biggest series.
The Emmy-winning dramedy "Atlanta," whose third and fourth seasons are slated for a 2021 release, sees its creator Donald Glover, a.k.a. Childish Gambino, co-starring as the manager and cousin of a rising ATL rapper. Glover also serves as an executive producer, writer, director and the executive music producer of the acclaimed series, which has featured an eclectic soundtrack including Flying Lotus, 2 Chainz, Yo Gotti, Curtis Mayfield, King Krule and Nas.
Rapper Lil Dicky Talks New TV Show 'Dave' And His Creative Ambitions On- And Off-Screen
Season one of "Dave" just launched last month. A comedy starring goofy rapper Lil Dicky a.k.a. Dave Burd, the show is based on his own rise to fame. The new show features hip-hop tracks from A$AP Rocky, Tyler, The Creator, O.T. Genasis and more. Burd and Jeff Schaffer are the show's co-creators and also serve as executive producers along with Saladin Patterson, Kevin Hart, Greg Mottola, Scooter Braun and a few others.
"Empire," the musical drama depicting the fictional Empire Entertainment hip-hop dynasty has not been without its own off-camera drama, but its sixth season will wrap up the critically acclaimed series this year. The talented cast, including Taraji P. Henson, Terrence Howard and Bryshere Y. Gray add great original music to an already fire playlist. GRAMMY-winning producer/songwriter Rodney Jerkins, a.k.a. Darkchild, has served as Supervising Music Producer since season three, taking over for fellow GRAMMY-winning production powerhouse Timbaland. This season has included music from Chaka Khan, Khalid, Gladys Knight & The Pips and Ciara.
"Euphoria" is a visually stunning, jarring teen melodrama that unflinchingly looks at addiction, sex, identity, toxic masculinity, social media and more, with a powerful soundtrack and score crafted by musical mastermind Labrinth, executive produced by Drake. With original music from series star Zendaya ("All Of Us"), along with perfectly timed bops from Lizzo, Doja Cat, Billie Eilish, Jamie XX, the emotions are high in this new HBO show, whose second season is set to resume filming following the coronavirus shutdown.
'One World: Together At Home': Lizzo, Billie Eilish, Paul McCartney, Lady Gaga + More
Set in Los Angeles in the '80s, the Emmy-winning Netflix series "GLOW," or "Gorgeous Women Of Wrestling," features a synth-heavy, period-appropriate soundtrack featuring hits from Roxette, Billy Joel, The Bangles, Daryl Hall & John Oates and more. The fourth and final season of the show starring Alison Brie, Betty Gilpin and Marc Maron is set to resume production after COVID-19 restrictions lift.
Starring Zoë Kravitz as an obsessive yet effortlessly cool Brooklyn record shop owner Rob, "High Fidelity" has an appropriately edgy, eclectic soundtrack. The new Hulu series is a modern take on the 2000 film of the same name starring John Cusack and Lisa Bonet, Kravitz's mom, both of which are adapted from Nick Hornby's 1995 novel. GRAMMY-winning multi-hyphenate Questlove helps curate the vibes as Executive Music Supervisor, with season one featuring music from David Bowie, Frank Zappa, Fleetwood Mac, OutKast and many more. Episode three even features a perfect cameo from Blondie's Debbie Harry as they listen to "Heart of Glass."
Created by and starring everyone's favorite "Awkward Black Girl" Issa Rae, the flyness of "Insecure"'s soundtrack rivals that of its stars, which also include Yvonne Orji, Jay Ellis and Natasha Rothwell. Led by Music Supervisor Kier Lehman, along with an original score from GRAMMY winner Raphael Saadiq, the series features a dope mix of hip-hop and R&B that soundtracks the wave of moods in their L.A. lives, with a strong emphasis on female artists, including Saweetie, Khia, Amber Mark, Kali Uchis and H.E.R. Season four is currently running on HBO.
Vote Now: Which 2000 Album Will You Have On Repeat This Year?
If the music, costumes and fierce dance moves on "POSE" don't make you want to strike a—well, you know—maybe you don't have the volume turned up loud enough. Starring iconic GRAMMY winner Billy Porter, alongside powerhouse rising trans actors Indya Moore, Dominique Jackson and Mj Rodriquez, the Emmy-winning FX show explores the glamour and inequality of late-'80s/early-'90s New York City through the lens of the LGBTQ+ ball scene. Shimmering with disco realness, the series features funky jams from KC & The Sunshine Band, The Gap Band, Chaka Khan, En Vogue and more with Amanda Krieg Thomas serving up the tunes as Music Supervisor. The show was renewed for a third season last year, set to launch after the COVID-19 shutdowns.
Netflix favorite "Stranger Things" is a fantastical, surreal journey set in a small town in the early '80s, in a nod to the golden age of sci-fi/fantasy films like "E.T." and "Labyrinth." Starring Winona Ryder and actors Millie Bobby Brown, Finn Wolfhard and Noah Schnapp, longtime film and TV music supervisor Nora Felder ("Romy and Michele's High School Reunion," "Californication") bringing the dark, neon-lit '80s mood front and center. The stellar soundtrack includes '70s and '80s hits and deep cuts from Corey Hart, Don McLean, TOTO, The Clash and more.
Music Is Coming: Composer Ramin Djawadi Looks Back On Eight Epic Seasons Of 'Game Of Thrones'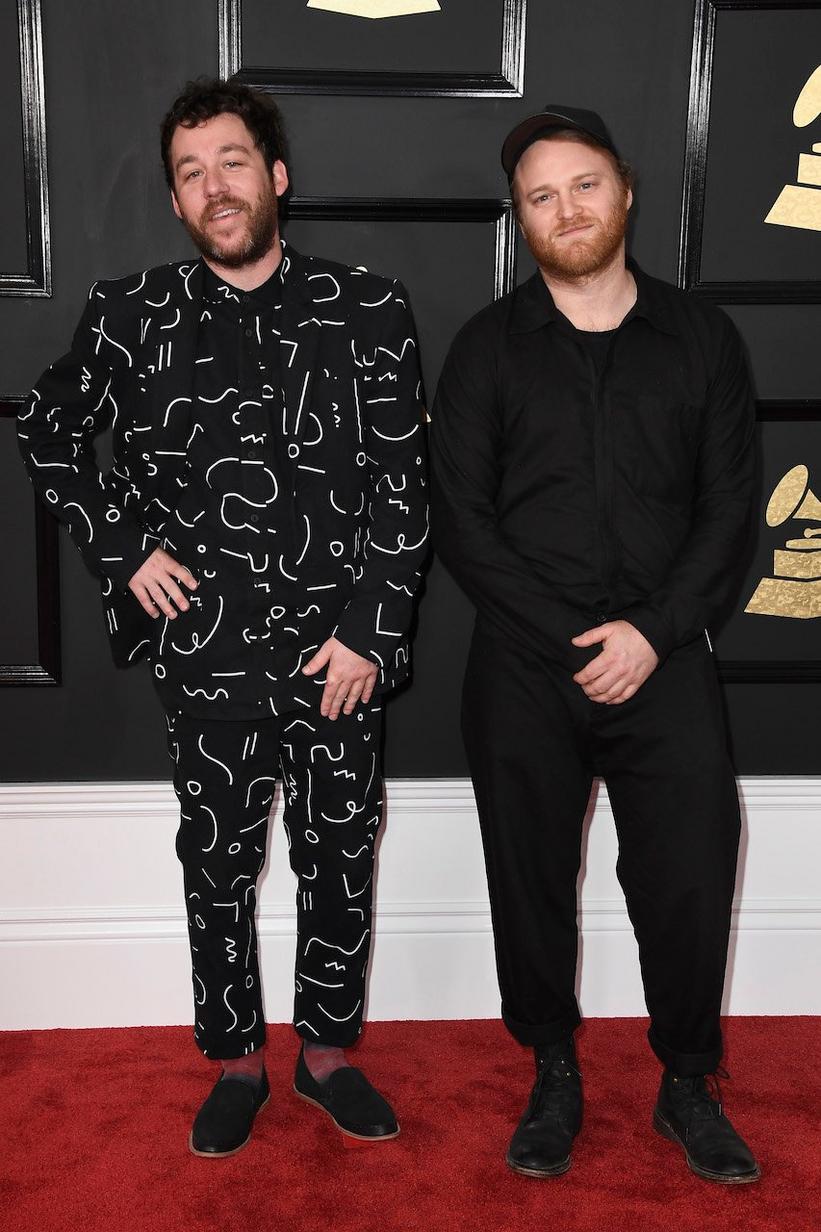 Survive at the 59th GRAMMY Awards in 2017
news
"Stranger Things" to return: The music behind Netflix' hit
The spooky story and soundtrack, courtesy of Survive, are back as the air date for "Stranger Things" season two is announced
GRAMMYs
/
Jul 12, 2017 - 09:00 pm
Something is lurking in the shadows of Hawkins, Ind. …
… It's season two of the smash hit Netflix show, "Stranger Things."
Just last year, the '80s cult-classic-style series took hold of the streaming world, assuming the top position of water cooler topics everywhere. The combination of likeable young characters, twisted plots and eerie music made the sophomore season of "Stranger Things" one of the most anticipated entertainment events last fall.
This week, the show announced the air date for season two, Oct. 27. This season premiere lands appropriately close to Halloween, considering the teaser video (debuted as a Super Bowl commercial in February) promises viewers a scary return trip to 1984.
One undeniable component of the nostalgic headspace the show induces is the music. Austin, Texas, synth duo Survive, comprised of Kyle Dixon and Michel Stein, created a dreamy throwback score that gives "Stranger Things" its signature spooky hook. The group was nominated twice in the same category for Best Score Soundtrack For Visual Media for volumes one and two of the first season's soundtracks at the 59th GRAMMY Awards, proving the crucial role music can play in shaping even some of pop culture's biggest phenomena.
For those "Stranger" fans in the Los Angeles area, Survive will make a special appearance at the GRAMMY Museum at L.A. Live on July 19 for The Music Behind "Stranger Things" — a discussion of the creative process behind the show's unmistakable, unforgettable soundtrack.
Wanna get strange? Buy tickets for the GRAMMY Museum's The Music Behind "Stranger Things"