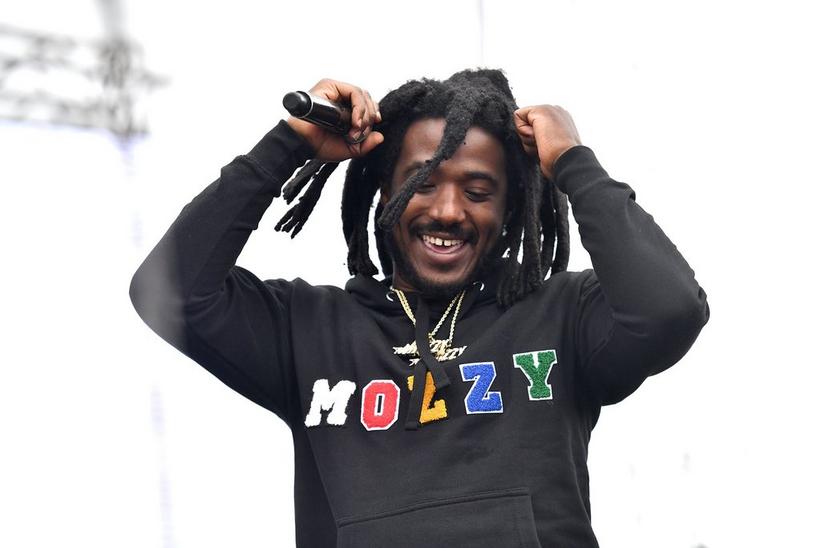 Photo: Scott Dudelson/Getty Images
news
Mozzy Talks "Thugz Mansion," Tupac's Influence,'Gangland Landlord' & More
"I vowed to adopt that trait and his work ethic," the West Coast rapper says of his hero.
GRAMMYs
/
Oct 5, 2018 - 02:59 am
Mozzy, a Los Angeles-based rapper by way of Sacramento, is ready to make it big in the hip-hop world with his latest full-length release, Gangland Landlord, which drops on Oct. 5. He's been preparing for takeoff, putting out an impressive amount of music over the years, finessing his sound with plenty of solo and collaborative releases to date.
The first single off of his upcoming album, "Thugz Mansion," is a powerful shout-out to his biggest influence, Tupac Shakur. The song, featuring YG and Ty Dolla Sign, is a fresh re-envisioning and tribute to the legend's song of the same name. The single was released on Sept. 13, the 22nd anniversary of the visionary rap star's untimely death. The music video features the three rappers chilling in a beautiful mansion with Pac himself—well, Demetrius Shipp Jr., who played him in All Eyez on Me. Mozzy is not only paying honors to his idol, but setting big dreams for himself as well.
We caught up with Mozzy at our Santa Monica, Calif. headquarters to learn more about the new album, his take on "Thugz Mansion," Shakur's influence on his work and his life, collaborating, and more.
You're latest album, Gangland Landlord, is coming out on Oct. 5. You've put out an impressive amount of music in recent years – what are you most excited about with releasing this new album?
The most exciting thing about this album, to me, is just all the time, all the time I put into it. I treated it like my baby, this is my baby and I just can't wait to see the world's reception. I want to see if other people receive it, if they vibe to it. I want to see if I hit my mark, you know, I just wanted a ghetto gospel. I just want people to feel it spiritually. I want to hit home with it. I want a heartfelt album. It's my life. This is my story and it's nothing fraud about it so you know I just want to make sure that the people feel it.
You just dropped a new video for "Thugz Mansion" featuring YG and Ty Dolla Sign, on the anniversary of Tupac's death. Can you talk about the vision behind the song and the video, and why it was important for you to pay tribute to him?
It was important for me to pay tribute to Pac because he's legendary. He's my biggest influence as far as musically, politically; he's my mentor. I, still to this day, vibe to his music. I throw it in the deck, I listen to his speeches. So you now, that's one of my biggest influences. I don't think I'd be the rapper that I am today, or as creative as I am if it wasn't for Pac.
The way that the song came together is just, it's just a blessing truthfully. It's just a blessing and if you ask me, it wasn't necessarily planned like I'm going to make this kind of song, I want these two people on it, I'm going to drop it on the dates. It didn't come to me like that at first.
I'm so excited about the song. If it was up to me, I would've dropped it the day of, you know? I got Ty Dolla Sign, I got my boy YG on there; it's a legendary song for the West Coast. I would have dropped it the day of, but my team prepped it and put it together to come out today—shout-out—I would've been able to do it without them, so you know it was really a team effort.
Did watching Tupac when you were growing have an impact on you wanting to go into hip-hop? How has his influence affected your career, when you were first starting out and now as you have more experience?
I was in tears in one of his song, "Dear Mama." I just identified with that song, just crazy how I identified with that song, just seeing the video. My grandmother, Tupac fan, loves Pac. You know, there aren't too many rappers that she like, you feel me? She loved Pac, so he has always been in the household, everybody in my family [loved him], my uncle got thug life tatted on him, you feel me? But early on I used to read books about him and just how hard he worked, how consistent, how persistent he was, and I vowed, I vowed to follow that trait. I vowed to adopt that trait and his work ethic, just his work ethic and the amount of projects he put out.
If you go back into my history, you'll see at one point of time I was driving projects every week, every month, you feel me? I was inspired early on to work like him. He made you read, he made you think. He inspired you to think – he was not just a rapper, he also had something to say.
You could listen to his music and pick up all his vocabulary, you could pick up his quotes, like Shakespeare. I think one of his biggest influences was the way he connected with the people. How could somebody so young have influenced my grandmother to just fall in love with him, you feel me? That just got me early on. Rest in peace Pac.
You've worked with a lot of other rappers and put out quite a few collab albums. What have you learned from working with other artists, and what is the biggest challenge with putting out a joint album?
I pay attention to other artists' mistakes. I watch, I listen, I listen, I just pay attention. I'm in it for longevity, you know, so I study what not to do more than I study what to do. I love collab albums. It's just that you get half the money though, [laughs] that's my only thing with them, you feel me? Other than that, I love working with people, I'm a people person. I just love the energy of working together—as long as the energy's there, it's good.
Kendrick Lamar gave you a shout-out during his GRAMMY acceptance speech earlier this year – how did you feel about him sharing that moment with you? Did you ever get to ask him about it?
That moment—I tell people all the time—he could have said any other name in the world, its Kendrick Lamar. You feel me, fella up here, you know what I'm saying, next to Pac. I'm a political person and for one of the heroes from the West Coast, for him to say my name at the GRAMMYs, with my grandmother watching, my uncles, cousins, nieces, nephews watching, it's crazy. I still can't really explain it to this day, but it was unbelievable.
When somebody first called me about it I thought they were trippin'. I didn't comprehend what they were saying. It was just crazy. I couldn't believe it, it's still unbelievable.
I thanked him for it. I sent him a text message, and he said it was purified love. Shout-out to Kendrick, pure love brother.
You grew up in Sacramento and moved down here to Los Angeles a few years ago – how has the new scene affected your life and your music?
It's like you go from playing basketball at the park and fly into the major leagues. You go from playing with your friends to playing with the people you used to watch on TV, you feel me? It's the biggest difference as my career is concerned. As for living, L.A. just put me at a new place, especially with my mind frame, business-wise. You're around money so it teaches you to respect it. The friends, the relationships you walk in with—I'm at the GRAMMYs, we're doing an interview here, in L.A. right? [laughs] This is where it's at, it's platinum. I couldn't have made a better move.
What advice do you have for younger rappers trying to get in the game? Is there anything that you wish you had known when you were first starting out?
I wish I'd known that you can build the cake off of crumbs I wish somebody told me early on. By putting a little music out consistently you're building a catalog and if they catch wind of that catalog it could go somewhere.
I put my music out through CD Baby [music release service] early on, and it was only fifty, sixty dollars to put out a CD then. I wish I would have started earlier and would have just focused on digital. At one point in time, we were pressing a lot of CDs and I wish I would have thought digitally sooner.
My advice though now is to just put it out. There's so many ways you can put out music. Nowadays it's so easy. Once upon a time you had to put up flyers, you had to get radio spins for a promo. It's easier now, it's at the tip of your hands to put music out.
My other advice is just to work, work, work. You got to work like you know it's not going to work for five to ten years and I think that's when you hit in this business. When I was 19, I wanted it to work out for me, but by 25 I thought I was an embarrassment to my family because all I'm pursuing is music. I don't want to focus on any other job, music was it. And it worked out eventually, if you keep working hard it will start working out for you.
Jermaine Dupri On The Real Story Behind Turning Kris Kross Into Stars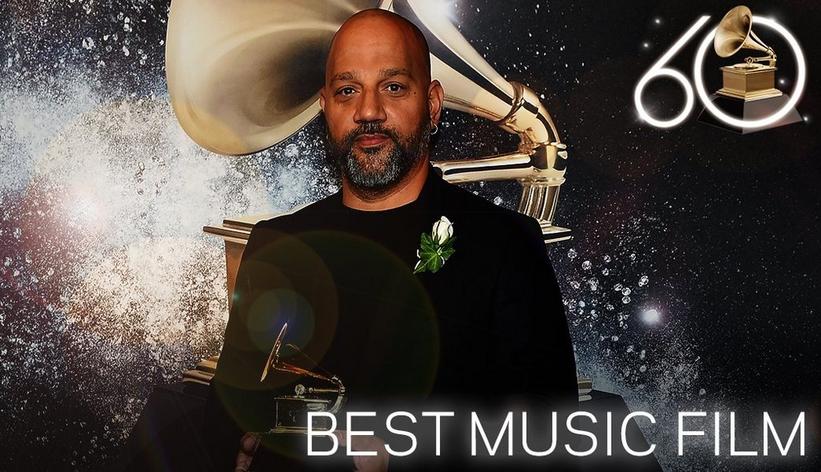 news
Allen Hughes' "The Defiant Ones" Wins Best Music Film | 2018 GRAMMY
Director Allen Hughes' four-part documentary takes home Best Music Film honors for its portrayal of the unlikely partnership that changed the music business
GRAMMYs
/
Jan 29, 2018 - 02:09 am
The team behind The Defiant Ones celebrated a big win for Best Music Film at the 60th GRAMMY Awards. The crew awarded include director Allen Hughes and producers Sarah Anthony, Fritzi Horstman, Broderick Johnson, Gene Kirkwood, Andrew Kosove, Laura Lancaster, Michael Lombardo, Jerry Longarzo, Doug Pray & Steven Williams.
In a year rife with quality music documentaries and series, the bar has been set high for this dynamic category. The Defiant Ones is a four-part HBO documentary telling the story of an unlikely duo taking the music business by storm seems better suited for fantastical pages of a comic book, but for engineer-turned-mogul Jimmy Iovine and super-producer Dr. Dre, it's all truth.The Defiant Ones recounts their histories, their tribulations and their wild success. These include first-hand accounts from those who were there in Iovine's early days, such as Bruce Springsteen and U2's Bono, as well as those on board when Dre and Iovine joined forces, such as Snoop Dogg and Eminem.
The competition was stiff as the category was filled with compelling films such as One More Time With Feeling, Two Trains Runnin', Soundbreaking, and Long Strange Trip.
Attention Music Fans: Take The GRAMMY Challenge NOW On KIK And Facebook Messenger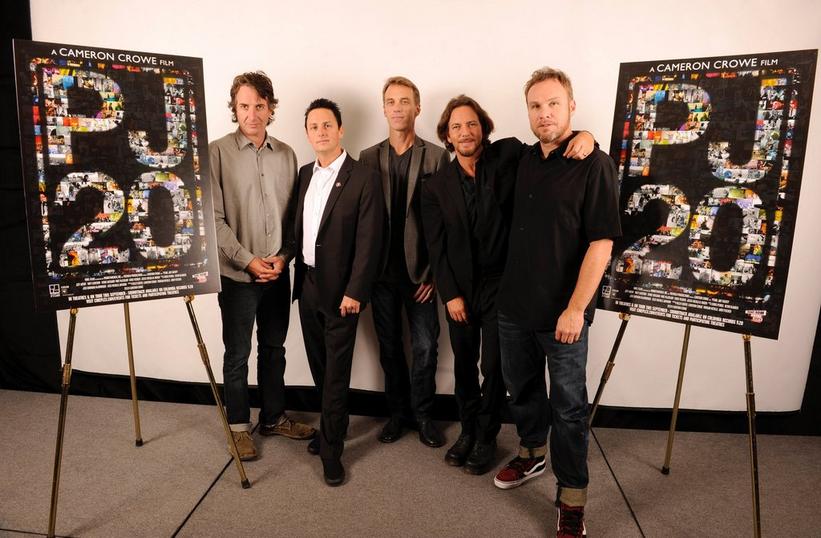 Photo: Kevin Mazur/WireImage.com
news
Pearl Jam Named Record Store Day 2019 Ambassadors
Pearl Jam's Mike McCready says "if you love music," record stores are the place to find it
GRAMMYs
/
Feb 13, 2019 - 04:05 am
Record Store Day 2019 will arrive on April 13 and this year's RSD Ambassadors are Pearl Jam. Past ambassadors include Dave Grohl, Metallica, Run The Jewels (Killer Mike and El-P), and 61st GRAMMY Awards winner for Best Rock Song St. Vincent.
McCready was also the 2018 recipient of MusiCares' Stevie Ray Vaughan Award.
The band was formed in 1990 by McCready, Jeff Ament, Stone Gossard, and Eddie Vedder, and they have played with drummer Matt Cameron since 2002. They have had five albums reach No. 1 on the Billboard 200 and four albums reach No. 2.
"Pearl Jam is honored to be Record Store Day's Ambassador for 2019. Independent record stores are hugely important to me," Pearl Jam's Mike McCready said in a statement publicizing the peak-vinyl event. "Support every independent record store that you can. They're really a good part of society. Know if you love music, this is the place to find it."
With a dozen GRAMMY nominations to date, Pearl Jam's sole win so far was at the 38th GRAMMY Awards for "Spin The Black Circle" for Best Hard Rock Performance.
Pearl Jam will be performing on March 3 in Tempe, Ariz. at the Innings festival, on June 15 in Florence, Italy at the Firenze Rocks Festival and at another festival in Barolo, Italy on June 17. On July 6 Pearl Jam will headline London's Wembley Stadium.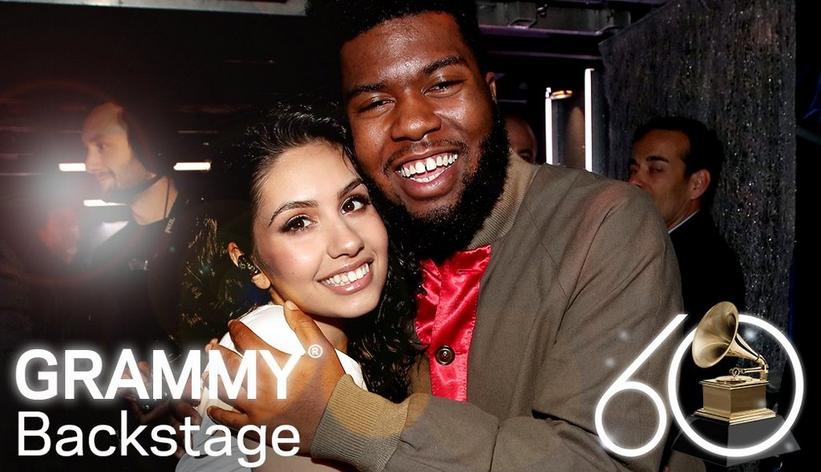 photo_gallery
Portugal. The Man To Aida Cuevas: Backstage At The 2018 GRAMMYs
Also see James Fauntleroy, Reba McIntire, Latroit, and more after they stepped off the GRAMMY stage
GRAMMYs
/
Jan 29, 2018 - 05:39 am
What do artists do the moment they walk off the GRAMMY stage from presenting, accepting an award or performing? Now, you can find out.
Take a peak at Album Of The Year GRAMMY winner Bruno Mars, 60th GRAMMY Awards Host James Cordon, Cardi B minutes before her electrifying performance of "Finesse," and more!
Also see Best Pop Duo/Group Performance GRAMMY winners Portugal. The Man posing with their first career GRAMMY Award, Best Roots Gospel Album GRAMMY winner Reba McIntire right after she walked offstage, Best R&B Song GRAMMY winner James Fauntleroy, Best Remixed Recording GRAMMY winner Latroit, and many more, with these photos from backstage during the 60th GRAMMY Awards.
Getting The Latest Music News Just Got Easier. Introducing: GRAMMY Bot. Find it On KIK and Facebook Messenger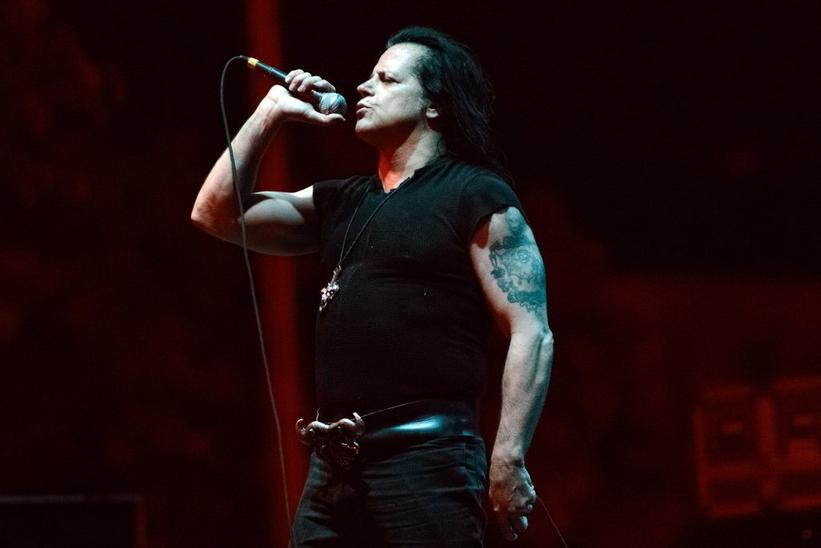 Photo: Daniel Boczarski/Getty Images
news
Original Misfits Unleash One Night Only L.A. Reunion Show
Dark punk legends to play first show with Glenn Danzig and Jerry Only since last year's Riot Fest reunion
GRAMMYs
/
Aug 22, 2017 - 05:28 am
There's big news today for punk-rock fans aware that the Misfits made much more than just T-shirts.
The massively influential punk band announced a special show touted as the "only 2017 performance in this world… or any world" and billed as "The Original Misfits" in Los Angeles at the Forum on Dec. 30.
This will be the first Misfits show featuring original singer Glenn Danzig and original bassist Jerry Only with long-time guitarist Doyle Wolfgang von Frankenstein since the band reunited for a pair of Riot Fest appearances in Chicago and Denver in 2016. Last year's Riot Fest gigs, which featured drummer Dave Lombardo, marked the first time in 33 years the original Misfits members played together.
"OK Los Angeles, you've waited almost 35 years for this, here's your chance to see the "Original Misfits" in this Exclusive L.A. only performance." said Glenn Danzig. "No Tour, No BS, just one night of dark metal-punk hardcore brutality that will go down in the history books. See you there."
Tickets for this "one night only" show go on sale Friday, August 25.