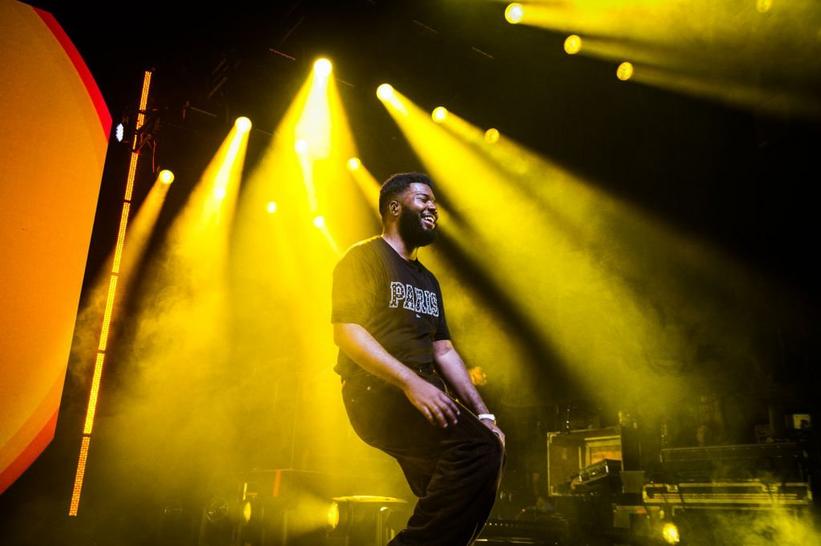 Photo: David Wolff - Patrick/Redferns via Getty Images
news
Mo Pop Detroit: Khalid, The 1975, Doja Cat, Phoebe Bridgers, Orville Peck & More
The fest will take place July 25 and 26 at the historic Fort Wayne
GRAMMYs
/
Mar 11, 2020 - 10:08 pm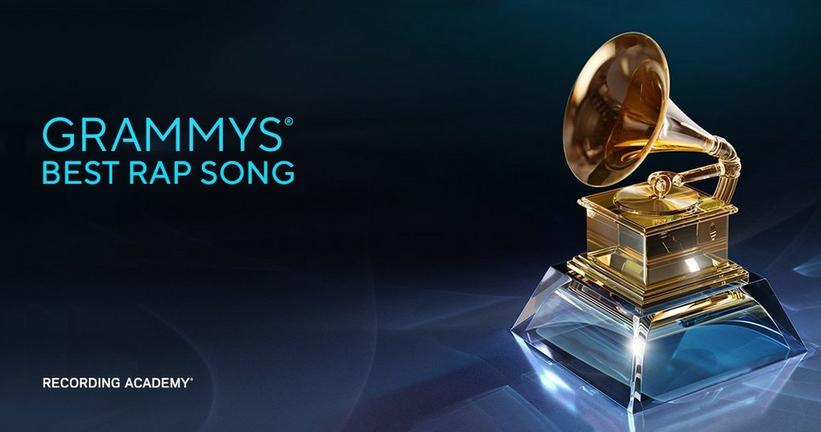 list
Here Are The Nominees For Best Rap Song At The 2024 GRAMMYs
Get a deeper look into the five tracks from Doja Cat, Nicki Minaj and Ice Spice, Lil Uzi Vert, Drake and 21 Savage, and Killer Mike, André 3000, Future and Eryn Allen Kane that earned the Best Rap Song nod at the 2024 GRAMMYs.
GRAMMYs
/
Nov 11, 2023 - 02:44 pm
Rap music has changed a lot since the Best Rap Song category was introduced at the 2004 GRAMMYs. Most of the first year's nominees, even if they're still making music, now spend the majority of their time on things like making hit TV shows or running iconic fashion brands.
But the category, then and now, has its finger on the pulse; it gives us a cross-section of what makes hip-hop so important to so many people. The Best Rap Song nominees for the 2024 GRAMMYs are no different. The Category includes a pop princess taking a big left turn; two New Yorkers paying tribute to the greatest of all dolls; a Philly rapper taking us to the club; a duo who can't stop flexing on us; and a Dungeon Family reunion that spans generations. 
Below, take a deep dive into the five tracks up for Best Rap Song at the 2024 GRAMMYs.
Attention" — Doja Cat
Rogét Chahayed, Amala Zandile Dlamini & Ari Starace, songwriters (Doja Cat)
"Attention" marked a new era for Doja Cat — one where she moved away from the pop sounds that made her famous, and into something harder and more aggressive.
In the weeks leading up to the track's release, Doja called her earlier rapping attempts "mid and corny" and referred to the music that broke her into the big time as "mediocre pop." So it only made sense that her big statement single would be exactly that — a statement. 
The beat by Rogét Chahayed and Y2K has a drum loop that wouldn't sound out of place on Ultimate Breaks and Beats, and Doja lets the world see her inner hip-hop fan with some serious rapping — no mid or corny verses here. This is the Doja who can quote underground faves like Homeboy Sandman and Little Brother at the drop of a hat. 
"Attention" finds Doja addressing her often-contentious relationship with fans and social media, as well as the controversies she went through leading up to the song's release. But the whole thing is playful and ambiguous. Does she want the world's attention, now that she has it? What is she willing to do to keep it? In this song — and even more so in its video — Doja plays with these questions like a truly great superstar.  
"Barbie World" [From Barbie The Album] — Nicki Minaj & Ice Spice Featuring Aqua
Isis Naija Gaston, Ephrem Louis Lopez Jr. & Onika Maraj, songwriters (Nicki Minaj & Ice Spice Featuring Aqua)
Aqua's "Barbie Girl" was too sexy for Mattel when it was released in 1997 — the company sued the band, claiming that people would associate lyrics like "Kiss me here, touch me there" with their wholesome children's toy. So it's both ironic and, given the post-irony tone of the movie itself, somehow fitting that "Barbie Girl" is sampled in a major song from the new Barbie movie.
And who better to bring Barbie to life in rap form than the head of the Barbz? Soundtrack producer Mark Ronson said that there was no way to have a Barbie soundtrack without Nicki Minaj, and he was absolutely right. Nicki, with her career-long association with Mattel's most famous toy, was the perfect choice. Joining her on the track is the hottest rapper of the moment, Ice Spice. Ice's go-to producer RiotUSA did the music for the song, which accounts for both its aggressive drums and its sample drill-style use of the once-verboten Aqua hit. 
Nicki and Ice have great chemistry in the song. Nicki doesn't treat the song like a movie soundtrack throwaway — her rhyming is clear, sharp, layered, and funny. And she gets extra points for referring to a bob-style wig as her "Bob Dylan."
"Just Wanna Rock" — Lil Uzi Vert
Mohamad Camara, Javier Mercado & Symere Woods, songwriters
Lil Uzi Vert took "Just Wanna Rock" from TikTok all the way to the GRAMMYs.
The track began as a snippet on the social media app, where it went viral, garnering hundreds of millions of views; even celebrities like Kevin Hart got into the act. When the actual song came out, at just about two minutes long, it wasn't much longer than a TikTok video. But it didn't need to be — the full track kept all the joy and danceability of the memeable excerpt.
"Just Wanna Rock" features Uzi acting as an MC, but not in a traditional going-for-the-cleverest-rhyme way. Instead, his voice is used more for its rhythmic qualities, darting in and out of the four-on-the-floor pounding of the kick drum with short, punchy phrases. "I just wanna rock, body-ody-ya" may not look like much on the page, but it's placed perfectly, and it's the kernel that blossoms into the rest of Uzi's performance.
He takes the rhythm of that initial phrase and plays with it throughout in increasingly intricate ways, while never losing sight of the source material. The song is heavily influenced by the Jersey club sound that has been all over hip-hop this year. As the most popular rap/Jersey club crossover of 2023, it makes perfect sense that "Just Wanna Rock" is in the running for Best Rap Song — even if it is unfinished.
"Rich Flex" — Drake & 21 Savage
Shéyaa Bin Abraham-Joseph, Charles Bernstein, Isaac "Zac" De Boni, Brytavious Chambers, Aldrin Davis, Aubrey Graham, J. Gwin, Clifford Harris, Gladys Hayes, Anderson Hernandez, Michael "Finatik" Mule, Megan Pete, B.D. Session Jr & Anthony White, songwriters
Simon and Garfunkel. Sam and Dave. Hall and Oates. To that list of great duos, it might be time to add Drake and 21 Savage. Seven years after their first collaboration, Toronto and Atlanta's finest finally got together for a full-length project in 2023, and Her Loss standout (and opener) "Rich Flex" is now up for an award on Music's Biggest Night.
"Rich Flex," like much latter-day Drake, has multiple beats. But in this case, that adds to the song's playful mood. Drizzy and 21 sound like they're actually having fun — Drake even playfully lapses into a sing-songy, nursery rhyme-esque melody on occasion. Savage, for his part, seems to be having a blast interpolating Megan Thee Stallion's "Savage" — a move which earned the Houston rapper a writing credit on the track. 
Drake, as in a lot of his recent work, seems consumed with the costs of fame: haters everywhere you look, hangers-on who make your house feel like a hotel; women who won't leave you alone; unwanted attention from law enforcement. But he almost never sounds this engaged, even joyful, when addressing these topics. Maybe what he needed all along was a duet partner. 
"Scientists & Engineers" — Killer Mike Featuring André 3000, Future And Eryn Allen Kane
Paul Beauregard, Andre Benjamin, James Blake, Tim Moore, Michael Render & Dion Wilson, songwriters
It was Andre 3000's first appearance on a song in two years that got all the attention at first. But there's a lot more to "Scientists & Engineers" than the fact that the reclusive half of OutKast shows up.
For one thing, it's what he shows up with. Andre's verse is smart, well-observed, poetic, and somehow manages to change focus completely in the middle and yet still hold together as an artistic statement.
But he's far from the only talent on the song. The track is a veritable all-star fest — not for nothing did Killer Mike call it a "hip-hop fantasy." On the music side, there are contributions from legendary producers No ID and Three 6 Mafia's DJ Paul, hip-hop's favorite singer/songwriter James Blake, and TWhy. Singer Eryn Allen Kane adds her gorgeous vocals. And Future, who lest we forget, began his career as a "second generation" member of the Dungeon Family collective that included OutKast and Mike, adds his patented boastful vulnerability.
Then there's Mike himself. He needed to bring a stellar performance in order not to be buried by all his very special guests, and he more than pulls it off. "I am Thelonius Monk in a donk," he rhymes, and the combination of the innovative jazz legend and the classic car with big rims perfectly describes not only him, but the entire mood he sets with this song.
The 2024 GRAMMYs, officially known as the 66th GRAMMY Awards, returns to Los Angeles' Crypto.com Arena on Sunday, Feb. 4, 2024, and will broadcast live on the CBS Television Network and stream live and on-demand on Paramount+ at 8-11:30 p.m. ET/5-8:30 p.m. PT.
The Recording Academy and GRAMMY.com do not endorse any particular artist, submission or nominee over another. The results of the GRAMMY Awards, including winners and nominees, are solely dependent on the Recording Academy's Voting Membership.
2024 GRAMMY Nominations: See The Complete Winners & Nominees List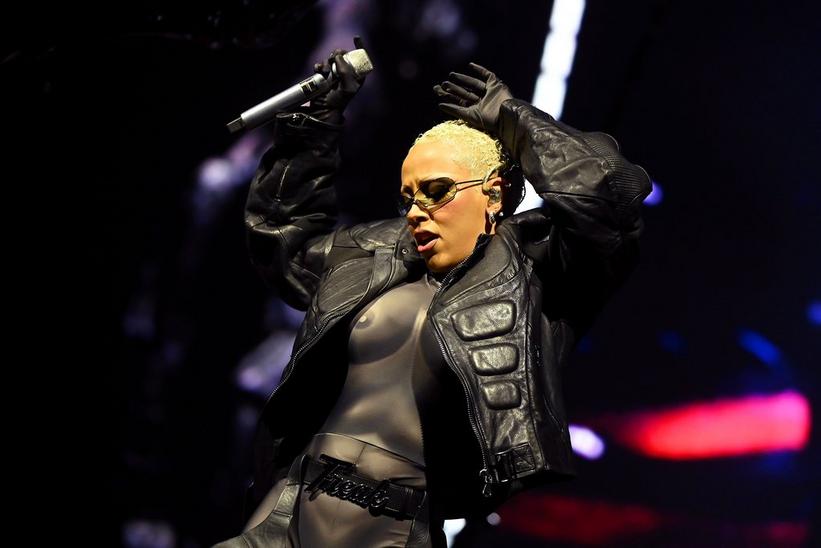 Doja Cat
Photo: Dana Jacobs/Getty Images
news
5 Ways Doja Cat's Scarlet Tour Flaunts Her Creative Versatility
Doja Cat lit up Halloween in San Francisco with the opening night of her Scarlet Tour. Ahead of her national run of shows, GRAMMY.com details how the Scarlet Tour shows off the height of Doja Cat's performing prowess.
GRAMMYs
/
Nov 2, 2023 - 12:53 pm
There's no better way to spend Halloween night than at a Doja Cat concert. Shifting away from Planet Her's starry divine feminine theme, the rapper's latest album, Scarlet, introduced a dark, more sinister aesthetic — perfect for kicking off her Scarlet Tour during spooky season.
For her spine-chilling tour's opening night, the GRAMMY-winning artist touched down in San Francisco's Chase Center, welcoming thousands of thrilled fans in creative costumes. Although Doja has expressed her distaste for pop music, the show remained holistic, representing all facets of her musical identity while also representing her creative crimson rebirth.
From the viral disco pop of "Say So" to the lovelorn hip-hop of "Agora Hills," Doja has proven herself to be a musical shapeshifter at the top of her game — and the Scarlet Tour exhibits Doja's  reimagined artistic vision with full force. To celebrate the beginning of her 24-date tour, which ends Dec. 13 in Chicago, here are five ways the Scarlet Tour spotlights Doja's mastery of performance.
She Can Shift Emotional Tone In The Blink Of An Eye
If there was one word to describe the Scarlet Tour's opening sequence, it would be volatile. Impassioned, Doja spat opener "WYM Freestyle" with precision before diving into a popular Scarlet lead single. Even though she stood alone on a massive stage, the rapper easily filled the entire arena with a feverish, contagious vigor.
Although Doja split the evening into five thematic acts, the concert glided along smoothly, and its flow spoke to her monumental mood control. Even when she performed the most contrasting songs next to each other — for instance, shifting from the hypnotizing "Streets" to the enraged "F— The Girls (FTG)" — Doja managed to make the concert flow.
She's A Master of Reinvention, But Never Forgets Her Past
Everyone loves oldies but goodies — and before the Scarlet Tour kicked off, many fans felt nervous about Doja excluding her older music from the setlist, following the artist's statements about being disillusioned by pop music.
But to her audience's delight, Doja delivered. After kicking off opening night with two Scarlet tracks, her third song struck nerves: "Tia Tamera." The fun fan favorite signaled that Doja's setlist wouldn't disregard her older music, despite how she might feel about the songs in retrospect.
Beyond spitting "Tia Tamera," Doja's dive into her catalog proved to be more than just throwbacks to satisfy her hungry crowds: it also mirrored her ever-changing style. During performances of several earlier hits, the rapper altered the originals to idiosyncratic, contemporary versions.
Doja debuted a lovely tropical version of "Say So" halfway through her set, and she turned up the energy even further during the second halves of both "Woman" and "Streets," opting for more intense, fiery endings. Throughout the Scarlet Tour, Doja expertly demonstrated her ability to reinvent her older hits to fit her current musical style.
She Dramatically Executes Her Aesthetic Vision
Although Doja surprisingly didn't have any costume changes or Halloween shoutouts, the concert expertly executed the rapper's creative, unearthly vision. 
From flickers of haunted houses onscreen to eerie apparitions cloaked in red, the show channeled the spine-chilling energy of Scarlet with lucid aesthetics. Immense, mysterious props were especially memorable; early on in the show, a massive metal spider hovered above Doja, and later, an unsettling bloody eyeball roamed the stage.
The stage involved other explosive surprises — there seemed to be no shortage of fireworks, and a ring of fire blazed around Doja for her most intense performances. If one thing's for sure, the Scarlet Tour brought the heat.
She Gets To The Point
Even though the Scarlet Tour flew by in just an hour and a half, the concert still felt like a graphic representation of her reimagined artistic journey.
In total, Doja ran through a fabulous 24 songs in five acts, whisking her audience through lush hip-hop and lighthearted pop. Bending genres to her will, she offered striking performances with few breaks.
Though the concert was relatively succinct for an arena show, it felt intentional in its move through her versatile discography. Doja's evolution as an artist has been anything but brief, yet the concert's brevity still made for a strong tribute to the progression of her musical eras.
Her Stage Presence Is Unmatched
Anyone who sells out an arena is sure to have a renowned stage presence, but Doja's is especially unforgettable.
Sometimes it's easy for headliners to get swallowed on stage by fanfare and props, but Doja radiated the addictive confidence of a seasoned performer. Whether she was raging solo on stage or surrounded by her top-notch dancers, Doja was undeniably always the center of attention.
Her marvelous breath control earned her well-deserved clamor, especially during the whirlwind bridges from Planet Her's "Get Into It (Yuh)" and "Need To Know." Doja also flexed her esteemed dance skills, moving fluidly and breezily across the stage in teetering black heels.
Some of the show's best moments, however, were unchoreographed. Although Doja tended to stick to her darker persona throughout the concert, there were times when a blushing smile would sneak onto her face — and those moments of joy made even a massive arena feel intimate.
From Meme Queen To Popstar: Revisiting Doja Cat's Inevitable Breakout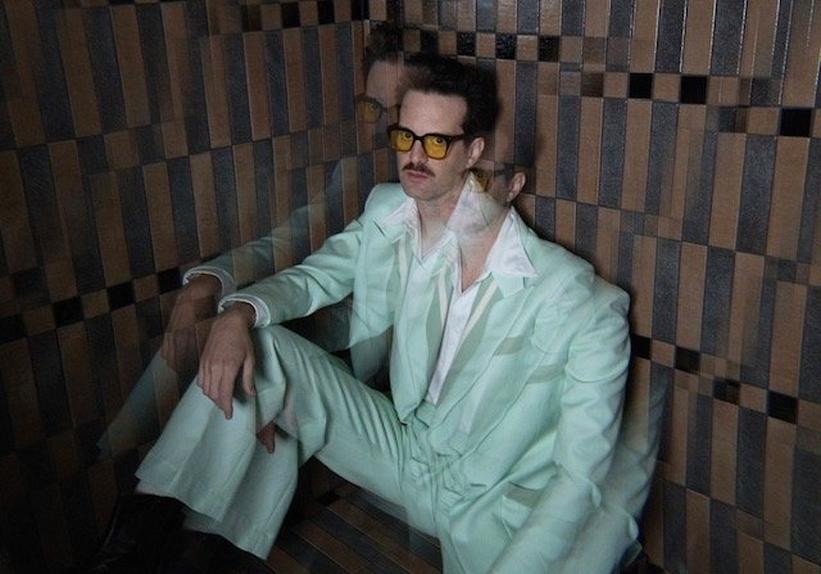 Mayer Hawthorne
Photo Courtesy of Janell Shirtcliff
Catching Up With Mayer Hawthorne: How Love, Shrooms & Ethio Jazz Created His Sexiest, Most Psychedelic Record
In a career-spanning interview, the GRAMMY-nominated soul singer from Michigan details the creation of his recently-released fifth album, 'For All Time,' his origins in DJing, and collaborations with Doja Cat.
GRAMMYs
/
Oct 31, 2023 - 02:25 pm
In the early 2000s, when Andrew Mayer Cohen was in his 20s, he moved from his hometown of Ann Arbor, Michigan to Los Angeles to pursue a career as a hip-hop DJ. He had been DJing clubs and parties in Detroit but was ready to take things more seriously.
At a party in L.A., the artist now known as Mayer Hawthorne handed hip-hop producer and Stones Throw record label owner Peanut Butter Wolf a demo: Wolf said the beats were no good but loved the soul samples in the background. When Wolf found out they weren't samples — Hawthorne had created all the soul sounds on his own, playing all the instruments, to avoid paying to sample classic soul songs — Wolf suggested he pursue soul music.
Hawthorne has since released five albums — including For All Time, released on Oct. 27 —  and continues to tour, pursue side projects and collaborations, and DJs parties and events. With his glasses, coiffed hair, and suits and loungewear, he's like the Buddy Holly or Hugh Heffner of contemporary soul music. 
GRAMMY.com spoke with Hawthorne recently over Zoom about his latest album, upcoming tour, his unexpected beginnings as a soul singer, and what he's learned from collaborating with younger artists.
Describe the plan going into this most recent album: How did this new batch of songs come together, and what did that process look like? 
I did a lot of mushrooms and came up with a lot of super psychedelic sounding stuff. This is definitely my most psychedelic record. I was listening to a lot of Ethiopian and Turkish jazz and African funk. 
I've been really obsessed with the song "Mot Adèladlogn" by Tèshomè Meteku, and music from Mulatu Astatke. I remember buying a Mulatu LP at a record fair in the mid 2000s for like $10 and now it's a thousand-dollar LP. Ethiopian music can be dark and mysterious sounding, and that really hooked me. 
But the really big thing is that I met someone and got married. This album is a lot about finding real love that is for all time. 
Congratulations. That's a big milestone.
Dating in L.A. is brutal. It can be a very lonely place. I'm so unbelievably grateful to the universe for sending me my wife. I definitely went through some dark times, so this album is a celebration of love.
So much of your music is about love and romance. What's different or unique with this new batch of songs?
It's definitely the sexiest album I've ever made. I'm predicting a baby boom in 2024. Music about love is the music I probably love the most, like Isaac Hayes and Barry White. All the best Beatles songs are about love. 
I think prior to this record, I was known for bitter, angsty breakup songs. My (2016) Man About Town LP was all about frustration and loneliness and the inability to find love and happiness. They are still fun songs, but I was trying to hide the sadness in the fun. This new record is like a 180 from that. 
Typically, where do new song ideas come from for you? 
My best ideas come when I'm in the car. When you're driving you switch off part of your brain, and something else pops up, and it frees up something in your brain. Mayer Hawthorne songs just come out of the sky. It's more about me trying to reverse engineer out of my head and get it on tape. I don't usually come up with something on the spot like I might when I work with other artists. Mayer Hawthorne stuff is more personal. 
Sometimes I come up with demos that I think would be cool for another artist, and they'll listen and say well this is amazing but you are the only person who could do this song. I have my own unique style of songwriting and the only thing that matters with music is that you do something unique and original that can cut through the noise, and that's not easy.
You produce and write for other artists, including Doja Cat. What's your approach to producing? When other artists come to you and want to collaborate, what do you think they're looking for, exactly?
I'm at the point where I have some experience under my belt and something to offer when I work with younger artists. Sometimes they don't know the difference between a pre-chorus and a bridge or a major triad and a minor 7th chord. Some don't play an instrument, they just do everything in FruityLoops. It's very liberating and so much fun. It's inspiring for me. 
I love being around the energy of young people, it keeps me young. Blu DeTiger played bass for me on my record, and I'm in awe of her playing. She's incredible. I worked with Jordan Ward a lot, and his writing is so instinctual and creative. I get more out of these sessions than they do. It helps me so much to not become that old cranky guy and say music now sucks. I don't ever wanna be that guy.
You were nominated for a GRAMMY Award for the special box set of your 2013 album How Do You Do, and nominated again for your work on Doja Cat's Planet Her. How have those nominations affected your musical career?
It's always cool to be recognized by your peers in the business, people I have tremendous respect for. It feels cool to be part of something. We're all out here working hard, but you never know what will be a hit or what will have an impact. You do the best you can all the time and cross your fingers, and if you're lucky, some shit really goes. 
To have started the way I did, as a DJ from Ann Arbor who moved to L.A. and tried to make hip-hop music, and ended up sort of accidentally having a career in soul music, and now still being here and being involved with someone as cool as Doja Cat. It's so cool to stay relevant in that way and have so much fun doing it. 
You started off as a DJ, and you still DJ for parties and events. How do you approach DJing, and how has it evolved over the years?
I've been DJing since high school. I still consider myself a better DJ than a musician or singer. I can DJ with my eyes closed, it's like second nature to me at this point. So much of it is just reading the room. You have to know instinctively what to play at the right moment to make people move.
I DJed a pool party for Kourtney Kardashian and she wanted only 1950s music. That was so much fun, playing doo wop and sock hop jams. I love things like that, I had so much fun. I did a Star Wars disco party for Disney recently, and got to pull all my Italian disco, spaced-out vocoder jams, and electronic shit. That was so cool. I love doing that. DJing is still my number one love. 
Your vinyl collection has been described as "insane." How so?
That is accurate. I listen to so many styles of music, and I collect everything from Doris Day records and the Chordettes to Sun Ra and British psych rock. I'm all over the map. 
Siamese Dream from Smashing Pumpkins is one of my favorite albums of all time. I used to set my alarm clock in high school to Helmet because it was the only way to get me out of bed. I recently got on a plane to Toronto just to go to this crazy record convention for super vinyl nerds like me. It's an expensive ass habit, but vinyl is my thing.
You live-streamed "Wine and Vinyl Hour" DJ sets from your house during Covid. How did that come about?
It's something I do anyway at home, just spinning records and having wine, so my manager said why not just turn the camera on and let other people in on it? 
It turned into this thing and became bigger than me. People started showing up just to talk to each other. It was something to look forward to every Thursday and it turned into this big community I was not expecting. It was amazing.
Since 2015, you've collaborated with producer Jake One on the boogie funk group, Tuxedo. You've released three albums and done multiple world tours. How did that project come about? How is Tuxedo different from your solo work?
Tuxedo is just Jake and I making songs we want to ride around in my 87 Benz and listen to for fun. Jake and I both have successful careers without it, so Tuxedo is just icing on the cake. That's why it's good. It's a celebration of having a good time and dancing and being happy. It's about joy.
You told the Detroit Free Press in 2009 that Mayer Hawthorne is a character torn in time between 1965 and 2009, heavily influenced by Motown and '60s soul, but moving the music forward and creating something new. How has your character evolved over the years?
Over the years, Mayer Hawthorne has definitely become less of a character. It comes much more from a genuine place of my real life, as I get older and experience things and live life. 
When you're young you don't have much experience, so you have to make stuff up. Then you live and you can tell your story for real. As I get older, it's much more the real me you're getting, which is very cool, and scary at the same time. There's less to fall back on. 
And how do you make '60s soul sound new?
I never want people to hear my records and wonder if it's new or not. When you listen to this new album, it's clearly influenced by the Delfonics and Isaac Hayes and Steely Dan, but there's no way you're confused and think it's an old record you missed from the '70s. I'll never do classic '70s Philly soul better than the Delfonics. Plenty of artists do regurgitation of something old, but I'm all about putting my new spin on it. 
I grew up in the Detroit area, but Motown had long moved to California and there was nothing really left. I grew up listening to J Dilla and Slum Village — that was my music, not my parents' music. Classic soul music had a profound effect on me, but I learned more about it from hip-hop producers who sampled it than the actual artists. 
Your debut album, Just Ain't Gonna Work Out, came out in 2008 on Stones Throw. It was soulful and fun and also very youthful; it sounded retro and modern at the same time. You were 29 then. 
I just really wanted to make it as a rap producer in LA, and was so excited to meet Peanut Butter Wolf. I met him at a party and gave him my rap beats. He said they were terrible, but asked about the soul samples. They weren't samples; I had made them on the side so I could sample myself for free and not have to pay for royalties. He said you're not that good at making rap beats, but youre good at making soul, so you should do that. 
I thought for sure it would be a side project. I didn't think there would be a possibility of that being my trajectory. But then it just connected with people. I was like holy s—, now I have to perform these songs live, and I had never sang in front of an audience and I didn't have a band. I was like how does anybody do this? It was so unorthodox.
How did you get into hip-hop initially? What/who were you listening to? What was the appeal?
Rap music exploded in Ann Arbor around 1993. If you didn't have Black Moon's "Enta Da Stage" or Snoop Dogg's Doggystyle on cassette or CD you were wack. My friend's high school rap group needed a DJ, so I saved up and bought two used turntables off eBay. I had about a dozen 12" singles from Nas, Pharcyde and Wu-Tang, and I practiced scratching and mixing in my bedroom all day, every day.  
I think I was mostly drawn to hip-hop because it was different and rebellious. My parents hated it, so it made me love it more.
Did you always want to pursue music seriously or were there other pursuits you had considered? 
My dad is a bass player and he taught me to play when I was 6 or so. I wanted to play drums but my parents didn't want me banging on s— all day in the house. I would do my own Michael Jackson performances just for my family with the one sparkly white glove. 
I was in a bunch of bands throughout middle school and high school, including one experimental rock band with Andrew WK who was my neighbor growing up. I studied computer science in college but it was mostly to please my parents. 
I always knew I wanted to make music, but I never imagined I would be a soul singer.  I never sang in any of the groups I was in, I was always the bass player or the DJ somewhere in the background.
You've had a great 15-year run so far. 
I wake up every morning still unbelievably grateful and thankful that I get to do this for a living. Part of the reason I'm still here is that I always expected one day it would be over. I just try to have as much fun as I can while I'm doing it. I just never want to be boring, or middle of the road, that's the worst.
I'm still learning so much. Every time I do a session with a 19-year-old from the UK, I learn so much also. I'm supposed to be the veteran in the room, but I learn just as much from them as they do from me.
You'll do a short tour in January and February. What do you have planned for those shows? How has your live show evolved over the years? 
The tour is called Hawthorn Rides Again. We will switch things up with new band members and live drums. I'm not the same 20-something guy I was when I first started touring. I feel like I'm a different person, so I want the show to reflect that. 
It will sound as close to the record as possible. I can't stand it when I see a band and it doesn't sound like the record. Mainly I want the tour to be a joyous celebration of love. 
Looking ahead, what's next for you in 2024 after the tour?
I'm really looking forward to writing and producing more with other cool artists like MAX, Eyedress, Aaron Frazer, and Blu DeTiger. When you're working with other artists you just gotta cross your fingers and hope that the songs actually get released. 
I've been working on so many cool projects behind the scenes and a lot of them are finally coming out. It's an exciting new frontier for me.  I have so many artists on my dream list to work with. Rosalía, if you're reading this, call me.
Hemmed In By Early Successes, Black Pumas Creatively Flourish On 'Chronicles Of A Diamond'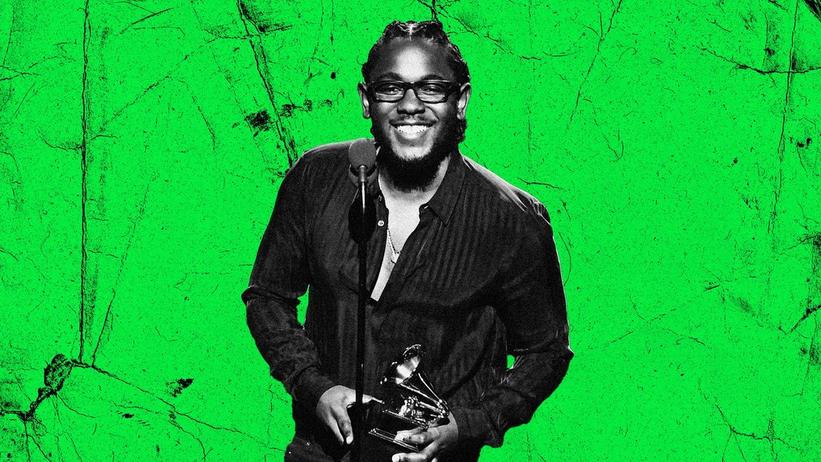 Kendrick Lamar
Photo: Jeff Kravitz/FilmMagic
video
GRAMMY Rewind: Kendrick Lamar Honors Hip-Hop's Greats While Accepting Best Rap Album GRAMMY For 'To Pimp a Butterfly' In 2016
Upon winning the GRAMMY for Best Rap Album for 'To Pimp a Butterfly,' Kendrick Lamar thanked those that helped him get to the stage, and the artists that blazed the trail for him.
GRAMMYs
/
Oct 13, 2023 - 06:01 pm
Updated Friday Oct. 13, 2023 to include info about Kendrick Lamar's most recent GRAMMY wins, as of the 2023 GRAMMYs.
A GRAMMY veteran these days, Kendrick Lamar has won 17 GRAMMYs and has received 47 GRAMMY nominations overall. A sizable chunk of his trophies came from the 58th annual GRAMMY Awards in 2016, when he walked away with five — including his first-ever win in the Best Rap Album category.
This installment of GRAMMY Rewind turns back the clock to 2016, revisiting Lamar's acceptance speech upon winning Best Rap Album for To Pimp A Butterfly. Though Lamar was alone on stage, he made it clear that he wouldn't be at the top of his game without the help of a broad support system. 
"First off, all glory to God, that's for sure," he said, kicking off a speech that went on to thank his parents, who he described as his "those who gave me the responsibility of knowing, of accepting the good with the bad."
He also extended his love and gratitude to his fiancée, Whitney Alford, and shouted out his Top Dawg Entertainment labelmates. Lamar specifically praised Top Dawg's CEO, Anthony Tiffith, for finding and developing raw talent that might not otherwise get the chance to pursue their musical dreams.
"We'd never forget that: Taking these kids out of the projects, out of Compton, and putting them right here on this stage, to be the best that they can be," Lamar — a Compton native himself — continued, leading into an impassioned conclusion spotlighting some of the cornerstone rap albums that came before To Pimp a Butterfly.
"Hip-hop. Ice Cube. This is for hip-hop," he said. "This is for Snoop Dogg, Doggystyle. This is for Illmatic, this is for Nas. We will live forever. Believe that."
To Pimp a Butterfly singles "Alright" and "These Walls" earned Lamar three more GRAMMYs that night, the former winning Best Rap Performance and Best Rap Song and the latter taking Best Rap/Sung Collaboration (the song features Bilal, Anna Wise and Thundercat). He also won Best Music Video for the remix of Taylor Swift's "Bad Blood." 
Lamar has since won Best Rap Album two more times, taking home the golden gramophone in 2018 for his blockbuster LP DAMN., and in 2023 for his bold fifth album, Mr. Morale & the Big Steppers.
Watch Lamar's full acceptance speech above, and check back at GRAMMY.com every Friday for more GRAMMY Rewind episodes. 
10 Essential Facts To Know About GRAMMY-Winning Rapper J. Cole