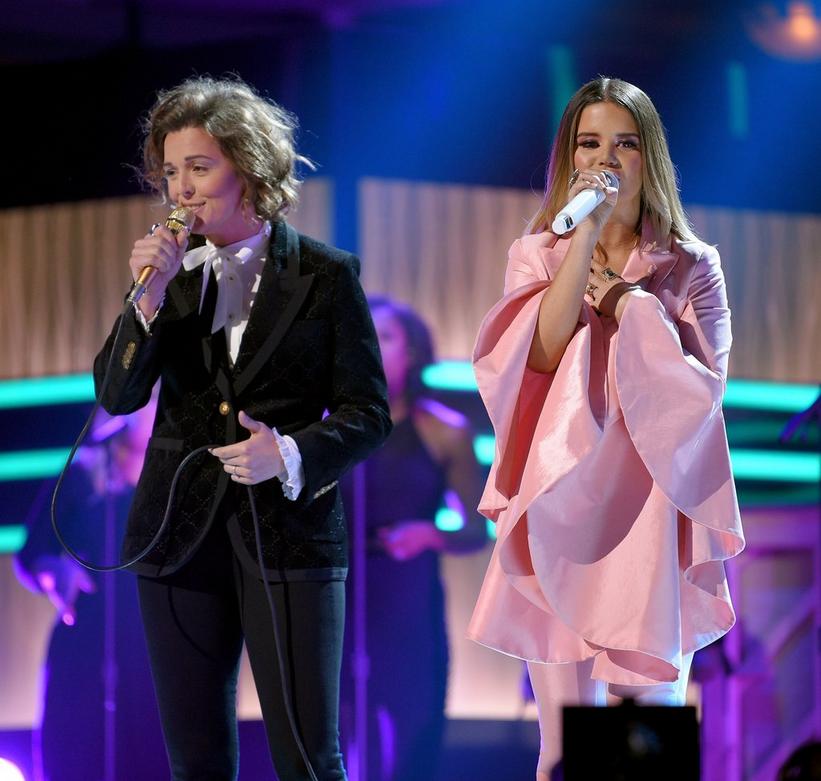 Brandi Carlile & Maren Morris
Photo: Jason Kempin/Getty Images
news
Maren Morris & Brandi Carlile Talk Empowering Women In Music & Collaborating Together
The two GRAMMY-winning musicians discuss their experiences at the 2019 GRAMMYs and the importance of women being more supportive of each other in music
GRAMMYs
/
Mar 9, 2019 - 05:26 am
Today, GRAMMY winners Maren Morris and Brandi Carlile dove deep during an hour-long conversation on Apple Music's Beats 1 "Visionary Women" series. Their inspirational discussion included Morris sharing her lingering awe over Carlile's stunning performance of "The Joke" at the 61st GRAMMY Awards, sharing in their love of Janelle Monáe and encouraging more collaboration and support among women in music.
They also talked about their duet on Morris' latest album, GIRL, and on their new project Highwomen, a female-led country supergroup aimed at creating the gender equality and positive change they hope to see in music.
Will be talking visionary women with my friend @MarenMorris plus playing songs we wish we wrote on @Beats1 @AppleMusic tonight at 11pm LA/2am NY/6am LDN.
Listen live free: https://t.co/vwLIaaOtgI
Anytime: https://t.co/KbC12R95nQ pic.twitter.com/dTzPBGqOKN

— Brandi Carlile (@brandicarlile) March 8, 2019
The pair talked in depth about collaboration; on their work together, in their work with other artists and in the larger scope of the industry. Carlile touched on what she sees as a "really quiet movement of women" in the country and Americana space that finally joining together as they realize they can't—and don't need to—keep competing with each other.
"There's a wave of this unity coming, and it's coming from the women that are your age, actually, they're kind of leading the way on it. I see it coming, I see it happening and I find it really exciting. And I notice you have the spirit of collaboration in you," Carlile said to Morris. "You're not worried to stand next to somebody that looks different than you, or is more famous than you, or less famous than you…You don't see other women as competition and I've always had that same tendency."
Morris released her sophomore album GIRL today, which includes two featured artists, one of whom is Carlile, on the soulful girl power track, "Common." She shares how she was so touched when, after returning to Nashville from a songwriting session for the album in L.A., she came home to a vinyl copy of Carlile's By The Way I Forgive You on her doorstep.
They also spoke about their latest project together, dubbed Highwomen, where the pair plus country singer/songwriter Amanda Shires, who Carlile explains first inspired the project, will work with a rotating crew of fellow powerhouse country-leaning artists.
Carlile described the story behind the project, explaining how a conversation with Shires about activism gave her a brilliant idea. She thought; "Maybe we should start a musical movement, like a Trojan horse of love, where we get inside the mechanism and fix it from inside."
Highwomen will include women in country and folk, and, as Carlile put it, "our men, our adjacent feminists," with songs in the vein of "really classic country." She added:
"It's turning into a movement in Nashville to very kindly, but insistently, say, 'Women need to be included.' Women need to experience representation in country and Western music and Americana and that starts in Nashville. It starts with us."
Morris' and Carlile's conversation aired this morning on Beats 1 as the second episode for their month long "Visionary Women" series to celebrate women in music and is available to stream on demand for Apple Music subscribers.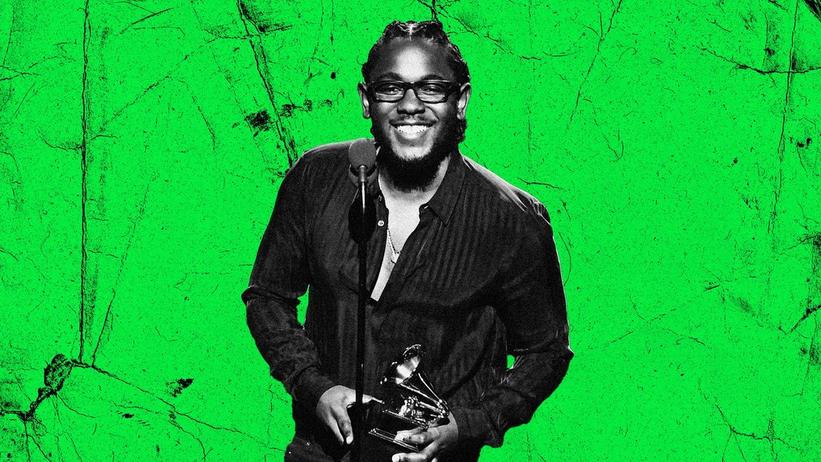 Kendrick Lamar
Photo: Jeff Kravitz/FilmMagic
video
GRAMMY Rewind: Kendrick Lamar Honors Hip-Hop's Greats While Accepting Best Rap Album GRAMMY For 'To Pimp a Butterfly' In 2016
Upon winning the GRAMMY for Best Rap Album for 'To Pimp a Butterfly,' Kendrick Lamar thanked those that helped him get to the stage, and the artists that blazed the trail for him.
GRAMMYs
/
Oct 13, 2023 - 06:01 pm
Updated Friday Oct. 13, 2023 to include info about Kendrick Lamar's most recent GRAMMY wins, as of the 2023 GRAMMYs.
A GRAMMY veteran these days, Kendrick Lamar has won 17 GRAMMYs and has received 47 GRAMMY nominations overall. A sizable chunk of his trophies came from the 58th annual GRAMMY Awards in 2016, when he walked away with five — including his first-ever win in the Best Rap Album category.
This installment of GRAMMY Rewind turns back the clock to 2016, revisiting Lamar's acceptance speech upon winning Best Rap Album for To Pimp A Butterfly. Though Lamar was alone on stage, he made it clear that he wouldn't be at the top of his game without the help of a broad support system. 
"First off, all glory to God, that's for sure," he said, kicking off a speech that went on to thank his parents, who he described as his "those who gave me the responsibility of knowing, of accepting the good with the bad."
He also extended his love and gratitude to his fiancée, Whitney Alford, and shouted out his Top Dawg Entertainment labelmates. Lamar specifically praised Top Dawg's CEO, Anthony Tiffith, for finding and developing raw talent that might not otherwise get the chance to pursue their musical dreams.
"We'd never forget that: Taking these kids out of the projects, out of Compton, and putting them right here on this stage, to be the best that they can be," Lamar — a Compton native himself — continued, leading into an impassioned conclusion spotlighting some of the cornerstone rap albums that came before To Pimp a Butterfly.
"Hip-hop. Ice Cube. This is for hip-hop," he said. "This is for Snoop Dogg, Doggystyle. This is for Illmatic, this is for Nas. We will live forever. Believe that."
To Pimp a Butterfly singles "Alright" and "These Walls" earned Lamar three more GRAMMYs that night, the former winning Best Rap Performance and Best Rap Song and the latter taking Best Rap/Sung Collaboration (the song features Bilal, Anna Wise and Thundercat). He also won Best Music Video for the remix of Taylor Swift's "Bad Blood." 
Lamar has since won Best Rap Album two more times, taking home the golden gramophone in 2018 for his blockbuster LP DAMN., and in 2023 for his bold fifth album, Mr. Morale & the Big Steppers.
Watch Lamar's full acceptance speech above, and check back at GRAMMY.com every Friday for more GRAMMY Rewind episodes. 
10 Essential Facts To Know About GRAMMY-Winning Rapper J. Cole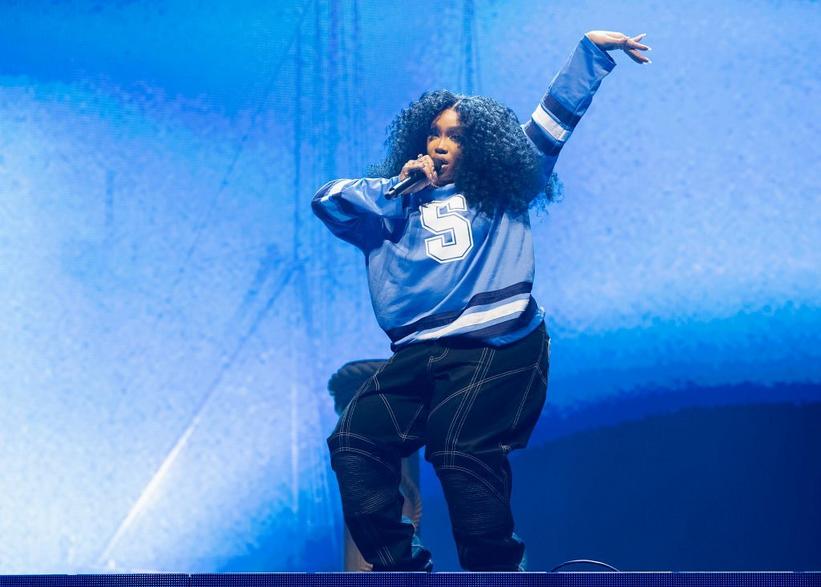 SZA performs during her The SOS North American Tour
Photo: Andrew Chin/Getty Images
news
New Music Friday: Listen To New Songs From SZA With Drake & Justin Bieber, Offset, Tate McRae & More
From highly anticipated collabs to long-awaited album teasers, take a listen to six new tracks that arrived on Sept. 15.
GRAMMYs
/
Sep 15, 2023 - 06:41 pm
It's yet another big day for music enthusiasts, as listeners were gifted with unexpected collaborations and fresh new melodies from artists of every genre on Sept. 15. 
With an Instagram caption-worthy single from Drake and SZA , a playful, self-confident anthem from Tate McRae, and a chill, euphoric vibe from Noah Kahan & Lizzy McAlphine, there's plenty of different sounds to dive into. 
As you're putting together your autumn 2023 playlist, add these six new tracks to the mix.
Drake feat. SZA - "Slime You Out"
Just hours after GRAMMY winners Drake and SZA announced they'd be teaming up for a new track, the pair unleashed "Slime You Out" promptly at noon ET on Sept. 15. 
As the song's title insinuates, the duo seem to express their thoughts on someone "sliming" them out — which, in this case, refers to someone playing with their feelings. "Tryna build trust, showin' me your DMS, how they tryna bag you / Ironic how the news I got about you ended up bein' bad news."
Drake's clever wordplay paired with SZA's mellow, hypnotic voice make the single a memorable one. But perhaps it's even more memorable because it's been a team-up long in the making: according to Drake's eyebrow-raising line in his 21 Savage collab "Mr. Right Now," the two used to date "back in '08."
SZA feat. Justin Bieber - "Snooze (Acoustic Remix)"
As SZA fans awaited her song with Drake, she gave them another high-profile collab in the form of a "Snooze" remix with Justin Bieber. An alluring, stripped-down version of the original SOS track, the "Snooze" remix sees SZA and Bieber passionately harmonize; added guitar chords add a dreamy touch to the song.
The remix also marks a full-circle moment for the pair, as Bieber starred in the original "Snooze" music video, which was released on Aug. 25.  
Offset - "Fan"
Kicking off what seems to be his Michael Jackson era, Offset has released this newest single, "Fan." This song features an infectious, hype beat with lyrics presenting a nonchalant 'IDGAF' attitude: "You supposed to hold me down, but it didn't happen (You supposed to hold me down)/ Now I'm over it." 
"Fan" is a taste of Offset's forthcoming second album, Set It Off, which he will release on October 13. The LP follows his debut solo album, 2019's Father of 4, which landed him a Best Rap Performance GRAMMY nomination for the single "Clout" featuring his wife, Cardi B. 
In the "Fan" music video, Michael Jackson is heavily referenced, with moments including Offset transforming into werewolf and zombie, and dance moves like the reverse moonwalk. 
Tate McRae - "Greedy"
self-confidence single "greedy." This song is a testament to McRae's inner thoughts, as the lyrics let listeners know she's not tolerating insecurities — and definitely not enabling any "greedy" men. 
"I would want myself/ Baby, please believe me/ I'll put you through hell/ Just to know me, yeah, yeah," she sings on the chorus.
"Greedy" is McRae's first release in 2023, and first solo single since her 2022 debut album, i used to think I could fly. She also teamed up with DJ/producer Tiësto for the late 2022 hit "10:35."  
Noah Kahan feat. Lizzy McAlpine - "Call Your Mom"
Folk-pop favorite Noah Kahan teamed up with rising pop singer Lizzy McAlpine to create a new version of "Call Your Mom," an emotional track from his hit 2022 album Stick Season.
Kahan recently brought McAlpine out as a surprise guest during his sold-out show at L.A.'s Greek Theatre on Aug.11, where the two singer/songwriters performed the song for the first time together. 
Written about giving unconditional support to a loved one struggling with mental health issues and depression, the moving song reaches new heights with two voices on it. Kahan's and McAlpine's voices perfectly blend together and capture the lyrics' powerful  emotions.  
Maren Morris -

The Bridge
Maren Morris dropped not one, but two new songs, "The Tree" and "Get The Hell Out of Here," which both seem to focus on a new chapter in Morris's life. "The Tree" feels like a farewell, as she proudly sings,"I'm done fillin' a cup with a hole in the bottom/ I'm takin' an axe to the tree/ The rot at the roots is the root of the problem/ But you wanna blame it on me."
"Get The Hell Out of Here" has a more mellow country melody that also talks about growth and navigating different areas of her life. Both songs share a different story, yet share the same theme of a transitional period in her life — and tease what's to come on her next album, which will follow 2022's Humble Quest. 
As Morris said in a statement, "These two songs are incredibly key to my next step because they express a very righteously angry and liberating phase of my life these last couple of years, but also how my navigation is finally pointing toward the future." 
Listen: *NSYNC Announce "Better Place," First New Song In 20 Years — Hear A Snippet
Maren Morris at the 2017 GRAMMYs.
Photo: Jason LaVeris/FilmMagic
video
GRAMMY Rewind: Watch Maren Morris' Full-Circle Moment After "My Church" Wins In 2017
When Maren Morris won her first GRAMMY in 2017, she couldn't help but be "really nervous" — because it was a moment she's been working toward since GRAMMY Camp in 2005.
GRAMMYs
/
Jul 7, 2023 - 02:50 pm
In the early days of Maren Morris' music career, she was part of the first GRAMMY Camp class in 2005. Twelve years later, she was back in Los Angeles — this time, to accept her first GRAMMY.
In this episode of GRAMMY Rewind, travel back to the night Morris had her full-circle moment when "My Church" won Best Country Solo Performance at the 2017 GRAMMYs.
When Morris took the stage to accept her golden gramophone, she first took a moment to acknowledge her Recording Academy roots. "[GRAMMY Camp] was the first time I ever flew on a plane by myself to Los Angeles," she recalled. "It's crazy to be here a decade later."
Morris later praised her team at Red Light Management, Columbia Records, and Big Yellow Dog. "Sorry! I'm really nervous," she said as she laughed between names.
Before heading off stage, Morris thanked two more special people in her life: her mother, who was her date, and her fans. "Thank you for giving me the most incredible year of my life!" she exclaimed.
Press play on the video above to watch Marren Morris's full acceptance speech for Best Country Solo Performance at the 59th Annual GRAMMY Awards, and check back to GRAMMY.com for more new episodes of GRAMMY Rewind.
6 Things To Know About Margo Price: Her Struggles, Writing Process & Unforgettable Success Story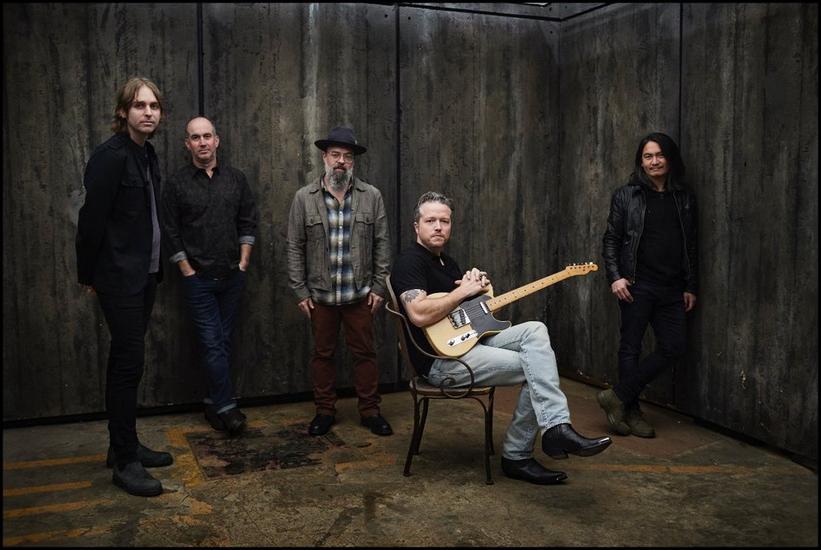 Jason Isbell and the 400 Unit
interview
On 'Weathervanes,' Jason Isbell Accepts His Internal Pressures And Fears
With a revealing HBO documentary in the rearview and his first major acting role onscreen in the fall, Jason Isbell is coming to terms with having a public face. His new album with the 400 Unit, 'Weathervanes,' is the product of that self-realization.
GRAMMYs
/
Jun 9, 2023 - 01:42 pm
At this stage, a Jason Isbell album isn't just an album; it's a juncture in his ongoing press narrative, another breadcrumb trail as per his personal life.
His first three after he left Drive-By Truckers represent the man in the wilderness; 2013's Southeastern and 2015's Something More Than Free were reflective of his newfound sobriety and marriage to musician Amanda Shires. 
The birth of his daughter figured heavily in 2017's GRAMMY-winning The Nashville Sound; that album's "If We Were Vampires," a duet with Shires, stands as Isbell's monument to mortality and won a GRAMMY.
With 2020's Reunions came a splashy New York Times feature about Isbell and Shires' marital struggles, with a lede about a brush with a relapse — suddenly, his ascendance seemed freighted, complicated. 
All this begs the question: is having his private life codified and illuminated with each record ever irksome, or frustrating, for Isbell?
"Honestly, I think I appreciate that. I think that serves the ultimate purpose of making art — to document your life, because it is really a way of holding on to these things," he tells GRAMMY.com. "If you leave those things behind, they'll sneak up on you, and then you'll find yourself in a bad place, and you won't know why."
Isbell's new album, Weathervanes, is out June 9; it's his sixth with long-running backing band the 400 Unit. At its essence is a psychologically splintered cast of characters, found on highlights like "Death Wish," "King of Oklahoma" and "This Ain't It."
"They're fallible and they're human. And I think they're all trying to do their best in one way or another," Isbell says of the ties that bind them. "There's a lot of me that's in each of them — some moreso than others."
Rather than commenting on his marriage or sobriety, Weathervanes is the product of his changed relationship with pressure, and being in the public eye. The album arrives in the wake of Running With Our Eyes Closed, a raw-nerved HBO documentary about Isbell. He just acted in his first major film, in Martin Scorcese's Killers of the Flower Moon, headed to theaters in October.
"It's OK to say, 'This is a scary thing to do. I'm afraid that people aren't going to connect with it in the same way, and my work is not going to have the same impact on folks that it's had in the past,'" Isbell says. "And once I learned how to admit that to myself and the people that I care about, things got a lot easier."
Read on for an in-depth interview with Isbell about the road to Weathervanes, how being directed by Scorcese informed his process in the studio and surviving his hard-partying, hard-touring Drive-By Truckers days.
This interview has been edited for clarity.
Can you draw a thread between where you were at during the Reunions period, and where you're at during the Weathervanes era? The HBO documentary certainly captured the former.
Yeah, yeah. And then, in the middle, we had the lockdown and all that kind of stuff.
For me, the pandemic era — although it's not finished yet, but what we call that pandemic era, that year or two where we were all stuck in the house — was ultimately a good time for me to revisit some psychological, emotional questions that I had for myself, and I sorted a lot of that stuff.
When the bulk of the documentary was made, I was having a hard time dealing with the pressures of my work, and the pressures of family. And the main reason why I was dealing with that was because I just wasn't recognizing it for what it was, and I wasn't aware of the effect that those things were having on me.
Getting stuck in the house with my family and myself for that long, I think, really helped me; it forced me to confront that stuff and admit what it really was that was causing me difficulties. And once I got through that, things opened up and got a lot easier for me.
I had a really, really good time making Weathervanes. I don't know if I had a good time writing it, because I don't know if that's ever exactly fun. It's fun when you finish a song; it feels like you just left the gym. 
But when you're sitting down in front of the blank page, it feels like you're walking into the gym, and you might have just gotten four hours of sleep the night before.
What were you dealing with internally? Just childhood stuff, stuff bugging you from the past?
There was some of that. It was also just relationship difficulties; they were just constant. 
Amanda and I have been married for 10 years, and it's the kind of thing where you get in this rhythm of life where you go through the same sort of rituals every day, and you ask the same questions and you get the same answers, and it's easy to get into that monotony and not really reach and look for ways to grow.
I think before the pandemic happened, I'd gotten to a point where I was in this rhythm: go out and play shows, make records, come home, spend time with the family. I was sort of ignoring the pressure of all that, and especially in the work.
I've been very fortunate with my last few albums that they were well-received and things have gone really well. And when I go into the studio to make a record… it was hard for me to admit to myself that that caused me anxiety and a lot of stress, because I didn't like how it made me look. I wanted to look tough and look like I had everything under control.
And after making Reunions, I realized that that's not necessarily the case. And once I learned how to admit that to myself and the people that I care about, things got a lot easier.
What psychological or spiritual wells were you drawing from for these songs?
I try to make these characters, and then I follow them around. And I don't know exactly what they're going to do next. I think that's the only way to keep it really natural.

There's a lot of me that's in each of them — some moreso than others. Some of the songs I write, I am writing about me. 
But one of the things that I like about songwriting is that you don't really categorize music in that way. You categorize movies and books in that way; there's fiction and nonfiction, there's documentaries and other movies. But for songs, it's all of the above.
So, a lot of this is me, and a lot of it is synthesized characters that have characteristics of multiple people that I know. Then, I just let them act naturally and follow them around, and the themes find there way in there. 
I don't have to insert the themes, because there's enough in my unconscious mind that the songs will wind up dealing with real things — as long as I'm honest with everybody.
There's a wide variety of perspectives and experiences in these songs. What do the Weathervanes characters have in common?
I think when it's done right, they have the same things in common that the listeners have. They're fallible and they're human. And I think they're all trying to do their best in one way or another.
That's maybe what I'm exploring more than anything else — not as a mission statement, but a connector, in hindsight, is this idea that people have different circumstances, influences and pressures exerted on them. But what does it mean to try to keep hope, and survive, and do your best in all these different stations of life?
I'm a Randy Newman fanatic; he can dispense a novel's worth of detail in just a few lines, by implying so much negative space. I've noticed you've written in character from the beginning, like him.
When I met Randy at Newport [Folk Festival], I told him the thing about how much I loved his work and everything, and he leaned in really close where nobody could hear and whispered in my ear, "I like your songs, too." That was a huge, huge moment for me. I said, "Well, you don't strike me as much of a bulls—er, so I'm going to take that."
One of your guiding lights for Reunions' sound was the '80s rock you enjoyed as a kid. What was the aural aesthetic for Weathervanes? And can you talk about the learning curve of self-production?
I started thinking, OK, here's how these records by Dire Straits and the Police sounded, and this is why they sounded that way, and this is what worked about that, and what translates to now and what doesn't, and what can be replicated and what can't. 
So, I brought some of that with me into the Weathervanes recording. Most obviously, on a song like "Save the World," there was an intention I had before I went in the studio. This happens to me a lot. I'll get a big idea, and I'll think, Oh, this is great. We can do the whole record this way.
And by the time I'm in the studio, I'll think, OK, maybe we just use this as a tool. We don't do the entire record like this. Because then, that would take over the concept and distract from everything else.
At first, I wanted to make a dry record. I was listening to [1978's] Outlandos [d'Amour], the Police record, and there's hardly any room or reverb or anything. "Roxanne" — all those songs are right in your ear. And that's a flex, because to do that, you have to be able to sing and play with great tuning and great timing.
And the Police — first of all, there's just three of them, so it's easier to do than it is with five or six people. But they also were master musicians, and you have to be really on point to make a dry record like that, or it's going to be a mess when you go to sing the harmony.
That was something that I wound up using as a tool. I think a lot of this record has less reverb and less room on it than you would expect. I think it was done in a way where you don't necessarily notice it off the bat.
Also, watching the Get Back documentary, I thought, Man, these guys didn't have tuners.  They just tuned it by ear for the whole record.
I didn't want to torture my guitar techs, so I wasn't going to make a whole record without any tuners. But there are some moments on this record where we tuned by ear rather than tuning to a machine, so it would sound more human. Really, a lot of my production style — if there is such a thing — is how do we get a little dose of humanity of something that is sort of slick and polished.
I interviewed [Drive-By Truckers co-leader] Patterson [Hood] on Zoom last year, and I was struck at how sweet and energetic he was. How did you guys walk away from those hard-touring years alive and intact?
We don't know the answer to that. We got very lucky. Also, we were white and we were male, and I think that plays a lot pinto it. I think if we had not been white, some cop would've shot us all a long time ago.
I don't know if there was some kind of divine intervention in some of those situations, but I still look back on it and think, I don't know how we survived all that. I really don't.
Were there any near-death experiences?
Oh, there were so many. We saw huge, disastrous accidents happen right in front of us. There were times when we'd be on snowy mountain passes and lose control of the van for 20 seconds, and then finally it would snap back into place. I don't know how it happened.
On a different note, you touched on gun violence in "Save the World." I was struck by how un-preachy it was. I felt like I was in your head, or privy to a family meeting.
That's the trick, you know? You have to be really personal with it, I think.
If you're writing a song about a big, heavy topic like that, don't try to ascend somebody else's perspective. Love, romance, breakups, heartbreak, death; we all have experiences with those things.
So, if that's what you're writing about, you're free to take other perspectives other than your own, because we all have that commonality. We know what those things feel like, or what the fear of those things feels like.
But when you're writing about something like school shootings: I have not been involved in one of those. I've not seen one of those go down firsthand. I've been close a couple of times, but it's not something that I could write from the perspective of somebody who was actually in the building.
So to be honest with the work, what I have to do is think: How does this affect me? How do I feel about this? And then write from that perspective. I don't think anybody's ever noticed this, but the songs where I'm tackling the biggest, most complicated issues are the ones where I'm writing from the most personal point.
Give me your personal MVP moments from the members of the 400 Unit on Weathervanes.
[Guitarist] Sadler [Vaden] has this old Vox guitar that has built-in fuzz effects, and he played on that on "Miles," the last song on the album, and really added something special to that.
It's a vintage guitar, but not a highly collectible, very expensive guitar. It's got this weird kind of freak-out fuzz tone that is included in the instrument, and he used that on that song to great success.
Jimbo [Hart]'s bass on "Middle of the Morning" is just a beautiful groove. It's a simple part, but the timing of it it is just exactly right. He's just right in the pocket.
Chad [Gamble], on the outro to Miles, where there's multiple drum kits happening — I think he handled that beautifully, and built up to that big cymbal crash at the end. 
We wanted a gong, but Blackbird [Studio in Nashville] didn't have a gong. They had this crash cymbal that was 72 inches or something; it was huge. It took up the whole reverb chamber. When Chad made the big crash at the end, we were all jumping up and screaming in the control room when it happened because it was so f—ing hilarious.
Derry [deBorja] — I feel like his synthesizer part on "Save the World" was a big moment for him. He spent a lot of time on that. We tried to send the clock from the Pro Tools session to the analog synthesizer and get it to line up.
It proved to be a very complicated exercise, because we were trying to marry new technology and old technology, but he found a way to make it work.
Let's end this with a lightning round. I polled my Facebook friends on what they'd want to ask you; it's a mix of New York music industry people and hometown friends from California.
This one's from Ryan Walsh, who leads a rock band called Hallelujah the Hills. He asks if when "white nationalist monsters" figure out your politics and tell you on Twitter they won't listen to you again, "do they really abandon ship, or is even that promise nothing but some sad barkin'?"
I don't think most of those were ever fans to begin with. I refuse to believe that those people have been actually listening to my songs all along. I think they see something that somebody's retweeted, and then they Google me and they see that I'm a musician, and they say, "I was your fan until just now." I think it's all just a b—shit tactic.
The jazz-adjacent singer/songwriter Dara Tucker says, "I'd like to hear his thoughts on Gordon Lightfoot."
Oh, Gordon was amazing. I played a song that I wrote, "Live Oak," last week, after Gordon's passing. I mentioned from the stage that I don't think I could have written that song without Gordon's work. The way he dealt with place, and the way he made folk music very specific to his own life.
I think "Carefree Highway" was the first song where I had that kind of lightbulb moment, where I thought, Oh, he's feeling really bad about something. This is not a celebration. This is not hippy-dippy s—. This is somebody saying, "I'm sorry." And that was a big moment for me.
Journalist Tom Courtenay asks, "Does he think Nashville/radio's gatekeeping is fixable, or does it only make sense for anyone remotely subversive to work outside of it at this point?"
I think what, if anything, will fix it, is when this particular brand of straight white male country music is no longer as popular as it is. 
I don't think that's a good thing. I would love to see it fixed from the inside. But the way I picture the state of popular country music right now is they're staring at a machine with a whole bunch of buttons, and there's one button that they know will spit out money when they hit it, so they just keep hitting it.
They won't take their hand off of it long enough to try any of the other buttons, even though some of the other buttons might spit out more money. 
Singer/songwriter Ephraim Sommers asks, "What is his greatest difficulty, obstacle or weakness as a songwriter, and how has he worked to overcome it?"
Humor is hard. It's hard because I laugh a lot in my everyday life, and it's hard to find a way to work humor into a song. The way that I work to overcome it is just by trying to notice different situational details that would create a funny image in a song.
It's something I'm not very good at. John Prine was great at it; Todd Snider's great at it. But to be funny without being bitter in the kind of songs that i write is a real challenge.
I don't want it to be funny in a self-referential way. I would like for it to be funny no matter who was saying it or writing it. That's a tough one for me, but I just keep trying over and over and over, until finally the joke is present enough for somebody to get it.
I'll close with my own question: What's grist for the mill creatively for you right now? What are you listening to, reading or watching?
Jennifer Egan, The Candy House; I'm reading that right now. Last night, we watched Guy Ritchie's The Covenant, the war movie. That was good. Of course, I like "Succession."
Right now, I'm just super excited about the Scorcese movie that I was in. I heard rumors that the trailer's coming out tomorrow.
Tell me about that.
That process of working on that movie really found its way into the studio when I went back to record — just the way Scorcese was able to hear other people's opinions and collaborate while still keeping his vision. 
Actors are people — they're not instruments — so you can't completely manipulate them, no matter how good you are at directing. So, it's not like the director is the guitar player and the actor is the guitar. There are a bunch of real humans in the room, so they're all going to have opinions and ways of delivering things.
To see him navigate that and hear everything — and still make the movie that he saw in his mind — was a pretty incredible thing for me.
Drive-By Truckers' Patterson Hood On Subconscious Writing, Weathering Rough Seasons & Their New Album Welcome 2 Club XIII