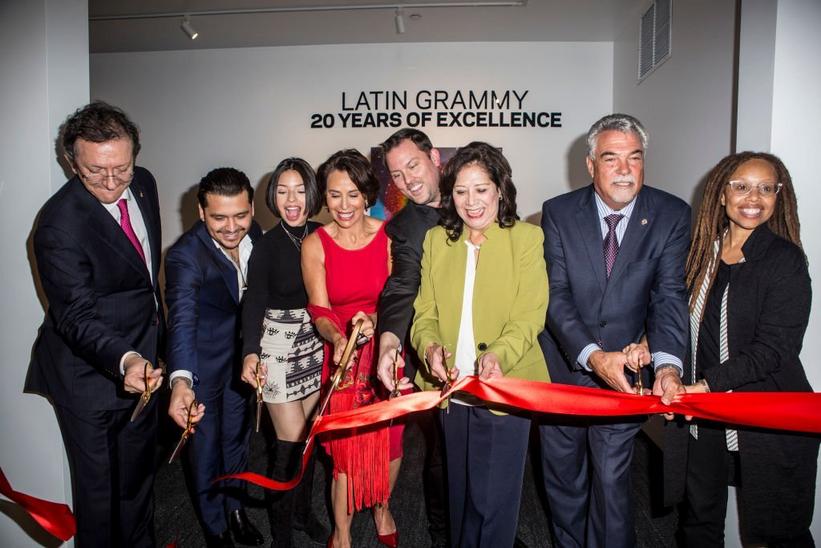 Photo: Harmony Gerber/Getty Images
news
Los Angeles' First Permanent Latin Music Gallery Launches At GRAMMY Museum
"This is a momentous occasion for the GRAMMY Museum and for Los Angeles," said ribbon-cutting ceremony host Giselle Fernandez
GRAMMYs
/
Nov 20, 2019 - 02:15 am
A new voice representing Latin culture's impact on music history opened its doors Tues., Nov. 18, at the GRAMMY Museum right in the heart of Los Angeles.
The city's first permanent Latin music gallery brought together Latin music's biggest stars, industry professionals, political figures and community members for a ribbon-cutting ceremony and celebration of the historic event.
In collaboration with the GRAMMY Museum, the Latin Recording Academy unveiled the Latin GRAMMY: 20 Years Of Excellence exhibit, showcasing pieces from Latin GRAMMY show performances and moments, on the museum's third floor. These include an outfit the late iconic Mexican singer/songwriter Juan Gabriel wore during a performance at the 10th Latin GRAMMYs and an outfit worn by "Despacito" singer Luis Fonsi during his performance at the 18th Latin GRAMMYs.
The Latin Academy is donating more than half a million dollars to expand the museum's Latin-inspired exhibits, including the permanent gallery and the Latin GRAMMY show exhibit. "This is a momentous occasion for the GRAMMY Museum and for Los Angeles," said ribbon-cutting ceremony host, journalist Giselle Fernandez, a former Latin Recording Academy board member.
GRAMMY Museum President Michael Sticka said the museum was proud to be the home of the first permanent Latin music gallery in the city. "We're very excited to play host to that," he said in his remarks.
In a statement prior to the opening, Sticka touched on how the exhibit would expand the ethos of the GRAMMY Museum. "Latin GRAMMY, 20 Years Of Excellence and our newly renovated third floor will greatly amplify the Museum's mission to educate, inspire, and share the significance of all forms of music," he said.
It was not forgotten that the gallery opened in one of the country's cities most-inspired by Latin culture and populated by Latinos. According to 2011 Pew Research Center statistics, Hispanics made up 4.9 million of the Los Angeles County population or 9 percent of the country's Hispanic population.
Hilda Solis, First District Los Angeles County Supervisor and former President Barack Obama cabinet member, reminded the crowd of the significance of the gallery's location. "[This is a] long-time coming for us," she said. "We know the musica is our life, it's our culture, it's our livelihood and it brings us so many good things when things are sour and bad."
The expansion is something Latin Recording Academy President Gabriel Abaroa had been dreaming of for years. "This is a day of thank yous," he said. "I want to thank Michael, the board of trustees of the GRAMMY Museum and all the employees and staffers of the GRAMMY Museum because they have opened their hearts and their doors to us since the beginning."
The grand event came just a few days after the Latin Recording Academy celebrated its 20th Latin GRAMMY celebration at the MGM in Las Vegas and was a celebration continuing its 20th anniversary celebrations.
Recent Latin GRAMMY Best Ranchero/Mariachi Album winner Christian Nodal and GRAMMY-nominated singer Angela Aguilar, were two stars invited to represent the next generation of Latin music and help cut the ribbon.
The Office of L.A. City Council President Herb Abaroa also presented a certificate declaring Nov. 18 as the official Latin GRAMMY day. The night included performances from GRAMMY- and Latin GRAMMY-nominated Puerto Rican singer/songwriter Raquel Sofia and Latin GRAMMY winners Flor de Toloache and gave the public their first look at the exciting new exhibit and gallery.
The Latin GRAMMY: 20 Years Of Excellence exhibit will be open Nov. 20 until spring 2020; visit the GRAMMY Museum's website to get tickets.
Bad Bunny, Rosalia, Juanes & More: 5 Unforgettable Moments From The 2019 Latin GRAMMYs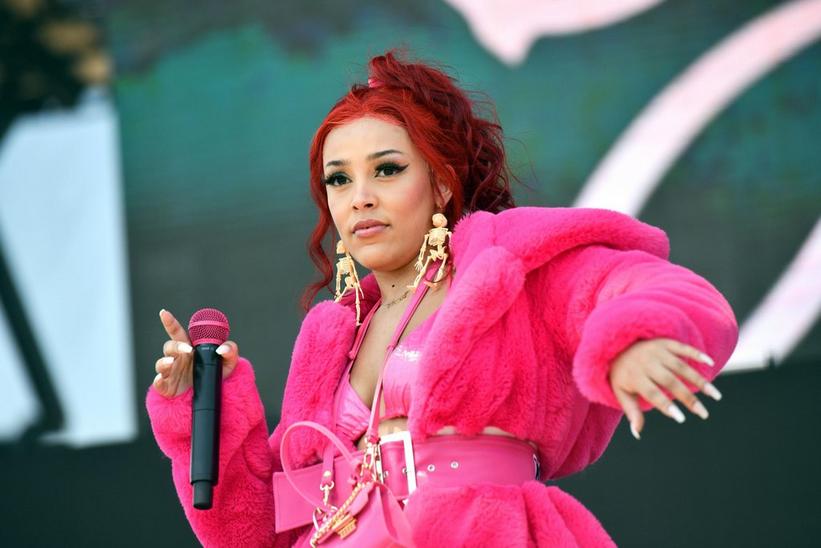 Photo: Scott Dudelson/Getty Images
news
Rolling Loud Festival Los Angeles Reveals 2019 Lineup
Find out who's bringing the heat to the hip-hop fest returning to L.A. this December
GRAMMYs
/
Oct 2, 2019 - 12:11 am
Today, Rolling Loud revealed the massive lineup for their final music festival of 2019, Rolling Loud Los Angeles, which is set to take over the Banc of California Stadium and adjacent Exposition Park on Dec. 14–15.
This iteration of "the Woodstock of Hip-Hop," as the all-knowing Diddy has called it, will feature Chance the Rapper, Lil Uzi Vert, Juice WRLD, Young Thug and Lil Baby as Saturday's heavy-hitting headliners. Sunday's headliners are none other than Future, A$AP Rocky, Meek Mill, YG and Playboi Carti.
L.A.'s own Blueface, Tyga and Doja Cat, are slated to perform, as well as representatives from the diverse rap scenes across the country, including Wale, Juicy J, Lil Yachty, Megan Thee Stallion, Gunna, Tyla Yaweh, Machine Gun Kelly and Yung Gravy.
The lineup announcement follows the successful wrap of Rolling Loud Bay Area in Oakland this past weekend. The event's flagship Miami event took place in May this year, and the New York and Hong Kong debut editions will both take place later this month.
Tickets for Rolling Loud L.A. go on sale this Friday, Oct. 4 at 11 a.m. PST. The complete lineup and more info on this event and their other fests can be found here.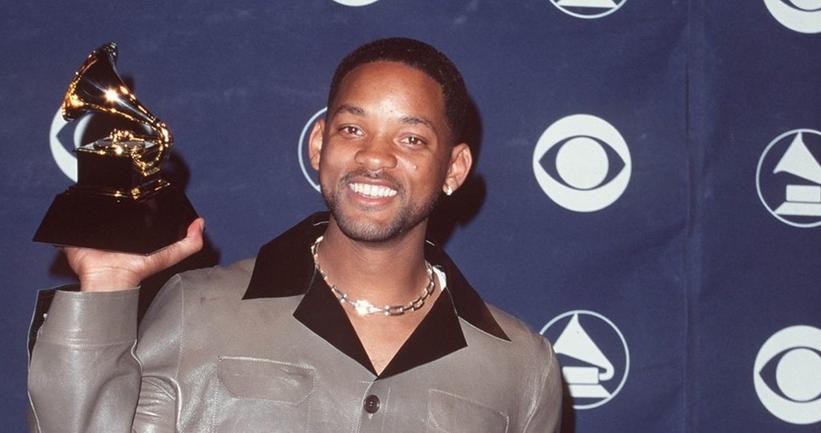 Will Smith at the 1999 GRAMMYs
news
GRAMMY Rewind: Watch Will Smith Dedicate His 1999 Best Rap Solo Performance GRAMMY To His Son
In his acceptance speech, he offers thanks to his family and "the jiggiest wife in the world, Jada Pinkett Smith"
GRAMMYs
/
Sep 25, 2020 - 11:17 pm
Today, Sept. 25, we celebrate the birthday of the coolest dad—who else? Will Smith! For the latest episode of GRAMMY Rewind, we revisit the Fresh Prince's 1999 GRAMMY win for Best Rap Solo Performance for "Gettin' Jiggy Wit It."
In the below video, watch rappers Missy Elliott—donning white leather—and Foxy Brown present the GRAMMY to a stoked Smith, who also opted for an all-leather look. In his acceptance speech, he offers thanks to his family and "the jiggiest wife in the world, Jada Pinkett Smith." He dedicates the award to his eldest son, Trey Smith, joking that Trey's teacher said he (then just six years old) could improve his rhyming skills.
Watch Another GRAMMY Rewind: Ludacris Dedicates Best Rap Album Win To His Dad At The 2007 GRAMMYs
The classic '90s track is from his 1997 debut studio album, Big Willie Style, which also features "Miami" and 1998 GRAMMY winner "Men In Black," from the film of the same name. The "Está Rico" rapper has won four GRAMMYs to date, earning his first back in 1989 GRAMMYs for "Parents Just Don't Understand," when he was 20 years old.
GRAMMY Rewind: Watch Michelle Obama, Lady Gaga, Alicia Keys, J. Lo & Jada Pinkett Smith Open The 2019 GRAMMYs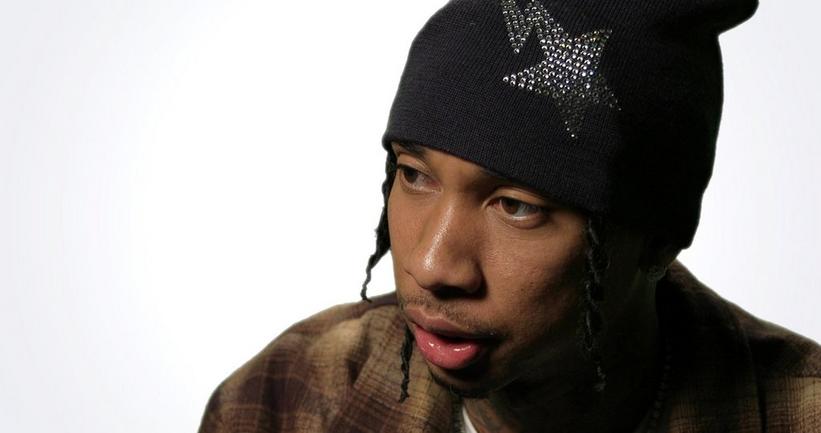 news
Tyga Talks Inspiration Behind "Go Loko" & Collaborating With L.A. Rappers Like YG
"Growing up in L.A., it's a really big culture here, Mexican culture," the rapper said. "So we really wanted to do something to give back to the culture."
GRAMMYs
/
Jun 8, 2019 - 04:16 am
Tyga's latest collab has him paying tribute to Los Angeles' large Mexican community. The rapper is featured on fellow L.A. rapper YG's leading single, "Go Loko" off his latest album 4REAL 4REAL and when asked about his take on the song, he says much of it was inspired by Mexico's cultural impact.
"Growing up in L.A., it's a really big culture here," he said. "Even YG could tell you, he grew up around all Mexicans, so we really wanted to do something to give back to the culture."
The video features visuals and symbolisms inpired by the Mexican community, including mariachi, but also by the Puerto Rican community (you'll easily spot the boricua flag). The song also features Puerto Rican rapper Jon Z. Tyga mentioned the diversity of Latinos on the different coasts and wanted to make a song that also celebrates the different Latin cultures in the country. "We wanted to do something different to kinda try to bring all Latins together," he said.
Watch the video above to hear more about the song and the vibe when he joins forces with other L.A. rapppers.
How A California Fire Affected Tame Impala's Much-Awaited Next Album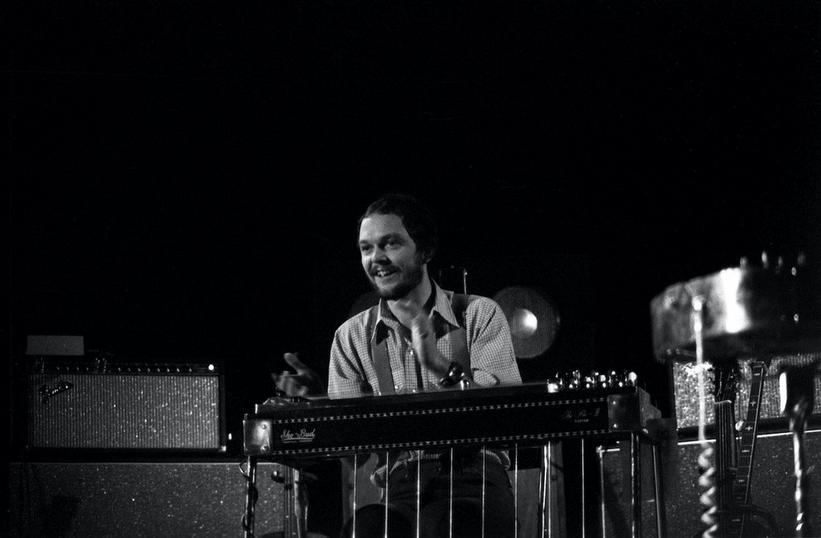 Photo: Icon and Image/Getty Images
news
Remembering Poco's Rusty Young, A Country-Rock Trailblazer
Rusty Young "was an innovator on the steel guitar and carried the name Poco on for more than 50 years," Poco co-founder Richie Furay said
GRAMMYs
/
Apr 20, 2021 - 01:08 am
Rusty Young, one of country-rock's originators and founder of the GRAMMY-nominated band Poco, has died. He was 75.
Young's death on April 14 was confirmed by his publicist, Mike Farley, who said he succumbed to a heart attack.
In a statement to Variety, Poco co-founder Richie Furay said he was saddened by the loss: "Our friendship was real and he will be deeply missed. My prayers are with his wife, Mary, and his children Sara and Will."
As a member of Poco, Young's love for country music and ability to play several country instruments helped architect what today is known as country-rock. Poco, founded in 1968, was formed after Furay's former band Buffalo Springfield, which Neil Young was a part of, split. Furay met Young and bassist/producer Jim Messina after working together on Furay's "Kind Woman," which meshed elements of country and rock.
"Richie was a rock and roll guy, Jimmy's a brilliant technician and guitar player, and I played all these country instruments," Young told Spotlight Central in 2018.
Poco, like Buffalo Springfield, was among the first bands to bring the country and rock sounds together.
"Our concept was to take rock and roll lyrics and melodies, chord changes, and add country instruments as the color around them, because I play steel guitar and banjo and mandolin, all the country instruments I could add that color and Jimmy played that James Burton, Ricky Nelson-kind of guitar," Young told Rock Cellar Magazine in 2017. "We could use this kind of country colors palette to choose from, and have it be rock and roll."
Born in Long Beach, California on Feb. 23, 1946, Norman Russell Young was raised in Colorado. Growing up, Young was surrounded by music; His grandparents were musicians and his parents would take him to country music bars. At the age of six, he began playing the pedal steel guitar.
"I think it's a beautiful instrument! And I went on to learn to play a lot of other instruments, but I've always played lap steel and I still really enjoy it," he told Spotlight Central.
"He was an innovator on the steel guitar and carried the name Poco on for more than 50 years," Furay said in a statement.
Furay and Messina ultimately left the band, but Young remained a member of Poco for more than five decades and even became one of its vocalists. Young wrote and sang the band's biggest hit "Crazy Love," released in 1979—The song reached No. 1 on Billboard's Adult Contemporary Chart. The band also earned a GRAMMY nomination years later in 1982 for their performance of "Feudin' (Track)."
Young is survived by his wife, Mary, and his children, Sara and Will.
Press Play At Home: Robert Finley Performs A Bluesy Version Of "Country Boy" With Dan Auerbach