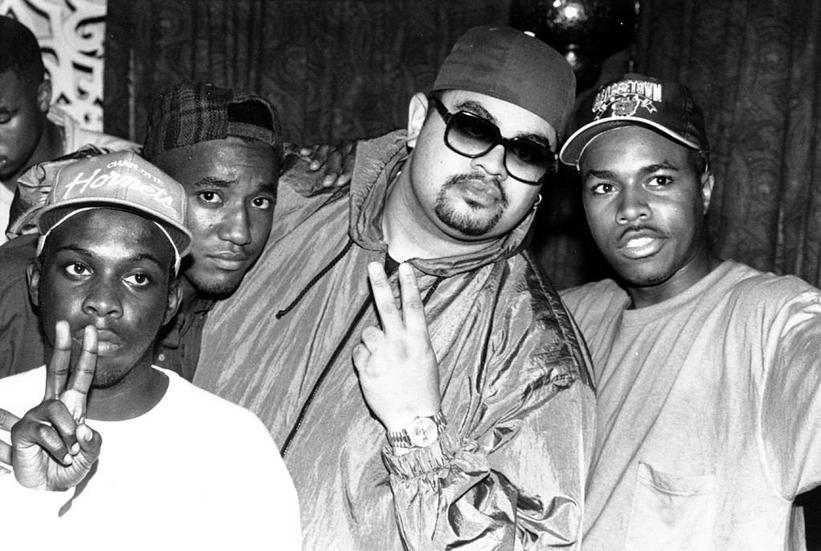 A Tribe Called Quest with Heavy D
Photo: Al Pereira/Michael Ochs Archives/Getty Images
news
"Loops Of Funk Over Hardcore Beats": 30 Years Of A Tribe Called Quest's Debut, 'People's Instinctive Travels And The Paths Of Rhythm'
The Recording Academy looks back at the hip-hip troupe's groundbreaking 1990 album
GRAMMYs
/
Apr 13, 2020 - 11:01 pm
There's no denying that 1990 was a watershed year for golden age hip-hop. Falling between the mid-'80s pop-cultural cannonball brought on by platinum-selling progenitors like Whodini, Run-D.M.C., Beastie Boys, LL Cool J, and Fat Boys and the mid-'90s boon of genre-perfecting classics from Dr. Dre, Tupac, Nas, Wu-Tang Clan, and Snoop Dogg, the hip-hop scene of 1990 provides a vibrant snapshot of both the limitless sonic bounds of the genre and also the kaleidoscopic variety of talents and personalities from the MCs, writers, DJs, producers, and hype men who were all raised on a musical ethos of telling your own stories, creating your own sounds, and (at least according to A Tribe Called Quest) devoting yourself to the art of moving butts.
Some of the more memorable hip-hop albums released in 1990 found solo artists and groups taking the party to the pop masses via Top 40 radio and MTV (MC Hammer's Please Hammer, Don't Hurt 'Em, Digital Underground's Sex Packets), others were infusing bombastically heavy doses of socio-political commentary into their lyrics and aesthetics (Public Enemy's Fear Of A Black Planet, Brand Nubian's One For All), some first-gen pioneers were reclaiming their territory with new creative forces (LL Cool J's Mama Said Knock You Out, Run-D.M.C.'s Back From Hell), while others were helping to bring increased national exposure to the grittier hardcore subgenres first popularized by Ice-T, N.W.A., and others (Ice Cube's AmeriKKKa's Most Wanted, Too Short's Short Dog's In The House).
However, there's possibly no greater singular encapsulation of the eclectic kitchen-sink sampling, poetic lyricism, production adventurousness, bohemian aesthetics, socially conscious intellectualism, musical magpie sensibilities and charismatic MC magnetism that was overflowing in the early-'90s hip-hop scene than People's Instinctive Travels And The Paths of Rhythm, the debut album from A Tribe Called Quest.
Although it is often recognized as one of the most groundbreaking and influential hip-hop albums of all time (thanks, in large part, to its trio of iconic singles "Can I Kick It?," "Bonita Applebum" and "I Left My Wallet In El Segundo"), People's Instinctive Travels And The Paths Of Rhythm was birthed from seemingly simple beginnings. The Jamaica, Queens group started out as a foursome of high school teenagers: Jonathan "Q-Tip" Davis, Malik "Phife Dawg" Taylor (who died from diabetes-related complications in 2016), Ali Shaheed Muhammad and Jarobi White (who left the group in 1991 and returned for their final album, 2016's We Got It From Here… Thank You 4 Your Service). Through a series of intersecting relationships—Q-Tip and Phife were elementary school friends, Phife and Jarobi met in middle school, and Ali joined the trio during their high school years—the quartet came together under the name Quest. A couple of years after forming, they altered their name to A Tribe Called Quest—a moniker bestowed upon them by Afrika Baby Bam of Jungle Brothers, another hip-hop crew from their same high school.
Throughout the late '80s, the group furiously dug through as many records as they could procure to build their own diverse catalog of relaxed breakbeats and vintage jazz, rock, soul and R&B samples in order to craft a demo that would land them a record deal. Simultaneously, Q-Tip was becoming an insatiable studio rat—an invaluable learning experience that would indelibly inform both his production work in Tribe and also his eventual career path producing songs for such renowned artists as Mariah Carey, Mobb Deep, Nas, Whitney Houston, Kanye West, Jay-Z, Quincy Jones, Santigold and many more. Before Tribe had even released their first album, Q-Tip had already found his way onto two songs ("Black Is Black" and "The Promo") from Jungle Brothers' 1988 album Straight Out The Jungle and is reported to have been in the studio for every recording session of De La Soul's landmark 3 Feet High And Rising album. The intertwined friendships, eclectic musical tastes, creative synergy and like-minded ethea between A Tribe Called Quest, De La Soul and Jungle Brothers led the three groups to form the Afrocentric hip-hop collective Native Tongues, which quickly expanded to include Queen Latifah, Monie Love, Black Sheep, Chi-Ali, and—depending on who you ask—maybe (or maybe not) a few others.
After a demo deal with Geffen Records failed to net the band a full album deal, A Tribe Called Quest eventually signed on with Jive Records—a young indie label that had earned some legit street cred for putting out a slew of notable '80s hip-hop records from Whodini, Schoolly D, Kool Moe Dee, Too Short and Boogie Down Productions, as well as the triple-platinum, GRAMMY-winning album He's The DJ, I'm the Rapper from DJ Jazzy Jeff and the Fresh Prince. Jive set the group up in N.Y.C.'s Calliope Studios, which was already establishing itself as the inspirationally fertile ground zero for Native Tongues. As Phife describes the moment to journalist Harry Allen in the liner notes for the 25th-anniversary release of People's Instinctive Travels And The Paths Of Rhythm, "Jungle in one room, recording… De La Soul in another room, recording. Latifah in another room, recording. Prince Paul… Everybody was there." In the same retrospective essay, Q-Tip refers to the secluded, musically rich, distraction-free environment as a literal utopia: "We didn't have the cell phones, we didn't have the internet… When we got to the studio, the specific job was to make music."
And make music they did. Some of the most memorable music in all of hip-hop history, in fact. The instrumental joie de vivre on People's Instinctive Travels And The Paths Of Rhythm flawlessly combines chopped-up samples both immediately recognizable (the opening motif of Stevie Wonder's "Sir Duke" is lifted for the intro of "Footprints," the impeccably minimalist bassline from Lou Reed's "Walk On The Wild Side" propels the mellow groove of "Can I Kick It?," and a processed one-word vocal snippet from Earth, Wind & Fire's "Brazilian Rhyme" becomes the hypnotic refrain of "Mr. Muhammad") and also more obscure (album opener "Push It Along" glides on a combined loop of Grover Washington, Jr.'s "Loran's Dance" and the drums from Junior Mance's cover of Sly Stone's "Thank You (Falletin Me Be Mice Elf Agin)" and the whimsically cinematic road-trip-gone-awry saga of "I Left My Wallet In El Segundo" dances between the slinky interplay of the guitar and drums of "Funky" from The Chambers Brothers and is introduced by the flamenco-inspired into to The Young Rascals' "Sueno"). They even created a few sample-within-a-sample meta moments, like when they lifted the snippet of "La Marseillaise" that The Beatles used to open "All You Need Is Love" to serve as their own intro for "Luck Of Lucien."
While experimentally playful album cuts like "Youthful Expression," "Luck Of Lucien" and "Go Ahead In The Rain" (featuring a lovely bluesy vocal bit of Jimi Hendrix's "Rainy Day Dream Away") paint a broad sonic picture of the group's relaxed charisma and musical eclecticism, it's the album's singles that have really helped to cement People's Instinctive Travels And The Paths Of Rhythm as the true gamechanger it is.
The album's whimsical lead single, "I Left My Wallet In El Segundo," immediately set the stage for Tribe's fun-over-fronting ethos. With its bouncy Chambers Brothers sample providing the bedrock for Q-Tip's laid-back travelogue, the song's emphasis on melody, breezy grooves, and non-posturing self-effacement, were all bold antitheses to the more aggressive braggadocio of their hip-hop contemporaries. Once the video hit MTV, Tribe's seemingly fully realized set-apartness was even more on display for all to see. The group is charming, chill and undeniably photogenic, while their emblematic four-ank and stick-figure logo (courtesy of artist Dave Scilken) got its first introductory roll-out ahead of becoming one of the most iconic hip-hop logos this side of Run-D.M.C. and Public Enemy.
As the summer of 1990 hit, Tribe released the follow-up single from People's Instinctive Travels And The Paths Of Rhythm, the immediate hit turned legendary classic, "Bonita Applebum." While the slinky song and memorable video did well in its day, "Bonita Applebum" quickly became a sonic touchstone for other artists to show their love and respect for A Tribe Called Quest. The following year, P.M. Dawn interpolated the vocal hook into the lyrics of their Billboard No. 1 hit "Set Adrift On Memory Bliss," and the song's titular character has been name-dropped in songs by Jay-Z, Lil Wayne, Biz Markie, Redman and many others. Even the instrumental sections of "Bonita Applebum" (themselves a mixture of samples from Rotary Connection, RAMP, Little Feat and The Dave Pike Set) have been re-sampled in songs by Monica, Wyclef Jean, B.o.B, and most notably in the Fugees' GRAMMY-winning cover of Roberta Flack's "Killing Me Softly" in 1996.
"Can I Kick It?" was the third and final single culled from the album, released in the late fall of 1990. While the song's popularity could easily be attributed to the delightfully inescapable call-and-response chorus chant or the familiar Lou Reed bassline sample, there was also an ever-increasing buzz building around Tribe's music, aesthetic, and approach to life that seems to really shine through the music video for "Can I Kick It?" with its confident but not arrogant, playful but still artful, sharing the good times with your friends vibe (members of De La Soul even appear throughout).
The game-changing impact of People's Instinctive Travels And The Paths Of Rhythm was immediate. Reviews were widely positive, with The Source bestowing its first hallowed "Five Mic" rating and calling it "a completely original musical and spiritual approach to hip-hop… with sophisticated production invoking a jazz flavor." NME's Ian McCann famously wrote that "A Tribe Called Quest put no feet in the wrong place here. This is not rap, it's near perfection." Tribe even became the first hip-hop act to perform on MTV Unplugged, opening the Yo! Unplugged Rap hybrid show with "Can I Kick It?" (which was coincidentally recorded on the album's one-year anniversary).
Looking back over Tribe's entire catalog, there are certainly other albums that received more quantifiable accolades and, maybe to some, even appear to outshine their debut. Sophomore album The Low End Theory gave the band their first platinum record and features the greatest posse cut of all time, "Scenario" (introducing Busta Rhymes to the masses and giving us one of the best early-90s, computer-centric music videos ever). 1993's Midnight Marauders gave the group its best chart performance (at that time), hitting No. 1 on the Billboard R&B/Hip-Hop Albums and No. 8 on the overall Billboard 200. 1996's Beats, Rhymes, and Life went so far as debuting at No. 1 on the Billboard 200 and it gave the group their first two GRAMMY nominations. However, when you talk about A Tribe Called Quest, it's impossible to not begin and end the discussion with their debut shot across the bow, People's Instinctive Travels And The Paths of Rhythm. Other albums may have changed A Tribe Called Quest's individual career path, but their debut changed the whole trajectory of hip-hop in ways that still reverberate and inspire today. When it comes to rhythms, Quest is (still) your savior.
On 'Things Fall Apart,' The Roots Deepened Hip-Hop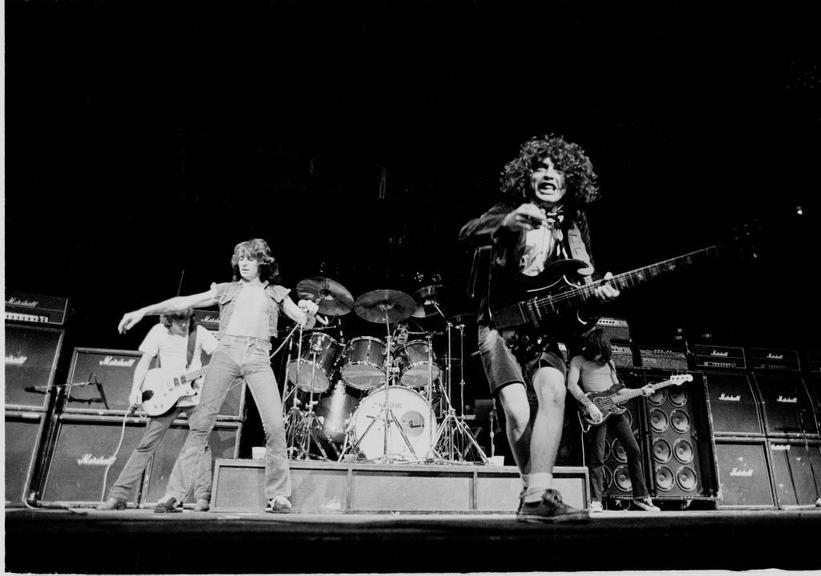 Photo by Michael Putland/Getty Images
news
Forget The Hearse: AC/DC's 'Back In Black' Turns 40
The classic-rock mainstays' seventh studio album—their first with Brian Johnson—took a longtime trope to its ultimate conclusion: Lead singers may succumb to mortality, but rock'n'roll would never
GRAMMYs
/
Jul 22, 2020 - 09:12 pm
Back In Black is not a perfect album, but it may be the perfect rock album. What does that say about rock? Probably something about its built-in sexism circa 1980, with the level of horniness both constant and complacent for a band this elemental, more akin to a hostile work environment or catcalling or "locker room talk" than any singular artistic expression of coitus or the overpowering desire for it. "You Shook Me All Night Long"—which is not at all a bad choice for the best rock'n'roll song of all time—transcends the petty bra-snapping of surroundings like "Given the Dog a Bone" and "What You Do for Money Honey" by not only giving their object of desire some description ("American thighs" is probably their most important contribution to our language) but even some dialogue ("she told me to come but I was already there"—bummer). You're not going to get apologies from a band who recorded and released their comeback album in all of five months after their lead singer died. Especially not when his replacement literally sings the words "I never die," as if explaining why he's more cut out for the position. So I digress.
AC/DC's 50-times-platinum masterpiece (25 million of which were shipped domestic) could be the definitive rock album simply for being equidistant from Led Zeppelin IV and Nevermind, in some kind of sales apex window that also includes the Eagles' Greatest Hits and Michael Jackson's Thriller but also probably tops the curve by being so meat and potatoes there might not even be spuds. Kick, snare, kick, snare, kick, snare is rarely as primitive or as powerful as when "You Shook Me All Night Long" loses its intro like tearaway pants. Slow it down to what we now know to be hip-hop speed and you get "Back In Black," a noncontroversial nomination for the greatest guitar riff of all time, which only Wayne Campbell can really decide. Ease it down even more and you get the hungover, bluesy crawl of "Rock and Roll Ain't Noise Pollution," which didn't really catch on as a bumper sticker but trudges the album to a close with the confidence as if it did. Back In Black being 40 perfectly parallels its most loyal demographic being in their 60s, an always-in-lockstep cosplay of themselves 20 years younger.
Bon Scott choked on his vomit in the passenger seat after a drinking binge, and less than half a year later, the guy who filled his shoes sang "Have a Drink on Me." There wasn't any real hesitation; if anything it weirded out the record company more when AC/DC were gonna make their album cover entirely black in tribute. (They were asked to at least provide an outline of the AC/DC logo over it; oh, branding.) Brian Johnson, the new guy, was tasked with writing a tribute song, but not "morbid," so "it has to be a celebration." What a job.
"Back In Black," though, the other song on this album that wouldn't be a bad choice for the best rock'n'roll song of all time, more than fulfills this prophecy; we may as well go ahead and nominate it for the even more likely Best Riff of All Time award. Makes a great hip-hop song too, though you wouldn't know it from any official releases since these knuckleheads are against sampling. Search YouTube to find Eminem and the Beastie Boys kicking it like the stomping groove deserves. But those lyrics, which along with "Hells Bells" and "Noise Pollution" comprise the album's only verbiage not directed at women, are the perhaps the only time AC/DC was ever mysterious or impressionistic. Given, Steven Tyler and Anthony Kiedis rap things like "nine lives, cat's eyes" all the time. But for a band this literal, this nearly artless in their glandular pursuits, it's Picasso.
AC/DC identified something in punk and new wave. From Led Zeppelin to Black Sabbath to Deep Purple and even Aerosmith at their most talk-box spacy, hard rock in the 1970s was celebrated for its psychedelic excess, its pretensions. Elongated, folksy mandolin intros. The simulated endlessness of drum soloing. "Jams." But while AC/DC surely imbibed plenty of the same substances, they ran a no-nonsense assembly line of riffs compiled like car parts into well-oiled machines, no dirt or mess. There's definitely some Ramones in that. If not for Kiss, you might even be able to say they were the first of this kind, and that Back In Black may have foreseen the coldness of Reagan in its defiance of feeling; for a tribute to a fallen friend, they didn't even allow a single ballad. "Back In Black" may as well be about how stylish they looked at Bon Scott's funeral. But it's clear that Scott wouldn't have blinked; if anything he would've climbed out of the casket to shriek "Shoot to Thrill" himself. And in a way, Back in Black may have taken a longtime trope to its ultimate conclusion: Lead singers may succumb to mortality, but rock'n'roll would never.
He Stuck Around: Foo Fighters' Eponymous Debut Album Turns 25
news
Exploring The GRAMMYs' Music Video Field Nominees
Go inside the nominations in the Music Video Field categories for the 54th Annual GRAMMY Awards
GRAMMYs
/
Dec 3, 2014 - 05:06 am
(For a complete list of 54th GRAMMY Awards nominees, click here.)
You've seen the list of nominees, now take a closer look at the artists nominated in the Music Video Field for the 54th Annual GRAMMY Awards.
Sure, music is all about listening. But when sight and sound work together, the results can be twice as exciting. The GRAMMY Awards' Music Video Field recognizes excellence in presenting music through the visual medium, with the field divided into separate categories for short form and long form works (in each case, the award is presented to the artist, director and producer). Last year, the nominees covered a wide breadth, with the Best Short Form Music Video honor going to Lady Gaga's futuristic take on dysfunctional love life in "Bad Romance," and the Best Long Form Music Video distinction going to director Tom Dicillo's revealing look at classic rock icons the Doors in the documentary film When You're Strange. This year's nominees make up an equally eclectic group of styles and artists.
Best Short Form Music Video
The nominees in the Best Short Form Music Video category range from the sublime to the radical. Adele's "Rolling In The Deep," directed by Sam Brown and produced by Hannah Chandler, finds the British chanteuse seated in a decrepit mansion, with damaged real estate standing in for the broken romance she sings of. Memory Tapes' "Yes I Know," directed and produced by Eric Epstein, presents a heady black-and-white mix of realistic street scenes with thoroughly surreal imagery. Perhaps no band has embraced the possibilities of the video form as much as OK Go. In teaming with the Pilobolus dance troupe, the band used their bodies to create startling images through a glass floor in "All Is Not Lost," directed by Itamar Kubovy, OK Go frontman Damian Kulash Jr. and Trish Sie, and produced by Shirley Moyers. The band previously won in this category in 2006 for their memorable treadmill workout in "Here It Goes Again." Radiohead's "Lotus Flower," directed and produced by Garth Jennings, is shot in striking black-and-white and features nothing more than lead singer Thom Yorke dancing and gyrating. In the effects-driven video for "First Of The Year (Equinox)," directed by Tony Truand and produced by Noah Kelin, Best New Artist nominee Skrillex presents a chilling narrative of a presumed victim wreaking supernatural vengeance against a creepy predator. Lightening the mood, "Weird Al" Yankovic's "Perform This Way," (a parody on Lady Gaga's "Born This Way"), directed by Yankovic and produced by Cisco Newman, shows Yankovic's head atop a bikini-clad, convincingly Gaga-esque body in an attempt to poke fun at the Fame Monster's fashion excesses. Yankovic previously won Best Concept Music Video for "Fat" in 1988.
Best Long Form Music Video

The nominees for Best Long Form Music Video include fascinating documentaries on Beyoncé, Foo Fighters, Kings Of Leon, A Tribe Called Quest, and TV On The Radio. Beyoncé, who has 16 GRAMMY wins to her name, is looking to garner her first win in the Music Video Field with her nominated concert documentary, I Am…World Tour, directed by Beyoncé, Ed Burke and Frank Gatson Jr., and produced by Beyoncé and Camille Yorrick. The history of the Foo Fighters, from frontman Dave Grohl's Nirvana-era demo tapes to the band's current GRAMMY-nominated album, Wasting Light, is covered in Foo Fighters: Back And Forth, directed and produced by James Moll with Nigel Sinclair. The rise of Kings Of Leon is documented in Talihina Sky: The Story Of Kings Of Leon, directed by Stephen C. Mitchell and produced by Casey McGrath. Director Michael Rapaport takes an incisive look at one of hip-hop's most influential groups in Beats, Rhymes & Life: The Travels Of A Tribe Called Quest. The documentary was produced by members of A Tribe Called Quest with Robert Benavides, Debra Koffler, Eric Matthies, Frank Mele, and Edward Parks. TV On The Radio created a virtual video album with Nine Types Of Light, directed by frontman Tunde Adebimpe, assembling stylistically diverse videos to accompany each song from their album of the same title. The video was produced by Michelle An and Caren Braj.
Who will take home the awards in the Music Video Field? Tune in to the 54th Annual GRAMMY Awards on Feb. 12, taking place at Staples Center in Los Angeles and airing live on CBS from 8–11:30 p.m. (ET/PT).
(Note: The videos embedded reflect official videos available through official artist and record label Web channels.)
news
Music That Makes You Go Mmmm
Need some help with your Thanksgiving menu planning? Here are some artists and songs to whet your Thanksgiving appetite
GRAMMYs
/
Dec 3, 2014 - 05:06 am
Thanksgiving is upon us and if there's one thing that's filling the minds of Americans everywhere, it's food. And what pairs better with delicious food than, well, delicious music? Whether you're looking forward to smashing pumpkins for warm pumpkin pie, adding some jelly to your roll or making sauce out of cranberries, we have music that will satisfy your appetite. Or at least give you some new ideas for your Thanksgiving menu.

In honor of the biggest eating holiday of the year, we present you a tasty selection of appetizing artists, plus a side dish of edible songs.

Appetizing Artists

Main Dishes:
Chickenfoot
Lamb Of God
Paul McCartney And Wings
Meat Loaf
Meat Puppets
Supporting Sides:
Black Eyed Peas
Bowling For Soup
Korn
The Cranberries
Salt-N-Pepa
Spice Girls
Red Hot Chili Peppers
Smashing Pumpkins
Jelly Roll Morton
Encore Desserts:
Fiona Apple
Blind Melon
Cake
Cream
Humble Pie
Moby Grape

Seasoned Songs
Main Dishes:
"All That Meat And No Potatoes," Fats Waller
"Fried Chicken," Nas Featuring Busta Rhymes
"Jambalaya (On The Bayou)," Hank Williams
"Hot Tamales," Santana
"Ham 'N' Eggs," A Tribe Called Quest
"Soul Food," Goodie Mob
"Pork Chop Sandwich," ZZ Top
Supporting Sides:
"Green Onions," Booker T. & The MG's
"Sixteen Saltines," Jack White
"The Honey Roll," Elton John
"Cornflake Girl," Tori Amos
"Diced Pineapples," Rick Ross
"Peaches," The Presidents Of The United States Of America
"Gray (For My Mashed Potatoes)," Dee Dee Sharp
Encore Desserts:
"American Pie," Don McLean
"Birthday Cake," Rihanna Featuring Chris Brown
"Cherry Pie," Warrant
"Cinnamon Girl," Neil Young
"Orange Crush," R.E.M.
"Raspberry Beret," Prince
"Pour Some Sugar On Me," Def Leppard
"Ice Cream Man," Van Halen

What's your favorite recipe for a mouthwatering artist or song? Let us know by commenting below.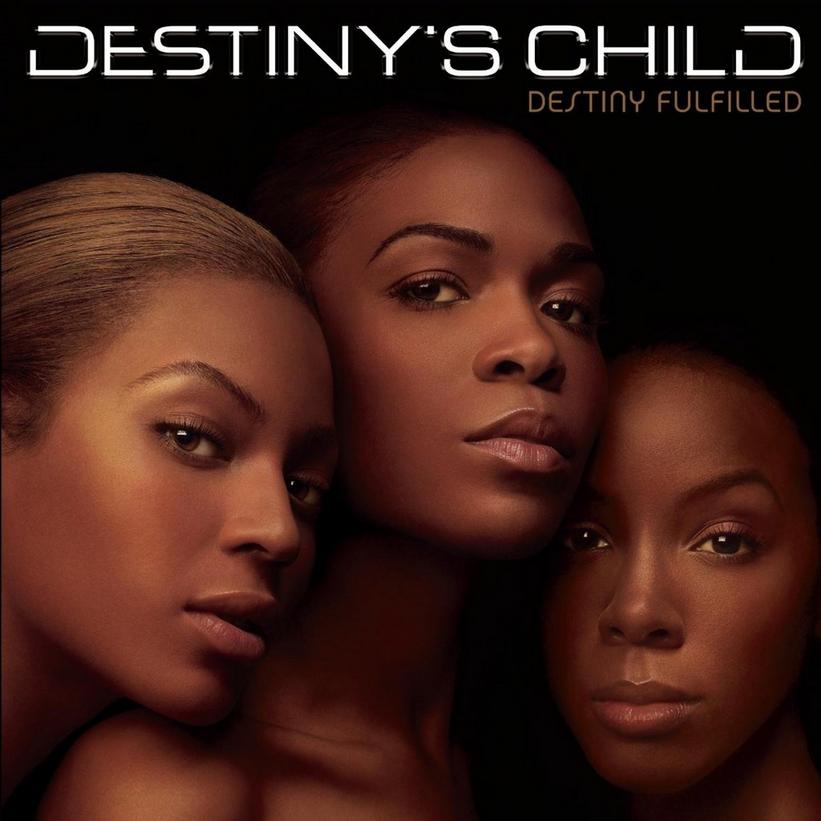 Photo courtesy of Columbia Records and Sony Urban Music
news
'Destiny Fulfilled' Turns 15: Looking Back At Destiny's Child's Fifth And Final Album
On their 2004 farewell record, Beyoncé, Kelly and Michelle peeled back the layers of the pop phenom girl group we once knew and re-introduced us to a trio of fully evolved, self-realized women
GRAMMYs
/
Nov 15, 2019 - 10:37 pm
The late '90s and early '00s belonged to Destiny's Child. As one of the greatest girl groups of all time, the Houston R&B/pop trio (the now-mononym'd Beyoncé, Kelly Rowland and Michelle Williams) shaped the music scene, consistently solidified the top spots on the charts and dominated airwaves. But it all changed on June 11, 2005, during their Destiny Fulfilled... and Lovin' It tour when Rowland announced before an adoring crowd of 16,000 in Barcelona that the threesome had collectively agreed to disband and move forward separately.
Before their show-stopping announcement, they left fans with the perfect parting gift, which was the release of their fifth and final studio album, Destiny Fulfilled. Though it's been 15 years since its release, having dropped on Nov. 15, 2004, the therapeutic themes of love and loss throughout the album's entirety still resonate today. From breakup anthems to female empowerment lyrics, the album made women feel like sheroes of their own stories.
Read More: Say My Name" 20 Years Later: Why The Destiny's Child Staple Is Still On Everyone's Lips
After a three-year hiatus where the trio separated to focus on solo projects, there came a noticeable transition with the release of this album. DC3 was officially all grown up. Electrifying pop tunes such as "Bootylicious" and "Bug A Boo" were in the group's rearview as they ushered in a more mature, nuanced sound deeply rooted with an R&B and a contemporary hip-hop vibe. With some assistance from hip-hop heavyweights and an all-star production team like T.I., Lil Wayne, Rodney Jerkins, 9th Wonder and Rockwilder, Destiny Fulfilled peeled back the layers of the pop phenom girl group we once knew and re-introduced us to a trio of fully evolved, self-realized women.
With each track inspired by the growing pains of relationships, Destiny Fulfilled chronicled some aspect of the ladies' journeys in their quest for love. At the time of the album's release, I was a 20-something college student, and the entire track list spoke to my trials and tribulations of the deterioration, reconstruction and eventually, the glow-up following a heartbreak that most women know all too well.
"It was a real conversation and a real feeling. When you get your heart broken, you question everything, especially if you feel like you have prayed for someone, and it didn't work out. The intensity of trying to find your way still affects a lot of people, especially women today," Sean Garrett, who penned six tracks on the album," tells the Recording Academy.
On the percussive single "Lose My Breath," the intense wave of emotions and seamless storytelling is perfectly captured and continues to radiate through the album as a whole. The inspiration stemmed from the "perspective of a guy taking a girl's breath away and getting swept off her feet. She's being swooned by a guy that at first she didn't believe she would be interested in," states Garrett. However, this dance tune not only generated massive buzz with its pioneering visuals of Destiny's Child styled as various versions of themselves competing in a back-alley dance battle. It also garnered the GRAMMY Award-winning group their ninth top 10 single on the Billboard Hot 100.
Their follow-up was the edgy street anthem that had Beyoncé, Michelle and Kelly professing their admiration for a bad boy because, "If his status ain't hood. I ain't checkin' for him. Better be street if he lookin' at me." The ladies continued to let the fellas know that they "Need a soldier that ain't scared to stand up for me. Known to carry big things if you know what I mean." Garrett says that 'Soldier' was definitely a favorite because it was a different vibe for girls at the time."
With emotionally vulnerable lyrics, sultry vocals and synchronized three-part harmonies, the individual strengths of each DC member were on full display throughout the remainder of the album. Their vocal abilities together and independently were stronger than ever. It was evident in songs such as "Is She the Reason" and "Free," which sampled singer Melba Moore, while "If" sampled legendary performer Natalie Cole's hit "Inseparable."
Not to mention, the band's behind-the-scenes writing chemistry, which captures the highs and lows of love, is a testament to DC's forever bond and shared history as a cohesive unit.
The title itself signifies a full-circle moment, a sense of completion and closure. An achievement Destiny's Child had been striving towards from their earlier days of member swapping and "TRL" stardom, Destiny Fulfilled is an experience that made women feel seen—both in the band and out. It is an ode to the life lessons of friendship, spiritual enlightenment, personal growth and transformation. Its resonance is still widespread, and the baton of wisdom found in the albums lyrical content is just as relevant today as it was 15 years ago.
Since parting ways, DC have briefly teamed back up, most memorably for on-stage performance at the 2013 Super Bowl halftime show, and again at Beyoncé's 2018 headlining Coachella set. They've also appeared on each other's solo records. But with '00s nostalgia running rampant across pop culture, fans understandably want more. In 2012, contemporary pop icon Ariana Grande tweeted to her 67 million followers, "I miss Destiny's Child so much." It's probably safe to say that everyone—including Grande—is waiting for Bey, Michelle and Kelly to drop a new female empowerment anthem for all the women, once again.
'Da Real World' At 20: Missy Elliott Champions Women, Hip-Hop Rookies, And, Most Of All—Herself