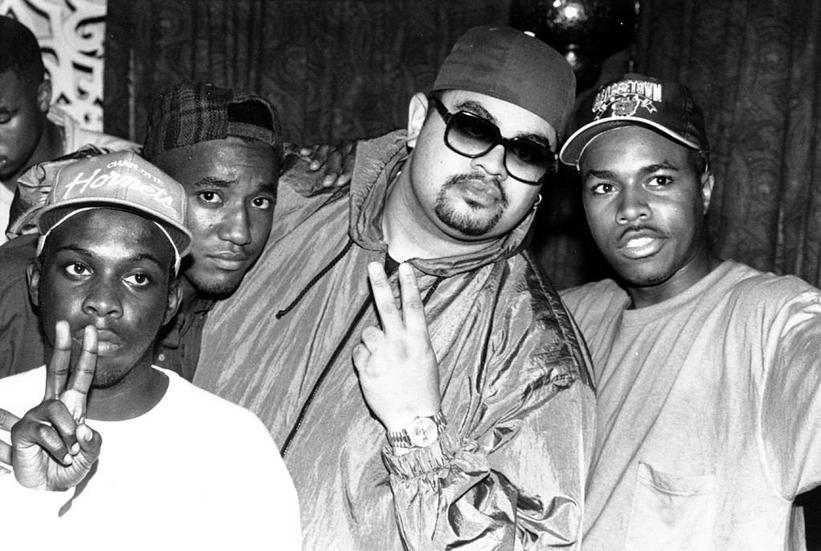 A Tribe Called Quest with Heavy D
Photo: Al Pereira/Michael Ochs Archives/Getty Images
news
"Loops Of Funk Over Hardcore Beats": 30 Years Of A Tribe Called Quest's Debut, 'People's Instinctive Travels And The Paths Of Rhythm'
The Recording Academy looks back at the hip-hip troupe's groundbreaking 1990 album
GRAMMYs
/
Apr 13, 2020 - 11:01 pm
There's no denying that 1990 was a watershed year for golden age hip-hop. Falling between the mid-'80s pop-cultural cannonball brought on by platinum-selling progenitors like Whodini, Run-D.M.C., Beastie Boys, LL Cool J, and Fat Boys and the mid-'90s boon of genre-perfecting classics from Dr. Dre, Tupac, Nas, Wu-Tang Clan, and Snoop Dogg, the hip-hop scene of 1990 provides a vibrant snapshot of both the limitless sonic bounds of the genre and also the kaleidoscopic variety of talents and personalities from the MCs, writers, DJs, producers, and hype men who were all raised on a musical ethos of telling your own stories, creating your own sounds, and (at least according to A Tribe Called Quest) devoting yourself to the art of moving butts.
Some of the more memorable hip-hop albums released in 1990 found solo artists and groups taking the party to the pop masses via Top 40 radio and MTV (MC Hammer's Please Hammer, Don't Hurt 'Em, Digital Underground's Sex Packets), others were infusing bombastically heavy doses of socio-political commentary into their lyrics and aesthetics (Public Enemy's Fear Of A Black Planet, Brand Nubian's One For All), some first-gen pioneers were reclaiming their territory with new creative forces (LL Cool J's Mama Said Knock You Out, Run-D.M.C.'s Back From Hell), while others were helping to bring increased national exposure to the grittier hardcore subgenres first popularized by Ice-T, N.W.A., and others (Ice Cube's AmeriKKKa's Most Wanted, Too Short's Short Dog's In The House).
However, there's possibly no greater singular encapsulation of the eclectic kitchen-sink sampling, poetic lyricism, production adventurousness, bohemian aesthetics, socially conscious intellectualism, musical magpie sensibilities and charismatic MC magnetism that was overflowing in the early-'90s hip-hop scene than People's Instinctive Travels And The Paths of Rhythm, the debut album from A Tribe Called Quest.
Although it is often recognized as one of the most groundbreaking and influential hip-hop albums of all time (thanks, in large part, to its trio of iconic singles "Can I Kick It?," "Bonita Applebum" and "I Left My Wallet In El Segundo"), People's Instinctive Travels And The Paths Of Rhythm was birthed from seemingly simple beginnings. The Jamaica, Queens group started out as a foursome of high school teenagers: Jonathan "Q-Tip" Davis, Malik "Phife Dawg" Taylor (who died from diabetes-related complications in 2016), Ali Shaheed Muhammad and Jarobi White (who left the group in 1991 and returned for their final album, 2016's We Got It From Here… Thank You 4 Your Service). Through a series of intersecting relationships—Q-Tip and Phife were elementary school friends, Phife and Jarobi met in middle school, and Ali joined the trio during their high school years—the quartet came together under the name Quest. A couple of years after forming, they altered their name to A Tribe Called Quest—a moniker bestowed upon them by Afrika Baby Bam of Jungle Brothers, another hip-hop crew from their same high school.
Throughout the late '80s, the group furiously dug through as many records as they could procure to build their own diverse catalog of relaxed breakbeats and vintage jazz, rock, soul and R&B samples in order to craft a demo that would land them a record deal. Simultaneously, Q-Tip was becoming an insatiable studio rat—an invaluable learning experience that would indelibly inform both his production work in Tribe and also his eventual career path producing songs for such renowned artists as Mariah Carey, Mobb Deep, Nas, Whitney Houston, Kanye West, Jay-Z, Quincy Jones, Santigold and many more. Before Tribe had even released their first album, Q-Tip had already found his way onto two songs ("Black Is Black" and "The Promo") from Jungle Brothers' 1988 album Straight Out The Jungle and is reported to have been in the studio for every recording session of De La Soul's landmark 3 Feet High And Rising album. The intertwined friendships, eclectic musical tastes, creative synergy and like-minded ethea between A Tribe Called Quest, De La Soul and Jungle Brothers led the three groups to form the Afrocentric hip-hop collective Native Tongues, which quickly expanded to include Queen Latifah, Monie Love, Black Sheep, Chi-Ali, and—depending on who you ask—maybe (or maybe not) a few others.
After a demo deal with Geffen Records failed to net the band a full album deal, A Tribe Called Quest eventually signed on with Jive Records—a young indie label that had earned some legit street cred for putting out a slew of notable '80s hip-hop records from Whodini, Schoolly D, Kool Moe Dee, Too Short and Boogie Down Productions, as well as the triple-platinum, GRAMMY-winning album He's The DJ, I'm the Rapper from DJ Jazzy Jeff and the Fresh Prince. Jive set the group up in N.Y.C.'s Calliope Studios, which was already establishing itself as the inspirationally fertile ground zero for Native Tongues. As Phife describes the moment to journalist Harry Allen in the liner notes for the 25th-anniversary release of People's Instinctive Travels And The Paths Of Rhythm, "Jungle in one room, recording… De La Soul in another room, recording. Latifah in another room, recording. Prince Paul… Everybody was there." In the same retrospective essay, Q-Tip refers to the secluded, musically rich, distraction-free environment as a literal utopia: "We didn't have the cell phones, we didn't have the internet… When we got to the studio, the specific job was to make music."
And make music they did. Some of the most memorable music in all of hip-hop history, in fact. The instrumental joie de vivre on People's Instinctive Travels And The Paths Of Rhythm flawlessly combines chopped-up samples both immediately recognizable (the opening motif of Stevie Wonder's "Sir Duke" is lifted for the intro of "Footprints," the impeccably minimalist bassline from Lou Reed's "Walk On The Wild Side" propels the mellow groove of "Can I Kick It?," and a processed one-word vocal snippet from Earth, Wind & Fire's "Brazilian Rhyme" becomes the hypnotic refrain of "Mr. Muhammad") and also more obscure (album opener "Push It Along" glides on a combined loop of Grover Washington, Jr.'s "Loran's Dance" and the drums from Junior Mance's cover of Sly Stone's "Thank You (Falletin Me Be Mice Elf Agin)" and the whimsically cinematic road-trip-gone-awry saga of "I Left My Wallet In El Segundo" dances between the slinky interplay of the guitar and drums of "Funky" from The Chambers Brothers and is introduced by the flamenco-inspired into to The Young Rascals' "Sueno"). They even created a few sample-within-a-sample meta moments, like when they lifted the snippet of "La Marseillaise" that The Beatles used to open "All You Need Is Love" to serve as their own intro for "Luck Of Lucien."
While experimentally playful album cuts like "Youthful Expression," "Luck Of Lucien" and "Go Ahead In The Rain" (featuring a lovely bluesy vocal bit of Jimi Hendrix's "Rainy Day Dream Away") paint a broad sonic picture of the group's relaxed charisma and musical eclecticism, it's the album's singles that have really helped to cement People's Instinctive Travels And The Paths Of Rhythm as the true gamechanger it is.
The album's whimsical lead single, "I Left My Wallet In El Segundo," immediately set the stage for Tribe's fun-over-fronting ethos. With its bouncy Chambers Brothers sample providing the bedrock for Q-Tip's laid-back travelogue, the song's emphasis on melody, breezy grooves, and non-posturing self-effacement, were all bold antitheses to the more aggressive braggadocio of their hip-hop contemporaries. Once the video hit MTV, Tribe's seemingly fully realized set-apartness was even more on display for all to see. The group is charming, chill and undeniably photogenic, while their emblematic four-ank and stick-figure logo (courtesy of artist Dave Scilken) got its first introductory roll-out ahead of becoming one of the most iconic hip-hop logos this side of Run-D.M.C. and Public Enemy.
As the summer of 1990 hit, Tribe released the follow-up single from People's Instinctive Travels And The Paths Of Rhythm, the immediate hit turned legendary classic, "Bonita Applebum." While the slinky song and memorable video did well in its day, "Bonita Applebum" quickly became a sonic touchstone for other artists to show their love and respect for A Tribe Called Quest. The following year, P.M. Dawn interpolated the vocal hook into the lyrics of their Billboard No. 1 hit "Set Adrift On Memory Bliss," and the song's titular character has been name-dropped in songs by Jay-Z, Lil Wayne, Biz Markie, Redman and many others. Even the instrumental sections of "Bonita Applebum" (themselves a mixture of samples from Rotary Connection, RAMP, Little Feat and The Dave Pike Set) have been re-sampled in songs by Monica, Wyclef Jean, B.o.B, and most notably in the Fugees' GRAMMY-winning cover of Roberta Flack's "Killing Me Softly" in 1996.
"Can I Kick It?" was the third and final single culled from the album, released in the late fall of 1990. While the song's popularity could easily be attributed to the delightfully inescapable call-and-response chorus chant or the familiar Lou Reed bassline sample, there was also an ever-increasing buzz building around Tribe's music, aesthetic, and approach to life that seems to really shine through the music video for "Can I Kick It?" with its confident but not arrogant, playful but still artful, sharing the good times with your friends vibe (members of De La Soul even appear throughout).
The game-changing impact of People's Instinctive Travels And The Paths Of Rhythm was immediate. Reviews were widely positive, with The Source bestowing its first hallowed "Five Mic" rating and calling it "a completely original musical and spiritual approach to hip-hop… with sophisticated production invoking a jazz flavor." NME's Ian McCann famously wrote that "A Tribe Called Quest put no feet in the wrong place here. This is not rap, it's near perfection." Tribe even became the first hip-hop act to perform on MTV Unplugged, opening the Yo! Unplugged Rap hybrid show with "Can I Kick It?" (which was coincidentally recorded on the album's one-year anniversary).
Looking back over Tribe's entire catalog, there are certainly other albums that received more quantifiable accolades and, maybe to some, even appear to outshine their debut. Sophomore album The Low End Theory gave the band their first platinum record and features the greatest posse cut of all time, "Scenario" (introducing Busta Rhymes to the masses and giving us one of the best early-90s, computer-centric music videos ever). 1993's Midnight Marauders gave the group its best chart performance (at that time), hitting No. 1 on the Billboard R&B/Hip-Hop Albums and No. 8 on the overall Billboard 200. 1996's Beats, Rhymes, and Life went so far as debuting at No. 1 on the Billboard 200 and it gave the group their first two GRAMMY nominations. However, when you talk about A Tribe Called Quest, it's impossible to not begin and end the discussion with their debut shot across the bow, People's Instinctive Travels And The Paths of Rhythm. Other albums may have changed A Tribe Called Quest's individual career path, but their debut changed the whole trajectory of hip-hop in ways that still reverberate and inspire today. When it comes to rhythms, Quest is (still) your savior.
On 'Things Fall Apart,' The Roots Deepened Hip-Hop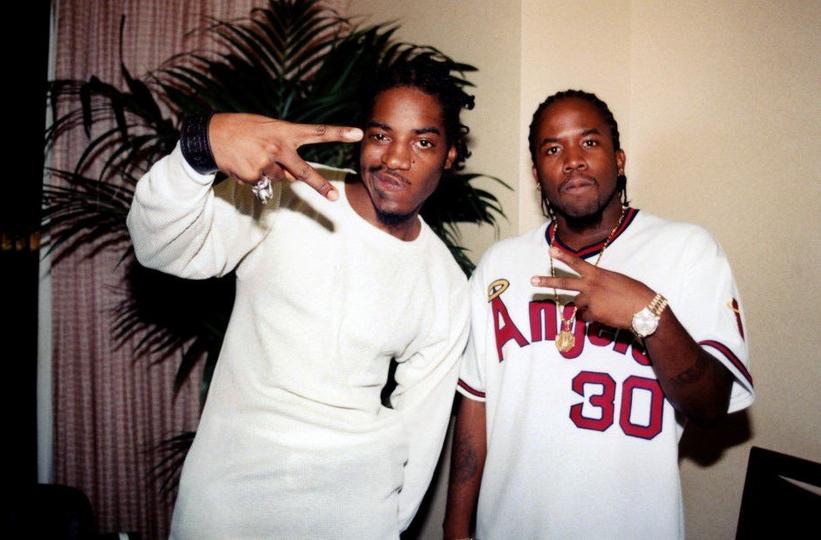 André 3000 and Big Boi of Outkast in October 1998
Photo: Raymond Boyd/Getty Images
feature
Why 1998 Was Hip-Hop's Most Mature Year: From The Rise Of The Underground To Artist Masterworks
From the release of 'The Miseducation of Lauryn Hill' and 'Aquemini,' to the proliferation of underground rap and the rise of regionalism, 1998 was hip-hop's sweet spot.
GRAMMYs
/
Nov 20, 2023 - 03:02 pm
2023 has seen countless tributes to hip-hop, celebrating both its golden anniversary and the staying power of a genre that was vilified, underestimated, and branded a passing fad for decades. Nonetheless, while 50 is a major milestone, many believe hip-hop reached its peak decades ago.  
At the tail end of the golden age of hip-hop, the genre reached a new level of maturity. Twenty-five years ago, hip-hop music demonstrated a wide variety of production styles and a diversity of perspectives. Further proving that 1998 was a high watermark for hip-hop, several important and stylistically distinct albums by Jay-Z, Black Star, A Tribe Called Quest and Outkast were even released on the same day.
This diversity of expression resulted in multiple commercially successful, distinct subgenres and niche audiences. The culture moved beyond the bi-coastal hostility that had culminated in the tragic murders of Tupac and Biggie, and the South asserted itself in a big way. The year's versatility was demonstrated through the emergence of an underground scene that was critical of mainstream hip-hop's consumerist mentality, but nonetheless thrived alongside commercially successful albums by both new and established artists.  
Southern Hip-Hop Earns Respect 
By 1998 groups beyond the East and West Coasts had started to gain national visibility — a hallmark of hip-hop's growing maturity. 
While Outkast's Andre 3000 famously declared that  "The South got somethin' to say" in1995, the group didn't earn widespread respect and recognition until three years later. Released in September 1998, Aquemini, garnered near-universal praise — earning Outkast a notoriously rare five mics in The Source — and is still considered to be one of hip-hop's greatest albums. 
No other hip-hop group sounded like Outkast, and Southern flavor and slang pervaded the album (see the harmonica breakdown in "Rosa Parks"), but it was also the live instrumentation on tracks like "Liberation" and "SpottieOttieDopaliscious" that made the album so special. 
Fellow ATLiens Goodie MOB, a group in the Dungeon Family collective, also released an album in '98. Like Aquemini, their sophomore effort Still Standing was produced largely by Organized Noize and featured a similar production style. 
Outkast and Goodie MOB collaborated often in the 1990s: Aquemini's "Liberation" only works because of the deeply soulful vocals of Goodie MOB's Cee-Lo, and Still Standing's "Black Ice" features one of Andre 3000's most poetic and brilliant verses. While speaking to the many struggles of being young, Black and poor in the South, these two groups demonstrated how regional pride could be asserted in a more positive way, instead of spilling over into real-life violence; it was evidence of hip-hop's maturity.
On the more commercial side, Atlanta rapper/producer Jermaine Dupri — who was already producing and writing songs for major R&B artists like Usher and Mariah Carey — released his debut album, resulting in one of the hits of the summer: the bouncy Jay-Z collaboration "Money Ain't A Thang." New Orleans was also becoming an important locus of Southern hip-hop by 1998, with Master P's No Limit Records releasing albums by Master P himself, Silkk the Shocker, C-Murder, Mystikal, and Snoop Dogg. Hits included "Make 'Em Say Ugh" and "It Ain't My Fault," both containing Mystikal's distinctive high-pitched growling; his lightning-fast verse on the first song is truly something to behold. Also from Crescent City, Cash Money Records struck gold with Juvenile's 400 Degreez and his booty-shaking anthem, "Back That Azz Up."
The Rise of Underground Hip-Hop
1998 was also the year "underground" hip-hop bubbled to the surface as a reaction to the genre's crossover success. It was defined primarily by a critique of the presumed excessive consumerism of mainstream hip-hop, and a desire to return to the days when DJs, b-boys and graffiti artists were as important as rappers. 
Turntablism was strongly associated with this style, as were cyphers — gatherings where rappers, b-boys and beatboxers would form a circle and engage in freestyle battles. The emergence of underground hip-hop was another sign that the genre was maturing as a whole; artists were no longer as worried about the ghettoization by the music industry and some felt that it had strayed too far from its marginalized roots. 
The most significant underground hip-hop album of 1998 was Mos Def and Talib Kweli are Black Star, created by a young duo of Brooklyn MCs. Interestingly, it was released on the same day in September as Aquemini, as well as two other major albums of the year: Jay-Z's Vol. 2…Hard Knock Life and A Tribe Called Quest's The Love Movement — which although not an essential listen in their discography, did produce a hit with "Find A Way." Four major albums released on the same day was a testament to how far hip-hop had come. 
In fact, the Black Star album was an explicit critique of the type of consumerist mentality and sexually explicit/boasting lyrics Jay-Z employed on Hard Knock Life. Songs like "Definition" display Mos Def and Talib Kweli's exceptional lyrical dexterity and clever references, while  "Hater Players" draws a clear line in the sand between commercial hip-hop and the "real MCs." In the latter, Kweli raps: "We ain't havin' that, reachin' past the star status that you grabbin' at/ My battle raps blast your ass back to your natural habitat."
Mos Def's adaptation of Slick Rick's "Children's Story" is a clever screed about the lack of originality within mainstream hip-hop. "They jacked the beats, money came wit' ease, but son, he couldn't stop, it's like he had a disease. He jacked another and another, Michael Jackson, Stevie Wonder." The song was a not-so-veiled reference to the production technique utilized by Puff Daddy, relying heavily on well-known samples of soul and R&B songs.
Black Star also distinguished itself from much of commercial rap of the time by uplifting, instead of denigrating, women. "Brown Skin Lady" is an ode to Black women throughout the African diaspora, presenting a clear contrast to the frequent use of the b-word on Hard Knock Life, particularly on one of its biggest hits, "Can I Get A…" Nonetheless, like many "conscious" rappers — notably, Common, who makes a guest appearance on this album — Black Star reflects the almost-universal homophobia in hip-hop at the time, particularly in Mos Def's verse on "Re-Definition." 
Despite Jay-Z's distrust and demonization of women on Hard Knock Life — his third and most commercially successful record — no one can dispute his tremendous verbal prowess and flow, evident on tracks like "N— What, N— Who." And while he called out "gold diggers" in "Can I Get A…," he invited a female rapper (Amil) onto the song — leveling the playing field a bit. 
Production-wise, Jay-Z's use of the "Annie" theme for the title song was one of the most inspired choices in the genre's history. The slick production of the album guaranteed it would be a home run; in retrospect, it heralded the future of commercial hip-hop's sound.  
Oher underground hip-hop artists were making big waves in 1998. Rawkus Records — which released the Black Star album — put out an important compilation, Lyricist Lounge, Volume 1, which featured performances by Mos Def, Talib Kweli, A Tribe Called Quest's Q-Tip, and the L.A.-based Jurassic 5, who also released their debut album that year. Other West Coast underground artists who released debut albums in 1998 included the Bay Area-based Hieroglyphics and Rasco, and the L.A.-based Aceyalone and People Under the Stairs. 
Debuts, Veterans And The Biggest Album Of The Year 
1998 also saw the release of important debut albums by commercial hip-hop artists like DMX, Big Pun and Black Eyed Peas. Big Pun's "Still Not A Player" was one of the biggest hits of the year, with his lyricism reminiscent of Biggie. 
DMX had a particularly productive year, releasing two albums in 1998, It's Dark and Hell Is Hot and Flesh of My Flesh, Blood of My Blood. That year, it was impossible to escape the melodic hook and chorus of "Ruff Ryders' Anthem" ("Stop! Drop! Shut 'em down, open up shop") from the first DMX album. DMX also contributed a memorable verse on the Lox's hit "Money, Power, Respect," off the group's debut album, released by Puffy's Bad Boy. 
Beyond the debut albums of 1998, a slew of established artists from various regions and representing myriad styles put out their third, fourth or fifth albums. East Coast artists with new albums included Beastie Boys, Method Man, Redman, Busta Rhymes, Queen Latifah, Gang Starr, Mc Lyte, and Public Enemy, who released a soundtrack album for Spike Lee's He Got Game. On the West Coast, there were new albums by Cypress Hill, Ice Cube, and Digital Underground. 
Notwithstanding the success of so many diverse hip-hop artists, no album achieved greater heights than Lauryn Hill's masterful solo debut, The Miseducation of Lauryn Hill. To start, it won Album Of The Year at the 1999 GRAMMYs, a feat never before accomplished for a hip-hop artist, as well as four other golden gramophones. Hill wrote, arranged and produced the album herself, reportedly turning down offers for production help from both her former Fugees bandmate Wyclef Jean and her label, which suggested bringing in Wu-Tang Clan's mastermind, RZA.
The album was somewhere between R&B and hip-hop (and in fact was nominated and won in R&B instead of rap categories), and right off the bat, the album showcases Hill's considerable skill as both a rapper and singer. The dancehall-inflected "Lost Ones" takes on an aggressive stance, with Hill rapping in Jamaican patois and invoking phrases of religious retribution, but it's followed by a neo-soul breakup ballad, "Ex-Factor," featuring Hill's signature throaty vocals.
The other major hits on the album besides "Ex-Factor" were "Doo Wop (That Thing)" and "Everything Is Everything," which cemented Hill as one of the best lyricists in hip-hop. Twenty-five years later, the whole album holds up beautifully and features some incredible invited guests.
Perhaps it's not a coincidence that the first hip-hop album to break the Album Of The Year barrier was released in 1998 — when the genre had reached what is arguably its creative apex. With the incredible stylistic and regional diversity of that year's albums, hip-hop had succeeded beyond its founders' wildest dreams. 
Hip-Hop Just Rang In 50 Years As A Genre. What Will Its Next 50 Years Look Like?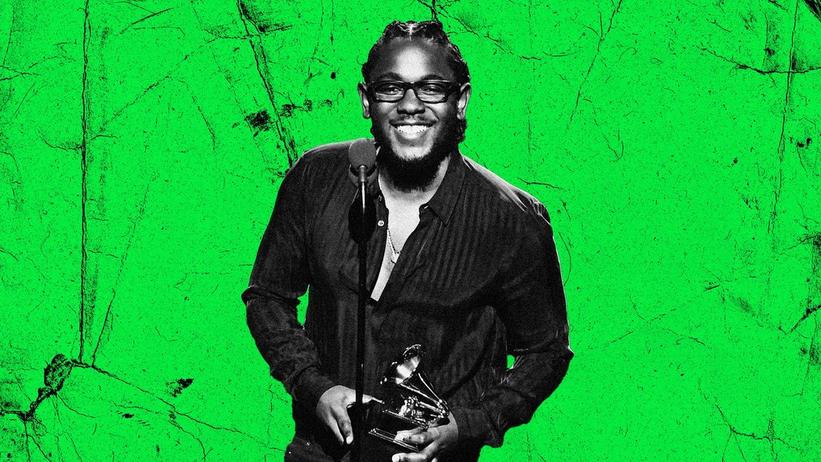 Kendrick Lamar
Photo: Jeff Kravitz/FilmMagic
video
GRAMMY Rewind: Kendrick Lamar Honors Hip-Hop's Greats While Accepting Best Rap Album GRAMMY For 'To Pimp a Butterfly' In 2016
Upon winning the GRAMMY for Best Rap Album for 'To Pimp a Butterfly,' Kendrick Lamar thanked those that helped him get to the stage, and the artists that blazed the trail for him.
GRAMMYs
/
Oct 13, 2023 - 06:01 pm
Updated Friday Oct. 13, 2023 to include info about Kendrick Lamar's most recent GRAMMY wins, as of the 2023 GRAMMYs.
A GRAMMY veteran these days, Kendrick Lamar has won 17 GRAMMYs and has received 47 GRAMMY nominations overall. A sizable chunk of his trophies came from the 58th annual GRAMMY Awards in 2016, when he walked away with five — including his first-ever win in the Best Rap Album category.
This installment of GRAMMY Rewind turns back the clock to 2016, revisiting Lamar's acceptance speech upon winning Best Rap Album for To Pimp A Butterfly. Though Lamar was alone on stage, he made it clear that he wouldn't be at the top of his game without the help of a broad support system. 
"First off, all glory to God, that's for sure," he said, kicking off a speech that went on to thank his parents, who he described as his "those who gave me the responsibility of knowing, of accepting the good with the bad."
He also extended his love and gratitude to his fiancée, Whitney Alford, and shouted out his Top Dawg Entertainment labelmates. Lamar specifically praised Top Dawg's CEO, Anthony Tiffith, for finding and developing raw talent that might not otherwise get the chance to pursue their musical dreams.
"We'd never forget that: Taking these kids out of the projects, out of Compton, and putting them right here on this stage, to be the best that they can be," Lamar — a Compton native himself — continued, leading into an impassioned conclusion spotlighting some of the cornerstone rap albums that came before To Pimp a Butterfly.
"Hip-hop. Ice Cube. This is for hip-hop," he said. "This is for Snoop Dogg, Doggystyle. This is for Illmatic, this is for Nas. We will live forever. Believe that."
To Pimp a Butterfly singles "Alright" and "These Walls" earned Lamar three more GRAMMYs that night, the former winning Best Rap Performance and Best Rap Song and the latter taking Best Rap/Sung Collaboration (the song features Bilal, Anna Wise and Thundercat). He also won Best Music Video for the remix of Taylor Swift's "Bad Blood." 
Lamar has since won Best Rap Album two more times, taking home the golden gramophone in 2018 for his blockbuster LP DAMN., and in 2023 for his bold fifth album, Mr. Morale & the Big Steppers.
Watch Lamar's full acceptance speech above, and check back at GRAMMY.com every Friday for more GRAMMY Rewind episodes. 
10 Essential Facts To Know About GRAMMY-Winning Rapper J. Cole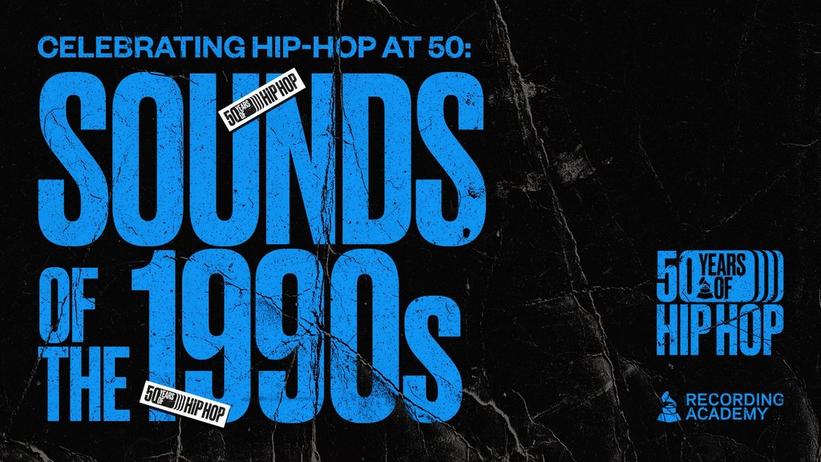 list
Essential Hip-Hop Releases From The 1990s: Snoop Dogg, Digable Planets, Jay-Z & More
In the '90s, hip-hop officially left the underground for full commercial fanfare. During hip-hop's golden age, rappers were multifaceted in their flow and lyrics, creating music that is now legendary.
GRAMMYs
/
Jul 14, 2023 - 02:11 pm
Three decades ago, hip-hop made a turn from the underground to commercial fanfare. The eclectic sensibilities of the 1980s created space for artists of all stripes, leading to the golden age of hip-hop, and releases that are now considered an integral part of the genre's canon. By the 1990s hip-hop was a chart-topping entity and enterprise, where artists were popularized through streetwear campaigns and brand deals.
In this decade, rappers were multifaceted in their flow and lyrics — whether rugged and hard-spitting, or poetic and fervently expressive. Artists like psychedelic hip-hop group De La Soul, salacious femcee Lil' Kim and Atlanta heavy-hitters Outkast expanded rap's palette. Beats ranged from synthetic to weighty 808 drum patterns, all which redefined the genre's 20-year presence. 
Hip-hop chronicled truth and fantasy, providing listeners both deeply resonant and vividly divergent soundtrack whose influence continues to be felt. Decades later, records released in the 1990s are legend, and many of them appeared on the 65th GRAMMY Awards stage in a massive tribute to hip-hop.Here are 10 signature albums that bridged the golden age and the digital era of hip-hop.
De La Soul -
De La Soul Is Dead
(1991)
By 1991, conscious hip-hop pioneers De La Soul were over the "D.A.I.S.Y. Age" introduced on their seminal debut album 3 Feet High and Rising. The Long Island trio, composed of Posdnuos, Maseo and the late Trugoy the Dove jazzed up their sound on sophomore effort De La Soul Is Dead, marking a radical transition from hip-hop "hippies" to earnest rhymesayers. 
Posdnous and Trugoy melded simple production (courtesy of Prince Paul) with complex bars on "Pease Porridge," and also explored the traumas of sexual molestation through metaphor on "Millie Pulled a Pistol on Santa." Although De La Soul Is Dead received mixed reviews, the LP was one of the first albums to earn a five-mic rating in hip-hop publication The Source. "Still progressing and proud of it, De La has successfully escaped being trapped in the sophomore jinx with grooves that are harder than a brick wall," the throwback review reads.
With De La Soul Is Dead, the group, whose back catalog just arrived on digital music services in March, evaded the dreaded sophomore slump and cemented their place in hip-hop history.
Snoop Dogg-
Doggystyle
(1993)
After Calvin Broadus — then performing under the moniker Snoop Doggy Dogg —  released his breakthrough album Doggystyle, West Coast rap was never the same. Playing on inspirations from classic Blaxploitation films and early funk pioneers, Snoop kept his posture smooth while rhyming over beats from Dr. Dre (who also discovered the Long Beach native), and welcomed fellow then-newcomers like The Lady of Rage, Tha Dogg Pound, Warren G and RBX as features.
Giving listeners "just a small introduction to the G-Funk era," Snoop helped usher  in a soul-laden gangsta rap  sound that stood in distinct contrast  to the East Coast's grittiness and jazz influence. The iconic "Gin and Juice" and "Who Am I (What's My Name?)" have long been summertime cookout staples, while the eerie "Murder Was the Case" preceded Snoop being acquitted of murder just three years later. Now a 16-time GRAMMY nominee, Doggystyle marked Snoop's debut as a hip-hop elite.
A Tribe Called Quest -
Midnight Marauders
(1993)
Three albums into their career, A Tribe Called Quest didn't let up on Midnight Marauders. The Queens-bred group, which included Q-Tip, the late Phife Dawg, Ali Shaheed Muhammad (and occasional member Jarobi White) flaunted their lyricism and expansive musical knowledge  on the 1993 release, which was navigated by a robotic "tour guide."
Q-Tip and Phife's wordplay is nimble throughout the album, but truly spotlighted on the Trugoy the Dove-assisted "Award Tour," the amorous "Electric Relaxation" and "The Chase, Pt. II." "8 Million Stories" and "Midnight" were solo moments for Phife Dawg and Q-Tip, respectively, each who had brushed up their penmanship since ATCQ's 1991 reinvention on The Low End Theory. Both atmospheric and imaginative, Midnight Marauders showcased ATCQ's range as a progressive hip-hop act.
Digable Planets -
Blowout Comb
(1994)
Jazz rap trio Digable Planets maintained their cool just one year after winning a GRAMMY Award for Best Rap Performance By A Duo Or Group. In 1994, Ishmael "Butter Fly" Butler, Mariana "Ladybug Mecca" Vieira and Craig "Doodlebug" Irving followed with Blowout Comb, their second and final studio album. With a minimalist approach, Digable Planets trekked through urban and Afrocentric themes soundtracked by live instrumentation and spoken word.
Emotionally stirring and thematic, "Black Ego" saw Digable Planets tackling economic injustices and Black nationalism with nods to Blaxploitation films Cleopatra Jones and Superfly. The group asserted their refusal to go commercial on laidback earworm "Jettin." Seventies slang and references to New York City boroughs floated throughout Blowout Comb, and although singles "9th Wonder (Blackitolism)" and "Dial 7 (Axioms of Creamy Spies)" didn't chart, the album reintroduced Digable Planets in their most authentic form and reached No. 32 on the Billboard 200.
2Pac -
Me Against the World
(1995)
With an awareness unrivaled by his  contemporaries, Tupac Shakur's penultimate album, Me Against the World, exploredhis complexities. By March 1995, the rapper had served one month in prison on sexual abuse charges, and had used his previous year of freedom to record arguably the most poignant LP of his lifetime.
On the titular track, Shakur examined impoverished Black communities and morbid thoughts of mortality. A sample of Stevie Wonder's "That Girl" textures "So Many Tears," where 2Pac vocalizes music industry woes, his depression and even predicts an early death. "Dear Mama," (which inspired the FX docuseries of the same name), was 2Pac's dedication to mother and former Black Panther Party member Afeni Shakur; it became the third song by a rap act to be placed in the Library of Congress.
The latter song and Me Against the World would both earn Shakur his first GRAMMY nominations. While he didn't win, both are masterpieces that signaled the rapper's coming-of-age.
Jay-Z -
Reasonable Doubt
(1996)
Jay-Z gave a solid lyrical offering on his 1996 debut. A landmark album on the now-defunct Roc-A-Fella Records, the 14-track Reasonable Doubt brought mafioso and luxury rap into the ring, as Jay-Z gave semi-autobiographical tales of street life.
On "Feelin' It," the Brooklyn rapper boasts his riches and opulent lifestyle, while the Issac Hayes-sampling "Can I Live" explores the close calls that the hustle brings. Hov's stream-of-conscious flow highlighted production from the likes of Ski Beatz, DJ Premier and Clark Kent. 
Reasonable Doubt predicted Jay-Z's thriving future without a doubt, as he's since taken hip-hop's throne as a coveted 24-time GRAMMY-winning artist (in addition to 88 nominations).
Lil' Kim -
Hard Core
(1996)
Brooklynite Lil' Kim carved out space for risque rap on her 1996 solo breakout Hard Core. Less than six months after the murder of her mentor the Notorious B.I.G., the former Junior M.A.F.I.A. member achieved solo commercial success for her provocative lyricism and appearance. Whereas many of her contemporaries adopted a more androgynous style, Lil' Kim played up her sex appeal onstage and on record.  
The raunchy "Big Momma Thang," which samples 1978 Sylvester deep cut "Was It Something That I Said," shows Lil Kim's allyship with queer listeners. Lil' Kim asserted her hood dominance on "No Time," while flaunting her affection for being classily "draped in diamonds and pearls." Although Hard Core was Moderately received, Lil' Kim's rap successors —Doja Cat, Megan Thee Stallion and Cardi B — would later speak highly of the Queen Bee's NSFW magnetism. Nearly 30 years later, contemporary women in hip-hop continue to strive for Lil' Kim's unapologetic influence.
Missy Elliott -
Supa Dupa Fly
(1997)
Hip-hop hadn't witnessed fly until Missy "Misdemeanor" Elliott stepped onto the scene. The Virginia-born rapper and singer/songwriter had once been a part of R&B group Sista before partnering with producer Timbaland. The two both wrote and produced almost the entirety of Aaliyah's 1996 album One In A Million. By the late '90s, Elliott's pen was in demand, giving her the confidence to share her unconventional sound and look as a solo act.
Her 1997 debut, Supa Dupa Fly, redefined what it meant to be a woman in rap. Over Timbaland's bass-thumping production, Elliott went full-on futuristic. She humorously teased her sexuality on the audacious "Sock It 2 Me," while the bouncy "The Rain (Supa Dupa Fly)" sampled Memphis soul vocalist Ann Peebles with peculiar lyrics like "my finger waves these days, they fall like Humpty." 
Two decades before being inducted into the Rock & Roll Hall of Fame and receiving the Black Music Collective's Recording Academy Honors award, Elliott took the rap world by storm. Ahead of its time yet heralded, Supa Dupa Fly and Elliott's one of a kind style showed the artist's peers and successors how to be creative anomalies.
Outkast -
Aquemini
(1998)
The South had something to say on Outkast's third album Aquemini. The duo of André 3000 and Big Boi asserted their southern charm and immaculate rhyme schemes on the 16-track album that catapulted them to stardom. As the two rappers perfected their individualism, Aquemini also showed 3000 and Big Boi seamlessly meshing their styles together.
More spacey than their sophomore album ATLiens, Outkast doubled up on their down home twang on the funky (but controversial) "Rosa Parks." The two questioned reality from dystopian technology on the surreal "Synthesizer" with P-Funk legend George Clinton. Listeners can visualize a juke joint scene on the reggae-tinged "SpottieOttieDopaliscious," where 3000 and Big Boi intertwine tales of a violent nightclub encounter and a cursed romance. 
Aquemini ushered a turn in Dirty South hip-hop, where the region gained national respect for its storytelling, realism and unique flow.
Dr. Dre -
2001
(1999)
Super producer and rapper Dr. Dre brought out the all-stars on his 1999 sophomore solo album 2001. The LP reunited the now seven-time GRAMMY-winner with his prodigies Snoop Dogg, Eminem, Xzibit, Nate Dogg and Kurupt, while ushering in a new age of West Coast rap. Seven years after his groundbreaking debut album The Chronic, the former N.W.A. member was "Still D.R.E."
On the aforementioned track, written entirely by Jay-Z, Dr. Dre flexed his near 15-year impact in hip-hop. "The Watcher" detailed the Compton native reaching music industry plateaus despite paranoia of "a new era of gangstas." Strip club anthem "The Next Episode" harkened back to Dre and Snoop's "Nuthin' But A 'G' Thang," while "Let's Get High" captured a raunchy house party. On 2001, now certified 6x platinum, Dr. Dre was at his most carefree while setting the bar high for a new generation of hip-hop.
Essential Hip-Hop Releases From The 1980s: Slick Rick, RUN-D.M.C., De La Soul & More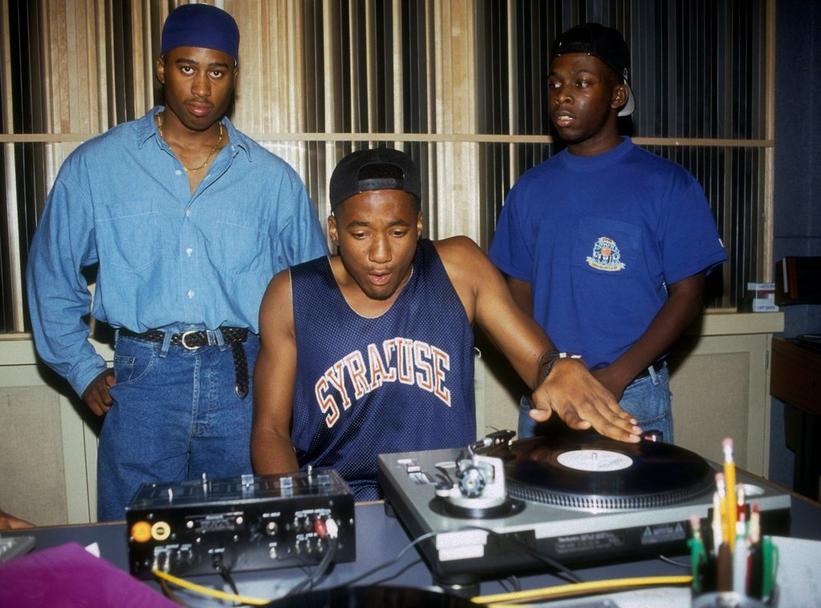 A Tribe Called Quest in 1991 (L-R) Ali Shaheed Muhammad, Phife Dawg, Q-Tip
Photo: Al Pereira/Michael Ochs Archives/Getty Images
list
10 Albums That Showcase The Deep Connection Between Hip-Hop And Jazz: De La Soul, A Tribe Called Quest, Kendrick Lamar & More
Hip-hop and jazz are two branches of Black American music; their essences have always swirled together. Here are 10 albums that prove this.
GRAMMYs
/
Jun 27, 2023 - 09:20 pm
Kassa Overall is tired of talking about the connections between jazz and rap. He had to do it when he released his last two albums, and he has to do it again regarding his latest one.
"They go together naturally," he once said. "They're from the same tree as far as where they come from, which is Black music in America. You don't have to over-mix them. It goes together already."
Expand this outward, and it applies to all Black American musics; it's not a stretch to connect gospel and blues, nor soul and R&B. Accordingly, jazz and rap contain much of the same DNA — from their rhythmic complexity to its improvisational component to its emphasis on the performer's personality.
Whether in sampling, the rhythmic backbone, or any number of other facets, jazz and rap have always been simpatico; just watch this video of the '40s and '50s vocal group the Jubilaries, which is billed as the "first rap song" and is currently circling TikTok. And as Overall points out to GRAMMY.com, even jazz greats like Louis Armstrong or Dizzy Gillespie had "Lil B and Danny Brown energy."
From A Tribe Called Quest to the Roots to Kendrick Lamar, rap history is rife with classics that intertwine the languages of two Black American artforms. Here are 10 of them.
De La Soul —

3 Feet High and Rising

(1989)
GRAMMY-winning Long Island legends De La Soul's catalog is finally on streaming; now's the perfect time to revisit these pivotal jazz-rap intersecters. 
Featuring samples by everyone from Johnny Cash to Hall and Oates to the Turtles, their playful, iridescent, psychedelic 1989 debut, 3 Feet High and Rising, is the perfect portal to who Robert Christgau called "radically unlike any rap you or anybody else has ever heard,"
3 Feet High and Rising consistently ranks on lists of the greatest hip-hop albums of all time. In 2010, the Library of Congress added it to the National Recording Registry.
A Tribe Called Quest — The Low End Theory (1991)
If one were to itemize the most prodigious jazz-rap acts, four-time GRAMMY nominees A Tribe Called Quest belong near the top of the list. Their unforgettable tunes; intricate, genre-blending approach; and Afrocentric POV, put them at the forefront of jazz-rap.
There are several worthy gateways to the legendary discography of Q-Tip, Phife Dawg, Ali Shaheed Muhammad, and Jarobi White,, like 1993's Midnight Marauders and 1996's Beats, Rhymes and Life. 
But their 1991 album The Low End Theory, was a consolidation and a watershed. From "Buggin' Out" to "Check the "Rhime" to "Scenario" — featuring Busta Rhymes, Charlie Brown and Dinco D — The Low End Theory contains the essence of Tribe's vibrant, inventive personality.
Plus, it's not for nothing that they enlisted three-time GRAMMY winner Ron Carter to play on The Low End Theory; he's the most recorded jazz bassist in history.
Dream Warriors —

And Now the Legacy Begins

(1991)
Representing Canada are Dream Warriors, whose And Now the Legacy Begins was a landmark for alternative hip-hop. 
King Lou and Capital Q's 1991 debut eschewed tough-guy posturing in favor of potent imagination and playful wit. Christgau nailed it once again with his characterization: "West Indian daisy age from boogie-down Toronto."
Its single "My Definition of a Boombastic Jazz Style" samples "Soul Bossa Nova" by 28-time GRAMMY winner Quincy Jones — who, among all the other components of his legacy, is one of jazz's finest arrangers. The tune would go on to become the Austin Powers theme song; in that regard, too, Dream Warriors were ahead of their time.
The Pharcyde — Bizarre Ride II the Pharcyde (1992)
All of Black American music was fair game to producer J-Swift; on the Pharcyde's classic debut Bizarre Ride II the Pharcyde, he sampled jazzers like Donald Byrd and Roy Ayers alongside Marvin Gaye, Jimi Hendrix, Sly and the Family Stone, and more. Over these beds of music, Fatlip, SlimKid 3, Imani, and Bootie Brown spit comedic bars with blue humor aplenty.
"I'm so slick that they need to call me, "Grease"/ 'Cause I slips and I slides When I rides on the beast" Imani raps in "Oh S—," in a representative moment. "Imani and your mom, sittin' in a tree/ K-I-S-S (I-N-G)."
All in all, the madcap, infectious Bizarre Ride II the Pharcyde is a pivotal entry in the jazz-rap pantheon. One reviewer put it best: "[It] reaffirms every positive stereotype you've ever heard about hip-hop while simultaneously exploding every negative myth."
Digable Planets — Reachin' (A New Refutation of Time and Space) (1993)
Digable Planets' Ishmael Butler once chalked up the prevalent jazz samples on their debut as such: "I just went and got the records that I had around me," he said. "And a lot of those were my dad's s—. which was lots of jazz." It fits Digable Planets like a glove.
"Rebirth of Slick (Cool Like Dat)" contains multiple elements of Art Blakey and the Jazz Messengers' "Stretching"; "Escapism (Gettin' Free" incorporates the hook from Herbie Hancock's "Watermelon Man"; and "It's Good to Be Here" samples Grant Green's "Samba de Orpheus. Throughout Reachin', Butler, Craig Irving and Mary Ann Viera proselytize Black liberation in a multiplicity of forms.
Pitchfork nailed it when it declared, "​​Reachin' is an album about freedom — from convention, from oppression, from the limits imposed by the space-time continuum."
Gang Starr —

Daily Operation

(1992)
In the realm of Gang Starr, spiritual consciousness and street poetry coalesce. Given that jazz trucks in both concepts, it's a natural ingredient for DJ Premier and Guru's finest work.
One of their first masterpieces, Daily Operation, contains some of jazz's greatest minds within its grooves. "The Place Where We Dwell" samples the Cannonball Adderley Quintet's "Fun"; Charles Mingus' "II B.S" is on "I'm the Man"; the late piano magician Ahmad Jamal's "Ghetto Child" pops up on "The Illest Brother." 
Throughout their career, DJ Premier and Guru only honed their relaxed chemistry; jazz elements help give their music a natural swing and sway. (Their musical partnership continues to this day; Gang Starr is releasing music this very week.)
The Roots —

Things Fall Apart

(1999)
Three-time GRAMMY winners The Roots' genius blend of live instrumentation and conscious bars launched them far past any "jazz-rap" conversation and into mainstream culture, via their role as the house band on "The Tonight Show Starring Jimmy Fallon."
Elements of limbic, angular jazz can be found throughout their discography, but their major label debut Do You Want More?!!!??! might be the most effective entryway into their blend of jazz and rap. ("Silent Treatment" features a bona fide jazz singer as a guest, Cassandra Wilson.)
Whether it's the burbling "Distortion to Static," or the jazz-fusion-y "I Remain Calm," or the knockabout "Essaywhuman?!!!??!", venture forth into the Roots' discography; they're a hub of so many spokes of Black American music.
Madlib —

Shades of Blue

(2003)
As jazz-rap connections go, Madlib's Shades of Blue is one of the most pointed and direct.
Therein, he raids the Blue Note Records vault and remixes luminaries from Wayne Shorter ("Footprints") to Bobby Hutcherson ("Montara") to Ronnie Foster ("Mystic Brew," flipped into "Mystic Bounce"). In the medley "Peace/Dolphin Dance," Horace Silver and Herbie Hencock's titular works meet in the ether.
Elsewhere, Shades of Blue offers new interpretations of Blue Note classics by Madlib's fictional ensembles Yesterday's New Quintet, Morgan Adams Quartet Plus Two, Sound Direction, and the Joe McDuphrey Experience — all of whom are just Madlib playing every instrument.
In recent years, Blue Note has been hurtling forward with a slew of inspired new signings — some veterans, some newcomers. Through that lens, Shades of Blue provides a kaleidoscopic view of the storied jazz repository's past while paving the way for its future.
Kendrick Lamar — To Pimp a Butterfly (2015)
Lamar's game-changing third album featured a mighty cross-section of the most cutting-edge jazz musicians of its day, from Robert Glasper to Kamasi Washington.
While hip-hop has had a direct line to jazz for decades — as evidenced by previous entries on this list — Lamar solidified and codified it for the 21st century in this sequence of teeming, ambitious songs about Black culture, mental health and institutional racism.
"Kendrick reached a certain level with his rap that allowed him to move like a horn player," Overall told Tidal in 2020. And regarding Lamar's present and future jazz-rap comminglings, Overall adds, "He opened up the floodgates of creative possibilities."
Kassa Overall — Animals (2023)
The pieces of Overall's brilliance have been there from the beginning, but never had he combined them to more thrilling effect than on Animals — where jazz musicians like pianists Kris Davis and Vijay Iyer commingle with rappers like Danny Brown and Lil B.
"I would rather people hear my music and not think it's a jazz-rap collage," Overall once told GRAMMY.com. "What if you don't relate it to anything else? What does it sound like to you?"
When it comes to the gonzo Danny Brown and Wiki collaboration "Clock Ticking," the Theo Croker-assisted "The Lava is Calm," and the inspired meltdown of "Going Up," featuring Lil B, Shabazz Palaces and Francis & the Lights — this music sounds like nothing else.
Over the decades, Black American musicians have swirled together jazz and rap into a cyclone of innovation, heart and brilliance — and there's seemingly no limit to the iterations it can take on.
Kassa Overall Breaks The Mold And Embraces Absurdity On New Album Animals