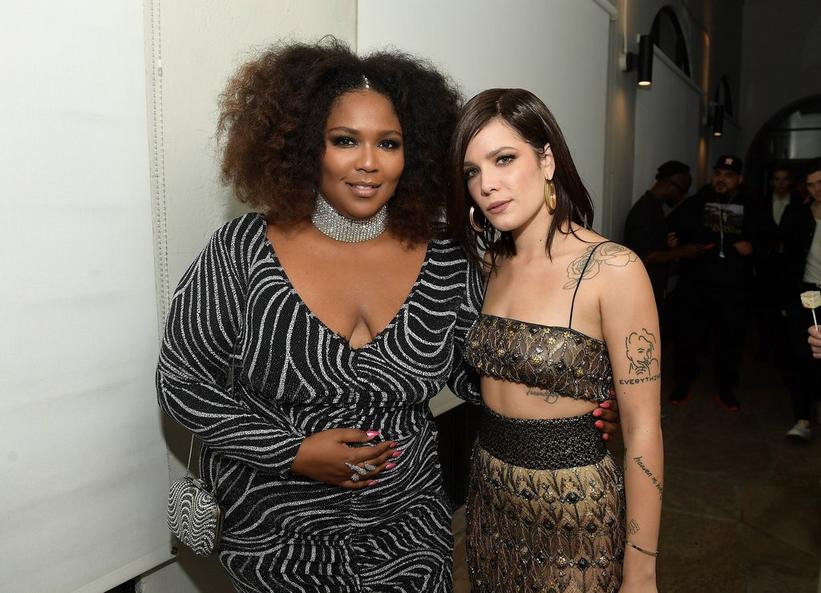 Photo: Matt Winkelmeyer/Getty Images for Spotify
news
Lizzo, Halsey, Shawn Mendes & More To Talk Mental Health On Upcoming Radio Special
Tegan and Sara, Blink-182, Judah & the Lion and Lauren Jauregui will also take part in "I'm Listening," a two-hour radio show focused on breaking stigmas around openly discussing mental health
GRAMMYs
/
Sep 4, 2019 - 12:47 am
This Sunday, Sept. 8, Lizzo, Halsey, Shawn Mendes, Tegan and Sara and others will take part in "I'm Listening," a two-hour radio special focused on breaking stigmas around openly discussing mental health. Blink-182, Disturbed, Korn, Judah & the Lion and Lauren Jauregui are among the diverse group of musicians, athletes and medical professionals/mental health advocates joining the conversation hosted by Entercom/Radio.com. The annual broadcast will once again mark the start of National Suicide Prevention Week.
All the artists participating have been open about their own struggles with mental health. Earlier this summer, self-love advocate Lizzo posted on social media about the depression she was facing, following up the next day with a powerful message to her fans.
She wrote, "I learned in the last 24hrs that being emotionally honest can save your life. Reaching out may be hard but as soon as I did it, I was immediately covered in love. I used to think of sadness as a constant with fleeting moments of joy in between…but it's a wave… My sadness can be as temporary as my joy."
She added a personal note about her own triggers, prompting readers to question what brings up sadness for them. "I love that I can use my sadness constructively in real time for gratitude. What triggers your sadness? What do you do when those buttons are pushed? What do you love about yourself in those moments of darkness?"
Lalah Hathaway On Mental Health Awareness: "You Can Never Look At A Person And See What They're Going Through"
Sara Quin of Tegan and Sara spoke to mental health challenges of the LGBTQ+ community as they continue to fight for equality. "I think issues around identity and mental health are intrinsically linked," she said in a statement for "I'm Listening."
"It makes sense to me now, that if I don't talk about my feelings, I'm not going to feel well, I'm not going to be well," Quin added. "Through the work that we do with the Tegan and Sara Foundation, and some of the staggering statistics surrounding queer people and mental health, we hope that by talking about some of our experiences as young people, that it will encourage others to do the same."
Lauv On "Fk, I'm Lonely," Staying Independent, Mental Health & More
Entercom's Chief Programming Officer Pat Paxton echoed the importance of the conversation—and talking about mental health in general—in the statement. "We are doing our part to end the stigma by encouraging people to talk. Like millions of others, my family has been impacted by mental health issues and the effect it has on friends and families is devastating. 'I'm Listening' is when our vast network of radio stations and digital platforms unite on the same day, at the same time, to ultimately save lives. If we help just one person, our time will have been well spent."
In addition to being able to tune into the program, which will be aired on all Entercom radio stations at 7 a.m. local time this Sunday, everyone is encouraged to join the conversation by tweeting to @imlistening_org, using the hashtag #ImListening or submitting your story on their website. Radio.com writes, "Select stories will included in the show." Listeners can also call in live to participate or listen to the special episode online after it airs.
If you are or know of a musician in need of mental health support, please visit MusiCares to learn more about your options. If you or a loved one are in crisis, the National Suicide Prevention Lifeline at 1-800-273-TALK (8255) or the Crisis Text Line (text TALK to 741741) are there to listen; you are not alone.
Judah & The Lion On Choosing Hope In Tough Times: "Just Talk About It, And You'll Feel Less Alone"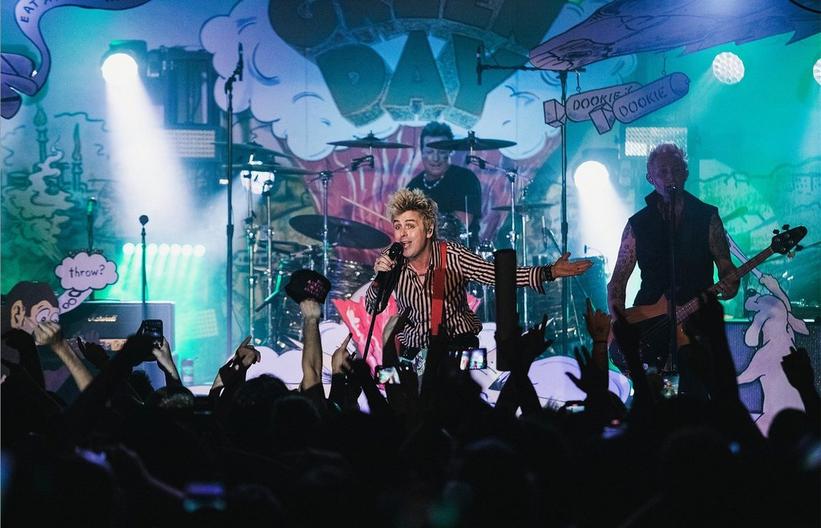 Billie Joe Armstrong of Green Day performs a"not-so-secret" show at Las Vegas' Fremont Country Club
feature
How Las Vegas Became A Punk Rock Epicenter: From When We Were Young To The Double Down Saloon
Viva Punk Vegas! It might have seemed unthinkable a decade ago, but Sin City is "the most punk city in the U.S." GRAMMY.com spoke with a variety of hardcore and legendary punks about the voracious vibe in Vegas that lends itself to punk spirit.
GRAMMYs
/
Oct 25, 2023 - 04:28 pm
These days, what happens in Vegas, slays in Vegas when it comes to the harder side of music.
It might have seemed unthinkable a decade ago, but as Fat Mike of NOFX and Fat Wreck Chords has been putting out there for a while now, Sin City is basically "the most punk city in the U.S." at the moment. Some might find this statement debatable, but Vegas has long attracted subculture-driven gatherings, from Viva Las Vegas rockabilly weekend to the all-metal Psycho Las Vegas to the mixed bag that was Las Rageous. The latest slate of huge punk and punk-adjacent music events (from Punk Rock Bowling and When We Were Young to the just-announced new lineup of Sick New World 2024) back his claim even further. 
Mike's own Punk Rock Museum, which opened in April of this year, has cemented the city's alternative music cred — even as it's still best known for gambling, clubbing, and gorging at buffets. 
In fact, A lot of the audacious new activity is centered away from the big casinos and in the downtown area and arts district of what is known as "old Vegas." Just outside of the tourist-trappy, Times Square-like Fremont Experience, there's a vibrant live music scene anchored by a few key clubs, and an ever-growing slate of fests.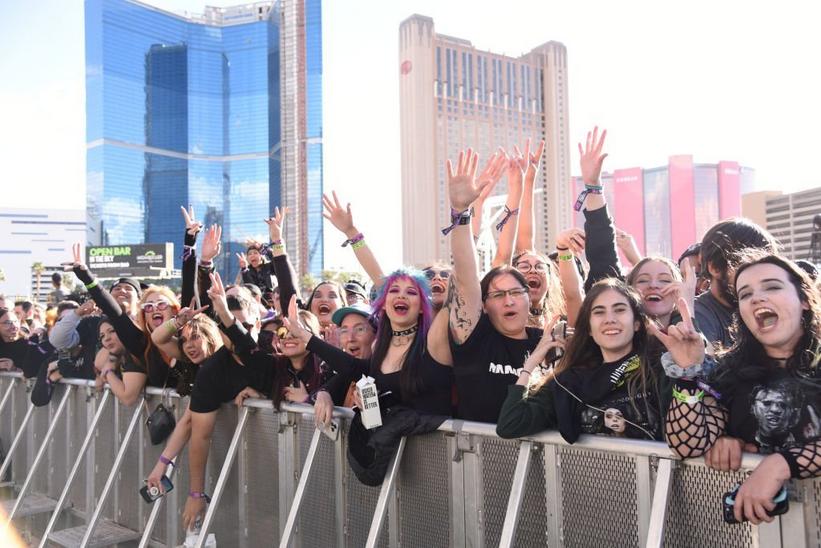 Attendees at 2022's When We Were Young Festival┃Photo: Tim Mosenfelder/FilmMagic
Live Nation's second annual When We Were Young Festival brought out a largely Millennial crowd to see headliners Green Day and blink-182 this past weekend, alongside over two dozen more recognizable openers from emo/pop-punk's heyday. Tickets sold so well when it was first announced, that a second day was added to the schedule.
Green Day didn't stop with their fest gigs; the band played a "not-so-secret" pop-up show last Thursday night at one of the most popular venues in town for punk, alternative and heavy music: Fremont Country Club, just blocks from festival grounds. The show served as a warm-up gig as well as an announcement by Billie Joe Armstrong: His band will join Smashing Pumpkins, Rancid, and others for a 2024 stadium tour. The band also debuted a timely new track, "The American Dream Is Killing Me."  
Read More: Why 2002 Was The Year That Made Pop-Punk: Simple Plan, Good Charlotte & More On How "Messing Around And Being Ourselves" Became Mainstream
"People who like punk and other heavy music want to be in a club environment like ours, not a big casino," says Carlos "Big Daddy" Adley, owner of Fremont Country Club and its adjacent music space Backstage Bar & Grill. Both have become live music hotspots not unlike the ones Adley and his wife/partner Ava Berman ran in Los Angeles before they moved to Vegas over a decade ago. 
"Fremont East," as the neighborhood is called, will soon see a boutique hotel from the pair. Like everything they do, it will have a rock n' roll edge that hopes to draw both visitors and locals.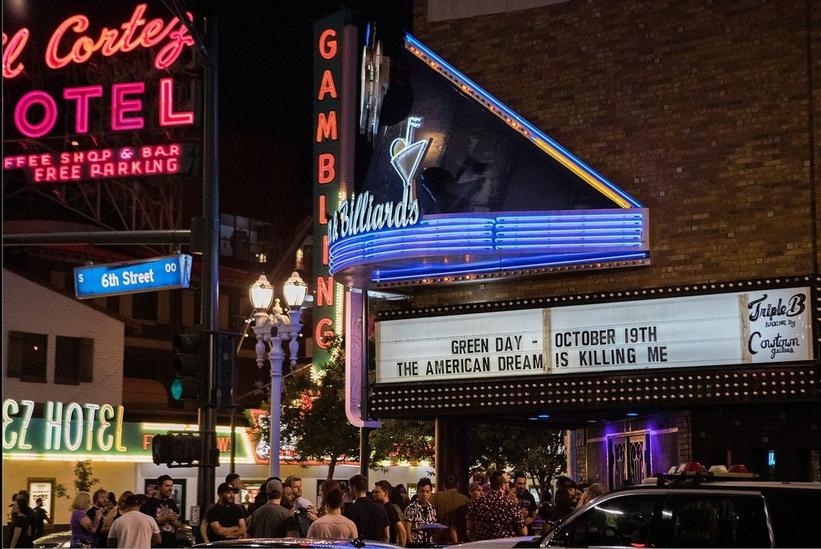 Outside Fremont Country Club┃Photo: Fred Morledge
The duo told GRAMMY.com that a visit to Double Down Saloon, Sin City's widely-recognized original punk bar and music dive was what first inspired them to come to Vegas and get into the nightlife business there. Double Down has been slinging booze (like Bacon Martinis and "Ass Juice" served in a ceramic toilet bowl mug) and booking live punk sounds since it opened back in 1992.
"It's kind of a stepping stone for a lot of bands," says Cameron Morat, a punk musician and photographer, who also works with the Punk Rock Museum as curator of its rockstar-led tour guide program. "People always assume that Vegas is just the strip, but that's only like four miles long. There's a lot more of the ''other city.' There are people who are just into music and into going to local shows who don't ever go to the main strip."
In addition to the Double Down, Morat says Vegas has always had a history of throwing local punk shows at spaces like the Huntridge Theater, which is currently being remodeled and set to re-open soon for local live music. He also points to The Usual Place as a venue popular with local punk and rock bands now, and The Dive Bar — a favorite with the mohawk, patched-up battle vest scene, featuring heavy music seven nights a week, including a night promoted by his partner Masuimi Max called Vegas Chaos.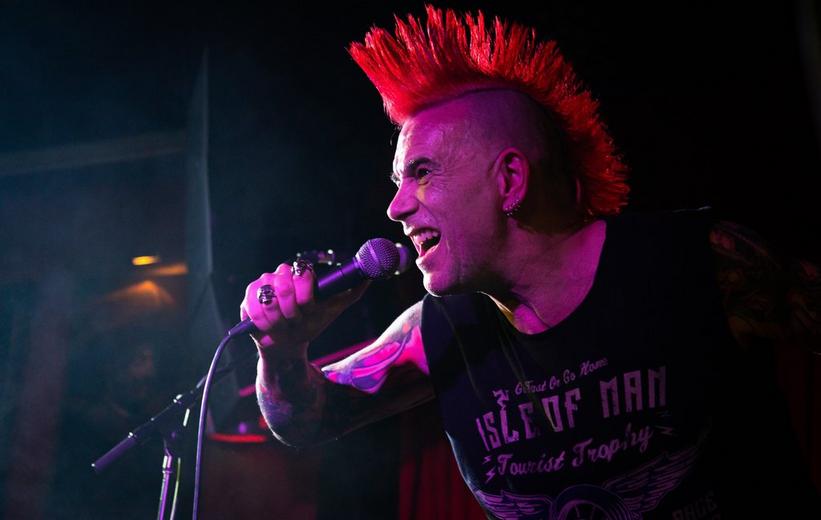 Cameron Morat┃Photo: Kristina Markovich
While glitzy stage shows from legacy artists and mega-pop hit makers like Usher, Elton John, Katy Perry, Carrie Underwood, Gwen Stefani and Lady Gaga still get the most media attention, raucous local shows are starting to factor into a new generation's vacation planning, too.
"There's a really good scene here," Morat proclaims. "It's funny because a lot of people, the sort of gatekeepers of punk, ask 'why is the punk museum in Vegas?' But it is a punk city, and not just because you've got all the local bands and the venues."
Read More: City On Fire: X's Explosive Debut Album Los Angeles At 40
Morat, whose own band Soldiers of Destruction, plays around town on occasion, also notes other acts such as Gob Patrol, Suburban Resistance, and Inframundo as having fierce local followings. He says there's a certain voracious vibe in Vegas that lends itself to punk rock creation, performance and attitude. "A lot of the anger from punk rock — like the disparity of wealth, for instance, is here," he says. "Five minutes down the road, you've got people throwing away a million on the roll of a dice. But you've also got people who are doing like three jobs just trying to pay their rent." 
Over at the Punk Rock Museum, Morat, who moved from Los Angeles to Vegas about seven  years ago, is keeping busy booking big-name guests to share inspirations and war stories, both weekly, and specifically timed with whatever big festival or event happens to be in town. He says he wants to feature artists that might not be thought of as traditional punk rock, but who have relevant backgrounds and stories to share. 
"A lot of these people have punk history the public doesn't know about," he says. "I think if we just stick to a very small well of people, it's going to get pretty boring. So I'm trying to open it up for a bigger cross-section."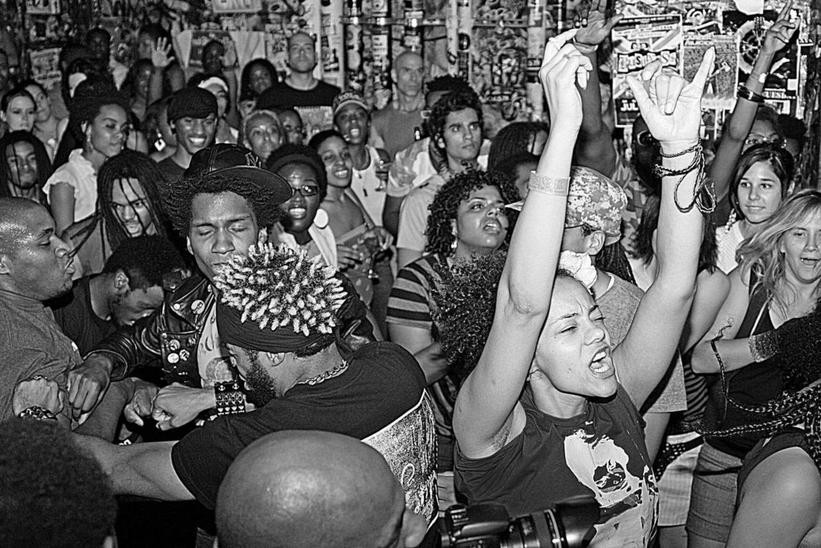 Imagery from "Black Punk Now" | Ed Marshall
The museum is already showing the breadth of punk rock's influence on music in general. During WWWY, the museum held events tied to its new exhibit "Black Punk Now," curated by James Spooner, director of the 2003 documentary Afro-Punk. As Spooner spoke about the film's 20th anniversary and his new book of Black punk authors, musicians playing the weekend's festivities from Sum 41, MxPx, Bayside, Less Than Jake came through to talk too. Warped Tour's Kevin Lyman and Fat Mike himself also took part in the museum's new after-dark guided tour series.
Bringing in a wider audience and a new generation of rebellious kids who seek to channel their angst and energy into music is part of what the museum — and, it seems, the myriad of events in Las Vegas these days — is all about. Despite what some punk rock purists and gatekeepers might say, the inclusion of tangent bands and scenes is in the original punk spirit. He'll be booking guests tied to next year's Sick New World, the Viva Las Vegas rockabilly bash and even EDC in the future (electronic bangers are not unlike hardcore ones and even Moby was a punk before he became a DJ). 
"I think that the museum is great for the punk scene here," he adds. "People will literally come to town just to see the museum, and then if there's a band playing in town in the evening, they'll go. So it's broadening the support for all the bands, local and touring. Some punk bands used to skip Vegas completely on their tours, but not anymore." 
Remembering When We Were Young: Avril Lavigne, Jimmy Eat World & More Bands Reflect On The Peak Of Emo & Hardcore Ahead Of Vegas Fest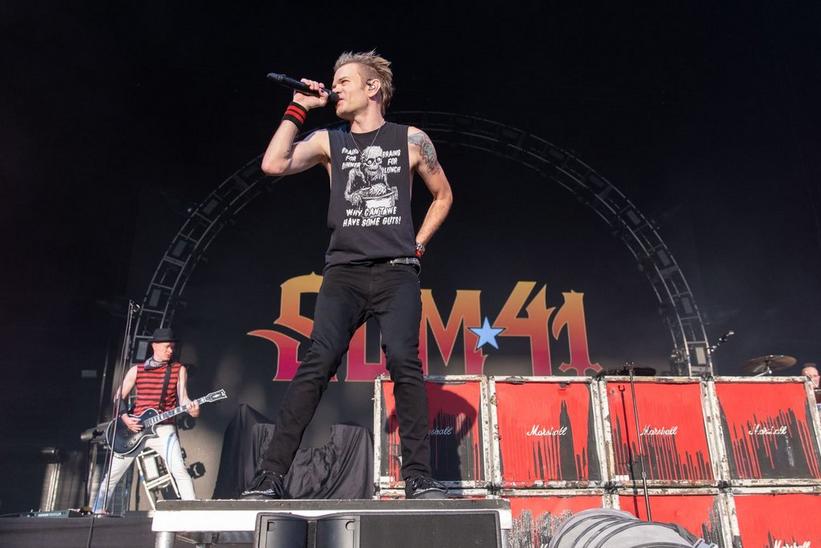 Deryck Whibley performs in 2023.
news
Get Amped For When We Were Young 2023: Sum 41's Deryck Whibley's Favorite Emo Songs By Fellow Performers
Ahead of Sum 41's appearance at When We Were Young Festival in Las Vegas on Oct. 21 and 22, lead singer Deryck Whibley curated a playlist of tracks from Blink-182, KennyHoopla, Good Charlotte and more.
GRAMMYs
/
Oct 20, 2023 - 07:30 pm
For the second year in a row, pop-punk is taking over Las Vegas. The When We Were Young Festival is bringing another slew of emo and pop-punk acts from the mid/late aughts to the Las Vegas Festival Grounds on Oct. 21 and 22, from Yellowcard to Rise Against to Green Day.
"Fat Lip" rockers Sum 41 are one of the 55 artists playing this year's iteration of WWWY, which will mark two of the Canadian group's final shows (in May, they announced they'll be disbanding after their current tour commitments). Though they've been touring for nearly 30 years, frontman Deryck Whibley tells GRAMMY.com that the front row "looks the same as it did in 2001."
"This music speaks to a younger generation, and the new generation always gets into it," he says. "There's just something about this kind of music that is youthful and exciting, and there's energy there. I think it's always going to be here."
In celebration of the 2023 iteration of When We Were Young Fest, Whibley put together a playlist of 15 songs by his fellow performers, including the Offspring, Blink-182 and the Ataris. Whether or not you're headed to Las Vegas, get your dose of pop-punk nostalgia on Spotify, Apple Music, Amazon Music, or Pandora.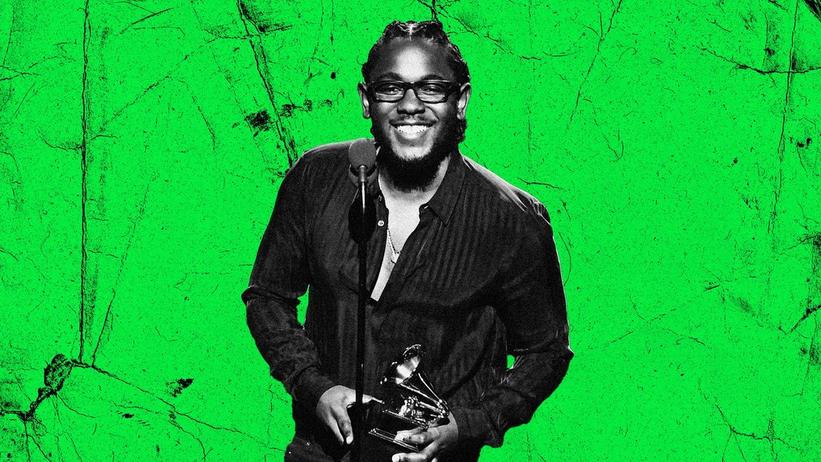 Kendrick Lamar
Photo: Jeff Kravitz/FilmMagic
video
GRAMMY Rewind: Kendrick Lamar Honors Hip-Hop's Greats While Accepting Best Rap Album GRAMMY For 'To Pimp a Butterfly' In 2016
Upon winning the GRAMMY for Best Rap Album for 'To Pimp a Butterfly,' Kendrick Lamar thanked those that helped him get to the stage, and the artists that blazed the trail for him.
GRAMMYs
/
Oct 13, 2023 - 06:01 pm
Updated Friday Oct. 13, 2023 to include info about Kendrick Lamar's most recent GRAMMY wins, as of the 2023 GRAMMYs.
A GRAMMY veteran these days, Kendrick Lamar has won 17 GRAMMYs and has received 47 GRAMMY nominations overall. A sizable chunk of his trophies came from the 58th annual GRAMMY Awards in 2016, when he walked away with five — including his first-ever win in the Best Rap Album category.
This installment of GRAMMY Rewind turns back the clock to 2016, revisiting Lamar's acceptance speech upon winning Best Rap Album for To Pimp A Butterfly. Though Lamar was alone on stage, he made it clear that he wouldn't be at the top of his game without the help of a broad support system. 
"First off, all glory to God, that's for sure," he said, kicking off a speech that went on to thank his parents, who he described as his "those who gave me the responsibility of knowing, of accepting the good with the bad."
He also extended his love and gratitude to his fiancée, Whitney Alford, and shouted out his Top Dawg Entertainment labelmates. Lamar specifically praised Top Dawg's CEO, Anthony Tiffith, for finding and developing raw talent that might not otherwise get the chance to pursue their musical dreams.
"We'd never forget that: Taking these kids out of the projects, out of Compton, and putting them right here on this stage, to be the best that they can be," Lamar — a Compton native himself — continued, leading into an impassioned conclusion spotlighting some of the cornerstone rap albums that came before To Pimp a Butterfly.
"Hip-hop. Ice Cube. This is for hip-hop," he said. "This is for Snoop Dogg, Doggystyle. This is for Illmatic, this is for Nas. We will live forever. Believe that."
To Pimp a Butterfly singles "Alright" and "These Walls" earned Lamar three more GRAMMYs that night, the former winning Best Rap Performance and Best Rap Song and the latter taking Best Rap/Sung Collaboration (the song features Bilal, Anna Wise and Thundercat). He also won Best Music Video for the remix of Taylor Swift's "Bad Blood." 
Lamar has since won Best Rap Album two more times, taking home the golden gramophone in 2018 for his blockbuster LP DAMN., and in 2023 for his bold fifth album, Mr. Morale & the Big Steppers.
Watch Lamar's full acceptance speech above, and check back at GRAMMY.com every Friday for more GRAMMY Rewind episodes. 
10 Essential Facts To Know About GRAMMY-Winning Rapper J. Cole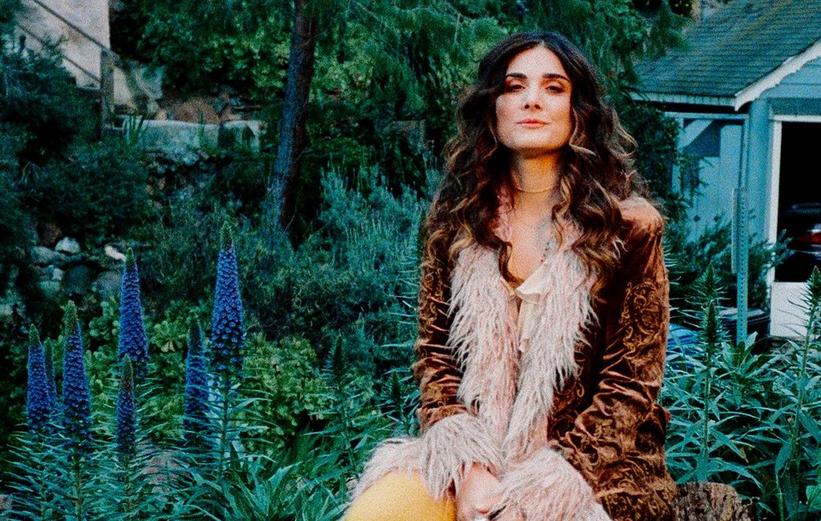 interview
How Ilsey Transformed From Hit Songwriter To Artist On 'From The Valley': "I Have The Freedom To Say What I Want"
After writing hits for superstars like Miley Cyrus and Beyoncé, Los Angeles-born singer/songwriter Ilsey is embracing change on her soul-stirring debut album, 'From The Valley.'
GRAMMYs
/
Oct 6, 2023 - 03:21 pm
Ilsey is cruising down the path to self-discovery. For the past decade, the Los Angeles-born songwriter had a major presence behind the scenes, penning hits for the likes of Beyoncé and Shawn Mendes. Now, she's the one on the mic, ready to share her journey.
From The Valley  details the emotional weight of a crumbling relationship and finding the courage to build yourself back up. Lead single "No California" pays homage to the breezy Laurel Canyon rockers Ilsey grew up listening to, the folk-inspired "On Wrong Side" with Justin Vernon has poetic layers of interpretation, and the somber "Overcome" mourns a failed love.
"The [album] title was very specific with the double meaning. It's this emotional valley, but then I'm also from the actual valley in LA. This album is almost a road trip of self-discovery, where you have to leave where you are to figure out who you are. And then you end up exactly where it's supposed to be — you end up home," Ilsey explains. "That's been my process of moving through heartache and figuring out who I am as a person. You have to have these valleys in your life. Without them, there's no way to appreciate the peaks."
Born Ilsey Juber, the singer grew up in a musical family in Los Angeles, where her father Laurence Juber (who also plays on this album) was the lead guitarist for Paul McCartney and Wings. "My dad was playing guitar in the room when my mom was giving birth to me," Ilsey recalls with a chuckle.
The singer's parents introduced her to the Beatles, the Eagles, Fleetwood Mac, Joni Mitchell, Jackson Browne and Motown. She began playing the drums at age 11 — she credits that to her Hanson obsession — and began writing songs on her acoustic guitar at 15. Around 2012, Ilsey "tripped and fell" into songwriting professionally after signing a Sony publishing deal with her then-band. When the band broke up, she went to the publisher for advice on next steps.
"They set up a couple of sessions for me with some producers. I went in there thinking it was going to be for me. Then all of a sudden, I got this call: 'Rihanna has one of your songs on hold,'" Ilsey recalls. "I'm a big believer that when something is working, you can't really ignore that. It seemed really obvious that that was the path to take at that moment." 
While Rihanna didn't end up using the song, it was the gateway for Ilsey to kickstart her songwriting journey; some of her most notable credits include Miley Cyrus' "Midnight Sky," Panic! at the Disco's "High Hopes," Camila Cabello's "She Loves Control," Christina Aguilera's "Accelerate," and Beyoncé's "All Night." Even as From The Valley came together, Ilsey continued working with stars, including Lil Nas X, Kacey Musgraves, The 1975 and 6lack — but her debut album is her biggest dream come true yet.
Ahead of her album release, Ilsey spoke to GRAMMY.com about creating From The Valley, taking a chance on her artistry and the stories behind some of her biggest co-written hits. 
When did the first thought of making your own album spark?
I met BJ Burton, who is the producer of the album. He was introduced to me through Mark Ronson, who I loved and have collaborated with for a long time. He had worked on a Miley [Cyrus] song that Miley and I had written, and had done some production on it. It turned out that he was moving to LA the next week. So he said, "We should get together and try some stuff." 
I had been waiting to find the right collaborators and the people who could realize the sound that was inside of me. That was BJ. So we wrote a couple more songs, and then eventually I let him in on the fact that we were making [an album]. That was really the moment where it was like, "Oh, this is the thing that I've been looking for."
What was your process of shaping your own musical identity like?
All the songs were written for the album, with the exception of one [her cover of Neil Young's "Heart of Gold"]. But it was really a matter of wanting to intentionally do something that is me, and for myself. Whereas, when I'm writing songs with other people, I'm there to serve the artist. I'm there to help them realize what it is that they're trying to say. 
With this, I had this very clear intention of writing the songs for myself. I'm gonna have the freedom to say what I want to say. It was pretty easy to separate the two, because I knew that I wanted this album to really express who I was.
What was that feeling like, emotionally? 
I think there's a certain amount of hiding that you're able to do as a songwriter for other people. The vulnerability of stepping out in front and being the person who's actually singing the songs was definitely scary for me because I think we all have struggled with identity. That's one of the reasons I'm so grateful this is happening now and not when I was younger — I had to build that confidence over time to really feel like I deserve to be in front, and that people would actually want to hear my voice. So there was a lot of vulnerability in it, but also a lot of excitement because I've dreamt of doing this my whole life. 
I'm glad you mentioned that because as we get older, we learn more about ourselves. I think if you released it when you were in your mid or early 20s, maybe you would still have some questions as to who you are and what you want to express musically. But now that you've had all this experience with songwriting, you have more of a fully realized vision of what you wanted to do. 
Absolutely. The growth I have had as a songwriter and working with all these amazing people I learned so much from has really helped me to be a more fully realized version of a songwriter. Having all this experience is like training. I'm writing the songs I really want to write and I'm able to sing them in the way I want to sing them because I know my voice better now. It's all the things that lead you to become the most authentic version of yourself. 
That's the beauty of music. I read that you also went to Minnesota and Wisconsin to record the album. Did you record the bulk of it there? 
It was half and half because it was during the pandemic. So we had to find these windows where the world was a little more open. It actually ended up being really cool that we could put it down for a second, and then come back to it and have a whole different perspective on it. But we did a bunch in LA, and then more during the pandemic.
Did that change of scenery inspire some of the music as well?
Yeah, just working with Justin Vernon [of Bon Iver] and being at his place out in Wisconsin, which is gorgeous. It's almost farmland and gives you perspective on where you're from, too.
So much of this album is about California. When you leave California, you have a different view of it. So that helped as well. But also musically, it's why I like coming to Nashville, London and all these places. You have a different energy, you're in touch with the place that you're in, and it leads you to other places that you wouldn't normally go to.
I would love to know your experience working with Justin and BJ because I think it's important for artists to challenge each other. You all could push each other's limits in a positive way.
With BJ, we definitely challenge each other. He'll push back sometimes even when it makes me uncomfortable, in the sense that I'm pretty sure I know exactly what I want. But he's like, "Well, what if we did it like this?" 
You're right, it's so important to have those people who are going to get you moving forward because you'd have to be uncomfortable in order to make anything great. BJ tends to be a lot more like that. 
And when Justin and I write together, there's something really magical that happens that I've never really experienced on this level where we almost tap into the same creative energy or channel. We're able to freestyle and make it super open and easy and then we'll sort of interpret what the other person is doing through our own mind. There's something very special about working with him. I think probably a lot of people will say that. Also, our voices together felt so natural and comfortable. That helped too because when you're able to sing the idea, you really hear it for what it is.
Let's get into some of the music. When I was listening to "On Wrong Side" with Justin Vernon, it took me to another realm. There's so many layers of interpretation.
It's so funny because as time goes on, I find those other layers too. So it sort of morphs and becomes a different thing for me. It was the first song we ever did together and it was the thing that established our creative relationship. We wrote it within 20 minutes of meeting each other and the song only took about 20 minutes to write. 
At first, it felt like when you're on the wrong side of a heartbreak, you're able to look at the situation and then you see the other person is being on the wrong side. It's that process of trying to figure out if  there is anyone to blame in this or not. But as time went on, I started looking at it as it's also about being on the wrong side of history and being the person who's wrong in a situation. So it became a lot of different things for me, but that's the beauty of music too. Even with my own songs, the meaning can change over time. It's really up to interpretation.
My favorite is "Yellow Roses." This song is so poetic, just discussing that yearning for love that doesn't necessarily want you and hiding from the truth of what's actually going on.
This was a really central one for me on the album because it got to the heart of what the heartbreak was for me. Every rose has a different meaning and yellow is the color of friendship. When I discovered that I was like, "This is the perfect metaphor." 
When you fall in love with somebody that's not able to give you the thing that you're looking for, or you fall in love with the idea of somebody, there's so much heartache in that. Then you also have to face the fact that you're going to the wrong place for it. That one was the most painful to write because it really showed me why I was heartbroken and showed me where that came from. I think everybody experiences that feeling at some point.
"No California" reminds me of '70s-era Stevie Nicks. You're riding in your car with your hair blowing in the wind, wanting to ultimately run away from whatever issues are at home. Again, it's going back to that theme of self-discovery.
I think you hit the nail on the head. When you're going through something, everything around you reminds you of that person or that thing. So you want to run away. But that really comes back to the central theme of the album: wherever you go, there you are. Because you change the location or because you change the circumstances, you're still going to have to go through the thing that you're going through. 
"Heart of Gold" is the sole cover on the album. How did you initially discover the song?
That's a really good question. I can't remember the first time I heard it, because I've loved it for so long. But probably in high school at some point. 
It became this sort of touchstone that I kept coming back to when I was making this album. I went out to Wisconsin one time and I threw the idea out there to do a cover of it. I expected people to be like, "Yeah, I don't know about that." But everyone wanted to do it. So it came together really easily and naturally. 
I really wanted to do a different take on the song. Because I think it's important if you do a cover to make it your own. I think it turned out pretty cool.
Now let's go through your songwriting journey. How did "Nothing Breaks Like A Heart" with Miley Cyrus and Mark Ronson come about? 
It was amazing. That was the song that started our relationships. It was the first time we ever wrote together. Me and Mark and [session musician] Tommy Brenneck were all jamming one day, and we got this seed of an idea. We were like, "I think we have something special here." Then Mark sent it over to Miley. She said, "I'll be there tomorrow." 
So we all met up at Shangri La. Miley and I dove into it and finished the idea. Then she recorded it right there. That one came out pretty easily. 
She and I have talked about at certain points the fact that it almost felt like a foreshadowing for her. There's a line about a house burning down and then her house burned down that year. It was crazy how it all ended up manifesting in certain ways. But that really started Miley and I's relationship and it was awesome.
I think the power of a good, strong writer is versatility. You started with "Nothing Breaks Like a Heart" and then worked together on Miley's Plastic Hearts album. Those have two totally different sounds. 
I tip my hat to her ability to move through genres and transform herself into whatever it is that she's trying to say at that moment. She definitely has very clear ideas of what she wants to do and who she is. That's one of the things I admire most about her. It's been really special to work with an artist that wants to experiment so much and has so many different sides of themselves.
Read More: Behind Mark Ronson's Hits: How 'Boogie Nights,' Five-Hour Jams & Advice From Paul McCartney Inspired His Biggest Singles & Collabs
Speaking of artistic expression, you co-wrote Beyoncé's "All Night" from Lemonade. 
That really came out of years of collaborating with Diplo and getting to do different things with him. He had started this idea with some other writers like Theron Thomas from R. City and a few other people on there. She loved the idea but then wanted to lyrically point it in a slightly different direction. 
There's some songs where you do a little bit and there's some songs where you do a lot. I was really fortunate to be brought in to help on it, because I look at that album and my mind is always blown by how incredible it is and her artistry. She has such a clear idea of what she wants to say. It was really cool to interpret somebody's feelings like that.
Shawn Mendes' "Mercy" is such a passionate song. What was it like working with him?
Shawn's an amazing writer. Even back then — I think he was 16 or 17 at the time. At that point, he was so clear about who he was as an artist. We all played guitar on it, we all sang on it. 
One of the coolest experiences of that song for me, was when we started recording the vocals. He started singing, and there was a moment where he said, "Can we take the key down?" Because he felt like it was a little bit too high for him. But there was so much pain in his voice in the best way. And I was like, "Absolutely not, we can't do that." 
That was really one of those special moments where you're pushing yourself a little bit. I think he's talked about how that helped push himself to sing in an uncomfortable place. A lot of people want to stay where it's safe. That one was a risk for him. 
It's a risk that paid off. Are there other songwriting highlights that you wanted to mention?
I feel so fortunate to have gotten to work with all the artists that I've worked with. I think all of them are so special. I made this album with Lykke Li and that was my favorite.
2018's So Sad, So Sexy, right?
Yeah. Working with her was so incredible because I've been a fan for so long. So I walked into it and I was like, "I don't know if I can do this because I don't want to change it or make it anything else." She was so generous creatively and let me into her world. So that was really special and was a turning point for me in my career.
That album is underrated to me. She's an otherworldly artist. 
I felt so lucky to get to work with her. It was cool to be able to work on Mark's album [2019 Late Night Feelings] when she sang and wrote [the title track] with us because that put the two worlds together. Working with him was and is incredible. 
That was also a really important moment for me as a songwriter, to get to work with somebody I looked up to for so long, come into their world and see how they operate. It's really cool to get to make music with your mentors.
11 Reasons Why 2023 Is Ed Sheeran's Definitive Year: Two Albums, Stadium Attendance Records & More