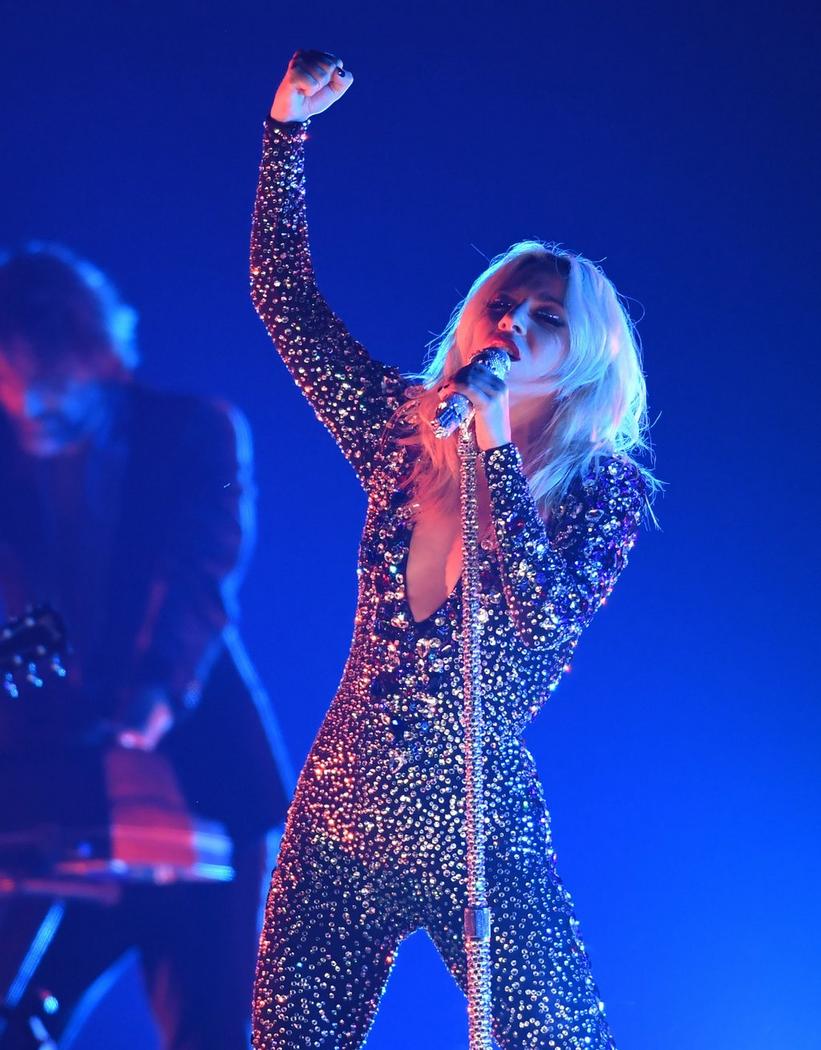 Lady Gaga at the 2019 GRAMMYs
Photo: ROBYN BECK/AFP/Getty Images
news
Lady Gaga To Perform An Intimate Show At The Apollo Theater In June
The nine-time GRAMMY winner will play the historic 1,500-capacity venue in Harlem, N.Y. during Pride Month
GRAMMYs
/
May 22, 2019 - 11:48 pm
Today, SiriusXM announced a special event to celebrate their February merger with Pandora: one night with Lady Gaga at Harlem's historic Apollo Theater on June 24.
"Performing at The Apollo has always been a dream of mine. Thank you to SiriusXM and Pandora for inviting me. I'm excited for my fans to see a special show at this iconic venue," Gaga said in a press release.
Tickets for her performance at the iconic 1,500-capacity venue are by invitation-only for SiriusXM subscribers. The company is also giving away two tickets plus transportation and accommodation for new subscribers since May 5, including those in the trial period; more info here.
"After getting her start in New York City, Lady Gaga went on to conquer the world with her talent. We are thrilled to have Lady Gaga perform this exclusive show at the world famous Apollo Theater in her hometown as we celebrate SiriusXM and Pandora as one company," said Scott Greenstein, President and Chief Content Officer of SiriusXM.
More: Lady Gaga's 2019 Oscars Acceptance Speech: "If You Have A Dream, Fight For It"
The intimate performance will be Gaga's first in almost two years in her hometown of N.Y.C. (not counting her Met Gala fashion show, of course), and her first-ever at the Apollo.
The theater has been a cornerstone of entertainment and culture in New York since the turn of the 20th century. It has hosted scores of major musicians over the decades, like Aretha Franklin and George Clinton and the Parliament-Funkadelic in the '70s. SiriusXM, meanwhile, hosted Paul McCartney and Bruce Springsteen at the Apollo in 2010 and 2012, respectively.
Gaga's performance will fall during World Pride Month, while the 2019 N.Y.C. Pride Parade will take place on June 30 in conjunction with the 50th anniversary of the Stonewall Uprising.
Before heading to New York, the Queen of Camp will wrap up a second round of shows (May 30–June 15) for her Las Vegas residency. The shows, which gives fans a choice between a stripped-down "Jazz & Piano" or the cutting-edge technology-supported "Enigma," will pick back up in the fall.
Lady Gaga performs onstage during The ARTPOP Ball tour
Photo: Kevin Mazur/WireImage
news
10 Reasons Why 'ARTPOP' Is Lady Gaga's Bravest Album
Released in 2013 and following the iconic 'Born This Way,' Lady Gaga's 'ARTPOP' was maligned and misunderstood. Yet the avant garde album took admirable leaps in genre, style and presentation — and deserves serious applause.
GRAMMYs
/
Nov 6, 2023 - 02:27 pm
A decade ago, the music industry was practically eulogizing Lady Gaga's career. Cause of death: her fourth album, ARTPOP.
Universally deemed a misfit (even among Gaga's off-kilter discography), it was all too easy to crack "artflop" jokes as the record's reception paled in comparison to the thunder of 2011's Born This Way. In addition to Billboard-charting bangers aside, Born This Way pledged to be a champion for LGBTQIA+ rights, employing the word "bravery" so frequently that the two are now inextricably bound. The album's daring demeanor had created a tough spectacle to follow, even for the shock-pop maven.
But rebukes of ARTPOP's avant-garde concepts and stylings, disregard the record's brazen interweaving of music, fashion, technology, and digital art. Released after Gaga broke her hip and canceled the  Born This Way Ball tour, ARTPOP was a canvas of earth-shattering bursts of pain and passion, and an electronic confessional.
For her efforts and vision, Gaga's maligned 2013 album would become a blueprint for contemporary alt-pop artists — not just with its experimental clash of genres, but through its winking subversion of industry expectations.  
In honor of ARTPOP's tenth anniversary this month, read on for 10 reasons why  the overlooked outcast of Gaga's catalog is actually the bravest album of them all.
It Prioritized Creativity Over Sales And Charts
When the public slams an artist for "only" selling one million copies of an album in a week, record sales lose their shine. After facing flack for her Born This Way numbers in 2011, Lady Gaga entered the ARTPOP era with clear intentions: creativity for creativity's sake.
"Really, it's about freeing yourself from the expectations of the music industry and the expectations of the status quo," she explained during an interview at SXSW. And you know she meant it, because that same week she bucked those pressures by climbing atop a mechanical bull, where she served as the human canvas for the "creative output" of vomit artist Millie Brown.
"I write for the music not for the charts," she tweeted, addressing a comparison between her lead single "Applause" and Katy Perry's song "Roar," which outperformed "Applause" on the Billboard charts. The singles were released days apart, stirring up a heated conversation about which singer was a more powerful pop star. Gaga was, of course, quick to crush the debate.
"Applause" peaked at No. 4 on the Billboard Hot 100, and despite being released in mid-November, ARTPOP nabbed 2.3 million album sales worldwide by the end of 2013. In contrast, Born This Way sold 2.1 million copies between its May 2011 release and the end of its debut year in the United States alone. 
It Put Gaga In The Producer's Seat — Alone 
By 2013, Lady Gaga boasted an impressive list of co-producing credits from working alongside collaborators like RedOne, DJ White Shadow, and Fernando Garibay. Yet ARTPOP marks the first time she slipped behind the soundboard by herself.
For "Venus," an intergalactic ode to lust that blossoms into starry-eyed infatuation, she saluted the titular goddess of love and pushed the men out of the room, folding a hybrid Sun Ra reference/Zombie Zombie sample into her sexually-emboldened EDM. Gaga cites "Venus" as the first song she ever self-produced, a major milestone for the multi-hyphenate and for women producers as a whole.
It Wasn't Afraid To Get Messy
One decade's definition of "sloppy" is the next decade's epitome of style. In 2013, the general consensus among critics was that ARTPOP's sound was often too messy to take seriously. Their examples were copious; "Aura," for instance, dedicates 15 seconds to nothing but hysterical, autotuned laughter over an unraveling country western guitar riff. Manic deep cuts "MANiCURE" and "Jewels N' Drugs" were labeled choppy and sonically inconsistent, as Gaga allegedly struggled to find common ground between rock, trap, and electronic music.
Compared to the streamlined pop sound of the time — including some of Gaga's prior hits — ARTPOP's frenetic mishmash of sounds felt totally alien. "I was desperate, in pain, and poured my heart into electronic music that slammed harder than any drug I could find," Gaga reflected, explaining her need for catharsis over catchiness (a choice that she was lambasted for at the time). 
Ten years later, her avant garde approach to pop suddenly seems remarkably en vogue, as genre-hopping and highly-textured sonic palettes become the norm — especially in the alt-pop sphere. In hindsight, it's apparent that ARTPOP was ridiculed so artists like SOPHIE, Charli XCX, and Dorian Electra could rave.
It Was, Literally, Designed To Be Out Of The World
ARTPOP prioritized pushing art into uncharted territory, and not just on Earth.In addition to a naked Jeff Koons sculpture of Gaga herself, the album's release was feted with the debut of a flying dress named Volantis. The original creation from Gaga's TechHaus (a branch of her Haus Labs team) is technically an "electric powered hover vehicle" that fits around Gaga's body to hoist her into the air. Gaga offered a less technical term for it, calling the dress a metaphor. "I will be the vehicle of their voices," she said during a press conference, sharing her vision for representing young fans in the sky.
Volantis arrived alongside news that Gaga would become the first musician to perform in space aboard a Virgin Galactic ship. The flying dress successfully cleared its first flight; the Virgin ship unfortunately did not. After a fatal test flight, the plans for Gaga's galactic debut were canceled.
It Crushed Tabloid Trash-Talking  
It's admittedly hard to recall ARTPOP's ill-conceived R. Kelly collaboration "Do What U Want" without wincing. Beyond Kelly's unnerving presence on the track, his lone sexually-charged verse ultimately skewed the true message of the song, transforming a kiss off to tabloid journalism into randy radio fodder.
Gaga scrubbed the song from streaming services in 2019, sparing the alternative version that instead features Christina Aguilera. Here, Gaga's intended retaliation shines: "You can't have my heart / and you won't use my mind / but do what you want with my body," she taunts on the chorus, welcoming the public's superficial — and therefore meaningless — judgments.  
When unveiling the track in October of 2013, she took to X (then named Twitter) to trounce a litany of rumors and nitpicks about her weight, likeness to Madonna, and erroneous identity as a hermaphrodite. At its core, "Do What U Want" proved that the only gesture more pointed than a middle finger is cackling while inviting the world to do its worst. 
It Invented A New Artistic Concept 
Lady Gaga can't take credit for the notion of art-pop, but she did coin a new phrase, calling the conceptual glue of ARTPOP a "reverse Waholian expedition." Translation: if Andy Warhol transformed mass-produced items like Campbell's soup into high art, then Gaga wanted to flip the process, placing high art where it could be easily accessible to the public.
As a result, the visual aspects of ARTPOP present a mosaic of the most esteemed masterpieces of all time. The busy album cover fuses the brilliance of American sculptor Jeff Koons with fragments of Sandro Boticelli's magnum opus "The Birth of Venus," while her outfits for public appearances nodded to greats like Pablo Picasso and Salvador Dali with brash makeup and fake mustaches. The concept opened her up to mockery — including from Maroon 5 frontman Adam Levine — but introduced the basics of art history to millions of listeners worldwide.
It Openly Examined Gaga's Relationship With Drugs And Alcohol
Many of ARTPOP's most exuberant moments orbit high or drunken states, such as Gaga sneaking around Amersterdam while stoned and incognito on "Mary Jane Holland." Trap outlier "Jewels N' Drugs," which collects verses from T.I., Twista, and Too $hort, packs the same giddy punch despite its somewhat awkward execution. Yet the party pauses on "Dope," ARTPOP's sole piano ballad.
The sobering single gazes inward, where Gaga finds a startling void, her spirit gutted after years of addiction. While the song's lyrics vow to prioritize loved ones over drugs and liquor, Gaga revealed the most personal promise during her album release show.
"I do not have to be high to be creative," she professed from behind her piano, hand raised in the air as if taking an oath. "I do not need to be drunk to have a good idea. I can sit with my thoughts and not feel crazy." On an album bursting with innovation, "Dope" is her firmest pledge to self-improvement, delivered with aching sincerity.
It Ventured Into The Tech World 
Designing mind-bending art? There's an app for that. Or there was, anyways. ARTPOP arrived with a supplemental app, designed to enhance Gaga's multimedia approach to the album's release. As a way to empower fans to dabble in digital art, one of the app's main features was a gif and still image generator that allowed users to choose from a rainbow of gyrating geometric shapes and backgrounds. Most creations straddled the line between optical illusion and Tumblr-ready art. The app also offered fans the ability to stream the album and chat with each other.
It was an entertaining endeavor, albeit ultimately a short-lived one. Despite an in-app countdown for other features, including a stream of new behind the scenes videos and a digital audio workshop called TrakStar, neither element came to fruition. Due to Gaga's shift in management, the project was never developed further. 
Still, the ARTPOP app remains a unique addition to pop's first brushes with modern tech, long predating crossovers like Charli XCX performances on Roblox and AI-created music.
It Refused To Shy Away From Themes Of Sexual Assault
When ARTPOP hit shelves, the world was still three years away from the awareness about pervasive sexual assault revealed by the #MeToo movement. But a hush around the topic didn't stop Gaga from eeking out a screech or two about her own experiences with abuse in 2013. While Gaga has since divulged more information about her unfortunate experiences with predators as a fledgling popstar, the ARTPOP track "Swine" dropped some of the first angsty breadcrumbs about her survival story.
"I know you want me / You're just a pig inside a human body / Squealer, squealer, squealer, you're so dis-GUS-ting," she practically spits with revulsion on the chorus. The deep cut is an exorcism dressed up as a rave, revealing a gut-churning snapshot of a woman publicly processing her own violation years before the act was deemed acceptable.
It Was Her First Record After Canceling The Born This Way Ball 
Scrapping a major tour over an injury shouldn't warrant a comeback, but that's what the world demanded of Lady Gaga when her Born This Way Ball hit the brakes. Gaga was forced to end the tour early in February 2013 when she broke her hip, thwarting her ability to walk, let alone dance. As she underwent surgery and paparazzi vied for photos of her in a Louis Vuitton wheelchair, the public largely viewed the truncated Born This Way Ball as a personal failure on Gaga's part. 
By the time ARTPOP arrived, the expectations for her next move couldn't have been higher — which made Gaga's spasmic, genre-jumping, vomit-covered return to pop all the more daring.
10 Reasons Why Outkast's 'Speakerboxxx/The Love Below' Is One Of Rap's Most Influential Double Albums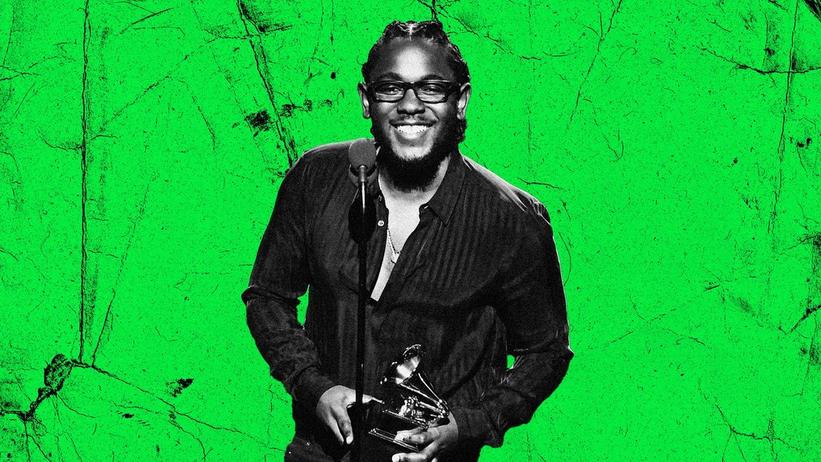 Kendrick Lamar
Photo: Jeff Kravitz/FilmMagic
video
GRAMMY Rewind: Kendrick Lamar Honors Hip-Hop's Greats While Accepting Best Rap Album GRAMMY For 'To Pimp a Butterfly' In 2016
Upon winning the GRAMMY for Best Rap Album for 'To Pimp a Butterfly,' Kendrick Lamar thanked those that helped him get to the stage, and the artists that blazed the trail for him.
GRAMMYs
/
Oct 13, 2023 - 06:01 pm
Updated Friday Oct. 13, 2023 to include info about Kendrick Lamar's most recent GRAMMY wins, as of the 2023 GRAMMYs.
A GRAMMY veteran these days, Kendrick Lamar has won 17 GRAMMYs and has received 47 GRAMMY nominations overall. A sizable chunk of his trophies came from the 58th annual GRAMMY Awards in 2016, when he walked away with five — including his first-ever win in the Best Rap Album category.
This installment of GRAMMY Rewind turns back the clock to 2016, revisiting Lamar's acceptance speech upon winning Best Rap Album for To Pimp A Butterfly. Though Lamar was alone on stage, he made it clear that he wouldn't be at the top of his game without the help of a broad support system. 
"First off, all glory to God, that's for sure," he said, kicking off a speech that went on to thank his parents, who he described as his "those who gave me the responsibility of knowing, of accepting the good with the bad."
He also extended his love and gratitude to his fiancée, Whitney Alford, and shouted out his Top Dawg Entertainment labelmates. Lamar specifically praised Top Dawg's CEO, Anthony Tiffith, for finding and developing raw talent that might not otherwise get the chance to pursue their musical dreams.
"We'd never forget that: Taking these kids out of the projects, out of Compton, and putting them right here on this stage, to be the best that they can be," Lamar — a Compton native himself — continued, leading into an impassioned conclusion spotlighting some of the cornerstone rap albums that came before To Pimp a Butterfly.
"Hip-hop. Ice Cube. This is for hip-hop," he said. "This is for Snoop Dogg, Doggystyle. This is for Illmatic, this is for Nas. We will live forever. Believe that."
To Pimp a Butterfly singles "Alright" and "These Walls" earned Lamar three more GRAMMYs that night, the former winning Best Rap Performance and Best Rap Song and the latter taking Best Rap/Sung Collaboration (the song features Bilal, Anna Wise and Thundercat). He also won Best Music Video for the remix of Taylor Swift's "Bad Blood." 
Lamar has since won Best Rap Album two more times, taking home the golden gramophone in 2018 for his blockbuster LP DAMN., and in 2023 for his bold fifth album, Mr. Morale & the Big Steppers.
Watch Lamar's full acceptance speech above, and check back at GRAMMY.com every Friday for more GRAMMY Rewind episodes. 
10 Essential Facts To Know About GRAMMY-Winning Rapper J. Cole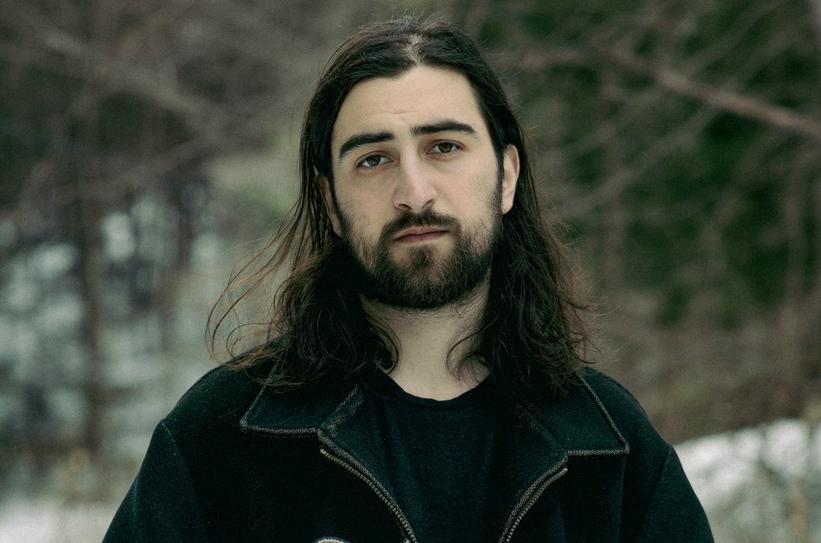 interview
Noah Kahan's Big Year: How The "Stick Season" Singer Became A Folk-Pop Hero
On the heels of announcing an arena and stadium tour for 2024, Noah Kahan revisits some of the biggest moments that have led to it, from going viral with "Stick Season" to collaborating with Post Malone.
GRAMMYs
/
Oct 9, 2023 - 05:30 pm
In July 2019, Noah Kahan made a promise to his fans via Twitter: "I prolly won't sell out Madison square garden, or even all the shows on my tour but I'll keep writing songs for you all for as long as you'll have me."
Four years later, he's made good on his word about continuing to write songs. But he's also proved himself wrong; not only has the Vermont-born star sold out his entire 2023 tour, but 2024 will see him play a sold-out Madison Square Garden — twice.
While Kahan himself asserts that he's always had a "very dedicated" fan base — whether from his days of posting to SoundCloud and YouTube or since he signed with Republic Records in 2017 – he admits he still finds it hard to process the level to which it's grown. "It's f—ing unbelievable," he says. "It feels so fake that it's almost like, the more time I spend thinking about it, the more abstract it becomes."
His humility is a large part of his appeal (as well as his sense of humor, both on Twitter and on stage), which carries into his folk-pop music. It's matched with extreme vulnerability, as Kahan has been open about his struggles with mental health. Even one of his biggest hits has revealing lyrics: "So I thought that if I piled something good on all my bad/ That I could cancel out the darkness I inherited from Dad," he sings the second verse of "Stick Season."
"Stick Season" became Kahan's breakout song in 2022, first making waves on social media — catching the attention of stars like Zach Bryan and Maisie Peters — and earning him his first radio hit. Its namesake album earned Kahan top 5 spots on Billboard's Top Alternative Albums, Top Rock Albums and Top Rock & Alternative Albums charts in October 2022, but it was the 2023 deluxe edition that really showed his trajectory: all 18 tracks debuted on Billboard Hot Rock & Alternative Charts, making him one of only five artists to ever land 18 songs on the chart in one week. 
Kahan's disbelief in his success is only going to continue into the new year, as his 2024 tour will also include L.A.'s Hollywood Bowl and two nights at Boston's Fenway Park. At this rate, he's seemingly on his way to Taylor Swift-level stardom — though, as he jokes, three-hour shows will never be in the cards: "From a physical health standpoint, this is as big as it can get."
In the midst of his Stick Season Tour, Kahan reminisced on the wild ride he's been on for the past 18 months. Below, he details seven of his most career-defining moments to date. 
Watching "Stick Season" Blow Up
I wrote the song in 2020 and I posted the first verse and the chorus [on social media] the next morning. It was kind of an awkward time, because I had another album coming out right after that video was posted [2021's I Was / I Am] , and I had to promote that, and people were like, "What about that other song?" I'd be at shows and people would be like, "Play 'Stick Season'!"
I started to play it live, which is really what stoked the fire in terms of us realizing that it could be a big song. I played it in Syracuse, New York — and we hadn't posted any snippets besides what I would do on my Instagram Lives, or I'd perform it here and there on social media. Everyone in the room knew every single word to it. That was the song that got the biggest reaction all night, and it was a song that wasn't even out yet. That definitely opened my eyes to the desire for that song to be out in the world. 
A lot of my set at the time was more pop-leaning, and this song is definitely more folk-leaning. I could really see the desire for sing-along folk anthems after that performance. [I remember] talking to my team and being like, "I think this song is gonna be around for a long time."
It gave confidence to something that I had been trying to do for a long time, even subconsciously. I think I was always making folk music, and I would always gravitate toward those songs, but a part of me would be like, This isn't who you are, you make pop. So I would stay away from it. 
It took this one song — and playing it the way that I wanted to, and having people really respond — it opened my eyes to the audience that I didn't realize was there. It also opened my eyes to that confidence in myself that really comes through in this kind of songwriting. It let me look at folk music and storytelling as a bigger focus in my life instead of something that I did for fun or in the privacy of my home.
Seeing The Success Of
Stick Season
When I was a kid, I would write my name on a blank CD, and I'd put it next to my Green Day CD, and I would pretend that we were the same. For a second it feels real, but it's really not.
Seeing my name on the charts and in conversations with all of these incredible famous artists, it kind of gave me the same feeling where I felt like, This just can't be real — I must be back in my childhood bedroom writing my band name on blank CDs. Because this doesn't happen to people making folk music, really. I was just kind of stunned into disbelief to the point where it took people reminding me that it was happening to actually process it.
I was in love with everything about the process of making this album, and honestly, that was enough for me. I felt so fulfilled. The organic nature of how it all came together felt so real to me, and it felt so important to me. And doing it in Vermont, and having the record be about Vermont and New England — it really felt like the album I've been waiting to make my whole life. 
I think my fans could see how much it meant to me, and it meant the same to them. We kind of shared this real emotional attachment to this album together. 
It just felt like a huge change in the way my life was gonna be. It meant that I could make music that fulfilled me that would fulfill others. I guess you could say it reinvigorated my faith in music in a lot of ways.
The chart success, and the radio play, and the co-signs from other really great artists and songwriters was incredible and overwhelming. I still haven't really processed it all. 
It definitely changed my life and put me into a place where I'm selling out shows, and there's lots of people that want me to work with them. It feels so nice, because it all came from following my heart — in the least cliché way.
Playing Boston Calling
It started to feel monumental when I got there. It's, like, three minutes away from my house, which is crazy. So I took a van from my house and I started walking around the festival, and it felt like I was Justin Bieber — people were chasing me around the festival and screaming.
It was one of the first times I've played in Boston since the deluxe [version of Stick Season] came out, and it was the second festival of the tour, so we were not expecting this crazy reaction. We get on stage and the crowd is just a sea of people. It looked like the crowd for a headliner, and it was only, like, 6 p.m.
We had a really good performance — objectively, we kind of crushed it — and all the fans were losing their minds, and then later, I went on stage with the Lumineers, which was so insane. It just felt like this moment of this hometown crowd really coming out in full force, showing their support and showing the world that I had this kind of fan base. I felt like I was kind of stepping out into a new world in a lot of ways when I got on stage. 
Singing "Homesick" was pretty incredible. It has a line about the Boston [Marathon] bombers, and we were literally right next to Watertown where the Boston bombers were caught. And hearing like 40,000 New Englanders sing "I'm mean because I grew up in New England" was incredible — it made me tear up watching videos the next day. Seeing all those people connect over this common understanding of who we are, and that region, all at once was really, really special. It was just such a Boston moment.
Ever since then, it was kind of just crazy show after crazy show. And every hometown show has been so unbelievable. It was kind of the start of the madness.
Headlining Red Rocks
A show that felt particularly special was Red Rocks. Having gone from being an opener there to a headliner in a little less than a year was really special for me. The growth was so evident.
The crowds at Red Rocks are in this trance of community and love — it felt like the crowd was connecting with each other, and watching that happen was really incredible. Every single person there had a smile on their face. I think that everybody there had an amazing time, and that made me so happy. 
Another thing that I've loved about all the shows, but Red Rocks in particular, is that some of these songs are filled with painful feelings and thoughts, and things that, for me, required a lot of vulnerability. And when the crowd is singing every single word, it just means that a whole crowd of — in Red Rocks' case, 9,900 people — are just being vulnerable, and yelling it out loud. 
That's the greatest gift a musician can ever get — watching people express themselves and free themselves from any kind of shame at a show. That's what I try to do with my music, and I feel like I saw thousands of people shedding their guilt, their fear and their shame, and singing the lyrics. 
We were playing the song "Maine," and there's a line that's like, "If there were cameras in the traffic lights, they'd make me a star," and I remember looking up at the crowd — that line is really about knowing that you have something special, but not knowing if anyone can ever see it. 
I remember singing that song and that line, and I looked up to the crowd — 9,,000 people, that's four times bigger than everyone in my hometown — screaming that line back to me, and I cried. I couldn't believe where I was in my life. 
And I still can't, but there are moments that I get numb to all of it and there are moments when the absurdity of it all slaps me in the face. That was definitely a moment where I felt just shocked by where I had gotten to, and how things have grown.
Launching The Busyhead Project
The Busyhead Project is an endeavor to raise a million dollars for mental health awareness, and these organizations that are doing so much for fighting the stigma and supporting people who suffer around North America. We wanted to start this organization because I have spent a lot of my career thinking and about my own journey with mental health, but I always felt like I was not doing enough, or just kind of providing lip service. 
I never wanted to feel like I was accessorizing it or commodifying it. So I wanted to do something that felt boots-on-the-ground, tangible, [and] would make a real difference. We set out with a goal to raise a million dollars [for these organizations], and we're getting really close. [Editor's note: As of press time, The Busyhead Project has raised $977,055.]
I think it just comes down to putting your money where your mouth is. Like, I'm playing bigger venues and I sell merch — I'm starting to make money, and part of my philosophy on wealth and making money is that you're supposed to use it to help other people. 
I don't need a lot for myself. I live on a diet of sunflower seeds and bananas — I'm literally eating both of them right now — so I wanted to give back as much as I can. It's really that simple; trying to raise money for people that really need it, and organizations that are doing miraculous work. We're definitely not going to stop at a million — I hope not, because that would be kind of lame. [Laughs.] If we can raise more money, we should raise it. 
When I was a kid, I would look up "Artists with depression" or "Artists on medication." I didn't find a lot of 'em, but when I did find somebody, it would feel like I was, like, saved by God or something. That became like religion to me, to see that someone who was in the music industry was also struggling with what I was really struggling with as a kid. I want to provide that for some kid making music out there.
Breaking Onto The Hot 100 (And Collaborating With Post Malone) With "Dial Drunk"
The chart is kind of, like, the one thing from movies about the music industry that signify when the band is doing well — like The Rocker, or Rockstar, where it's like, "Oh my god, the music's on the charts!" And they're doing a montage where the chart spins, and they're on a magazine cover, you know what I mean? And what's always followed by that is a horrible downward spiral, so I think when I saw the song charting well, I was like, Oh God, this is where my career starts to go bad. 
But I was really excited, and it was super cool — and, again, one of those things that's hard to actually understand from a human level. 
It was also really nice because I always feel like the last thing I did is the best thing I did, so after "Stick Season" was a big success, I was like, I have to have another song! And I was touring so much, and I was on Zoloft, so I was feeling emotionally kind of numbed-down. Writing this song was kind of a wake-me-up from what was going on. 
It was kind of a personal victory in a lot of ways — I challenged myself to make something new, and I did, and then it had this massive success. It felt like I can get through anything and do this again if I have to. It reminded me that what was happening in my career wasn't lightning in a bottle, but a real reflection of an audience being hungry for my music.
So then when Post Malone started recording his verse in the song, I felt like I was in a fever dream. I felt like it was gonna elevate my career to a new place, and I think it did.
He's always been an inspiration to me in the way he approaches music. I literally just reached out to him on DMs randomly one day, I was like, "Bro, I think you might like this song, we should do it together." He responded two months later, like, "Yeah, I f—ing love it!" It felt really natural.
We sat cross-legged and drank beers at the show in Massachusetts that I went out with him [to perform "Dial Drunk"]. It was so Post Malone — we talked about adult diapers and The Dewey Cox Story. He was just so funny and fun to be around. 
Announcing An Arena & Stadium Tour For 2024
They had been talked about for a while when we were starting the tour in the spring, but they never felt real — I always kind of think, That'll happen later. At the point that I'm doing those shows, I'll feel like I belong in those rooms.
Having these shows scheduled is truly surreal. I just don't know how we're gonna sell that many tickets. [Laughs.] I think I'll believe it when I'm in the room — like, Madison Square Garden, to me, has always felt like just where Paul McCartney goes, and I can't believe that I get to be having my name on the marquee.
I told my managers on the phone when they booked Fenway, "I'm actually going to retire after this." [Laughs.] There's really no way to describe what that means to someone from New England. 
As someone who grew up loving the Red Sox, going to Fenway Park all the time with my friends — getting drunk and stealing somebody's seats, and screaming at the opposing players over the dugout — that place has meant so much to me and so many people in my life. And the fact that I'm going to be one of not many people that have headlined that venue is just the craziest f—ing thing in the entire world. It feels like there's no other higher peak than playing songs about New England in the mecca of New England.
There was, like, a limit to my dreams when I was a kid — what I could do for a living and how big it could be. I'm trying to have my 8-year-old self be proud of me. I don't think he could even imagine where I'd be now. 
I'm so proud of the people I work with, I'm so proud of myself, because I have really worked hard for this, and I've sacrificed a lot of things in my life to make music happen. To get to this place, it just feels like all those hard decisions were worth it. 
I'm grateful for all the people that have supported me, and the people that have taken time out of their day to believe in my music when I couldn't believe in it. I'm just happy to feel like I belong here.
Lizzy McAlpine's Big Year: The Viral Singer Details The Biggest Moments Behind Her Fast-Rising Career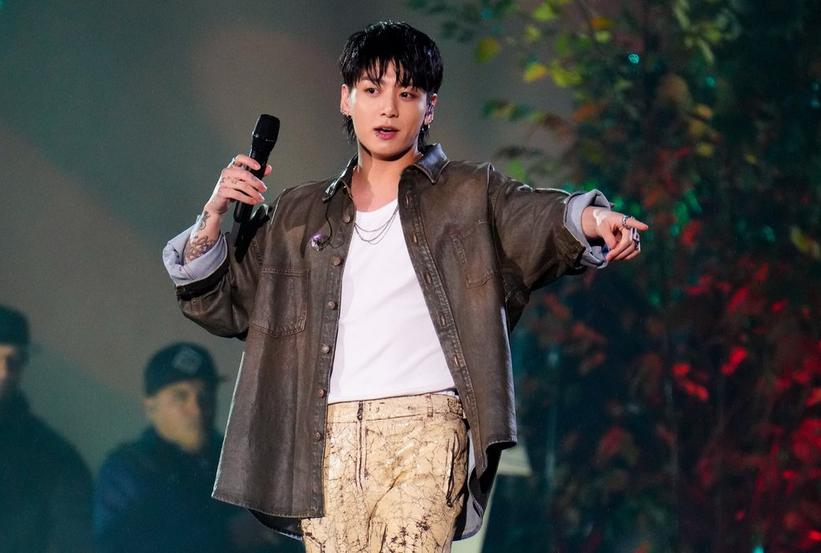 Jungkook performs at the 2023 Global Citizen Festival in September.
list
New Music Friday: Listen To New Music From Jungkook & Jack Harlow, PinkPantheress, *NSYNC And More
As September comes to a close, listen to these new songs, albums and collaborations from Ed Sheeran, Lil Wayne and more.
GRAMMYs
/
Sep 29, 2023 - 08:18 pm
As we close out the month, this New Music Friday has loads of fresh beginnings and highly anticipated reunions.
Several big-name collaborations dropped on Sept. 29, from an electric team-up of the Rolling Stones and Lady Gaga to an R&B and rap fusion from Jungkook and Jack Harlow. 
Two nostalgic releases arrived as well, with Lil Wayne's new album Tha Fix Before Tha Vi continuing his "Tha Carter" series, while *NSYNC fans were treated to the boy band's first new song in 20 years with "Better Place."
Dive into these seven new releases that blend the old generation with the new. 
Jungkook ft. Jack Harlow — "3D"
BTS singer Jungkook takes us through a nostalgic journey with "3D," a song reminiscent of an early 2000s boy band hit. The hypnotizing lyrics illustrate his close connection to someone he can't reach, so he'll watch them in 3D.
"So if you're ready (So if you're ready)/ And if you'll let me (And if you'll let me)/ I wanna see it in motion/ In 3D (Uh-uh)," he sings in the chorus. 
Jack Harlow pops in, dropping a few verses boasting about his global attraction with women. "Mr. First Class" claims he can "fly you from Korea to Kentucky," as he closes out the song.
With an addictive chorus and groovy baseline, this track has a different vibe from his "Seven" collaboration with Latto. The song marks Jungkook's seventh solo single and second of 2023.
Rolling Stones & Lady Gaga ft. Stevie Wonder — "Sweet Sounds of Heaven"
The Rolling Stones, Lady Gaga and Stevie Wonder blended their talents, to create a harmonic symphony of a song that lives up to its heavenly title. Seven minutes of gospel- and blues-inspired rhythms, enriched by Gaga and Mick Jagger's distinct riffs, make this collaboration an immersive experience. Stevie Wonder grounds the track with his command of piano and melodic tempo.
The track is the second peek of the Rolling Stones' upcoming album, Hackney Diamonds, their first LP release in 18 years; their first release, "Angry," arrived Sept. 6. With production from GRAMMY-winning Andrew Watt, the soulful essence makes "Sweet Sounds of Heaven" an exciting taste of the long-overdue album.
*NSYNC — "Better Place"
Yes, you read correctly. After two decades and a recent reunion at the 2023 MTV Video Music awards, <em>NSYNC is back with a new single, "Better Place," appearing in the new animated Trolls* movie (due Nov. 17). With a nostalgic dance-pop beat, familiar production and breezy lyrics, this single is a remarkable comeback.
"Just let me take you to a better place/ I'm gonna make you kiss the sky tonight," they sing in the chorus. 
The reunion was first teased Sept. 14, through a video of the group's emotional studio session, as Justin Timberlake shared on Instagram. "When the stars align… got my brothers back together in the studio to work on something fun and the energy was special," he wrote in the post. 
PinkPantheress — "Mosquito"
Dive into this musical daydream as PinkPantheress serenades us on her new single, "Mosquito," a dreamy, lucid song reminiscent of old-school R&B. After recently hopping on the energetic remix of Troye Sivan's "Rush" and teaming up with Destroy Lonely on "Turn Your Phone Off," PinkPantheress is transporting us through a new era, full of charm and surprises.
"Cause I just had a dream I was dead/ And I only cared 'cause I was taken from you/ You're the only thing that I own/ I hear my bell ring, I'd only answer for you," she sings in the chorus. 
Co-crafted by GRAMMY-winning producer Greg Kurstin, this song is a transcending, surreal experience. This single isn't about romance, instead she takes us through her entanglements with treasures and money. That's further portrayed in the lavish video, which features a European shopping spree starring "Bridgerton" stars Charithra Chandran, India Amarteifio and "Grown-ish" star Yara Shahidi.
Ed Sheeran — Autumn Variations
The era of mathematical-themed albums seems to be over, as Ed Sheeran has entered a new chapter with Autumn Variations, his second project this year. Sheeran is singing from his heart, sharing soulful tales from emotional events in his life including the death of his dearest friend Jamal Edwards and his wife's health challenges during pregnancy — an extension of the stories he told with May's Subtract.
Autumn Variations is very raw, stripped down and authentic as he takes us through his personal journey. Amidst this, Sheeran still brings in some buzzing tracks including catchy songs like "American Town," "Paper Bag" and "Amazing."
Lil Wayne — Tha Fix Before Tha Vi
Lil Wayne celebrated his 41st birthday with a special present to his fans: the release of a new album two days later. The alluring 10-track project,"Tha Fix Before Tha Vi" dives into past vibes with songs like "Tity Boi," a reference to 2 Chainz's initial stage name, which may be a reference to the upcoming joint album between the two. Each song has a different feel including "Tuxedo," which features a more punk-rock melody and "Chanel No.5 ft. Foushee," which features a sensational beat.
His first album since 2020, Tha Fix Before Tha Vi features rather unexpected collaborators, including Jon Batiste, Fousheé and euro. With different sounds and features than past projects, we could possibly be entering a new Weezy era. 
Thomas Rhett & Morgan Wallen — "Mamaw's House"
Country superstars Morgan Wallen and Thomas Rhett unite for "Mamaw's House," a country-folk track relishing the memories of their grandparents' home and cozy fireplace tales. 
"It's where I spent my summers and she put me to work/ Shellin' peas and shuckin' corn until my fingers hurt/ No tellin' who I'da been without Mamaw's house," Rhett sings in the second verse. 
Rhett said the duo decided to write about their small-town culture — Rhett is from Valdosta, Georgia, while Wallen hails from Sneedville, Tennessee — and the significant presence of grandparents brought to their upbringings. 
"This song just kind of brings up how our mamaws used to act when we were little kids," Rhett told Audacy.. "It's an ode to all the grandmas out there."
10 Ways Britney Spears' "...Baby One More Time" Changed Pop Music Forever