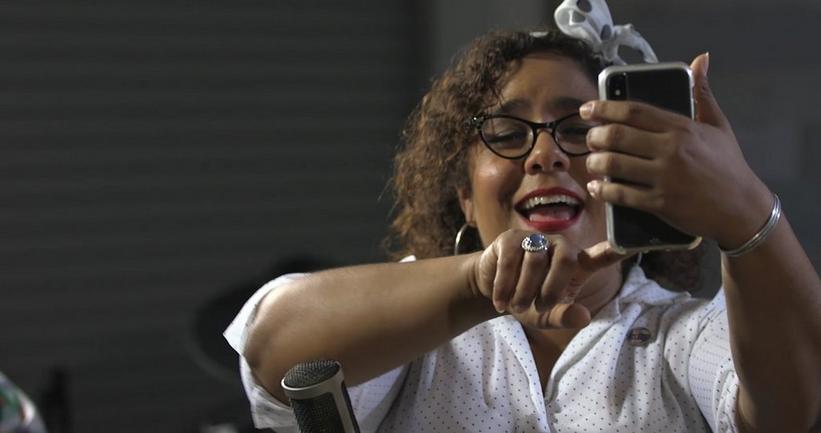 news
La Santa Cecilia Scroll Down The Feed With "Winning" For Press Play
The eclectic Mexican-American GRAMMY winners seek inspiration in the digital information age in this comment- and commentary-packed edition of the Recording Academy's original performance series
GRAMMYs
/
Aug 1, 2019 - 09:00 pm
"If I don't share, then it didn't happen," sings La Santa Cecilia lead singer La Marisoul in the hilarious and poignant performace of "Winning," performed exclusively for Press Play.
"Winning" is a fun number with a powerful message about social media oversaturation and the dangers of faux online activism. La Marisoul frantically reads and sings as she scrolls, quoting comments, quiping clichés into satire and creating a musical manifestation of the frenzy in our phones with pin-point sardonic accuracy. And you can dance to it!
Drawing from a wide range of influences including bolero, Mariachi, R&B and rock, La Santa Cecilia draw their name from the Catholic patroness of musicians. The band started out in 2007 performing in coffee shops and backyards around Los Angeles. "Winning" is their latest single, dropping just last month on July 19.
And speaking of winning, in 2013 the group won the GRAMMY for Best Latin Rock, Urban Or Alternative Album for Treinta Días, their first win, at the 56th GRAMMY Awards. La Santa Cecilia have been nominated twice since, again in the same category three years later for Buenaventura, and the following year for Best Latin Pop Album for Amar Y Vivir En Vivo Desde La Ciudad De México, 2017.
So sit back and enjoy this exclusive perfomance of "Winning" in this edition of Press Play, don't forget to like and share, and be sure to catch La Santa Cecilia on tour in a city near you
Shaun Ross Sings His Ethereal Equality Anthem "Good Vein" For Press Play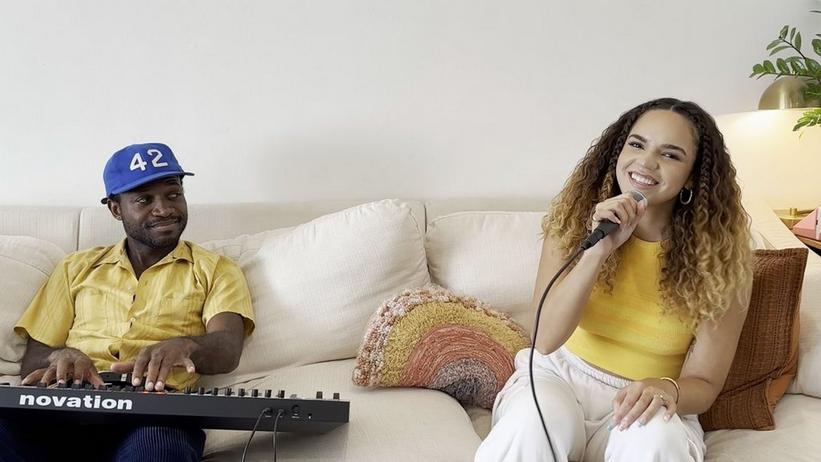 Marley Bleu (right) and her keyboardist.
Photo: Courtesy of Marley Bleu
video
Press Play: Marley Bleu Honors An "Unintentional" Love In This Intimate Performance
R&B newcomer Marley Bleu offers a stripped-down performance of "Unintentional," her debut single with Republic Records.
GRAMMYs
/
Nov 7, 2023 - 08:38 pm
Sometimes love can catch you off guard — and in Marley Bleu's case, she may have found the perfect partner unintentionally.
"'Cause your love is so intentional/ Wrong time, I think I found the right one," the rising R&B star sings in her latest single, "Unintentional." "You're here, don't know where you came from/ What we got is so unintentional."
In this episode of Press Play, the Los Angeles native sings a stripped-down version of "Unintentional," supported by a keyboardist. The pair perform on her living room sofa, emphasizing the track's intimate nature.
"Unintentional," which originally features Pink Sweat$, is Bleu's major label debut under Republic Records. Her next single, "goodmorning," is slated to arrive later this year.
Bleu found her roots in performing from a musical family. Her great-great uncle is the late Chuck Berry, and her father, Al Berry, played bass guitar for industry titans like Nile Rodgers, Kelly Clarkson and Avril Lavigne.
Watch the video above to hear Marley Bleu's live performance of "Unintentional," and check back to GRAMMY.com for more new episodes of Press Play.
7 Artists From R&B's New Class: Coco Jones, Kiana Ledé, Phabo & More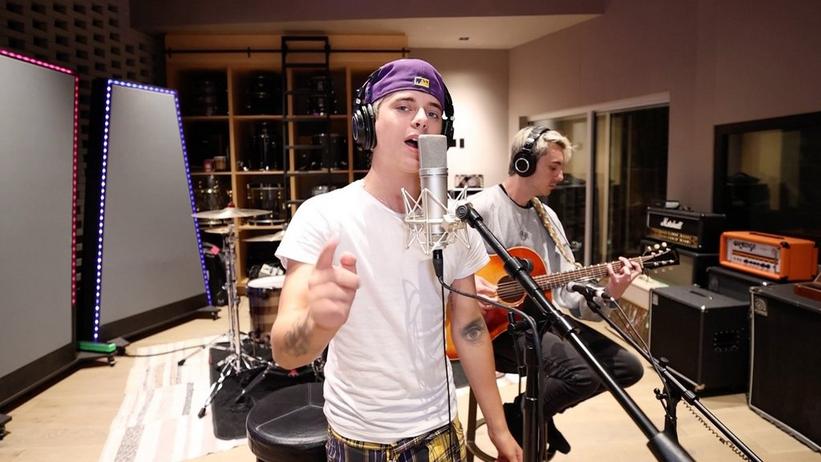 Gavin Magnus
Photo: Courtesy of Gavin Magnus
video
Press Play: Gavin Magnus Feels Like A "Psycho" In This Impassioned Performance of His Latest Single
Alternative singer and social media star Gavin Magnus performs "Psycho" from a music studio, accompanied by just an acoustic guitar.
GRAMMYs
/
Oct 31, 2023 - 06:06 pm
Gavin Magnus knows firsthand what it's like to love someone who only causes you pain — and he narrates the reality of toxic relationships in his swirling new single, "Psycho."
"You were never there for me when I needed you most/ But you would stick around and watch it all go up in smoke," Magnus sings on the second verse. "Burn my bridges down until there's only ashes left/ But the flames, they never rest at all."
In this episode of Press Play, Magnus delivers a performance of "Psycho" from a music studio, stripping down the song with just an acoustic guitar.
Released in September, "Psycho" marks Magnus' debut single under Big Noise Music Group. Earlier this year, he released two more solo tracks, "Exit" and "Lonely."
Along with his work as an artist, Magnus is a prolific content creator with over 6 million subscribers on YouTube and 2 million followers on TikTok. And on Nov. 10, he'll take his music career to the next level with the release of his debut project, Blurry Eyes.
Watch the video above to hear Gavin Magnus' cathartic, acoustic performance of "Psycho," and check back to GRAMMY.com for more new episodes of Press Play.
11 Pop-Punk Artists To Watch: Taylor Acorn, American Teeth & More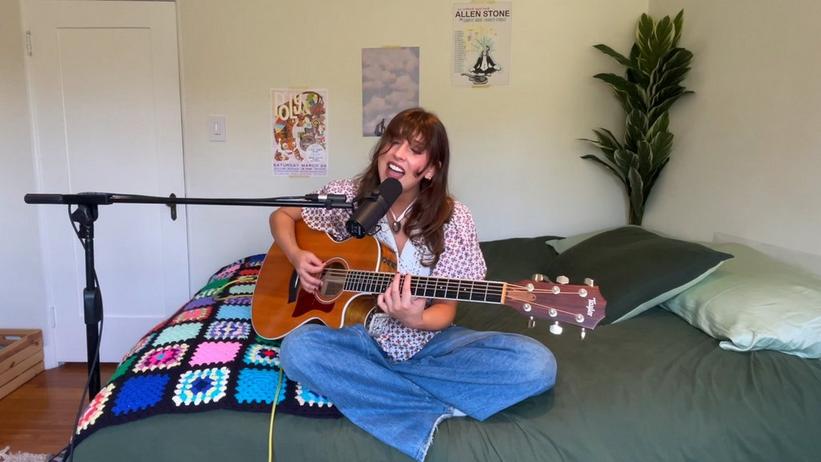 Lindsey Lomis
Photo: Courtesy of Lindsey Lomis
video
Press Play: Lindsey Lomis Delivers A Stripped-Down Performance Of Her New Single, "Outta Sight (On My Mind)"
Up-and-coming pop singer Lindsey Lomis offers an acoustic take on her first independent single in nearly four years, "Outta Sight (On My Mind)."
GRAMMYs
/
Oct 17, 2023 - 05:03 pm
Like the old saying goes, out of sight often means out of mind. But pop singer Lindsey Lomis has someone consuming her thoughts everywhere she goes — whether she's out with her friends or alone in her bedroom. And she's just as surprised by her behavior as everyone else may be.
"No, they've never seen me like this/ Woah, I've never seen me like this," Lomis sings in the second verse of "Outta Sight (On My Mind)." "You're outta sight, but you're on my mind/ Thinkin' 'bout how I'm thinkin' bout you all the time."
In this episode of Press Play, Lomis delivers a stripped-down rendition of her latest release, performing the track in her bedroom with an acoustic guitar.
The track — which Lomis dropped on Sept. 22 — marks her first independent release in almost four years. Earlier this year, she dropped an EP, Universe, via Warner Records.
Lomis recently wrapped up a tour supporting Bruno Major. She also toured with Joshua Bassett on his Complicated Tour this past spring, before headlining six of her own shows in June.
Watch the video above to hear Lindsey Lomis' sweet performance of "Outta Sight (On My Mind)," and check back to GRAMMY.com for more new episodes of Press Play.
Lizzy McAlpine's Big Year: The Viral Singer Details The Biggest Moments Behind Her Fast-Rising Career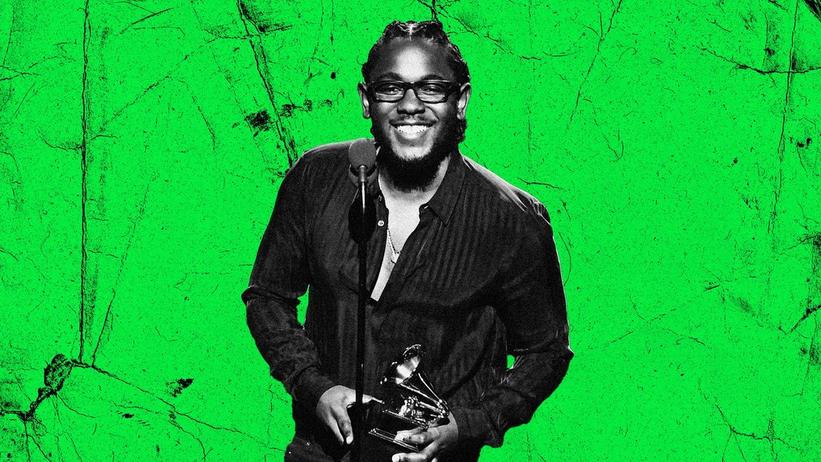 Kendrick Lamar
Photo: Jeff Kravitz/FilmMagic
video
GRAMMY Rewind: Kendrick Lamar Honors Hip-Hop's Greats While Accepting Best Rap Album GRAMMY For 'To Pimp a Butterfly' In 2016
Upon winning the GRAMMY for Best Rap Album for 'To Pimp a Butterfly,' Kendrick Lamar thanked those that helped him get to the stage, and the artists that blazed the trail for him.
GRAMMYs
/
Oct 13, 2023 - 06:01 pm
Updated Friday Oct. 13, 2023 to include info about Kendrick Lamar's most recent GRAMMY wins, as of the 2023 GRAMMYs.
A GRAMMY veteran these days, Kendrick Lamar has won 17 GRAMMYs and has received 47 GRAMMY nominations overall. A sizable chunk of his trophies came from the 58th annual GRAMMY Awards in 2016, when he walked away with five — including his first-ever win in the Best Rap Album category.
This installment of GRAMMY Rewind turns back the clock to 2016, revisiting Lamar's acceptance speech upon winning Best Rap Album for To Pimp A Butterfly. Though Lamar was alone on stage, he made it clear that he wouldn't be at the top of his game without the help of a broad support system. 
"First off, all glory to God, that's for sure," he said, kicking off a speech that went on to thank his parents, who he described as his "those who gave me the responsibility of knowing, of accepting the good with the bad."
He also extended his love and gratitude to his fiancée, Whitney Alford, and shouted out his Top Dawg Entertainment labelmates. Lamar specifically praised Top Dawg's CEO, Anthony Tiffith, for finding and developing raw talent that might not otherwise get the chance to pursue their musical dreams.
"We'd never forget that: Taking these kids out of the projects, out of Compton, and putting them right here on this stage, to be the best that they can be," Lamar — a Compton native himself — continued, leading into an impassioned conclusion spotlighting some of the cornerstone rap albums that came before To Pimp a Butterfly.
"Hip-hop. Ice Cube. This is for hip-hop," he said. "This is for Snoop Dogg, Doggystyle. This is for Illmatic, this is for Nas. We will live forever. Believe that."
To Pimp a Butterfly singles "Alright" and "These Walls" earned Lamar three more GRAMMYs that night, the former winning Best Rap Performance and Best Rap Song and the latter taking Best Rap/Sung Collaboration (the song features Bilal, Anna Wise and Thundercat). He also won Best Music Video for the remix of Taylor Swift's "Bad Blood." 
Lamar has since won Best Rap Album two more times, taking home the golden gramophone in 2018 for his blockbuster LP DAMN., and in 2023 for his bold fifth album, Mr. Morale & the Big Steppers.
Watch Lamar's full acceptance speech above, and check back at GRAMMY.com every Friday for more GRAMMY Rewind episodes. 
10 Essential Facts To Know About GRAMMY-Winning Rapper J. Cole