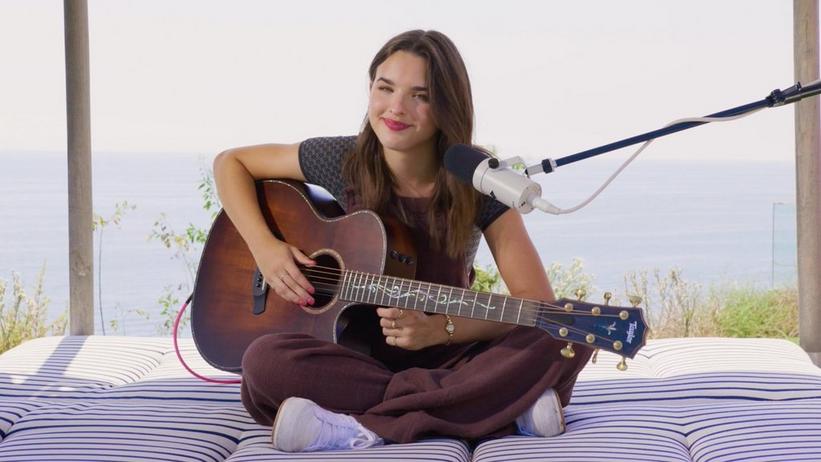 Jenna Raine
Photo: Courtesy of Jenna Raine
video
Press Play At Home: Jenna Raine Premieres New Song "Fumbled The Bag" With An Empowering Performance
Set against a waterfront backdrop, Raine performs a searing acoustic version of a kiss-off anthem that she wrote to empower two friends going through a breakup.
GRAMMYs
/
Sep 1, 2022 - 05:01 pm
Jenna Raine isn't afraid to call it like she sees it in "Fumbled the Bag," a scorching kiss-off to an ex. "What if you got it all wrong and I was the one all along?/ Hate to say I told you so, but baby, ain't it sad?/ You fumbled the bag," she sings in the chorus.
In this episode of Press Play at Home, Raine debuts her new tell-it-like-it-is anthem with help from her acoustic guitar, sitting against a sunny waterfront backdrop. The stripped-back performance puts the focus on the song's message, which doesn't hold back from telling an ex they're at fault. 
The singer/songwriter says that "Fumbled the Bag" was inspired by two close friends who went through breakups right before the summer. In writing it, she wanted to point the finger at the guys who broke their hearts, and let them know that they'll regret their decisions about ending their relationships.
Raine — a former member of girl group L2M, who pursued a solo career after they disbanded — is no stranger to upbeat and empowering messaging that supports other women. Previous releases like "Not Again" and her February EP, See You Later, hone in on music's ability to bring healing and connection.
In her songwriting, she borrows from her own life and the lives of her friends, but she also draws inspiration from suggestions sent in by fans. "My goal is to provide a safe space for my listeners!" Raine explains, according to People. "So, I will continue to write songs that will help others feel accepted, heard and less lonely. I love writing songs about my own life, but I also enjoy getting song suggestions from my fans. It really helps me connect with people. So please send your ideas/requests my way!"
"Fumbled the Bag" will officially be released on Sept. 2. Pre-save the song here, watch her performance above, and keep checking back to GRAMMY.com for more episodes of Press Play at Home.
Ed Sheeran's Collab-Crazy 2022: All Of The Artists He's Paired With, From Taylor Swift To Russ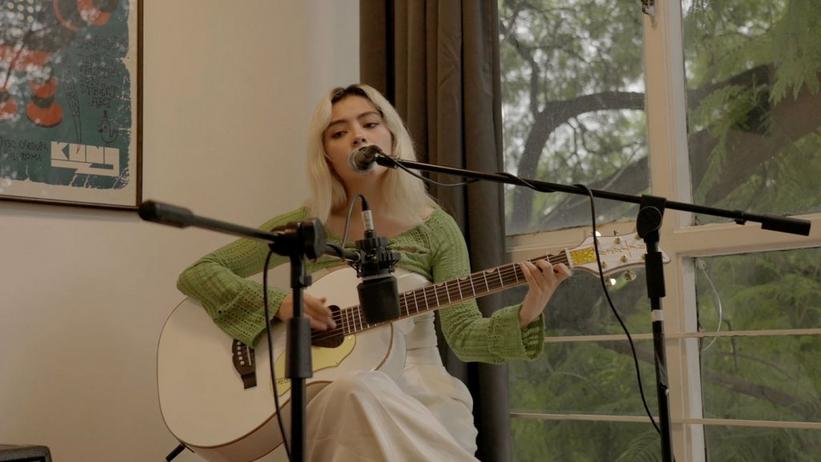 CoolestAndie
Photo: Courtesy of CoolestAndie
video
Press Play: CoolestAndie Finds Solace In "Mi Lugar Seguro" With This Premiere Performance Of Her New Song
Rising Mexican singer/songwriter CoolestAndie performs her never-before-heard track with just her voice and an acoustic guitar.
GRAMMYs
/
Sep 19, 2023 - 05:00 pm
CoolestAndie makes pop music for sad kids. At least that's how she explains her style of tender Latin pop in her Instagram profile — which, naturally, is written in her native Spanish ("hago música pop para chavxs tristes"). That's certainly the case with the Puebla, Mexico native's new song "Mi Lugar Seguro," which she's playing for the very first time exclusively for Press Play.
The track, whose title translates as "My Safe Place" in English, is a follow-up to CoolestAndie's latest run of singles like "Qué Es Amor? My Love," "Flores Que Sembré" with Flor Ramírez and Yukun, "Adolescentes Asustados," and her 2021 debut EP, Te Quiero Pero No Te Lo Diré.
"I hope to help others with my music," the singer told GRAMMY.com ahead of the performance. "I just want everyone who hears my music to connect with me and my feelings."
It's been a busy year for CoolestAndie, who most recently served as the hometown opener for Drake Bell's Puebla stop on his ongoing Non-Stop Flight Tour. This fall, she'll be returning to Mexico's capital city to perform at the 2023 edition of Festival Amigo.
Press play on the video above to watch CoolestAndie's acoustic performance of "Mi Lugar Seguor," and check GRAMMY.com for more new episodes of Press Play.
La Doña's 'Can't Eat Clout' Celebrates Her Upbringing And "A Moment Of Reckoning"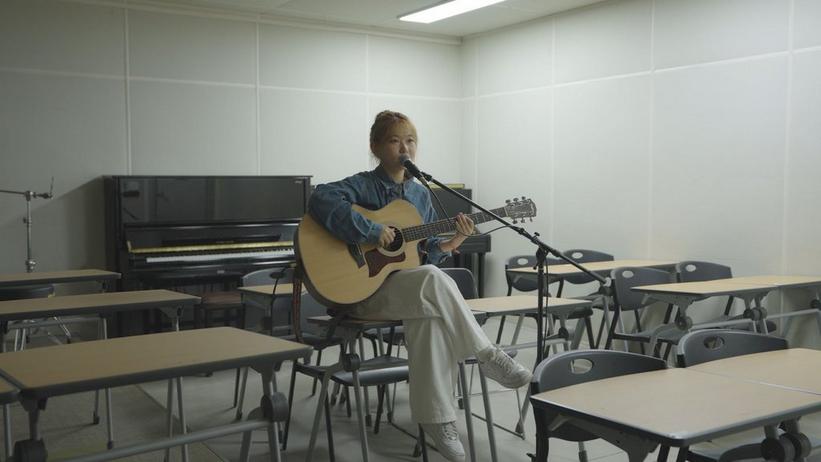 video
Press Play: Watch Seohyun Lee Jump On The "SPACESHIP" To Her Dreams
Korean singer/songwriter Seohyun Lee premieres her pre-debut single, "SPACESHIP," an uplifting track about becoming the main character of your own life.
GRAMMYs
/
Sep 5, 2023 - 06:36 pm
For most aspiring musicians, attending one of the top music universities in their country and then debuting as an artist is a dream come true. Korean newcomer Seohyun Lee has made that coveted journey her reality — and it's also the message of her new upbeat, dreamy single, "SPACESHIP."
In this episode of Press Play, Lee premieres her pre-debut single live from her alma mater, the prestigious Seoul Institute of the Arts (which boasts an impressive roster of other alumni, including EXO's Luhan and actor Hwang Jung-min). In an exclusive statement to GRAMMY.com, Lee revealed how the school "taught me how to freely pursue music as an artist and a student." The small lecture room that served as the filming location for her episode was "a place where I completed new music, aligning our hearts as friends."
When discussing "SPACESHIP," Lee said the concept was inspired by a dream she had: "I became the main character, a person who loved everyone and was loved by everyone. Now, I can dream without falling asleep because I am a person who loves everyone and is loved by everyone."
Later this year, Lee will make her official debut in collaboration with the Seoul Institute of the Arts and JChung Management to showcase Korean musicality beyond K-pop.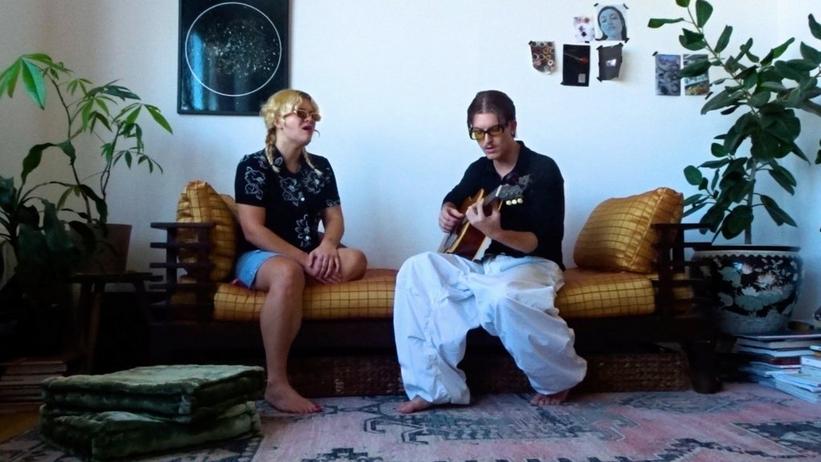 news
Press Play: Gus Dapperton & Amadelle Talk Through A Toxic Relationship In An Acoustic Performance Of "Don't Let Me Down"
Alt-pop singers Gus Dapperton and madelle team up for a performance of "Don't Let Me Down," a conversational track about a bittersweet breakup.
GRAMMYs
/
Aug 31, 2023 - 05:00 pm
On "Don't Let Me Down," Gus Dapperton and Amadelle present two sides of a breakup: one person not quite ready to give up, and the other hoping to move forward with their life.
"If you took a walk in my shoes/ You'd know why I don't want to be with you," Amadelle sings. "And now you're askin' if I'll take you back/ But, boy, I'm sorry, I can do that."
Dapperton makes a last-ditch effort to right his wrongs, responding, "I let myself ride the wave/ I've fallen to my childish ways/ And put our lives on display/ For everyone to display/ I can't believe I drove our time away."
In this episode of Press Play, watch Dapperton and Amadelle, his sister, trade off for a live, stripped-down performance of "Don't Let Me Down," with Dapperton providing support on an acoustic guitar.
"Don't Let Me Down" is the lead single from Dapperton's latest album, Henge. The track was written by BENEE and marks the pair's second collaboration — the first being BENEE's viral 2020 single, "Supalonely."
Dapperton will begin the North American Henge Tour in Burlington, Vermont, on Sept. 14.
Watch the video above to hear Gus Dapperton and Amadelle's heartfelt performance of "Don't Let Me Down," and check back to GRAMMY.com for more new episodes of Press Play.
JVKE's "Golden" Year: How The Singer's World Turned "Upside Down" With TikTok, Collaborating With Charlie Puth & More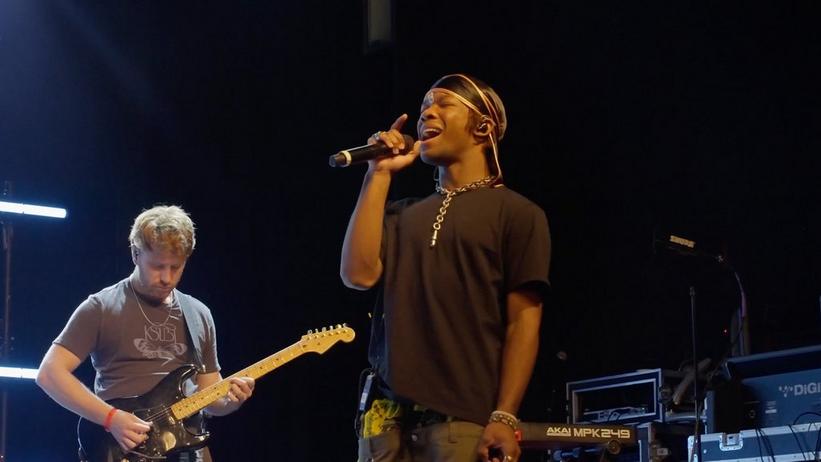 video
Press Play: Watch d4vd Commit "Romantic Homicide" In This Raw Performance Of His Breakthrough Hit
Alternative singer d4vd offers a stripped-down performance of his heartbreaking ballad "Romantic Homicide," the lead single from his debut EP, 'Petals to Thorns.'
GRAMMYs
/
Aug 24, 2023 - 05:08 pm
At the end of a relationship, it's not always the break up itself that's most painful — but the dwindling love that eventually turns into neglect, lies, and bitterness. And much like alternative singer d4vd narrates on his viral hit "Romantic Homicide," the receiving end often is left with confusion and frustration that ultimately becomes defeated apathy.
"It feels like you don't care/ Enlighten me, my dear, why am I still here?/ I don't mean to be complacent with the decisions you made, but why?" d4vd wails. "In the back of my mind, you died/ And I didn't even cry, no, not a single tear/ And I'm sick of waiting patiently for someone that won't even arrive."
In this episode of Press Play, watch dv4d deliver a stripped-down performance of "Romantic Homicide." His intense, raw vocals evoke a more emotional and vulnerable feeling compared to the track's pitched original recording.
"Romantic Homicide" is the lead single from dv4d's debut EP, Petals to Thorns. His second single, "Here With Me," was also met with immense success across social media.
On Sept. 8, dv4d will release his second EP, The Lost Petals, led by his most recent single, "Notes From A Wrist." Later that month, he will join SZA on the next leg of her SOS North American Tour. 
Watch the video to hear d4vd's heart-wrenching performance of "Romantic Homicide," and check back to GRAMMY.com for more new episodes of Press Play.
JVKE's "Golden" Year: How The Singer's World Turned "Upside Down" With TikTok, Collaborating With Charlie Puth & More