Photo: Design: F. Inomata
news
H.E.R. Honors Aretha Franklin With A Spare, Soulful Cover Of "I Say A Little Prayer"
Her tribute and many more will air on CBS on March 10 as part of "Aretha! A GRAMMY Celebration For The Queen Of Soul"
GRAMMYs
/
Mar 1, 2019 - 11:59 pm
She may be just 21, but rising R&B artist H.E.R. began playing music from a young age while listening to her father's soul and blues record collection. Now, shortly after earning her first GRAMMY nominations at the 61st GRAMMY Awards, where she went home two wins, including Best R&B Album, H.E.R. is honoring the late Queen Of Soul Aretha Franklin with a paired-down cover of "I Say A Little Prayer."
Following Aretha's passing last August, the music world united in celebrating her legacy—most recently on the 2019 GRAMMY stage. Now, her admirers and contemporaries are celebrating her life with a star-studded, music-filled memorial.
Shortly before the GRAMMYs, the Recording Academy brought together many of these artists to sing Aretha's praises—and her unforgettable songs—for a powerful tribute concert, airing on March 10 on CBS.
H.E.R. chose to sing one of her favorite Aretha covers, "I Say A Little Prayer," which the singer earned a GRAMMY nomination for at the 11th GRAMMY Awards. (Aretha released her version in 1968, one year after Dionne Warwick originally recorded the timeless track.)
"She's a legend. She inspired, I'm sure, all of the singers that are doing this tribute tonight," H.E.R. said before the concert. "She's such an inspiration to me, and this is bringing women together, so it's really dope to see that as well."

Tune in to hear H.E.R.'s full performance when "Aretha! A GRAMMY Celebration For The Queen Of Soul" airs on Sun., March 10 at 9 p.m. EST / 8 p.m. CT on CBS.
Aretha Franklin's GRAMMY History: Remembering The Queen Of Soul
Kate Bush performing in 1985
Photo: ZIK Images/United Archives via Getty Images
list
15 Reissues And Archival Releases For Your Holiday Shopping List
2023 was a banner year for reissues and boxed sets; everyone from the Beatles to Bob Dylan to the Rolling Stones got inspired expansions and repackagings. Here are 15 more to scoop up before 2023 gives way to 2024.
GRAMMYs
/
Nov 28, 2023 - 03:19 pm
Across 2023, we've been treated to a shower of fantastic reissues, remixes and/or expansions. From the Beatles' Red and Blue albums, to Pink Floyd's The Dark Side of the Moon, to the Who's Who's Next, the list is far too massive to fit into a single article.
And, happily, it's not over yet: from now until Christmas, there are plenty more reissues to savor — whether they be mere vinyl represses, or lavish plumbings of the source material replete with outtakes.
As you prepare your holiday shopping list, don't sleep on these 15 reissues for the fellow music fanatic in your life — or pick up a bundle for yourself!
X-Ray Spex - Conscious Consumer (Vinyl Reissue)
Whether you view them through the lens of Black woman power or simply their unforgettable, snarling anthems, English punks X-Ray Spex made an indelible mark with their debut 1978 album, Germfree Adolescents.
Seventeen years later, they made a less-discussed reunion album, 1995's Conscious Consumer — which has been unavailable over the next 27 years. After you (re)visit Germfree Adolescents, pick up this special vinyl reissue, remastered from the original tape.
That's out Dec. 15; pre-order it here.
Fall Out Boy - Take This to Your Grave (20th Anniversary Edition)
Released the year before their breakthrough 2005 album From Under the Cork Tree — the one with "Dance, Dance" and "Sugar, We're Goin Down" on it — Fall Out Boy's Take This to Your Grave remains notable and earwormy. The 2004 album aged rather well, and contains fan favorites like "Dead on Arrival."
Revisit the two-time GRAMMY nominees' Myspace-era gem with its 20th anniversary edition, which features a 36-page coffee table book and two unreleased demos: "Colorado Song" and "Jakus Song." It's available Dec. 15.
Coheed and Cambria -

Live at the Starland Ballroom
Coheed and Cambria is more than a long-running rock band; they're a sci-fi multimedia universe, as well as a preternaturally tight live band.
Proof positive of the latter is Live at the Starland Ballroom, a document of a performance at the Starland Ballroom in Sayreville, New Jersey, in 2004 — that hasn't been on vinyl until now. Grab it here; it dropped Nov. 24, for Record Store Day Black Friday.
Joni Mitchell -

Court and Spark Demos
Post-aneurysm recovery, Joni Mitchell's on a well-deserved victory lap. But it's far more rewarding to analyze her as a musical genius than simply shower her with icon-status accolades.
Joni Mitchell Archives – Vol. 3: The Asylum Years (1972–1975), from last October, is a terrific way to do just that; its unvarnished alternate versions strip away the '70s gloss to spellbinding effect.
Which is no exception regarding the Court and Spark demos, which got a standalone release for RSD Black Friday.
P!NK -

TRUSTFALL (Deluxe Edition)
The dependable Pink returned in 2023 with the well-regarded TRUSTFALL, and it's already getting an expanded presentation.
Its Deluxe Edition is filled with six previously unheard live recordings from her 2023 Summer Carnival Stadium Tour. Therein, you can find two new singles, including "Dreaming," a collaboration with Marshmello and Sting. Pre-order it today.
Snoop Dogg -

Doggystyle (30th Anniversary Edition)
After his star-making turn on Dr. Dre's The Chronic, 16-time GRAMMY nominee Snoop Dogg stepped out with his revolutionary, Dre-assisted debut album, Doggystyle.
Permeated with hedonistic, debaucherous fun, the 1993 classic only furthered G-funk's momentum as a force within hip-hop.
Revisit — or discover — the album via this 30-year anniversary reissue, available now on streaming and vinyl.
As per the latter, the record is available special color variants, including a gold foil cover and clear/cloudy blue vinyl via Walmart, a clear and black smoke vinyl via Amazon and a green and black smoke vinyl via indie retailers.
Alicia Keys -

The Diary of Alicia Keys 20
Alicia Keys has scored an incredible 15 GRAMMYs and 31 nominations — and if that run didn't exactly begin with 2003's The Diary of Alicia Keys, that album certainly cemented her royalty.
Her heralded second album, which features classics like "Karma," "If I Was Your Woman"/"Walk On By" and "Diary," is being reissued on Dec. 1 — expanded to 24 tracks, and featuring an unreleased song, "Golden Child."
The Sound of Music (Super Deluxe Edition Boxed Set)
Fifty-seven years has done nothing to dim the appeal of 1965's The Sound of Music — both the flick and its indelible soundtrack.
Re-immerse yourself in classics like "My Favorite Things" via The Sound of Music (Super Deluxe Edition Boxed Set), which arrives Dec. 1.
The box contains more than 40 previously unreleased tracks, collecting every musical element from the film for the first time, along with instrumentals for every song, demos and rare outtakes from the cast.
Furthermore, an audio Blu-ray features the full score in hi-res plus a new Dolby Atmos mix of the original soundtrack. And the whole shebang is housed in a 64-page hardbound book with liner notes from film preservationist Mike Matessino.
ABBA -

The Visitors (Deluxe Edition)
With their eighth album, 1981's The Visitors, the Swedish masterminds — and five-time GRAMMY nominees — stepped away from lighter fare and examined themselves more deeply than ever.
The result was heralded as their most mature album to date — and has been repackaged before, with a Deluxe Edition in 2012.
This (quite belated) 40th anniversary edition continues its evolution in the marketplace. And better late than never: The Visitors was their final album until their 2021 farewell, Voyage, and on those terms alone, deserves reexamination.
Aretha Franklin -

A Portrait of the Queen 1970-1974
Rolling Stone didn't recently declare Aretha Franklin the greatest singer of all time for no reason: in 2023, there's nary a pretender to the Queen of Soul's throne.
A Portrait of the Queen 1970-1974 compiles her first five albums of the 1970s: This Girl's In Love With You, Spirit in the Dark, Young Gifted and Black, Hey Now Hey (The Other Side of the Sky), and Let Me In Your Life.
Each has been remastered from the analog master tapes. The vinyl version has a bonus disc of session alternates, outtakes & demos. Both CD and vinyl versions are packaged with booklets featuring sleeve notes by Gail Mitchell and David Nathan. Grab it on Dec. 1.
Fela Kuti -

Box Set #6
From the great beyond, Fela Kuti has done music journalists a solid in simply numbering his boxes. But this isn't just any Kuti box: it's curated by the one and only Idris Elba, who turned in a monumental performance as Stringer Bell on "The Wire."
The fifth go-round contains the Afrobeat giant's albums Open & Close, Music of Many Colors, Stalemate, I Go Shout Plenty!!!, Live In Amsterdam (2xLP), and Opposite People. It includes a 24 page booklet featuring lyrics, commentaries by Afrobeat historian Chris May, and never-before-seen photos.
The box is only available in a limited edition of 5,000 worldwide, so act fast: it's also available on Dec. 1.
Kate Bush -

Hounds of Love (The Baskerville Edition) / Hounds of Love (The Boxes of Lost Sea)
Kate Bush rocketed back into the public consciousness in 2022, via "Stranger Things." The lovefest continues unabated with these two editions of Hounds of Love, which features that signature song: "Running Up That Hill (A Deal with God.)
There is no new audio on either edition; they feature distinctive packaging, and the latter splits the album into two boxes. Read on here, and pre-order them via Bush's site; they arrive Dec. 1.
The Rolling Stones -

December's Children (And Everybody's)

,

Got Live If You Want It!

And

The Rolling Stones No. 2

(Vinyl Reissues)
These three '60s Stones albums have slipped between the cracks over the years — but if you love the world-renowned rock legends in its infancy, they're essential listens.
No. 2 is their second album from 1965; the same year's December's Children is the last of their early songs to lean heavily on covers; Got Live If You Want It! is an early live document capturing the early hysteria swarming around the band.
On Dec. 1, they're reissued on 180g vinyl; for more information and to order, visit here.
Pink Floyd -

Atom Heart Mother (Special Edition)
No, it's not half as famous as The Dark Side of the Moon or The Wall — but 1970's lumpy Atom Heart Mother certainly has its partisans.
Rediscover a hidden corner of the Floyd catalog — the one between Ummagumma and Meddle — via this special edition, which features newly discovered live footage from more than half a century ago.
The Black Crowes -

The Southern Harmony and Musical Companion
After endless fraternal infighting, the Black Crowes are back — can they keep it together?
In the meantime, their second album, 1992's The Southern Harmony and Musical Companion, remains a stellar slice of roots rock — as a sprawling, three-disc Super Deluxe Edition bears out. If you're a bird of this feather, don't miss it when it arrives on Dec. 15.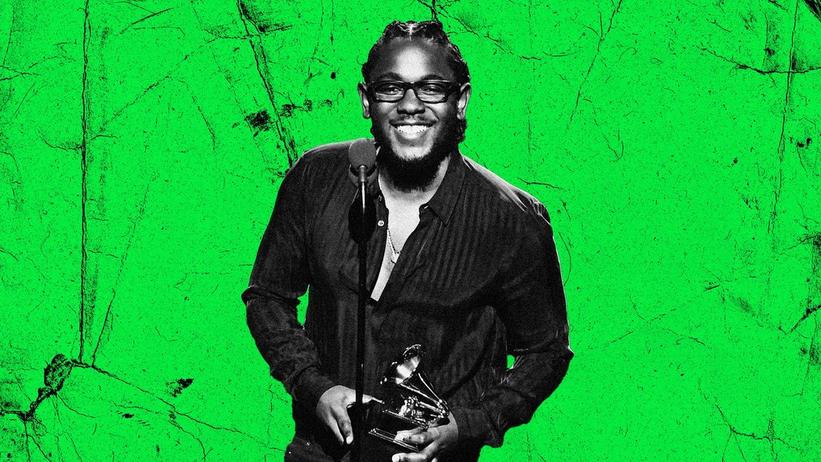 Kendrick Lamar
Photo: Jeff Kravitz/FilmMagic
video
GRAMMY Rewind: Kendrick Lamar Honors Hip-Hop's Greats While Accepting Best Rap Album GRAMMY For 'To Pimp a Butterfly' In 2016
Upon winning the GRAMMY for Best Rap Album for 'To Pimp a Butterfly,' Kendrick Lamar thanked those that helped him get to the stage, and the artists that blazed the trail for him.
GRAMMYs
/
Oct 13, 2023 - 06:01 pm
Updated Friday Oct. 13, 2023 to include info about Kendrick Lamar's most recent GRAMMY wins, as of the 2023 GRAMMYs.
A GRAMMY veteran these days, Kendrick Lamar has won 17 GRAMMYs and has received 47 GRAMMY nominations overall. A sizable chunk of his trophies came from the 58th annual GRAMMY Awards in 2016, when he walked away with five — including his first-ever win in the Best Rap Album category.
This installment of GRAMMY Rewind turns back the clock to 2016, revisiting Lamar's acceptance speech upon winning Best Rap Album for To Pimp A Butterfly. Though Lamar was alone on stage, he made it clear that he wouldn't be at the top of his game without the help of a broad support system. 
"First off, all glory to God, that's for sure," he said, kicking off a speech that went on to thank his parents, who he described as his "those who gave me the responsibility of knowing, of accepting the good with the bad."
He also extended his love and gratitude to his fiancée, Whitney Alford, and shouted out his Top Dawg Entertainment labelmates. Lamar specifically praised Top Dawg's CEO, Anthony Tiffith, for finding and developing raw talent that might not otherwise get the chance to pursue their musical dreams.
"We'd never forget that: Taking these kids out of the projects, out of Compton, and putting them right here on this stage, to be the best that they can be," Lamar — a Compton native himself — continued, leading into an impassioned conclusion spotlighting some of the cornerstone rap albums that came before To Pimp a Butterfly.
"Hip-hop. Ice Cube. This is for hip-hop," he said. "This is for Snoop Dogg, Doggystyle. This is for Illmatic, this is for Nas. We will live forever. Believe that."
To Pimp a Butterfly singles "Alright" and "These Walls" earned Lamar three more GRAMMYs that night, the former winning Best Rap Performance and Best Rap Song and the latter taking Best Rap/Sung Collaboration (the song features Bilal, Anna Wise and Thundercat). He also won Best Music Video for the remix of Taylor Swift's "Bad Blood." 
Lamar has since won Best Rap Album two more times, taking home the golden gramophone in 2018 for his blockbuster LP DAMN., and in 2023 for his bold fifth album, Mr. Morale & the Big Steppers.
Watch Lamar's full acceptance speech above, and check back at GRAMMY.com every Friday for more GRAMMY Rewind episodes. 
10 Essential Facts To Know About GRAMMY-Winning Rapper J. Cole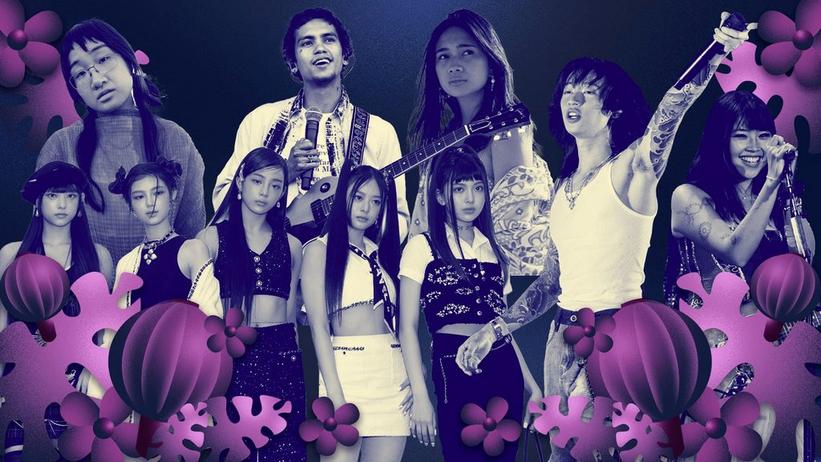 (L-R, clockwise) Yaeji, Dominic Fike, NIKI, Keshi, beabadoobee, NewJeans
Photos (L-R): Dasom Han, Tim Mosenfelder/Getty Images, Gabriel Chiu, Rick Kern/Getty Images, Ethan Miller/TAS23/Getty Images for TAS Rights Management, Han Myung-Gu/WireImage
news
Celebrate AAPI Month 2023 With A Genre-Spanning Playlist Featuring BLACKPINK, Yaeji, Olivia Rodrigo & More
Spotlighting artists of Asian and Pacific Islander descent, GRAMMY.com honors AAPI Heritage Month this May with 44 songs by Japanese Breakfast, NewJeans, Keshi and many more.
GRAMMYs
/
May 1, 2023 - 04:28 pm
As spring blossoms and May rolls around, AAPI Heritage Month reminds us to recognize and reflect on the talents of Asian American and Pacific Islander artists — across the music industry and beyond.
It's vital to celebrate diversity year-round, and May sparks additional dialogue about reshaping spaces to be more inclusive, especially within industries that are traditionally difficult to break into. Today, the music community views difference not as an obstacle, but an opportunity to celebrate individual and collective identity.
While 2023 marks 60 years since the first Asian American GRAMMY winner, AAPI creatives have been making waves in the music community for centuries. Whether you're raging to Rina Sawayama's enterprising electropop or vibing out with NIKI's soulful indie musings, AAPI artists are continuing to shape contemporary genres like never before.
In celebration of AAPI Heritage Month, GRAMMY.com compiled an original playlist to honor AAPI musicians' creativity and novelty. Take a listen to the playlist featuring more than 40 trailblazing creatives on Spotify, Apple Music, Amazon Music and Pandora.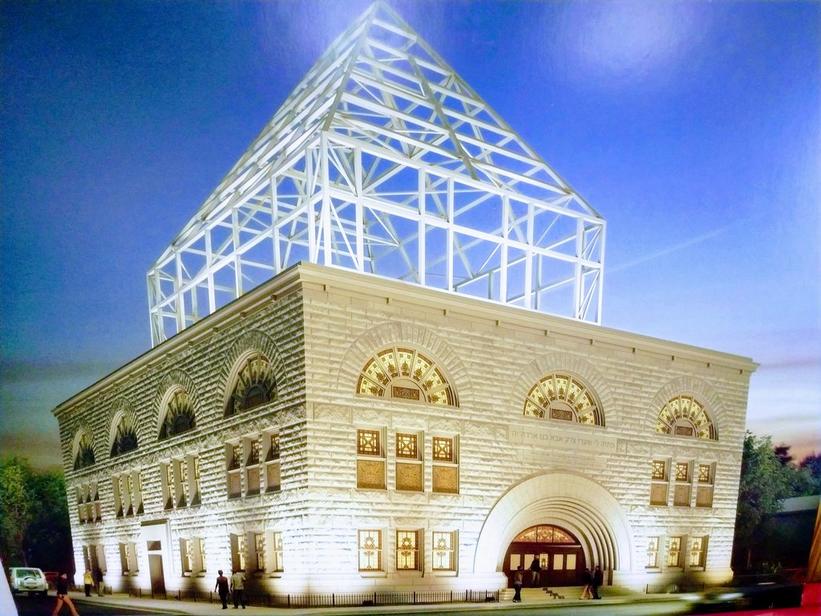 Rendering of the National Museum of Gospel Music
Photo courtesy of Pilgrim Baptist Church
feature
Inside The National Museum Of Gospel Music — A Beacon Of American Music Rising From The Ashes
The Pilgrim Baptist Church — arguably the birthplace of gospel music in America — burned down in 2006. Years later, a tireless consortium is working to establish a lavish, on-site museum that pays tribute to the history of gospel.
GRAMMYs
/
Mar 15, 2023 - 04:18 pm
For more than a century, Chicago's Pilgrim Baptist Church stood on 3300 S. Indiana as a beacon of gospel music not only to South Side Chicago, but to America and the world. Until it went up in flames.
On Jan. 6, 2006, it was renovation time for the arguable birthplace of gospel music; as part of the half-million-dollar project, workers were fitting metal coping on the roof with blowtorches. 
"And they dropped the torch," Antoinette Wright, the president and executive director of the National Museum of Gospel Music — a museum project centered on its site — tells GRAMMY.com. "When they dropped it, they kind of didn't tell anybody that they had. All they did was scurry off the roof; can you believe that?"
The building committee and assorted congregants alerted the fire department immediately, but it was too late. Congregants like Lakeisha Gray-Sewell, who had wed and planned baptisms for her children at Pilgrim Baptist, were shaken to their foundations. The house of worship where Martin Luther King once offered soaring words — and Mahalia Jackson, Aretha Franklin, the Staple Singers, and other gospel luminaries sent their voices into the rafters — was no more.
"I grew up in this church, my mother grew up in this church, my grandmother grew up in this church," Gray-Sewell told The New York Times upon the Bronzeville fixture's near-total obliteration. "When that smoke clears, I don't know what we're going to see. I'm afraid to see what we're going to see. No matter what, this will always be my church." 
The synagogue-turned-church turned out to be completely gutted. Among the remains were those of a baby grand piano — just a charred cast-iron frame and a snarl of melted strings. Gone were the spectacular entry arch, windows, and ornamental panels by cherished Chicago architect Louis Sullivan; gone were boxes of irreplaceable photographs and sheet music by the church's music director, Thomas Dorsey.
Dorsey's legacy at Pilgrim Baptist — and role in gospel's overall evolution — cannot be overstated. Known for his synthesis of sacred music and the blues, the rightly-called "Father of Gospel Music" engendered a form that's central and essential to American music. As Chicago Historical Society curator John Russick told the Times, "he was like the Beatles of gospel music."
The son of a revivalist preacher born in 1899, Dorsey was galvanized early on by blues pianists in the Atlanta, Georgia, area. In the 1910s and '20s, he worked in secular "hokum" music as a composer, arranger, pianist, and vocalist. In 1916, he moved to Chicago and attended the College of Composition and Arranging; the following decade, he toured with Ma Rainey and his own bands.
The poles of the sacred and profane continued to magnetize him. Under the nom de plume "Georgia Tom," Dorsey later wrote the dirty blues "It's Tight Like That" with guitarist Hudson "Tampa Red" Whittaker. While the bawdy, double-entrendred tune was controversial in its day, it proved lucrative for its writer.
From 1929 on, Dorsey worked exclusively within a religious context. He wed blues melodies and rhythms to spiritual concerns; many of his resultant songs, like "Precious Lord, Take My Hand," became gospel standards. Dorsey went on to write and record prolifically in the 1930s, publishing his own sheet music and lyrics. In 1932, Dorsey became the choral director of the Pilgrim Baptist Church in Chicago, a position he maintained until the late 1970s.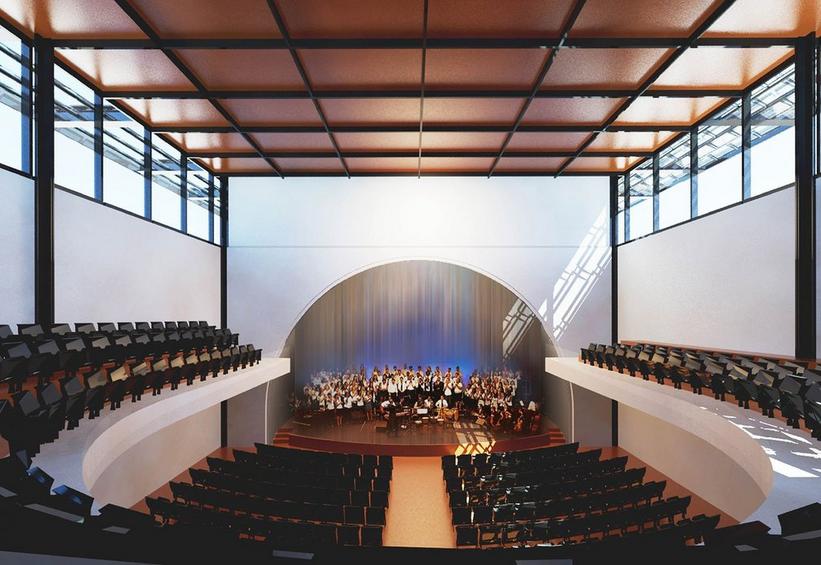 Photo courtesy of the National Museum of Gospel Music.
Dorsey's legacy — as well as that of his entire milieu — promises to be on full display at the National Museum of Gospel Music. Don Jackson, the founder and CEO of Chicago-based Central City Productions, and his team — including Wright — are in the midst of establishing the 45,000 square-foot structure on the site of Pilgrim Baptist, itself a National Historic Landmark.
"It will present the most expansive history of gospel music — from the spiritual, slavery area to today — of who the artists are," Jackson tells GRAMMY.com. "What were their contributions, how the music itself encouraged folks, and how the churches played a major part in opening their doors — recognizing those faith-based churches who let these artists perform, giving the credit for all they've done to keep the music alive and growing."
All involved stress that the museum in its final form will be encompassing and inclusive, stretching beyond Chicagoland to the regional scenes nationwide — hence the name. Plus, it will underline the music's resonance today. "I call [the gospel singers] the original rappers, because they're constantly telling the story," Wright says. "Gospel music is very vocal, like the blues. They both had kinship in telling the stories of life."
According to the National Museum of Gospel Music's website, the building will eventually feature "multigenerational programming and educational exhibits, auditorium seating up to 350 designed for television production, exclusive video archives and collection of the Stellar Gospel Music Awards programming," and a "listening and research library."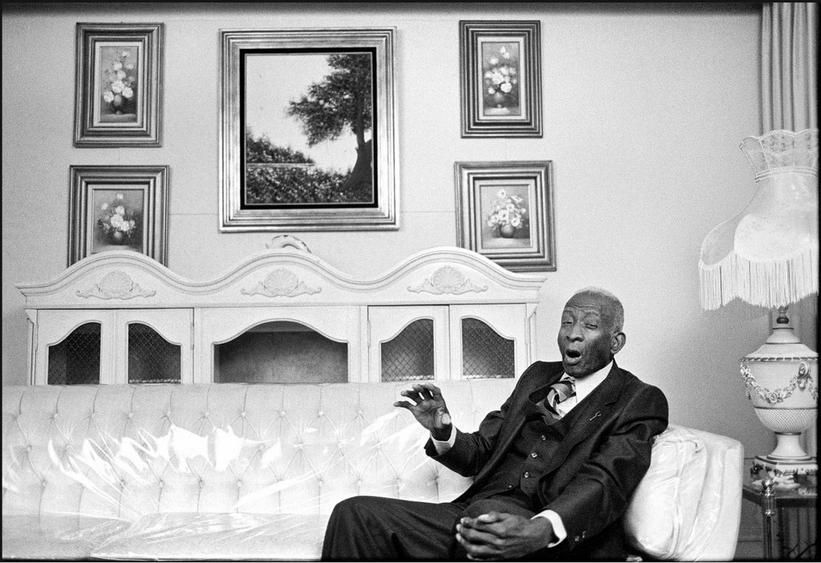 Thomas Dorsey singing in his living room in 1983. Photo: Chuck Fishman/Getty Images
The 2006 fire created "a gaping hole that's being burned out of our community," Bronzeville District Representative Bobby L. Rush told the Times. In 2020, 100 m.p.h. winds damaged the remaining southern and east walls. Today, all that remains are two limestone walls — one facing Indiana Ave., the other 33rd St. — which are braced and holding steady.
Through a web of scaffolding, you can read a passage from the Book of Psalms on the main entrance: "Open for me the gates of righteousness, that I may enter through them to praise the Lord." Reading those soaring words from the street, they feel bittersweet and poignant. Could this haven for worshippers and hub of musical innovation ever throw open its gates again?
One hint lay in Jackson's reaction. Instead of viewing the 2020 wind damage as an insurmountable blow he called it a "godsend." "This forces the urgency," he said at the time. "This has been a blessing for the project that says that we need to get started."
The project has already begun. While the interactive museum may not be physically up and running yet, it's open in an abstract sense — Wright calls it "a museum without walls. "It's functioning programmatically," she says, noting that in-person and virtual activities have fired up again. "It is in existence, but we're moving into a permanent home. Instead of saying, 'When is the museum opening?' I have to say 'The museum is open.'"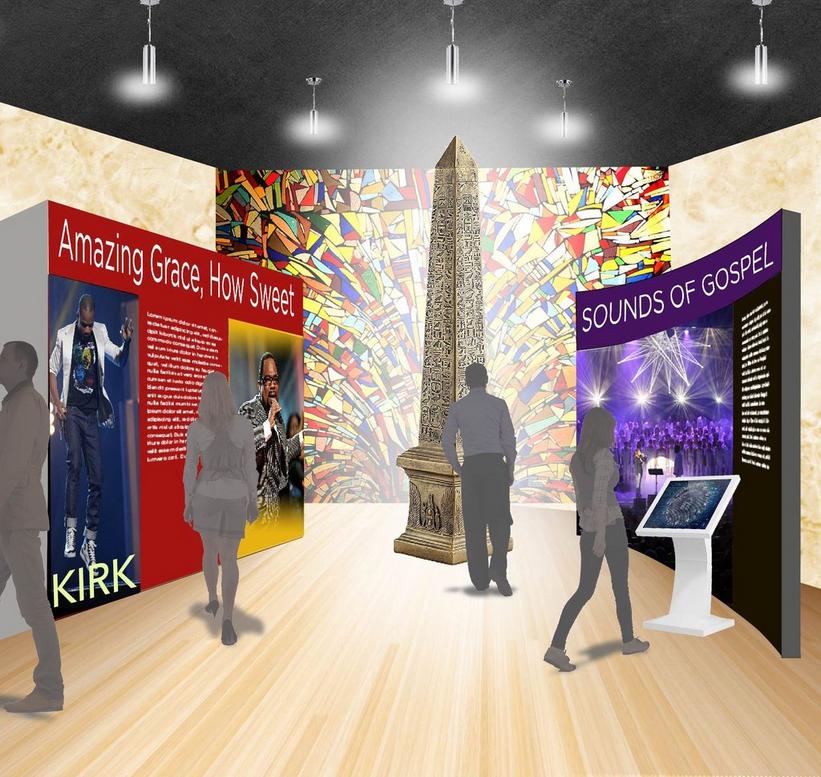 Photo courtesy of the National Museum of Gospel Music.
Speaking to GRAMMY.com back in 2021, when the pandemic was more of a going concern, museum fundraising and construction was in more of a holding pattern; when asked if fundraising was going as Wright hoped, she replied, "Of course not." These days, she has better news to share: they've secured almost enough for the first phase of enclosing the building.
"We're meeting with different foundations; my idea is that you can buy a wall and your name can be on the wall," Wright explains. For the sake of argument: "This is the McCormick wall; this is the ComEd wall. This is the City of Chicago rooftop," she adds. "We want to give people the opportunity to know how important it is to enclose the building."
Like her colleagues, Wright is optimistic about the project's imminent fruition, partly because she's looked around at similar initiatives. "You think about the National Museum of African American History in Washington," she says. "Now, that facility took a hundred years to get there."
Between city, state and federal funding and donations from the public, as well as an accumulation of museum pieces, whose details can't be disclosed yet, the Gospel Museum is moving ahead. This is despite a litany of bureaucratic headaches, and its incremental nature; this is how projects of this scale tend to go.
"For the next 18 months, we'll be working on that building. People will see things being done, and that's going to increase our fundraising as well," the National Museum of Gospel Music's Chairwoman Of The Board, Cynthia Jones, told GRAMMY.com in 2021.
"We're going out to various foundations and benefactors," she continued. "And we just know we're going to be successful this time because they're going to actually see the work that's being done — because we've gotten some of the money we need to restore and preserve that building."
As the National Museum of Gospel Music forges ahead, there are pragmatic ways to engage with and support the institution. You can donate via their website. You can follow them via Facebook to stay abreast of virtual and in-person event programming. Because when the physical building finally culminates, it promises to be a glorious thing.
"I'm hoping, at the end of the day, it would not be just a museum talking about the music, or saying how the music improves life," Jones added. "I want it to stimulate and inspire people to do different things for the betterment of mankind."

The Real Ambassadors At 60: What Dave Brubeck, Iola Brubeck & Louis Armstrong's Obscure Co-Creation Teaches Us About The Cold War, Racial Equality & God