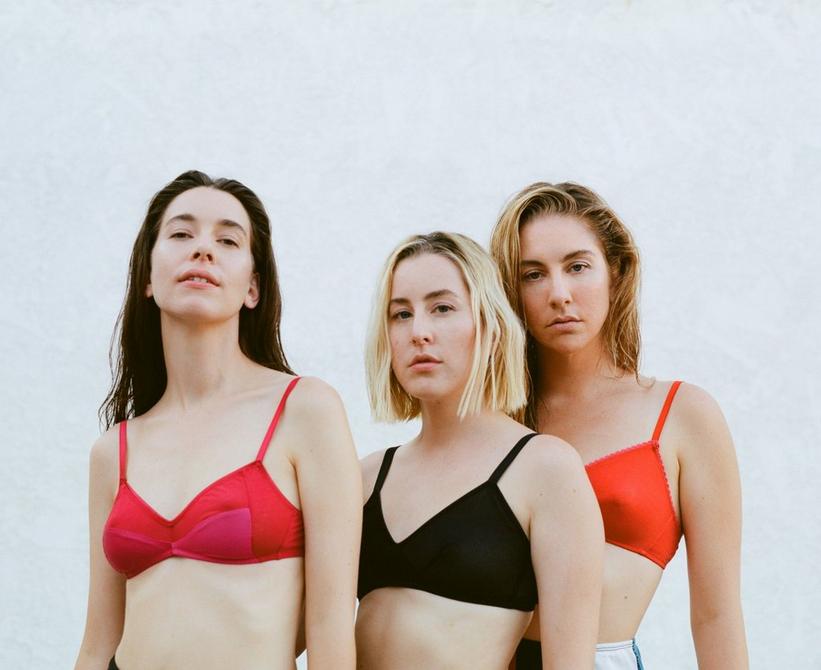 news
Haim Open Up About 'Women In Music Pt. III,' Protesting In L.A. & Music Industry Sexism: "Not A Lot Has Changed"
Ahead of the release of their third studio album, Alana, Danielle and Este Haim sit down with GRAMMY.com for a wide-ranging interview about loving (and almost leaving) L.A., battling gender-based genre stereotypes and much more
GRAMMYs
/
Jun 25, 2020 - 07:43 pm
While conversing over Zoom, it's easy to see why the Haim sisters work so well together. Chatty and affable, they alternate between finishing each other's sentences and talking in unison, and paying rapt attention as each sister speaks. Born and raised in a tight-knit family in the San Fernando Valley area of Los Angeles, bassist/vocalist Este Haim (34), guitarist/vocalist Danielle Haim (31) and guitarist/keyboardist/vocalist Alana Haim (28) grew up playing in Rockinhaim, a covers band with their parents. In 2012, Haim released their debut EP Forever for free on their website before releasing their debut full-length album, Days Are Gone (2013), which shot to number one on the U.K. Albums Chart and garnered a GRAMMY nomination for Best New Artist. Something To Tell You, their sophomore record, was released in 2017. After opening a string of dates on Taylor Swift's 1989 tour, headlining their own international tours and selling out both New York City's Radio City Music Hall and London's Alexandra Palace two nights in a row, a couple of "SNL" performances, and attracting celebrity fans in Fleetwood Mac's Stevie Nicks and U2's Bono, the trio is on the verge of releasing their highly anticipated third record, Women In Music Pt. III.
Due to the coronavirus pandemic, WIMPIII's release date was initially pushed to August from April before being rolled back to June. The viral outbreak also cut Haim's promotional deli tour short (they had just begun a jaunt performing at delis across the United States). On its surface, a deli tour may seem strange. But for Haim, who share a lifelong fondness for delis, it's actually a natural fit. "We grew up going to delis and when we were introducing the record we wanted to do something creative that we'd not seen before. We really do feel at home the most in delis," Alana tells GRAMMY.com. "We really wanted to do a different thing and we thought how cool if people can go and be able to eat Matzo ball soup." In fact, Haim's first gig with their parents 20 years ago was at West Hollywood landmark Canter's Deli, where the band also hosted a star-studded party with special guest DJ Mark Ronson in 2017. Earlier in the year, Haim—along with their frequent music video collaborator director Paul Thomas Anderson—shot Women In Music Pt. III's album art Canter's. In the cover photo, Haim are shown standing behind a deli counter with sausages (wink, wink) hanging behind their heads with NOW SERVING 69 (hint, hint) prominently displayed.
Co-produced by Danielle and longtime collaborators Ariel Rechtshaid (Danielle's live-in boyfriend) and Rostam Batmanglij (formerly of Vampire Weekend), WIMPIII is Haim's favorite record to date. "For the first time, with this record, I don't think I'll ever get sick of it," says Alana, crediting their years of recording experience. "We've always been confident but this is our third record, our third time around the sun if you will, and even thinking back to Days Are Gone, we didn't know anything in the studio." "We knew the fundamentals of production when we first got into it, but now we know so much more," says Danielle.
This time around, it was important to Haim, who are known for their highly energetic performances, to capture their live sound on record. "We wanted it to sound like the person listening to it was in the room while we were recording it, and that's why it sounds super live," says Alana, who says they played as loudly as they could and put a room mic in the corner of the studio. Danielle says making use of her home studio was pivotal, too. "Being in expensive studios on Days Are Gone, there was so much pressure with being in those kinds of professional studios. But at Voxx [Studios], where we also did our last album, too, we'd do basic tracking and then take it into a home studio, and that's where we feel our most comfortable," says Danielle.
Their most mature, contemplative, revealing and musically realized record, the melodic, hypnotically rhythmic and catchy WIMPIII reflects Haim's huge evolution over the last eight years including a deep lyrical exploration of myriad relationships (romantic, self, each other, the music industry and the media). In Haim's customary genre-busting musical style, the 16-song offering incorporates a variety of musical influences, seamlessly blending pop, R&B, hip-hop, folk, ska and classic rock (in addition to splashes of Prince and '90s pop-radio mainstays Savage Garden). Despite the range of musical influences going into WIMPIII, what comes out the other side sounds uniquely Haim.
Hoping the record's title Women In Music Pt. III speaks for itself, they are understandably as tired of talking about being women in music in 2020 as they should be. "In the back of our minds, we were hoping that because we'd named our album that, it wasn't going to be the first question everyone asks," says Danielle. "That's why we put our song 'Man From The Magazine' in music form so we would be able to touch on it without having to have it be the thing that we talk about constantly."
The lyrics of "Man From The Magazine" discuss Haim's experiences with sexism ranging from a male journalist inquiring inappropriately about the faces Este makes when she plays bass (Man from the magazine / What did you say / Do you make the same faces in bed / Hey man what kind of question is that / What did you really want me to say back?) to a guy working at a music shop who assumes the sisters are beginner musicians. (Man from the music shop / I drove too far for you to hand me that starter guitar / Hey girl why don't you play a few bars / Oh what's left to prove?)
Asked if things have improved over recent years, the sisters sigh. Unfortunately, they haven't. One after the other, Alana and Este both say, "Not a lot has changed."
What frustrates Haim further, which Danielle elucidates as another of WIMPIII's themes, are perpetual attempts at forcing genre-specific labels on their music. "We have had to deal with people trying to put us in a box our whole career and not understanding what we do," she says. "There was a lot of, 'Oh, you're a girl band' or 'Oh, you make pop music,'" says Alana. "We've always felt that we carved our own path and made the music we wanted to make and we never put a label on it and we were OK with it. But to some people, if they don't understand what box you go in, they get confused and say they don't understand it, which is weird to me. We've always bridged the gap over a bunch of things and we've never been afraid to explore different kinds of genres and different kinds of songwriting."
"I think other bands that aren't all female can dabble in a bunch of different genres yet they're still called a rock band," says Danielle. "Meanwhile, we're women and we dabble in all sorts of genres, [but] because we're women it's pop. That's frustrating to be honest with you."
When they first received recognition in the U.K., Danielle says even being tagged with having a "California Sound" was baffling. "It was funny when people started saying that we have a 'California Sound.' We didn't realize. We were just making music that we were coming up with. It's interesting. We never thought about it that way. Maybe it's the harmonies? I don't know," says Danielle. "Our hair?" asks Alana. "Our long hair? Our middle parts?" says Danielle. "We never really felt super L.A. until we went to the U.K.," says Alana.
That's not to say they resent the L.A. tag, though. You'd be hard-pressed to find greater L.A. champions than the sisters Haim, between their album art, lyrics (songs on the new record reference Crescent Heights, earthquake drills and freeway overpasses), music videos and recent promotional photos showing the band gracing the front page of L.A. Times Calendar section strategically placed over their seemingly naked bodies.
"We've always been advocates for our city and we've repped it super hard, and throughout our whole lives we had to deal with pop culture telling us, 'L.A. sucks.' I feel like that was a popular theme," says Danielle. "Yeah, New York is the cool place. L.A. sucks," says Alana. "Yeah, it was always, 'L.A. sucks' in a lot of different movies," says Danielle. "In movies and TV shows, it never got respect," says Este. "We ride for L.A.," says Danielle. "And I think with this record we embraced it. We talk about L.A., and obviously 'Free Fallin'' and Tom Petty are huge huge inspirations to us our whole lives. Actually, Wildflowers was a huge inspiration on this album."
Ironically, WIMPIII's opening track, "Los Angeles," reveals Haim contemplating moving elsewhere. "That song is speaking to the mass exodus of everyone and their mom moving to L.A. and having a vindication that, yes, L.A. is the best," says Danielle, "So the aftermath of that for me was, 'Wait, is this city even mine anymore?' Maybe I recognized why some people didn't like it and we kind of collectively thought maybe we should move somewhere because we've never lived anywhere else." It's plain as the Hollywood sign on a clear day, however, that the sisters aren't going anywhere. "I love it," says Alana. "L.A. is stuck with me."
The only thing stronger than the love for their hometown is the sisters' adoration for each other. The penultimate track on WIMPIII, "Hallelujah," is a beautiful guitar- and vocals-driven ode to sisterhood emanating a "Landslide" vibe that would make Fleetwood Mac proud. Solemn and somber, the tender and naked ballad reflects each sister's grappling with personal and heavy topics—Este's Type 1 Diabetes, Alana's grief for a close friend who was killed in a car accident years ago and Danielle's coming to terms with Ariel's testicular cancer (he's now cancer-free)—while expressing gratitude for each other's support. Their close bond is most sharply illuminated by the lyric "three roads, one life."
"That was a cathartic song to write, a hard one to write but a really nice release," says Este. "I think we had so much to say and it flew out. I remember the day we wrote it, it felt like I lost 20 pounds and felt light as a feather and needed to happen," says Alana. "Another overlying theme of the record is dealing with things we'd kind of been running away from. For years, we'd been a touring band that [thought] leaving your troubles in L.A. is the easiest thing to do. 'See ya when I come back, probably not but OK bye.'"
Meanwhile, the sisters have been isolating separately from each other, and lockdown has been tough. "It sucks," says Este who's suffered the most in isolation. "I feel I'm a strong, independent woman but I think that I've realized in this quarantine that I also crave human connection. It's also why I love touring so much, and the idea of not being able to do that is heartbreaking. It feels like I'm going through a breakup and, truly, the relationships with audience members that you foster on the road—to me, that's connection. To go from feast to famine is really, really difficult for me. I very much love the routine of touring and being able to share it with my family is so special. And now being home is kind of sad.
After spending the first month of lockdown without seeing each other, the longest time Haim have ever spent apart, the sisters made a pact only to visit with each other and no one else. Though they've used their lockdown time productively, doing press for their record, appearing on talk shows and hosting weekly Zoom dance classes for their fans, it's been heartbreaking to sit on a record that was specifically made to be played live. "The thing we wanted to make sure with this album is, and it's bittersweet now, but we were really thinking about how we were going to play this album live. That was at the forefront of our minds. Playing live is such a big part of us and something we take seriously," says Danielle. "We were just stoked to play this shit live. That's the thing. We love the studio but we love the tactile act of playing music, so the idea of not being able to do that is pretty tough," says Este.
Notably, even while Haim air their grievances and disappointments, they remain warm, upbeat, enthusiastic, playful and positive. They are grateful for their success while simultaneously seeming slightly incredulous as if they are still pinching themselves to make sure they aren't dreaming. "The fact that we started out playing at the Echo, first of three [bands on the bill], and have made it to this point, just on our own, is the biggest gift," says Alana, who is still stunned that Haim sold out L.A.'s Greek Theatre in just a few hours. Her eyes widen in disbelief as she says, "Man, the fking Greek? What? What?"
While they are L.A. to the (hard)core, the sisters haven't gone Hollywood. Down to earth and accessible, they are highly interactive with their legions of fans online where they post regularly. Recently, when a fan posted concern on Haim's Instagram page that WIMPIII's release date would be changed yet again, the band immediately responded with assurance. "It's just how we've always been and how we'll always be," says Alana. "We truly crave human connection and thrive on it. We're just three sisters from the Valley, you know," says Este. "You can take the girl out of the Valley but you can't take…," Alana trails off with a wry smile.
While they typically veer towards quirky and lighthearted online, the sisters have switched gears in some of their recent Instagram posts voicing support for justice for Breonna Taylor who was shot eight times in her apartment by police in Kentucky, posting photos from Black Lives Matter protests they attended in Hollywood and downtown Los Angeles following the police killing of George Floyd in Minneapolis, and calling upon L.A. Mayor Eric Garcetti to fire LAPD Police Chief Michel Moore after unsettling remarks in which he said protesters and looters also had the killing of George Floyd on their hands (the remarks were later rolled back by Garcetti and retracted by Moore, who issued an apology).
"When the protests began, we knew there was a risk with COVID, but we had to go out, support and protest," says Alana. "It didn't feel right to just stay at home. We needed to be out there with everyone. Walking down Hollywood Boulevard with everyone chanting the same thing, moving together, it was a really special feeling. There were so many people that came out to help one another, too, to make sure everyone was safe and protected. People were handing out masks, hand sanitizer, water, etc. it's been really beautiful to see everyone come together and stand for change."
"Having this platform is not something we take lightly, especially during times like these," says Este. "We've been protesting, donating, calling and sending emails to help raise money and awareness to help organizations like the People's City Council Freedom Fund and Black Trans Femmes in the Arts Collective. We've been encouraging our fans to do the same."
In the meantime, while it's anyone's guess as to when bands will be able to perform live, the sisters are happy WIMPIII is finally being released while remaining cautious about scheduling future tour dates. "We can't wait to start playing shows but want to be sure that we're keeping our fans, our crew and everyone's health and safety a priority. When it's finally safe for everyone, we'll definitely be playing live," says Este.
"I do feel when things are opening, then maybe we can finish the deli tour," says Alana. "Or if delis are open and that's the only form of how to play music, I can solely do a deli tour. If that's the only way to play live, I'll solely play delis."
Phoebe Bridgers Talks 'Punisher,' Japanese Snacks & Introducing Conor Oberst To Memes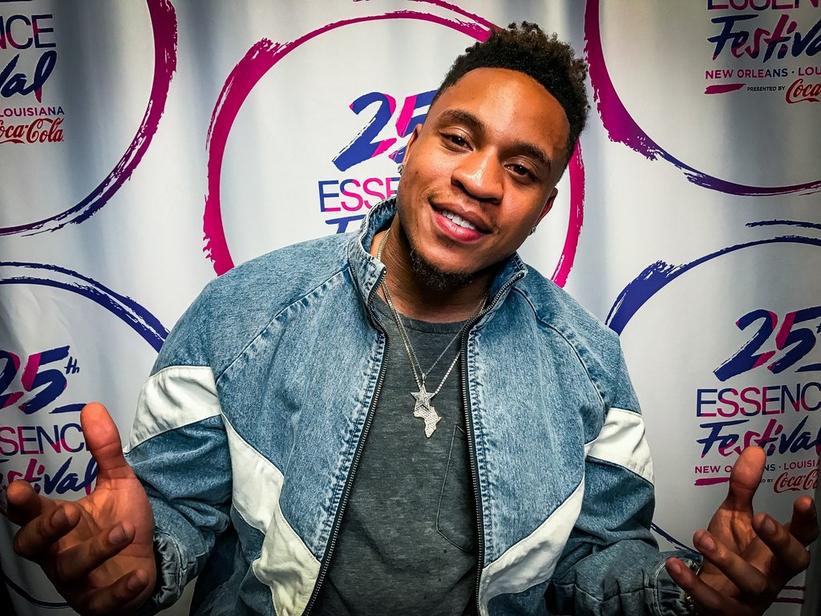 news
Rotimi On Performing At ESSENCE Fest, Growing Up African-American & More
The Nigerian-American singer and actor sat down with the Recording Academy to talk about what inspired his latest album, 'Walk With Me'
GRAMMYs
/
Jul 8, 2019 - 10:04 pm
In 2015, Rotimi stepped into the New Orleans Superdome for the first time to experience the magic of ESSENCE Fest. Four years later, in 2019, the "Love Riddim" singer returned to the celebration as a performer, something he said was spoken into existence.
"Last year me and my manager had a conversation and I said, 'Listen, I'm going to be on the [ESSENCE] mainstage this year. 365 days later, we did it," Rotimi told the Recording Academy at the 25th annual ESSENCE Fest.
Rotimi, also an actor on Starz' "Power," has evolved since his last album, 2017's Jeep Music, Vol.1. The singer said he really hit home with its follow-up, the recently released Walk With Me, a project he worked hard for, putting in hours in the studio after filming on set.
"Walk With Me is the first time I actually felt like I was giving myself as an artist, and personally I feel like with everything else I have going on I wanted to show people that this is really what I do," he said. "I wanted people to understand who Rotimi is, who Rotimi was before, who I want to be and just understand my growth and the journey and my passion for what I do."
Part of why the album felt like such a representation of him is because it embodies beats of his African roots, something he said was very present growing up Nigerian-American.
"I grew up with a lot of Fela Kuti and I grew up with Bob Marley," he said of his musical roots. "But I also grew up with Carl Thomas and Genuine and Usher, so there was a genuine mixture of who I am and what I've grown up to listen to. The actual Walk With Me project was a mixture of influences of Akon and Craig David."
Mumu Fresh On What She Learned From Working With The Roots, Rhyming & More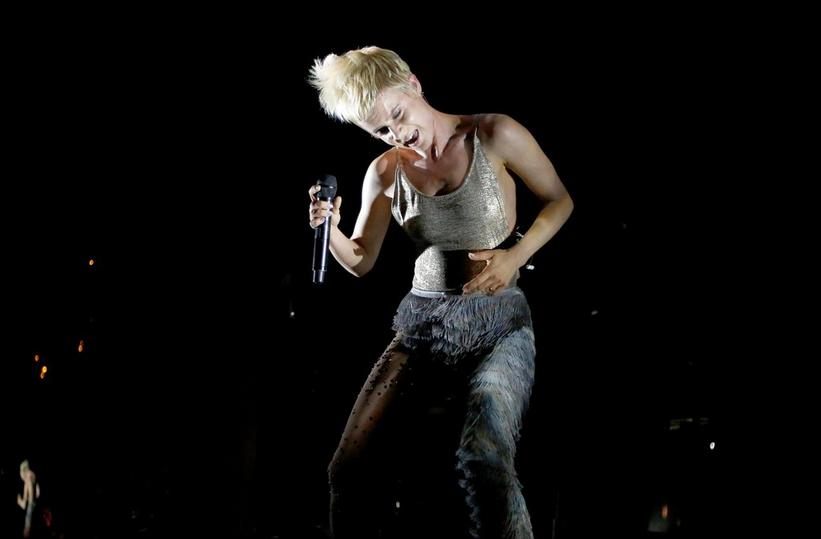 Photo: Taylor Hill/Getty Images
news
Robyn, The Isley Brothers & HAIM To Headline Pitchfork Music Fest 2019
The 14th annual music festival will take over Chicago's Union Park July 19-21
GRAMMYs
/
Mar 7, 2019 - 04:14 am
Pitchfork has revealed the lineup of their 14th annual Pitchfork Music Festival at Union Park in Chicago set to take place July 19-21. The exciting, eclectic musical offering is perfectly embodied by its headliners: GRAMMY-nominated dancefloor-pop innovator Robyn, GRAMMY-winning godfathers of funk The Isley Brothers and GRAMMY-nominated folky-pop sister trio HAIM.
The 2019 lineup is here. Single day, 3-day, and PLUS passes are on-sale now. Get tickets → https://t.co/ayNQ0r6klv #P4Kfest pic.twitter.com/YavEn62dTv

— Pitchfork Music Festival Chicago (@pitchforkfest) March 6, 2019
The Isley Brothers, consisting of remaining members Ronald and Ernie Isley, will be celebrating their 60th anniversary as a group at the fest, bringing the funk with "special guests," Pitchfork reports. GRAMMY winning blues and gospel icon Mavis Staples will bring her long-time musical excellence to the the three-day event as well.
GRAMMY-nominated hip-hop powerhouses Earl Sweatshirt, Jeremih and Pusha T, along with fellow GRAMMY nominee and electro-pop stalwart Charli XCX are also slated to play.
Several innovative acts that got their start in the '90s will be performing: London-based avant-garde dream-pop group Stereolab, Scottish folk-pop band Belle & Sebastian and Swedish GRAMMY-nominated MC Neneh Cherry, who earned a nod for Best New Artist at the 32nd GRAMMY Awards in 1999.
The festival prides itself on highlighting emerging talent; some of the up-and-comers on the lineup are 20-year-old dream-pop artist Clairo, L.A.-based social activist/rapper JPEGMAFIA, French-Cuban electro-soul sister duo Ibeyi and 21-year-old NYC-based rapper Rico Nasty.
Weekend and single day tickets are on sale now; visit the fest's site for more info and the complete lineup.
Pharrell Announces Something In The Water Fest Ft. Missy Elliott, Janelle Monae, SZA, Rosalia, Migos & More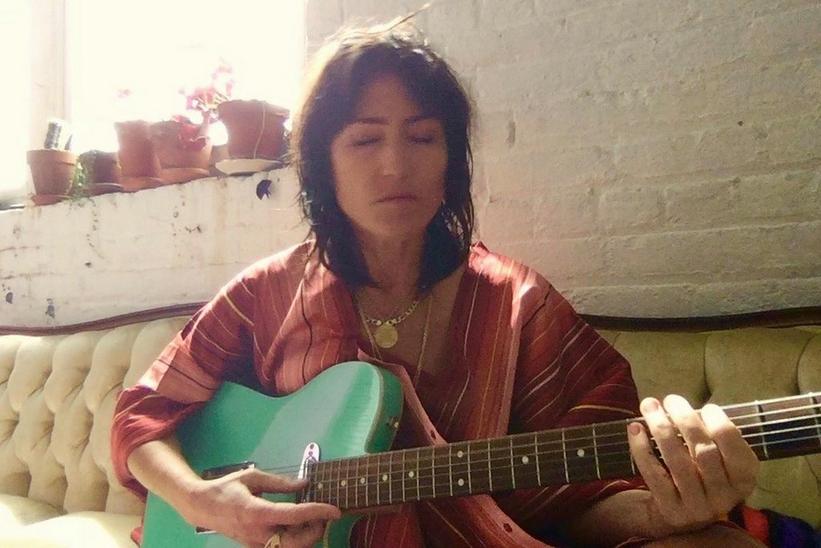 news
Quarantine Diaries: Joan As Police Woman Is Bike Riding, Book Reading & Strumming D'Angelo
As the coronavirus/COVID-19 pandemic continues to rock the music industry, the Recording Academy reached out to a few musicians to see how they were spending their days indoors
GRAMMYs
/
Apr 7, 2020 - 07:21 pm
As the coronavirus/COVID-19 pandemic continues to rock the music industry, the Recording Academy reached out to a few musicians to see how they were spending their days indoors. Today, singer/songwriter Joan Wasser of Joan as Police Woman, whose forthcoming covers album, COVER TWO, includes tracks by The Strokes, Prince, Talk Talk, and more, shares her Quarantine Diary.
Thursday, April 2
[10 a.m.-12 p.m.] Went to bed at 4 a.m. last night after getting drawn into working on a song. Put on the kettle to make hot coffee while enjoying an iced coffee I made the day before. Double coffee is my jam. Read the news, which does not do much for my mood. Catch up with a few friends, which does a lot of good for my mood. Glad it goes in this order.
[12 p.m.-2 p.m.] Make steel cut oats with blueberries, raspberries, strawberries, fresh ginger, fresh turmeric, a sprinkling of cinnamon and cardamom, and of course, coconut butter to melt on top. If you're not into coconut butter (sometimes marketed as coconut "manna"), I'd suggest just going for it and getting it (or ordering it) and putting it on your sweet potatoes, your oats, anywhere you'd put butter. I'm not vegan but I do enjoy hearing the tiny scream uttered by a strawberry as I cut into it.
Contemplate some yoga. Contamplate meditating. Do neither. Resume work on the song I want to finish and send today. I have a home studio and I spend a lot of my time working on music here. The song is a collboration sent to me from Rodrigo D'Erasmo in Milano that will benefit the folks who work behind the scenes in the music touring system in Italy.
[2 p.m.-4 p.m.] I traded in a guitar for a baritone guitar right before all this craziness hit but hadn't had the time to get it out until now. I put on some D'Angelo, plugged into my amp and played along as if I were in his band. Micahel Archer, If you're reading this, I hope you are safe and sound and thank you immensely for all the music you've given us always.
[4 p.m.-6 p.m.] Bike repair shops have been deemed "necessary," thank goodness, because biking is the primary way I get around and I need a small repair. I hit up my neighborhood shop and they get my bike in and out in 10 minutes, enough time to feel the sun for a moment.
I ride fast and hard down to the water's edge and take in a view of the East River from Brooklyn. There are a few people out getting their de-stress walks but it is mostly deserted on the usually packed streets.
[6 p.m.-8 p.m.] Practice Bach piano invention no. 4 in Dm very, very, very slowly. I never studied piano but I'm trying to hone some skills. Realize I'm ravenous. Eat chicken stew with wild mushrooms I made in the slow cooker yesterday. It's always better the second day.
[8 p.m.-10 p.m.] Get on a zoom chat with a bunch of women friends on both coasts. We basically shoot the sh*t and make each other laugh.
Afterwards I still feel like I ate a school bus so I give into yoga. I feel great afterwards. This photo proves I have a foot.
[10 p.m.-12 a.m.] Record a podcast for Stereo Embers in anticipation of my new release on May 1, a second record of covers, inventively named COVER TWO. Continue to work on music (it's a theme).
[12 a.m.-2 p.m.] Tell myself I should think about bed. Ignore myself and confinue to work on music.
[2 a.m.-4 a.m.] Force myself into bed where I have many books to choose from. This is what I'm reading presently, depending on my mood. Finally I listen to Nick Hakim's new song, "Qadir," and am taken by its beauty and grace. Good night.
If you wish to support our efforts to assist music professionals in need, learn more about the Recording Academy's and MusiCares COVID-19 Relief Fund.
If you are a member of the music industry in need of assistance, visit the MusiCares website.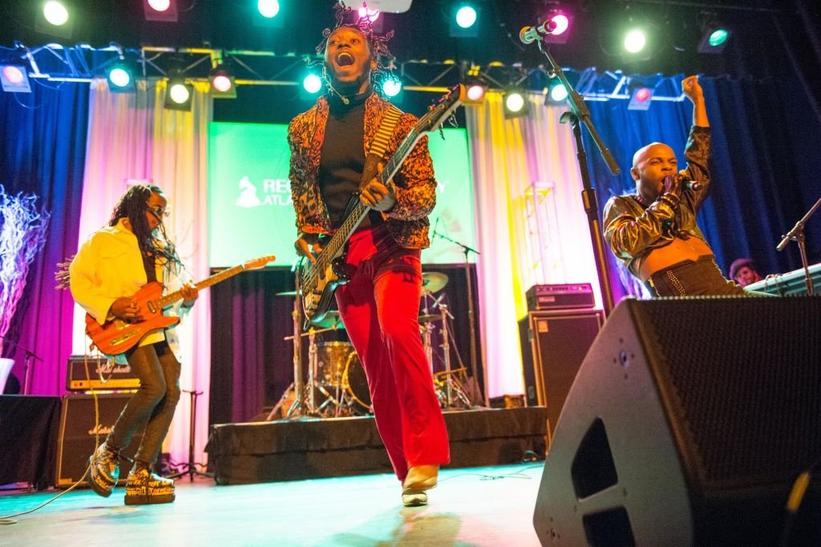 Hero The Band perform at the Recording Academy Atlanta Chapter Annual Membership Celebration
Photo: Marcus Ingram/WireImage
news
Report: Music & Culture Infrastructure Can Create Better "Future Cities"
How sound planning for a creative future in our urban areas makes all the difference for artists and musicians
GRAMMYs
/
Oct 24, 2019 - 01:27 am
The future, as they say, is now. And for music makers around the world, building a future for themselves often starts at home, in their local creative community and in the city where they live. While technology has expanded communication and made the world smaller, cities continue to grow, making planning for the future a critical cultural mission of the present.
To that end, a new report by global organization Sound Diplomacy titled "This Must Be The Place" examines, "The role of music and cultural infrastructure in creating better future cities for all of us." The 37-page deep dive into community planning and development highlights the importance of creative culture in what it calls "Future Cities."
"The government defines 'Future Cities' as 'a term used to imagine what cities themselves will be like," the report states, "how they will operate, what systems will orchestrate them and how they will relate to their stakeholders (citizens, governments, businesses, investors, and others),'"
According to the report, only three global cities or states currently have cultural infrastructure plans: London, Amsterdam and New South Wales. This fact may be surprising considering how city planning and sustainability have become part of the discussion on development of urban areas, where the UN estimates 68 percent of people will live by 2050.
"Our future places must look at music and culture ecologically. Much like the way a building is an ecosystem, so is a community of creators, makers, consumers and disseminators," the report says. "The manner in which we understand how to maintain a building is not translated to protecting, preserving and promoting music and culture in communities."
The comparison and interaction between the intangibility of culture and the presence of physical space is an ongoing theme throughout the report. For instance, one section of the report outlines how buildings can and should be designed to fit the cultural needs of the neighborhoods they populate, as too often, use of a commercial space is considered during the leasing process, not the construction process, leading to costly renovations.
"All future cities are creative cities. All future cities are music cities."
On the residential side, as cities grow denser, the need increases for thoughtful acoustic design and sufficient sound isolation. Future cities can and should be places where people congregate
"If we don't design and build our future cities to facilitate and welcome music and experience, we lose what makes them worth living in."
For musicians and artists of all mediums, the answer to making—and keeping—their cities worth living in boils down to considering their needs, impact and value more carefully and sooner in the planning process.
"The report argues that property is no longer an asset business, but one built on facilitating platforms for congregation, community and cohesion," it says. "By using music and culture at the beginning of the development process and incorporating it across the value chain from bid to design, meanwhile to construction, activation to commercialisation, this thinking and practice will result in better places."
The report offers examples of how planners and leaders are handling this from around the world. For instance, the Mayor Of London Night Czar, who helps ensure safety and nighttime infrastructure for venues toward the Mayor's Vision for London as a 24-hour city. Stateside, Pittsburgh, Penn., also has a Night Mayor in place to support and inform the growth of its creative class.
What is a music ecosystem? We believe the music influences and interacts with various sectors in a city. We have designed this infographic to show how music ecosystems work and impact cities, towns and places: https://t.co/0DIUpN1Dll

— Sound Diplomacy (@SoundDiplomacy) August 14, 2019
Diversity, inclusion, health and well-being also factor into the reports comprehensive look at how music and culture are every bit as important as conventional business, ergonomic and environmental considerations in Future Cites. Using the Queensland Chamber of Arts and Culture as a reference, it declared, "A Chamber of Culture is as important as a Chamber of Commerce."
In the end, the report serves as a beacon of light for governments, organizations, businesses and individuals involved in planning and developing future cities. Its core principals lay out guideposts for building friendly places to music and culture and are backed with case studies and recommendations. But perhaps the key to this progress is in changing how we approach the use of space itself, as the answer to supporting music may be found in how we look at the spaces we inhabit.
"To develop better cities, towns and places, we must alter the way we think about development, and place music and culture alongside design, viability, construction and customer experience," it says. "Buildings must be treated as platforms, not assets. We must explore mixed‑use within mixed‑use, so a floor of a building, or a lesser‑value ground floor unit can have multiple solutions for multiple communities."
Be Like Björk: Iceland Unveils New 'Record In Iceland' Initiative