Photo credit: Michael Tran/FilmMagic
news
GRAMMY Rewind: Watch An Emotional Luis Fonsi Win Record Of The Year And Thank Daddy Yankee For "Despacito" In 2017
Puerto Rican singer Luis Fonsi wins one of his four Latin GRAMMYs of the night for his record-breaking 2017 single "Despacito" in the latest episode of GRAMMY Rewind
GRAMMYs
/
Nov 5, 2021 - 09:07 pm
If there's a world record involving the words "music" and "streaming," chances are Luis Fonsi broke it in 2017 with "Despacito."
"Despacito" earned the Puerto Rican singer seven world records, the most-viewed YouTube video of all time and a spot on Rolling Stone's "100 Greatest Songs of the Century So Far." However, none of those accolades seemed to numb Fonsi when accepting the Latin GRAMMY for Record of the Year in 2017.
Watch below to see the five-time Latin GRAMMY winner try to hold in his emotions while sending thanks to everyone from Daddy Yankee to his home country of Puerto Rico.
On top of Record of The Year, "Despacito" pushed Fonsi to three additional Latin GRAMMY Awards in 2017: Best Short Form Music Video, Best Urban/Fusion Performance and Song Of The Year. The global chart-topping single also broke several Guinness World Records, including the first YouTube video to receive five billion views and the most-streamed track worldwide.
Fonsi would later place two versions of "Despacito", the original with Daddy Yankee and the remix with Justin Bieber, on his GRAMMY-nominated 2019 album, Vida.
To relive more GRAMMY Awards history, check below for more episodes of GRAMMY Rewind.
And make sure to watch the Biggest Night in Latin Music later this month: The 2021 Latin GRAMMYs Awards, officially known as the 22nd Latin GRAMMY Awards, take place Thursday, Nov. 18.
Additional 2021 Latin GRAMMYs Awards Performers Announced: Christina Aguilera, Bad Bunny, Myke Towers, Alejandro Fernández, Maná, Juanes & More Confirmed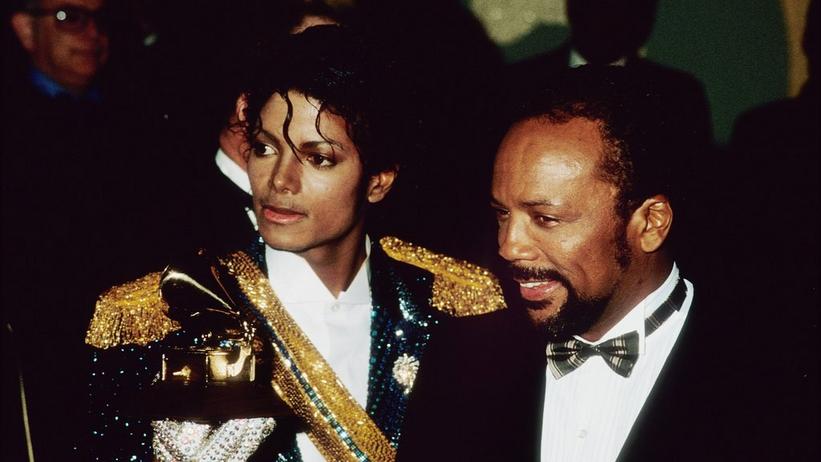 (L-R) Michael Jackson & Quincy Jones at the 1984 GRAMMYs.
Photo: Michael Ochs Archive/Getty Images
video
GRAMMY Rewind: Michael Jackson Wins Best Recording For Children, The Award He Was "Most Proud Of" At The 1984 GRAMMYs
Michael Jackson took home eight golden gramophones at the 1984 GRAMMYs, but felt most rewarded by his win for his audiobook and soundtrack companion album for 'E.T. the Extra-Terrestrial.'
GRAMMYs
/
Dec 1, 2023 - 06:00 pm
Michael Jackson made history with his groundbreaking album Thriller in 1982. But while the icon was smashing pop records, he was also venturing into a new avenue: narration.
Jackson was the voice of the audiobook and soundtrack companion album for Steven Spielberg's groundbreaking 1982 classic, E.T. The Extra-Terrestrial. The album won the King of Pop one of his eight GRAMMYs in 1984 – and it may have been the most important win of his career. 
In this episode of GRAMMY Rewind, relive the night Jackson won Best Recording for Children with Quincy Jones, who produced the LP, at the 26th Annual GRAMMY Awards.
"One of the most dangerous joint decisions Michael and I made was to accept to do an album for Steven Spielberg," Jones explained at the beginning of their acceptance speech before expressing gratitude for the film's cast and crew.
"I don't thank the people who stopped this record from coming out," Jones said, alluding to the backlash MCA Records received from Epic for releasing the project at the same time as Thriller.
"Of all the awards I've gotten, I'm most proud of this one," Jackson revealed. "I think children are a great inspiration, and this album is not for children. It's for everyone. I'm so happy, and I'm so proud. Thank you so much."
Press play on the video above to hear Michael Jackson and Quincy Jones's complete acceptance speech for Best Recording for Children at the 1984 GRAMMY Awards, and check back to GRAMMY.com for more new episodes of GRAMMY Rewind.
Black Sounds Beautiful: How Quincy Jones' Stratospheric Career Has Shaped And Celebrated Black Music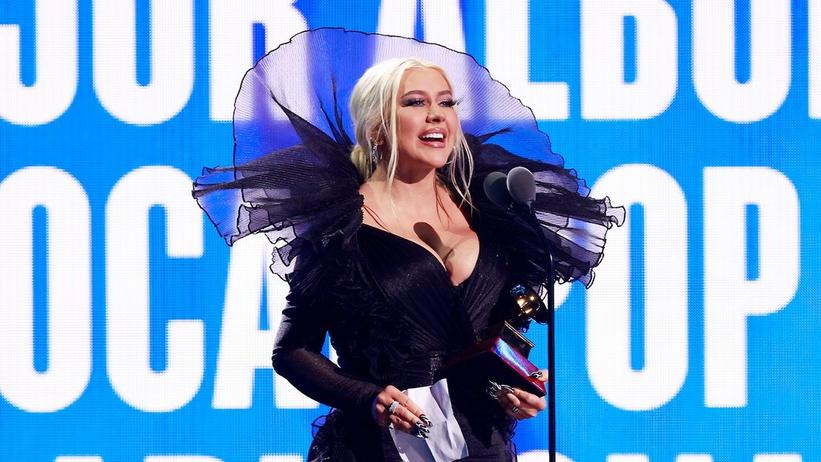 Photo: Michael Tran/FilmMagic
video
GRAMMY Rewind: Christina Aguilera Celebrates Her Latin Heritage After Winning Her First Latin GRAMMY In 20 Years
In May 2022, Christina Aguilera made a stunning return to Latin music with 'Aguilera.' Six months later, she won her second Latin GRAMMY — and she made sure to thank everyone who was part of the journey.
GRAMMYs
/
Nov 17, 2023 - 06:01 pm
Last year, pop diva Christina Aguilera returned to her Ecuadorian roots with Aguilera, her first full Spanish-language album since Mi Reflejo (2000). By the end of the year, she snagged multiple awards for the LP, including Best Traditional Pop Vocal Album at the 2022 Latin GRAMMY Awards.
In this episode of GRAMMY Rewind, revisit the moment Aguilera took the stage to accept her gramophone for her self-titled project.
"This is so important to me, and it's been amazing to come back to this home," Aguilera shared before expressing gratitude to her collaborators and longtime supporters.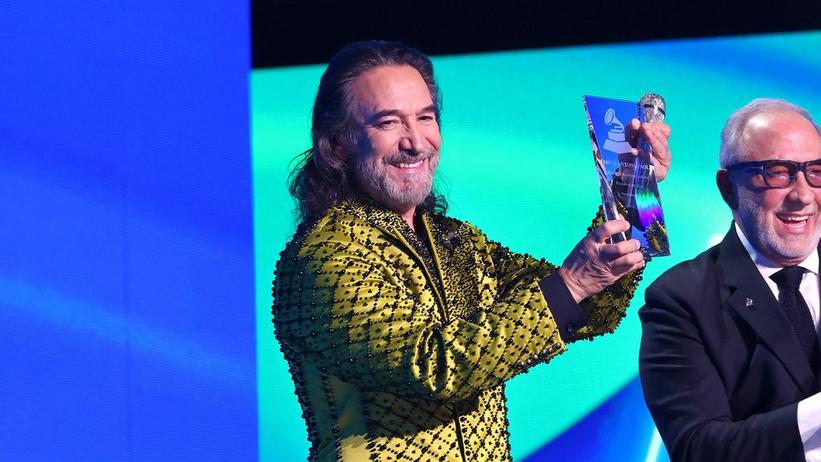 Marco Antonio Solís at the 2022 Latin GRAMMYs.
Photo: Courtesy of the Latin Recording Academy
video
GRAMMY Rewind: Marco Antonio Solís Offers Encouragement For Aspiring Musicians During His Person Of The Year Acceptance Speech
Mexican hitmaker Marco Antonio Solís motivated young musicians to stay positive and trust the Creator during his Person Of The Year acceptance speech at the 2022 Latin GRAMMYs.
GRAMMYs
/
Nov 3, 2023 - 04:36 pm
After nearly 50 years in the industry, legendary Mexican musician and producer Marco Antonio Solís has established himself as one of the most iconic Latin artists in history – from spearheading one of the bestselling grupero bands, Los Bukis, to creating his own roster of solo hits.
As Manuel Abud, the CEO of the Latin Recording Academy, said of Solís in April 2022, "He continues to break down generational barriers through his poignant lyrics … and inspire greater acceptance and understanding." And seven months later, the icon was honored with the Person Of The Year award at the 2022 Latin GRAMMYs.
"My heart is filled with gratitude," Solís said in Spanish during his acceptance speech. "Gratitude is the heart's memory. I am grateful to everyone who is watching us out there on the television. To all those who have supported me in my career over so many years."
Before leaving the stage, Solís gave an uplifting message to aspiring musicians: "To all those who are dreaming of being here some day, a big hug and never lose courage, and above all, faith in our most loved Creator. You will be here some day. Thank you."
The 2023 Latin GRAMMYs will be held Thursday, Nov. 16, at the Conference and Exhibition Centre (FIBES) in Sevilla, Spain, the first-ever international show in Latin GRAMMY history. Tune in on Univision at 8 p.m. ET/PT (7 p.m. CT).
Press play on the video above to hear Marco Antonio Solís's complete acceptance speech for Person Of The Year at the 2022 Latin GRAMMYs, and check back to GRAMMY.com for more new episodes of GRAMMY Rewind.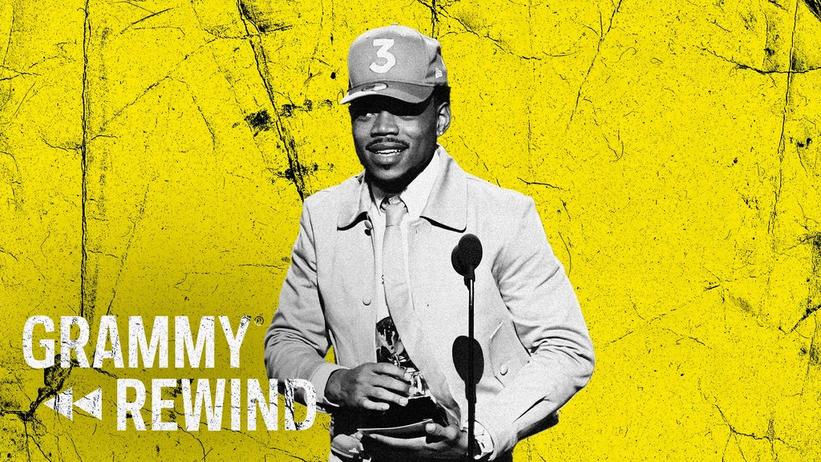 news
GRAMMY Rewind: Chance The Rapper Thanks SoundCloud For "Holding It Down" After Winning Best Rap Album In 2017
As one of the most prolific independent musicians, Chance the Rapper couldn't help but thank streaming and distribution platform SoundCloud after 'Coloring Book' won a GRAMMY.
GRAMMYs
/
Oct 20, 2023 - 05:00 pm
The 2017 GRAMMYs were certainly a life-changing evening for Chance the Rapper. The hip-hop star walked into the ceremony with a whopping seven nominations and took home three golden gramophones, including Best New Artist and Best Rap Performance for his single "No Problem," featuring Lil Wayne and 2 Chainz.
In this episode of GRAMMY Rewind, revisit the moment Chance the Rapper took home his third win of the evening for Best Rap Album for his mixtape Coloring Book. 
"I didn't think that we were going to get this one, so I don't have cool stuff to say this time," he quipped as he hit the stage alongside his former manager Pat Corcoran and music director Peter CottonTale.
Chance began by expressing his appreciation to God "for everything He's ever accomplished for me" before showing love for his family and friends.
"This is for every indie artist — everybody who's been doing this mixtape stuff for a long a— time," the rapper exclaimed. "Shout-out to Soundcloud for holding it down. It's another one, baby!"
Press play on the video above to watch Chance the Rapper's gracious speech for Best Rap Album at the 2017 GRAMMY Awards, and check back to GRAMMY.com for more new episodes of GRAMMY Rewind.
50 Artists Who Changed Rap: Jay-Z, The Notorious B.I.G., Dr. Dre, Nicki Minaj, Kendrick Lamar, Eminem & More