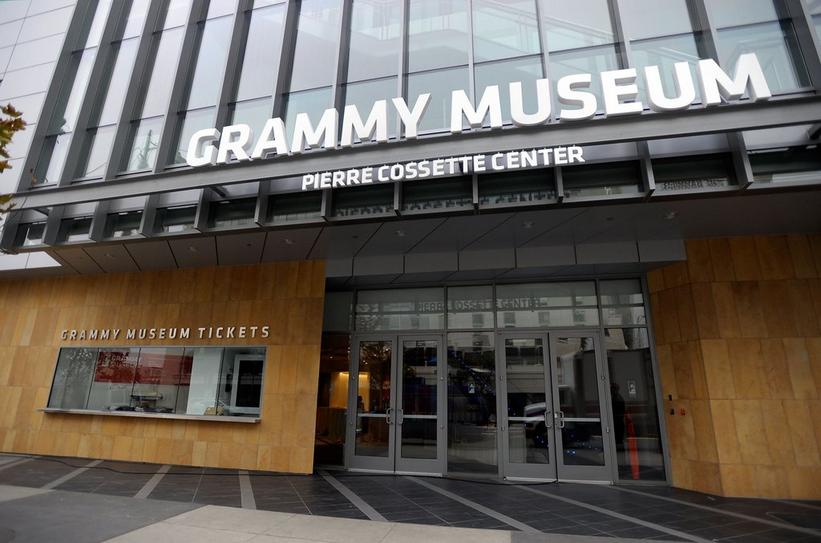 The GRAMMY Museum in Los Angeles
Photo: Charley Gallay/Getty Images
news
GRAMMY Museum Rolls Out GRAMMY Week 2020 Programming, Featuring Events With Larkin Poe And The Cranberries
The events take place starting on Monday, Jan. 20 and run through Friday, Jan. 24
GRAMMYs
/
Jan 15, 2020 - 08:30 pm
Today, Jan. 15, the GRAMMY Museum announced its week-long series of Celebrating GRAMMY Nominees Public Program Series and community and education events leading up to the 2020 GRAMMY Awards.
2020 nominees the Cranberries, who are nominated for Best Rock Album, and Larkin Poe, up for Best Contemporary Blues Album, will be special guests at the Museum, celebrating their respective first-time GRAMMY nominations. The week will kick off with the opening of Beyond Black — The Style of Amy Winehouse, featuring Winehouse's stylist, Naomi Parry, and Winehouse's close friend, Catriona Gourlay, who will discuss stories and the history behind some of the GRAMMY winner's iconic outfits at the Museum's Clive Davis Theater.
Check out the rest of the Museum's programming for GRAMMY Week 2020 below, and catch the 2020 GRAMMY Awards on Sunday, Jan. 26 on CBS.
Read: The Cranberries Reflect On Their First GRAMMY Nod: "Dolores Would've Been Delighted And Honored"
Monday, Jan. 20:
EVENT: Amy Winehouse Exhibit Opening Exclusive Program
WHO: To celebrate the opening of Beyond Black — The Style of Amy Winehouse, Winehouse's stylist, Naomi Parry, and Winehouse's close friend, Catriona Gourlay, will discuss stories and the history behind some of the GRAMMY winner's iconic outfits at the Museum's Clive Davis Theater as part of an exclusive members-only program. The discussion will be moderated by music journalist Eve Barlow
WHAT: Exclusive program for Museum members.
WHEN: 5:00 – 6:00 p.m.
EVENT: Amy Winehouse Exhibit Opening Launch Party
WHAT: The Museum will offer a free first-come, first-served, public launch party as a special kickoff to GRAMMY Week. RSVP for launch party here.
WHEN: 6:00 – 9:00 p.m.
Tuesday, Jan. 21:
EVENT: Backstage Pass With Sheléa
WHO: Sheléa is a singer/songwriter, pianist, arranger, and producer who Quincy Jones has called "one of the greatest artists of her generation"
WHAT: Performance and moderated Q&A session between Sheléa and students
WHEN: 9:30 – 11:30 a.m.
EVENT: Amplifying Music's Reach
WHAT: A panel discussion focused on what the industry is doing to help those who benefit from music as a tool for personal growth and healing.
WHEN: 1:00 – 2:00 p.m.
EVENT: STORIESTelling: Music And HIV/AIDS
WHO: In collaboration with STORIES: The AIDS Monument
WHAT: A panel discussion focused on the impact of music on the HIV/AIDS crisis and the devastation and impact of HIV/AIDS on music
WHEN: 2:00 – 3:00 p.m.
EVENT: Celebrating GRAMMY Nominees: Larkin Poe
WHO: GRAMMY-nominated duo Larkin Poe
WHAT: To celebrate their first-ever GRAMMY nomination at this year's upcoming 62nd Annual GRAMMY Awards®, the GRAMMY Museum will welcome acclaimed sister duo Larkin Poe for a special conversation and performance
WHEN: 7:30 p.m.
Wednesday, Jan. 22:
EVENT: The Lucky Band
WHO: Latin GRAMMY Award winners the Lucky Band
WHAT: Performance
WHEN: 9:30 – 11:30 a.m.
EVENT: A Celebration Of Music In Film And Television
WHO: In collaboration with Women in Film
WHAT: A panel discussion focused on the women who bring film and television to life through music. The panel — moderated by music supervisor, creative executive, record producer, and label co-founder Tracy McKnight — will feature music supervisors, composers and more
WHEN: 1:00pm – 2:00 p.m.
EVENT: Creating A Collaborative Community For Female Artists
WHO: In collaboration with Linda Perry and We Are Hear
WHAT: A panel discussion highlighting the inclusive, creative community of GRAMMY-nominated producer and songwriter Linda Perry's We Are Hear, the combination label/publishing/management company she co-founded with fellow multi-platinum producer Kerry Brown. This panel will give the audience the opportunity to hear from Perry and her team of executives and artists about what it takes to get your start in the music industry with candid and direct advice.
WHEN: 2:00 – 3:00 p.m.
Thursday, Jan. 23:
EVENT: Music of Hawaii Education Program
WHO: Na Hoku Hanohano award-winning Hawaii musicians
WHAT: Performance and moderated Q&A session between musicians and students
WHEN: 9:30 – 11:30 a.m.
EVENT: Celebrating GRAMMY Nominees: The Cranberries
WHO: GRAMMY-nominated band the Cranberries
WHAT: To celebrate their first-ever GRAMMY nomination at this year's upcoming 62nd Annual GRAMMY Awards, the GRAMMY Museum will welcome the Cranberries for a special conversation
WHEN: 1:00 p.m.
Friday, Jan. 24:
EVENT: Careers In The Music Industry Panel
WHO: Music industry professionals from Sony/ATV Music
WHAT: Moderated panel between industry professionals and students
WHEN: 9:30 – 11:30 a.m.
EVENT: Careers In Music with Candace Newman, CEO & Founder of LIVE OUT L!VE
WHO: LIVE OUT L!VE
WHAT: Panel between industry professionals and students moderated by Candace Newman, CEO and Founder of LIVE OUT L!VE
WHEN: 12 – 2:00 p.m.
Recordings By Neil Diamond, Eurythmics, Elton John & More Inducted Into The 2020 GRAMMY Hall Of Fame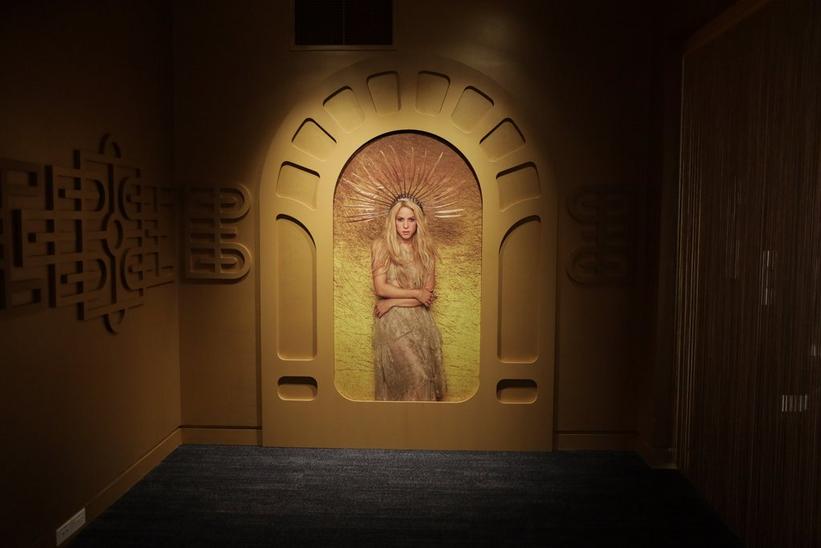 Inside the "Shakira, Shakira" exhibit at the GRAMMY Museum
feature
New Shakira Exhibit At GRAMMY Museum Visualizes The Colombian Superstar's Voracious Creative Appetite & Global Influence
Go behind the scenes at the GRAMMY Museum's inspiring new exhibit, "Shakira, Shakira." Filled with costumes, musical equipment and listening stations, the first-ever exhibit on Shakira explores the work of "a devoted, passionate musical globetrotter."
GRAMMYs
/
Mar 7, 2023 - 11:53 pm
The entrance of the enchanting "Shakira, Shakira: The GRAMMY Museum Experience" is trimmed by a golden fringe, setting the mood as Shakira's voice and music beckon you inside to admire her bedazzled artifacts. But much like the Colombian pop star herself, the exhibit is so much more than a bunch of sparkle and shine.
The first-ever exhibit celebrating Shakira, on view through winter 2024, is a multi-room immersive experience that explores her 30-plus-year career and key moments along the way. The in-depth look at her music details her disciplined, yet exploratory artistic approach, and highlights her cornucopia of global influences.
"Shakira, Shakira" reminds us of the incredible talent, passion and creativity that the "Whenever, Wherever" singer has long possessed, making it clear why the three-time GRAMMY winner and 11-time Latin GRAMMY winner is still breaking records and boundaries, decades into her career.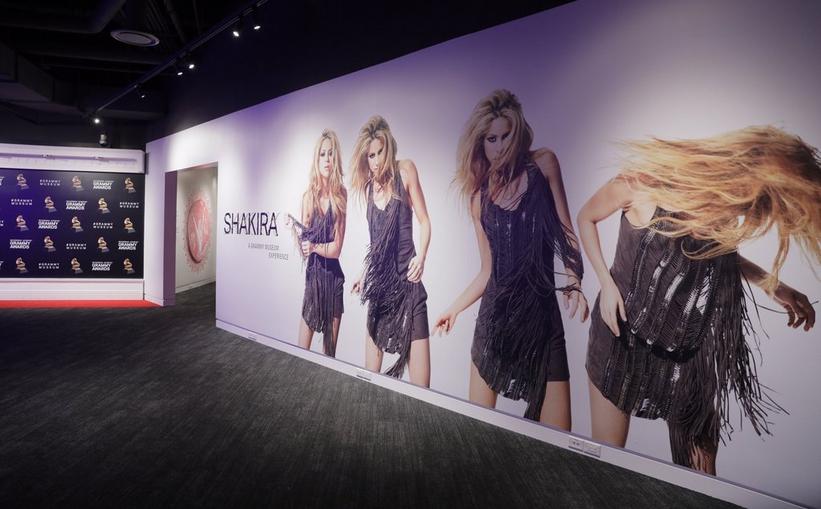 The entrance to "Shakira, Shakira" | Rebecca Sapp
The exhibit begins by detailing Shakira's  rich roots in the Colombian city of Barranquilla, a colorful, coastal city filled with Afro-Caribbean influence and the sounds of salsa, cumbia and vallenato. Her home there was creative, musical and multicultural: Her mom is Colombian with Italian and Catalan roots and her dad is Lebanese. Fascinated by a visit to a Lebanese restaurant, Shakira began belly dancing at the age four and "cherished Arabic music as a child." She also began writing songs at 8 years old, and was encouraged by her parents to pursue her artistic passions. As a teenager working on her early records, Shakira also learned the ins-and-outs of the studio so that she could also co-produce her music.
A musical map stretching across the first room uses locales to unpack the layered influences the singer expertly folds into her global sonic quilt. It is divided into three major sections: Barranquilla, global (including rock and rock en español) and Afro Caribbean, and each explores the specific styles, genres and artists that have influenced her. 
"From the very beginning, we realized this was not going to be an exhibit putting records and album covers on the wall," says exhibit co-curator Ernesto Lechner, who is also a writer for GRAMMY.com. "[With the exhibit atlas], we can talk about this woman who goes to play in Paris and performs an '80s French pop hit in French in front of the Parisian audience. How gutsy do you have to be to do that?"
At the listening stations for each region, you can explore songs from Shakira's catalog that exemplify these influences, as well as tracks that influenced her. For example, "Gypsy" on 2009's She Wolf is a tribute to India's Bhangra music and included traditional Indian instruments like the tabla and sitar.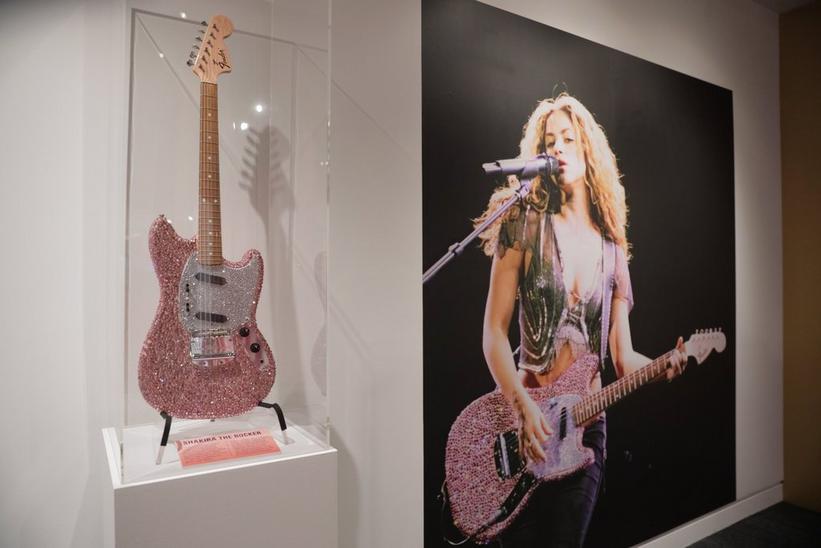 One of the instruments on display | Rebecca Sapp
Through another fringed space, you'll hear directly from Shakira and some of her key collaborators in an exclusive new mini documentary made for the exhibit. Therein, Shakira looks back at some of her biggest moments including adorable archive footage of her performing as a kid and promoting her first album, 1991's Magia — released when she was just 14. 
Shakira opened up her home in Barcelona to the museum's curatorial team, which selected a stellar collection of instruments and costumes from her tours, music videos, and photo shoots. You can admire three of her enviable, shiny guitars: the baby pink Fender covered in 20,000 pink and silver Swarovski crystals that she used on her Oral Fixation Tour in 2006 and 2007, her custom gilded Yamaha from the 2018 El Dorado Tour, and her Gibson Firebird covered in 70,000 black Swarovski crystals that she rocked at the 2020 Super Bowl halftime show. 
There are also plenty of her head-turning looks on display, although it would be impossible to have all of them! The exhibit offers an up-close look at her green leaf Garden of Eden bikini from the Oral Fixation Vol. 2 cover, the red pants from her first world tour in 2002, both of her sparkly Super Bowl outfits custom designed by Peter Dundas, and more.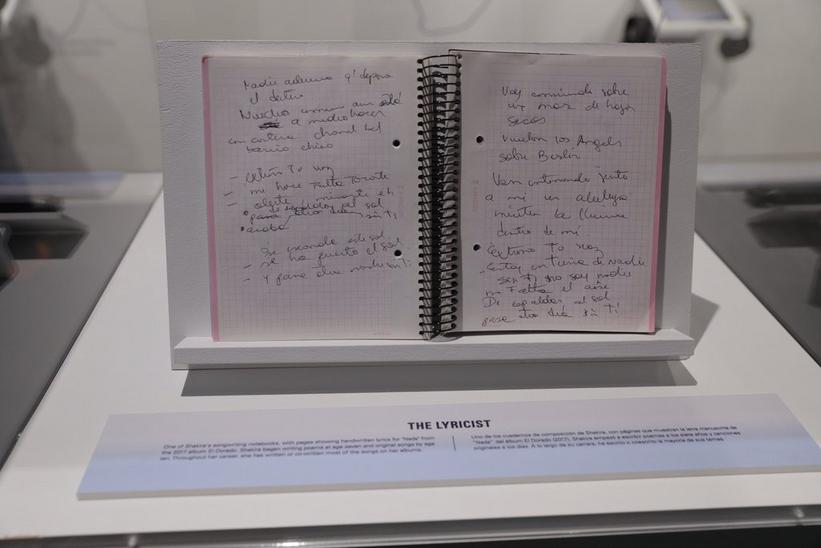 Shakira's lyric journal | Rebecca Sapp
Another video features Latina music journalists discussing Shakira's most iconic music videos, which highlight themes of feminism, freedom and cross-cultural references. They point out how her iconic 2005 collab with Wyclef Jean, "Hips Don't Lie," is generally thought of as being about her body and its power, but really, it has a much deeper message. The video is a tribute to Afro-Colombian and Caribbean influence in Barranquilla and is a cross-cultural conversation between her and Wyclef, asserting their Caribbean connection and claiming the title refugee for themselves.
"I'm always upset when a musician — this happens a lot to women — is put in a little box by the general public and the mainstream press. I never liked that Shakira was always thought of as a light pop star, a pop star who's pretty and dances. I think that's such a disservice to her amazing discography and the work she has done," says Lechner. "She is a devoted, passionate musical globetrotter who has explored every single music genre that you can think of, with purity and respect, without doing any appropriation whatsoever, with a genuine love for the essence of the genres that she falls in love with." 
Lechner added that Shakira has always been a musical chameleon, and in doing so, has helped popularize a variety of sounds with mainstream global audiences.
"'Ojos Así' was this seal of approval, it was this big cultural statement saying, 'I'm a hip rockera and I love Arabic music and I belly dance and I incorporate it into my music.' I think it opened the minds of so many people of my generation," Lechner added.
As you absorb all the stories about Shakira, her music and accomplishments, it's nearly impossible to not feel inspired. It wouldn't be a GRAMMY Museum exhibit without some interactive spaces in addition to all the education and musical artifacts. "Shakira, Shakira" features a mixing desk, where you can step into the producer's seat and practice mixing her music. There's also a TikTok booth, where you can watch Shaki's latest TikTok challenge and record yourself serving your best attempt to make your hips speak the truth. 
And after you attempt to process all the jaw-dropping stats listed on the wall — like how she was the first solo female artist to chart a Spanish language song in the Top 10 of Billboard's Hot 100 and the first artist to top both Billboard's Top 40 Mainstream and Latin charts in the same week — take a seat to watch the final video, a rousing compilation of some of Shakira's best live performances over the years.
Samba Star Rogê Created His "Most Brazilian" Album A World Away From Home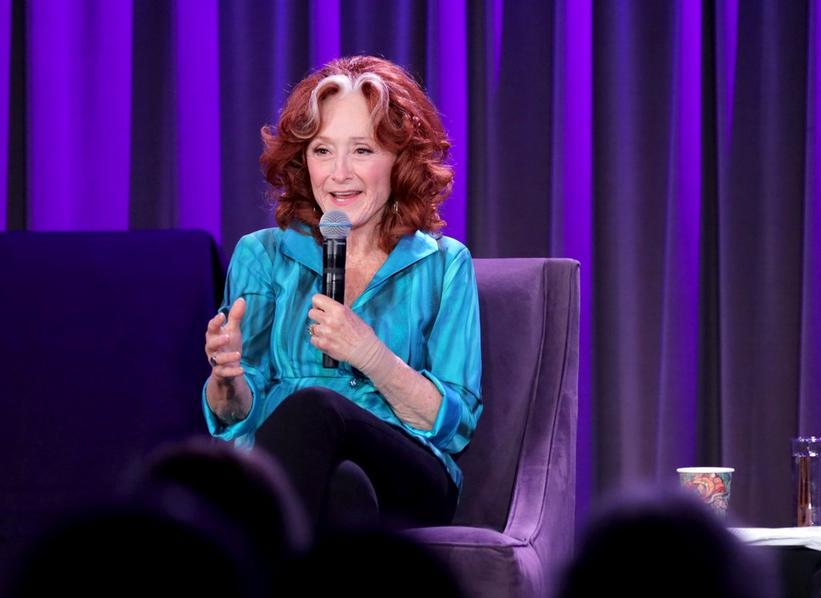 Bonnie Raitt at the GRAMMY Museum
list
6 Things To Know About Bonnie Raitt: Her Famous Fans, Legendary Friends & Lack Of Retirement Plan
During "A Conversation With Bonnie Raitt" at the GRAMMY Museum, 13-time GRAMMY winner detailed her career trajectory, history of big-name collaborations, and how her win for Song Of The Year at this year's GRAMMY Awards was "a total surprise."
GRAMMYs
/
Mar 6, 2023 - 10:11 pm
For the uninitiated, Bonnie Raitt is just an "unknown blues singer" — albeit one who managed to nab the Song Of The Year award at the 2023 GRAMMYs, plus two other trophies. But to the millions in the know, and the choice few in attendance for a chat with Raitt at the Grammy Museum on March 5, she is a living legend.
Over the course of her decades-long career, Raitt has earned 30 GRAMMY nominations, taking home 13 golden gramophones for tracks like "Nick Of Time," "Something To Talk About," and "SRV Shuffle," as well as albums such as Luck Of The Draw and Longing In The Hearts. Last year, Raitt was awarded the GRAMMY Lifetime Achievement Award, and at this year's ceremony, she snagged GRAMMYs for Best American Roots Song, Best Americana Performance and the coveted Song Of The Year.
Before she heads out on a tour of the western United States and Australia, Raitt sat down to chat with moderator David Wild for about two hours, musing not only about her "total surprise" about snagging the Song trophy, but also about her experience at the ceremony. It was an illuminating and downright charming experience — as well as an educational one. Here are six things we learned at "A Conversation With Bonnie Raitt." 
Taylor Swift Is A Fan —  And A Humble One At That
Raitt recounted being chatted up by Taylor Swift during the GRAMMYs, with Swift telling Raitt backstage that she felt okay losing Song Of The Year to her. Swift's "All Too Well (10 Minute Version)" was in competition, alongside works by Lizzo, Adele and Harry Styles.
Swift also introduced herself to Raitt, whom she'd never met, saying,"Hi, I'm Taylor." Raitt said she responded, "Ya think?" — which made the audience in the Clive Davis Theater crack up.
She's A Master Collaborator, With More On The Way
"No one commands more respect" amongst their musical peers than Bonnie Raitt, said Wild, who's worked on the GRAMMY Awards as a writer since 2001. Whenever the show's team has struggled to think of who could best pay tribute to someone like John Prine, Ray Charles, or Christine McVie, "the answer is always Bonnie Raitt."
That's probably why, as Raitt noted, she's recorded duets with more than 100 different musical acts — from Bryan Adams to B.B. King. Raitt added that she'd still love to work with Keith Richards, Bob Dylan, and H.E.R., and that fans can anticipate new collaborative work coming from work she's done with Brandi Carlile and Sheryl Crow. 
Raitt added that she's gotten really into Unknown Mortal Orchestra lately, who she heard about through Bruce Hornsby.
She's Learned From And Befriended Musical Masters
Raitt was effusive about her love for King, among others, saying that one of the great joys of her career has been sitting at the feet of blues greats like Sippie Wallace and Son House. The singer/songwriter expressed her gratitude for being able to help get so many of these once-forgotten masters both the attention and the pay they deserved. She cited her work with the Rhythm And Blues Foundation as being of great importance to her personally, saying that it's vital that the roots of blues and jazz are taught in schools today.
Wild also got Raitt to open up about her friendship with legendary gospel-soul singer Mavis Staples, who toured with Raitt just last year. Calling Staples, "all the preacher I'll ever need," Raitt said she thinks she and Staples bonded over being the daughters of famous fathers. "It's a great honor of my life being friends with her," Raitt said of her "mutual sister."
Later, Raitt also waxed rhapsodic about another famous daughter, Natalie Cole, who she said she'd been thinking about all day.
Raitt's Got An Independent Spirit And An Independent Label
A good portion of Wild and Raitt's chat was devoted to the star's career trajectory. The two detailed how, as a 21-year-old college student, Raitt signed to Warner Bros. only after they promised her complete creative control of her own indie label, Redwing.
Raitt said it was only with the help of a"team of mighty women" that she was able to go independent. She cited lessons from friends like Prine, Staples, and Jackson Browne, from whom she learned going it alone could be done successfully. 
Bonnie Raitt Almost Missed Out On "I Can't Make You Love Me"
Raitt also talked a bit about her previous GRAMMY triumphs, including her run of nominations and wins around 1989's Nick Of Time. Her popular single, "I Can't Make You Love Me," was originally written for Ricky Skaggs, who intended to make it a lively bluegrass record. 
Raitt added that she thinks the song "Nick Of Time" struck a chord because she opened up about what it means to be getting older.
She's Not Planning On Retiring (Or Dying) Any Time Soon
After joking that COVID lockdown felt like "house arrest" and "hibernation," Raitt said that her recent tours have been a blessing. "It feels like I was under the earth without any sunshine," Raitt says, reassuring attendees that she's "never retiring." She said that while she's lost eight friends in the past three or four weeks, including the great David Lindley, the 73-year-old is optimistic that she can "be here and celebrate for another couple of decades."
Raitt capped off the event doing what she loves best, teaming with long-time bassist Hutch Hutchinson for an intimate four-song set that included "Angel From Montgomery," "Shadow Of Doubt," "Nick Of Time," and the GRAMMY-winning "Just Like That." Raitt ended the evening by thanking the Recording Academy for inviting her out, joking, "I can't believe I get to do this for a living."
Bonnie Raitt Essentials: 11 Songs That Showcase The Breadth And Depth Of The 2023 GRAMMYs Song Of The Year Winner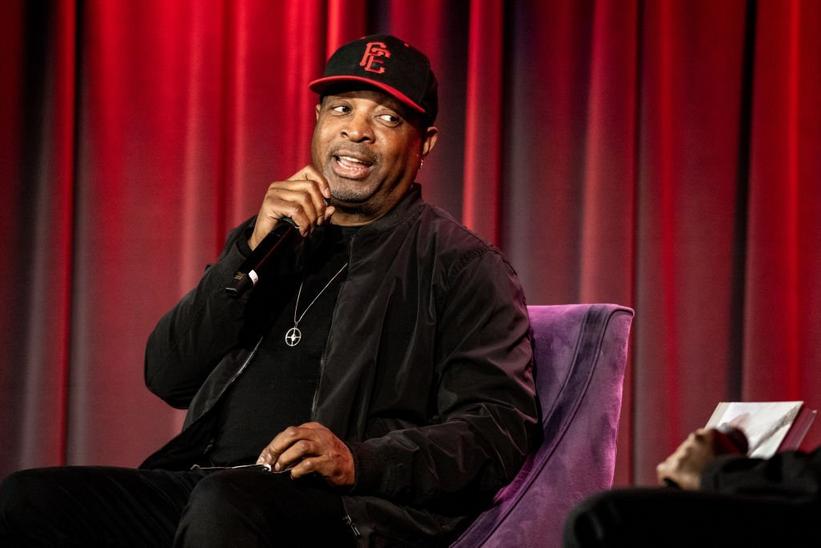 Chuck D speaks at The GRAMMY Museum
Photo: Timothy Norris/Getty Images for The Recording Academy
news
5 Things We Learned At "An Evening With Chuck D" At The GRAMMY Museum
The GRAMMY Museum celebrated Chuck D's debut fine art book, 'Livin' Loud,' and new PBS/BBC documentary "Fight The Power" with an insightful conversation filled with wisdom from the Public Enemy founder.
GRAMMYs
/
Feb 13, 2023 - 04:59 pm
Chuck D is one of the great storytellers of our time, and a true hip-hop OG with a scholarly knowledge of the genre. A polymath creative, Chuck first came on the scene in 1985 when he and fellow Long Islander Flava Flav formed Public Enemy, signing with Def Jam the following year, and releasing their critically acclaimed debut album, Yo! Bum Rush the Show, in 1987. 
Public Enemy would go on to release many important rap records with hard-hitting, poignant lyrics, like 1989's "Fight The Power." Chuck has remained an active and uncompromising voice in hip-hop and social justice, offering his deeply resonant voice and far-reaching wisdom to rock and rap collaborations, documentaries, books and more.
In 2017, he shared his extensive expertise in his engaging rap bible, This Day In Rap And Hip-Hop History. Chuck's recently released debut fine art book, Livin' Loud: ARTitation, reveals another element of his creative power, with over 250 of his paintings, sketches and drawings along with a reflection on his creative journey.
Chuck also just dropped a four-part PBS and BBC docu-series called "Fight The Power: How Hip-Hop Changed The World," featuring interviews with a star-studded list of rappers, DJs, graffiti artists and more. The powerful series reexamines the history of hip-hop in the aftermath of the United States' racial and social justice movements of 2020, looking at injustice and resistance in the country through the experiences of its Black and Brown communities.
To celebrate the new documentary and book, Los Angeles' GRAMMY Museum held "An Evening With Chuck D," moderated by the GRAMMY Museum Education Coordinator Schyler O'Neal. The event opened with a screening of the first episode of "Fight The Power," which led into a conversation about the episode, series, and power of hip-hop and telling its stories thoughtfully, with Chuck and the show's Co-Executive Producer, Lorrie Boula. While Chuck dropped enough wisdom throughout the evening to fill another book, we've selected five big takeaways from the impactful and inspiring evening. The GRAMMY Museum conversation will be streamed online from Feb. 16 - 26, and tickets can be purchased here.
"Everybody has art in them, but not everybody can get art out of them. There's no bad move, but you have to be able to get it out of you…today…people listen with their eyes," Chuck said during the in-depth conversation, underscoring the importance of art in the visual age we live in. "Art is who you are. It's your pulse. You have art in you, just be you. You can never get more perfect than a machine….The art is the human error, the mistake."
Hip-Hop Was Born Out Of A Deeply Collaborative & Resilient Energy
The first episode of "Fight The Power: How Hip-Hop Changed The World" transports viewers back to New York City — the birthplace of hip-hop and its various cultural expressions — in the '60s through '80s, where challenging social and environmental factors proved to be fertile creative ground. 
In 1975, New York was on the verge of bankruptcy. As quality of life declined, a sizable portion of the wealthier population fled to  the suburbs, and more working-class people migrated to the Big Apple in search of opportunity. Residents of the Bronx, who were primarily people of color, suffered the worst from the city's qualms, including austerity cuts and harmful policies. 
Amidst the dire circumstances, young people found ways to express themselves and come together. Because there were fewer cops patrolling the Bronx in the '70s, the city became the canvas for graffiti artists, and parties wouldn't get shut down. And this was how hip-hop was born; the early hip-hop parties were discos in the streets. "Hip-hop was disco's bastard child," one of the artists in the episode says with a laugh, explaining that turntables were the only instruments they had access to, since music programs were cut from schools.
"There were no constraints at this time, it was like a pot of cultural get down," Chuck said of these foundational years of hip-hop, later adding, "As you see in episode one, it's a collective movement…so we have more people than the usual suspects in our show.". 
Boula added that it was important to them to not only focus on the struggles, but to also show the side of the Bronx that wasn't televised. "We didn't want to just focus on the oppression… You can try to oppress people, but they will find their f—ng joy. And we wanted to tell that story too."
Chuck D Was An Illustrator & Never Meant To Be A Rapper…
"1960, I was born and raised to make art," Chuck said in one of many smile-inducing, mic drop moments. Chuck always drew, and entered the New York-wide student art contest every year — and always won or placed. He went to Adelphi University in Long Island to study design and brush up on his illustration skills, and was the school's political cartoonist as a freshman.
Unfortunately, he got kicked out of school because he only attended his art classes. He appealed, and got permission from all of his professors to take their classes again, and got the chance to give it another go. He said that the reason he stuck with it was because of his vision to run a hip-hop arts department. He was unimpressed by the art on most rap records, and wanted to be the one to change it. In fact, Chuck didn't write his first poem until he was 20 years old. 
…But Rick Ruben Eventually Convinced Him To Rap With Def Jam
Chuck had a show at Adelphi's radio station WBAU and rapped to fill the air time between records. In 1984, he recorded a promo tape with himself and Flavor Flav rapping, and it became a station favorite known as "Public Enemy No. 1." Rick Ruben heard the tape and spent two years trying to get  Chuck to record with the then-new Def Jam Records. 
Yet it was Def Jam's eye-catching logo that made Chuck actually take the offer seriously. "In 1986 I surrendered and signed my contract to become a damn recording artist," Chuck said. 
Chuck didn't make much visual art for the next 30 years, only revisiting it when his father passed away seven years ago. "The arts led me to cover up the silence [left by my father]."
"I have so much art coming out of me, but I don't want to just do art for art's sake," he explained. "If I see something crazy, I'm going to illustrate it," he asserted. 
A War Was Stopped For A Public Enemy & Ice-T Concert
When asked by O'Neal how hip-hop has changed the world, Chuck responded: "Hip-hop has made people change their languages around…to bring them together." Hip-hop fashion over the years and rap vernacular continue to dominate pop culture, and rap music has become the most popular genre.
Chuck then told an incredible story about how fighting during the Balkans war in Eastern Europe was paused so that Public Enemy, Ice-T (who was in the audience), and Ice Cube could bring their AmeriKKKa's Most Wanted World Tour to war-torn Croatia. For one night in 1994, locals of different beliefs and religions came together to find solace at a hip-hop show. Once the rappers and their crew crossed the border, the bombing continued, but officials felt that the concert was important enough to call for a temporary cease fire.
Chuck D Is Launching A "TikTok For Hip-hop x35"
One of the highlights of the 2023 GRAMMY Awards was the epic GRAMMY Tribute to 50 Years of Hip-Hop, a powerhouse 15-minute medley featuring some of rap's greatest, including Chuck and Flava, who performed Public Enemy's "Rebel Without a Pause." When O'Neal asked how it happened, Chuck responded, "Questlove called everybody," which worked because "he's like the Quincy [Jones] of hip-hop." 
Speaking about the magic of all those artists spending time together, Chuck noted that he built  online mp3 depository  RapStation in 2001 (before MySpace!) to expand listeners' horizons and expose them to talented rappers. RapStation still exists, offering rap news and internet radio shows, but Chuck revealed]that he will be launching a new rap app called Bring The Noise, which he described as "TikTok for hip-hop x35." 
Bringing together all his epic stories, threads and themes of the evening like only Chuck D can, he said: "We curate man. That's what I've always wanted to do, curate art."
"We learn how to be spectacular. Spectacle gets you in the building, but spectacular keeps you in the building," Chuck said to close things out on an inspirational note, and to a standing ovation. "Spectacular keeps you coming back from more…so that when you disappear there's a mark left that's missed…so make your mark, take it seriously."
How Hip-Hop Took Over The 2023 GRAMMYs, From The Golden Anniversary To 'God Did'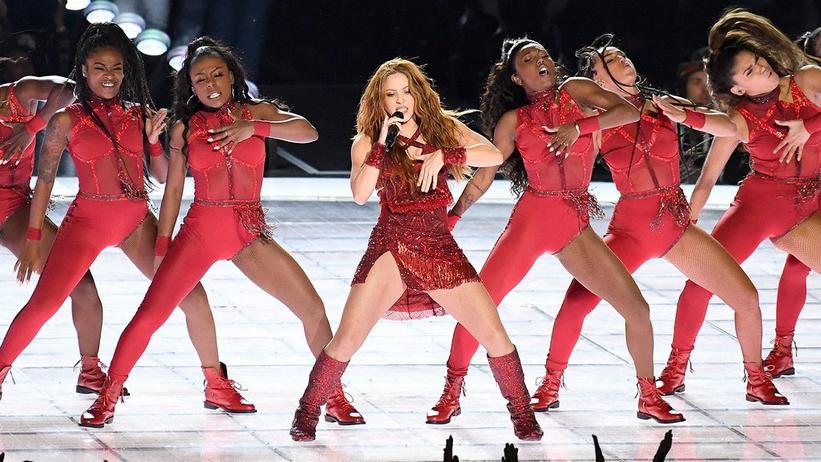 Shakira performs at Super Bowl LIV in 2020
Photo: Focus On Sport / Contributor / Getty Images
news
The GRAMMY Museum Announces 'Shakira, Shakira: The GRAMMY Museum Experience,' Honoring Her Creative Legacy; Opening March 2023
To showcase Shakira's enduring career, the GRAMMY Museum presents 'Shakira, Shakira: The GRAMMY Museum Experience,' opening on Saturday, March 4, as part of the Museum's permanent Latin Music Gallery
GRAMMYs
/
Jan 26, 2023 - 03:20 pm
On Saturday, March 4, The GRAMMY Museum will open Shakira, Shakira: The GRAMMY Museum Experience, showcasing Shakira's enduring creative legacy spanning more than three decades as a singer, songwriter, producer, dancer, visual artist, philanthropist, and global icon.
Visitors can see the exhibit on display in downtown Los Angeles at the Museum's permanent Latin Music Gallery.
A multi-GRAMMY-winning and Latin GRAMMY Award-winning artist, Shakira has sold more than 85 million records worldwide and has won numerous awards in addition to those from the Recording Academy. Her albums and releases consistently break records, and she is the most-viewed and -streamed Latin female artist of all time on YouTube and Spotify. She was also honored as the Latin Recording Academy's Person of the Year in 2011 for her artistic achievements in the Latin music industry as well as their humanitarian efforts.
"It's an honor to have the journey of my career displayed at the GRAMMY Museum," Shakira said in a statement. "These pieces are a testament to so many indelible moments that I cherish, and I'm so happy to be able to relive these memories with those who have and continue to support me as an artist."
Shakira, Shakira explores the artist's musical evolution, from her origins as a Latin rock-loving singer/songwriter in Barranquilla, Colombia, to a global superstar whose catalog spans multiple genres, from bhangra and bachata to rock and reggaetón.
Read More: 2023 GRAMMYs Performers Announced: Bad Bunny, Lizzo, Sam Smith, Steve Lacy, Mary J. Blige & More Confirmed
Early in her career, Shakira began fusing elements of her ethnicities and multicultural roots to construct a richly layered sonic universe that allowed her to grow as a creator while appealing to a worldwide audience. Partly by incorporating her Lebanese heritage on her father's side — along with Arabic dancing and the mainstream pop rock that she grew up with — she achieved international crossover success and broke boundaries for Latin artists.
To deepen visitors' appreciation and understanding of how these cultural elements have shaped every aspect of her songs, music videos, performances, and world tours, the first museum exhibit about Shakira features interactive features that provide fresh insights into her creative process.
It also includes a songwriting notebook with handwritten lyrics from her personal archive along with 40 other artifacts, acoustic and Swarovski-studded electric guitars, iconic outfits from her performances and album covers, three original films, and an immersive space that draws inspiration from her El Dorado tour.
Highlights from the Shakira, Shakira: The GRAMMY Museum Experience include:
Forty artifacts from Shakira's personal archive

Shakira's two 2020 Super Bowl LIV outfits (one red, one gold) and her Gibson Firebird electric guitar, covered with 70,000 black Swarovski crystals

Taylor acoustic guitar that Shakira uses for songwriting

Fender Stratocaster, covered with pink Swarovski crystals, that Shakira played on her Oral Fixation tour (2006-2007)

Gold Yamaha Revstar electric guitar Shakira played on her 2018 El Dorado tour

Iconic outfits from Shakira's 2018 El Dorado tour

Leaf-covered bikini Shakira wore on the cover of her 2005 album, Oral Fixation, Vol. 2

Songwriting notebook with handwritten lyrics

And more!
This announcement comes on the heels of Shakira's latest release with Argentinian producer and DJ Bizarrap, "SHAKIRA || BZRP Music Sessions #53," which has made history in its own way. With the most streams in a single day for a Spanish-language song, it raked in more than 14 million streams in the first 24 hours and became the fastest Latin song to reach 100 million streams. Another historic moment for Shakira, the song debuted at #9 on the Billboard Hot 100, making her the first solo woman to reach the Top 10 on the chart with a song recorded in Spanish. She has also broken the all-time record for most monthly listeners for a Latin artist in Spotify history. The video amassed 160 million views on YouTube in the first week. 
"Shakira is the rare superstar who has discovered a way to keep evolving as an artist while growing her expansive audience along with her," said Jasen Emmons, Chief Curator & Vice President of Curatorial Affairs at the GRAMMY Museum. "She's a serious student of music, and the GRAMMY Museum is excited to offer a dynamic exhibit that reflects her intelligence and artistry."
The GRAMMY Museum Announces Official GRAMMY Week 2023 Programming Schedule