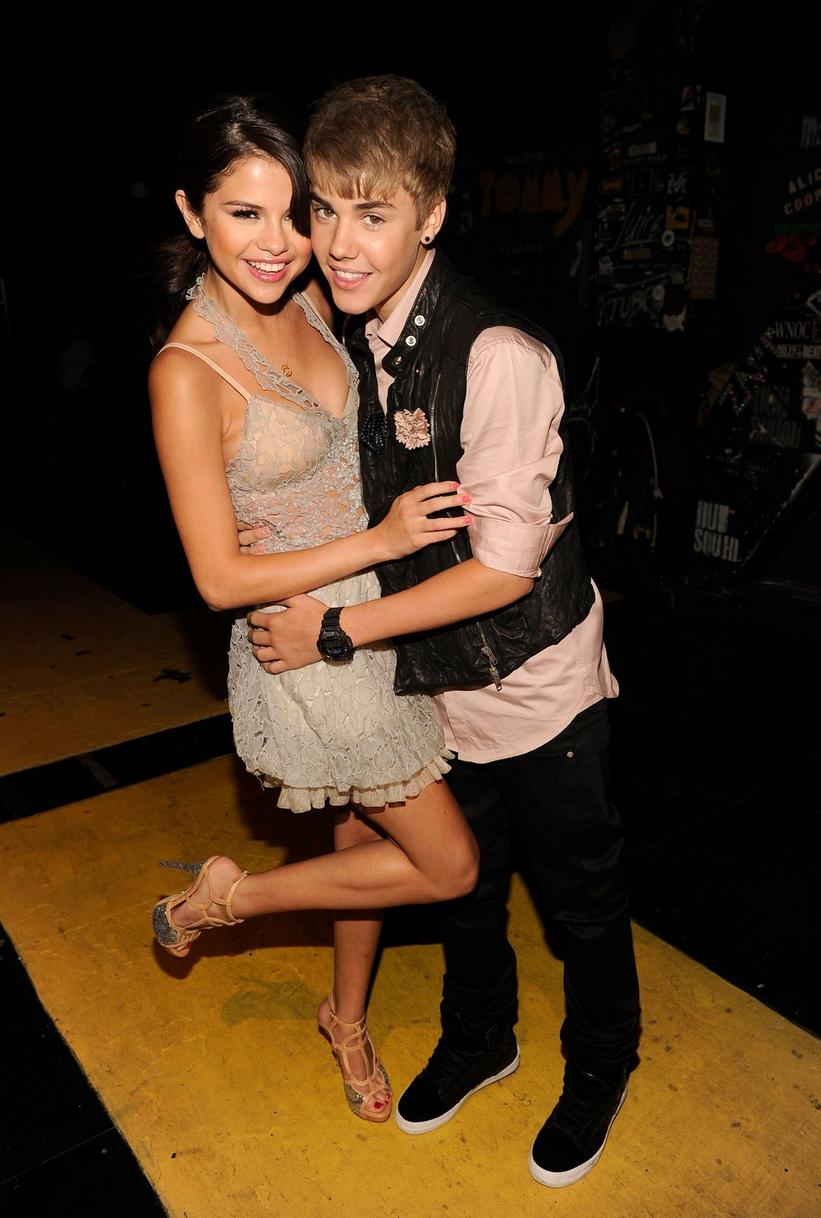 Selena Gomez and Justin Bieber
Photo: Kevin Mazur/WireImage.com
news
FYI/TMI: Justin Bieber Wins At EMAs, Loses Selena Gomez
Bieber, Taylor Swift win big at MTV EMAs, bad breakups for Bieber, Gomez and INXS
GRAMMYs
/
Dec 3, 2014 - 05:06 am
(In an effort to keep you fully informed, and fully entertained, below we present today's FYI and TMI — news you need and news that's, well, sometimes needless….)
FYI …
Bieber, Swift Win Big At MTV EMAs
Justin Bieber and Taylor Swift were the top winners at the 2012 MTV European Music Awards on Nov. 11 in Frankfurt, Germany, garnering honors for Best Female and Best Male, respectively, among other awards. GRAMMY winner Whitney Houston was honored with the Global Icon Award. Additional winners included Lana Del Rey, Carly Rae Jepsen, Linkin Park, Nicki Minaj, and One Direction, among others.
TMI …
Gomez, Bieber Break Up, INXS Split
Teenage power couple Justin Bieber and Selena Gomez have called it quits after a nearly two-year relationship due to their "crazy schedules," according to a source reported by Us magazine. "Selena definitely had some major trust issues with Justin," the source continued. Gomez must not have been convinced when Bieber sang, "If I was your boyfriend, I'd never let you go." With Bieber back on the market, teenage girls everywhere are learning to beliebe again. In related breakup news, after 35 years of music, Australian pop/rock collective INXS no longer need each other tonight — or any other night. During a concert opening for Matchbox 20 on Nov. 11 in Perth, Australia, drummer Jon Farriss said the performance would be the GRAMMY-nominated band's last. "I'm getting teary," Farris noted before the band played their final song, "I Need You Tonight," according to a report.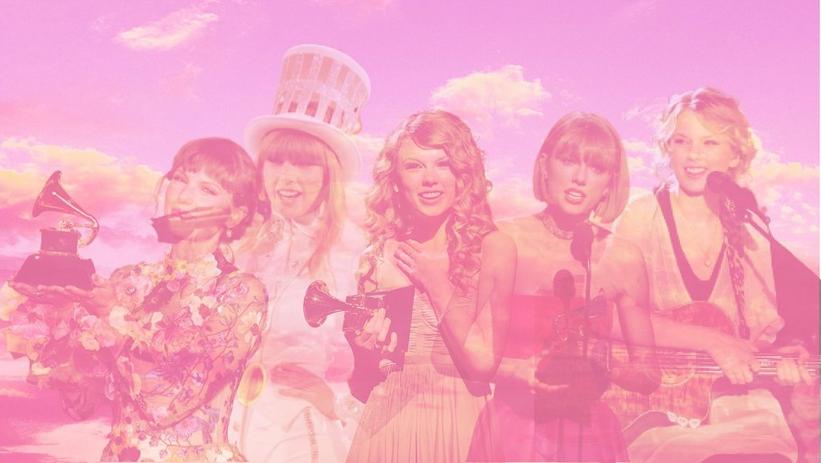 Taylor Swift in 2021, 2013, 2010, 2016, and 2009
PHOTOS (CLOCKWISE, L-R): KEVIN MAZUR/GETTY IMAGES FOR THE RECORDING ACADEMY, JEFF KRAVITZ/FILMMAGIC, MICHAEL CAULFIELD/GETTY IMAGES, CLIFF LIPSON/CBS VIA GETTY IMAGES, KEVIN MAZUR/WIREIMAGE
news
The Taylor Swift Essentials: 13 Songs That Display Her Storytelling Prowess And Genre-Bouncing Genius
Ahead of the 2023 GRAMMYs on Feb. 5 and Taylor Swift's "The Eras Tour" kicking off in March, revisit these 13 hits and beloved classics by the 11-time GRAMMY winner.
GRAMMYs
/
Jan 26, 2023 - 04:00 pm
We're all under Taylor Swift's spell. From her poppy radio hits to her crying-on-the-floor anthems, her discography is as enthralling as it is extensive. She enchants with stories about not just heartbreak and lost loves, but also about wider reflections on life — self-worth, fame, politics, family, moving on, change.
Though Swift emerged as a country icon in high school, she has leapt across genres with ease in the years since, mastering them as well as shaping them. Whether she's busy conquering synth pop or molding indie folk, her songwriting cultivates a divine magic, one that merges reality and fiction with profound intimacy.
After expanding her sonic universe further with Midnights last year, Swift will kick off her "Eras Tour" in March. Simply the name of her tour indicates the expanse and power of her musical career thus far: as she bridges her eras, she builds her legacy.
Her legacy receives a unique nod through her four nominations for the 2023 GRAMMYs: while Swift is nominated for her Where The Crawdads Sing track, "Carolina," she's also nominated for songs that she wrote years ago, around the time of her original Red release. And just this month, Midnights' "Anti-Hero" broke Swift's personal record for her longest-running No. 1 single on the Billboard Hot 100, further proving that she hasn't lost her touch.
By cherishing her past while continuing to mold her musical future, Swift strikingly dominates with staying power. Ahead of the 2023 GRAMMYs and Swift's upcoming "The Eras Tour," here are 13 tracks that highlight Swift's evolution up to Midnights, honoring her trailblazing creativity and versatility.
"Our Song,"

Taylor Swift

(2006)
A song about a song, how meta of Swift. One of her earliest meta songwriting moves, "Our Song" encapsulates a relationship's everlasting beauty with the warm breeziness of riding shotgun. Its lighthearted conversational lyricism emits an infectious joy that helped introduce Swift as a songwriter who is both relatable and captivating.
The banjo-led tune establishes the singer's country roots with a casual, but vivid image: Swift grinning with her elbow on the car door, hair windswept with the windows down. She may have written "Our Song" for a talent show back in high school, but Swift clearly had the songwriting prowess of a superstar — one that grew well beyond freshman year.
"White Horse,"

Fearless

(2008)
Just two tracks after the whirlwind romance of "Love Story," Swift finds herself closing her fairytale storybook to disappointment. While "White Horse" sees the singer question her self-worth and cradle her crushed dreams, the heartbreaking track ended up earning Swift two GRAMMY Awards for Best Country Song and Best Female Country Vocal Performance in 2010. (The singer scored her first GRAMMY wins that year, taking home four GRAMMYs total. To date, Taylor Swift has won 11 GRAMMYs and received 42 nominations overall.)
Although the acoustic ballad wallows in sorrow, gloom eventually blooms into a necessary epiphany: "I'm gonna find someone someday who might actually treat me well," Swift realizes in the final chorus. In this way, "White Horse" prevails as one of the singer's most powerful ballads to date — and judging by what Swift has said about Midnights track "Lavender Haze," that realization has come true.
"Forever & Always,"

Fearless

(2008)
"Forever & Always" is arguably one of Fearless' staple tracks, but what many fans may not know is that the timeless track almost didn't make the album. The pop-rock anthem track sees Swift denounce a hypocritical ex who misled her, and she criticizes them with a slew of questions she already knows the answers to: "Were you just kidding?" "Was I out of line?" "Did you forget everything?" From distress to confusion to anger, the song bursts with warranted rage at a betrayal, cementing Swift as a master of channeling heartbreak.
"Enchanted,"

Speak Now

(2010)
Long before "Enchanted" spiraled into one of Swift's many viral TikTok moments, the Speak Now deep cut bewitched listeners from the second it arrived more than a decade ago. The song hums with anticipation, with early acoustic guitar later giving way to overwhelming yearning and anthemic production.
The way the song progresses is almost like a fairytale, starting with a longing stare and playful conversation before ending with a rosy-cheeked walk home. It's a near-perfect display of Swift's ability to capture an incisive, fleeting romance in song, from the smitten lyrics to cinematic production. And though the love song serves more of a captivating cliffhanger than a finished chapter, its story still leaves listeners blushing all the way home.
"Back To December," Speak Now (2010)
On Speak Now's "Back to December," Swift sifts through wilting roses and missed birthdays to unearth a sorrowful confession. As she comes to terms with her regret over ending a healthy relationship, the track swells with guilt and sincerity. While many of Swift's preceding romantic songs were characterized by longing or criticism, "Back to December" takes the rare form of a bittersweet, candid apology that exhibits maturity and grace.
"Mean,"

Speak Now

(2010)
Complete with banjo and fiddle, "Mean" isn't just the only country-driven track on Speak Now, but it's also one of the last truly classic country songs of her catalog. The album's spunky sixth track goes down as one of Swift's most beautifully berating to date — even alongside "Look What You Made Me Do," "Bad Blood," and "Picture to Burn" — as she lambastes a cruel critic and realizes her self-worth.
Ironically, the Swift track that most put haters on blast is one of her most critically acclaimed, as the song won Swift two GRAMMY Awards for Best Country Solo Performance and Best Country Song in 2012. "Mean" also thrives as a manifestation — she has certainly become big enough that they can't hit her.
"Blank Space,"

1989

(2014)
Nice to meet you, where you been? Swift's 1989 era submerged the singer in heavy synth and kaleidoscopic pop, and the record's exuberant second single "Blank Space" best flaunts Swift's multifaceted artist persona. The illustrious pop song satirizes the media's image of Swift as a serial dater, coasting with a sultry liveliness before escalating into ferocity.
Swift is scathingly and brilliantly self-aware as she acknowledges the world's view of her reputation: "Got a long list of ex-lovers/ They'll tell you I'm insane/ 'Cause you know I love the players/ And you love the game."
She continued poking fun at the "crazy ex-girlfriend" trope in the music video, from wrecking her former lover's car to setting his clothes on fire. The cleverly self-deprecating narrative (and genius visual) helped "Blank Space" become Swift's biggest streaming song to date, garnering a whopping 3 billion views on YouTube alone. 
Accolades aside, "Blank Space" marked an important turning point for Swift. It was the first time she used her autobiographical songwriting style to take the power back — and most importantly, prove that no matter what is said about her, she'll keep cranking out the hits.
"Don't Blame Me,"

reputation

(2017)
Defiance defines "Don't Blame Me," the fourth track from Swift's intrepid — and perhaps most unexpected — album reputation. The track personifies catharsis, uplifted by heavy bass and hard-hitting synth. Although the song is loosely about an intoxicating love, its ambition also represents Swift reclaiming her narrative once again.
Drawing comparisons to Madonna's "Like a Prayer" and Hozier's "Take Me to Church," the song marks more than moody melodrama, but shamelessly moving forward. Amid public quarrels with other celebrities — as well as the tabloids' obsession with her personal life — she makes a very definitive statement: don't blame her.
"Cruel Summer,"

Lover

(2019)
"Cruel Summer" strikes Swift's discography in a zealous way, recalling the dreamy worlds of 1989's "Style" or reputation's "Getaway Car." The song sees Swift reminisce about a whirlwind summer romance with bittersweet intensity.
The track's assertive, immaculate electropop writhes irresistibly as Swift navigates the stark pain of secrets and love. Everything about "Cruel Summer" is sharp and exquisite, and the way its bridge bursts with melodramatic vigor is enough alone to make this a vital Swift track, even if it wasn't a single.
"the last great american dynasty,"

folklore

(2020)
"the last great american dynasty" flourishes as one of Swift's most lucid, exquisite storytelling ventures — and as any Swiftie knows, that's saying something.
Reading like a short story, the crisp indie track recounts the life of American socialite Rebekah Harkness, one of the former owners of Swift's Rhode Island mansion. Swift weaves the past and present together seamlessly, drawing parallels between herself and Harkness with vivid detail and keen clarity. On this folklore track, Swift presents a refreshing creative vision by flaunting a new, innovative facet of her songwriting prowess.
"betty,"

folklore

(2020)
Swift's first indie-folk foray, folklore, spins a tantalizing fictional love triangle across three tracks: "cardigan," "august," and "betty." The latter shimmers with reflective hope and heartache from the perspective of a character named James.
The apologetic, harmonica-driven folk rock track is reminiscent of Swift's earlier, country-rooted music — yet, the way its intricate narration uniquely interlocks with other album tracks is more characteristic of Swift's modern storytelling craft. Swinging between lighthearted and forlorn, "betty" cements Swift as a mystical mastermind.
"All Too Well (10 Minute Version) (Taylor's Version) (From The Vault),"

Red (Taylor's Version)

(2021)
Swift's "All Too Well (10 Minute Version)" might very well be her magnum opus. Although the original beloved song from Red was never released as a single, it emerged as a fan favorite for its tragic retelling of visceral heartbreak. And once Swift released a new — and much longer — 10-minute edition of the gut-wrenching track on Red (Taylor's Version) nearly a decade later, it almost instantly became the fan favorite.
The song broke the Guinness World Record for being the longest song to reach No. 1 on Billboard Hot 100 (beating out Don McLean's "American Pie"!), and its cinematic music video "All Too Well: The Short Film" continued to stretch the Swift multiverse. With lucid lyricism, cathartic storytelling, and riveting melodies, "All Too Well (10 Minute Version)" triumphs as the pinnacle example of everything that makes Swift a revered songwriter and certified star — one who continues to shine like an ever-lovely jewel.
"Anti-Hero,"

Midnights

(2022)
"It's me, hi, I'm the problem, it's me," Swift sighs on "Anti-Hero." Self-hatred takes center stage on the lead single from Midnights, inspired by the singer's insecurities, nightmares and fear of depersonalization.
Over a swirl of steady upbeat production, the pop song draws comparisons to the heartbreaking honesty of Lover's "The Archer." Her poetic candor takes on a self-destructive quality ("I'll stare directly at the sun but never in the mirror," she admits) that conveys an all-consuming loneliness — and at the same time, stark self-awareness.
Yet, Swift isn't an anti-hero, she's a mastermind. Serving as a "guided tour" of the things she tends to hate about herself, "Anti-Hero" spotlights not only the weight of Swift's vulnerability, but also its power. This capability transcends beyond Midnights; her sweeping creative force stretches across her past records and conquered genres. And even despite any insecurities, her influence has only continued to grow — showing that Taylor Swift will never go out of style.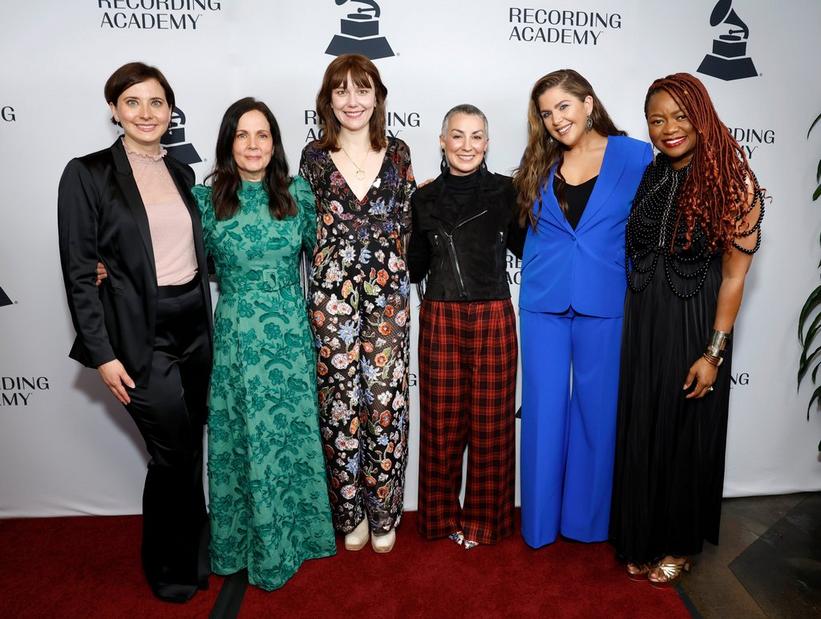 (L-R) Nashville Chapter Senior Executive Director Alicia Warwick, Lori McKenna, Molly Tuttle, Laura Veltz, Hillary Scott, Chapter President Ruby Amanfu
Photo: Jason Kempin/Getty Images
news
A Look Inside The 2023 Recording Academy Nashville Chapter Nominee Celebration, A Tribute To Its Supportive Musical Community
Two weeks before the 2023 GRAMMYs, the Recording Academy's Nashville Chapter celebrated its impressive 91 nominees with a slew of energetic performances and happy reunions.
GRAMMYs
/
Jan 25, 2023 - 12:10 am
If there's one way to sum up the Nashville Chapter of the Recording Academy, Chapter President, Ruby Amanfu, says it best: "It's about camaraderie, not competition."
That was exactly the feeling that resonated on Jan. 18, when Chapter members came together for the Nashville Chapter Nominee Celebration, honoring its 2023 GRAMMYs nominees. The three-hour event featured hors d'oeuvres (including hot chicken biscuits, a Nashville staple, and perhaps the largest charcuterie board you'll ever see), an open bar with signature cocktails from GRAMMYs sponsor Grey Goose, a red carpet, a photo booth, and performances from GRAMMY-winning Chapter members — and, of course, plenty of camaraderie.
"Nashville is really excellent at loving itself, in a lovely way. Supporting itself, and being proud of each other," Laura Veltz, one of the inaugural nominees in the new Songwriter Of The Year, Non-Classical category, told GRAMMY.com on the red carpet. "Everyone's coming with me, because this is validating us as a community."
Love and respect was abundant as attendees mingled — so much so that it was hard to tell who were the celebrators and who were the celebratees (well, other than silver gramophone pins that nominees sported). But it's quite possible that almost everyone in the room was nominated, because the Nashville Chapter boasts 91 nominees at the 2023 GRAMMYs. 
As Amanfu noted before performers took the stage, the Nashville Chapter is the leader in 2023 GRAMMY nominations in the Americana, Bluegrass, Gospel, Contemporary Christian, and Country Fields; the Chapter also received nominations in all four General Field categories, as well as a wide array of categories from Best Contemporary Blues Album to Best Metal Performance.
The Chapter's diversity was celebrated with performances from rising pop singer/songwriter Morgxn, rap multihyphenate Derek Minor, spoken word artists S-Wrap and Minton Sparks, renowned bassist/songwriter Tommy Sims, country singer/songwriter Maggie Rose, banjo star Alison Brown, and Charles Kelley of country trio Lady A.
Each performer delivered covers of previous GRAMMY-winning and -nominated tunes, including Song Of The Year winners like Lorde's "Royals," Adele's "Rollin' in the Deep" and Eric Clapton's "Change the World" — the latter of which was co-written by Sims. (Musicians Tyler Cain, Rob Cureton, Jon Lucas, and Marcus Perry served as the backing band; three-time GRAMMY-winning producer Shannon Sanders emceed the event.)
Even those who are nominees couldn't help but salute other artists, including hitmaking songwriters Liz Rose and Lori McKenna, who walked the red carpet together. Each of them are nominated for a Taylor Swift song this year, Rose for Song Of The Year nominee "All Too Well (10 Minute Version) (The Short Film)," and McKenna for Best Country Song nominee "I Bet You Think About Me (Taylor's Version) [From the Vault]."
Rose touted Swift's efforts in creating a new world around the fan-favorite track — which also featured a short film that is nominated for Best Music Video — as well as her ability as a writer. "She's one of the biggest artists in the world, but she's also one of the best songwriters that ever lived, and we will always say that," Rose says. "For her to be recognized as a songwriter in the country category and overall is huge."
McKenna particularly loved the country recognition, as it's only Swift's second nomination in the Country Field since she transitioned to pop in 2014. (Swift was nominated for Best Country Song in 2018 for Little Big Town's "Better Man," which she wrote herself.) 
"I was just kind of honored that the country community understood that she's part of our genre, she's part of our world," McKenna says. "We're always going to love our Taylor Swift, and she's always going to love us."
Read More: A Look At The Nominees For Song Of The Year At The 2023 GRAMMY Awards
Country veteran Bill Anderson was celebrating his first nomination as an artist, Best American Roots Performance for his song "Someday It'll All Make Sense (Bluegrass Version)" with Dolly Parton. Though Parton couldn't be there to toast with him, Anderson says she did send him a note upon their nomination, and she was top of mind as he discussed the honor. 
"If her name hadn't been attached to this, I probably wouldn't have this nomination," he says. "So thank you, Dolly, wherever you are."
The love for one another even rang true on stage, as Charles Kelley gave a congratulatory shout-out to his Lady A bandmate Hillary Scott — whom he referred to as "my family" — before closing out the event with a rendition of Marvin Gaye's "What's Going On." This year, Scott is nominated alongside two male artists that aren't her bandmates, but are good friends, Christian pop duo FOR KING & COUNTRY. (Their collaboration "For God Is With Us" is nominated for Best Contemporary Christian Music Performance/Song.)
Once the performances finished, several attendees stuck around — taking photos together, congratulating each other and giving each other hugs. After all, it's all about the camaraderie, not the competition. 
The Official 2023 GRAMMYs Playlist Is Here: Listen To 115 Songs By Beyoncé, Harry Styles, Bad Bunny, Kendrick Lamar & More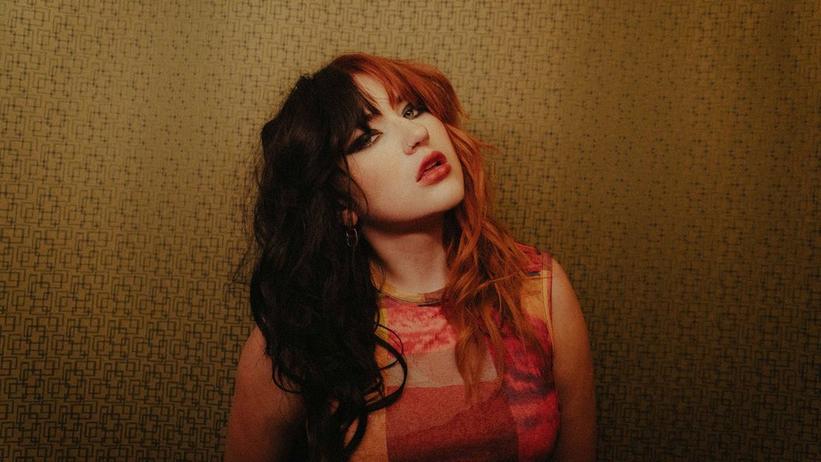 news
Meet The First-Time GRAMMY Nominee: GAYLE On The Real-Life Pain Behind "abcdefu," Nashville Beginnings And Taylor Swift
GAYLE's very first label release became a viral smash and landed her a GRAMMY nomination for Song Of The Year. Now, the teenage star is ready for her next chapter, including a debut album and tour with Taylor Swift.
GRAMMYs
/
Jan 16, 2023 - 05:00 pm
If you've had an issue with an ex in the past 18 months, GAYLE has probably provided some catharsis for you.
Born Taylor Gayle Rutherford, she's the singer behind 'abcdefu,' a kiss-off anthem that offers both deep emotion and inherent irreverence. And just as much as the song offered release for many listeners, it did for GAYLE herself, too.
The pop smash was based on a real-life relationship and subsequent heartbreak GAYLE would later refer to as toxic — making the breakup tune a powerful call for independence as well as an outright display of both anger and the strength of moving on. 
"abcdefu" was also a depiction of teenage angst, as GAYLE was just 16 when she co-wrote the song as a fledgling artist in Nashville. Two years later, the song helped the now 18-year-old GAYLE earn her first GRAMMY nomination, and a coveted one at that: Song Of The Year. 
The nomination comes on the heels of monumental commercial success for the young singer, with her hit going triple platinum, topping Billboard's Global 200 chart and garnering more than a billion streams. Along the way, she's released her first two EPS (the aptly-titled A Study of the Human Experience, Volumes One and Two). And just recently, Taylor Swift invited her to open several dates on the superstar's highly anticipated (and Ticketmaster-breaking) Eras Tour, which kicks off in March.
Ahead of the 2023 GRAMMY Awards, GAYLE gets candid about the song that changed her life, the creative community in Nashville and what's next. 
Tell me about the genesis of "abcdefu" — where were you when it came together?
We were in Nashville, Tennessee. It was me and [co-writer] Dave Pittenger, along with Sara Davis, who I [have been] writing with since I was 12 and she was 15. Me and Sara were two young girls in Nashville who thought, We can curse in our songs and our moms won't get mad at us? This is cool. 
We'd write songs in my bedroom, but after a couple years of writing with each other, we started teaming up with producers and writing with guitars and pianos. We started writing with Dave, who had a lot of success with country music and less so pop, so we'd just write songs on a guitar. 
Normally I come in with a vision, because I feel it's your job as an artist to lead writers where you want to go. But it was in the middle of COVID, and this was my first in-person write in a long time. I said, "I have to be honest, I have no ideas. I really hate being that person." Dave laughed and he said, "Well, I have a bunch." Thank God for him. 
For his first idea, he looked at us, looked back down and looked at us again and was like, "ABCD F— Off!" and me and Sara just burst out laughing. I had never heard that phrase.
The song centers on a breakup where you want nothing to do with your ex. Was there a real inspiration behind that?
My actual ex and my best friend hated each other; they had beef the whole entire time [my ex and I dated]. They never really hung out and I kept them very separated. I was also in a very self-deprecating place the whole entire relationship. 
So you had all of this bottled-up energy you brought into the song?
I had written a million songs about this person, but I was really angry at him and was angry at the people who enabled him and his behavior. One of the reasons why he treats people improperly is because he was treated improperly. So I was mad at him and everyone who enabled him.
Did he actually have a dog?
He does have a dog! It's a Shih-Poo.
Does this person know the song is about him, and have you heard from him?
I have not heard from him. I blocked him in February 2021, after hitting a point where I said, "I have to be done." It was a very specific moment in time, and I hope he has a happy life. I just want to be as far away from him as possible. I also don't get any validation from him thinking anything I'm doing is impressive, even if he looked at the charts. 
When did you realize your life was going to change thanks to the success of "abcdefu?"
The first moment I knew something was happening was when it started to hit the Shazam charts in other countries, like Poland or South Korea. That meant it was playing in random places and people were wondering what the song was. I think it was in the top five in Mexico, and it was weird to be in Nashville and know that it was playing somewhere else in a random coffeeshop.
[When a song is rising like that,] whenever it does one thing you hope it does another thing. If it gets on a playlist, you hope it goes higher up on that playlist. So for a while I was playing that game. 
I remember the day it hit the Spotify playlist Today's Top Hits. I was on tour with the band Winnetka Bowling League as their opener in small clubs. We were just jumping up and down backstage, so excited that it would reach that. But when it hit the radio, I knew that things were going to be different.
You're also 18 years old experiencing all of this, but at the same time have been working at it for a while. Can you tell me about growing up with these dreams and creative goals, which you're now experiencing the materialization of?
It's interesting; why you get into music at 10 is a very different reason why you stay in it at 18. I'm very aware that I'm living my dreams and getting to do all the things I wanted to do as a kid, but at the same time, it's very real, and there are difficulties that come with those things that I guess I didn't always expect. [My success] has changed my life and benefited me in so many ways, but it also gave me new difficulties that I have to deal with. 
After this past year, what I'm grateful for is that nobody can make me do something I don't want to do. The music that I'm making, and the things that I'm doing, I really love and stand behind. I'm trying to appreciate things that happen in the moment and not be too scared for my future as well. I know I have time. 
I just happened to put out my first song through a label that did what it did, and that is amazing. Now I want to build a career that I can stick with. So it's very exciting and nerve-wracking at the same time. Sometimes it's hard to breathe, but I'm very hopeful for the next year. 
You've said in the past that you feel kind of like an underdog in the sense that you're a pop artist coming from Nashville, which is so known for its country scene. Can you elaborate on that?
It's interesting because there is a lot of pop music in Nashville, and now more than ever, the lines are being blurred on genres. But one thing I really appreciate about the city is how the community really loves you if you're developing and have nothing. I've never felt like I had more of a family than when I was up-and-coming here. I came to Nashville when I was 12, and found people I felt so connected to because we had this unexplainable and undying love and passion for music — [and we] couldn't help but be a crazy person and move here. 
Also, Nashville for a 12 year old is very different than LA for a 12 year old. In LA, people would always tell me who I was — "You're this, you're that." But any meeting I ever had in Nashville was, "Tell me who you are." I needed to find out who I was there in order to work in other places. It's a community of writers who want to collaborate with each other, and that's something really beautiful about the Nashville scene. 
You're now about to join Taylor Swift's Eras Tour as an opener, one of the most culturally significant tours in many years. What does that mean to you, both personally and as an artist?
She's been in the music industry for 15 years, so I was 3 when she got her start. As a young, female pop songwriter in Nashville, it means the absolute world that she'd believe in me enough to put me on that tour. 
She's been such an inspiration my entire time in Nashville, especially since I started out in country music and moved over to pop. I didn't even know that was a possibility until I saw Taylor do that very successfully. I don't know if my mom would have even moved me to Nashville if she didn't see Taylor Swift's parents do it first. 
Has she ever given you advice?
It's never been straightforward advice, but more about just the struggles beginning in music. When I met her, I genuinely was just so happy to have the opportunity to thank her for everything she's done in the Nashville scene, and the writing community there as an iconic representative. 
I barely know what I'm doing and I feel no guarantees about my future. I'm trying to work on having a stable career. I've been in the music industry for a year and I'm making my first album. So it's like, "I don't know what I'm doing and I'm really scared and tired" and she's like "It's okay, baby." She is the biggest star in the world, and [she understands] that is a double-edged sword. 
She knows what it's like to be a young, up-and-coming woman in the industry with social media; it's an exciting and terrifying time where the highs are really high and the lows are really low. For her to just take me under her wing in any way with belief, hope and inspiration and kindness [is amazing]. Because when all is said and done, [she sees] I'm just a teenage girl who really loves music. 
A Look At The Nominees For Song Of The Year At The 2023 GRAMMY Awards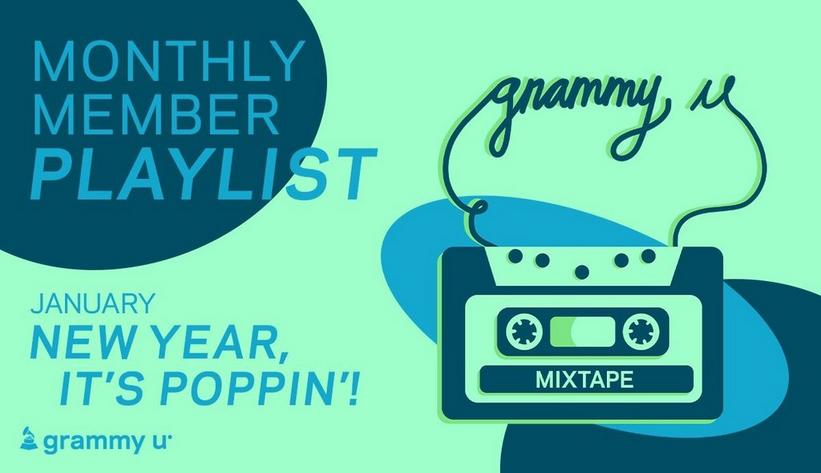 news
Press Play On GRAMMY U Mixtape: New Year, It's Poppin'! Monthly Member Playlist
The GRAMMY U Mixtape is a monthly, genre-spanning playlist to quench your thirst for new tunes, all from student members. GRAMMY U celebrates new beginnings with fresh pop tunes that will kickstart 2023.
GRAMMYs
/
Jan 6, 2023 - 12:17 am
Did you know that among all of the students in GRAMMY U, songwriting and performance is one of the most sought after fields of study? We want to create a space to hear what these students are creating today!
The GRAMMY U Mixtape, now available for your listening pleasure, highlights the creations and fresh ideas that students are bringing to this industry directly on the Recording Academy's Spotify and Apple Music pages. Our goal is to celebrate GRAMMY U members, as well as the time and effort they put into making original music — from the songwriting process to the final production of the track.
Each month, we accept submissions and feature 20 to 25 songs that match that month's theme. This month we're ringing in 2023 with our New Year, It's Poppin'! playlist, which features fresh pop songs that bring new year, new you vibes. Showcasing talented members from our various chapters, we felt these songs represented the positivity and hopefulness that GRAMMY U members embody as they tackle this upcoming year of exciting possibilities.
So, what's stopping you? Press play on GRAMMY U's Mixtape and listen now on Spotify below and Apple Music.
Want to be featured on the next playlist? Submit your songs today! We are currently accepting submissions for songs of all genres for consideration for our February playlist. Whether you write pop, rock, hip hop, jazz, or classical, we want to hear from you. Music must be written and/or produced by the student member (an original song) and you must be able to submit a Spotify and/or Apple Music link to the song. Students must be a GRAMMY U member to submit.
About GRAMMY U:
GRAMMY U is a program that connects college students with the industry's brightest and most talented minds and provides those aspiring professionals with the tools and opportunities necessary to start a career in music.     
Throughout each semester, events and special programs touch on all facets of the industry, including the business, technology, and the creative process.
As part of the Recording Academy's mission to ensure the recorded arts remain a thriving part of our shared cultural heritage, GRAMMY U establishes the necessary foundation for music's next generation to flourish.
Not a member, but want to submit to our playlist? Apply for GRAMMY U Membership here.