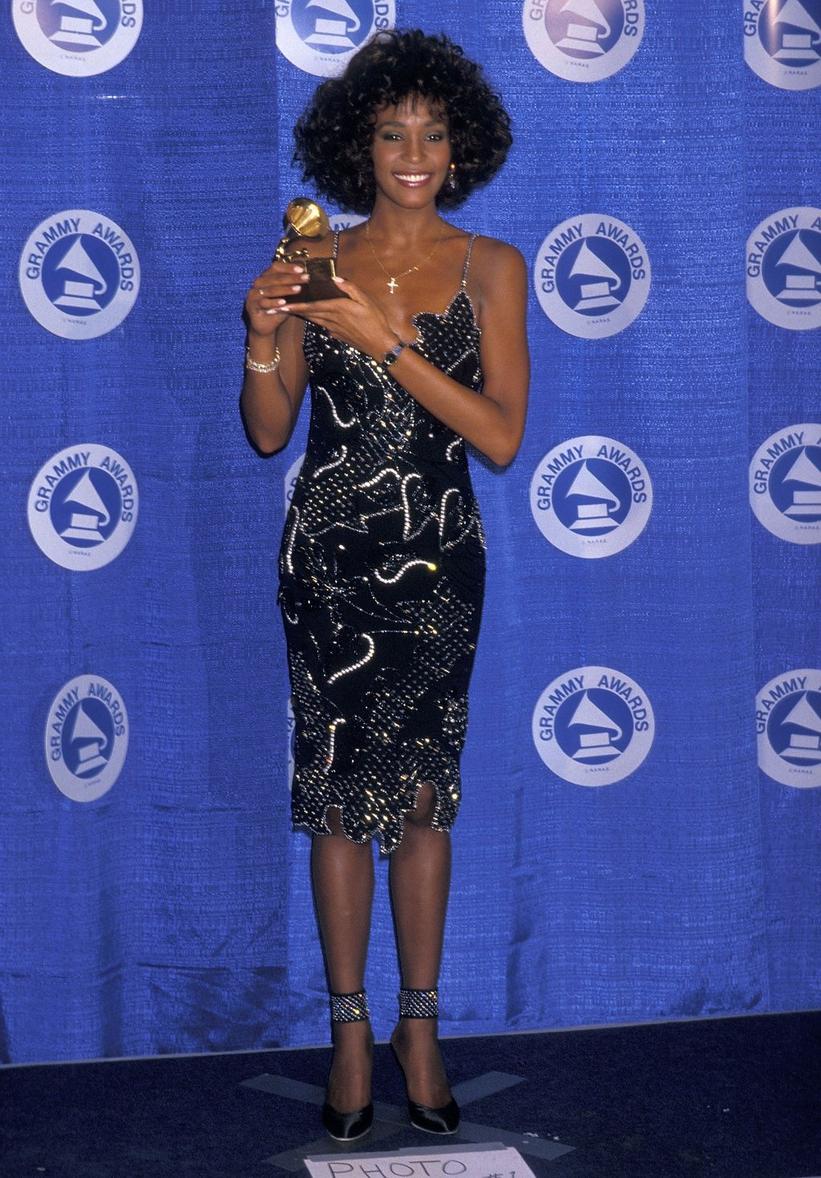 Photo: Ron Galella, Ltd./WireImage
news
Flashback To Whitney Houston's 1985 Hit "Saving All My Love For You" | For The Record
Celebrate 35 years since the initial release of Houston's first of a record-setting seven straight No. 1 singles
GRAMMYs
/
Aug 6, 2020 - 09:09 pm
Whitney Houston introduced herself to the world in 1985, and after the second single from her debut self-titled ablum droped on Aug. 13 of that year, pop music would never be the same.
Now, 35 years, six GRAMMY wins and 25 GRAMMY nominations later, we celebrate the breakout hit by the late legendary vocal powerhouse in this edition of GRAMMY.com's For The Record series.
"Saving All My Love For You" Was written by Michael Masser and Gerry Goffin and was originally recorded by Marilyn McCoo and Billy Davis Jr. for their 1978 album Marilyn & Billy.
Houston's version lifted it all the way to No. 1 on the Billboard Hot 100, becoming the first of seven record-setting consecutive No. 1 singles. The song also earned the young singer her first GRAMMY Best Pop Vocal Performance, Female for 1985. But the praise didn't stop there. Her performance of the song at the 28th GRAMMYs won an Emmy for Outstanding Individual Performance in a Variety or Music Program.
Tragically, Houston died in 2012 the night before the 54th GRAMMY Awards, where Jennifer Hudson paid tribute to her life and legacy as the music world mourned the loss of one of its brightest talents.
Remembering Whitney Houston's GRAMMY History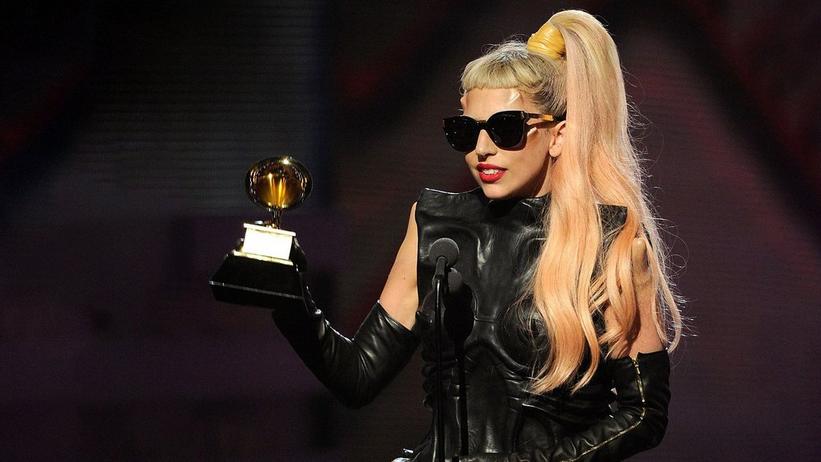 Lady Gaga at the 2011 GRAMMYs.
video
GRAMMY Rewind: Lady Gaga Praises Whitney Houston's Influence After 'The Fame Monster' Wins In 2011
When Lady Gaga's 'The Fame Monster' won a GRAMMY for Pop Vocal Album, the singer hinted that her newly minted superstar status wouldn't have been possible without Whitney Houston's influence.
GRAMMYs
/
Apr 14, 2023 - 05:16 pm
From the very start of her career, Lady Gaga taught society that it's okay to be different. While that may be most encapsulated in her 2011 smash "Born This Way," Gaga's 2010 album The Fame Monster — a reissue of her blockbuster 2008 debut, The Fame — solidified Gaga's place as a confidence-boosting superstar.
In this episode of GRAMMY Rewind, we turn back the clock to 2011, when Lady Gaga won Pop Vocal Album for The Fame Monster. Her third win of the night (hit single "Bad Romance" won Best Female Pop Vocal Performance and Best Short Form Music Video), Gaga couldn't help but let out an "Oh sh—!" when she began her acceptance speech.
After thanking her Little Monsters, family, team, and label, Gaga hinted that the moment was a childhood dream come true. And before leaving the stage, Lady Gaga acknowledged that she was particularly inspired by Whitney Houston's impact.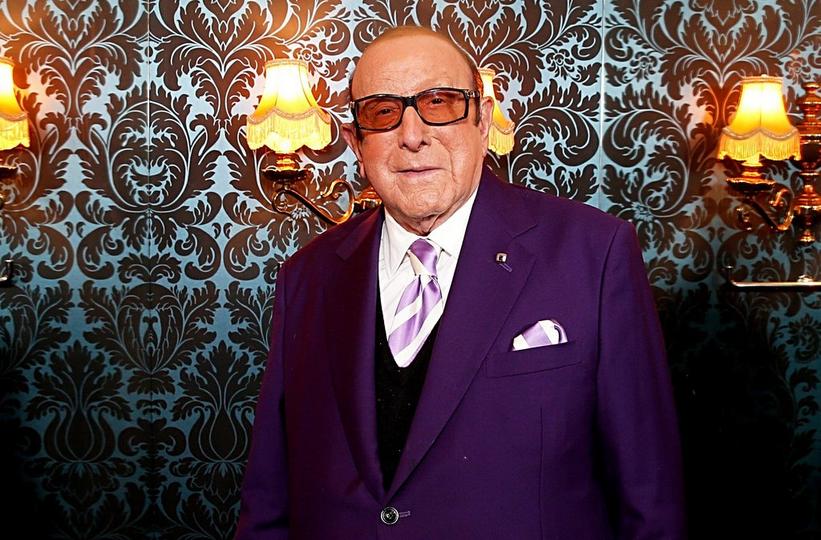 Clive Davis in New York in 2021.
Photo: Dominik Bindl/Stringer via Getty Images
interview
Clive Davis On His Famed GRAMMY Party, The Future Of The Industry & Whitney Houston's Enduring Legacy
As Clive Davis' renowned Pre-GRAMMY Gala returns after a pandemic-induced hiatus, GRAMMY.com spoke with the music industry icon about some of his most unexpected career wins and his thoughts on the 2023 GRAMMY nominees.
GRAMMYs
/
Feb 3, 2023 - 09:30 pm
One of the most legendary events of GRAMMY weekend is back after a two year break. 
Masterminded by Clive Davis, the Pre-GRAMMY Gala & Industry Salute to Icons has enjoyed iconic status as a place where music industry titans, tastemakers, politicians and actors alike rub elbows to toast the year, reflect on the past and look to the future of music. Taking over the Los Angeles' Beverly Hilton, the return of Clive's party for the 2023 GRAMMYs is a show business tradition without parallel. 
The event also comes on the heels of a big year for Davis, who not only celebrated his 90th birthday but also hosted the Paramount+ series Clive Davis: Most Iconic Performances, and was portrayed by Stanley Tucci in the big-screen adaptation of Whitney Houston's life in I Wanna Dance With Somebody, which hit theaters in December.   
Ahead of the Feb. 4 event, GRAMMY.com caught up with Davis at the Beverly Hilton to preview this year's party, gauge his thoughts on today's favorite artists and reveal the act whose success most took him by surprise. 
Your Pre-GRAMMY Gala is back for the first time since 2020 after a COVID-induced break! How does that feel, and how are you feeling? 
I feel great that it's back. The demand from day one — maybe since we emailed the invites this year — there's been such eagerness. People are ready and it makes me feel great. I'm getting emails and so much in writing as to what the party has meant for them, somehow it triggers that type of response and it's been touching. It's exciting!
Can you offer us a preview? Who's coming or who may be performing?
Well, you know that that's all a secret. Who's coming is a who's who of music, many more great movie stars are coming whatever the reason. Nancy Pelosi and Paul Pelosi are coming, for example. But the tales about who meets who from past parties [are legendary], from Brandi Carlile meeting Joni Mitchell for the first time and how they've bonded since, or Joni meeting someone like David Hockney. 
Read More: Atlantic Records Leading Lights Julie Greenwald And Craig Kallman To Receive GRAMMY Salute To Industry Icons Honor
This year, the Gala is honoring Atlantic Music Group Chairman and CEO Julie Greenwald and Atlantic Records Chairman and CEO Craig Kallman. Can you talk about their impact on the industry? 
They have been very gifted competitors as far as I'm concerned. I've obviously competed more with people like Mo Ostin, Joe Smith and Chris Blackwell. But Julie and Criag are incredibly gifted music executives. I greatly admire what they've done and how they're revered by the artists who've worked with them. 
In fact, one artist who works with them has asked to present the Icon award to Julie, and normally it's Harvey Mason Jr who's presenting it. So we'll see if that comes about. But if it does, it will be touching. 
You bring up Joni Mitchell — in the past year she's had a renaissance of being back in the public eye. What does that mean to you to watch Joni come back?
I felt it starting six, seven or eight years ago. Joni decided she wanted to attend my GRAMMY party. I don't allow schmoozing, so if there's a five-minute or seven-minute gap in between performers, I give shoutouts because it's a big ballroom and people don't often know who's there. But when I gave a shoutout to Joni Mitchell, I mean, it got as much reaction as one for an artist who has conquered the room after a performance. There were cheers and a standing ovation just for a shoutout, so there's a connection there. She influenced so many lives. And she'll be there this year too.
I want to talk to you about Whitney Houston. Her movie came out last month and people are celebrating her again since it's her 75th birthday year. When you look back at your memories of her, do they make you sad or joyful?
There's a certain element of both because I miss her. But, seeing the recognition of her talent and seeing that it's historic — in the film, she's quoted as being the finest of her generation. So, it's a combination. 
I'm gratified that she was not a one-hit wonder or a passing fad, but she'lll be a permanent influence and inspiration to young artists forever because she was that unique. So it's been very gratifying.
Speaking of the movie, Stanley Tucci portrayed you. This is a feeling not many people in the world know, to be depicted in a film. How do you think he did?
I felt he did me justice, and if that's his take on me, I'm happy with that take. I was gratified that my character is being portrayed by a really gifted actor who was not hamming it up or inventing a shtick or a persona. The reaction of others is that he captured me too, so it's only been positive. We've also become quite friendly.
I'm interested in your thoughts on the state of the music industry. Where does it stand now?
I'm very excited, most of all, that the industry is healthy — especially having gone through the period that the future of music was questionable. Now, I'm endowing a school in my name at NYU and giving scholarships. 
People ask, "Is there a legitimate future in the industry?" And the answer is, music is a necessity and it will be here to stay. So I feel very good that the industry is healthy, and the streaming and digital evolution, and that those entering a career in the industry will take it wherever that goes in the future.
Speaking of the modern industry, are your feelings on the current crop of nominated artists?
I'm a big fan of Beyoncé, I'm a big admirer of what Harry Styles is doing so uniquely. But in the longer future, there hasn't been a new Bob Dylan or Bruce Springsteen. I also want to make sure that with hip-hop dominating, that a new Aretha Franklin or Whitney Houston — a person with a voice who is breathtaking — deserves to have a home.
In your storied career, has anyone's success taken you by surprise? 
I have a healthy respect for failure, so the most gratifying thing for a legacy or my career has been the height that so many artists that I've created a home for have reached and influenced as many people have. I'm thinking of someone who was maligned by the critics like Barry Manilow was and now he's still headlining. I recently saw him in Florida at an arena and the fervor in the audience for him was amazing to see. 
Does a particular record come to mind?
As far as what record, the record that I helped break personally that the odds were against and became a landmark breakthrough was Kenny G's "Songbird," especially being an instrumental. I wrote a letter to every radio station. He became the best-selling instrumentalist of all time. 
But who's' also coming to mind is when I signed Carlos Santana for the second time. It was viewed as Davis' folly. This was a man who did not have a hit in 25 years and was past the age of 50 and wasn't even a lead singer, so the fact he could come back with one of the best-selling albums of all time in Supernatural. I thought he'd have some success or else I wouldn't have signed him, but to be an all-timer is clearly surprising and gratifying.
Songbook: A Guide To Whitney Houston's Iconic Discography, From Her '80s Pop Reign To Soundtrack Smashes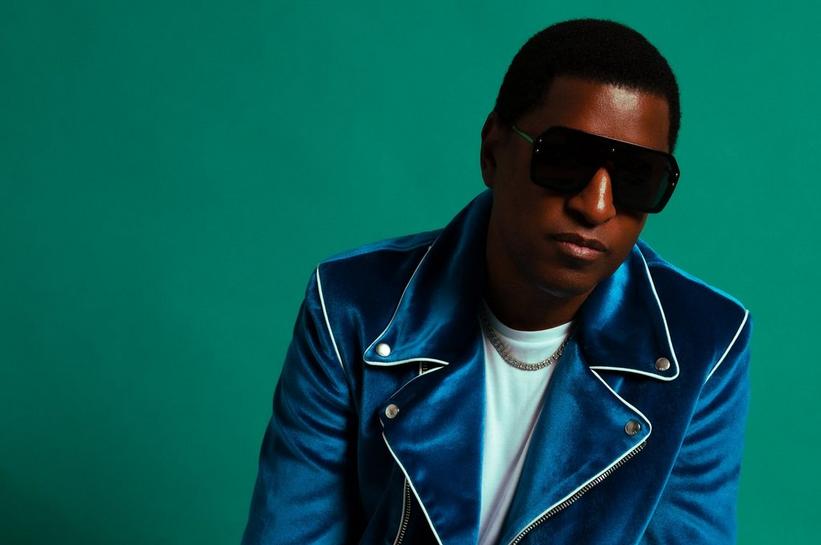 interview
Babyface Reflects On Collaborating With Whitney, Toni, Ella Mai & More: How The Legendary Hitmaker Learned To "Speak In Their Voices"
Babyface has enough Top 10 singles to keep a playlist bumping for hours. The songwriter and producer discusses his most memorable productions, many of which tell compelling stories from a woman's perspective.
GRAMMYs
/
Jan 24, 2023 - 05:59 pm
You didn't have to live through the '90s to know that 11-time GRAMMY winner Babyface is the mastermind behind so many of the decade's biggest R&B hits. Whitney Houston's "Exhale (Shoop Shoop)," Boyz II Men's "End of the Road," and Toni Braxton's "You're Makin' Me High" are just a few No. 1 singles penned by the Songwriters Hall of Fame inductee.
Babyface's legendary status is driven home by 125 Top 10 writer/producer credits, top-tier collaborations with Aretha Franklin, Stevie Wonder, Barbra Streisand, Beyoncé, and Eric Clapton, plus his own iconic hits, such as "Whip Appeal," "When Can I See You," and "Every Time I Close My Eyes." But telling compelling stories — especially from the female perspective — is arguably one of his greatest strengths, as evidenced most recently on Girls' Night Out. 
The 13-track collaboration project champions some of today's brightest female R&B stars, including Ari Lennox, Kehlani, and Queen Naija. Lead single "Keeps on Fallin'" with Ella Mai is nominated for Best Traditional R&B Performance at the 2023 GRAMMYs, which means he's now surpassed 50 GRAMMY nominations. "It was a nice surprise," Babyface tells GRAMMY.com. "It inspires you to keep doing the work."
A master of his craft, Babyface did his homework before getting in the studio with each artist on Girls' Night Out. "I needed to learn how people spoke and how melodies are different. Otherwise, I don't know if I would've been able to speak in their voices," he shares. "I have a much clearer understanding of today's R&B because there is a difference, and it's not necessarily a difference that's any better or any worse. It's just a difference in terms of time, and that's what made the process enjoyable to me."
Though Babyface took more of a mentoring approach with Girls' Night Out, he's no stranger to fostering talented female singers, particularly on the soundtrack for the 1995 movie Waiting to Exhale — which exclusively features Black women. The OST boasts a string of No. 1 and Top 10 hits penned entirely by Babyface himself, including beloved classics like Braxton's "Let It Flow" and Brandy's "Sittin' Up in My Room." 
Yet "Not Gon' Cry" by Mary J. Blige — who is nominated in six categories at the 65th GRAMMY Awards — remains among Babyface's most memorable productions for Waiting To Exhale. The timeless ballad, written from character Bernadine's point of view after her husband of 11 years leaves her for another woman, emerged as the Black woman's anthem for showing resilience in the face of romantic heartbreak and betrayal, but the song almost didn't happen.
"The opening lyrics, 'While all the time that I was loving you, you were busy loving yourself,' just sounded like a real-life conversation, and it sounded like something Mary could say," Babyface explains. "I played it for Andre Harrell, and he said, 'It's okay, but I don't think it's the record for her… Mary's too young for this. She's not 47 years old and she ain't been married and all that.'"
He continues, "My answer to him was, 'Mary's singing for everyone else… and she ultimately became a voice for other women.' It wasn't her personal story, but her voice could deliver that."
Babyface's musical legacy developed further with the formation of LaFace Records in 1989 with music executive L.A. Reid. In the label's glory days, LaFace launched the careers of Braxton, TLC, OutKast, Pink, Usher, Ciara, Goodie Mob, and Donell Jones. But one of his most impressive feats isn't talked about enough: that Whitney Houston selected Babyface to help usher in the more R&B-oriented sound of her third studio album, 1990's I'm Your Baby Tonight.
"They came to LaFace because they wanted a Blacker record, but when I was writing 'I'm Your Baby Tonight,' I wasn't thinking R&B… I was just writing a Whitney record," he says. "There's an urban flavor to it, but the truth is it wasn't that R&B, but everything is R&B if a Black artist touches it… the idea was to run away from songs like 'How Will I Know' and 'I Wanna Dance with Somebody' that were big records for her that they said weren't Black enough."
Babyface and Houston proved to be a winning musical duo, and "I'm Your Baby Tonight" was nominated for Best Pop Vocal Performance, Female at the 33rd GRAMMY Awards. The collaboration also gave Houston her eighth No. 1 hit, tying with Madonna for the female artist with most No. 1s on the Billboard Hot 100 at the time.
The success with divas like Houston and Braxton allowed Babyface to explore his versatility as a hitmaker for superstars outside of the R&B realm. For the lush sounds heard on Madonna's sixth studio album, Bedtime Stories, the pop icon teamed up with Dallas Austin, Dave Hall, and of course Babyface, who co-wrote "Forbidden Love" and "Take a Bow." The latter song became her longest running No. 1 hit.
"The track was already laid down and when we brought in the live strings, which was Madonna's suggestion, it became a whole other thing. I think it was the combination of my background vocals behind Madonna's that just made for a very unique song in that sense for her," Babyface recalls. "She was nervous because she just wasn't used to singing that controlled and being that vulnerable. I remember how we sat there and wrote the song together [at the Hit Factory Studios in New York City], so that's a really cool memory."
As the 64-year-old musician enters the next stage of his four-decade career, he has plenty to look forward to: Touring with eight-time GRAMMY winner Anita Baker, a possible deluxe version of Girls' Night Out, and the upcoming 30th anniversary of his third studio album, For the Cool in You, which spawned the top 5 hit "When Can I See You." (The acoustic tune earned Babyface his first GRAMMY for Best Male R&B Vocal Performance.)
For all his success, Babyface has remained humble and his greatest joy comes from being able to hear a talented vocalist bring a song he wrote to life. "The best part is when you get into the studio with this idea, this little demo and then, when someone like Whitney, Aretha, or Boyz II Men sings your song, it becomes a hit before your eyes," he says. "They take it to a place I never imagined it could go."
The Official 2023 GRAMMYs Playlist Is Here: Listen To 115 Songs By Beyoncé, Harry Styles, Bad Bunny, Kendrick Lamar & More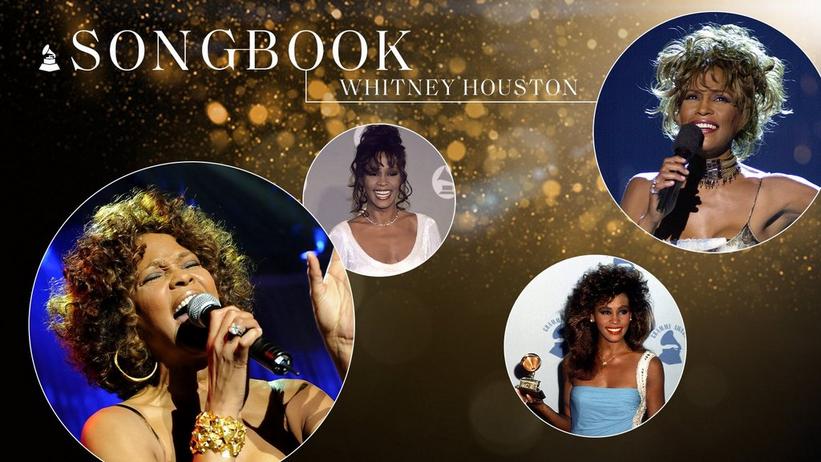 (L-R) Whitney Houston at the 2009 GRAMMY Salute To Industry Icons honoring Clive Davis; at the 1994 GRAMMYs; at the 1986 GRAMMYs; at the 2001 BET awards.
Photo: (L-R) Rick Diamond/WireImage; Larry Busacca/WireImage; Ron Galella, Ltd./Ron Galella Collection via Getty Images; M. Caulfield/WireImage
feature
Songbook: A Guide To Whitney Houston's Iconic Discography, From Her '80s Pop Reign To Soundtrack Smashes
In celebration of the new Whitney Houston biopic, 'I Wanna Dance with Somebody,' GRAMMY.com revisits the albums and vocal performances that made her one of the most celebrated singers of all time.
GRAMMYs
/
Dec 21, 2022 - 03:57 pm
Presented by GRAMMY.com, Songbook is an editorial series and hub for music discovery that dives into a legendary artist's discography and art in whole — from songs to albums to music films and videos and beyond.
Throughout her lifetime, Whitney Houston received plenty of nicknames. But the one that is perhaps most fitting — and most enduring — is "The Voice."
Between her stunning five-octave range, perfected melisma technique, and ability to convey raw emotion in every note, Houston was truly a one-of-a-kind talent. And with 11 No. 1 singles, more than 400 awards (including six GRAMMYs), and 200 million albums sold, her legacy remains unmatched even 10 years after her passing. 
On Dec. 23, Houston's remarkable story is getting the big-screen treatment with the highly anticipated authorized biopic, I Wanna Dance with Somebody. The Sony Pictures Entertainment film stars British actress Naomi Ackie as Houston, and celebrates the late singer's iconic career while helping audiences "discover the Whitney you never knew."
As the daughter of gospel singer Cissy Houston and cousin to Dionne Warwick and Leontyne Price, Houston was practically destined to be a star. She was discovered by legendary record executive Clive Davis while singing backup for her mother at just 19 years old. Two years later, Houston launched to stardom with her debut self-titled album, and she instantly became an unstoppable force in music and beyond.
Amid her success, Houston's personal struggles with drug abuse and her troubled marriage to Bobby Brown were also put on public display. Sadly, those struggles culminated in an untimely death in 2012, shocking and saddening music lovers everywhere.
To honor her legacy ahead of the release of I Wanna Dance with Somebody, GRAMMY.com is revisiting the unforgettable hits, history-making moments, and masterpieces that made Houston an international superstar and one of the most awe-inspiring vocalists of all time. 
Listen to GRAMMY.com's official Songbook: An Essential Guide To Whitney Houston playlist on Spotify, Apple Music, Amazon Music, and Pandora. Playlist powered by GRAMMY U.
For Beginners
Two years after the world was introduced to Houston's vocal prowess on The Merv Griffith Show — where the then 20-year-old delivered a memorable performance of The Wiz's "Home" — she released her debut studio album, Whitney Houston. Despite slow sales at first, the success of No. 1 hits "Saving All My Love for You," "How Will I Know," and "Greatest Love of All" led Whitney Houston to becoming one of the best-selling female albums of the '80s.
Uptempo, synth-heavy tunes such as "Someone for Me" and "Thinking About You" offset an otherwise ballad-heavy LP. Other standouts include duets with Jermaine Jackson ("Nobody Loves Me Like You Do" and "Take Good Care of My Heart") and Teddy Pendergrass ("Hold Me"). The album also helped Houston earn her first GRAMMY in 1986 (Best Pop Vocal Performance for "Saving All My Love For You") as well as two other nominations, including Album Of The Year.
Houston's second studio effort, the similarly titled Whitney, was initially criticized for also sounding too similar to its predecessor. But that certainly didn't hold it back from massive global success — especially with an earth-shattering lead single like "I Wanna Dance with Somebody (Who Loves Me)." 
Along with "I Wanna Dance with Somebody," Whitney scored Houston four more No. 1s with "So Emotional" and classic ballads "Where Do Broken Hearts Go" and "Didn't We Almost Have It All." Her pop-leaning hits had many accusing Houston of "selling out," and she was even famously booed at the 1988 Soul Train Awards. Whatever naysayers believed, there was no denying Houston was a legend in the making: Whitney's four No. 1s marked seven consecutive No. 1 singles from the singer, a feat that still hasn't been achieved by another artist to this day.
Houston closed out the decade with the inspirational "One Moment in Time," a believe-in-yourself anthem for the 1988 Summer Olympics that seemed to represent then 25-year-old Houston's own hopes and dreams. ("I want one moment in time/ When I'm more than I thought I could be," she declares in the chorus.) "One Moment in Time" missed the top spot in the U.S., but it became Houston's third No. 1 in the UK, further solidifying her international appeal — and in many ways, felt like a catalyst for her dazzling rendition of "The Star-Spangled Banner" at the 1991 Super Bowl.
For R&B Lovers
In late 1990, Houston's third studio album, I'm Your Baby Tonight, acknowledged the years-long criticism that her music wasn't "Black enough" — one of the aspects of her career that I Wanna Dance with Somebody addresses head-on. Embracing the sounds of new jack swing, the singer asserted more creative control, handpicking L.A. Reid and Babyface as producers, and recruiting Luther Vandross and Stevie Wonder as additional collaborators.
Houston's slightly new musical direction paid off: The album's first two singles, "I'm Your Baby Tonight" and "All the Man That I Need," reached No. 1 on the Hot 100, with third single "Miracle" cracking the top 10. While "My Name Is Not Susan" was Houston's first solo single to miss the top 10, it proved that she was as R&B as they come. What's more, the album's closer, "I'm Knockin'", gave Houston her first producing credit.
After amassing a long string of movie soundtrack hits from 1992 to 1996 (more on that later), 1998's My Love Is Your Love marked Houston's first studio album in nearly a decade. The LP took a deep dive into the R&B she teased with I'm Your Baby Tonight, particularly on songs like "Get It Back" and "Oh Yes"; she even dabbled in reggae for the first time on the title track.
My Love Is Your Love opens with the female empowerment anthem "It's Not Right but It's Okay," on which Houston displays the level of sass, grit and maturity that can only be learned through real-life experience. The song's vocal power earned Houston a GRAMMY for Best Female R&B Vocal Performance — her first and only win in that category. (The track also received a high-energy Thunderpuss remix, which flipped the smooth neo soul classic into what a 2017 Fader piece dubbed "an LGBTQ club classic" and Houston's "most iconic gay anthem.") 
The album also featured a few notable collaborations, including then-rising R&B stars Faith Evans and Kelly Price on "Heartbreak Hotel" (not to be confused with Elvis Presley's 1956 classic) and Missy Elliott on "In My Business." But the undeniable standout is Houston's highly anticipated duet with fellow diva Mariah Carey, "When You Believe," which was also the lead single for The Prince of Egypt soundtrack.
For Moviegoers
With three multi-platinum albums under her belt, Houston set her sights on Hollywood and made her acting debut alongside Kevin Costner in 1992's The Bodyguard. The movie was an instant hit, but the soundtrack is what made it truly iconic. The album sold 45 million copies worldwide — more than double of any of Houston's own LPs — and remains the best-selling soundtrack of all time.
In 1994, The Bodyguard soundtrack won a GRAMMY for Album Of The Year, and its goosebump-inducing lead single "I Will Always Love You" — a cover of Dolly Parton's 1974 country ballad — won Record Of The Year as well as Best Pop Vocal Performance, Female. Now memorialized as Houston's signature song, "I Will Always Love You" was inducted to the GRAMMY Hall Of Fame in 2018 and added to the Library of Congress's National Recording Registry in 2020 for being "culturally, historically or aesthetically significant."
Perhaps the impact of The Bodyguard and its soundtrack was due to the fact that both captured Houston at her vocal prime — as exhibited in "I Will Always Love You" as well as singles "I'm Every Woman" (a Chaka Khan cover), "I Have Nothing," and "Run to You." And though hard-rock tune "Queen of the Night" is easily Houston's most forgotten single from the soundtrack, it reached No. 1 on the Billboard Dance Club Songs chart (one of the singer's 14 on the tally).
Houston's box-office success continued in the mid-90s with 1995's Waiting to Exhale and 1996's The Preacher's Wife. The former film spawned "Exhale (Shoop Shoop)," the singer-turned-actress' 11th and final No. 1 hit. Both soundtracks contain some of Houston's finest vocal performances, as demonstrated in covers of The Four Tops' "I Believe in You and Me" and Annie Lennox's "Step by Step." 
In 1997, 60 million households tuned in to see Houston and mentee Brandy star in a made-for-television remake of Cinderella. While an official soundtrack was never released, fans treasure the singers' showstopping "Impossible/It's Possible" duet, and final number "There's Music in You," performed by Houston.
Three months prior to Houston's untimely and tragic death in 2012, she had finished filming a remake of the 1976 film Sparkle, starring American Idol winner Jordin Sparks. Before her passing, Houston recorded "Celebrate," a duet with Sparks as well as "His Eye Is on the Sparrow." Both were posthumously released in June 2012.
For Die-Hards
Houston ushered in the 21st century by renewing her Arista contract for $100 million. Despite signing the biggest record deal for a female artist at the time, Houston's public image had been tarnished in the years leading up to 2002's Just Whitney, which is arguably the most underrated album of her nearly three-decade career.
"See I don't understand/ Why you keep peepin' me/ When you don't even like me," she sings on lead single "Whatchulookinat," a direct aim at the media's extensive scrutiny surrounding her and then husband Bobby Brown. That same frustration can be heard in "Try It On My Own" and "Tell Me No," the latter of which is a rock-tinged, mid-tempo ballad that flexes her versatility. There are some bright spots on the album, too, in tracks like "One of Those Days," "Dear John Letter," and "Love That Man.".
Following a couple of rehab stints and her divorce from Brown, 2009's I Look to You signaled that Houston's best days were seemingly ahead. As the then 46-year-old songstress noted herself to the UK publication Digital Spy, the album encapsulates "the changes that we go through, the transitions that we go through, the tests that we go through." I Look to You debuted at No. 1 on the Billboard 200, marking her first No. 1 album in more than 20 years.
The 11-track project honors Houston's musical legacy while also looking to the future, enlisting in-demand hitmakers including Alicia Keys, Swizz Beatz, and Tricky Stewart. The title track and the Diane Warren co-written ballad "I Didn't Know My Own Strength" speak to Houston's resilience, while "For the Lovers" and the Loleatta Holloway-sampling "Million Dollar Bill" present a more celebratory mood. While some critics pointed out the deterioration of Houston's vocals, the inner peace, strength, and triumph heard throughout the entire record made her comeback glorious and worth the wait.
For Holiday Stans
Upon the arrival of Houston's 2003 Christmas offering, One Wish: The Holiday Album, her music had taken a back seat to her and Bobby Brown's tumultuous marriage. Although One Wish was Houston's lowest-charting album, it's filled with delightful interpretations of holiday standards like "The First Noël," "Have Yourself a Merry Little Christmas" and "Little Drummer Boy," the latter of which featured her then 10-year-old daughter Bobbi Kristina Brown. It also contains covers of "Who Would Imagine a King" and "Joy to the World," both of which originally appeared on the Oscar-nominated soundtrack to The Preacher's Wife in 1996.
Houston's holiday album may have fallen flat, but her rendition of "Do You Hear What I Hear?" — which appeared on 1987's A Very Special Christmas compilation album benefiting the Special Olympics — remains her biggest holiday success. (A vinyl edition of the album was released in 2021, with a new version of "Do You Hear What I Hear?" featuring a cappella group Pentatonix.)  
Whether Whitney Houston is singing holiday classics, gospel hymns, dance-pop, hard rock, or straight R&B, you feel it because she feels it — inspiring generations to come and cementing her legacy as "The Voice."
Songbook: How Mariah Carey Became The Songbird Supreme, From Her Unmistakable Range To Genre-Melding Prowess