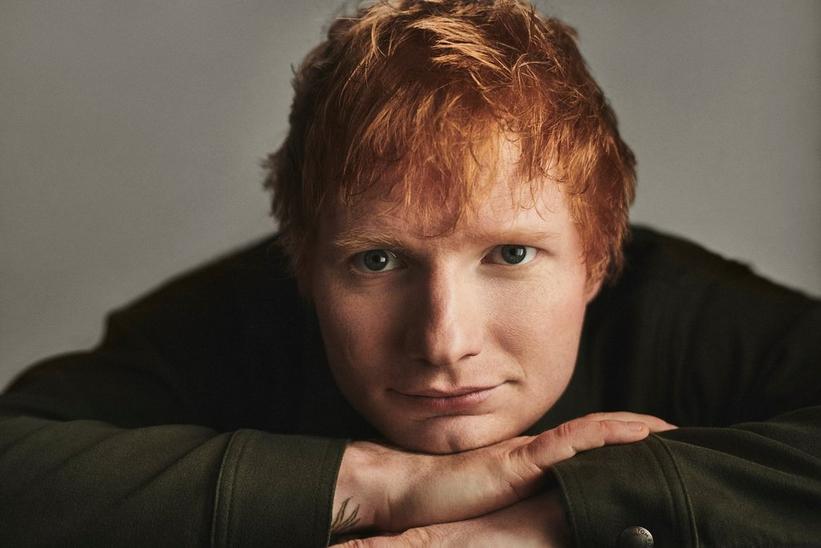 list
Ed Sheeran's Collab-Crazy 2022: All Of The Artists He's Paired With, From Taylor Swift To Russ
Along with touring the globe, Ed Sheeran has spent the year collaborating with artists from a wide array of genres and countries. From Burna Boy to Aitch, check out all of Sheeran's 2022 collaborators.
GRAMMYs
/
Aug 31, 2022 - 07:16 pm
Consider 2022 Ed Sheeran's "Year of Yes." Though he's never been one to shy away from a collaboration, this year has been particularly prolific. Even as Sheeran has been on the European leg of his +–=÷x Tour, the GRAMMY-winning singer has teamed up with everyone from pop mainstays like Taylor Swift and Camila Cabello to rockers Bring Me the Horizon and reggaeton hitmaker J Balvin.
As it turns out, the "Shivers" singer's genre-hopping approach to the guest feature was entirely intentional. "This year is actually going to end up being busier than last year, which I'm really excited about. There's a lot coming out. I've sort of wanted to span genres. I basically just had a load of people hit me up in different genres, ranging from metal to drill music, and I just said yes to everything," he revealed in a February interview with BBC Radio 2. 
"It's quite lonely being a solo artist sometimes," he added, "and it's quite exciting getting in there. Like I did a session this morning at 7 a.m. with Kodak Black who's from America. And then after that I did a session with a guy called Kwengface…and yeah, I'm doing a song on Saturday for Cradle of Filth…I'm finding it really fun."
While Sheeran has yet to unveil the results of any of those particularly wide-ranging studio sessions, we've rounded up every collab he's released since dropping his 2021 album, =, including boundary-pushing tangents into Jamaican dancehall, Afrobeats, Latin rap and more.
Check out all of Sheeran's 2022 collabs — so far — below.
"Bad Habits" with Bring Me the Horizon
Sheeran opened the 2022 BRIT Awards with a trick up his well-tattooed sleeve by turning the lead single from last year's = into a hard-rocking duet with Bring Me The Horizon. The dark churn of electric guitar on the first chorus adds a dose of dark menace to the proceedings, promising there might indeed be something sinister, as Sheeran sings, in the hours after 2 a.m. But it's not until the beat drops that his rock-band collaborators really let loose, injecting Sheeran's earworm with a barely contained fury that sends the song in an entirely new direction.
"The Joker and the Queen" with Taylor Swift
It's no secret that Sheeran and Taylor Swift have been A-list besties for nearly a decade. (His honorary doctorate in 2016 even inspired her to aspire for her own, which she was awarded earlier this year as part of the NYU Class of 2022.) And on the official remix of "The Joker and the Queen," the pals add a new chapter to both their long history of collaborations and the sweet narrative they started with 2012's "Everything Has Changed." The ballad's tender music video finds the two characters introduced in that Red-era single on parallel paths — while still connected — and even features a real-life text exchange between the real-life superstars, proving once again that their musical alchemy transcends time and distance.*
"Sigue" with J Balvin
Though Sheeran has flirted with Spanish flavors in the past on his own cuts like "Barcelona" and "South of the Border," the superstar had to really learn the language for his first team-up with J Balvin. "He wanted to bring me into his world, and I wanted to bring him into mine. Was a proper challenge learning Spanish for this and I had so much fun doing it," the singer shared on social media ahead of the release in March. On the resulting reggaeton bop, Sheeran gamely keeps up with Balvin stanza for stanza, even going beyond the requisite chorus with his own caliente Spanish-language verse.
"Forever My Love" with J Balvin
On the very same day he dropped "Sigue," the singer showed off a different side to his newly found Spanish skills and budding friendship with J Balvin with "Forever My Love." On the bilingual ballad, Sheeran effortlessly switches between English and Spanish, promising his undying love to the object of his affection. He's then joined by the Colombian superstar for some breathtaking harmonies over their dual acoustic guitars.
"2step" with Lil Baby
Sheeran has released 14 "global remixes" of this recent = single, including team-ups with Swedish rapper 1.Cuz, Italian singer/songwriter Ultimo and Finnish star Ellinoora. But it was his collab with Lil Baby that got the full treatment — complete with a kaleidoscopic music video featuring powerful choreography, an impressively motor-mouthed guest verse by the rapper, and a dedication to the people of Kyiv, Ukraine, where the visual was filmed. Ultimately, the sum of the collaboration's parts come together to leave fans with a message much greater than the simple "Two-steppin' with the woman I love" refrain at its core.
"Bam Bam" with Camila Cabello
Sheeran last teamed up with Camila Cabello on No.6 Collaborations Project highlight "South of the Border." But this time around she was the one recruiting him for "Bam Bam," Cabello's post-breakup single following her November 2021 split from Shawn Mendes. However, if you're expecting a shady tale of relationship revenge on the wistful salsa-infused track, think again. One minute the song has you dancing, and the next you're laughing at Cabello and Sheeran's message that, for better or for worse, life always goes on. And let's face it, has there been a more relatable lyric in all of 2022 than hearing Sheeran croon, "It's been a hell of a year, thank God we made it out" at the top of his guest verse? Y sigue bailando, indeed.
"Brace It" with Ishawna
This summer, Sheeran added his signature flair to Ishawna's latest single "Brace It." On the track, the GRAMMY winner doesn't overthink his contributions to the Jamaican dancehall star's simple but infectious groove, urging, "Stay there/ Let me whine on your body/ Brace it/ Brace it on me" over the track's spare, hip-swiveling beat.
"For My Hand" with Burna Boy
After dipping his toes into the realms of reggaeton, hip-hop and Jamaican dancehall, Sheeran pivoted to the Afro-fusion of Nigeria for his first collaboration with Burna Boy. Sure, the singer/songwriter has found inspiration in the music of Africa before — most notably on 2017 ÷ bonus cut "Bibia Be Ye Ye" — but his assist gives the romantic single from Burna Boy's sixth studio album Love, Damini a particularly swoonworthy burst over the Nigerian star's rumbling, laid-back vocals.
"Are You Entertained" with Russ
As its title hints, Russ' latest single does indeed open with Russell Crowe's famous line from 2000's Gladiator. But it's Sheeran's impeccable lyrical flow that does the bulk of the showboating as he reflects on the legacy he's been building since 2011, when he burst onto the scene with a guitar and a little ditty called "The A Team." "Live in the sticks/ Put my profit into mortar and bricks," he raps. "You know I got good advice from a couple guys/ To leave more than just stress for my kids/ Well isn't it blissful, baby?/ Sittin' here like we made it."
"Noche de Novela" with Paulo Londra
Sheeran first linked up with Argentine rapper Paulo Londra on "Nothing On You," their 2019 collaboration with British rapper Dave. For their second go-round, the pair match wits in English and Spanish as they make the most of the "novel night" of the song's title, finding potential for revelry in every drink poured and pair of eyes locked across the dance floor. "You could cover up my bruises and/ We could turn the moment into music/ Pour it out, drink it down like hooligans/ Noche de novela, let's do this, ay?" Sheeran spitballs on his charming verse. By the time he's finished, you'll be ready to take off into the unexplored night for your own adventure.
"My G" with Aitch
Aitch wrote this heartwarming track — featured on his debut studio album, Close to Home — for his younger sister Gracie, who was born with Down syndrome. Sheeran gets the animated treatment for the song's accompanying music video, providing support on the track with his melodic hook as he sings, "No other name for you/ Even though they call you by another/ You are always my G/ You light up the room/ Ever since the first day you were here/ You were always my G," in between the rising Manchester native's sweetly sentimental, rapped verses.
"Groundwork" with Big Narstie and Papoose
On his collaboration with rappers Big Narstie and Papoose, Sheeran lets fans in on the secret to his success — and it's all about how he's laid the proverbial (and literal) groundwork of his career. "Coming to ya from the outskirts/ I've been waitin' outside for time but now they gonna let me in/ But you gotta know one thing/ All I ever do is win/ Because of that groundwork/ I've been settin' this mic alight until the fight takes over/ And they say I told ya," he crows on the fleet-footed chorus, cementing his status as the ultimate kind of music industry success story.
Everything We Know About Taylor Swift's New Album 'Midnights'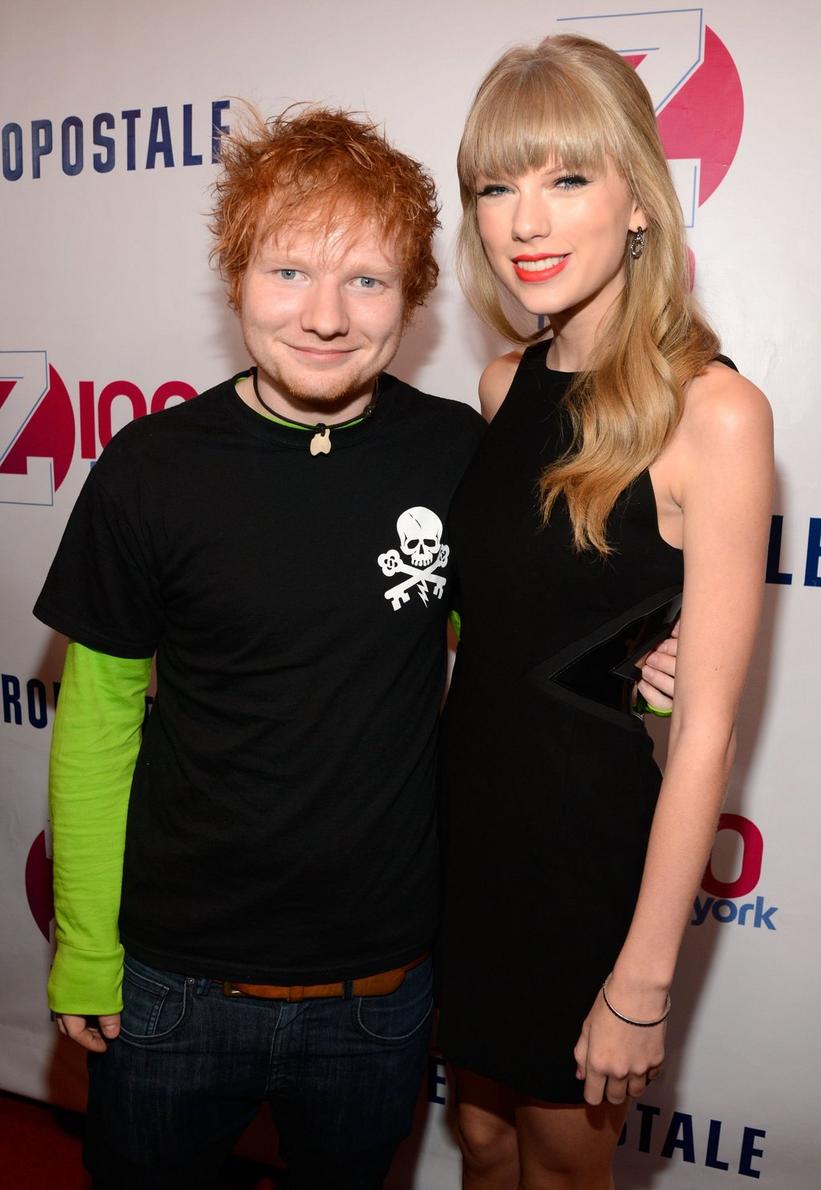 Ed Sheeran and Taylor Swift
Photo: Kevin Mazur/Getty Images
news
FYI/TMI: Are Taylor Swift And Ed Sheeran Getting Together?
Rumors surface that the two are in a red-hot relationship; Sony/ATV Music Publishing named top publisher of fourth quarter in 2012
GRAMMYs
/
Dec 3, 2014 - 05:06 am
(In an effort to keep you fully informed, and fully entertained, below we present today's FYI and TMI — news you need and news that's, well, sometimes needless….)
FYI …
Sony/ATV Claims Top Publisher In Q4 2012
Sony/ATV Music Publishing, which in June 2012 acquired administration of EMI Music Publishing, was the top publisher in the fourth quarter of 2012 based on its 25.8 percent share of the top 100 songs during the period, according to figures released by Nielsen BDS. No. 2 was Kobalt Music Group (16.5 percent share), followed by Universal Music Publishing Group (15.9 percent share), Warner/Chappell Music (14.2 percent share), and BMG Chrysalis (5.3 percent share).
TMI …
Swift Getting Together With Sheeran?
Taylor Swift may never be getting back together with a few people — like, ever — but that isn't stopping her from joining "The A Team." According to a report, Swift and GRAMMY-nominated singer/songwriter Ed Sheeran were reportedly seen together at a hotel in late February. Adding more red-hot fuel to the fire, Sheeran collaborated with Swift on her latest album, Red, the name of which is also a tattoo on Sheeran's left arm. Since Swift and Sheeran supposedly dated briefly last spring, maybe they are, like, getting back together.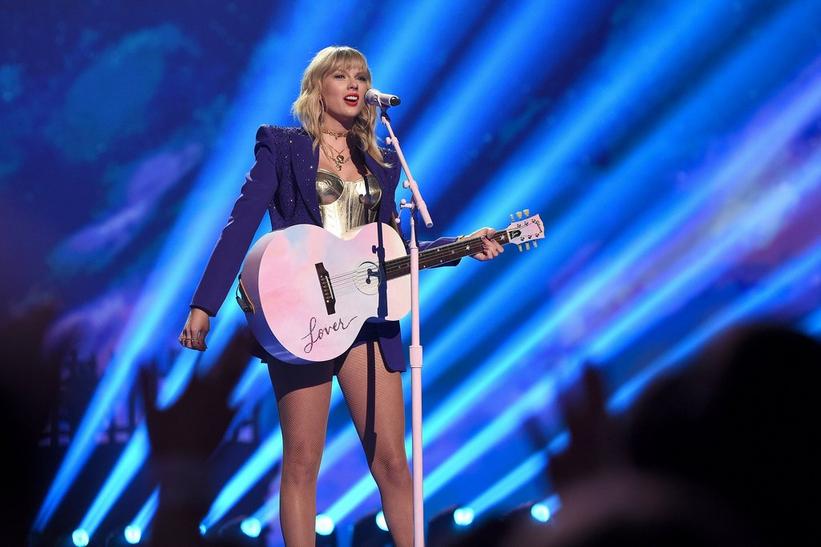 Photo: Dimitrios Kambouris/VMN19/Getty Images
news
Taylor Swift Plots 2020 World Tour With U.S. Dates For Lover Fest East & West
Following dates in Europe and South America, Swift will land in the U.S. for Lover Fest East and West, where the pop star will open Los Angeles' brand new stadium
GRAMMYs
/
Sep 18, 2019 - 02:38 am
Taylor Swift will be spreading the love in support of her hit album Lover.in 2020, but it may or may not be in a city near you. The GRAMMY winner announced plans for her summer 2020 tour in support of her seventh studio album, including two shows each in Foxborough, Mass. and Los Angeles for Lover Fest East and West respectively as the only four U.S. dates announced so far.
The Lover album is open fields, sunsets, + SUMMER. I want to perform it in a way that feels authentic. I want to go to some places I haven't been and play festivals. Where we didn't have festivals, we made some. Introducing, Lover Fest East + West! https://t.co/xw6YMN38WE pic.twitter.com/IhVPQ8DMUG

— Taylor Swift (@taylorswift13) September 17, 2019
The tour kicks off in Belgium on June 20 and hits festivals in seven European countries before heading to Sao Paulo, Brazil on July 18 then heading to U.S. Swift will then present Lover Fest West with back-to-back Los Angeles July 25 and 26 at the newly named SoFi Stadium. The concerts will serve as the grand opening of the much-anticipated NFL venue. The tour will wrap a double header at Gillette Stadiuim in Foxborough July 31 and Aug 1
"The Lover album is open fields, sunsets, + SUMMER. I want to perform it in a way that feels authentic," she tweeted. "I want to go to some places I haven't been and play festivals. Where we didn't have festivals, we made some. Introducing, Lover Fest East + West!"
Lover was released Aug. 23 and debuted at No. 1 on the Billboard 200. Her sold-out tour for her previous album, 2017's Reputation, was the highest grossing U.S. tour ever, breaking her own record.
Tickets for the new dates go on sale to the general public via Ticketmaster on Oct. 17.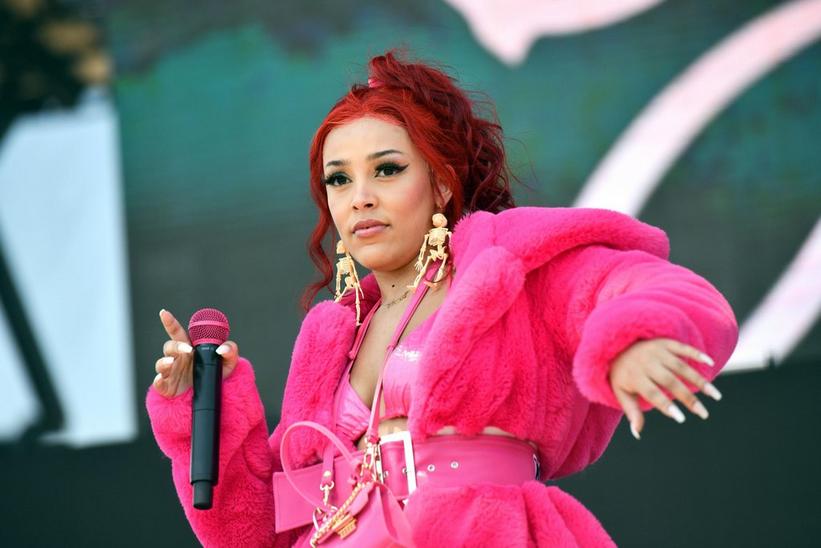 Photo: Scott Dudelson/Getty Images
news
Rolling Loud Festival Los Angeles Reveals 2019 Lineup
Find out who's bringing the heat to the hip-hop fest returning to L.A. this December
GRAMMYs
/
Oct 2, 2019 - 12:11 am
Today, Rolling Loud revealed the massive lineup for their final music festival of 2019, Rolling Loud Los Angeles, which is set to take over the Banc of California Stadium and adjacent Exposition Park on Dec. 14–15.
This iteration of "the Woodstock of Hip-Hop," as the all-knowing Diddy has called it, will feature Chance the Rapper, Lil Uzi Vert, Juice WRLD, Young Thug and Lil Baby as Saturday's heavy-hitting headliners. Sunday's headliners are none other than Future, A$AP Rocky, Meek Mill, YG and Playboi Carti.
L.A.'s own Blueface, Tyga and Doja Cat, are slated to perform, as well as representatives from the diverse rap scenes across the country, including Wale, Juicy J, Lil Yachty, Megan Thee Stallion, Gunna, Tyla Yaweh, Machine Gun Kelly and Yung Gravy.
The lineup announcement follows the successful wrap of Rolling Loud Bay Area in Oakland this past weekend. The event's flagship Miami event took place in May this year, and the New York and Hong Kong debut editions will both take place later this month.
Tickets for Rolling Loud L.A. go on sale this Friday, Oct. 4 at 11 a.m. PST. The complete lineup and more info on this event and their other fests can be found here.
news
"GRAMMY Effect" Spikes Sales
GRAMMYs
/
Dec 3, 2014 - 04:22 am
"GRAMMY Effect" Spikes Sales
The 52nd Annual GRAMMY Awards drove a 3.3 percent increase in album sales compared to last week, according to a Billboard report. The 2010 GRAMMY Nominees album jumped to No. 5 with sales of 71,000 units, a 55 percent increase. Top GRAMMY winner Beyoncé's I Am…Sasha Fierce rose to No. 14 with sales of 32,000 copies, a 101 percent increase. Other GRAMMY performers experiencing sales increases include Pink (up 234 percent), Dave Matthews Band (up 114 percent), the Zac Brown Band (up 82 percent), the Black Eyed Peas (up 76 percent), Taylor Swift (up 58 percent), and Lady Gaga (up 17 percent). Lady Antebellum, who also performed on the telecast, remained at No. 1 for the second consecutive week. (2/10)
Grainge Promoted To UMG CEO
Universal Music Group International Chairman and CEO Lucian Grainge has been promoted to CEO of Universal Music Group, effective Jan. 1, 2011. He will succeed Doug Morris and report to Jean-Bernard Lévy, chairman of the management board of Vivendi. Grainge will relocate from London to New York to serve as co-CEO of UMG in tandem with Morris for six months starting July 1. Morris, who has served as UMG chairman and CEO since 1995, will remain as company chairman. (2/10)