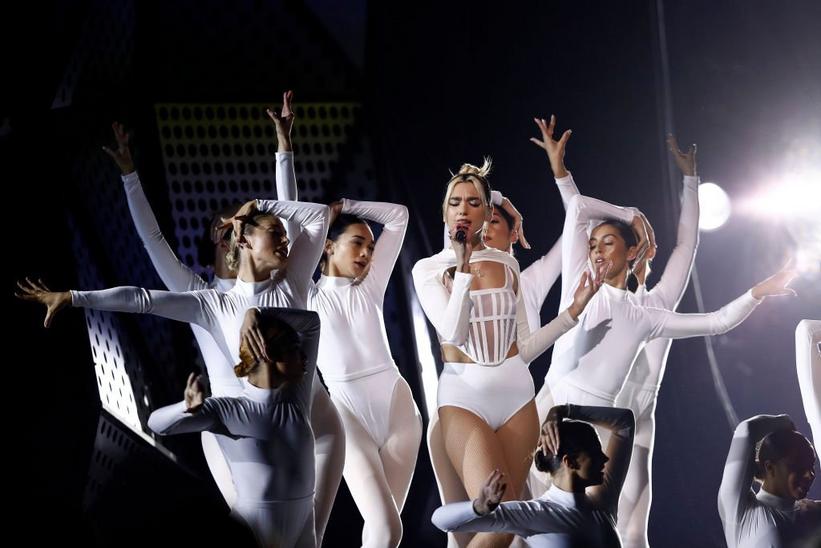 Photo: Ryan Pierse/Getty Images
news
Dua Lipa Teases New Album, 'Future Nostalgia,' Announces 2020 Tour Dates
The 2019 Best New Artist shared the first details of her highly anticipated sophomore LP by getting the album title tattooed on her arm
GRAMMYs
/
Dec 4, 2019 - 02:37 am
GRAMMY-winning dance-pop queen Dua Lipa is poised to bring us boldly into the new decade. On Dec. 1, the 2019 Best New Artist shared the first details of her highly anticipated sophomore LP by getting the album title, Future Nostalgia, tattooed on her arm and posting it on social media.
The "Electricity" artist followed up the album reveal with another exciting announcement: a 24-date European tour, which she will kick off on April 26 in Madrid. The Future Nostalgia EU Tour 2020 will see the Londoner playing massive venues across Europe, two nights at London's 20,000-capacity The 02 and Berlin's Mercedes-Benz Arena.
Lipa has not announced the release date for the new album yet, although her most recent bop, the vibrant nu-disco-tinged "Don't Start Now," was confirmed to be the lead single. She dropped the "boy bye" anthem on Halloween, followed by a fun new video (where you can peek that new tattoo!) the next day, Nov. 1.
She also spoke about the forthcoming project in a recent press release:
"What I wanted to do with this album was to break out of my comfort zone and challenge myself to make music that felt like it could sit alongside some of my favorite classic pop songs, whilst still feeling fresh and uniquely mine. I was inspired by so many artists on the new record from Gwen Stefani to Madonna to Moloko to Blondie and OutKast, to name just a few.
Because of the time that I'd spent on the road touring with my band I wanted Future Nostalgia to have a lot more of a live element, but mixed together with modern electronic production. My sound has naturally matured a bit as I've grown up but I wanted to keep the same pop sensibility as I had on the first record. I remember that I was on my way to a radio show in Las Vegas thinking about the direction for this new record and I realized that what I wanted to make was something that felt nostalgic but had something fresh and futuristic about it too."
Sounds like exactly what we need in pop music in 2020!
Last October, at her powerful acoustic performance and intimate conversation at the GRAMMY Museum, the "New Rules" singer noted the personal-feeling early albums of P!nk and Nelly Furtado, two of her childhood favorites, as points of reference for her 2017 self-titled debut album. We also caught up with her before the event to chat about working with Calvin Harris, who's on her collab wish list (Rosalía and Frank Ocean are two!), what the viral success of "New Rules" felt like for her and more.
Tickets for the Future Nostalgia EU Tour go on sale this Friday, Dec. 6 at 9 a.m. local time, except for Spain, whose tickets will go on sale on Dec. 5 at 9 a.m.—more details can be found on dualipa.com.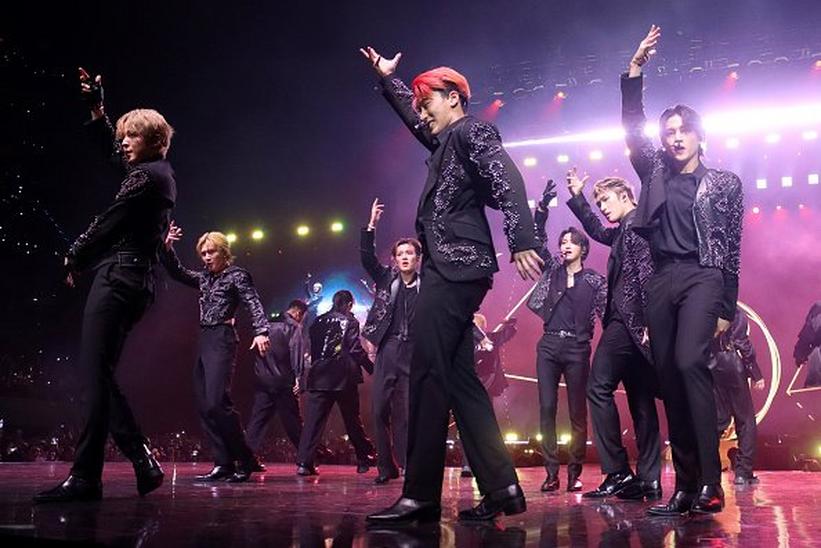 ATEEZ perform during their Fellowship: Break The Wall tour
Photo: Adrián Monroy/Medios y Media/Getty Images
news
New Music Friday: Listen To Releases From Beyoncé, Lana Del Rey, ATEEZ & More
December begins with a blast of new music from some of music's biggest stars. Press play on five new releases Jung Kook & Usher, Tyla and others, out on Dec. 1.
GRAMMYs
/
Dec 1, 2023 - 06:09 pm
While 2023 may be coming to an end, the first releases of December prove that it's far from time to wind down.
From Taylor Swift — who released "You're Losing Me," a song originally recorded for her 2022 smash album — to Dua Lipa's extended edit of her single "Houdini," and Lana Del Rey's cover of "Take Me Home, Country Roads," listeners are being treated to new tracks from familiar favorites today.
But surprise releases were the theme of the day as Beyoncé dropped "MY HOUSE," a single accompanying her Renaissance concert film.
Dec. 1 also sees a bevy of reissue and archival releases, exciting new projects from artists like singer/songwriter Dove Cameron, and the second studio album from K-pop group ATEEZ. 
Start off your month by listening to these tracks and albums from seven artists that will jumpstart your month.
Beyoncé - "MY HOUSE"
Queen Bey surprised fans with an early Christmas present by dropping "MY HOUSE," her first single since 2022's Renaissance. This track was featured during the credits of her new Renaissance concert film.
Written and produced by The-Dream, this song showcases Beyoncé's rapping skills, as she effortlessly weaves verses over a powerful horn melody. There's a vibe check in the song's second half, where the music becomes a smooth, electronic dance groove reminiscent of Renaissance's ballroom vibe. 
Jung Kook & Usher - "Standing Next To You (Remix)"
BTS' pop singer Jung Kook is back with a remix to his track "Standing Next To You," this time joined by an R&B sensation. The remix features a new verse from  Usher, who adds a delicate touch to the vibrant, high-paced song.
The original track was released last month as a single on Jung Kook's debut album, GOLDEN. This could be fans' last time hearing Jung Kook's music for a while — the "golden maknae" of BTS announced he's enlisting for mandatory military service this month.
Tyla - "Truth or Dare"
GRAMMY-nominated Afrobeats star Tyla is closing the year with a sneak peek of her upcoming self-titled album. The hypotonic single "Truth or Dare," following the success of her GRAMMY-nominated song "Water" (the song is nominated for Best African Music Performance at the 2024 GRAMMYs alongside "Amapiano" by ASAKE & Olamide, "City Boys" by Burna Boy, Davido's "UNAVAILABLE" feat. Musa Keys, and "Rush" by Ayra Starr).
In this new song, Tyla revisits an old flame — this time with newfound wisdom and assurance that she won't fall for his charm anymore: "So let's play truth or dare, dare you to forget / That you used to treat me just like anyone."
Tyla announced her upcoming self-titled album on social media, captioning, "African music is going global and I'm so blessed to be one of the artists pushing the culture. I've been working on my sound for 2 years now and I'm so ready for the world to hear it."
Lana Del Rey - "Take Me Home, Country Roads"
After performing during "Christmas At Graceland," a televised tribute to Elvis Presley, Lana Del Rey dropped a surprise cover of John Denver's 1971 hit "Take Me Home, Country Roads."
This cover might not come as a shock for fans after she referenced a line from Denver's 1972 "Rocky Mountain High" on her track "The Grants" from GRAMMY-nominated album Did You Know There's A Tunnel Under Ocean Blvd. (At the 2024 GRAMMYs, Did You Know is nominated for Album Of The Year alongside Jon Batiste's World Music Radio, Olivia Rodrigo's Guts, Swift's Midnights, Janelle Monae's The Age Of Pleasure, SZA's SOS, Miley Cyrus' Endless Summer Vacation and the record by boygenius. Did You Know is also nominated for Best Alternative Music Album alongside The Car by Arctic Monkeys, PJ Harvey's I Inside The Old Year Dying, Gorillaz's Cracker Island and boygenius' album.)
The track features Del Rey's signature soothing vocals, as a Western-style melody balances the instrumentation. She brings her own sultry style to this '70s country classic, while continuing to show her musical versatility.
ATEEZ -

The World EP:FIN:WILL
Five years after their debut album, K-pop group ATEEZ  have returned with The World EP:FIN:WILL. The 12-track album is led by "Crazy Form," an Afrobeats/dancehall-influenced track, and also features many solo and unit tracks from the group.
Members Hong Joong and Seonghwa took the reins on "Matz," a dynamic hip-hop track, while Yeosang, San and Wooyoung collaborated for the R&B-influenced "It's You." 
During a Seoul press conference, Lead Hong Joong spoke about the group's evolution and how fans should look forward to future releases. 
"This year marks our fifth debut anniversary and so far, our greatest achievement has been establishing a strong relationship with our fans around the world. We hope to continue presenting music that can make our fans proud of us," he said. 
Living Legends: Stephen Marley On 'Old Soul,' Being A Role Model & The Bob Marley Biopic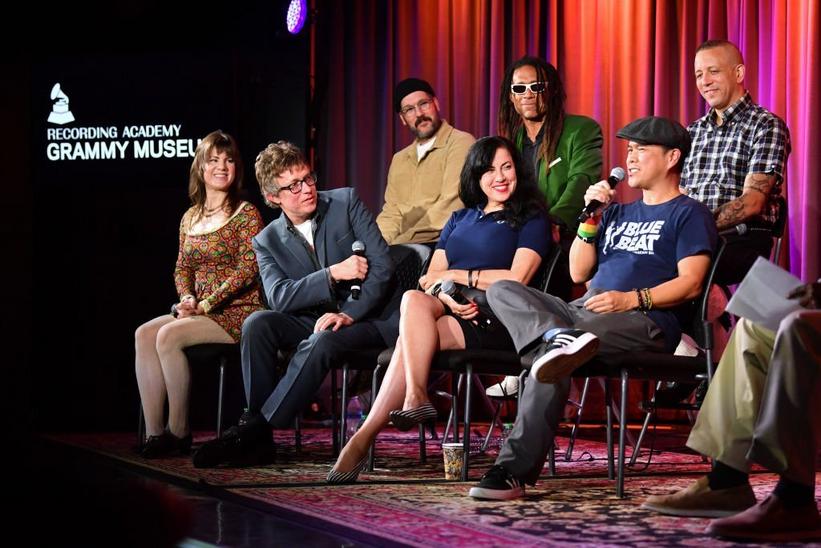 (From Left) Nina Cole, Matt Parker, Scott Klopfenstein, Karina Denike, Paul Hampton, Greg Narvas and Oliver Charles speak with moderator Junor Francis during "A History Of L.A. Ska" part four
Photo: Sarah Morris/Getty Images for The Recording Academy
news
Watch: "A History Of L.A. Ska" Panel At The GRAMMY Museum With Reel Big Fish, NOFX & More
Featuring musicians, DJs, curators and more, the multi-part series "A History Of L.A. Ska" explores the genre's deep history in Southern California. The latest installment included members of Hepcat, Ocean 11 and others.
GRAMMYs
/
Nov 20, 2023 - 04:42 pm
Ska — as any lover of the genre will tell you — is far from dead.
In fact, the genre that burst forth in Jamaica at the time of the nation's independence in the early 1960s (and, crucially, is the musical seed from which reggae grew) is alive and well around the globe. Call it a fourth wave, a revival or a scene of stalwarts, but the horn-heavy, grooving and uptempo music continues to march forward — and the GRAMMY Museum is all-in on the celebration.
For several years, the GRAMMY Museum has hosted "A History Of L.A. Ska" — a discussion and performance series featuring local musicians, DJs, journalists, and others. Panelists reminisce about their early years in ska, working with legends, and the important role Southern  California has played in the development of the culture. The most recent panel was held on Nov. 7 (but more on that later).
Although born in Jamaica, ska migrated to the UK in the latter half of the '60s and, the following decade, mixed with burgeoning punk sounds to create the genre's second wave: Two Tone. Bands such as the Specials, Madness and the Selecter struck a chord with local audiences as well as those in Southern California — which saw its first ska band, the Boxboys, debut in 1979. Then by the late '80s, California-based bands such as the Untouchables, Fishbone, Hepcat and Let's Go Bowling were building a distinct scene.
As the '90s began, Southern California was the focal point of ska's third wave. Helmed by bands like Reel Big Fish, the Aquabats and, early on, No Doubt, a new generation further enmeshed punk and ska to become faster, catchier and more memeable. While third wave groups of the era came from all corners (see New Jersey's Catch-22, Florida's Less Than Jake and Boston's Mighty Mighty Bosstones), Southern California remained a stronghold for ska music and was buoyed by a strong subculture of mods and non-racist skinheads. 
Today, Los Angeles remains a hotbed for a new generation of ska acts — many of which harken back to the sounds of the '60s. Southern California has also played host to ska legends, including Derrick Morgan (whose song "Forward March" became an independence anthem), Pat Kelly, the Pioneers and more.
"When I was first introduced to ska in Southern California, I was blown away by the level of musicianship and the love that these young talents had for the music that I grew up listening to in Jamaica," shares Junor Francis, a moderator and veteran radio DJ/emcee who co-curates the "A History Of L.A. Ska" series with Eric Kohler. The two also host a video interview series of the same name. [Editor's note: Author Jessica Lipsky has appeared on this series.] 
"While many fans of American third wave ska were introduced to the sound in the 1990s, more casual listeners may not be aware that ska in Southern California dates back four decades," notes Kohler. "To that end, Junor and I have made it our mission to celebrate and highlight the scene's rich history, vibrancy and uniqueness."
Part four of the series — and the most recent — featured seven panelists representing a broad swath of L.A. ska history: Hepcat drummer Greg Narvas (Hepcat), singer Karina Denike (Dance Hall Crashers, NOFX), keyboardists Matt Parker (the Donkey Show) and Paul Hampton (the Skeletones), DJ and drummer Nina Cole (the Cover Ups), drummer Oliver Charles (Ocean 11, Ben Harper & The Innocent Criminals, Gogol Bordello), and multi-instrumentalist Scott Klopfenstein (Reel Big Fish, the Littlest Man Band). The panel was moderated by Junor Francis.
The four-part series is available to view on the GRAMMY Museum's website, or you can immerse yourself in the "History Of L.A. Ska" panel by panel below:
Featuring: Greg Lee, Persephone "Queen P" Laird, Joey Altruda, Brian Dixon and Luis Correa
Featuring: Angelo Moore, Chris Murray, Darrin Pfeiffer, Kip Wirtzfeld, Tazy Phyllipz
Featuring: Jerry Miller, Chuck Askerneese, Ivan Wong,  Greg Sowders, Norwood Fishe, Greg Lee, Bill Bentley, Howard Paar, Marc Wasserman, Karena Sundaram Marcum, Laurence Fishburn
If the excitement on display during the "History Of L.A. Ska" panel sessions isn't enough to convince you of the genre's staying power, consummate emcee Junor Francis shares words of affirmation:
"After being baptized into this scene and welcomed with open arms, I realized this was absolutely the right place for me!"
Photographer Kate Simon Details Her Time With Reggae's Greats & How Bob Marley Was "Completely Possessed By The Music"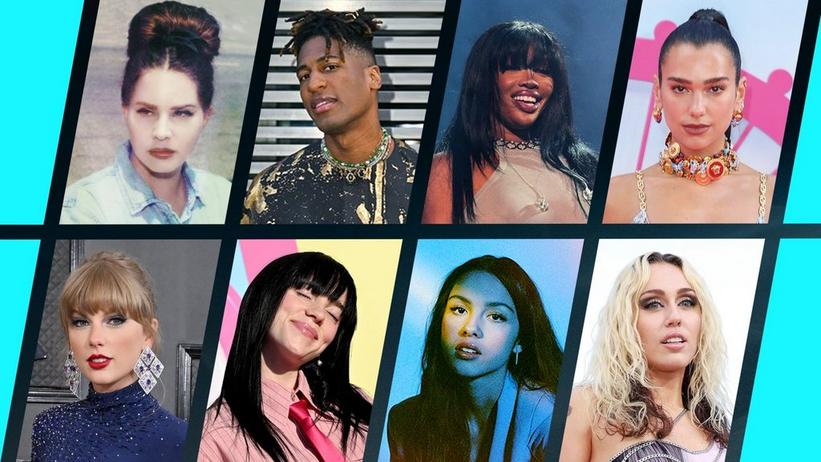 (Clockwise) Lana Del Rey, Jon Batiste, SZA, Dua Lipa, Miley Cyrus, Olivia Rodrigo, Billie Eilish, Taylor Swift
Photos: Image from TiVO; Dave Benett/Getty Images for Alexander McQueen; Prince Williams/WireImage; SAMIR HUSSEIN/WIREIMAGE; Arturo Holmes/Getty Images; Image from TiVO; Albert L. Ortega/Getty Images; Axelle/Bauer-Griffin/FilmMagic
list
Here Are The Song Of The Year Nominees At The 2024 GRAMMYs
The eight nominees for Song Of The Year at the 2024 GRAMMYs are hits from some of music's biggest names: Lana Del Rey, Miley Cyrus, Billie Eilish, Olivia Rodrigo, Jon Batiste, Taylor Swift, SZA and Dua Lipa.
GRAMMYs
/
Nov 10, 2023 - 04:24 pm
The Song Of The Year GRAMMY Award honors the best releases in the music business, and the eight nominees for the golden gramophone at the 2024 GRAMMYs come from a variety of established singer/songwriters. From dance anthems to pop bops, ballads and R&B smashes, the nominees for Song Of The Year showcase the breadth of emotions of the past year.
Before tuning into the 2024 GRAMMYs on Sunday, Feb. 4, 2024, learn more about this year's Song Of The Year nominees below.
"
A&W"
- Lana Del Rey
Songwriters: Jack Antonoff, Lana Del Rey & Sam Dew
The second single from her ninth studio album, Did You Know That There's a Tunnel Under Ocean Blvd, "A&W" is a refreshing addition to Lana Del Rey's expansive discography.
Another shattered portrait of the American Dream, the seven-minute epic, oscillates from madness to exhaustion, as Del Rey described feeling burned out by being objectified and perceived as an "American whore." What begins as a psychedelic folk ballad erupts into a defiant trap number interpolated with a doo-wop standard by the four-minute mark of the chaotic number.
"I'm a princess, I'm divisive/Ask me why I'm like this/Maybe I just kinda like this," Del Rey anxiously warbles. Later, she expresses her resignation surrounding rape culture: "If I told you that I was raped/ Do you really think that anybody would think/ I didn't ask for it? I didn't ask for it/ I won't testify, I already f—ed up my story."
"Anti-Hero" - Taylor Swift
Songwriters: Jack Antonoff & Taylor Swift
"Anti-Hero" showcased a new side of Taylor Swift — a rare moment where the 33-year-old pop star confronted her flaws in the public eye.
"I really don't think I've delved this far into my insecurities in this detail before," Swift said of the track in an Instagram video. "Not to sound too dark, but, like, I just struggle with the idea of not feeling like a person."
The self-loathing synth-pop anthem — with its cheeky chorus — catapulted "Anti Hero" into virality. With its ubiquitous meaning, the song topped charts and became a staple of pop radio. Now, it's enjoying the highest praise as a contender for Song Of The Year. 
"Butterfly" -
Jon Batiste
Songwriters: Jon Batiste & Dan Wilson
Beyond its sound, what makes Jon Batiste's "Butterfly" so stunning is the story behind it. The touching jazz-soul fusion track is an iteration of the lullabies Batiste penned while his wife Suleika Jaouad was hospitalized during her cancer treatment.
"It's just such a personal narrative song in relation to my life and what my family has gone through and my wife and all of the things she's been able to overcome," the 36-year-old GRAMMY winner told PEOPLE.
"Butterfly" is featured on Batiste's latest album, World Music Radio. Like much of his discography, "Butterfly" is inherently uplifting but there's an underlying yearning for freedom. "Butterfly in the air/ Where you can fly anywhere/ A sight beyond compare," Batiste croons over stripped-down keys.
"
Dance The Night"
(From Barbie The Album) - Dua Lipa 
Songwriters: Caroline Ailin, Dua Lipa, Mark Ronson & Andrew Wyatt
With the release of her pop-funk epic Future Nostalgia during the COVID-19 pandemic, Dua Lipa proved she could master the art of escapism. On "Dance The Night," a thrilling dance-pop number from the star-studded Barbie soundtrack, she channels that same inspiration with a side of glitter and glam.
"Greta said that the whole film was inspired by disco. There's a lot of very glittery and pop moments in it," the 28-year-old singer said of how the track fits into the movie in an interview with Dazed.
Over a sleek synth, the pop star reflects the unwavering joy Barbie outwardly emanates while she's crumbling inside: "Even when the tears are flowin' like diamonds on my face/I'll still keep the party goin', not one hair out of place (yes, I can)."
"Flowers" - Miley Cyrus
Songwriters: Miley Cyrus, Gregory Aldae Hein & Michael Pollack
Miley Cyrus has perfected the art of reinventing herself. With the post-breakup number "Flowers," she reclaimed her independence and took a hard turn from gritty rock back into pop music. "I can take myself dancing, yeah/ I can hold my own hand/ Yeah, I can love me better than you can," she belts over a disco-pop beat.
While the 30-year-old musician wouldn't share if "Flowers" was indeed about her ex-husband Liam Hemsworth, the song became an empowering earworm from a more refined version of the longtime musician.
"The song is a little fake it till you make it," she said of "Flowers" in an interview with British Vogue. "Which I'm a big fan of." It turns out she made it with a nomination for Song Of The Year at the 2024 GRAMMY Awards.
"Kill Bill" - SZA
Songwriters: Rob Bisel, Carter Lang & Solána Rowe
On the psychedelic R&B groove of "Kill Bill," which references the legendary Quentin Tarantino film, SZA dreams up her own unfiltered revenge fantasy. "I might kill my ex / Not the best idea / His new girlfriend's next / How'd I get here?" she ponders over an airy melody.
The song stands out on the R&B singer's latest album, SOS, for not only its cheeky wordplay but for how visceral she portrayed the devastation of a breakup. 
Despite its popularity, the 34-year-old singer initially thought one of the other songs on her 23-track album would have topped the charts. "It's always a song that I don't give a f— about that's just super easy, not the s— that I put so much heart and energy into. 'Kill Bill' was super easy — one take, one night," the singer told Billboard of "Kill Bill's" success.
"
Vampire"
- Olivia Rodrigo
Songwriters: Daniel Nigro & Olivia Rodrigo
Like her explosive debut "Drivers License," Olivia Rodrigo opted for a swelling power ballad for the lead single of her sophomore album Guts. On "Vampire," the singer/songwriter recalls a parasitic relationship with a swelling power ballad that erupts into a booming guitar breakdown. "Bloodsucker, famef—er/ Bleedin' me dry, like a goddamn vampire," she sings with a bitter lilt.
While many speculated the song was about a toxic relationship, Rodrigo claimed it's more nuanced than that. "It's more about my regret and kind of beating myself up for doing something that I knew wasn't gonna turn out great and kind of just taking ownership of that and dealing with those feelings," she told Sirius XM Hits 1.
Regardless, the 20-year-old artist turned something bitter into something sweet by landing a Song Of The Year nomination.
"What Was I Made For?" [From The Motion Picture "Barbie"] - Billie Eilish
Songwriters: Billie Eilish O'Connell & Finneas O'Connell
Not only was the Barbie movie a massive hit, its soundtrack was, too, thanks to a slew of chart-topping artists including Dua Lipa, HAIM and Sam Smith. So it's no surprise that Billie Eilish made that list as well, and delivered a gutting ballad that soundtracked one of the most heartbreaking moments of the film.
The wistful single, which arrives at the devastating realization that you're not real and are instead meant to be consumed, aptly embodies the narrative arc of the box office smash. "Looked so alive, turns out I'm not real/ Just something you paid for/ What was I made for," the 21-year-old musician sings with a heartbreaking lilt. 
While writing the sobering number, Eilish tried to embody the essence of the life-sized doll herself. "I was purely inspired by this movie and this character and the way I thought she would feel, and wrote about that," she told Zane Lowe of Apple Music. 
The 2024 GRAMMYs, officially known as the 66th GRAMMY Awards, returns to Los Angeles' Crypto.com Arena on Sunday, Feb. 4, 2024, and will broadcast live on the CBS Television Network and stream live and on-demand on Paramount+ at 8-11:30 p.m. ET/5-8:30 p.m. PT.
The Recording Academy and GRAMMY.com do not endorse any particular artist, submission or nominee over another. The results of the GRAMMY Awards, including winners and nominees, are solely dependent on the Recording Academy's Voting Membership.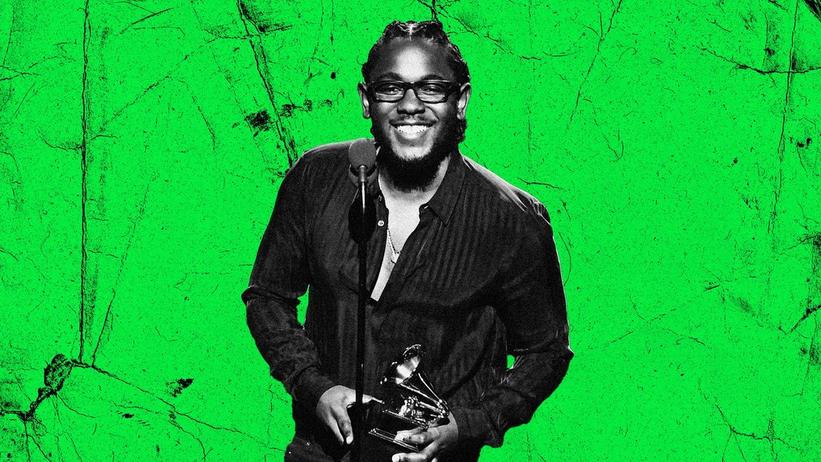 Kendrick Lamar
Photo: Jeff Kravitz/FilmMagic
video
GRAMMY Rewind: Kendrick Lamar Honors Hip-Hop's Greats While Accepting Best Rap Album GRAMMY For 'To Pimp a Butterfly' In 2016
Upon winning the GRAMMY for Best Rap Album for 'To Pimp a Butterfly,' Kendrick Lamar thanked those that helped him get to the stage, and the artists that blazed the trail for him.
GRAMMYs
/
Oct 13, 2023 - 06:01 pm
Updated Friday Oct. 13, 2023 to include info about Kendrick Lamar's most recent GRAMMY wins, as of the 2023 GRAMMYs.
A GRAMMY veteran these days, Kendrick Lamar has won 17 GRAMMYs and has received 47 GRAMMY nominations overall. A sizable chunk of his trophies came from the 58th annual GRAMMY Awards in 2016, when he walked away with five — including his first-ever win in the Best Rap Album category.
This installment of GRAMMY Rewind turns back the clock to 2016, revisiting Lamar's acceptance speech upon winning Best Rap Album for To Pimp A Butterfly. Though Lamar was alone on stage, he made it clear that he wouldn't be at the top of his game without the help of a broad support system. 
"First off, all glory to God, that's for sure," he said, kicking off a speech that went on to thank his parents, who he described as his "those who gave me the responsibility of knowing, of accepting the good with the bad."
He also extended his love and gratitude to his fiancée, Whitney Alford, and shouted out his Top Dawg Entertainment labelmates. Lamar specifically praised Top Dawg's CEO, Anthony Tiffith, for finding and developing raw talent that might not otherwise get the chance to pursue their musical dreams.
"We'd never forget that: Taking these kids out of the projects, out of Compton, and putting them right here on this stage, to be the best that they can be," Lamar — a Compton native himself — continued, leading into an impassioned conclusion spotlighting some of the cornerstone rap albums that came before To Pimp a Butterfly.
"Hip-hop. Ice Cube. This is for hip-hop," he said. "This is for Snoop Dogg, Doggystyle. This is for Illmatic, this is for Nas. We will live forever. Believe that."
To Pimp a Butterfly singles "Alright" and "These Walls" earned Lamar three more GRAMMYs that night, the former winning Best Rap Performance and Best Rap Song and the latter taking Best Rap/Sung Collaboration (the song features Bilal, Anna Wise and Thundercat). He also won Best Music Video for the remix of Taylor Swift's "Bad Blood." 
Lamar has since won Best Rap Album two more times, taking home the golden gramophone in 2018 for his blockbuster LP DAMN., and in 2023 for his bold fifth album, Mr. Morale & the Big Steppers.
Watch Lamar's full acceptance speech above, and check back at GRAMMY.com every Friday for more GRAMMY Rewind episodes. 
10 Essential Facts To Know About GRAMMY-Winning Rapper J. Cole