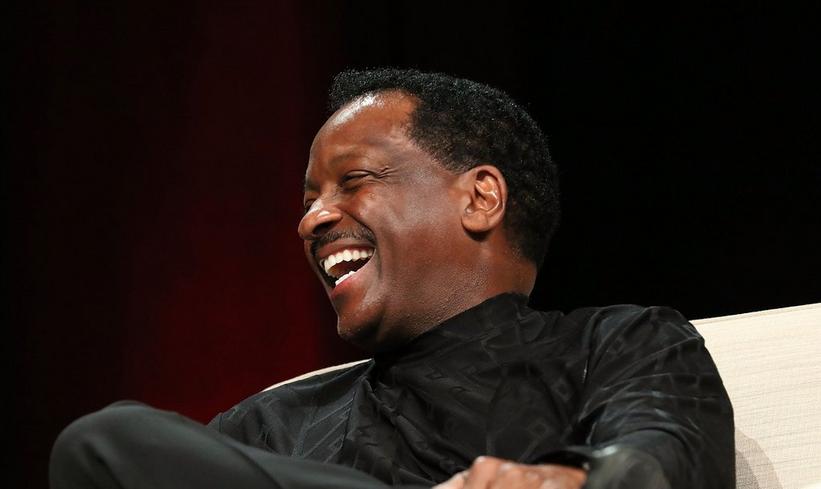 Photo: Aaron Davidson/Getty Images
news
Radio And TV Legend Donnie Simpson On The Key To His Decades-Long Career: "I Don't Have To Be Great––I Just Have To Be Me"
In honor of his recent induction into the Radio Hall Of Fame, GRAMMY.com highlights the broadcasting icon's celebrated career, his impact on media and culture, and his ongoing advocacy for Black representation in radio and TV
GRAMMYs
/
Jan 7, 2021 - 04:43 am
About five years ago, Washington, D.C., DJ Donnie Simpson emerged from retirement after a little coaxing from his wife, Pam.
"She framed it really [nicely]. She said, 'Donnie, everywhere you go, all you hear is how much people love you and they wish you'd do something else. And God has given you a gift that you should be sharing with people,'" Simpson tells GRAMMY.com over a Zoom interview. "That's what she said, but what I heard was, 'Get out.'"
The affable radio and television icon ultimately returned to the airwaves in 2015. Five years later, he received one of the highest accolades in the radio industry: Last October, he was inducted into the Radio Hall Of Fame, an honor recognizing his contributions to the radio medium over the last half-century.
The honor is the culmination of the legend's celebrated, decades-long career in radio, which launched in the '70s when a teenaged Simpson got his start on the Detroit airwaves. At the time, he looked to a handful of local DJs as mentors, including the high-spirited Ernie Durham.
"I did not adopt his on-air style, but I try very much to adopt his off-air style. He always carried it with class," Simpson said of Durham. "And that was the example to me: to always be kind to people, to look people in the eye, no matter who they were."
It wasn't until Simpson left Detroit, in 1977, and logged his first few years at WKYS 93.9 in D.C.––a station he would reformat and lead to No. 1 as program director––that he found his stride on air, he says.
"It's something I always say, and it's so true: I don't have to be great––I just have to be me," Simpson says. "Being you always works because that's the spirit that connects us. That's the thing that makes you real to people; they feel you when you are you. When you're trying to be something else, they know that, too."
Simpson says he's long avoided listening to recordings of himself for fear that the inevitable analysis would disrupt the "magic" of what he'd helped create. That approach also extended to his TV career, which started—not counting a role he now laughs about on a short-lived dance show in Detroit—when he served as backup sports anchor for WRC-TV in the early '80s. Not long after, he began hosting a relatively new show on the then-burgeoning BET network. Simpson had concerns about whether the show was the right fit for him.
"BET, in its infancy, wasn't a very pretty baby. The quality wasn't there. I've always been protective of image, because that's all I have," Simpson says. "But after thinking about it for two days, I decided this: This is our first Black television network. If you have something to offer it, you have to do it."
The two-hour show, "Video Soul," which spotlighted Black artists at a time when MTV was almost exclusively focused on white musicians, became BET's highest-rated program at one point.
Jeriel Johnson, executive director of the Recording Academy's Washington, D.C., chapter, remembers watching "Video Soul" as a teen in his Cincinnati home. Simpson, he says, was a "steady presence of Black excellence."
"He was the face of BET," Johnson says. "He was just a staple, and he had such a calming voice and he was super smooth. I just looked up to him as a young, Black kid who loved music ... And I remember seeing him and being like, 'Wow, I could be on TV, too. If he can, I can.'"
On the program, Simpson interviewed artists who were already riding the waves of success or were well on their way: Jodeci, SWV, New Edition, En Vogue, Mariah Carey, Take 6, Whitney Houston. Regardless of the star who graced the couch each night, Simpson took the same approach.
"For every guest I ever had on 'Video Soul,' they would bring me a bio with all this information on the artist … I wouldn't even read it," Simpson remembers. "That's the point of the interview, for me to get to know you."
Elise Perry, a producer and the president of the Recording Academy's Washington, D.C., chapter, worked behind the scenes on "Video Soul" in the '90s, a pivotal decade for both R&B and hip-hop, she notes.
"All of these different subgenres of R&B really started to have an uptick in the '90s, and the fact that BET was present visually at that time, representing Black music in that way—it was a very special time," Perry says. "There were a lot of Black folk there, and it was just like a party. It was where I got my 'master's degree,' I call it. Everybody was family … It was just like a mecca."
Read: Meet The Recording Academy D.C. Chapter's First Black Female President, Elise Perry
Simpson treated the crew like family and has continued to provide unparalleled support for the D.C. community over the years, Perry, a D.C. native, says.
"He's our family. He's our brother. He's our uncle. He's that dude next door. He's our neighbor. He's our friend," she says.
"Family" is also how GRAMMY-nominated producer Chucky Thompson describes Simpson, who had a big impact on him when he was growing up in D.C.
"I've learned so much about people from him, just the way that he's been excited about their careers," he says of Simpson. "It transcends to you. It's like, 'Wait a minute, Donnie's excited? Now I'm excited.'"
For Thompson, who helped craft hits for Faith Evans, Notorious B.I.G. and Mary J. Blige in the '90s, "Video Soul" was formative.
"It was almost like another version of what 'Soul Train' meant," Thompson says. "But [Simpson] got even more personal with you because he was able to talk to the artists and give you a little bit of insight on what their journeys were … He gave me a lot of information on how to make it in this business."
"Donnie Simpson is the standard," Joe Clair, comedian, radio personality, on-air veteran and host of "The Joe Clair Morning Show" on WPGC 95.5 FM in Washington, D.C., adds. "My mom and dad loved him, my siblings love him and people from a generation after me love him. That is a testament to who he is as a broadcaster and what he means to us as a voice for our community. I've worked with him throughout the years, and he's given me valuable advice both for career moves and for negotiating my worth. He is a shining example for a life in radio and television on your own terms."
Yet becoming successful in the business, including achieving financial success, wasn't an easy journey for Simpson. The DJ has been vocal about the need for equitable pay for Black DJs. In recalling his own path to multimillion-dollar contracts, Simpson turns to a lyric from Elton John's "I've Seen That Movie Too": "It's a habit I have / I don't get pushed around."
"I've walked out [on deals], because you're not going to get me for half [the] price because I'm Black; those days are over," Simpson says, adding that in Detroit, he made one-fifth of what white DJs were making. "That was a very significant part of my career, to be able to be a part of changing that narrative, to letting them know you have to pay Black talent."
Simpson has also advocated for stations to put more of the DJ back into DJing. In the past few decades, he notes, many DJs have watched their curated playlists and airtime drift away due to technological advances and the consolidation of station ownership.
"So much of its personality has been stripped from it," Simpson says of the art of DJing. "I play whatever I want to play every day, but that's the magic of it to me … I don't want a computer programming music for me, because every day feels different. And I like to be tapped into that feeling."
In 1974, Simpson played Elton John's "Bennie And The Jets" on his show in Detroit, a decision he says he fretted about because "Black folks didn't know Elton John." He played the song twice that evening and got an overwhelming response from callers. John himself was soon on the phone with Simpson to discuss the record's success in Detroit; he handed Simpson a gold record for the single six months later.
"It's music that you wouldn't traditionally associate with Black radio; it's Elton. But that was a lesson to me," Simpson says. "It's all music to me; I don't care who made it. I just care what it sounds like [and] if it fits what I'm doing."
The fact that most DJs no longer have the latitude to craft their own playlists is a big loss for radio, Simpson says.
"You have young people out here with great ears that will never get the chance to express themselves musically because it's all programmed for them," he says. "I used to love it when wheels would touch down in Atlanta or New Orleans [or] L.A.—wherever it was. I couldn't wait to pull out my little transistor radio and hear what they were doing in that city, because it was always different."
After Simpson learned he'd be inducted into the Radio Hall Of Fame this year, he took a look at its roster of honorees over the past three decades. When he didn't see New York DJ and "Chief Rocker" Frankie Crocker and other Black radio icons on the list, the announcement gave him pause.
"These are voices that you should know about, some great talents through the years ... legends that have gone largely ignored," he says. "But I also, in my acceptance speech, acknowledged that the [Radio Hall Of Fame] is trying to correct that. You look at the list of inductees this year, with Angie Martinez, The Breakfast Club, Sway Calloway and me––man, it's like #OscarsTooBlack. It's a lot of people of color that went in this year. So they have recognized that, and I applaud them for that."
At a time when systemic racism and police brutality against Black people have come to the forefront of the national dialogue, Simpson says he feels compelled to speak out.
"If I were not on the radio, if I didn't have a microphone, I think I would still feel that responsibility to whatever people I encounter that I could talk to, to tell them how important this moment in history is for us," Simpson says. "I am so honored that I have had a platform for, now, 51 years to allow these voices to come on the radio or on TV and talk about these matters that make a difference to our community."
In 2010, Simpson retired from WPGC, where he'd hosted a morning show for nearly two decades, after contending with a "toxic" environment. But five years later, he was back at the other end of the dial on D.C.'s WMMJ Majic 102.3. Now, another retirement seems like the furthest thing from his mind.
"What's there not to love about it? I sit there kicking it with people I love. We have all the fun we can stand," Simpson says.
As praise continues to roll in from industry A-listers for his Radio Hall Of Fame induction, Simpson has advice for the many artists and listeners who now look to him for guidance as he once looked to his own mentors: "Be kind."
Each morning, Simpson takes a walk or run beside the Potomac River. While he says there's a health benefit to the ritual, he's got an additional reason to step out of his door.
"What I'm really doing is collecting smiles," Simpson says. "That's kind of my purpose: to bring warmth and joy."
Tune in for a special Up Close & Personal conversation discussing Donnie Simpson's career and life in broadcasting. Moderated by Jimmy Jam, the event premieres Tuesday, Feb. 9, at 4:30 p.m. PST/7:30 p.m. EST via the Recording Academy's official Facebook page.
Beyond The Beltway: A Closer Look At Washington D.C.'s Vibrant Music Community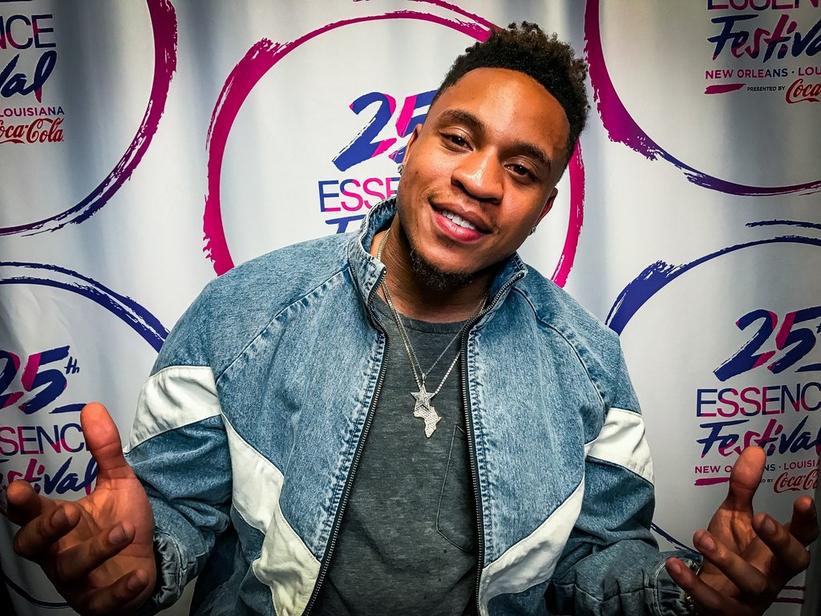 news
Rotimi On Performing At ESSENCE Fest, Growing Up African-American & More
The Nigerian-American singer and actor sat down with the Recording Academy to talk about what inspired his latest album, 'Walk With Me'
GRAMMYs
/
Jul 8, 2019 - 10:04 pm
In 2015, Rotimi stepped into the New Orleans Superdome for the first time to experience the magic of ESSENCE Fest. Four years later, in 2019, the "Love Riddim" singer returned to the celebration as a performer, something he said was spoken into existence.
"Last year me and my manager had a conversation and I said, 'Listen, I'm going to be on the [ESSENCE] mainstage this year. 365 days later, we did it," Rotimi told the Recording Academy at the 25th annual ESSENCE Fest.
Rotimi, also an actor on Starz' "Power," has evolved since his last album, 2017's Jeep Music, Vol.1. The singer said he really hit home with its follow-up, the recently released Walk With Me, a project he worked hard for, putting in hours in the studio after filming on set.
"Walk With Me is the first time I actually felt like I was giving myself as an artist, and personally I feel like with everything else I have going on I wanted to show people that this is really what I do," he said. "I wanted people to understand who Rotimi is, who Rotimi was before, who I want to be and just understand my growth and the journey and my passion for what I do."
Part of why the album felt like such a representation of him is because it embodies beats of his African roots, something he said was very present growing up Nigerian-American.
"I grew up with a lot of Fela Kuti and I grew up with Bob Marley," he said of his musical roots. "But I also grew up with Carl Thomas and Genuine and Usher, so there was a genuine mixture of who I am and what I've grown up to listen to. The actual Walk With Me project was a mixture of influences of Akon and Craig David."
Mumu Fresh On What She Learned From Working With The Roots, Rhyming & More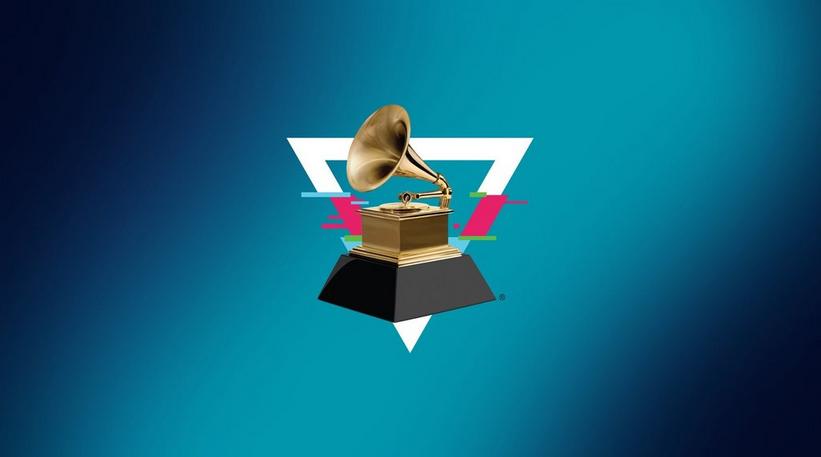 news
Find Out Who's Nominated For Best Rap Album | 2020 GRAMMY Awards
Dreamville, Meek Mill, 21 Savage, Tyler, The Creator, and YBN Cordae all earn nominations in the category
GRAMMYs
/
Nov 20, 2019 - 06:28 pm
The 2020 GRAMMYs are just around the corner, and now the nominations are in for the coveted honor of Best Rap Album. While we'll have to wait until the 62nd GRAMMY Awards air on CBS on Jan. 26 to find out who will win, let's take a look at which albums have been nominated for Best Rap Album.
Revenge of the Dreamers III – Dreamville
This star-studded compilation album from 11-time GRAMMY nominee
J. Cole
and his Dreamville Records imprint features appearances from some of the leading and fastest-rising artists in hip-hop today, including label artists EARTHGANG, J.I.D, and Ari Lennox, plus rappers T.I, DaBaby, and Young Nudy, among many others. Recorded in Atlanta across a 10-day recording session,
Revenge of the Dreamers III
is an ambitious project that saw more than 300 artists and producers contribute to the album, resulting in 142 recorded tracks. Of those recordings, 18 songs made the final album, which ultimately featured contributions from 34 artists and 27 producers.
Dreamers III, the third installment in the label's Revenge of the Dreamers compilation series, debuted at No. 1 on the Billboard 200 chart and achieved gold status this past July. In addition to a Best Rap Album nod, Dreamers III is also nominated for Best Rap Performance next year for album track "Down Bad," featuring J.I.D, Bas, J. Cole, EARTHGANG, and Young Nudy.
Championships – Meek Mill
In many ways, Championships represents a literal and metaphorical homecoming for Meek Mill. Released in November 2018, Championships is the Philadelphia rapper's first artist album following a two-year prison sentence he served after violating his parole in 2017. Championships, naturally, sees Meek tackling social justice issues stemming from his prison experience, including criminal justice reform. The album debuted at No. 1 on the Billboard 200, his second chart-topper following 2015's Dreams Worth More Than Money, and reached platinum status in June 2019. Meek Mill's 2020 Best Rap Album nod marks his first-ever GRAMMY nomination.
i am > i was – 21 Savage
Breakout rapper and four-time GRAMMY nominee 21 Savage dropped i am > i was, his second solo artist album, at the end of 2018. The guest-heavy album, which features contributions from Post Malone, Childish Gambino, J. Cole, and many others, has since charted around the world, topped the Billboard 200 – a first for the artist – in the beginning of 2019, and achieved gold status in the U.S. As well, nine songs out of the album's 15 original tracks landed on the Hot 100 chart, including multi-platinum lead single "A Lot," which is also nominated for Best Rap Song next year. 21 Savage's 2020 Best Rap Album nomination, which follows Record of the Year and Best Rap/Sung Performance nods for his 2017 Post Malone collaboration, "Rockstar," marks his first solo recognition in the top rap category.
IGOR – Tyler, The Creator
The eccentric Tyler, The Creator kicked off a massive 2019 with his mid-year album, IGOR. Released this past May, IGOR, Tyler's fifth solo artist album, is his most commercially successful project to date. The album debuted at No. 1 on the Billboard 200, marking his first time topping the coveted chart, while its lead single, "Earfquake," peaked at No. 13, his highest entry on the Hot 100. Produced in full by Tyler and featuring guest spots from fellow rap and R&B stars Kanye West, Lil Uzi Vert, Solange, and Playboi Carti, among many others, IGOR follows the rapper's 2017 album, Flower Boy, which received the Best Rap Album nod that same year.
The Lost Boy – YBN Cordae
Emerging rapper YBN Cordae, a member of the breakout YBN rap collective, released his debut album, The Lost Boy, to widespread critical acclaim this past July. The 15-track release is stacked with major collaborations with hip-hop heavyweights, including Anderson .Paak, Pusha T, Meek Mill, and others, plus production work from J. Cole and vocals from Quincy Jones. After peaking at No. 13 on the Billboard 200, The Lost Boy now notches two 2020 GRAMMY nominations: Best Rap Album and Best Rap Song for album track "Bad Idea," featuring Chance the Rapper.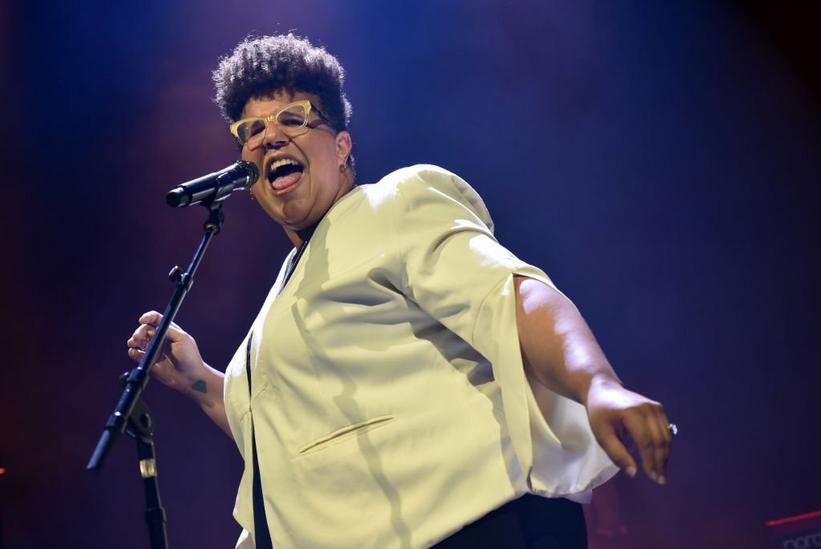 Photo: C Brandon/Redferns/Getty Images
news
Brittany Howard, Brandi Carlile, Leon Bridges, 2 Chainz & More Join Small Business Live Benefit Livestream
Proceeds from the event will be go toward loans to small businesses founded by people of color, with additional support to women-owned and immigrant-owned businesses, via Accion Opportunity Fund
GRAMMYs
/
Jun 16, 2020 - 04:13 am
This Saturday, June 20, artists including Brittany Howard, Brandi Carlile, Leon Bridges, 2 Chainz and more will come together for Small Business Live, a livestream fundraiser event for small businesses facing challenges from the COVID-19 pandemic.
Proceeds from the livestream will go to Accion Opportunity Fund to support small businesses founded by people of color, with additional support to women-owned and immigrant-owned businesses.
"Entrepreneurs of color are denied credit more often and charged higher rates for money they borrow to fund their businesses. We need to accelerate support to underserved businesses in order to reach our full potential," Accion Opportunity Fund CEO Luz Urrutia said. "We have to decide what we want our Main Streets to look like when this is over, and we must act decisively to keep small businesses alive and ready to rebuild. This is a fun way to do something really important. Everyone's support will make a huge difference to small business owners, their families and employees who have been devastated by this pandemic, the recession, and centuries of racism, xenophobia and oppression."
Tune in for Small Business Live Saturday, June 20 from 4:00 p.m. to 10:00 p.m. EDT on smallbiz.live. The site also provides a full schedule of programs and links to watch the livestream on all major digital platforms. To learn more about Accion Opportunity Fund, visit the organization's website.
Ivan Barias On Silence As Complicity, Holding Major Labels Accountable & How To Be A Non-Black Latinx Ally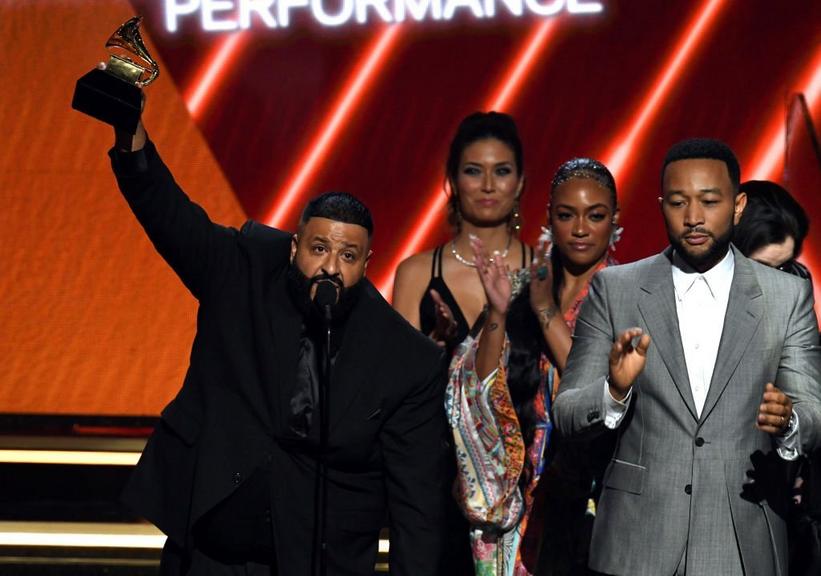 DJ Khaled, Samantha Smith and John Legend
Photo: Kevin Winter/Getty Images
news
DJ Khaled, Nipsey Hussle And John Legend Win Best Rap/Sung Performance For "Higher" | 2020 GRAMMYs
DJ Khaled, Nipsey Hussle and John Legend take home Best Rap/Sung Performance at the 62nd GRAMMY Awards
GRAMMYs
/
Jan 27, 2020 - 09:05 am
DJ Khaled, featuring Nipsey Hussle and John Legend, has won Best Rap/Sung Performance for "Higher" at the 62nd GRAMMY Awards. The single was featured on DJ Khaled's 2019 album Father of Asahd and featured Hussle's vocals and Legend on the piano. DJ Khaled predicted the track would win a GRAMMY.
"I even told him, 'We're going to win a GRAMMY.' Because that's how I feel about my album," DJ Khaled told Billboard. "I really feel like not only is this my biggest, this is very special."
After the release of the song and music video -- which was filmed before Hussle's death in March -- DJ Khaled announced all proceeds from "Higher" will go to Hussle's children.
DJ Khaled and co. beat out fellow category nominees Lil Baby & Gunna ("Drip Too Hard"), Lil Nas X ("Panini"), Mustard featuring Roddy Ricch ("Ballin") and Young Thug featuring J. Cole & Travis Scott ("The London"). Hussle earned a second posthumous award at the 62nd GRAMMYs for Best Rap Performance for "Racks In The Middle."
Along with Legend and DJ Khaled, Meek Mill, Kirk Franklin, Roddy Ricch and YG paid tribute to Hussle during the telecast, which concluded with "Higher."
Check out the complete 62nd GRAMMY Awards nominees and winners list here.