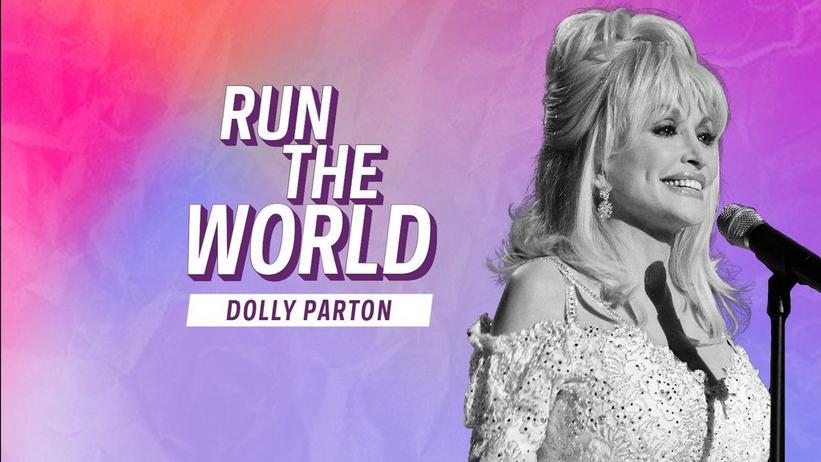 Dolly Parton
Photo: Kevin Winter/Getty Images
video
Run The World: How Dolly Parton's Advocacy & Generosity Made Her A Country Music Icon And Global Legend
In the Women's History Month video series, Run The World, GRAMMY.com celebrates the incomparable, ongoing legacy of country queen and philanthropist Dolly Parton — dating back to her feminist messages on 1968's 'Just Because I'm A Woman'
GRAMMYs
/
Mar 23, 2022 - 03:33 pm
Since the beginning of her long and storied career, Dolly Parton has used her memorable voice, talent and platform to stand for women and other marginalized groups. On her second solo studio album, 1968's Just Because I'm A Woman, she brings the women's liberation movement to country music. On its title track, she calls out the double standards women face, eloquently pointing to the hypocrisy of men expecting their wives to be virgins even though they aren't themselves.
She's since released over 50 albums and penned over 3,000 songs, including timeless hits "Jolene," "9 to 5," "I Will Always Love You," and many others. She's won 10 GRAMMY Awards for her music, and was honored with the Lifetime Achievement Award in 2011.
As part of GRAMMY.com's ongoing celebration of Women's History Month, let's take a moment to honor the groundbreaking country icon, the star of the second episode of the video series Run The World.
In addition to everything Parton brings to the recording studio and stage (and even the silver screen!), she's always had a philanthropic heart. In 1988, she founded the Dollywood Foundation, which supports literacy and other causes, through efforts like the Imagination Library, which has sent hundreds of millions of books to children around the world. Acknowledging her tireless efforts to give back, she was honored as the MusiCares Person Of The Year in 2019.
Recently, in 2020, she donated $1 million to Vanderbilt University Medical Center to support their COVID-19 research, which helped fund research of the Moderna vaccine. It was not her first time donating to the medical center; she also gave a large gift to their Pediatric Cancer Program in 2017.
Revisit the beloved country star's ongoing legacy in the video above. We will always love you, Dolly!
5 Women Essential To Country Music: Dolly Parton, Mickey Guyton, Jo Walker-Meador, The Love Junkies & Mother Maybelle Carter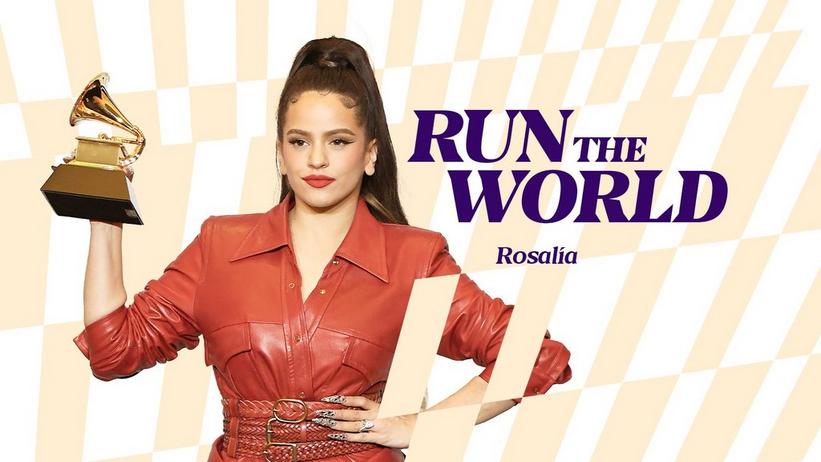 Rosalía at the 2020 GRAMMYs.
Photo: Steve Granitz/WireImage
video
Run The World: How Rosalía Became An International Superstar And Production Powerhouse
To commemorate Women's History Month, take a look at Rosalía's colossal career, from her 'Los Ángeles' folk debut to her GRAMMY-winning experimental, flamenco-pop album, 'Motomami.'
GRAMMYs
/
Mar 13, 2023 - 07:05 pm
Rosalía is the pop star the music industry has craved for so long — an unapologetic, risk-taking visionary who transforms each album release into a deliberate era, slowly immersing her audience deeper into her creative universe. She has become a vanguard for music's next generation of female leaders, paving the way through her commitment to building equality as she once promised in her 2019 Billboard Women in Music speech: "I will never stop till I find and I see the same number of women in the studio."
But before the global sensation came to be, there was Rosalia Tobella, the hopeful musicology student from the suburbs of Barcelona with a passion for flamenco and dream of becoming one of music's biggest disruptors. Her nights spent singing and dancing at flamenco venues eventually landed her in the hands of hitmaker Raül Refree, who manifested her big-city ambitions into reality, co-producing and arranging her critically-acclaimed debut studio album, Los Ángeles.
The flamenco-inspired folk album set the precedent for Rosalía's prosperous musical career after snagging the Spanish singer her very first Latin GRAMMY nomination for Best New Artist and producing a slew of live appearances that led to her catching the attention of her label, Columbia Records. Today, Rosalía's flamenco roots continue to paint her discography on award-winning albums El Mal Querer and Motomami.
As a part of GRAMMY.com's ongoing celebration of Women's History Month, we're looking back at Rosalía's monumental career, from Los Àngeles to Motomami, in this installment of Run The World. It's not just Rosalía's artistic genius that makes her story so remarkable, but also her trailblazing achievements and strides to make space for like-minded women.
What distinguishes Rosalía in a saturated market is her consistency. Without coming across as repetitive, Rosalía seamlessly innovates new ways to transform flamenco as she fuses its essence into different genres on each release. This level of brilliance garnered Rosalía praise from Billboard for "changing the sound of today's mainstream music" at the 14th Women in Music event, acknowledging the artist with a Rising Star Award.
Over the past six years, Rosalía has amassed nearly 60 awards in total, most notably her 11 Latin GRAMMY wins. Three years after winning the Latin GRAMMY for Album Of The Year for El Mal Querer in 2019, she took home the award again in 2022 for Motomami — becoming the first woman in Latin GRAMMY history to win the category twice. 
In 2020, Rosalía marked her GRAMMY stage debut with a medley performance of "Juro Que'' and her breakthrough single, "Malamente." Earlier that night, she celebrated another groundbreaking achievement as the first all-Spanish-language artist to be recognized in the Best New Artist category, as well as her first GRAMMY win for Best Latin, Rock or Urban Alternative album for El Mal Querer. (She won the category for the second time at this year's GRAMMY Awards for Motomami.)
"It's such an honor to receive this award, but at the same time, what I'm most excited about is that I'll be able to perform a flamenco-inspired performance for all of you," Rosalía said during her 2020 GRAMMY acceptance speech, noting her position as one of the leading voices in sharing flamenco culture with American media. "Thank you for embracing [this] project with so much love."
Above all the accolades remains Rosalía's women-first attitude, taking into account the legacy of women who built the foundation for her empire. "I want to thank women like Lauryn Hill, WondaGurl, Björk, Kate Bush, Ali Tamposi, Nija — all the women in the industry who taught me that it can be done," exclaimed Rosalía during her acceptance speech for Best Urban Fusion/Performance at the 2018 Latin GRAMMYs. 
And now, she's leaving her own impact on our future leaders. 
In a full-circle moment, Rosalía was honored as the inaugural Producer Of The Year at the 2023 Billboard Women in Music ceremony, presented to her by one of her aforementioned heroes, WondaGurl. "To me, it feels special because this is not usual. I make my own music, I produce my own songs, and I write my own songs. I want to dedicate this award to all the women who are going to be producers," she beamed.
Press play on the video above to revisit the defining moments in Rosalía's revolutionary stardom, and keep checking back to GRAMMY.com for more new episodes of Run The World.
Listen To GRAMMY.com's Women's History Month 2023 Playlist: Swim In The Divine Feminine With These 40 Songs By Rihanna, SZA, Miley Cyrus, BLACKPINK & More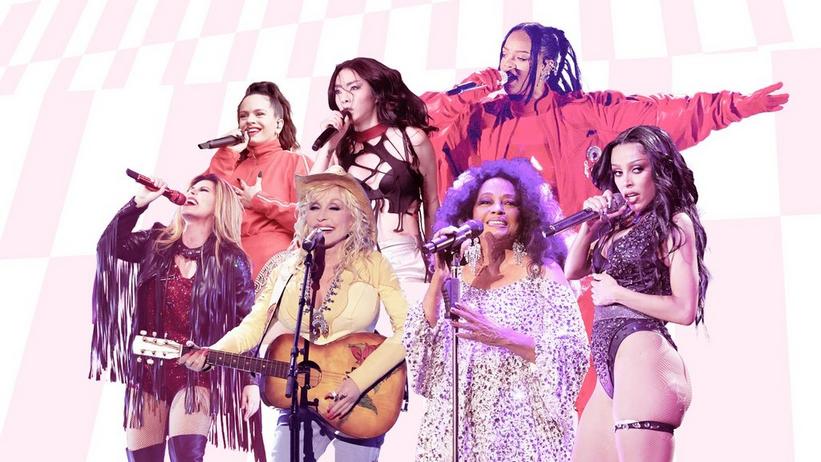 (L-R, clockwise): Rosalía, Rina Sawayama, Rihanna, Doja Cat, Diana Ross, Dolly Parton, Shania Twain
Photos (L-R, clockwise): Kevin Mazur/Getty Images for Roc Nation, Scott Dudelson/Getty Images for Coachella, Adam Bow/Icon Sportswire via Getty Images, Kevin Winter/Getty Images for Coachella, Kevin Mazur/Getty Images for Academy Museum of Motion Pictures, Kevin Winter/Getty Images for ACM, Terry Wyatt/Getty Images
news
Listen To GRAMMY.com's Women's History Month 2023 Playlist: Swim In The Divine Feminine With These 40 Songs By Rihanna, SZA, Miley Cyrus, BLACKPINK & More
Who run the world? Harness positive energy during Women's History Month with this immersive playlist honoring Beyoncé, Rina Sawayama, Kim Petras, and more female musicians.
GRAMMYs
/
Mar 1, 2023 - 03:59 pm
In the words of recent GRAMMY winner Lizzo, it's bad b— o'clock. To kick off Women's History Month, GRAMMY.com is celebrating with an extensive playlist spotlighting women's divine musical artistry. Perpetually shaping, reinvigorating, and expanding genres, women's creative passion drives the music industry forward.
This March, get ready to unlock self-love with Miley Cyrus' candid "Flowers," or hit the dancefloor with the rapturous Beyoncé's "I'm That Girl." Whether you're searching for the charisma of Doja Cat's "Woman" or confidence of Rihanna's "B— Better Have My Money," this playlist stuns with diverse songs honoring women's fearlessness and innovation.
Women dominate the music charts throughout the year, but this month, dive into their glorious energy by pressing play on our curated Women's History Month playlist, featuring everyone from Dua Lipa to Missy Elliott to Madonna to Kali Uchis.
Listen below on Amazon Music, Spotify, Apple Music, and Pandora.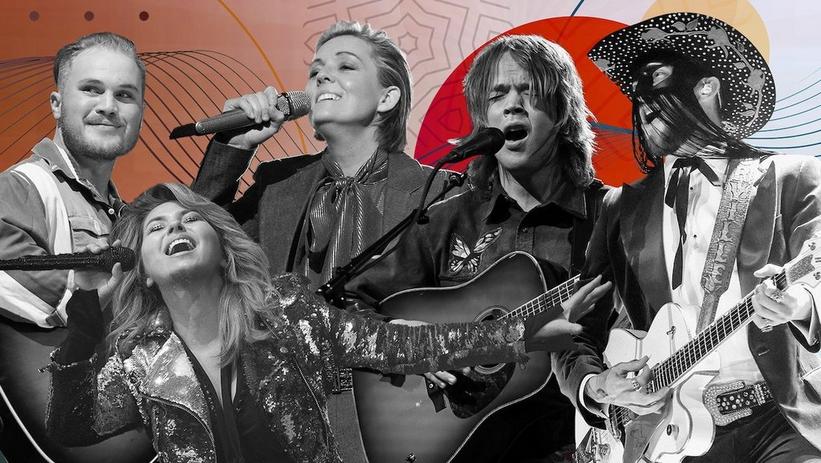 (L-R): Zach Bryan, Shania Twain, Brandi Carlile, Billy Strings, Orville Peck
Photo: (L-R) Mickey Bernal/Getty Images, Neil Lupin/Redferns, Kevin Mazur/Getty Images for The Recording Academy, Scott Kowalchyk/CBS via Getty Images, Jason Kempin/Getty Images
list
2022 In Review: 6 Trends That Defined Country Music
From Dolly Parton to Zach Bryan, country music's veterans and new generation found room to grow within the genre in 2022.
GRAMMYs
/
Dec 22, 2022 - 06:49 pm
Country music isn't always heralded as a haven for artists who fall outside the genre's accepted mainstream. But 2022 saw country music claim a bigger piece of the cultural pie than it has in recent years.
Artists are discovering new paths to success, driven by the meme-ification of culture and music and templated by stars like Walker Hayes, whose GRAMMY-nominated song "Fancy Like" broke through in mid-2021 thanks to TikTok and ended 2022 among the top five of Billboard's Hot Country Songs. Breakout stars Zach Bryan and Bailey Zimmerman also rode online acceptance to mainstream success — the former built a career on his YouTube buzz, while the latter turned his TikTok virality into Platinum sales. 
The genre expanded in other non-traditional ways in 2022 as well. In particular, indie-rock and LGBTQIA+ artists are no longer hovering in the periphery, but making real impacts on country music listenership, thanks to worthy efforts by Waxahatchee and Adeem the Artist, among others.
As country music continues to expand its horizons into 2023, here are six trends that defined country music in 2022.
New Artists Dominated
If the emergence of new talent is a barometer of a genre's health, country music has nothing to worry about. Not since 2015 has a country artist landed on Billboard's top five Best New Artists, when Sam Hunt broke through big. But this year, country music landed two of the five spots on the year-end chart, thanks to newcomers Zach Bryan and Bailey Zimmerman.
Bryan emerged with an audacious statement, claiming country's biggest first-week sales with his major-label debut, the triple-album American Heartbreak. The album landed at No. 5 on the Billboard Top 200 and topped country streaming tallies on both Spotify and Apple Music. 
Like Bryan, who first found success when his music went viral on social media, Bailey Zimmerman parlayed his online following into an impressive run with Platinum singles "Fall in Love" and "Rock and a Hard Place." Both are off of his first EP on Warner Music Nashville, Leave the Light On, which became the most-streamed all-genre debut of the year and the biggest streaming country debut of all time.
Lainey Wilson also had a banner year, proving that her No. 1 hit on country radio with "Things A Man Oughta Know" in 2021 was no fluke. In between winning new artist honors from both the Academy of Country Music and the Country Music Association this year, she landed her second No. 1 on country radio with the Cole Swindell collab "Never Say Never" in April. Most recently, Wilson became the latest country star to appear on the hit Paramount TV drama "Yellowstone"; she debuted on season five as the character Abby, performing her original songs "Smell Like Smoke" and "Watermelon Moonshine," and has become a recurring character.
After Jelly Roll made waves with his 2021 single "Dead Man Walking" and the 2022 Brantley Gilbert collaboration "Son of the Dirty South," the Nashville country rapper solidified himself as a newcomer to watch with "Son of a Sinner." The slow-burning single scored Jelly Roll his first top 10 hit on Billboard's Hot Country Songs and Country Airplay charts, and it broke the Top 40 of the Billboard Hot 100. He also proved his hometown pride is strong: On. Dec 9, he headlined a sold-out show at Nashville's 20,000-cap Bridgestone Arena.
Bluegrass Saw A Resurgence
You'd be hard-pressed to find another artist who has broadened the bluegrass horizon in recent years more than Billy Strings; his progressive approach to the foundational country genre pulls in elements of rock and psychedelia. While he titled his 2019 Grammy-winning album Home, on his 2022 set Me/And/Dad, Strings came full-circle to play traditional bluegrass standards with his father, Terry, like they did when he was a kid. Strings (whose birth name is William Lee Apostol) even located the Martin acoustic guitar Terry played in those early days but pawned to support the family, fulfilling Billy's bucket-list bluegrass album in more ways than one.
Representing the more traditional approach to the genre, bluegrass icon Del McCoury issued his 17th album, Almost Proud, in February. A peer and collaborator of the genre's Mt. Rushmore (Ralph Stanley, Bill Monroe, Lester Flatt and Earl Scruggs), McCoury is keeping the flame lit in his ninth decade — and he hasn't lost a lick of his abilities. McCoury and his sons Ronnie and Robbie pick, roll and harmonize like it's a Saturday night at the Grand Ole Opry. 
Up in the Smoky Mountains of Tennessee, the Po' Ramblin' Boys have tapped into a similar authenticity by playing bluegrass standards like their forebears. Although they formed around a regular gig at a moonshine distillery, their 2022 album God's Love Is So Divine walks the straight and narrow on 13 gospel bluegrass tunes. 
Old Crow Medicine Show have come a long way since O.G. bluegrass musician Doc Watson discovered them busking on the streets of Boone, North Carolina in 2000. While that growth is evident throughout 2022's Paint This Town, they incorporate bluegrass on tracks like "Painkiller," "DeFord Rides Again" and "Hillbilly Boy." The group also invited Americana mainstay Jim Lauderdale to co-write a couple of tunes, and Mississippi fife master Sharde Thomas to guest on "New Mississippi Flag."
Punk Went Country (And Country Went Punk)
Genre-bending is nothing new in Nashville, and even punk rockers have been acknowledging the raw power of country music since the early '80s — when bands like X, Social Distortion and The Gun Club began incorporating elements into their music, and even covering classics like Johnny Cash's "Ring of Fire." Fast forward to 2022, and the trend has kicked into high gear.
Woody Guthrie, the iconic folk hero of dust-bowl-era America, left behind a large body of unrecorded songs — evidenced by the three volumes of lyrics that have been set to music and recorded as Mermaid Avenue by Billy Bragg and Wilco. Boston pub punks Dropkick Murphys plucked 10 more uncut Guthrie gems for their 2022 set This Machine Still Kills Fascists, a play on the line Guthrie famously scrawled onto the body of his guitar. For their first country album, Dropkick Murphys recruited two of the genre's brightest lights: Nikki Lane, who guests on "Never Git Drunk No More," and Evan Felker of Turnpike Troubadours, who shares the mic on "The Last One."
Foo Fighter Chris Shiflett — who previously played with speedy punks No Use For A Name — got into the act, too. When he isn't cranking guitars alongside Dave Grohl and Pat Smear, he plays his own Bakersfield-inspired country rock, as heard on 2017's West Coast Town and 2019's Hard Lessons. This year, he issued the singles "Born & Raised" and "Long, Long Year," a pair of breezy, pedal steel-assisted cuts that find him leaning more than ever into his sunny SoCal disposition.
Shiflett previously shredded the guitar solo on "Goin' Nowhere," a collaboration with country hitmaker HARDY on his Hixtape Vol. 2, released in the last weeks of 2021. Now, HARDY's back and flipping the script with his own rock record, the mockingbird & THE CROW, set for release in January. Early singles "JACK," "TRUCK BED" and the title track, all released in 2022, show the influence of Nirvana and post-grunge songcraft alongside his distinctive, rhythmic lyrical delivery.
Legends Got Their Due
In 2022, country music proved that age is irrelevant when the music is this good. Newcomers Chapel Hart captured the national spotlight — and a rare Golden Buzzer — on "America's Got Talent" in July with a nod to icon Dolly Parton. The trio's electrifying performance of their original song "You Can Have Him Jolene," an answer to Parton's 1974 smash "Jolene," elevated them to star status, and they spent the latter half of 2022 playing to sold-out audiences across America. Darius Rucker even recruited them to back him on his song "Ol' Church Hymn."
Parton had her own high point this year, earning her first No. 1 on Billboard's Bluegrass Albums chart with her 48th studio album, Run, Rose, Run. She also released a new compilation album, Diamonds & Rhinestones: The Greatest Hits Collection, in November. 
After Shania Twain spent the last couple of years featuring on other artist's songs, the best-selling female country artist of all time returned to her throne in 2022. She announced her sixth studio album, Queen of Me (due Feb. 3, 2023), helmed by the dance-floor bop "Waking Up Dreaming." The announcement followed the Netflix documentary Not Just A Girl (and the companion album that featured more than a dozen unreleased songs) and preceded another huge announcement: a 76-date U.S. tour for 2023.
Twain's fellow genre-bending '90s icon, Sheryl Crow, also issued a documentary in 2022. The Showtime special, "Sheryl," was accompanied by a double-album compilation of the same name, which featured two discs of hits plus collaborations with Chris Stapleton, Stevie Nicks, Jason Isbell and more. Crow also featured on 2022 releases from TobyMac and Lucius. The latter track also featured Brandi Carlile, who has played a big role in Tanya Tucker's recent comeback story — as shown in yet another 2022 doc, "The Return of Tanya Tucker," which featured their song "Ready As I'll Never Be."
The CMA Awards paid tribute to icons Jerry Lee Lewis, who passed away in October, and Alan Jackson, who is in the midst of a farewell tour dubbed Last Call: One More For the Road. Firebrand singer Elle King channeled The Killer's wild moves as she performed his signature hit, "Great Balls of Fire," backed by The Black Keys. Meanwhile, Carrie Underwood led a star-studded Jackson tribute featuring Dierks Bentley, Jon Pardi and Lainey Wilson, who performed a melody of his hits including "Chattahoochee" and "Don't Rock the Jukebox."
The legacies continued both on stage and in studio. Brooks & Dunn's Ronnie Dunn, Reba McEntire and Bonnie Raitt all returned with new albums in 2022; meanwhile, Shenandoah, Billy Dean and Wade Hayes appeared on the Country Comeback Tour, and Wynonna led The Judds: The Final Tour in tribute to her mother, Naomi Judd, who passed away in April.
Indie Rockers Infiltrated Country Music
As '90s-style indie rock has a moment thanks to artists like Big Thief, Momma and Alvvays, Katie Crutchfield is leaning deeper into laid-back country vibes. The leader of Waxahatchee, whose blissful 2020 set Saint Cloud landed her on scores of year-end lists, doubled down in 2022.
Waxahatchee collaborated with Wynonna on the single "Other Side," recorded on the Judds singer's farm in Tennessee — an experience both artists ranked among their favorite recording sessions. Crutchfield also collaborated with Jess Williamson on a new project dubbed Plains, releasing the album I Walked With You A Ways in 2022 to critical acclaim. The 10 songs on Plains' debut rival the artists' soothing solo work and combine their strengths with Fleetwood Mac harmonies.
Madison Cunningham, who is best known for weaving mind-bending melodies and harmonies between her voice and guitar, guested on the second edition of Watkins Family Hour — which pairs siblings Sara and Sean Watkins of Nickel Creek with a series of notable collaborators like Fiona Apple and Jackson Browne — contributing her signature spidery guitar playing to "Pitseleh."
Other notables on the indie side of country include Swedish folk duo First Aid Kit, who returned with Palomino, a strummy set of acoustic guitar-driven country pop and their first album in four years. Michaela Anne's gentle LP Oh To Be That Free chronicled a period of personal troubles with compassion, while Sierra Ferrell released the sparse, playful single "Hey Me, Hey Mama" and collaborated with Shakey Graves on "Ready Or Not." 
LGBTQIA+ Country Artists Were Celebrated
Acceptance for LGBTQIA+ artists in country music has grown steadily in recent years, thanks to efforts by allies like Kacey Musgraves and Dolly Parton, as well as artists who have publicly discussed their sexuality, including T.J. Osborne, Lil Nas X, Chely Wright, Amythyst Kiah and Shane McAnally. With such star power in their corner, gay and non-binary country artists are now getting a fairer shake.
Non-binary singer-songwriter Adeem the Artist released the acclaimed album White Trash Revelry. Over 11 songs, Adeem chronicles their experiences growing up different in small towns surrounded by smaller minds — from the stomp-along "Going to Hell" to the Heartland rocker "Heritage of Arrogance" and fingerpicked album closer "My America." 
Elsewhere, Orville Peck, the masked singer who performs a fever dream of '70s-inspired country music with a deep-throated croon, returned with his second album, Bronco. Peck traded the spare songscapes of his 2019 debut, Pony, for Bronco's more fully realized, cinematic arrangements, broadening his sound and the scope of his persona.
Brandi Carlile, whose pro-LGBTQIA+ activism is tied directly to her music — she founded the Looking Out Foundation early in her music career, and donates a portion of touring proceeds to groups like The Trevor Project — has seen her reputation grow steadily over nearly two decades of releasing music to ever-growing audiences. In 2022, she added to an already storied career by  performing with her personal hero, Joni Mitchell, at Newport Folk Festival. Carlile also headlined Tennessee's Pilgrimage Music & Cultural Festival, marking the first time a woman has headlined the fest. 
However country music continues to expand and impact culture as a result, 2022's trends certainly set up a promising future for the genre.
Hear All Of The Best Country Solo Performance Nominees For The 2023 GRAMMY Awards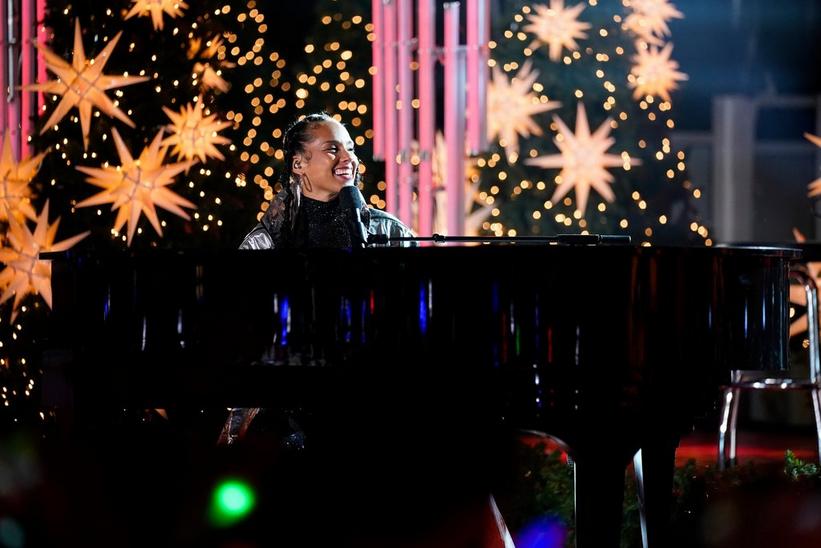 Alicia Keys performs at the 90th annual Rockefeller Center Christmas Tree Lighting in November 2022.
Photo: Ralph Bavaro/NBC via Getty Images
news
Listen: Get Jolly With New Holiday Music From Dolly Parton, Phoebe Bridgers, Pentatonix, Alicia Keys & More
This year saw several new holiday albums and singles from artists of all genres, from Backstreet Boys to Gloria Estefan. Get in the spirit with this festive 30-song playlist.
GRAMMYs
/
Dec 16, 2022 - 04:05 pm
As we're all stringing up colorful lights and scrambling to buy last-minute gifts, music shines as the one constant in our lives amid the rush of the holiday season.
Some playlists have been bursting with holiday music since early autumn, with releases such as Dolly Parton's "A Smoky Mountain Christmas" dropping back in August and Joss Stone's Merry Christmas, Love releasing in September. Since then, several more holiday albums arrived, whether they were new projects from artists such as Alicia Keys and Thomas Rhett or polished deluxe editions from the likes of Reba McEntire and Norah Jones.
Beyond releasing albums, many artists have also found their holiday spirit by releasing festive singles. Remi Wolf brings her bubbly personality to warm covers of "Last Christmas" and "Winter Wonderland," Dan + Shay remind us to throw a "Holiday Party" with loved ones, and Phoebe Bridgers shares her annual holiday cover, this year a rendition of the Handsome Family's "So Much Wine." And even stars such as RuPaul, Jimmy Fallon and Ryan Reynolds surprised with holiday singles this season.
Groups such as Pentatonix and Backstreet Boys joined in on the fun with their own cheery holiday albums, and Gloria Estefan and her family capture the joys of love in a snowglobe on Estefan Family Christmas. Collaborations sparkle with holiday magic as well; Ingrid Michaelson and A Great Big World team up for "It's Almost Christmas," and Kelly Clarkson and Ariana Grande perform "Santa, Can't You Hear Me" in a thrilling live version.
So bundle up, grab some hot cocoa, and listen to some new holiday music in this very merry playlist — check it out on Pandora, Spotify, Apple Music, and Amazon Music.