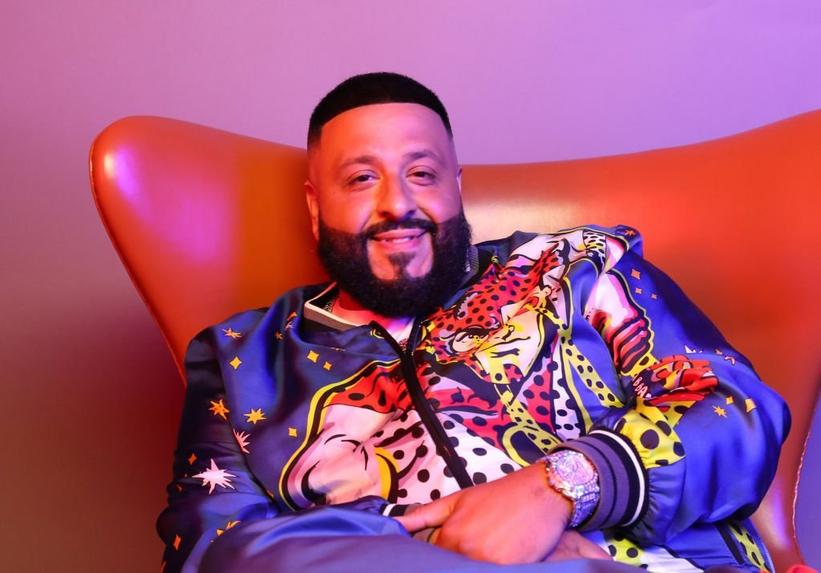 Photo: Bennett Raglin/Getty Images for BET
news
DJ Khaled Joins Effort Against Coronavirus With Direct Relief & Simplehuman Partnership
The hit-making producer will provide over 10,000 gloves, masks and other PPE to healthcare workers at the forefront of the COVID-19 pandemic
GRAMMYs
/
Apr 3, 2020 - 11:59 pm
DJ Khaled's We The Best Foundation has partnered with Direct Relief and Simplehuman to bring more supplies to frontline healthcare workers in New York and Miami hospitals.
Khaled's efforts, along with his wife Nicole Tuck, will provide over 10,000 gloves, masks and other PPE, or personal protective equipment, in the two cities, according to Billboard.
"Helping our local community when and where we can has always been our mission since we started the We The Best Foundation back in 2018. By partnering with Direct Relief, Nicole and I are able to reach the medical staff who are most at risk in local hospitals in New York and Miami. It's important to us to take care of those who take care of us." the producer said in a statement.
Across the nation, artists have partnered with relief funds, including MusiCares, to help protect healthcare workers and aid those who have been the most impacted by the COVID-19 pandemic.
VIDEO PREMIERE: Kimbra And Nu Deco Ensemble Deliver High-Powered Performance Of "Top Of The World"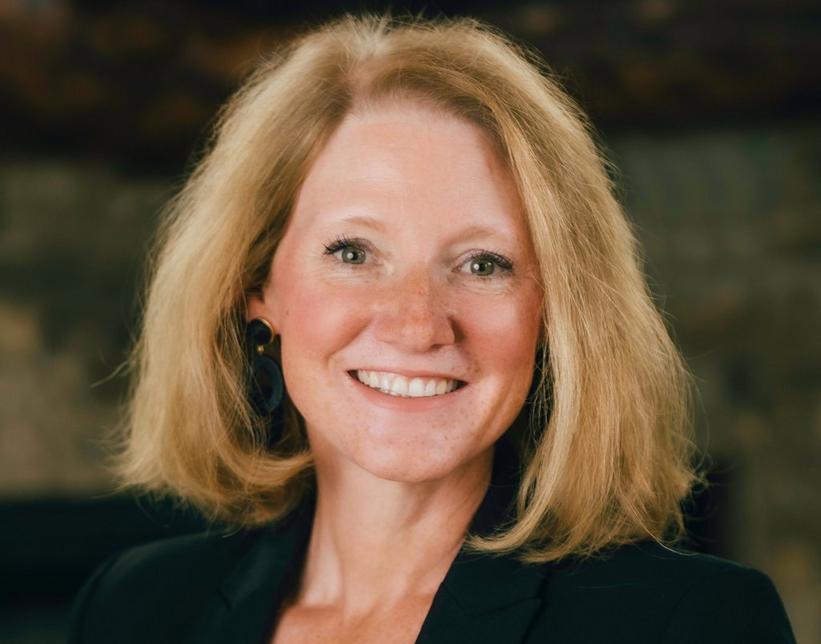 Theresa Wolters
Photo: Kelly Samson, Gallery Photography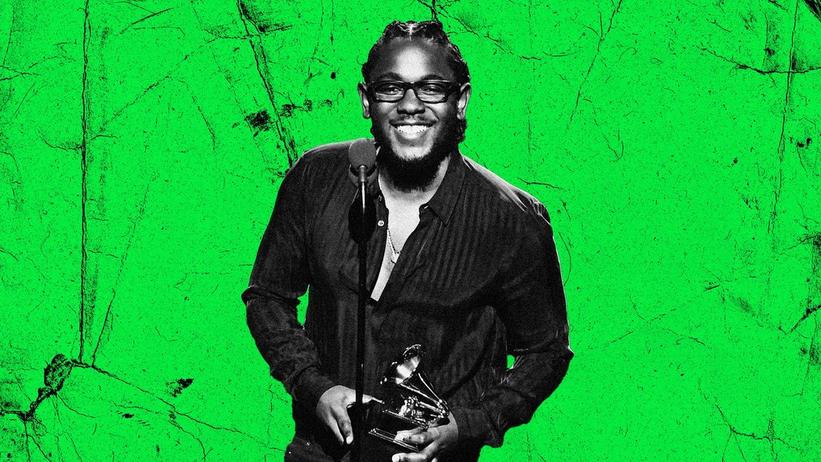 Kendrick Lamar
Photo: Jeff Kravitz/FilmMagic
video
GRAMMY Rewind: Kendrick Lamar Honors Hip-Hop's Greats While Accepting Best Rap Album GRAMMY For 'To Pimp a Butterfly' In 2016
Upon winning the GRAMMY for Best Rap Album for 'To Pimp a Butterfly,' Kendrick Lamar thanked those that helped him get to the stage, and the artists that blazed the trail for him.
GRAMMYs
/
Oct 13, 2023 - 06:01 pm
Updated Friday Oct. 13, 2023 to include info about Kendrick Lamar's most recent GRAMMY wins, as of the 2023 GRAMMYs.
A GRAMMY veteran these days, Kendrick Lamar has won 17 GRAMMYs and has received 47 GRAMMY nominations overall. A sizable chunk of his trophies came from the 58th annual GRAMMY Awards in 2016, when he walked away with five — including his first-ever win in the Best Rap Album category.
This installment of GRAMMY Rewind turns back the clock to 2016, revisiting Lamar's acceptance speech upon winning Best Rap Album for To Pimp A Butterfly. Though Lamar was alone on stage, he made it clear that he wouldn't be at the top of his game without the help of a broad support system. 
"First off, all glory to God, that's for sure," he said, kicking off a speech that went on to thank his parents, who he described as his "those who gave me the responsibility of knowing, of accepting the good with the bad."
He also extended his love and gratitude to his fiancée, Whitney Alford, and shouted out his Top Dawg Entertainment labelmates. Lamar specifically praised Top Dawg's CEO, Anthony Tiffith, for finding and developing raw talent that might not otherwise get the chance to pursue their musical dreams.
"We'd never forget that: Taking these kids out of the projects, out of Compton, and putting them right here on this stage, to be the best that they can be," Lamar — a Compton native himself — continued, leading into an impassioned conclusion spotlighting some of the cornerstone rap albums that came before To Pimp a Butterfly.
"Hip-hop. Ice Cube. This is for hip-hop," he said. "This is for Snoop Dogg, Doggystyle. This is for Illmatic, this is for Nas. We will live forever. Believe that."
To Pimp a Butterfly singles "Alright" and "These Walls" earned Lamar three more GRAMMYs that night, the former winning Best Rap Performance and Best Rap Song and the latter taking Best Rap/Sung Collaboration (the song features Bilal, Anna Wise and Thundercat). He also won Best Music Video for the remix of Taylor Swift's "Bad Blood." 
Lamar has since won Best Rap Album two more times, taking home the golden gramophone in 2018 for his blockbuster LP DAMN., and in 2023 for his bold fifth album, Mr. Morale & the Big Steppers.
Watch Lamar's full acceptance speech above, and check back at GRAMMY.com every Friday for more GRAMMY Rewind episodes. 
10 Essential Facts To Know About GRAMMY-Winning Rapper J. Cole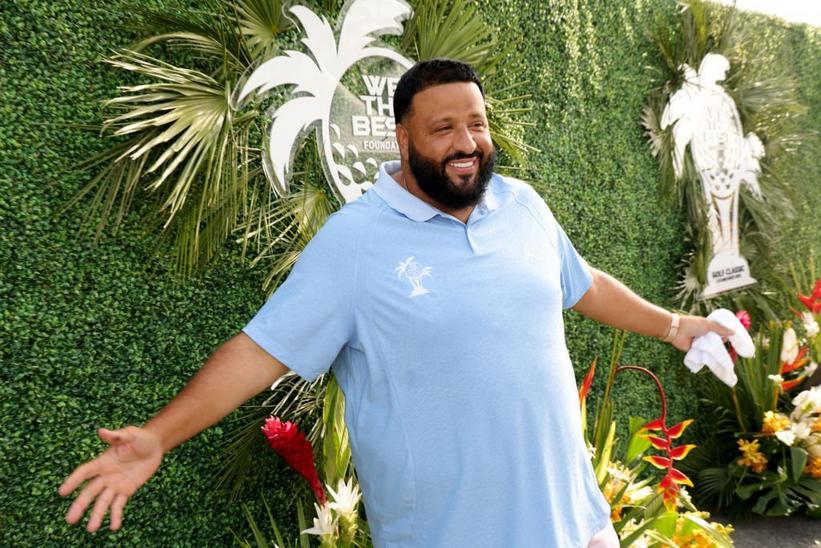 DJ Khaled
Photo: Kevin Mazur/Getty Images for We The Best Foundation
news
DJ Khaled Shares His Keys To Success With Young Professionals
Ahead of his next album, 'Til Next Time,' GRAMMY U caught up with DJ Khaled to talk about hip-hop's 50th anniversary and how young music-makers can follow in his footsteps.
GRAMMYs
/
Aug 30, 2023 - 07:39 pm
Hip-hop hit-maker DJ Khaled is doing what he does best: making music and inspiring others. Khaled has been in the game since the '90s, graduating from spinning vinyl in his garage to the GRAMMY stage. Today, the GRAMMY-winning producer and artist has a multitude of roles.
"I'm a father, I'm a producer, I'm a DJ, I'm a music executive, I'm an executive, I'm a young entrepreneur," Khaled told GRAMMY U National Representative Carlie Anderson. 
Khaled showed he is also a role model, taking time to speak with GRAMMY U following at an Aug. 16 event at Miami's Soho Beach House. There, Khaled was in conversation with Carl Lamarre, Billboard's Deputy Director of R&B and Hip-Hop.
The conversation wasn't exactly planned, but Khaled made sure to make the most of the opportunity to speak to the younger audience of GRAMMY U, even telling those around him to quiet down so that he could give his full attention to Anderson.  
Khaled reflected on the creation of his 2006 debut project Listennn…the Album, as well as the 50th anniversary of hip-hop. Like many artists and fans, Khaled believes hip-hop is more than just a genre of music: it's a lifestyle. 
"Hip-hop is not only everything to me, it is a force of greatness," Khaled tells Anderson. "Hip-hop changed my life, saved my life. I love hop-hop. I have to thank hip-hop for the blessings and inspiration, for the way hip-hop raised me."
Khaled recalled how he found hip-hop on his own and began to immerse himself in the world behind the music. Now, as a leading contributor to the culture, Khaled regularly reflects on how the culture made him who he is.
When it comes to being an inspiration to others, Khaled takes his position very seriously. His advice to young and emerging music-makers was simple: "Just be you.
"The world is yours," Khaled continued. "Being you is the most beautiful thing in the world."
After receiving five nominations at the 2023 GRAMMY Awards and performing at the show alongside Jay-Z, Lil Wayne, John Legend and Rick Ross, and, Khaled shows no signs of stopping. Earlier in August, he announced his 14th studio album, Til Next Time. The new project will be his first under the new partnership with Def Jam (in February, the rapper left Sony Music to join Universal Music Group). With this deal, Khaled was also named Global Creative Consultant for UMG.
The announcement of his album also came with a four-minute trailer, featuring his wife and two children. With comical moments from Khaled throughout, the video still steadies itself with the trademark motivational sentiments the producer is known for. 
"Success ain't easy," Khaled said in the trailer. "You gotta want it so bad that you're willing to put everything on the line, even if you gotta risk your own life." 
It's no surprise that Khaled has some big features planned for the album. The debut single, "Supposed to Be Loved," already spotlights frequent collaborator Lil Baby, as well as Future and Lil Uzi Vert, who is working with the musician for the first time. 
As a true master of collaborations, Khaled told GRAMMY U about how his partners are often also his inspirations. Dr. Dre, Puff Daddy, and Fat Joe sit high in his mind, as well as Jay-Z, who Khaled credits to having "shown us that anything and everything is possible" in this industry.
Khaled also gave love to his supporters for sticking by him in all his different endeavors. 
"My fans are my inspiration," Khaled says. "They keep me going and keep me doing what I love to do, making music and representing hip-hop." 
With Til Next Time and his other efforts,  Khaled strives to continue pushing hip-hop forward. This genre's milestone is the first of many in his mind: "Not only hip-hop 50, it's hip hop forever." 
11 Hip-Hop Subgenres To Know: From Jersey Club To G-Funk And Drill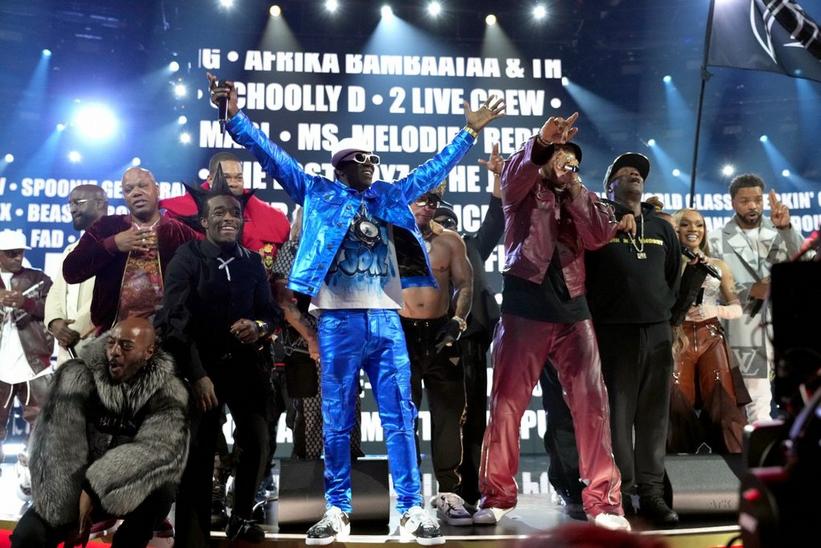 LL Cool J, Flavor Flav, Busta Rhymes, Lil Uzi Vert, Nelly, Spliff Star, Queen Latifah, Ice-T, Chuck D, Joseph Simmons, Darryl McDaniels, Grandmaster Flash, and Black Thought at the 2023 GRAMMYs
Photo: Kevin Mazur/Getty Images for the Recording Academy
list
How Hip-Hop Took Over The 2023 GRAMMYs, From The Golden Anniversary To 'God Did'
It's the 50th anniversary of hip-hop, but the 2023 GRAMMYs celebrations didn't stop at the epic, MC-saturated blowout. Here are five ways the genre took over Music's Biggest Night.
GRAMMYs
/
Feb 6, 2023 - 10:06 pm
The 2023 GRAMMYs' ambitious, world-beating tribute to hip-hop's 50th anniversary is getting a lot of ink — for a very good reason.
Featuring an ensemble ranging from progenitors like Grandmaster Flash and Run-DMC, to legends such as Too Short and Missy Elliott, and modern-day practitioners like Lil Baby, GloRilla and Lil Uzi Vert, the tribute segment was stunning not only on a logistical level, but on conceptual, emotional and historical planes.
But the Recording Academy's tribute to this landmark in time wasn't siphoned off to that 15-minute segment — not even close. In fact, the entirety of Music's Biggest Night radiated with the courageous, intrepid, forward-thinking spirit of hip-hop.
The tribute performance was just one of many nods to rap during GRAMMY week. Days before, Lil Wayne, Missy Elliott and Dr. Dre were honored by the Recording Academy's Black Music Collective in a ceremony that contained performances by Snoop Dogg, 2 Chainz and Ciara. And the pre-GRAMMY gala featured a performance from Weezy, Latto and Lil Baby.
At Music's Biggest Night, the hip-hop love roared fully to life. Here are five ways hip-hop took over the 2023 GRAMMYs, a foreshadowing of an entire year in celebration of the epochal artform — with the extended hip-hop tribute as a springboard.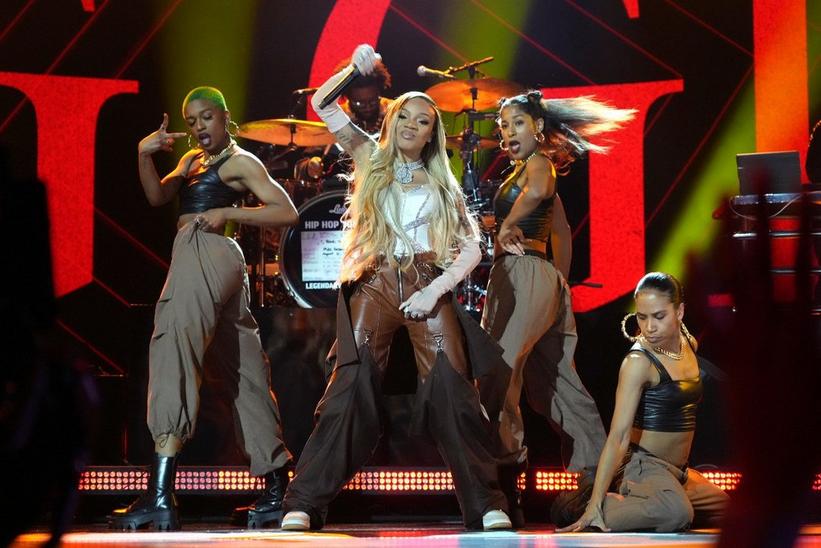 GloRilla performing at the 2023 GRAMMYs. Photo: Getty Images for the Recording Academy
A Global Hip-Hop Rager For The Ages
Until Music's Biggest Night, to fit hip-hop's evolution and essence into 15 minutes would seem logistically untenable. But the Academy did the impossible.
The Questlove-curated set moved lightning-quick from '70s and '80s pioneers, to 2000s radio dominators like Nelly, all the way to the current era.
Like with the last Super Bowl's ensemble cast of rap greats, the result was emotionally walloping, historically edifying and visually spectacular.
Most importantly, the music was exceptional — a tip of the hat to a precious form of American expression. To anyone who still subscribes to some form of stigma — you don't know what you're missing.
The Rap Categories Contained Serious Jewels
Let's take a step back, though, and examine the 2023 GRAMMYs' hip-hop nominees and winners themselves.
Kendrick Lamar was well-represented in both the General and Rap fields, and commensurately for Mr. Morale and the Big Steppers and Lamar's non-album single "The Heart Pt. 5."
For the former, Lamar won Best Rap Album; for the latter, Best Rap Song and Best Rap Performance. With the success of "The Heart Pt. 5," he is now the most-awarded artist in the latter category.
Together, these offerings comprise something of a creative and emotional watershed for Lamar. As for Pusha T, It's Almost Dry — nominated for Best Rap Album — contained some of his most crystal-sharp coke raps to date.
Plus, the sheer range of guests on DJ Khaled's GOD DID — nominated for Best Rap Album — could be the ultimate testament to his indomitable spirit, curatorial acumen and infectious sense of largesse.
This also applies to fellow nominees from Future, who won Best Melodic Rap Performance for "WAIT FOR U," to Jack Harlow, who was nominated liberally throughout the Rap field.
Given the level of craft throughout, hip-hop isn't just ripe to be celebrated for its past, but for its boundless future.
Dr. Dre Was Presented With A Global Impact Award
At the 2023 GRAMMYs, seven-time GRAMMY winner Dr. Dre was the recipient of the inaugural Dr. Dre Global Impact Award for his multitude of achievements through his innovative, multi-decade career.
Dr. Dre was presented the award after a plethora of televised bona fides, and offered his thanks to the Recording Academy and Black Music Collective for the prestigious honor in light of the Recording Academy's celebration of the 50th anniversary of hip-hop.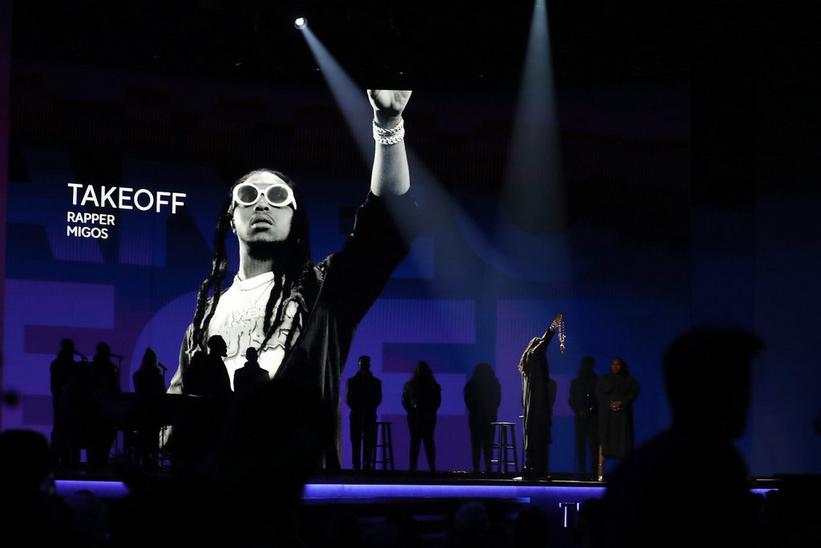 A tribute to Takeoff during the 2023 GRAMMYs. Photo: Getty Images for the Recording Academy
Quavo Performed A Moving Tribute To The Late Takeoff
There's a bittersweetness to celebrating hip-hop on a global scale in 2023, as so many of its best and brightest have died far too young in recent years.
Among these tragedies was the senseless death of Takeoff, one-third of the family-bound rap trio Migos, along with Offset and Quavo.
Read More: Remembering Takeoff: Why The Unassuming Rapper Was Foundational To Migos
As part of the In Memoriam segment, backed by worship ensemble Maverick City Music, Quavo honored his late nephew with a soul-searing version of "Without You."
"Tears rollin' down my eyes / Can't tell you how many times I cried," he rapped before an empty microphone stand, poignantly hung with Takeoff's chain. "Days ain't the same without you / I don't know if I'm the same without you."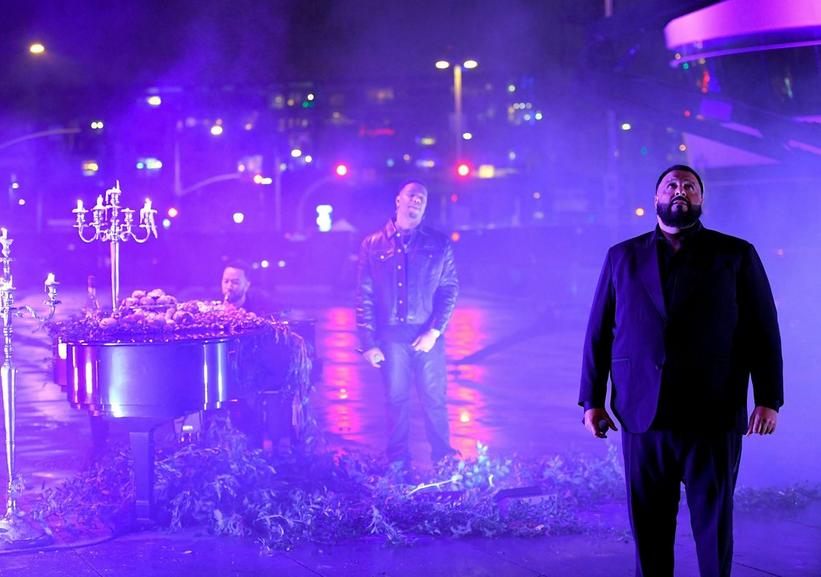 John Legend, Fridayy, and DJ Khaled performing at the 2023 GRAMMYs. Photo: Kevork Djansezian/Getty Images for The Recording Academy
DJ Khaled & Company Closed The Curtain With "GOD DID"
At the end of the ceremony, DJ Khaled brought out collaborators Jay-Z, John Legend, Lil Wayne, Fridayy, and Rick Ross for a rendition of GOD DID's title track, which was nominated for Song Of The Year, Best Rap Song and Best Rap Performance.
Seated horizontally in an opulent, Last Supper-esque tableau, the stars sang their hooks while bathed in purple light, closing out the 2023 GRAMMYs with laconic flair.
It was a fitting conclusion to Music's Biggest Night, one that placed hip-hop where it belongs: on the top shelf.
2023 GRAMMY Nominations: See The Complete Winners & Nominees List