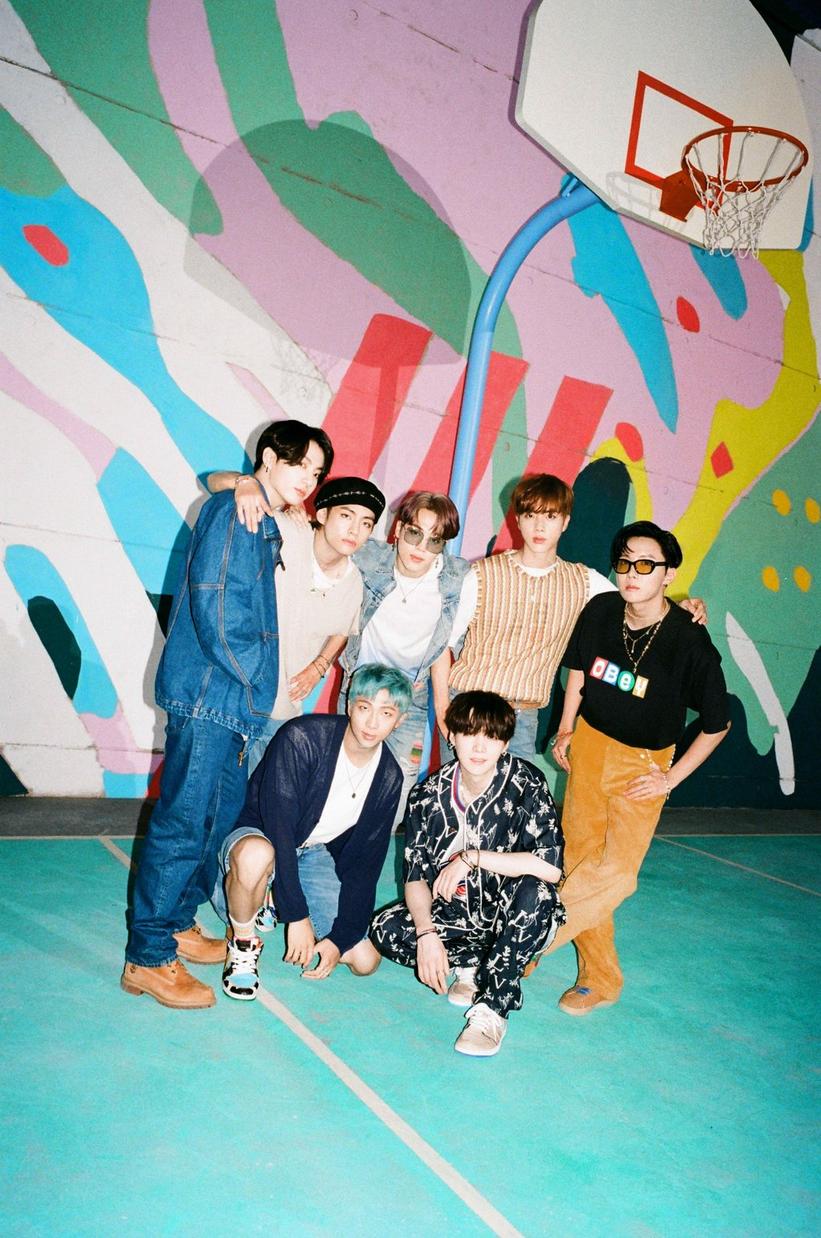 Courtesy Photo: Big Hit Entertainment
news
BTS Talk Inspiration Behind "Dynamite," New 2020 Album, Gratitude For ARMY & More
The joyful, new 2020 BTS song "Dynamite," included on the album 'Be,' is the pop superstars' first-ever English-language track and was especially crafted to bring encouragement and positive energy to listeners.
GRAMMYs
/
Aug 21, 2020 - 08:00 pm
Today, Aug. 21, after several weeks of teasers, K-pop superstars BTS have released their first English language track, "Dynamite," a jubilant disco-tinged bop meant to inspire joy and hope during these difficult times.
"[The inspiration for] it all began from this: even in the midst of hardships, we must focus on what we can do. As for us, we found freedom and happiness in singing and dancing. This song goes to the ones who need encouragement. We hope people feel energized when listening to the song," the chart-topping band recently told GRAMMY.com.
Even in such an unprecedented year of turmoil and slowdown for the entertainment industry (and virtually everyone), BTS have been able to maintain their stance at the top of the global pop landscape. After having to cancel their massive 2020 Map Of The Soul World Tour, the South Korean group, already having a super engaged online presence with their huge ARMY of dedicated fans, got creative and delivered a lively, colorful—and wildly successful—pay-to-view virtual concert, BANG BANG CON: THE LIVE, in June.
This year, the loveable pop stars also led by example of what it means to be a positive force in the world, using their platform for good in many ways. In June, along with their South Korean management company, Big Hit Entertainment, they donated $1 million to Crew Nation to support out-of-work concert crews and $1 million to the Black Lives Matter Foundation. (Just 24 hours later, the BTS ARMY matched the donation by raising more than $1 million.) They also stood in solidarity with the Black community with a simple yet powerful Tweet that made their stance against racism clear.
And, of course, they've also been busy working on new music, delivering "Stay Gold" and their fourth Japanese album, MAP OF THE SOUL: 7 ~The Journey~, in June and July, respectively. Now, with "Dynamite," we get the first taste of the forthcoming new album they've been focused on crafting.
To hear more about "Dynamite," the upcoming project, the ARMY and other BTS 2020 highlights, we checked in with the dynamic septet (consisting of RM, Jin, SUGA, j-hope, Jimin, V and Jung Kook) over email. Read on to hear more from BTS.
What was the inspiration behind your new song, "Dynamite"? What do you hope listeners feel when they hear it?
BTS: It all began from this: even in the midst of hardships, we must focus on what we can do. As for us, we found freedom and happiness in singing and dancing. This song goes to the ones who need encouragement. We hope people feel energized when listening to the song.
More: BTS Talk New Album 'Map Of The Soul: 7': "The Genre Is BTS"
"Dynamite" is your first song sung/rapped fully in English--how did you prepare for the recording and who wrote the lyrics?
BTS: It was a new challenge for us as well. The lyrics, which are exactly what we wanted to say to our listeners, were written by David Stewart and Jessica Agombar. At the first try, it sounded fresh and perfect as it is in English, and throughout the whole process of recording, we've strived to get the message delivered flawlessly in English.
Can you tell us more about the new album you've said is coming later this year? What kind of sounds and themes are you exploring on this project?
BTS: We're currently working on a new album and sharing the process with our fans via livestream. Each member's input has been significant for this particular one, so we're kind of doing everything we've wanted to try. It's slated for later this year and more details are coming soon.
BTS Live!: iHeartRadio Fest 2020: BTS, Miley Cyrus, Usher, Migos, Coldplay & More To Play COVID-19 Adherent Concert
In February, Map Of The Soul: 7 became your fourth album to debut at No. 1 on the Billboard 200, with your highest first-week numbers yet. What does the success of this album mean to you?
BTS: We cannot be thankful enough to our fans. They made this possible.
Iconic Idols: K-Pop Phenoms BTS Keep Breaking Records: Here's Why
You've all released music as solo artists—what does it feel like working on your individual projects versus BTS? What's the biggest thing you've each learned from your solo projects?
RM: It feels like I have two completely different identities. Working as BTS, I have to be considerate of others, but at times it also means I just have to do my part well and the rest will roll. When working individually, I definitely have more freedom but less of the sense of comfort and belonging I can feel when working with the other BTS members.
Jin: I can do whatever I want when I work alone, whereas we all need to be on the same page on concepts, melodies and lyrics for a collective project.
SUGA: [For me,] there's not much of a difference in terms of process. It's just really encouraging to have my team by my side and work together on a BTS album.
j-hope: I get to know about my shortcomings from a solo project. We have many people participating in our team projects, including producers. But a solo project is a direct result of the planning and execution done by myself, which helps me better understand feedback from the public—those are valuable takeaways.
Jimin: I focus more on my personal thoughts when I work alone, whereas working together allows me to contemplate more on the things we experience as a team. I also believe that solo projects are additional activities enabled by BTS.
V: I'm currently working on my own mixtape and I must admit there's a lot of pressure. I think there's more to think about compared to group projects.
Jung Kook: I don't think I can call myself a solo artist yet since I'm short of many things. I really need to improve. I'll keep listening and making music until I'm able to come up with something on my own.
Your virtual BANG BANG CON show was a huge success—what did it feel like to all of you to connect to the ARMY in this way? Do you think you'll plan another one?
BTS: We were so happy to be performing for our fans. Yes, we did miss their loud cheers, but we gave it our all thanks to the love sent by our fans from near and far. We're actually holding another show in October called "BTS MAP OF THE SOUL ON:E" and this time it will be both virtual and offline. We're so excited and thrilled to finally meet our fans in person.
As a group, you've stood in solidarity with Black Lives Matter on Twitter and with a generous donation in partnership with Big Hit. As non-Black allies, why is it important for the group to speak out and join the Black community in solidarity?
BTS: We think our Twitter message speaks for itself. We stand against racial discrimination and condemn violence. We all have the right to be respected. It doesn't matter whether we are non-Black or not.
Watch More: BTS On The Creative Process, Breaking Records, Their Responsibility As Artists & More
What's next on the horizon for BTS?
BTS: As we mentioned, we have a show in October and an album coming later this year. And we have lots of things prepared surrounding "Dynamite," so everyone better keep their eyes on the ball!
K-Pop Phenom Eric Nam Talks New Mini-Album 'The Other Side' And Life As One Of Korea's Biggest Stars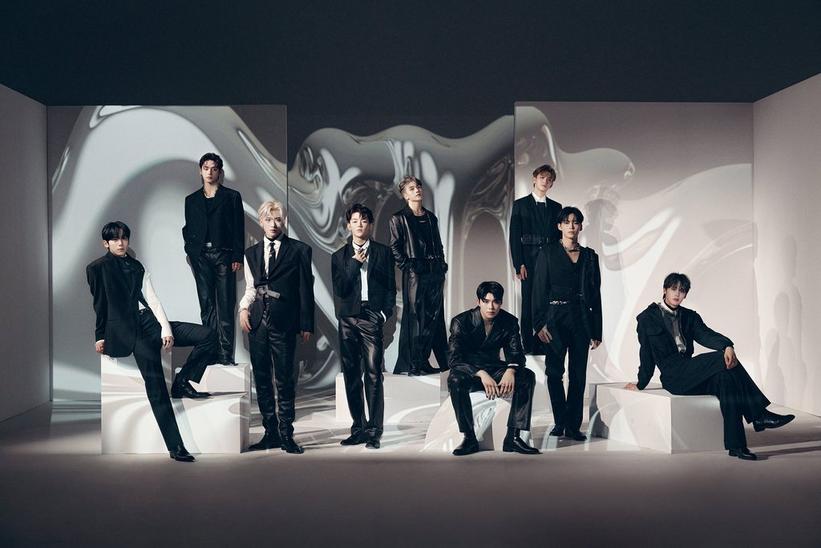 interview
ZEROBASEONE's Big Year: From Winning "Boys Planet" To The World Stage
The nine-member K-pop act have seen a stratospheric rise over the past year. GRAMMY.com spoke with ZB1 about the most exciting moments of their career and their recently released EP, 'Melting Point.'
GRAMMYs
/
Nov 8, 2023 - 06:02 pm
Rising K-pop stars ZEROBASEONE have experienced a rapid transition from boy group hopefuls to full-blown idols. While they're full speed ahead promoting their latest EP, Melting Point, it's necessary to turn back the clock and go into the very beginning to fully grasp how their growth has been unfolding.
Last fall, Zhang Hao, Kim Taerae, Sung Hanbin, Seok Matthew, Ricky, Park Gunwook, Kim Gyuvin, Kim Jiwoong, and Han Yujin received an announcement that changed the course of their personal journey: they were accepted into "Boys Planet," a televised K-pop survival series. This platform would introduce more than 90 idol trainees, each of whom strived for the opportunity to debut in a boy group. 
Each week of the competition was an uphill climb, but the nine singers were resilient. ZEROBASEONE (shortened as ZB1) emerged as the victors of "Boys Planet," voted by hundreds of thousands of fans around the world who watched them unlock their artistic potential that drafted sky-high expectations. 
That summer, the multicultural ensemble from South Korea, China, and Canada released their first mini album, Youth In The Shade. The six-track collection was helmed by "In Bloom," which alludes to the sentiments of flourishing despite the finite nature of a path. "Nothing lasts forever," they sing in the pre-chorus, later reassuring: "But I can change that, my fate."
It was a captivating entry into the world of K-pop and is now the best-selling debut record in K-pop history with almost two million copies sold to date — a milestone that elevated them as "monster rookies." And as such, in true K-pop fashion, they have been busy. 
ZEROBASEONE have graced the covers of some of the most prestigious South Korean magazines, made television appearances and circled the globe, all while preparing for Melting Point. In addition to their first performances in Europe, Japan and the U.S., ZB1 performed at the Gocheok Sky Dome in Seoul, an event that sold out in a matter of minutes.
But what makes ZB1 truly shine is their essence as artists and individuals. "We have become one," Seok Matthew tells GRAMMY.com over a video call from Seoul. "I just get these random feelings that make me think how grateful [I am] that I got to be a part of this group, and that I have these eight amazing members beside me."
Before ZEROBASEONE continues forging ahead with Melting Point, the group spent some time reminiscing about their big year. From how far they've come since "Boys Planet," to fully stepping into their new facet as K-pop idols, this is the initial stride of nine youngsters etching a future together.
The following interview has been edited for clarity.
Winning Big On "Boys Planet"
Seok Matthew: To be honest, I didn't even think I was going to pass the audition for "Boys Planet" because I went from company to company [when I was a trainee]. But, when I did get in, I was super happy because I found that Hanbin hyung also got accepted [into the show], and that made me feel a lot more relieved. I didn't have high hopes and I knew it was going to be a fierce competition…but he made me feel like I could go into this with a bit more confidence than I would have if I didn't go with him.
Sung Hanbin: When I met [my fellow ZB1 members] as trainees, I could tell from their eyes that they were not expecting "Boys Planet" to be hugely popular. We were all there because we just wanted to show off our potential and present something we hadn't been able to share with the world. 
We cannot forget about all the hard work from the program's producers, writers, and all staff members, but on top of that, all trainees' passion is what I believe made the program do so well. 
Kim Gyuvin: "Boys Planet'' was the program that made the dreams we have been desiring for a long time come true. I think it was the first step for us to receive the Rookie Of The Year awards [at The Fact Music Awards and the K-Global Heart Dream Awards], which [are] not easy to come by, so we are very thankful and feel extremely fortunate to receive that. "Boys Planet'' really served as a stepping stone for us, and I would say it was truly a life-changing experience.
Officially Becoming ZEROBASEONE
Park Gunwook: The realization [that my life was about to change] came pretty soon because after the final episode aired, we went to the dorm where we were going to live together. It was very exciting to learn that I was going to be starting my group activities and living together with these members that I love and respect so much. I felt like my stomach was full of butterflies every time I thought about that.
Ricky: For me, even before the final lineup was out, we already knew that "Boys Planet'' was getting bigger than we thought it would be. Honestly, I wasn't not sure if I was going to make it into the group, so the moment my name was called, and I went upstairs to sit in [one of the] top nine chairs, I thought, Oh, this is a big turning point in my life.
Kim Jiwoong: Something I want to mention is that we are a very funny group. [Laughs.] I think it shines through the content that we share with our fans and the general public, and they are getting to know a different side of ZEROBASEONE. 
Something that I learned by being close with the members is that I'm really cute — even more than I expected. [Laughs.] I'm the oldest member in the group and as I spend more time with the younger members, I find more pure and childish sides of me that I didn't even know. My relationship with the members has made me feel like a flower that is just blooming, and I'm glad I get to enjoy my youth with them.
Making A Statement At KCON Japan 
Zhang Hao: It was our first [official] performance as ZEROBASEONE, and we wanted to show who we are as a group to the world. We wanted to demonstrate what we could do as artists because people have been seeing us since we were trainees, and now we are a debut group. I truly think that the KCON Japan performance was my life's turning point because it announced the birth of ZEROBASEONE in front of everyone.
Kim Taerae: After we finished the performance, I felt very proud of our group because I think we did well. I also thought that we have a long way to go, and [I know] that we can do better, so we need to work even harder… and truly grow as artists while maintaining our youth and beginner's minds. That was something I was looking forward to right after coming off the stage.
Seok Matthew: I just remember vividly that we got to play with the fans, and we were handing out all these gifts to them. Everyone was having such a great time and I felt like we were actually giving back all the love that they gave us. 
At the end of KCON, we all went to the stage to say goodbye [to the audience], and we got to see our sunbaenims [senior groups] we have always admired…it was really an honor. I think that was the big point for us where, after we finished our performance, we thought, wow, I can't believe we just did that. At that point, that's when we were like, "we need to get as good as our sunbaenims."
Releasing Their Debut EP, Youth In The Shade, & Continuing To Grow
Han Yujin: On our debut day, I remember looking at the members and feeling absolutely proud of each and every one of them. And I had this thought that if we work harder, we are going to succeed and improve to be even better. I could just feel it. I also thought that, personally, I wanted to work even harder to resemble my amazing hyungs [older members]. I've been enjoying every single day since our debut.
Sung Hanbin: We chose this path because we've been enjoying the process and we love what we do. While preparing for Youth In The Shade, I learned that there are so many more things to learn — and it's not just about improving ourselves as performers, but also building our experience, attitude, and stage [presence]. 
We also need to consider our relationship with other seniors and colleagues as well, which I think is essential in this industry. The most important thing that I learned and I'm still figuring out is to be open about new things and grow every day.
Performing At Seoul's Gocheok Sky Dome
Han Yujin: I remember stepping out [to the stage] for the opening song, which was "Back to ZEROBASE." As we started singing the very first part of the song, the door in front of us opened and we were able to see all the audience cheering for us. It was just a very grand moment and I felt overwhelmed and somewhat emotional as well.
It immediately motivated me to give my best throughout the whole concert. I think that specific memory of just being on that stage for the first time and seeing our fans through an opening door will stay in my mind forever.
Conquering Big Stages Around The World
Ricky: KCON L.A. was special for me because Los Angeles is my second hometown, and it was my first time going back since we debuted. As soon as we got there, it made me realize that all the hard work was worth it.
Zhang Hao: And we met Ricky's mom! [Laughs.]
Ricky: It was the first time my family came to see us perform [as ZEROBASEONE], so it was an unforgettable moment. 
Seok Matthew: I'd say that one really good memory I have right now is [M Countdown] in France because I was a special MC. It was my first time being able to do something like that, so I did have a bit of pressure. Hanbin hyung was the main MC, and the fact that I was able to do it with him, it was a very cool experience. 
After that, I wanted to also get better at all the three languages that I speak, which are French, Korean, and English. And then, maybe in the future, I can get another chance to be an MC. It felt so different because France is really far [from South Korea], right? It was everyone's first time [visiting the country], and it was beautiful.
Releasing Their New Album,
Melting Point
Park Gunwook: I think our intention to tell our stories has never altered from our debut album, but we also wanted to show another side of us. In [Youth In The Shade], we wanted to talk more about our identity and who we are as ZEROBASEONE. But Melting Point serves as a chapter where we expand our sound and share our story with the audience and our fans.
We wanted to include some new sounds and powerful performances that we had never presented before. We wanted to show how much we had grown as a team, and how much chemistry we were able to build. Of course, we practiced very hard, but we also had a lot of discussions among ourselves, and we were very open [when] talking with each other.
Kim Taerae: Our debut track "In Bloom" and Melting Point are aligned in the message that we want to walk along with [our fans]. For "Crush," it's more about, "with all your love and support so far, we are determined to protect you." I think our new album serves as our future direction and our determination for our fans and our music.
K-Pop Group IVE Are Unabashedly Themselves On New EP, I've Mine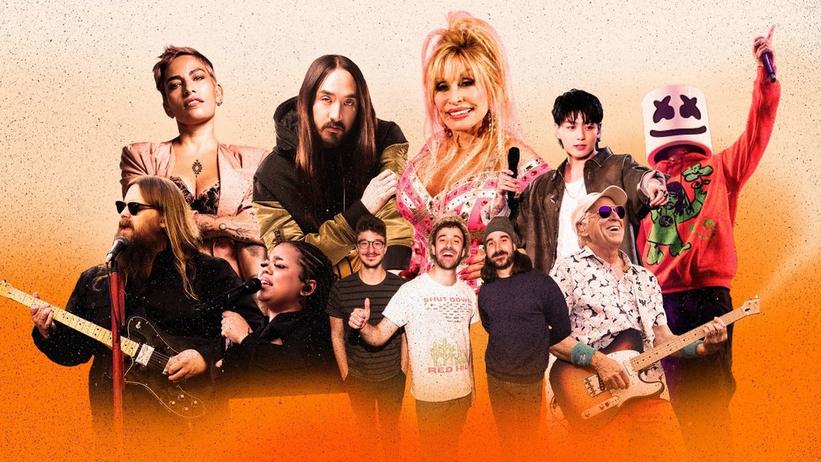 (Clockwise) Chris Stapelton, Ana Tijoux, Steve Aoki, Dolly Parton, Jung Kook, Marshmello, Jimmy Buffett, AJR, Zoe Wees
Photos: Gregory Shamus/Getty Images; Pilar Castro Evensen; TAO Group; Mike Marsland/WireImages; Gotham WireImage; Ivan Apfel/Getty Images; Douglas Mason/Getty Images; AJR; Kristy Sparow/Getty Images
list
15 Must-Hear Albums This November: Dolly Parton, Jung Kook, Marshmello & More
Fill up on a bevy of releases from Chris Brown, Mon Laferte, and the late Jimmy Buffett — whose name reflects the collective musical appetite this month.
GRAMMYs
/
Nov 1, 2023 - 01:12 pm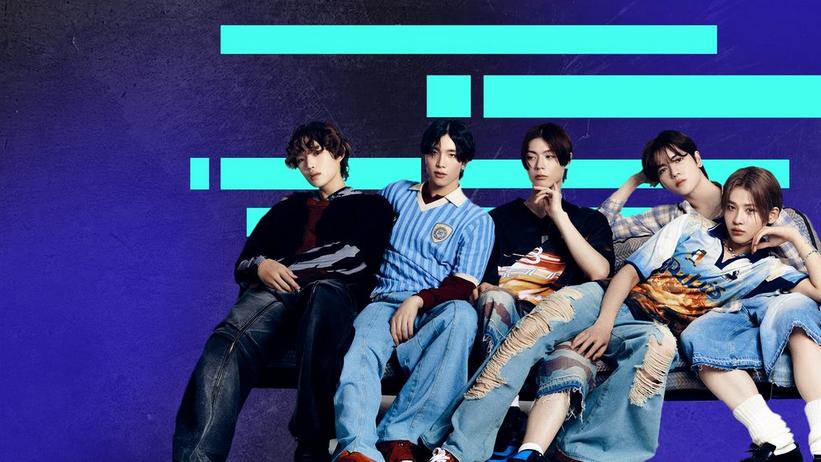 video
Global Spin: POW Offers A "Dazzling" Performance Of A B-Side From Their Debut EP, 'Favorite'
Just after making their official debut on Oct. 11, K-pop quintet POW deliver their first performance of "Dazzling," an easygoing love song from their mini-album, 'Favorite.'
GRAMMYs
/
Oct 19, 2023 - 06:04 pm
There's nothing quite like a summer fling; the feelings are high and the stakes are low. And as POW's love story "Dazzling" proves, sometimes a relationship — fling or not — can make every day feel like "a summer night," regardless of the season.
"Love and peace, young and free/ Here, good vibes only/ Hot and cold, fast and slow/ Life is sweet and salty," POW sings in "Dazzling," switching between English and Korean. "Let's seize the day/ For that someday when this becomes a gleaming memory."
In this episode of Global Spin, POW — the new K-pop group that just debuted on Oct. 11 — delivers a lighthearted premiere performance of "Dazzling." Each member takes a turn at the microphone as they sit in a clay room.
"Dazzling" is a B-side from their debut mini-album, Favorite. The K-pop quintet is the first group under GRID Entertainment. According to a press statement, POW hopes to "make a bold entrance to the music scene with a bang, promising an ambitious quest to deliver a refreshing and entertaining experience to global listeners."
Press play on the video above to watch POW's feel-good performance of "Dazzling," and check back to GRAMMY.com for more new episodes of Global Spin.
K-Pop Group IVE Are Unabashedly Themselves On New EP, 'I've Mine'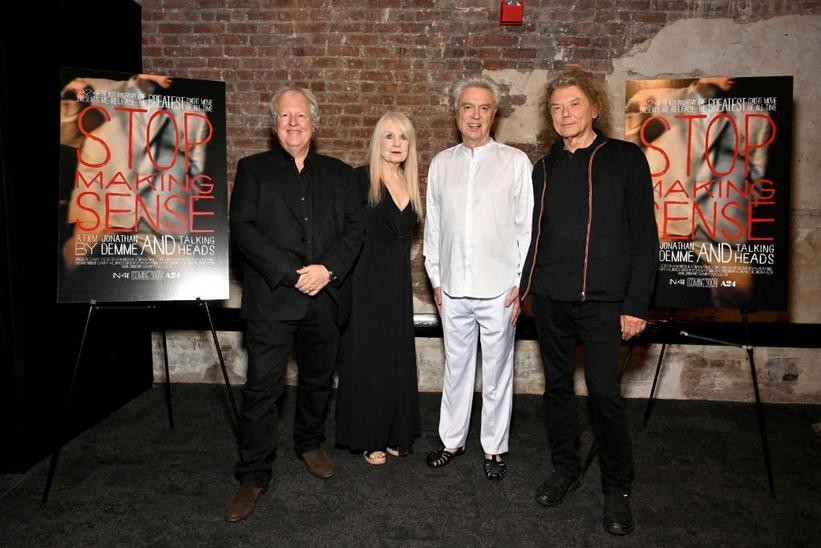 (From left) Chris Frantz, Tina Weymouth, David Byrne and Jerry Harrison of Talking Heads attend a 'Stop Making Sense' Q&A in Brooklyn
Photo: Slaven Vlasic/Getty Images for BAM
list
11 Iconic Concert Films To Watch After 'Taylor Swift: The Eras Tour'
The concert film seems to be having a moment. From the Talking Heads to Queen, read on for 11 concert film experiences that will help keep the party going.
GRAMMYs
/
Oct 18, 2023 - 02:51 pm
A lavender haze has descended upon movie theaters across America. 
Taylor Swift's filmed version of her historic Eras tour is the movie-music event of the year, dominating the box office becoming highest grossing dometic concert film in Hollywood history after a single weekend. Byt the time the Eras credits roll, you know all too well that you're going to want to keep the party going.
Luckily, there are a breadth of artists whose musical singularity is reflected on the silver screen. Swift's major influence notwithstanding, the concert film seems to be having a moment in recent years: Pop stars such as Lizzo (Live in Concert), Selena Gomez (My Mind and Me) and Lewis Capaldi have released popular concert films.
From Beyoncé's stunning Homecoming, to acclaimed concert films from Queen to Talking Heads and new entries like from the boys in BTS, read on for 11 excellent concert film experiences.
Homecoming: A Film by Beyonce
(2019)
When Beyoncé headlined the Coachella Music and Arts Festival — the first Black woman to do so — in 2018, she didn't just perform; she delivered a tour de force extravaganza that spurred a whole new moniker: Beychella. 
Shot over two nights, the Netflix film Homecoming includes a discography-spanning retrospective and memorable performances of "Run the World," "Single Ladies" and "Formation." Layered in ware nods to the Historically Black College and University experience, legends like Nina Simone and dazzling array of choreography, wardrobe and vocal chops. 
The New Yorker later hailed it a "triumphant self portrait" and "a spectacle of soul." Directed by Queen Bey herself, Homecoming took home the golden gramophone for Best Music Film at hte 62nd GRAMMYs. 
Stop Making Sense
(1984)
The filmmaker Jonathan Demme is known for classics like Silence of the Lambs and Philadelphia, but he was also a major force in concert films. Among his achievements in this field is Stop Making Sense, his 1984 portrait of David Byrne and his Talking Heads.
Filmed at the peak of the band's popularity and following the release of Speaking in Tongues (which featured "This Must Be The Place" and "Burning Down the House,"), Stop Making Sense  is a cult classic, from its array of hits to the band's massive suits which became their calling card. 
The film was re-released in theaters last month. "I'm kind of looking at it and thinking, who is that guy?," said David Byrne in a recent interview with NPR about watching his younger self. "I'm impressed with the film and impressed with our performance. But I'm also having this really jarring experience of thinking, 'He's so serious.'" 
BTS: Yet to Come in Cinemas
(2023)
While the GRAMMY-nominated South Korean superstars BTS may be on a break — Jung Kook recently announced that he will release his debut solo full-length- bask in the glow of the K-pop and their rollicking concert film earlier this year. In the film, Jung Kook alongside Jin, RM, Jimin, V, J-Hope as they smoothly perform their calvadace of hits, including "Butter" and"Dynamite" in a 2022 performance for Busan, South Korea's rally to host the 2030 World Expo. 
The boys are actually no stranger to the genre, with Yet To Come marking their fifth concert film in addition to BTS Permission to Dance on Stage — Seoul: Live Viewing and 2020's Break the Silence: The Movie among others. 
Madonna: Truth or Dare
(1991)
With off-stage footage shot in black and white and performances in vivid color, this early '90s classic depicts Queen Madge at the height of her power. Taken from an actual game Madonna and friends play towards the end of the film (to scandalous results), Truth or Dare showcases the breadth of Madonna's superstardom up until that point with performances of classics like "Holiday" and "Like a Virgin" with its artfully-shot juxtaposition of performance and documentary footage a trailblazer in the concert film genre. 
"The surprise of Truth or Dare is just what a blast Madonna is," wrote the Guardian on the occasion of the film's 30th anniversary. "Nastily funny, openly horny, undisguised in her contempt for anyone she deems less fabulous than herself and her blessed collaborators." 
Justin Bieber: Never Say Never
(2011)
Way before Swiftmania, there was Bieber Fever. In the wake of Justin Bieber's explosive rise, Never Say Never interspersed performances with snapshots of his journey from humble Canadian roots to global pop force to be reckoned with. 
Helmed by Jon M. Chu (who'd go onto direct blockbusters like Crazy Rich Asians and In the Heights), Never Say Never is a time capsule of a younger, more innocent Bieber and his early earworm bubblegum hits. Until Swift's Eras is tallied it's the top-grossing concert movie ever released in the USA. 
Prince: Sign o' the Times
(1987)
This iconic concert film was once hard to come by; after its theatrical run, Sign o' the Times was only issued on VHS and eventually went out of print. But thanks to the magic of streaming, one can now easily transport oneself back to the '80s and enjoy the magic that is Prince. 
Directed by the artist and using his acclaimed 1987 album Sign o' the Times as a jumping off point (the album itself was a 2017 inductee into the GRAMMY Hall of Fame), the film reminds viewers of the Purple One's magnetism. Under an array of colorful lights and performing to a raucous crowd, the icon may have died in 2016, but Sign o' the Times serves as a deft time capsule of his royal talent. 
Katy Perry: Part of Me
(2012)
As Katy Perry was in the midst of releasing her acclaimed album Teenage Dream, the pop singer had the foresight to chronicle the ensuing pandemonium.
 "I feel like it was, like, a big wave coming," she told ABC upon the release of Katy Perry: Part of Me, the 2012 concert film that documented her blockbuster California Dreams tour. "I thought to myself, 'Well, I think this is going to be a moment. Maybe I should catch it on tape. I'm either going to go completely mental, completely bankrupt, or have the best success of my life." 
Fortunately the later wound up occurring, with the subsequent film a celebrity-packed (featuring everyone from Lady Gaga to Adele) hit-filled ("Teenage Dream" and "California Girls") look into the life, times and music of the star. 
Queen: Live at Wembley '86
(1986)
Freddie Mercury and Queen were staples of London's Wembley Stadium, performing many memorable shows, including an iconic turn at Live Aid in the early '80s and a Mercury tribute show in the '90s. 
Songs like "We Will Rock You" and "We Are the Champions" fit right in on Wembley's massive stage, with the concert film depicting the thundering live versions of those classics. Relive those heady days with this film which showcases just what made Mercury and his band rock icons, and huge ones at that. 
"Mercury was indeed a born ringmaster," wrote CNN in a piece about their status as stadium savants. "There was no alienating affectation, no wallowing in sentiment... Queen consciously wrote their songs as vehicles for theatrics."
Summer of Soul
(2021)
Back in 1969, Stevie Wonder, Gladys Knight, Nina Simone and B.B. King joined forces for the Harlem Cultural Festival, a mostly forgotten multi-week legendary summit. That all changed when Roots frontman Ahmir "Questlove" Thompson obtained a treasure trove worth of footage and directed this stunning film, aptly dubbed Summer of Soul, which brought the event back to vivid life and subsequent acclaim including a GRAMMY Award for Best Music Film. 
"It was gold," Thompson told Pitchfork of his process of sifting through the footage to create what would become a passion project. "If anything, it was an embarrassment of riches. It was too much. I kept this on a 24-hour loop for about six months straight. Slept to it. Traveled to it. It was the only thing I consumed."
Justin Timberlake + The Tennessee Kids
(2016)
Also directed by Jonathan Demme and released before his 2017 death, Justin Timberlake + The Tennessee Kids showcases Timberlake's  popular 20/20 Experience World Tour and litany of solo hits including "Sexyback" and "Suit & Tie."  
"I don't think anything can compete with live performance," admitted Demme to Rolling Stone before his death in 2017. "You can't beat it. But we strive to provide the most exciting interpretation of that feeling, as filmmakers. We can provide a roving best seat in the house. We can linger on closeups. We can follow the dynamics of the music. I love shooting music." 
The Last Waltz
(1978)
One of the earliest projects of director Martin Scorsese's career was helping edit the monumental film version of Woodstock in 1970. But as that decade progressed and the auteur became known for narrative features including Mean Streets, he revisited his roots by directing The Last Waltz. A trailblazer in the genre, the film captures the last performance of The Band featuring frontman Robbie Robertson alongside a range of guests including Bob Dylan, Ringo Starr and Eric Clapton. Filmed on Thanksgiving Day in 1976, it's a time capsule of the day's biggest acts at the height of their artistry. 
"It's a picture that kind of saved my life at the time," Scorsese told an audience at the Toronto International Film Festival during a 2019 screening. "It's very special to me. Forty years on, it's very special to a great number of us."
6 Must-Watch Hip-Hop Documentaries: 'Hip-Hop x Siempre,' 'My Mic Sounds Nice' & More