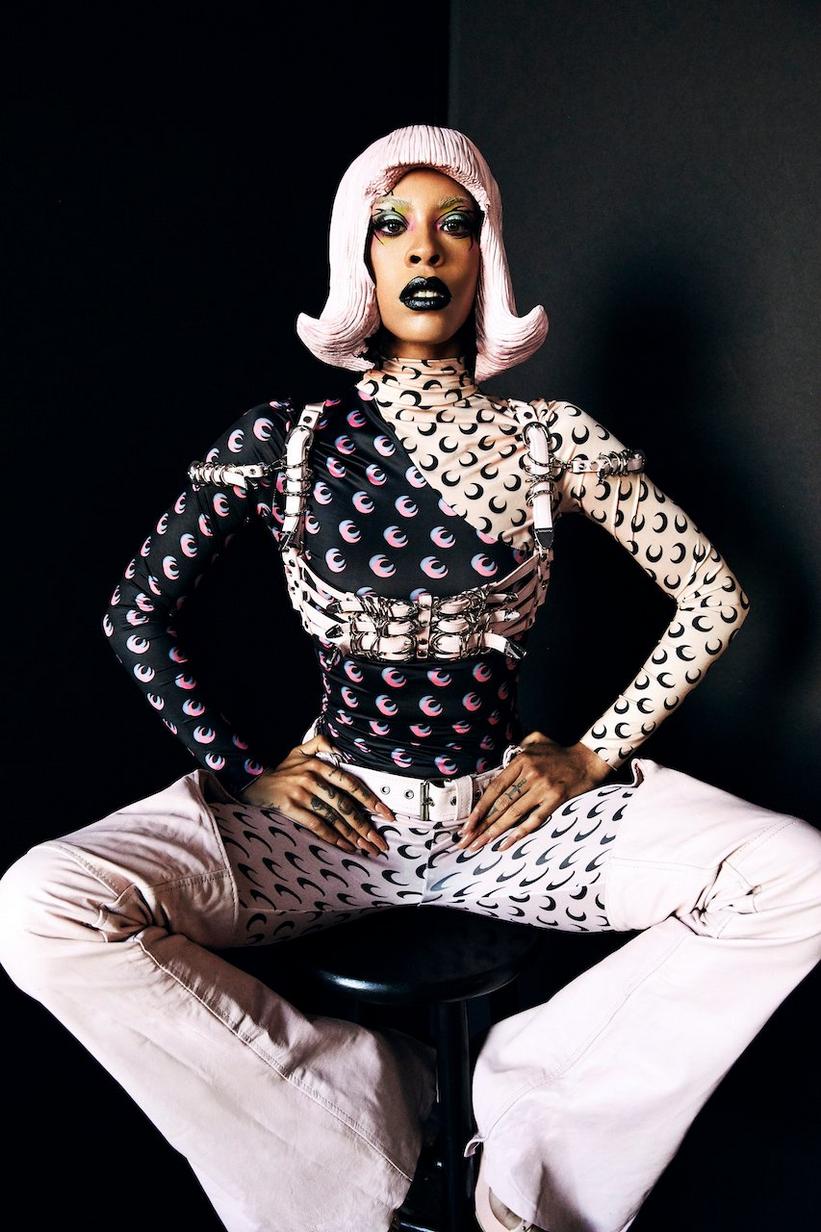 news
Check Out These Recording Academy Virtual Events Celebrating Rap During Black Music Month 2021: Rico Nasty, Darryl "DMC" McDaniels, Grandmaster Flash, Young Devyn And More Confirmed
To celebrate Black Music Month this June, the Recording Academy and its nationwide chapters are hosting virtual events highlighting the impact of rap on music, culture and beyond
GRAMMYs
/
Jun 15, 2021 - 08:56 pm
This June, the Recording Academy and its various nationwide chapters are celebrating Black Music Month with engaging content and virtual events all month long. As part of the celebrations, the Academy is presenting several upcoming chapter-hosted events highlighting the impact of rap on music, culture and beyond.
Read on for more info on how to tune into each virtual event, and stay tuned for even more programming, events and content all month long on GRAMMY.com.
Tuesday, June 15, at 3 p.m PT / 6 p.m. ET
Watch on the Recording Academy's Facebook page and YouTube channel
The Recording Academy's New York Chapter will host Conversations: The History of Hip Hop in NYC, a discussion with some of rap's most influential artists and creatives who'll reflect on the history and influence of hip-hop music and culture on New York City.
Torae Carr will moderate the legend-filled event, which will also include Bas, Darryl "DMC" McDaniels, Erika Elliott, Faith Newman, Grandmaster Flash, Hank Shocklee, Jerry Wonda, Nick Cucci, Rocky Bucano, and Young Devyn.
Thursday, June 17, at 3 p.m PT / 6 p.m. ET
Watch on the Recording Academy's Facebook page and YouTube channel
In celebration of Pride Month and Black Music Month, GRAMMY U is hosting an in-depth conversation with futuristic rap star Rico Nasty. The rapper, singer and songwriter, who released her debut album, Nightmare Vacation, last December, is known for her eccentric, adrenaline-rushing "Sugar Trap" style, which mixes melodic sounds over hard-edged rhymes. DJ/radio personality Little Bacon Bear is moderating the panel.
Read: Welcome To Rico Nasty's 'Nightmare Vacation'
Candid Conversations: Women In Rap ATL
Thursday, June 24, at noon PT / 3 p.m. ET
Watch on the Recording Academy's Facebook page
The Recording Academy's Atlanta Chapter is hosting Candid Conversations: Women In Rap ATL, a conversation with leading women music executives in the rap music community, including Ashaunna Ayers (Mary J. Blige, Ne-Yo, Jeezy), Brandra Ringo (Quality Control) and Cannon Kent Grant (Atlantic Records). Hosted in partnership with Women In Music Atlanta and the Recording Academy's Black Music Collective and Diversity, Equity & Inclusion (DEI) team, the discussion will cover the panelists' personal career journeys, the current state of the music industry during the pandemic, and social injustices in the U.S. WIM Atlanta's Dina Marto will moderate the panel.
Dyana Williams On Why Black Music Month Is Not Just A Celebration, But A Call For Respect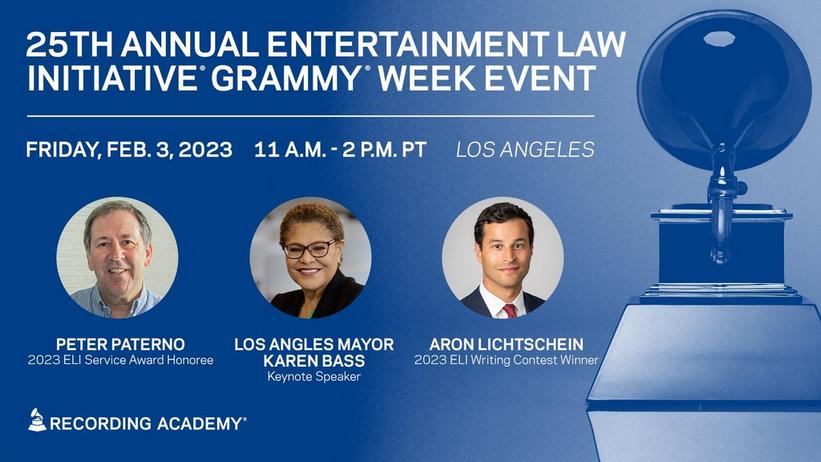 (L to R): Peter Paterno, Mayor of Los Angeles Karen Bass, and Aron Lichtshein
news
Mayor Of Los Angeles Karen Bass To Give Keynote Address At 25th Annual Entertainment Law Initiative During 2023 GRAMMY Week Event
The Recording Academy Entertainment Law Initiative will welcome Los Angeles Mayor Karen Bass as the keynote speaker for its annual GRAMMY Week Event.
GRAMMYs
/
Jan 20, 2023 - 02:00 pm
Ahead of the 2023 GRAMMYs, the Recording Academy Entertainment Law Initiative will welcome Los Angeles Mayor Karen Bass as the keynote speaker for its annual GRAMMY Week Event. Mayor Bass will join leaders in the legal and creative communities at the Beverly Wilshire Hotel on Fri, Feb. 3, as they celebrate the work of their peers and the year-round efforts of the Entertainment Law Initiative, which aims to encourage discussion and debate around the impact of legal affairs on the music industry.
"We are honored to welcome Mayor Karen Bass to the ELI GRAMMY Week Event as we gather and celebrate with the trailblazing professionals and students who are paving the way forward in the entertainment law industry," Recording Academy CEO Harvey Mason jr. said. "Mayor Bass has been a longtime supporter of music creators' rights in her legislative roles, and she has a unique understanding of how the creative industries intersect with law and policy that we look forward to hearing at this year's event."
"I'm proud to support GRAMMY Week because of the role that our entertainment industry plays in powering our local economy and to encourage efforts to increase equity and opportunities for Angelenos to break into the music business," Mayor Bass said.
Mayor Bass was sworn in as L.A.'s mayor on Dec. 11, 2022, after representing California's 33rd Congressional District from 2011 to 2013 and its 37th Congressional District from 2013 to 2022 in the U.S. House of Representatives. Between 2004 and 2010, she served in the California State Assembly and was elected as Speaker in 2008. 
The event will also honor the winner and runners-up of the Entertainment Law Initiative Writing Contest, co-sponsored by the American Bar Association (ABA). The contest challenges students in Juris Doctorate and Master of Laws programs at U.S. law schools to research a pressing legal issue facing the modern music industry and outline a proposed solution in a 3,000-word essay. The winner of this year's Writing Contest is Aron Lichtschein, a JD student at NYU School of Law, for his essay, "Tickets to Ride: NFTs and the Future of Concert Ticketing." Lichtschein will receive a $10,000 scholarship as well as tickets to the 2023 GRAMMY Awards and other GRAMMY Week events. As well, his essay will be published in the ABA's journal Entertainment & Sports Lawyer. Runners-up Gina Maeng and Amanda Sharp, students at Georgetown Law School and University of San Diego School of Law, respectively, will each receive $2,500 scholarships for their essays.
The Recording Academy announced last month that Peter T. Paterno, Partner at King, Holmes, Paterno & Soriano, LLP, will receive the 2023 Entertainment Law Initiative Service Award at the ELI GRAMMY Week Event; the award is presented each year to an attorney who has demonstrated a commitment to advancing and supporting the music community through service.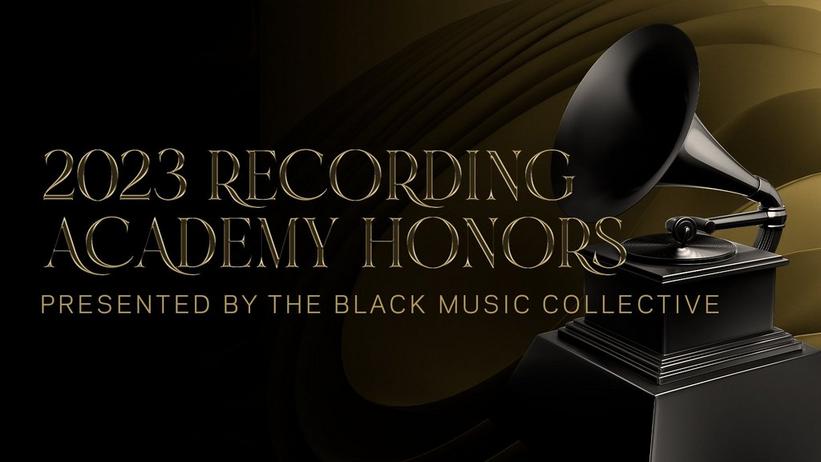 Graphic: The Recording Academy
news
Dr. Dre, Missy Elliott, Lil Wayne, And Sylvia Rhone To Be Honored At The Recording Academy Honors Presented By The Black Music Collective Event During GRAMMY Week 2023
Recording Academy Honors will celebrate honorees during the GRAMMY Week event presented by the Black Music Collective at the Hollywood Palladium on Feb. 2, 2023.
GRAMMYs
/
Jan 11, 2023 - 02:00 pm
Just days before the 2023 GRAMMYs, revered GRAMMY Award-winning artists Dr. Dre, Missy Elliott, and Lil Wayne and music executive Sylvia Rhone will be honored at the Recording Academy Honors Presented By The Black Music Collective event during GRAMMY Week 2023. All four honorees will receive the Recording Academy Global Impact Award for their personal and professional achievements in the music industry.
The second annual Black Music Collective event and official GRAMMY Week event, which takes place Thursday, Feb. 2, at the Hollywood Palladium in Los Angeles and is sponsored by Amazon Music and Google Pixel Phone, will once again feature first-time GRAMMY nominee Adam Blackstone as the musical director of the evening; Recording Academy Board of Trustees Vice Chair Rico Love will also return to Chair the event.
"I am so thrilled to honor and celebrate these four giants in the music industry," Recording Academy CEO Harvey Mason jr. said. "Last year's inaugural event was such a highlight during GRAMMY Week and now with Dre, Missy, Wayne and Sylvia there to pay tribute to this year, it's definitely going to be another night to remember. I continue to be proud of the work of our Black Music Collective as it's a vital part of what we do here at the Academy."
Read More: "Black Music Saved The World": How The Recording Academy Honors Presented By The Black Music Collective Celebrated Positive Change For The Culture & Community
Dr. Dre is a seven-time GRAMMY Award-winning artist, producer, founder, entrepreneur, philanthropist, and CEO of Aftermath Entertainment and Beats Electronics. Dr. Dre began his career as a member of the World Class Wreckin' Cru. Shortly after, he co-founded the revolutionary group N.W.A. The Compton, California, native embarked on his solo career in 1992 when he released his solo debut album The Chronic, which has been certified triple platinum by the RIAA, reached the top 10 on the Billboard 200 and won a GRAMMY for Best Rap Solo Performance ("Let Me Ride"). Dre launched Aftermath Entertainment in 1996, where over the years, he discovered hip-hop superstars such as 50 Cent, The Game, Kendrick Lamar, Anderson Paak, and Eminem. Jimmy Iovine and Dre established Beats Electronics in 2008 and later launched Beats Music, which were both acquired by Apple in 2014. Among many other accolades, Dre won a GRAMMY and an Emmy for the HBO docuseries The Defiant Ones, and the Pepsi Super Bowl LVI Halftime Show Starring Dr. Dre, Snoop Dogg, Mary J. Blige, Eminem, Kendrick Lamar and 50 Cent took home three Emmys. In 2013, the USC Jimmy Iovine and Andre Young Academy for Arts, Technology and the Business of Innovation was funded and established. In 2022, they expanded their efforts to the Los Angeles Unified School District by opening the Iovine and Young Center (IYC) Integrated Design, Technology, and Entrepreneurship (IDTE) Magnet, a new high school that will offer students grounding in the same cutting-edge curriculum.
Read More: Dr. Dre's The Chronic: 25 Years Later
Missy 'Misdemeanor' Elliott has remained relevant as a true visionary and pioneer for women in hip-hop for over 25 years. Her experimental sound and groundbreaking music videos changed the music landscape and challenged artists not to conform to the norm. The multi-GRAMMY-Award-winning rapper, singer, songwriter, and producer made an immediate impact on the music industry with her critically acclaimed debut album Supa Dupa Fly – produced by her longtime production partner Timbaland – which debuted at No. 3 on the Billboard 200 and went on to achieve platinum certification by the RIAA. The Virginia native has produced for and collaborated with artists such as Aaliyah, Beyoncé, Janet Jackson, Mariah Carey, Ciara, Lil' Kim, J. Cole, Busta Rhymes, Ludacris, Chris Brown, and Lil Wayne. Among other awards and accolades, Elliott became the first woman rapper inducted into the Songwriters Hall of Fame and has received honorary doctorates from Berklee College of Music and, most recently, Norfolk State University. In 2022, Elliott was honored in her hometown of Portsmouth with her own street name "Missy Elliott Blvd," furthermore declaring October 17 to be Missy Elliott Day by the Commonwealth of Virginia. Missy is now the latest addition to the Madame Tussauds Wax Museum, where her figure is a recreation of her 2019 MTV Video Music Awards appearance. In 2021, Elliott received a star on the Hollywood Walk of Fame.
Read More: Revisiting Supa Dupa Fly At 25: Missy Elliott Is Still Inspired By Her Debut Record
Lil Wayne has left a lasting impact on the culture as a five-time GRAMMY Award-winning, multiplatinum rap icon, Young Money Entertainment founder and CEO, Young Money APAA Sports founder, acclaimed author, pro skater, and philanthropist. By 2020, he cemented his legacy forever as "one of the best-selling artists of all time," tallying sales in excess of 100 million records worldwide with 25 million albums and 90 million digital tracks sold in the United States alone. In 2022, Wayne earned his first diamond certification from the RIAA with his generational smash hit "Lollipop" featuring Static Major. Among many milestones, he emerged as "the first male artist to surpass Elvis Presley with the most entries on the Billboard Hot 100," logging a staggering 183 entries – the third most of all time. Simultaneously, Wayne owns and operates Young Money Entertainment, the company that ignited the careers of Drake, Nicki Minaj, Tyga, and many more. The committed philanthropist founded the One Family Foundation, with the mission of giving power to the youth by providing them with opportunities to practice their talents and skills and inspiring them to dream beyond their circumstances.
Sylvia Rhone has set the pace for the music industry as one of the most impactful, influential, and important executives in history. She has devoted her professional life to music, she broke a glass ceiling for the first time, and changed the landscape forever as the "only African American and first woman ever" to be named Chairwoman and CEO of Elektra Entertainment Group in 1994. She made history once more in 2019 when Sony Music Entertainment selected her as Chairwoman and C.E.O of Epic Records, enshrining her as "the first woman CEO of a major record label owned by a Fortune 500 company and the first Black woman to attain such a title." Along the way, Rhone has impressively left an indelible imprint on pop, hip-hop, rock, heavy metal, R&B, soul, and electronic music with an impeccable track record. She has shepherded the success of everyone from Missy Elliott, Anita Baker, the late Ol' Dirty Bastard, Jason Mraz, Busta Rhymes, Pantera, and Metallica to Lil Wayne, Kelly Rowland, Akon, Kid Cudi, Nicki Minaj, A Tribe Called Quest, Fabolous, Tamia, and Gerald Levert, just to name a few. Currently, she is at the helm of Epic Records where she has overseen historic releases from Future, Travis Scott, 21 Savage, DJ Khaled, Camila Cabello, and many more. A music industry trailblazer for four decades, Rhone has catalyzed the careers of artists who have changed music and the world at large — and she will continue to do so.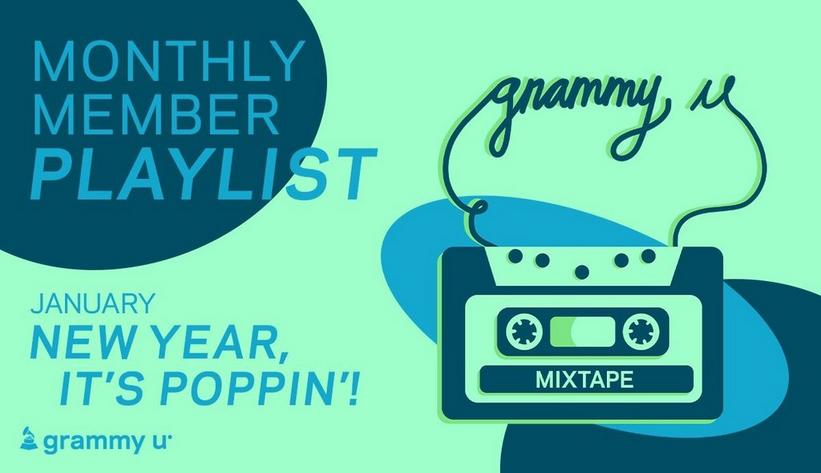 news
Press Play On GRAMMY U Mixtape: New Year, It's Poppin'! Monthly Member Playlist
The GRAMMY U Mixtape is a monthly, genre-spanning playlist to quench your thirst for new tunes, all from student members. GRAMMY U celebrates new beginnings with fresh pop tunes that will kickstart 2023.
GRAMMYs
/
Jan 6, 2023 - 12:17 am
Did you know that among all of the students in GRAMMY U, songwriting and performance is one of the most sought after fields of study? We want to create a space to hear what these students are creating today!
The GRAMMY U Mixtape, now available for your listening pleasure, highlights the creations and fresh ideas that students are bringing to this industry directly on the Recording Academy's Spotify and Apple Music pages. Our goal is to celebrate GRAMMY U members, as well as the time and effort they put into making original music — from the songwriting process to the final production of the track.
Each month, we accept submissions and feature 20 to 25 songs that match that month's theme. This month we're ringing in 2023 with our New Year, It's Poppin'! playlist, which features fresh pop songs that bring new year, new you vibes. Showcasing talented members from our various chapters, we felt these songs represented the positivity and hopefulness that GRAMMY U members embody as they tackle this upcoming year of exciting possibilities.
So, what's stopping you? Press play on GRAMMY U's Mixtape and listen now on Spotify below and Apple Music.
Want to be featured on the next playlist? Submit your songs today! We are currently accepting submissions for songs of all genres for consideration for our February playlist. Whether you write pop, rock, hip hop, jazz, or classical, we want to hear from you. Music must be written and/or produced by the student member (an original song) and you must be able to submit a Spotify and/or Apple Music link to the song. Students must be a GRAMMY U member to submit.
About GRAMMY U:
GRAMMY U is a program that connects college students with the industry's brightest and most talented minds and provides those aspiring professionals with the tools and opportunities necessary to start a career in music.     
Throughout each semester, events and special programs touch on all facets of the industry, including the business, technology, and the creative process.
As part of the Recording Academy's mission to ensure the recorded arts remain a thriving part of our shared cultural heritage, GRAMMY U establishes the necessary foundation for music's next generation to flourish.
Not a member, but want to submit to our playlist? Apply for GRAMMY U Membership here.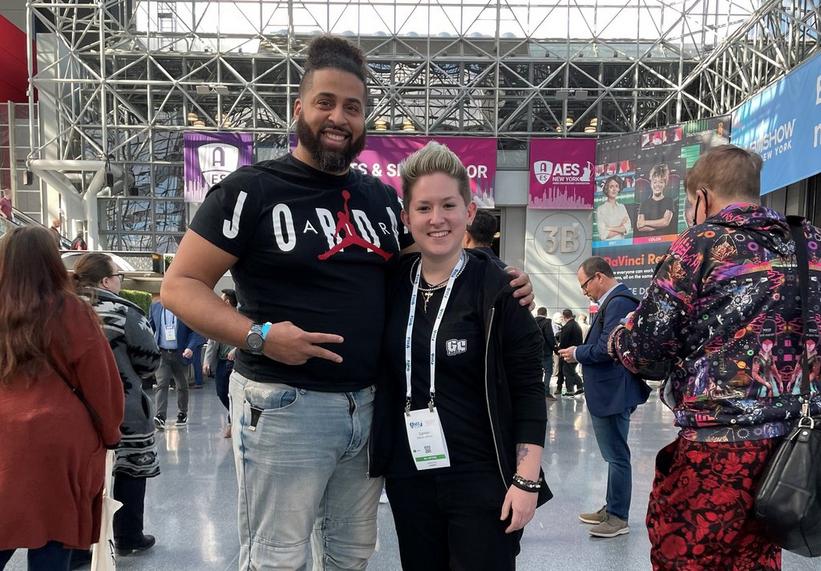 Mentor Geronimo Vannicola (left) and mentee Dannon Johnson at the Audio Engineering Society convention in New York
Photo courtesy of GRAMMY U
interview
7 Highlights Of GRAMMY U's Fall 2022 Mentorship Program
GRAMMY U's mentorship program pairs college students with music industry professionals, with the goal of becoming successful in the industry. GRAMMY.com shares the stories of seven participants from across the country.
GRAMMYs
/
Dec 21, 2022 - 04:41 pm
Beginning a career in the music industry can be a winding and often rocky path, with few signposts to guide the way. But when you combine the enthusiasm of eager students and young professionals with the wisdom and guidance of industry veterans, no mountain is too difficult to climb.
Every semester, the GRAMMY U mentorship program sets out to create these connections, pairing professionals with student members pursuing a career in the same field. In some cases, mentors give their mentees a chance to get their hands dirty, working firsthand on industry projects and participating in professional settings.
With the GRAMMY U fall 2022 program wrapped up for the holidays, hear from student members and mentors for a glimpse at some of the opportunities and connections from this semester.
Jeff Silverman | Mentor | Nashville Chapter
Alex Wons | Mentee | Nashville Chapter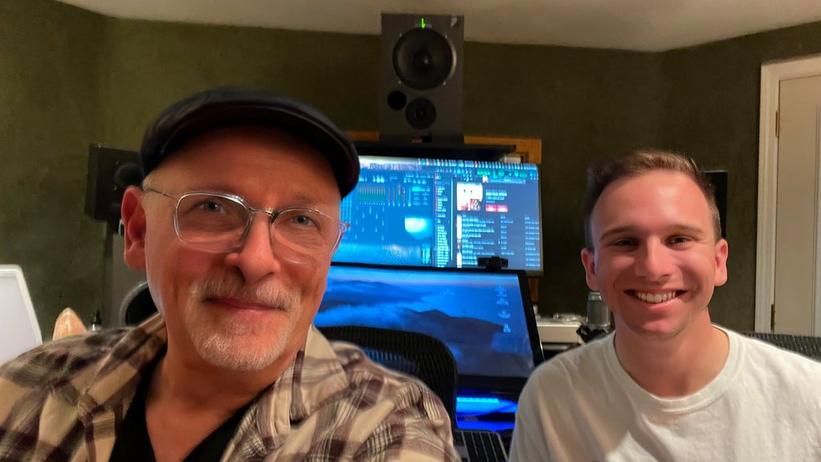 Alex Wons is a student at Middle Tennessee State University, double majoring in commercial songwriting and audio production, with several of his own releases out on all major platforms. He was paired with Jeff Silverman, a producer, engineer, songwriter, composer for film and TV, and former Motown staff writer with nearly 40 years of experience in the music industry. Silverman took to his social network pages to share his mentorship of Wons. "I looked at it as an opportunity to introduce Alex to all of the people that support me, with hopes that they too will support his work."
What started out as a Zoom meet and greet turned into an in-studio lesson on production, engineering, and the future of audio via Dolby Atmos. Silverman invited Wons to his studio, where they listened to 7.1.4 mixes and discussed go-to programs and plugins. The veteran listened to one of Won's recent productions that he produced, mixed, mastered, and performed on. "I was so impressed that I asked if he would mind if I pass it around to a few of my film TV licensing contacts and see if there would be any interest," Silverman rounted, before encouraging Alex to always seek legal advice before signing an exclusive deal on his songs.
"We all need a mentor at some point in our lives if we're going to grow. And I have many to thank for those landmark growing times in my lifetime in the music business," says Silverman.
Call Me Ace | Mentor | San Francisco Chapter
Vinal Chand | Mentee | San Francisco Chapter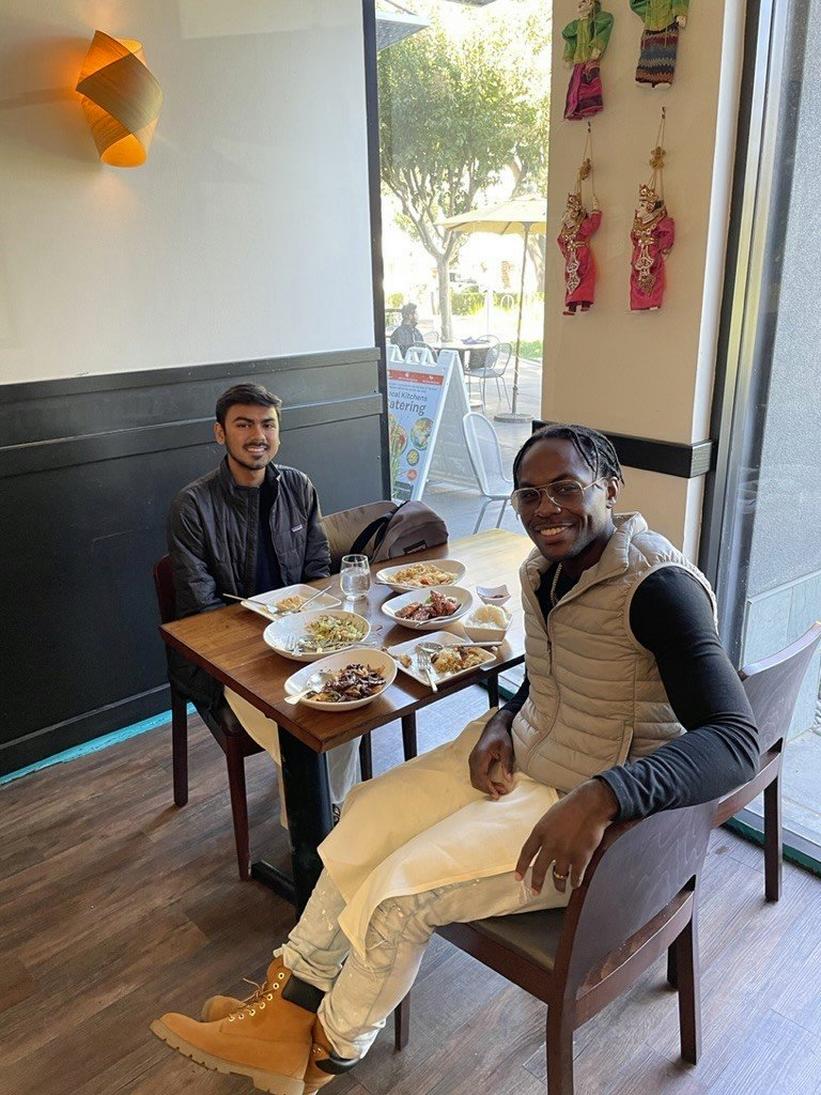 Vinal Chand, an economics and communications student and rising senior at the UC Davis was paired with Ace Patterson, a strategy and operations consultant, marketer, designer, and hip-hop recording artist. The pair's original focus for mentorship was securing an internship in the industry, a goal that proved attainable with Ace's help, offering Chand an internship at his record label, Heir Quality.
"When my mentee told me that he wanted to work in music marketing but felt his recruitment options were limited by a lack of tangible experience in that space, I devised a plan with him to create an internship program through the new label I started, granting him a sizable opportunity to flex his digital marketing experience and demonstrate impact before he graduates college," Ace says.
Chand says one of the most transformative lessons he learned from Ace is that you need to create your own opportunities in the industry. "We don't need a specific role or title to gain experience. The best people in the music industry are those that actively gain experiences on their own, whether it's helping to promote local artists, editing your own projects, or creating content," Chand says. "The thing to remember is that you must trust in your own capabilities. You, too, deserve to be a part of this industry, just as anyone else."
Gene More | Mentor | Texas Chapter
Victor Fernando Aguilar | Mentee | Texas Chapter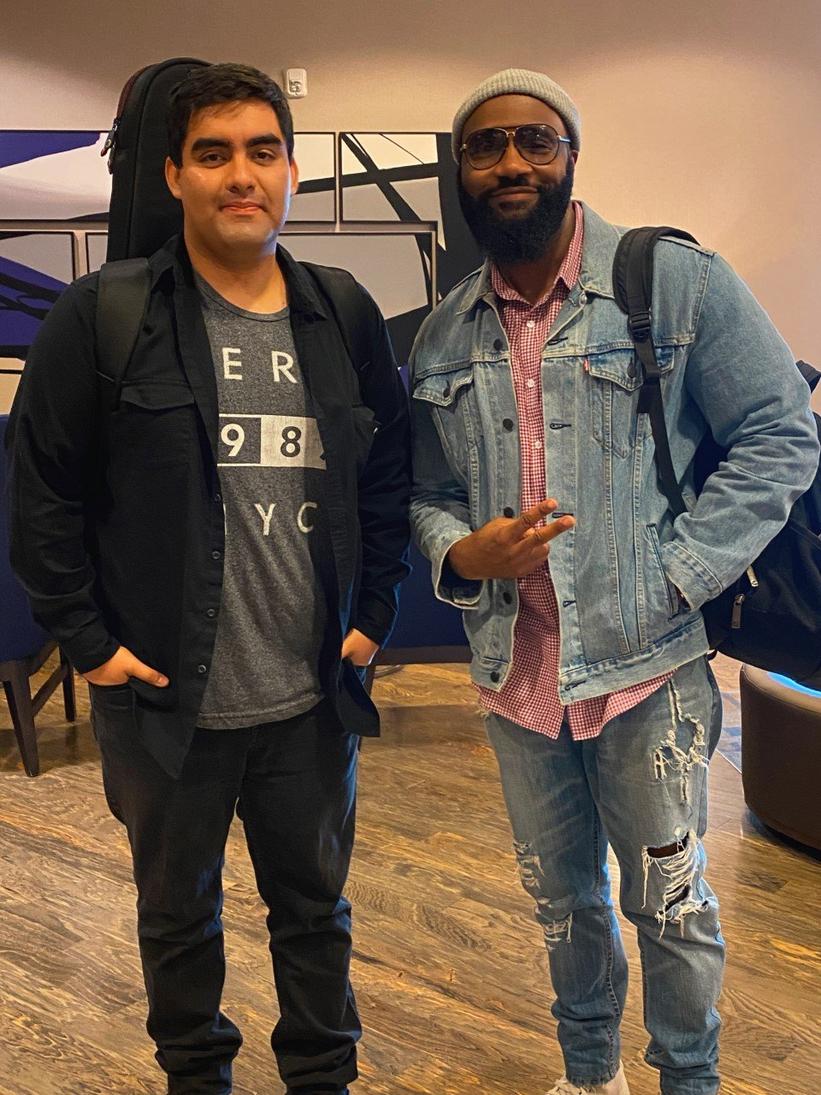 Victor Aguilar, a student at Visible Music College studying modern music and looking to pursue a career as a performing and touring musician, was paired with Gene Moore, a gospel artist, GRAMMY nominee, and radio announcer based in Houston. The two met weekly, talking through any roadblocks Aguilar faced that week and how to push himself to the next level. They met in person for their first session, in which Aguilar played a few songs while Moore's good friend, Chris Walker, offered feedback via FaceTime. Victor says he learned essential lessons about working hands-on during that session, noting "the most important thing … was to stay calm under pressure. Never let them see you sweat."   
Aguilar emphasized his mentor's drive to go the extra mile for him numerous times, creating an invaluable experience with priceless advice. "We will stay in touch even after this semester is over. I am planning a trip to Houston soon so that I can keep learning from him," Aguilar says. "These past months have been full of improvements thanks to his teachings, and his work ethic has inspired me to give my very best."
Michael Wansley | Mentor | PNW Chapter
Isaac Selby | Mentee | PNW Chapter
Isaac Selby is a recent Emory University marketing graduate, rap artist, and music marketer working for Yonas Media as well as a day-to-day manager for Latin GRAMMY nominated rock band Making Movies. He was paired with Michael Wansley, or Wanz, a GRAMMY-winning artist and vocalist based in Seattle. The pair met several times over Zoom and in person, including a recording session to track their collab song, the perfect project for Selby to put Wansley's lessons in songwriting into action.
Selby recognized that he needed a deeper understanding of song structure to improve on his existing talents, and applied his mentor's lessons in structure, hook writing, and building interest. "He has gained a widened perspective of music outside of his preferred genre. The songwriting concepts we've discussed have gotten him excited about writing in a 'new' way," Wansley says.
Witness the mentorship magic as they have paired up to do a show on Jan. 11 at The Highdive in Seattle.
Geronimo Vannicola | Mentor | Philadelphia Chapter
Dannon Johnson | Mentee | Philadelphia Chapter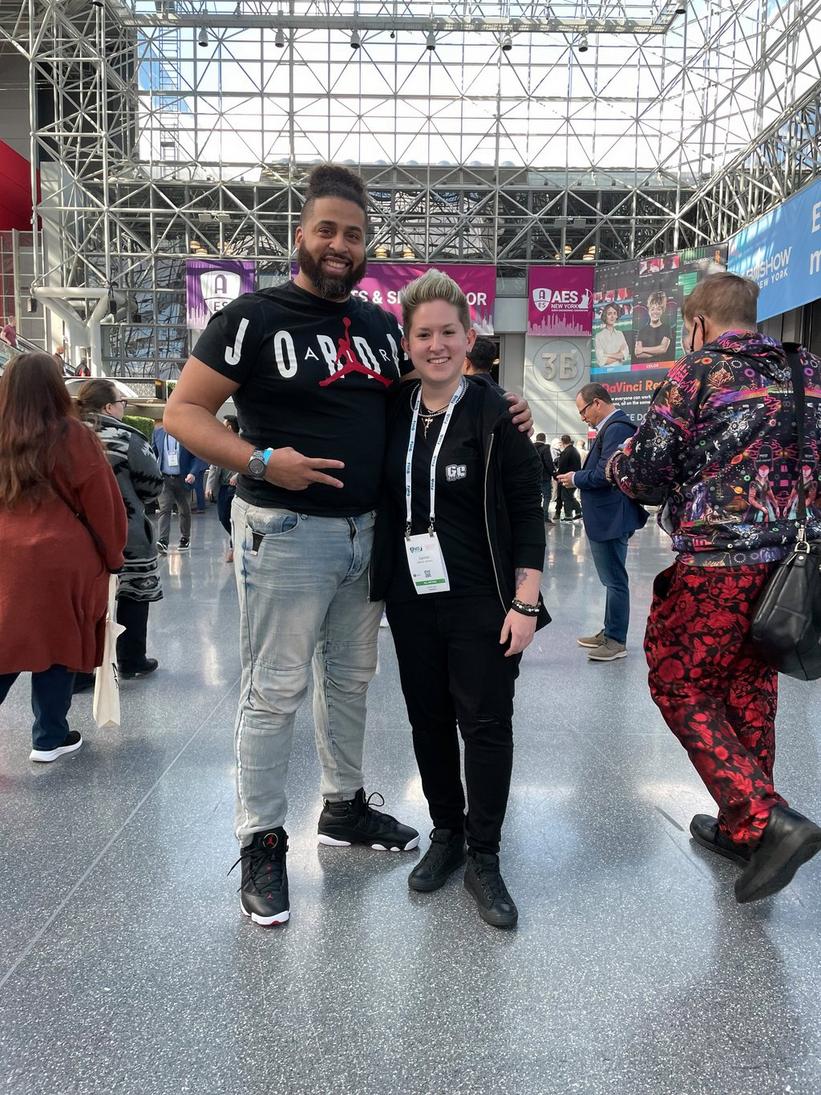 Dannon Johnson is a junior at Duquesne University majoring in sound recording, and is the owner/operator of a recording studio and live sound reinforcement company. She was paired with Geronimo Vannicola, a member of the production team for Fox's music catalog and a vendor for Paramount providing music for sync.
Although the pair primarily connected virtually because of their location in different states, they met at the Audio Engineering Society convention in New York where Vannicola connected Johnson with professional peers. "To hear Geronimo speak so highly of me to his peers and for him to take the time to take my career as seriously as he has, has helped to validate my place in this industry," Johnson says. "He's shown me that my aspirations are possible and my dreams are closer to being reached than they may seem."
Vannicola encouraged Johnson to "build her own empire" by learning to delegate work and share workload — a key ingredient to the growth of any business. "Being so busy with work makes things like keeping up on my studio's social media difficult, and he's taught me to enlist those around me for help," Johnson says.
Working remotely didn't stop the two from getting hands-on. Johnson updated Geronimo's previous ProTools mixes and received expert feedback. "To have him look at my workflow and shoot back his own iteration of my mixes is something I cannot stress the invaluable nature of enough," she said. Vannicola spoke to the importance of this hands-on work, emphasizing that good mentorship is as much about shaping mindset as it is "about giving something tangible, whether it's a skill or opportunity to move forward with, shaping a bright future."
Craig Campbell | Mentor | Nashville Chapter
Sydney Pasceri | Mentee | Nashville Chapter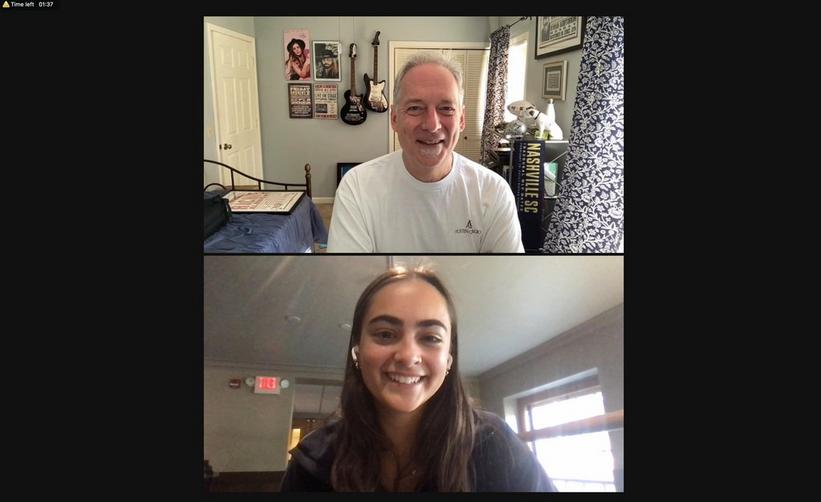 Sydney Pasceri — a student at Wake Forest University studying communications, and pursuing a career in music journalism, marketing, and public relations — was paired with Craig Campbell, the President of Campbell Entertainment, working in publicity and artist management.
Since Pasceri is based in North Carolina and Campbell in Nashville, the two didn't work in person, but Campbell still found ways to engage with his mentee. He added Sydney to his press release distribution list so she could see how he writes about new releases, announces festivals and other related topics. "I still plan to get her the bones of a release, so she can write one!" Campbell says.
Pasceri said she appreciated how intentional Campbell was in getting to know her — the same skill and care that makes him stellar in the world of A&R. "I admire this dedication to getting to understand the person, rather than just the artist, and hope to carry this into my own career." Through their conversations, Pasceri learned that the music scene is very small, with Campbell knowing someone from every corner of the industry she mentioned. "It made me realize how important it is to make meaningful relationships with people in all different jobs in the business."
Campbell joined the mentorship program with an open mindset to potentially learn from someone at any point in their career. "As a mentor, I want to impart knowledge, but I also want to be challenged… I welcome someone questioning why or offering a different viewpoint." Campbell was thrilled to get the chance to mentor Pasceri: "Sydney is driven, curious, interesting, ambitious, and very focused; I'll probably be working for her one day!"
Al Thrash | Mentor | Atlanta Chapter
Jasmine Gordon | Mentee | Atlanta Chapter 
Spelman College student Jasmine Gordon hopes to pursue a career in branding and marketing for clients in the music, sports, and entertainment industry, and is studying comparative women's studies with a focus on branding and marketing in the media. Gordon was paired with Al Thrash, the Professor of Practice at Georgia State University and Project Manager at Thirty Tigers — one of the premiere music distribution companies in the industry.
"My mentor and I visited the record label, LVRN, and I sat in on one of his meetings with the CEO of the label. I learned how to adequately build and nurture relationships and the importance of your network," Gordon says, adding that she participated in the meeting and learned about opportunities at the label.
Thrash also introduced Gordon to the founders of Project Go Dark, an Atlanta-based intensive music industry pipeline for college students. Thrash highlighted that he collaborated with Gordon's organization, Spelman College Women in Hip-Hop, for an alumni mixer during the historic SpelHouse Homecoming weekend. "This was an awesome experience, and I look forward to continuing to work with Jasmine as she develops into a professional," Thrash says.
The GRAMMY U Mentorship program is not only an invaluable experience for students to get direct feedback and career advice from an industry professional, but it can be the seed of a life-long relationship and the roots of a rich network.  Applications are now open for the spring GRAMMY U mentorship program, which runs from Feb.y 13 – May 5, 2023.  Apply to be a mentor or mentee by Jan. 27.