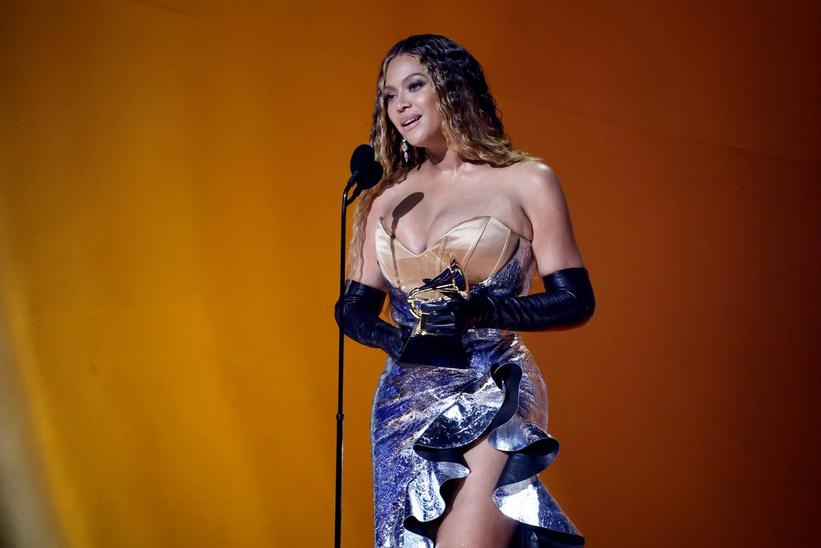 Photo of Beyoncé winning the GRAMMY for Best Dance/Electronic Music Album at the 2023 GRAMMYs.
Photo: Frazer Harrison/Getty Images
news
Beyoncé Wins Best Dance/Electronic Music Album For 'Renaissance' | 2023 GRAMMYs Acceptance Speech
Beyoncé makes history as she wins Best Dance/Electronic Music Album at the 2023 GRAMMYs for "Renaissance."
GRAMMYs
/
Jan 30, 2023 - 06:31 pm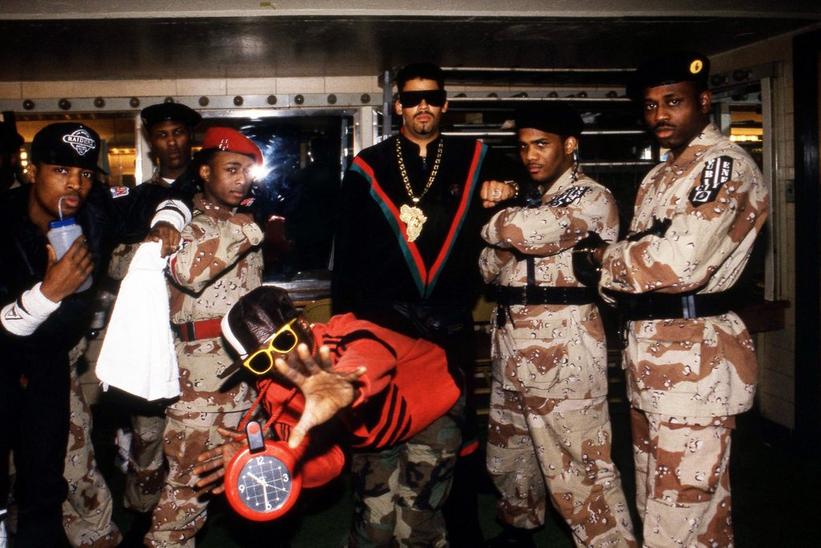 Rappers Chuck D, Professor Griff, Flavor Flav and DJ Terminator X of Public Enemy in 1988
Photo: Raymond Boyd/Getty Images
feature
A Brief History Of Hip-Hop At 50: Rap's Evolution From A Bronx Party To The GRAMMY Stage
Aug. 11, 2023 marks the 50th anniversary of hip-hop. To honor the legacy and influence of this now global culture, GRAMMY.com presents a timeline marking the genre's biggest moments.
GRAMMYs
/
Aug 11, 2023 - 02:28 pm
This year marks the 50th anniversary of hip-hop, a cultural movement that rose from humble beginnings in New York to fuel a worldwide phenomenon.    
Scholars may debate whether its roots precede Aug. 11, 1973, when DJ Kool Herc debuted his "merry-go-round" technique of playing funk breaks back-to-back to a roomful of teenagers in the Bronx. However, there's little doubt that this event sparked a flowering of activity throughout the borough, inspiring DJs, breakdancers, graffiti artists, and, eventually, pioneering MCs like Coke La Rock and Cowboy.  
The music industry eventually caught wind of the scene, leading to formative 1979 singles like the Fatback Band's "King Tim III" — the funk band featured MC and hypeman Timothy "King Tim III" Washington — and the big one: the Sugarhill Gang's "Rapper's Delight."   
Today, rap music is the most popular genre of music, led by superstars such as Drake, Kendrick Lamar, Future, Eminem, and many others. Despite its massive success, many artists retain their strong ties to communities of color, reflecting the genre's origins as a form rooted in the streets. 
To mark hip-hop's 50th anniversary, press play on the playlist below, or head to Amazon Music, Apple Music and Pandora for a crash course in this quintessential stateside artform — further proof of the genius of Black American music.
At the 65th Annual GRAMMY Awards, the Recording Academy showcased the breadth of hip-hop's influence via a star-studded, generation-spanning performance. Curated by Questlove and featuring legends such as Grandmaster Flash, Run-D.M.C., Ice-T, Jay-Z, Busta Rhymes, Missy Elliott, Nelly, and GloRilla, the 2023 GRAMMYs' hip-hop tribute showed that hip-hop remains one of the most exciting music cultures — and will likely remain so for the next 50 years. 
A Timeline Of Hip-Hop's Development 
1973 – On Aug. 11, 1973, Clive "Kool Herc" Campbell DJs a back-to-school party organized by his sister, Cindy Campbell, in the rec room at 1520 Sedgwick Avenue in the Bronx, New York. The event is widely considered to be the beginning of hip-hop culture.    
1979 – Longtime R&B star and producer Sylvia Robinson launches Sugar Hill Records with her husband, Joe. She discovers their first act in New Jersey, a trio of rapping teenagers — Wonder Mike, Big Bank Hank, and Master Gee — and brands the Sugarhill Gang. The Gang's first single, "Rapper's Delight," sells millions of copies and becomes the first global rap hit.    
1982 – Co-written by Duke Bootee and Melle Mel and produced by Clifton "Jiggs" Chase, Grandmaster Flash & the Furious Five's hit single "The Message" becomes a turning point in the genre. Bootee and Melle Mel's stark descriptions of poverty signal to fans and critics that hip-hop is capable of more than just party music.    
1984 – Russell Simmons' Rush Management organizes Fresh Fest, a groundbreaking arena tour featuring hot rap acts like Run-D.M.C., Whodini, Kurtis Blow, the Fat Boys, and Newcleus as well as b-boy crews such as the Dynamic Breakers. Held during the next two years, it signifies hip-hop's growing popularity.    
1986 – After bringing frat-boy chaos as the opening act on Madonna's Virgin Tour, Def Jam understudies the Beastie Boys collaborate with producer Rick Rubin on Licensed to Ill. Spawning the hit single "Fight for Your Right," the album is certified diamond in 2015.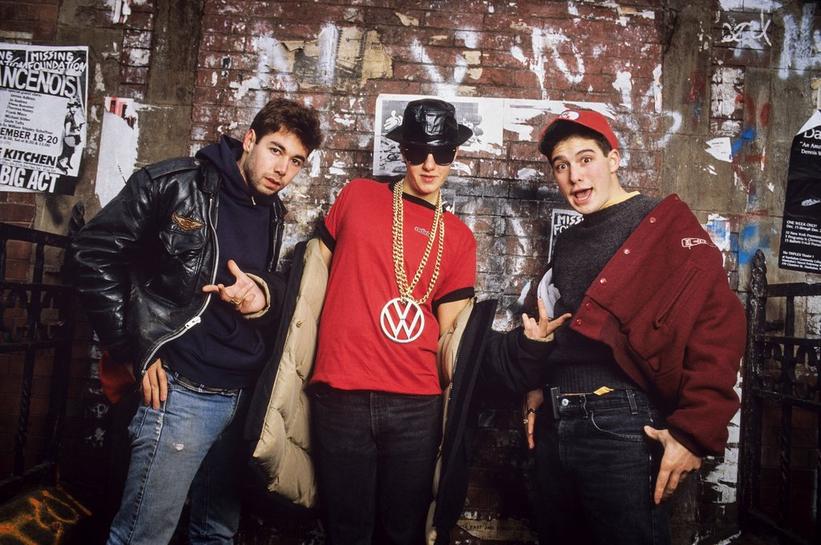 Beastie Boys in 1987 | Lynn Goldsmith/Corbis/VCG via Getty Images
1987 – Thanks to a remix by the late DJ/producer Cameron Paul, rap trio Salt-N-Pepa get teens everywhere twerking — and worry parents and school administrators — with the electro-bass classic, "Push It."   
1988 – Public Enemy release their second album, It Takes a Nation of Millions to Hold Us Back. Reportedly featuring over 100 samples and focused on Chuck D, Flavor Flav and Professor Griff's revolutionary lyrics, it's often cited as one of the greatest hip-hop albums of all time.    
1989 – DJ Jazzy Jeff & the Fresh Prince win the first hip-hop GRAMMY Award for Best Rap Performance for their 1988 hit single, "Parents Just Don't Understand."  
1988 – Thanks to lyrics criticizing law enforcement and depicting raw life in Compton, California, N.W.A spark national controversy with their influential second album, Straight Outta Compton.    
1991 – Ice-T appears in New Jack City, becoming one of the first rappers to headline a major Hollywood film. That same year, he appears on the Lollapalooza tour with his metal group, Body Count, and performs an early version of "Cop Killer." The song becomes a flashpoint in the 1992 presidential election.    
1993 – Wu-Tang Clan release their debut album, Enter the Wu-Tang (36 Chambers). With nine members led by rapper/producer the RZA, the highly unique Staten Island-based collective spawned dozens of solo albums and affiliated acts over the following decades.   
1996 – Naughty by Nature earn the first GRAMMY Award for Best Rap Album with their third album, Poverty's Paradise. The 1995 set includes a major radio hit in "Feel Me Flow."    
1996 – After dominating most of 1996 with his fourth album, the diamond-certified double album All Eyez on Me, 2Pac is killed in Las Vegas. The unsolved murder of one of the greatest rappers of all time remains a watershed moment in music culture.   
1997 – Days before the release of his diamond-certified second album, Life After Death, the Notorious B.I.G. is killed in Los Angeles. The slaying of two of hip-hop's biggest artists prompts soul-searching across the music industry and inspired Biggie's friend, Puff Daddy, to release the GRAMMY Award-winning hit, "I'll Be Missing You."  
1997 – After writing and producing hits for MC Lyte and Aaliyah, Missy Elliott debuts as a solo artist with Supa Dupa Fly. With production help from Timbaland and kinetic music videos, Elliott establishes herself as one of the most innovative acts of the era.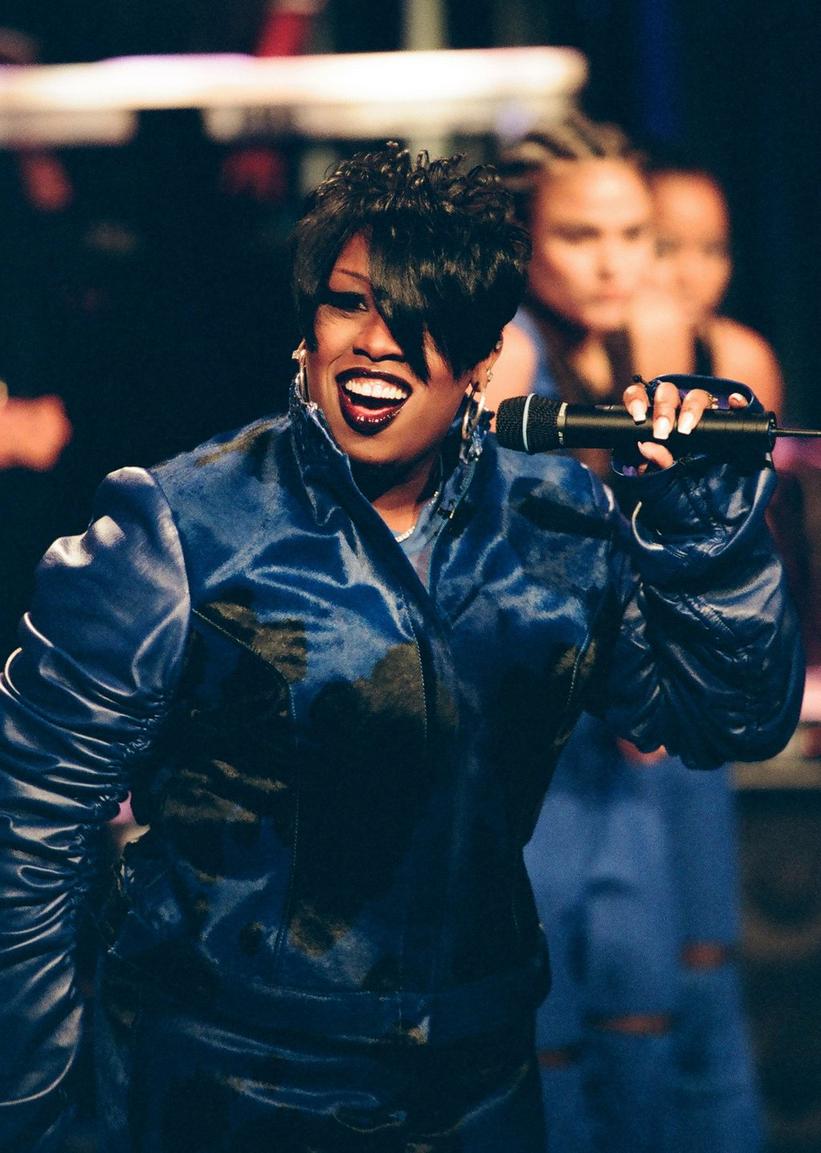 Missy Elliott | Paul Drinkwater/NBCU Photo Bank/NBCUniversal via Getty Images 
1998 – After scoring multi-platinum hits with the Fugees, Lauryn Hill strikes out on her own with The Miseducation of Lauryn Hill. The diamond-certified album earns her several GRAMMY Awards, including Album Of The Year.    
1999 – Dr. Dre releases 2001, cementing his legacy as one of the most influential rap producers ever. The album features numerous collaborators, including longtime homie Snoop Dogg and rising lyricist Eminem.    
2001 – On Sept. 11, Jay-Z releases his sixth album, The Blueprint. It becomes a career highlight for the Rock & Roll Hall Of Fame rapper, and a breakout moment for rising producers Just Blaze and Kanye West.    
2003 – Hit-making duo OutKast split their double album Speakerboxxx/The Love Below into separate sides for Big Boi and Andre 3000 — the latter focusing on singing instead of rapping. Their fresh approach results in a diamond-certified project and a GRAMMY for Album Of The Year.    
2008 – Lil Wayne mania peaks with Tha Carter III, which sells over 1 million copies in its first week and earns him a GRAMMY for Best Rap Album.    
2010 – Nicki Minaj releases Pink Friday. The hit album makes her a rare female rap star during a dearth of prominent women voices in the genre.    
2017 – By landing a Top 10 Billboard hit with "XO Tour Llif3" and topping the Billboard 200 with Luv Is Rage 2, Lil Uzi Vert signifies the rise of internet-fueled trends like "SoundCloud rap" and "emo rap."   
2017 – With his fourth album Damn., Kendrick Lamar not only wins a GRAMMY for Best Rap Album, but he also becomes the first rap artist to win a Pulitzer Prize for Music, leading to the fanciful nickname "Pulitzer Kenny."    
2018 – Cardi B releases her debut album Invasion of Privacy, scoring Billboard No. 1 hits such as "Bodak Yellow" and "I Like It." As the best-selling female rap album of the 2010s, the LP won Best Rap Album at the 61st GRAMMY Awards in 2019, making Cardi the first solo female rapper to win the Category.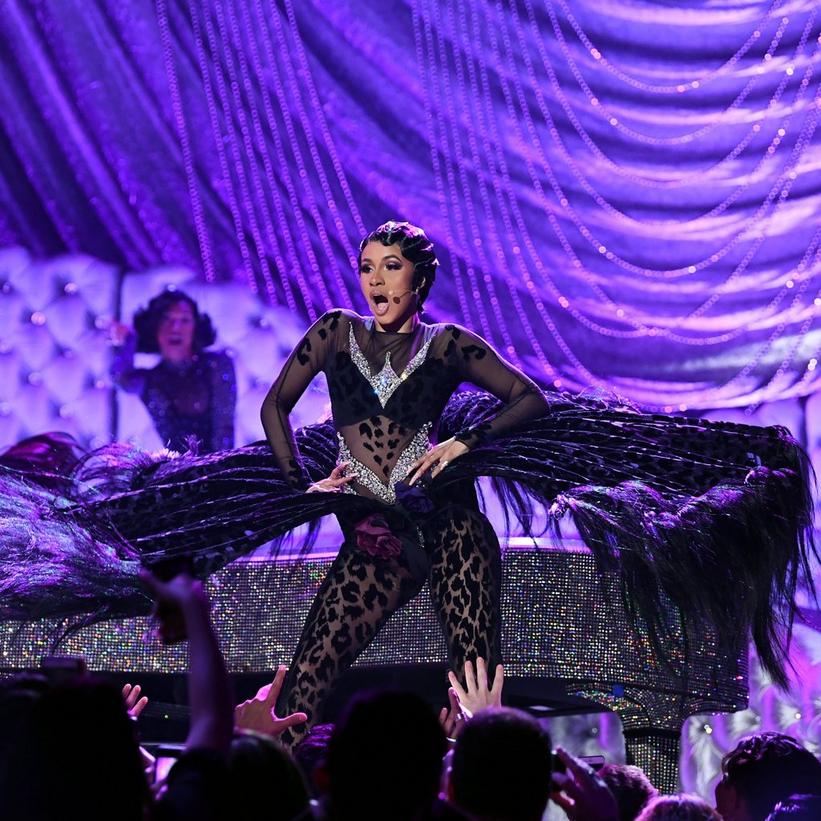 Cardi B at the 61st GRAMMY Awards | Emma McIntyre/Getty Images for The Recording Academy 
2020 – In early 2020, rising star Pop Smoke is killed in Los Angeles. Months later, his posthumous debut album, Shoot for the Stars, Aim for the Moon, tops the charts, signifying the rise of drill as a major force in hip-hop culture.  
2021 – At the 63rd Annual GRAMMY Awards in 2021, the Recording Academy introduced the Best Melodic Rap Performance Category, formerly known as the Best Rap/Sung Performance Category, to "represent the inclusivity of the growing hybrid performance trends within the rap genre." 
2023 - At the 2023 GRAMMY Awards, seven-time GRAMMY winner Dr. Dre became the recipient of the inaugural Dr. Dre Global Impact Award for his multitude of achievements through his innovative, multi-decade career. Dre was first presented with the award at the Black Music Collective's Recording Academy Honors ceremony. 
50 Artists Who Changed Rap: Jay-Z, The Notorious B.I.G., Dr. Dre, Nicki Minaj, Kendrick Lamar, Eminem & More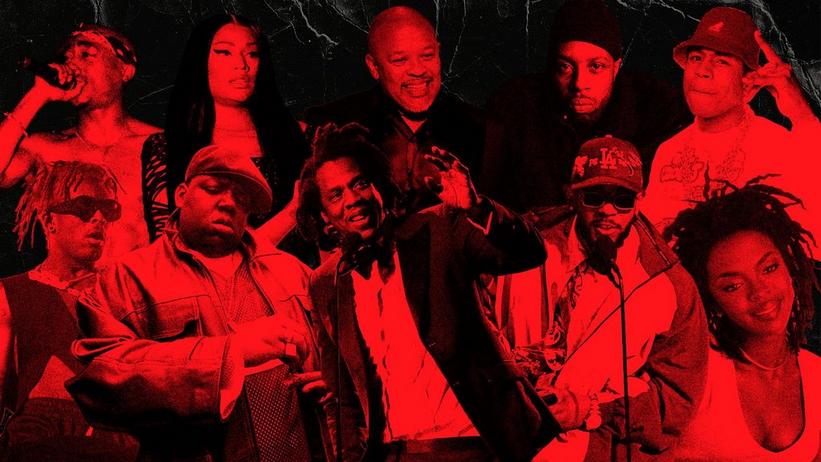 (Clockwise, L-R): 2Pac, Nicki Minaj, Dr. Dre, J Dilla, LL Cool J, Ms. Lauryn Hill, Kendrick Lamar, Jay-Z, the Notorious B.I.G., Lil Uzi Vert
Source Images (Clockwise, L-R): Raymond Boyd/Getty Images; Astrida Valigorsky/Getty Images; Kevin Winter/Getty Images for The Recording Academy; Gregory Bojorquez/Getty Images; Paul Natkin/WireImage; Anthony Barboza/Getty Images; JC Olivera/WireImage; Kevin Kane/Getty Images for The Rock and Roll Hall of Fame; Clarence Davis/NY Daily News Archive via Getty Images; Jason Koerner/Getty Images
list
50 Artists Who Changed Rap: Jay-Z, The Notorious B.I.G., Dr. Dre, Nicki Minaj, Kendrick Lamar, Eminem & More
In honor of the 50th anniversary of hip-hop this year, GRAMMY.com is celebrating some of the genre's most impactful artists across the decades. From Drake to OutKast, Lauryn Hill to Lil Wayne, these pioneers shaped rap over the past 50 years of hip-hop.
GRAMMYs
/
Aug 8, 2023 - 12:23 pm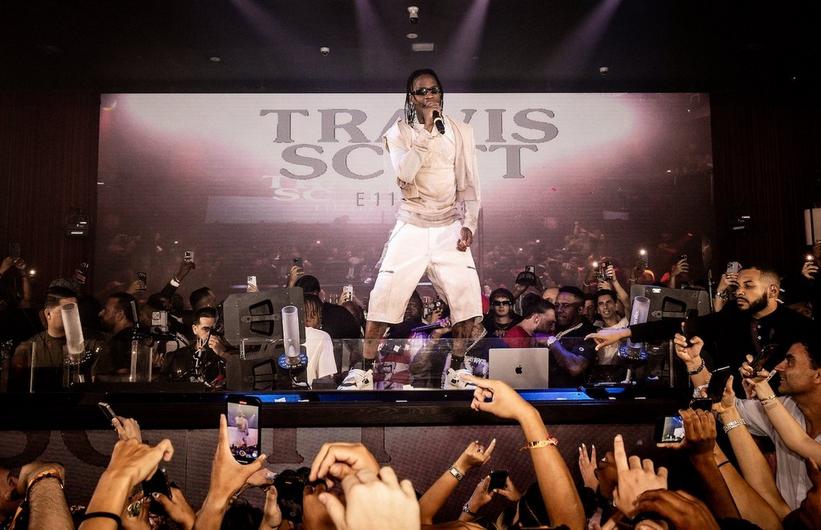 Travis Scott performs at E11EVEN Miami in July 2023.
Photo: Alexander Tamargo/Getty Images for E11EVEN
list
5 Takeaways From Travis Scott's New Album 'UTOPIA'
On the highly anticipated follow-up to 2018's blockbuster album 'ASTROWORLD,' Travis Scott's 'UTOPIA' turns triumph and tragedy into another euphoric world.
GRAMMYs
/
Jul 28, 2023 - 08:12 pm
It's been a turbulent five-year journey for Travis Scott bridging the worlds of ASTROWORLD to UTOPIA.
Since the 2018 GRAMMY-nominated album solidified Scott as part of rap's A-list, he's endured the highest of highs and the lowest of lows. Amid working on the album (which he began teasing in 2020), his 2021 iteration of Astroworld Festival resulted in a crowd crush that killed 10. 
Three months later, he welcomed his second child with Kylie Jenner. Earlier this year, the pair reportedly split; just weeks before UTOPIA's arrival, Scott was cleared of any criminal liability for the Astroworld Festival incident, but civil lawsuits remain to be sorted.  
Expectations were already sky-high for Scott to maintain luminary status with his ASTROWORLD follow-up. But after he experienced tragedy and heartbreak alongside triumphs and joy, Scott had all eyes on him as UTOPIA arrived on July 28. Yet, the pressure didn't seem to faze the Houston-born rapper — UTOPIA creates another euphoric world for his loyal fans.
In honor of La Flame's star-studded fourth studio LP — which is loaded with 18 features across 19 tracks — here are five early takeaways surrounding UTOPIA. 
CIRCUS MAXIMUS

Is

UTOPIA

's Visual Companion
Fans didn't know what to expect with Scott's CIRCUS MAXIMUS, which hit select theaters mere hours prior to UTOPIA. The 76-minute film — which takes its name from a UTOPIA track — serves as more of a series of music videos centered around a conversation between the rapper and producer Rick Rubin.
"You've come a long way — is the house half empty or completely empty? How are the kids? I heard there was a tragedy," Rubin asks Scott at one point, but he takes the conversation in a different direction.
The Harmony Korine-directed movie features about half of the songs from UTOPIA and includes appearances from Sheck Wes, Yung Lean and James Blake. Scott goes from DJing a colorful dance party for "MODERN JAM" to smashing chairs and nearly burning down an ancient Italian racing stadium while "FE!N" rings off.
CIRCUS MAXIMUS also allows Scott to share his rather unexpected interpretation of what UTOPIA means inside his world. "UTOPIA is not all pretty," he says in the film. "It's how you balance the idea of confrontation."
Yeezus Rises Again
Scott and Kanye West have had a longstanding musical partnership, as Scott played an integral role behind-the-scenes of West's rebellious 2013 album, Yeezus. A decade later, West's fingerprints are all over UTOPIA — even without a vocal guest appearance.
West earned production credits on "MODERN JAM," "THANK GOD," "TELEKINESIS" and "GOD'S COUNTRY." The latter two were originally on the track list for 2021's Donda before Ye passed them off to Scott to bring across the finish line. 
Elsewhere, "CIRCUS MAXIMUS" is essentially a "Black Skinhead" part two; it interpolates the rugged Yeezus standout, and it was co-produced by Noah Goldstein, Ye's audio engineer for most of his career. 
Trav's most blunt pledge to Kanye came on "Skitzo," which calls back to West's alleged presidential bid for 2024. "I'm loyal, b—, I got Ye over Biden," Scott candidly raps.
Drake And Travis Scott Take Aim At Their Opps Once Again
Drake and Travis Scott have proven to be a winning combination in the past with diamond-certified smashes like "SICKO MODE," and they aimed to recreate that magic with "MELTDOWN."
Right out of the gate, Drake makes a fiery statement with bars seemingly addressing Pusha T — but he's really sniping his close friend Pharrell, mirroring his shots at Kanye West in his "SICKO MODE" verse.
"I melt down the chains that I bought from yo' boss," Drake raps in reference to a Skateboard P pendant he recently purchased at an auction from Pharrell. The 6 God goes on to diss Pharrell's new position as a creative director at Louis Vuitton and claims nobody's messing with the designer brand since the 2021 death of former head Virgil Abloh.
"Give a f— about all of that heritage s—/ Since V not around, the members done hung up the Louis/ They not even wearing that s—," he continues.
Scott joined Drake in the sinister "tensions rising" theme, subliminally dissing Wonka star Timothée Chalamet, who has reportedly been dating his ex Kylie Jenner. "Chocolate AP and chocolate the Vs (Vs), got the Willy Wonka factory/Burn a athlete like it's calories, find another flame hot as me, b—," Scott spits.
While "Meltdown" may not reach the same commercial heights as "SICKO MODE," it has certainly caused a stir on social media. "Drake went crazy… I love when dude starts gettin' chippy!" Hot 97's Ebro Darden wrote on Twitter. As another fan claimed, "Rap been boring. I gotta thank Drake honestly for wanting to get back in the ring."
Scott Finally Got His Dream Collab
Perhaps one of UTOPIA's buzziest cameos comes from Beyoncé, who appears on "DELRESTO (ECHOES)." It marks a full-circle moment for Scott, too, as he has long tried to manifest a collab with his fellow Houston native, publicly declaring his hopes for a Bey team-up to Complex in 2016. (Prior to UTOPIA's release, eagle-eyed fans noticed that the newspaper cover art for "DELRESTO (ECHOES)" had been incorporated as part of Bey's Renaissance Tour decor.)
As Bey continues to ride out her RENAISSANCE groove, Scott fits in well with his hypnotic flow. And in a rather surprising twist, Bon Iver's Justin Vernon rounds out the track by pouring in his ethereal vocals behind the triumphant Hit-Boy production.
While Bey does much of the heavy lifting on "DELRESTO (ECHOES)," Scott's verse still stands out as he declares he won't give up on a new love interest. "The starry nights, they start to fade (Come on)/ At times, for miles I see your face, yeah," Scott testifies, borrowing from Kanye's "Coldest Winter" flow.
"MODERN JAM" Is The Hit Fans Will Eventually Catch On To
Scott's Ragers normally rush to collide for a sweaty moshpit when his music comes on. But with the genre-bending UTOPIA track "MODERN JAM," La Flame's moving the crowd from the mosh pit to the dance floor.
According to Kanye West fan page Donda's Place, "MODERN JAM" is a 10-year-old alternate version of the raw beat that became Yeezus' "I Am A God." Travis expertly meshes the abrasiveness of Ye's hard-hitting 808s with a groovy baseline. And with production help from Daft Punk's Guy-Manuel de Homem-Christo, the Teezo Touchdown-assisted track is a good bet to slow-burn its way to major chart success — even if it has a different feel than what Scott's fans are used to.
Since the beginning of Scott's career, he has been a trendsetter pushing the boundaries of what's considered mainstream hip-hop. He knows how to introduce foreign sonics in such a digestible way that it allows him to take creative risks and still thrive as a commercial titan — and UTOPIA is proof that he hasn't lost his Midas touch.
12 Post Malone Songs That Showcase His History-Making Vision, From "White Iverson" To "Mourning"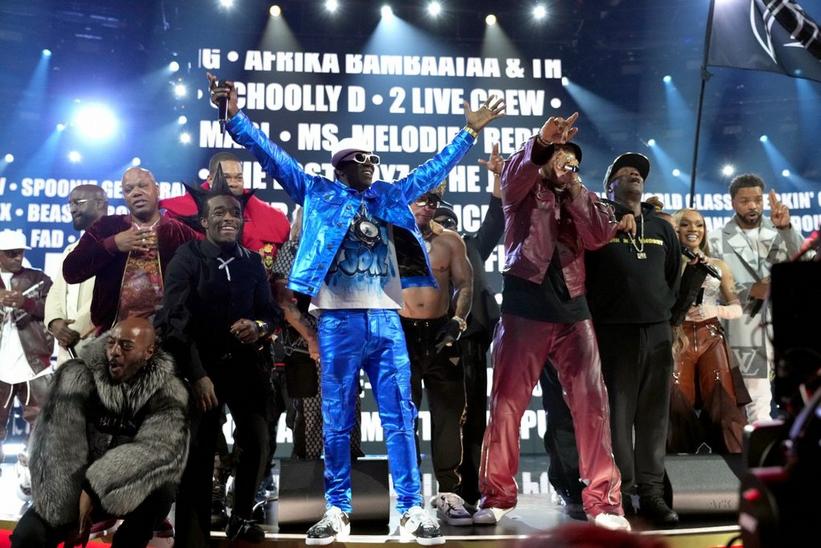 LL Cool J, Flavor Flav, Busta Rhymes, Lil Uzi Vert, Nelly, Spliff Star, Queen Latifah, Ice-T, Chuck D, Joseph Simmons, Darryl McDaniels, Grandmaster Flash, and Black Thought at the 2023 GRAMMYs
Photo: Kevin Mazur/Getty Images for the Recording Academy
news
The 2023 GRAMMYs Nominated For Three Emmys: See The Categories Below
In an awards show crossover to remember, the 2023 GRAMMYs telecast has been nominated in three prestigious categories at the 2023 Emmy Awards.
GRAMMYs
/
Jul 12, 2023 - 07:20 pm
An Emmy for the GRAMMYs? It's happened before, and it could happen again.
The 2023 Emmys nominations list has been revealed, and Music's Biggest Night is well represented.
The 2023 GRAMMYs have been nominated for Emmy Awards in the Outstanding Production Design For A Variety Special, Outstanding Lighting Design/Lighting Direction For A Variety Special and Outstanding Sound Mixing For A Variety Series Or Special categories.
In the first category, the 2023 GRAMMYs compete with "The Oscars," "Encanto At The Hollywood Bowl," "Carol Burnett: 90 Years Of Laughter + Love," and "The Apple Music Super Bowl LVII Halftime Show Starring Rihanna."
The second category also contains "Encanto At The Hollywood Bowl," as well as "2022 Rock And Roll Hall Of Fame Induction Ceremony," "75th Annual Tony Awards," and "The Weeknd Live At SoFi Stadium."
Also nominated in the third category are "Bono & The Edge: A Sort Of Homecoming With Dave Letterman," "Elton John Live: Farewell From Dodger Stadium," "Saturday Night Live • Co-Hosts: Steve Martin & Martin Short," and "Taylor Hawkins Tribute Concert."
Check out the complete list here, and watch this space to see if the GRAMMYs will take home the world's most prestigious TV award!
2023 GRAMMY Nominations: See The Complete Winners & Nominees List