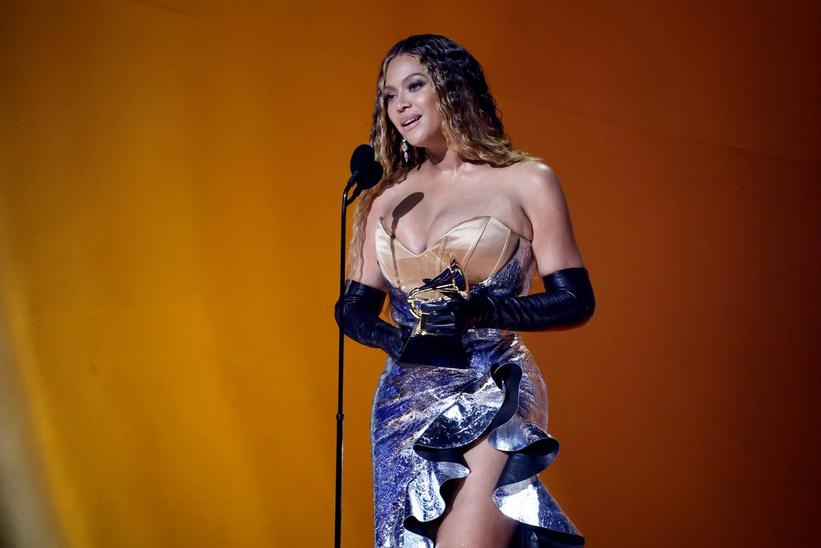 Photo of Beyoncé winning the GRAMMY for Best Dance/Electronic Music Album at the 2023 GRAMMYs.
Photo: Frazer Harrison/Getty Images
news
Beyoncé Wins Best Dance/Electronic Music Album For 'Renaissance' | 2023 GRAMMYs Acceptance Speech
Beyoncé makes history as she wins Best Dance/Electronic Music Album at the 2023 GRAMMYs for "Renaissance."
GRAMMYs
/
Jan 30, 2023 - 06:31 pm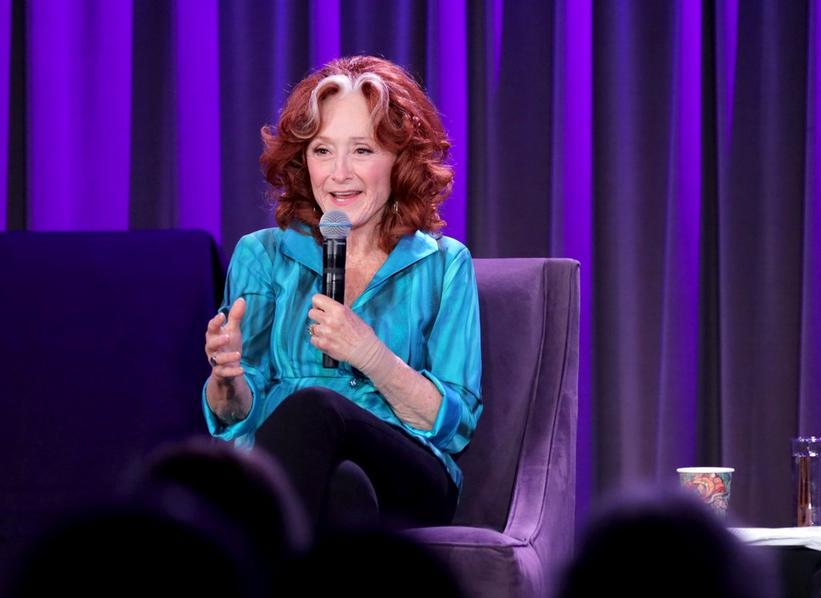 Bonnie Raitt at the GRAMMY Museum
list
6 Things To Know About Bonnie Raitt: Her Famous Fans, Legendary Friends & Lack Of Retirement Plan
During "A Conversation With Bonnie Raitt" at the GRAMMY Museum, 13-time GRAMMY winner detailed her career trajectory, history of big-name collaborations, and how her win for Song Of The Year at this year's GRAMMY Awards was "a total surprise."
GRAMMYs
/
Mar 6, 2023 - 10:11 pm
For the uninitiated, Bonnie Raitt is just an "unknown blues singer" — albeit one who managed to nab the Song Of The Year award at the 2023 GRAMMYs, plus two other trophies. But to the millions in the know, and the choice few in attendance for a chat with Raitt at the Grammy Museum on March 5, she is a living legend.
Over the course of her decades-long career, Raitt has earned 30 GRAMMY nominations, taking home 13 golden gramophones for tracks like "Nick Of Time," "Something To Talk About," and "SRV Shuffle," as well as albums such as Luck Of The Draw and Longing In The Hearts. Last year, Raitt was awarded the GRAMMY Lifetime Achievement Award, and at this year's ceremony, she snagged GRAMMYs for Best American Roots Song, Best Americana Performance and the coveted Song Of The Year.
Before she heads out on a tour of the western United States and Australia, Raitt sat down to chat with moderator David Wild for about two hours, musing not only about her "total surprise" about snagging the Song trophy, but also about her experience at the ceremony. It was an illuminating and downright charming experience — as well as an educational one. Here are six things we learned at "A Conversation With Bonnie Raitt." 
Taylor Swift Is A Fan —  And A Humble One At That
Raitt recounted being chatted up by Taylor Swift during the GRAMMYs, with Swift telling Raitt backstage that she felt okay losing Song Of The Year to her. Swift's "All Too Well (10 Minute Version)" was in competition, alongside works by Lizzo, Adele and Harry Styles.
Swift also introduced herself to Raitt, whom she'd never met, saying,"Hi, I'm Taylor." Raitt said she responded, "Ya think?" — which made the audience in the Clive Davis Theater crack up.
She's A Master Collaborator, With More On The Way
"No one commands more respect" amongst their musical peers than Bonnie Raitt, said Wild, who's worked on the GRAMMY Awards as a writer since 2001. Whenever the show's team has struggled to think of who could best pay tribute to someone like John Prine, Ray Charles, or Christine McVie, "the answer is always Bonnie Raitt."
That's probably why, as Raitt noted, she's recorded duets with more than 100 different musical acts — from Bryan Adams to B.B. King. Raitt added that she'd still love to work with Keith Richards, Bob Dylan, and H.E.R., and that fans can anticipate new collaborative work coming from work she's done with Brandi Carlile and Sheryl Crow. 
Raitt added that she's gotten really into Unknown Mortal Orchestra lately, who she heard about through Bruce Hornsby.
She's Learned From And Befriended Musical Masters
Raitt was effusive about her love for King, among others, saying that one of the great joys of her career has been sitting at the feet of blues greats like Sippie Wallace and Son House. The singer/songwriter expressed her gratitude for being able to help get so many of these once-forgotten masters both the attention and the pay they deserved. She cited her work with the Rhythm And Blues Foundation as being of great importance to her personally, saying that it's vital that the roots of blues and jazz are taught in schools today.
Wild also got Raitt to open up about her friendship with legendary gospel-soul singer Mavis Staples, who toured with Raitt just last year. Calling Staples, "all the preacher I'll ever need," Raitt said she thinks she and Staples bonded over being the daughters of famous fathers. "It's a great honor of my life being friends with her," Raitt said of her "mutual sister."
Later, Raitt also waxed rhapsodic about another famous daughter, Natalie Cole, who she said she'd been thinking about all day.
Raitt's Got An Independent Spirit And An Independent Label
A good portion of Wild and Raitt's chat was devoted to the star's career trajectory. The two detailed how, as a 21-year-old college student, Raitt signed to Warner Bros. only after they promised her complete creative control of her own indie label, Redwing.
Raitt said it was only with the help of a"team of mighty women" that she was able to go independent. She cited lessons from friends like Prine, Staples, and Jackson Browne, from whom she learned going it alone could be done successfully. 
Bonnie Raitt Almost Missed Out On "I Can't Make You Love Me"
Raitt also talked a bit about her previous GRAMMY triumphs, including her run of nominations and wins around 1989's Nick Of Time. Her popular single, "I Can't Make You Love Me," was originally written for Ricky Skaggs, who intended to make it a lively bluegrass record. 
Raitt added that she thinks the song "Nick Of Time" struck a chord because she opened up about what it means to be getting older.
She's Not Planning On Retiring (Or Dying) Any Time Soon
After joking that COVID lockdown felt like "house arrest" and "hibernation," Raitt said that her recent tours have been a blessing. "It feels like I was under the earth without any sunshine," Raitt says, reassuring attendees that she's "never retiring." She said that while she's lost eight friends in the past three or four weeks, including the great David Lindley, the 73-year-old is optimistic that she can "be here and celebrate for another couple of decades."
Raitt capped off the event doing what she loves best, teaming with long-time bassist Hutch Hutchinson for an intimate four-song set that included "Angel From Montgomery," "Shadow Of Doubt," "Nick Of Time," and the GRAMMY-winning "Just Like That." Raitt ended the evening by thanking the Recording Academy for inviting her out, joking, "I can't believe I get to do this for a living."
Bonnie Raitt Essentials: 11 Songs That Showcase The Breadth And Depth Of The 2023 GRAMMYs Song Of The Year Winner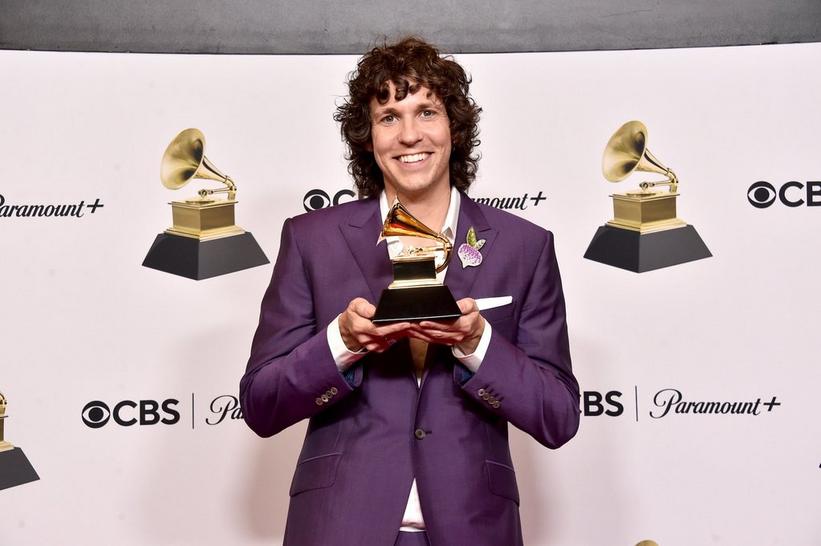 Tobias Jesso Jr. at the 2023 GRAMMYs.
Photo: Alberto E. Rodriguez/Getty Images for The Recording Academy
interview
Meet Tobias Jesso Jr., The First-Ever GRAMMY Winner For Songwriter Of The Year
"I felt the weight of what it meant," the man behind the curtain of massive songs by Adele, Harry Styles, Marcus Mumford and more says about his win in the brand-new GRAMMY category.
GRAMMYs
/
Mar 2, 2023 - 11:10 pm
Tobias Jesso Jr. wanted to know how to write a hit song, so he read How to Write a Hit Song. Not that he needed to figure out how to break into the mainstream: he had already written a tune with Sia and Adele that cracked the Billboard Hot 100. But in an effort to take his young career seriously — that of writing behind the curtain for the stars — he cracked open the book at a café.

Just then, a voice: "What the hell are you doing?" He glanced up. It was Sia.

"She was like, 'Why are you reading that?' and I was like, 'I honestly don't know,'" Jesso remembers with a laugh. "I think I just put the book away from that point on and was like, OK, I don't need the books. And I just felt like there's been a different one of those lessons at every step of the way where I'm just like, Man, I think this is what I got to do, and then I just figure it out."
Since that exchange, Jesso has written with a litany of contemporary stars: John Legend, Shawn Mendes, Pink, Haim, Harry Styles — the list goes on. (As per the latter, he co-wrote "Boyfriends" on Harry's House, which was crowned Album Of The Year at the 2023 GRAMMYs.) 
And at said ceremony, he received a historic honor — the first-ever golden gramophone for Songwriter Of The Year. As Evan Bogart, Chair of the Songwriters & Composers Wing, recently toldput it to GRAMMY.com: "We're looking for which songwriters have demonstrated, first and foremost, that they're considered a songwriter first by the music community. We want to recognize the professional, hardworking songwriters who do this for a living."
Read More: Why The New Songwriter Of The Year GRAMMY Category Matters For The Music Industry And Creator Community
Clearly, Jesso fits the mold, and possesses technical chops worthy of How to Write a Hit Song. But his realization — that he can literally throw out the rulebook — speaks volumes as to his flexible, collaborator-first and fun-first process. 
"I get into a room and I really want to enjoy the people, and the songs will come if we're all just being honest," he tells GRAMMY.com. "If you take a few days or weeks to get to know somebody, all of a sudden, your songs are deeper." 
And while working his interpersonal and collaborative magic, he keeps his ears and imagination open — a momentary trifle can become the heart of a song. It happened with Cautious Clay's "Whoa," which came from messing with some, well, whoas. 
"It was a little silly at first," says Jesso,the songwriter whose first output was "inappropriate" high-school joke songs. "But now it wasn't silly anymore."
GRAMMY.com sat down with Jesso about his creative beginnings, the experience of working alongside pop titans, and how his inaugural GRAMMY win for Songwriter Of The Year happened during the happiest, most creatively fruitful period of his burgeoning career.
This interview has been edited for clarity.
How did it feel to take home the golden gramophone — the first ever in this category?
It felt tremendous. It felt amazing. It's such an honor to have received it, and I felt the weight of what it meant. I get really stage frightened, and so I kept telling myself there's no way I was going to win, just so I wouldn't be nervous or anything like that. 
But weirdly, when I did win, I was very not nervous. I don't know how to put it, but it was the opposite of what I thought I would feel. I don't know if I've never been awarded something so prestigious. My elementary school did a piece on me after I won the GRAMMY, and it was sort of largely a "We didn't see any talent at all" kind of thing.
So, I'd say "tremendous" would be probably the one word I would feel most aptly describes it. I'm just really, really proud of the category and its creation, and super lucky to have been a part of it at all. Especially in the year that it comes out. I was baffled that I was nominated. 
I had already felt like that rush of whoa, this amazing thing happened when I was nominated. And then winning was the next level of completely beyond what I could have ever expected.
How does the win help chart the next stage of your career?
As a songwriter, your job is to serve the artist. Your job is to serve the artist — the person who the song's for. And I think because of that, most songwriters have a very serve mentality, which generally doesn't work out well on the business side of things for you. 
I think if you took all the producers in the world and took all the songwriters in the world and tried to look at which ones are more business savvy, I'd say nine times out of 10, it's probably the producers. 
I think a lot of people — artists or songwriters among them — have imposter syndrome, feeling like they don't really know whether they belong there or they're just lucky or they have what it takes for the next one, even. If they know they had a good run or whatever, they're always going back to the well and praying that there's something in there. 
And I think this GRAMMY is almost like having a symbol of a really good run — a really good, fertile time of creativity or something. TI think the way I see it is sort of a symbol of this period of time where I had a lot of ideas, and worked really hard, and managed to somehow win this thing, which is, for me, is huge. It means a lot. 
For the songwriting community to have the award to look forward to, to have this symbol of Hey, you can be creative as a songwriter and just be a songwriter who doesn't sing and doesn't produce, and [the fact] you can get this prestigious symbol of your gifts that the world will now recognize — I think that's a wonderful thing for songwriters to have.
Take me back to the beginning of your career writing songs, either for yourself or others. The first time you really embraced this magical act of creation.
I was such a lazy songwriter for so many years because I always loved writing songs, writing songs with my friends in high school and stuff like that. But I never really wanted to play an instrument, and I never really wanted to sing them myself. 
I think probably back in high school, in 1998 or '99, it was because they were joke songs. So I probably didn't want to sing them because they were inappropriate or something. I always wanted to. The beginning for me was definitely a sort of moment of hearing Tracy Chapman when I was like, Oh, this is what I'm going to do. Not be Tracy Chapman, but write songs.
From there I was really lazy and I just tried to do as little as possible, but I had this sort of confidence that I was somehow good at it. So, I would sometimes have my friends who played guitar or my friends who played piano, or whoever was around, do the music part for me, and I could just kind of pipe in and direct where I felt like my skillset was. 
I started writing on piano for the first time when I was 27. That was a big moment for me where I was. I feel like I finally figured it out. It took me a long time: I still don't know how to play the piano, but I know I'm going to figure this out now.
I made a lot of mistakes along the way with bands and with albums or whatever. Things that just didn't exactly go the way [I planned them]; my gut was eventually telling me it just wasn't right. And then, when I started playing piano, it just finally all felt right, and I didn't think too much about it. I just sort of started doing it. 
During that time, I unfortunately had to sing to get my album out, which was sort of a means to an end. But as soon as I was able to, I ducked away from that and started writing. Then I just had a new job. I was like I got promoted or something. 
As you honed your ability and developed your craft, how did you follow that chain of connections to be able to write for who you've written for?
It's funny because Adele was the first person I worked with — [but] not in a professional way where managers and stuff like that are involved, and it's not just a friend of mine from high school or something. She was sort of my blueprint for how those things went.
I couldn't have gotten any luckier than with Adele, because her blueprint for how to do a writing session is the most pure in the game. There's nothing to hide behind. There's no producer in the room. She came to my friend's grandparents' where there are no mics; there's no studio equipment at all. There's a piano. And she just goes, "Great, let's write a song."
I don't know that that even exists much anymore. There's not even a microphone to capture what's going on, let alone one of the biggest players in the entire world doing it — just showing up, being like, "Let's write a song." And there's nothing to record her. I thought that was really cool. I'm like, "That's how I write songs. I just sit in front of a piano and just do what I think I like." And she was like, "And me too."
So, that's how we got along real great off the bat. And then from there, I would say it was just the most epic amount of failures and trial and error to figure out what the hell I was doing in every different session. I mean, I was treading water at times, and I felt like I was smoking crack sometimes, because I was so creative in a certain scenario I didn't expect to be creative in or something like that.
I think it's just this kind of learning process. There are a lot of people who are typically geared towards one style of writing. You're the country guy or you're the pop guy, or you're the ballad guy. And I could see that I was getting typecast. I was starting to get typecast, especially early on in my career because ballads, that's just the tempo that's naturally within me. It's sort of my soul tempo to just slow things down. I can write much easier in that tempo. I'll always sort of naturally progress there.
But I wanted to push the limits of that, and I wanted to figure out a way to get out of that typecast. And so I tried as quickly as I could to pick people who would be like, "Please don't play a ballad."
And when I started doing that, it was, again, trial and error. I think Niall [Horan of One Direction] was the first person I worked with who was in the pop world, and he was very much an acoustic singer. So I think that I was going into that session thinking I wanted to do upbeat pop. So I don't know — you get in the door and then you just try to acclimate yourself to the environment and help out as much as you can.
I think that's the best way to put it, because you never know what you're going to be doing. You never know what the artist is going to want from you or not want from you. A lot of the job is just figuring all that stuff out and then trying to just have fun while you're doing it. I think it's just that good energy, good attitude, and good people tend to sort of gravitate together.
How would you characterize the state of your artistic journey at this point?
I would say it feels the richest, in the sense that I'm the happiest I've been working.
I've found my rhythm — my perfect work-life balance kind of thing — so I can spend time with my son. And I think because of all of the time I've spent writing songs and how many songs come out, which is not a lot compared to how much you spend writing, you kind of learn that the relationships you make in the room are really the things that you really take out of it. It can be a lot more than, "I'm just a songwriter here to serve this artist" or whatever.
Lately, probably because of all the time I've spent doing it, I get into a room and I really want to enjoy the people. And the songs will come if we're all just being honest. We all know why we're here. We don't need that pressure in the room, and we don't need the A&R sitting in the room. We can get a song, but let's just be honest and really enjoy each other's company for a while.
And I think once that starts happening, it's way, way more fruitful in the long run. Because if you take a few days or weeks to get to know somebody, all of a sudden, your songs are deeper.
As a songwriter, your job is to point out metaphors or parallels — and things that could spark some interest in an artist's mind. And the better you get to know somebody, the more amazing the writing process can be.
That's been happening a lot in my recent sessions with Dua [Lipa] and Harry, another just amazing person. He is a great guy, but we haven't done that much writing together, but we know each other mostly through Kid Harpoon — Tom [Hull], who's the best.
I'm getting to know the people, and that's the most important part for me — I'm working with the people I want to work with. That's my journey now. I'll always work with new people, but I don't need to work with people I don't really vibe with or listen to. That's not really my interest anymore, especially if I'm in it for the right reasons. I'd say it's just more intentional, and I'm being more honest.
When you walk into a room to write with somebody, what are the first steps, or operating principles?
My operating principle is: Do I want to get to know this person, and do they want to get to know me at all, or do they just want to write a song and not want to open up?
If it's somebody who seems very open to talk, that's usually a good sign. And if not, then you just do what they want. You start writing a song and that's fine too. Sometimes there's great, catchy stuff. It's not always the deepest stuff.
Maybe they're the ones writing the lyrics, so maybe it is. But my operating principle is kind of, if I'm having a good time and everyone's having a good time, we're doing something good. We're not writing a bad song. We're just not. If we were writing a bad song in this room of professionals, we wouldn't be having a good time.
And when you're having a good time, good ideas do come. Even if they are silly at first and they're more openly accepted, and everything in the room is flowing better when those channels of enjoyment are sort of open, and everyone's laughing and having fun and dancing and being silly, that's how you get creative.
I don't know of many songwriters who are just dead serious. I've maybe met a couple. So I think my operating principle is to have a good time. That's going to be the funnest day, no matter what. It's probably going to be a better song for it if you're having fun and you like the people and they like you, and everything's going well.
Why is it crucial that the Recording Academy honor not only public-facing creators, but those behind the curtain?
I won't speak for myself as much as just the amazing people who I've worked with. You can't understand what kind of work has to go into a song. It's so funny, because it's a three-minute thing that sounds like most people can do it in an hour or something, but some of these things take months of work to get right.
I think it's really important to acknowledge everyone involved in each of the processes, because to give credit to just producers and artists, and then it's like, "Yeah, but the storytellers aren't even in the room," is like the congratulating a director and an actor, and then being like, the writer is s—. It's like, what? The movie wouldn't exist without them!
That just wouldn't happen. So, it feels like the right thing. I'm a bit overwhelmed and still a bit in disbelief, but it's snowing in LA, so miracles do happen.
What would you tell a young songwriter who wants to roll up their sleeves and do this?
I would say just be a good person and keep learning. Everyone's not perfect at the start. But if I had to give one piece of advice that was super, super important to me, is the good guys are winning in the end sometimes.
Like I said, the friendships and the artists, you don't want to come in being a d—. And I don't mean that strictly for men. I just mean whoever's coming in, you want to be a nice person. I think there's a lot of good people, and there's a lot of bad people too. You find your crew — energy finds energy.
Meet Stephanie Economou, The First-Ever GRAMMY Winner For Best Score Soundtrack For Video Games And Other Interactive Media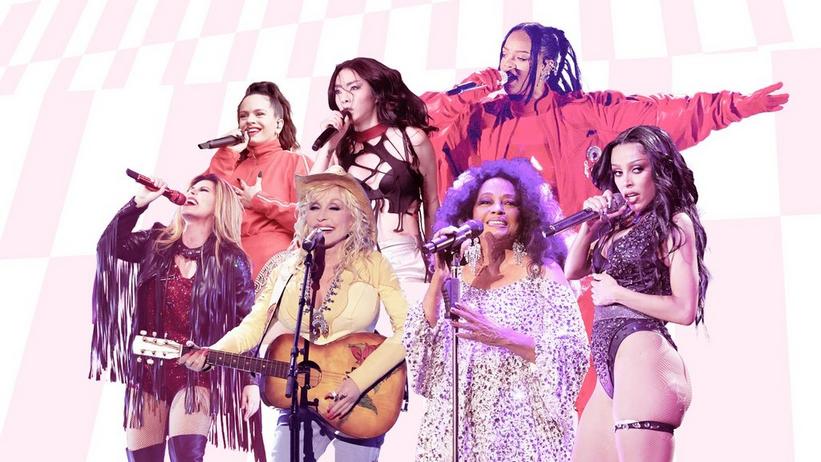 (L-R, clockwise): Rosalía, Rina Sawayama, Rihanna, Doja Cat, Diana Ross, Dolly Parton, Shania Twain
Photos (L-R, clockwise): Kevin Mazur/Getty Images for Roc Nation, Scott Dudelson/Getty Images for Coachella, Adam Bow/Icon Sportswire via Getty Images, Kevin Winter/Getty Images for Coachella, Kevin Mazur/Getty Images for Academy Museum of Motion Pictures, Kevin Winter/Getty Images for ACM, Terry Wyatt/Getty Images
news
Listen To GRAMMY.com's Women's History Month 2023 Playlist: Swim In The Divine Feminine With These 40 Songs By Rihanna, SZA, Miley Cyrus, BLACKPINK & More
Who run the world? Harness positive energy during Women's History Month with this immersive playlist honoring Beyoncé, Rina Sawayama, Kim Petras, and more female musicians.
GRAMMYs
/
Mar 1, 2023 - 03:59 pm
In the words of recent GRAMMY winner Lizzo, it's bad b— o'clock. To kick off Women's History Month, GRAMMY.com is celebrating with an extensive playlist spotlighting women's divine musical artistry. Perpetually shaping, reinvigorating, and expanding genres, women's creative passion drives the music industry forward.
This March, get ready to unlock self-love with Miley Cyrus' candid "Flowers," or hit the dancefloor with the rapturous Beyoncé's "I'm That Girl." Whether you're searching for the charisma of Doja Cat's "Woman" or confidence of Rihanna's "B— Better Have My Money," this playlist stuns with diverse songs honoring women's fearlessness and innovation.
Women dominate the music charts throughout the year, but this month, dive into their glorious energy by pressing play on our curated Women's History Month playlist, featuring everyone from Dua Lipa to Missy Elliott to Madonna to Kali Uchis.
Listen below on Amazon Music, Spotify, Apple Music, and Pandora.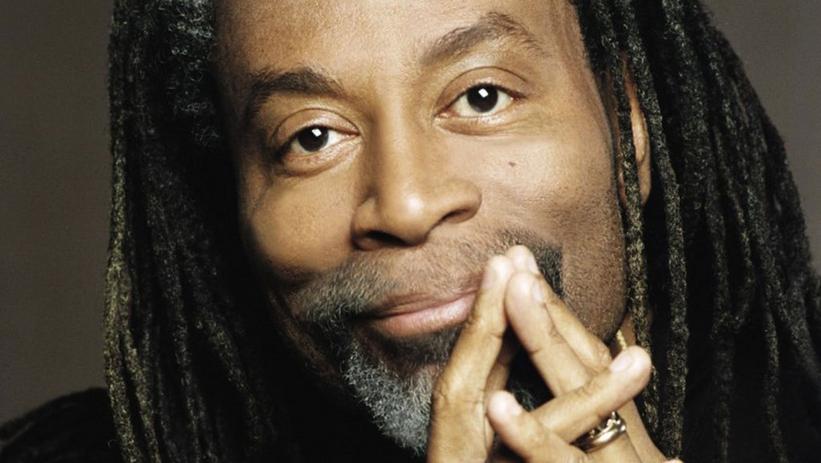 Bobby McFerrin
Photo courtesy of the artist
news
Bobby McFerrin Honored With Recording Academy Special Merit Award
After racking up 10 GRAMMY Awards and worldwide acclaim, McFerrin said this when the National Endowment for the Arts inducted him into its 2020 Jazz Masters class: "My pursuit of music has always been about freedom and joy."
GRAMMYs
/
Feb 27, 2023 - 07:08 pm
Whenever Bobby McFerrin sings, freedom reigns. It twists and shouts; caresses and soothes; howls and coruscates.
After racking up 10 GRAMMY Awards and worldwide acclaim, McFerrin said this when the National Endowment for the Arts inducted him into its 2020 Jazz Masters class: "My pursuit of music has always been about freedom and joy."
The son of two incredible singers, Sara Cooper (a former vocal professor at Fullerton College) and Robert McFerrin (an operatic baritone who was the first Black American man to sing at New York City's Metropolitan Opera), McFerrin seemed destined to become a star. He sang in church choirs while growing up in Los Angeles. He studied music at California State University at Sacramento and Cerritos College in Norwalk, California. Afterward, he played piano and organ with the Ice Follies and in pop bands. And in 1980, he toured with the iconic jazz singer, Jon Hendricks.
McFerrin was 31 years old when he released his debut LP in 1982. But his artistry sounded fresh and fully developed. He contorted his four-octave voice in an array of colors, textures and improvisational shapes, liberating the role of a jazz singer.
McFerrin's reputation as an ingenious and fearless virtuoso grew. His 1984 sophomore LP, The Voice, marked the first time a jazz singer recorded an entire album without any accompaniment or overdubbing. In addition to showcasing marvelous interpretations of songs by James Brown and Billy Strayhorn, it also revealed McFerrin to be an engaging composer through such infectious songs as "The Jump," and "I'm My Own Walkman."
A year later, his guest appearance on "Another Night In Tunisia" from the Manhattan Transfer's LP, Vocalese, earned McFerrin his first two GRAMMY Awards. The following year, he won a GRAMMY for Best Jazz Vocal Performance, Male for his stunning rendition of "Round Midnight," featuring pianist Herbie Hancock from the movie soundtrack, Round Midnight. His collaboration with Hancock also garnered McFerrin another GRAMMY win in 1987 for Best Jazz Vocal Performance, Male for "What Is This Thing Called Love?" from the LP, The Other Side Of Round Midnight.
For all of McFerrin's exhilarating virtuosity, he imbues it with vast emotional range, especially humor. He can infuse his improvisations with the madcap kinetic energy of a Tom and Jerry cartoon chase scene, then pull the amorous heartstrings with a tender ballad.
Of course, the lyrics that McFerrin became most famous for are from his sanguine 1988 hit, "Don't Worry Be Happy," which catapulted him into superstardom. The song won three
GRAMMY Awards — Song Of The Year, Record Of The Year and Best Pop Vocal Performance, Male.
That enormous success didn't impede McFerrin's flair for adventure. He brought a quixotic spark to his records and projects that broke the conventions of jazz singing. He collaborated with classical music heavyweights such as cellist Yo-Yo Ma, pianist W.A. Mathieu and the St. Paul Chamber Orchestra; he has created elaborate vocal choirs such as 2010's VOCAbuLarieS with composer Roger Treece; and delved deep into the Negro spiritual canon on his enthralling 2013 album, spirityoual.
Nearly 40 years after winning his first GRAMMY, McFerrin's continued boundless musicality is a true embodiment of artistic freedom.
Here's What Happened At The Recording Academy's 2023 Special Merit Awards Ceremony Honoring Heart, Nirvana, Nile Rodgers, The Supremes & More