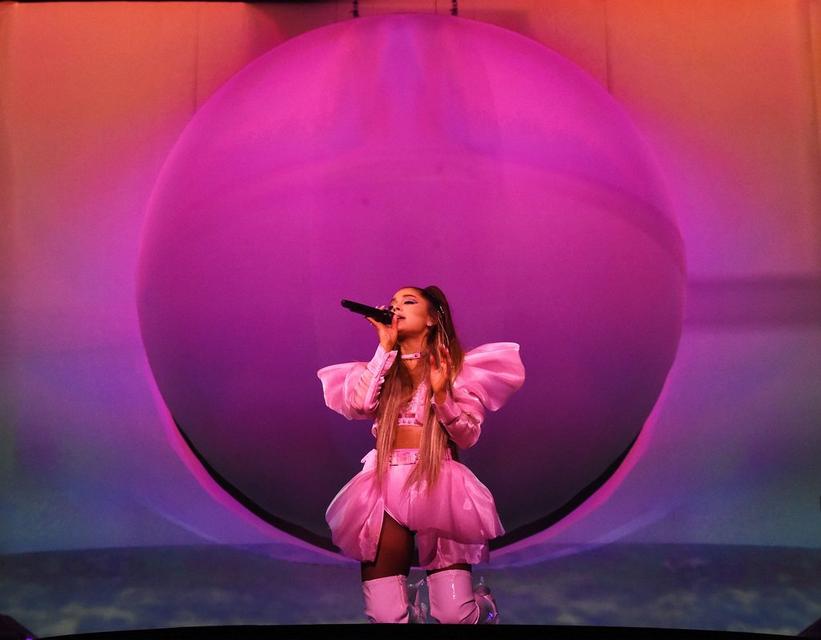 Photo: Kevin Mazur/Getty Images for Ariana Grande
news
Ariana Grande, BTS, Taylor Swift Make Time's Annual "100 Most Influential People" List
Alicia Keys, Halsey, Daddy Yankee and more wrote touching words about each of music's 2019 honorees
GRAMMYs
/
Apr 18, 2019 - 01:27 am
Ariana Grande, K-pop boy band BTS, Taylor Swift, Khalid, Lady Gaga and urban Latin star Ozuna are the music artists named Time magazine's "most influential people" for 2019.
The annual list, released Wednesday (April 17) features100 artists, leaders, politicians and more from all over the world who are making an impact. The list is compiled by the magazine's editors and features magazine covers with some of the honorees. Taylor Swift is the only music artist featured on the cover of one of the magazine's six issues this year. Each honoree has a blurb written about them by others in their field.
Grande graces the list fresh off her week one Coachella performance in which she reunited most members of *NSYNC, brought out Mase, Nicki Minaj and Diddy. The "7 rings" singer's blurb is written by singer/songwriter Troye Sivan, who is a friend of Grande and features her on his song, "Dance To This."
He writes: "Through just about the craziest storms and whirlwinds I can imagine, Ariana Grande remains the most real person I've met. I've always thought the world is privy to actual, genuine emotion—be it heartbreak, empathy, generosity, resilience, strength—and I believe that's exactly why the world keeps falling deeper in love with Ariana."
BTS, the K-pop kings who have been one of the groups to take the genre to the next level in the U.S. with their bilingual love songs and choreographed dance moves, has an essay about them on the list is also written by a friend and music collaborator, Halsey. J-Hope, Jin, V, Jungkook, Jimin, Suga and RM dropped their latest album, Map Of The Soul: Persona, last week with "Boy With Luv," a single featuring the "Bad At Love" singer, who celebrated by sharing fun-facts about their friendship on social media.
In her essay, Halsey writes about how much the group is loved by their fans: "How exactly does one accomplish world domination? Surely it takes remarkable talent, charm, kindness, altruism and dedication. But you'd still be missing a key component: a devoted community to uplift your efforts, soften your stumbles and shoot light from their eyes into the sky in your name every single night."
She added words about BTS' vision and love for music. "But behind those three letters are seven astounding young men who believe that music is stronger than the barriers of language. It's a universal dialect," she wrote.
RELATED: BTS' Big Week: The K-Pop Kings Unveil New Album, Video Feat. Halsey & More
Urban Latin music has one of its brightest star on the list too: Ozuna. The reggaeton veteran superstar Daddy Yankee has touching words to share about the next-generation urban music singer, who has launched into stardom with his reggaeton infused pop songs in the midst of an urban Latin boom in the U.S.
"I still clearly remember the chamaquito who came to my recording studio to ask me to be on a remix to his song 'No Quiere Enamorarse.' His name was Ozuna, and what got my attention was his tenacity, his sublime and unique voice, and his drive," Yankee writes.
He continues: "[Ozuna] shows kids that anything is possible—that you can become a global star if you work hard enough. He is a great competitor, a good friend, and he never hesitates to give back to his community. And even though he has broken records, he has the spirit to be bigger."
RELATED: Ozuna Is Making Reggaeton Hits That Are Getting Global Attention
"I was first introduced to Khalid through his 2016 debut single, 'Location,' Alicia Keys writes for singer/songwriter Khalid. "It kept showing up in my life, and I thought, "This song is so good—so understandable, emotional and soulful. Who is this?"
She hones in on Khalid's talent for making music that is relatable: "He's a beautiful writer with the ability to take human concepts and make you understand and feel them. He has a full, powerful voice that is somehow unassuming and smooth at the same time."
The GRAMMY-nominated singer wrote his hit "Location" during the middle of his senior year and self-financed its release, he told the Recording Academy during the 60th GRAMMY Awards red carpet.
Taylor Swift and Lady Gaga were both featured under the icons section of the list. Shawn Mendes shared the singer's ability to break records and touching millions seem so effortless: "Taylor makes anyone older feel young again and anyone young feel they can do anything. It's so rare and so special," he writes.
RELATED: Beyonce To Drop 'Homecoming' Documentary On April 17
Meanwhile, Celine Dion captures the spirit of singer/songwriter and A Star Is Born actress Lady Gaga in one sentence: "Her artistic expression has no rules, no boundaries."
Dion continues: "She marched to the beat of her own drum, knowing that her message of individuality was a way to express her inner strength. What makes her even more special, and such a powerful influence on society, is that she empowers her fans to adopt the very same values in their lives—to stand up for what they believe in, despite what others might think."
While not on the list, Beyoncé shares words of admiration for former First Lady Michelle Obama. "Loving Michelle Obama wasn't much of a choice, she writes. "I'm honored to know such a brilliant black woman who's spoken about the sacrifice it takes to balance her passions while remaining a supportive partner and mother, and now a best-selling author with Becoming."
For more on who made the Time 100, visit the magazine's website.
Hit-Makers Share The Specialized, Intuitive Art Of Crafting The Perfect Song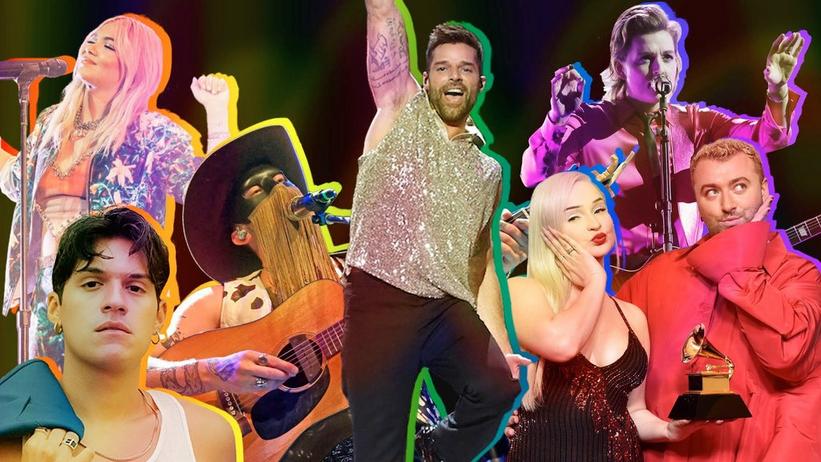 (L-R, clockwise): Hayley Kiyoko, Ricky Martin, Brandi Carlile, Sam Smith, Kim Petras, Orville Peck, Omar Apollo
Photo: Kristy Sparow/Getty Images, Kevin Winter/Getty Images for LARAS, Kevin Winter/Getty Images for The Recording Academy, Alberto E. Rodriguez/Getty Images for The Recording Academy, Stephen J. Cohen/Getty Images, Gustavo Garcia Villa
news
Listen To GRAMMY.com's LGBTQIA+ Pride Month 2023 Playlist Featuring Demi Lovato, Sam Smith, Kim Petras, Frank Ocean, Omar Apollo & More
Celebrate LGBTQIA+ Pride Month 2023 with a 50-song playlist that spans genres and generations, honoring trailblazing artists and allies including George Michael, Miley Cyrus, Orville Peck, Lady Gaga and Ariana Grande and many more.
GRAMMYs
/
Jun 1, 2023 - 04:21 pm
In the past year, artists in the LGBTQIA+ community have continued to create change and make history — specifically, GRAMMY history. Last November, Liniker became the first trans artist to win a Latin GRAMMY Award when she took home Best MPB Album for Indigo Borboleta Anil; three months later, Sam Smith and Kim Petras became the first nonbinary and trans artists, respectively, to win the GRAMMY Award for Best Pop Duo/Group Performance for their sinful collab "Unholy."
Just those two feats alone prove that the LGBTQIA+ community is making more and more of an impact every year. So this Pride Month, GRAMMY.com celebrates those strides with a playlist of hits and timeless classics that are driving conversations around equality and fairness for the LGBTQIA+ community.
Below, take a listen to 50 songs by artists across the LGBTQIA+ spectrum — including "Unholy" and Liniker's "Baby 95" — on Amazon Music, Spotify, Apple Music, and Pandora.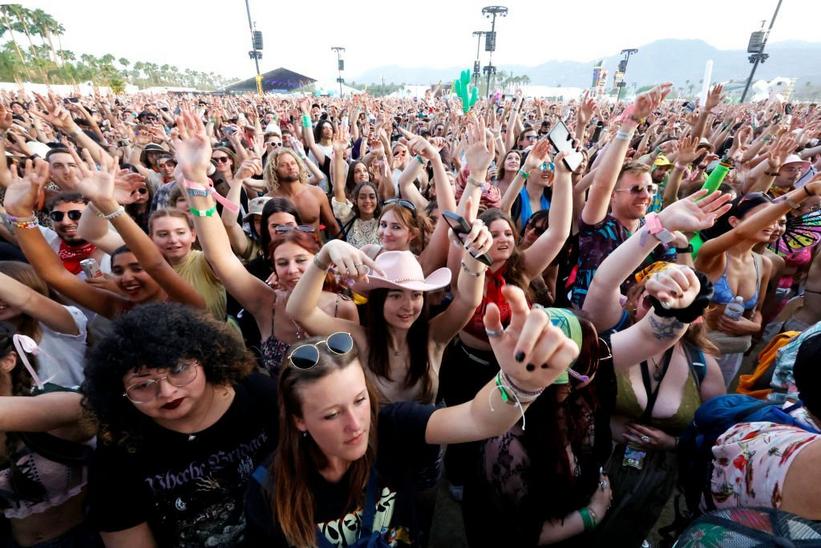 Crowds at the 2023 Coachella Valley Music and Arts Festival
Photo: Frazer Harrison/Getty Images for Coachella
feature
Touring In A Post-Pandemic World: How Costs, Personnel & Festival Culture Have Affected 2023 Performances
The live music business is still dealing with the repercussions of the pandemic. GRAMMY.com spoke with a cross section of professionals about the industry's most profound changes, how they're being addressed, and what it all might mean for the future.
GRAMMYs
/
May 19, 2023 - 02:51 pm
The pandemic wreaked global havoc on many levels. Beyond the human toll, the disruptions brought on by the spread of COVID-19 caused deep and lasting damage to nearly every business sector, including live entertainment. Virtually overnight, workers lost their livelihoods, businesses closed their doors or drastically curtailed operations, and supply chains were hobbled. 
Within days of lockdown, multiple outlets published sobering articles detailing the tours, concerts and festivals that had been affected by the outbreak; Insider.com article identified at least 170 postponements or cancellations. In a flash, every artist across the globe witnessed the live performance side of their careers vaporize. Crews were sent home, and all of the businesses that served the sector — logistics, audio gear, food service and more — found a barren landscape.
During the pandemic, major promoter Live Nation saw a drastic drop in the number of concerts and festivals under its banner: from over 40,000 events in 2019 to just over 8,000 in 2020. But by the end of 2022, Pollstar.com reported that the year's top 100 tours sold approximately 59 million tickets — more than 2019's sales. 
Three years after the beginning of the pandemic, life is in many ways returning to normal. Yet the costs associated with putting on a concert have risen dramatically, due to both the pandemic's inflationary pressures and a surge in demand for the goods and services necessary to sustain tours. For those working in and around the live music business, the "new normal" means some things work as they did before COVID-19 while others have altered radically — either temporarily or for good. 
GRAMMY.com spoke with a cross section of industry professionals about some of the most profound changes, how they're being addressed, and what it all might mean for the future. 
New Touring Paradigms
With the return of live music has come a corresponding, pent-up surge in demand, notes Christy Castillo Butcher, Senior VP, Programming & Booking at the 70,000 seat SoFi Stadium in Inglewood, California. "To satiate that demand, you have to have a bigger venue." 
In 2023 alone, SoFi Stadium is hosting several megashows: Billy Joel & Stevie Nicks, Grupo Firme, Romeo Santos, a five-night Taylor Swift residency, Metallica, Beyoncé, Ed Sheeran and P!nk are all on the venue's calendar, with additional shows awaiting announcement. Madison Square Garden saw multiple sold-out performances by Janet Jackson, and will host a seven-night Phish residency. 
Since the pandemic, some artists have taken different approaches to touring. Tandem tours and residencies are just two of the phenomena that seem to be increasing in popularity with touring artists and their management teams.
Teaming up for a tandem tour isn't a new idea; package tours have been part of the concert landscape from the days of Dick Clark's Caravan of Stars in the mid 1960s. And in an era when post-pandemic-related shortages and logistical snags make touring even more challenging, the practice is finding renewed interest.
One of the highest-profile tandem tours of 2023 is the ZZ Top/Lynyrd Skynyrd Sharp Dressed Simple Man tour. Visiting more than 22 cities across the U.S, the tour brings together three-time GRAMMY nominees ZZ Top with the popular Southern rock band.
"You want to give the fans the value of seeing two bands together," says Ross Schilling, Lynyrd Skynyrd's Tour Manager. (Pollstar reported an average ticket price for the top 100 North American tours in the first half of 2022 at more than $108. Meanwhile, ticket prices for megastars such as Beyoncé and Swift have reached astronomical levels.)
Schilling acknowledges that there are pros and cons for the artists as well. "You're sharing the expenses and the revenues," he notes, adding that the production is often halved. "Video, pyro, smoke, whatever kind of elements you want to add" can be shared on a tandem tour.
Read more: 5 Reasons Why Taylor Swift's Eras Tour Will Be The Most Legendary Of Her Generation
Another option experiencing a renaissance is the concert residency. "Residencies are not new, of course," says Phil Carson, a touring and management veteran who spent many years on the road with high-profile rock bands including Led Zeppelin, Bad Company, AC/DC and Yes. "They started with the likes of Frank Sinatra and Sammy Davis Jr. when there was really only one place to go: Las Vegas." 
Today there are many more options, but the motivations are often the same as before. "Sammy, Dean Martin… all those guys wanted to hang out together, and didn't want to go on the bloody road," Carson explains. As their audiences grew older, they too were interested in the idea of going to one place to see their favorite performers.
And Carson thinks that the multi-night approach may well be part of a trend for the future. "We're starting to get two-and three-night runs in casinos across America," he says. Adele, Bruno Mars, Maroon 5, Luke Bryan, Katy Perry, Carrie Underwood and Carlos Santana are just a few of the artists eschewing the road in favor of a series of dates in one venue. 
The trend is extending to smaller venues as well. Singer/songwriter James McMutry and his band launched a residency at Austin' Continental Club in November 2021; that booking continues to the present day. And just last August, Robert Glasper announced a 48-show residency at the Blue Note Club in New York City; it's his fourth extended run of dates at the famed jazz venue.
Festivals Return En Force
Following increased demand for live entertainment post-lockdown, major music festivals returned with a force in 2022 and continue to do so in 2023. Coachella and Lollapalooza were among the multi-day, multi-weekend events returning after COVID-forced cancellations, while mid-level events such as San Francisco's Outside Lands also saw over 220,000 attendees in 2022 — a major boon for a live music industry that had been in crisis only a year before.
Celebrating and featuring a multigenerational lineup of Latinx artists and performers, the Bésame Mucho Festival premiered in December 2022 at the 56,000 capacity Dodger Stadium. Tickets sold out within 70 minutes. The lineup for the 2023 event was announced in February; once again, the event sold out almost immediately.
Read more: Latin Music's Next Era: How New Festivals & Big Billings Have Helped Bring Reggaeton, New Corridos & More To The Masses
Ashley Capps has been wholly immersed in the festival scene; former head of AC Entertainment, for many years he oversaw the annual Bonnaroo Music and Arts Festival. These days he has scaled back his activities but still curates the adventurous Big Ears Festival which he founded in 2009 in Knoxville, Tennessee.
"The post-pandemic Big Ears has seen extraordinary growth," he says, noting a pre-COVID trajectory of growth, with an annual 20 percent increase in ticket sales. The 2022 Big Ears — the first after a two-year pause — experienced a 35 percent growth. "That led us to declare our first full-on sellout," he says, "five weeks before the festival happened." 
In 2023, Big Ears noted another surge in ticket sales, surpassing 50 percent over the previous year. The multiple-venue festival added additional larger venues to accommodate the increased demand. Concertgoers "are certainly hungry to get back into the live music experience," Capps says. "And the artists we're working with at Big Ears are eager to be back out and in front of appreciative audiences."
That pent-up demand on both sides of the equation can result in a crowded field, with many events — even beyond music — competing both for attention, staffing and gear.
The Cost Of Making Music
Global logistical bottlenecks that plagued every industry continue to take a toll on the live music industry. Worldwide economic inflation — which hit 8.8 percent in 2022, nearly doubling year-over-year, a partial result of the pandemic — has increased costs and cut profits, laying the groundwork for a "rocky road to recovery." Finding themselves without opportunities for work during the pandemic, untold numbers of skilled tour technicians left the business. 
"People got out of the industry across the board, from musicians to agents to managers to bartenders to production staff," says Morgan Margolis, CEO/President of Knitting Factory Entertainment. "'I've got to do something else.' I saw a lot of that." Some never returned, causing a personnel shortage once live touring resumed.
All that affected live music venues, too. "We were shuffling around tour managers, production managers, box office personnel," says Margolis. He characterizes his company — active nationwide in venue operations, festivals, artist management, touring and more — as an "all hands on deck" operation. "I actually slung some drinks in Walla Walla at an Aaron Lewis concert," he says. 
Increased costs mean it's essential to run the leanest operation possible while maintaining quality. Margolis recalls the landscape when live music started coming back in 2022. "Vans and buses: everything was running out, even rental cars," he remembers. "And everything — generators, lighting rigs, staging rigs – was now 20-30 percent more expensive, because everybody was spread so thin."  
But like many in the business, Margolis simply made the best of things. "Personally, I was excited to be on the ground again," he says. "I wanted to be around people." 
After a nearly overwhelming surge of music artists getting back into live performance, he says that he is seeing a "more methodical" mindset taking hold. That compares to how he characterizes 2022: "Throw it all against the wall: we're going everywhere!"
Read more: Beyond Coachella: 10 Smaller Festivals Beloved For Their Homegrown Vibes & Huge Lineups
Another new wrinkle: proposed rule changes by the United States Citizenship and Immigration Services (USCIS) would increase the costs to international musicians of obtaining a U.S. visa by as much as 260 percent. "The more these policies are made, the harder it is for us to share our music," says Sampa the Great. The Zambian singer/songwriter and rapper notes that the proposed changes will hit independent artists especially hard: "Touring is the only way our music gets heard globally."
Such across-the-board cost increases can mean that some international artists have to have tough conversations. If not through touring, Sampa the Great wonders, "How else do we connect with the people who support our music? And how else do we independent artists sustain our careers making music?"
Schilling admits that during the worst of the shutdown, he thought about retiring — and so did one of his biggest clients. Skynyrd began a farewell tour in 2018, which was ultimately cut short by the pandemic, prompting serious soul searching. "When everyone's livelihood was ripped out from under them, they decided 'We want to go out on our own terms.'" This year's tandem tour with ZZ Top puts things right, Schilling adds. 
That kind of thinking is widespread among the professionals who remain in the game post-COVID. From many working as venue owners to tour managers to crew to artists, the chance to get back on the road outweighs the challenges that they will inevitably encounter. There are many career paths easier than working in the live music industry, but few can compare with its rewards.
Changes Backstage And Post-Show
Before the pandemic, many touring artists arranged meet-and-greet sessions before or after their shows. They provided an opportunity for interaction between fans and artists, and represented an additional revenue stream for the artists. During the pandemic era, those sessions disappeared, even for the new shows that could still take place. Today, even while enforced social distancing has largely disappeared, the state of meet-and-greets is not what it was. 
"My last three artists aren't doing meet-and-greets, because there's still that concern of COVID," says David Norman, a longtime promoter, tour director, manager and accountant currently on tour with Evanescence; his past clients have included Prince, John Fogerty, Earth Wind & Fire, Green Day, Alicia Keys, Tyler, the Creator and many others. 
Norman points out that his artists take a financial hit by eliminating the meet-and-greets. "But it's better to be safe than sorry," he says, noting that a musician who tests positive for COVID can "shut down [performances] for weeks. Then you have to reroute [the tour], and refund money to people who aren't able to come to rescheduled shows."
Others take a different approach. "Lynyrd Skynyrd will do meet-and-greets," says Schilling, adding that his team "wants to get back to as normal as we possibly can, as fast as we possibly can." André Cholmondeley is a musician, longtime tour manager and tech support professional who worked as guitar tech for Yes guitarist Steve Howe. 
Before 2020, "if you bought the meet-and-greet package, you could shake their hands," he says. "There were lots of hugs and pictures." Now the experience involves more waving and fist-bumping. Foreigner, meanwhile, has recently swapped meet-and-greets for Q&A sessions. "Everybody has a great time, and the band is not bored with it because it's different every night," says Phil Carson, the band's Tour Manager. 
Life away from the audience has changed, too. 
"One major change across the board is the huge difference in catering," says Cholmondeley, who has recently toured with Pat Metheny and Ani DiFranco. Before COVID, touring artists and their crews would typically find a buffet backstage. "We order a lot more food now," Cholmondeley explains. "You get a couple of menus texted to you each day."
Carson notes that the band has found an alternative solution that works for them. "Our singer Kelly Hansen is a chef who won an episode of Food Network's 'Chopped,'" he says with pride. "He's got a whole kitchen range on our tour bus. He makes breakfast, he makes tacos after the show." 
Carson readily admits that such an approach stands in sharp contrast to rock'n'roll road dining in the '70s. "Back then," he says with a hearty laugh, "it was a few lines of coke and a bottle of Jack Daniel's!"
Bridging The Gap
Beginning in March 2020, the cancellations and disruptions brought upon by the pandemic reverberated throughout the live music industry. But as the business sector enters the third quarter of 2023, the focus is once again on the future, and guarded optimism is the prevailing perspective. 
Festival season is officially underway, with Coachella wrapping up two weekends of massive-scale excitement, and a host of other events slated throughout the summer promising an active several months for touring musicians and crews. Taylor Swift's Eras tour is selling out fast, while Beyoncé's Renaissance tour has only just begun (to much fanfare, as expected). It seems as if touring as we once knew it is falling back into place. 
Even with her focus on recording — she counts two albums, an EP, two mixtapes and nearly 30 singles — Sampa the Great emphasizes the appeal of live music for both audience and entertainer. 
"Performing is the best way to connect with an audience," she says. "You're translating your music from audio to something visual, something physical. It bridges that gap from just hearing an artist or seeing them on social [media] to actually experiencing the artist." 
TXT, Blackpink, Aespa & More: Here Are All The K-Pop Tours And Events You Can Catch This Summer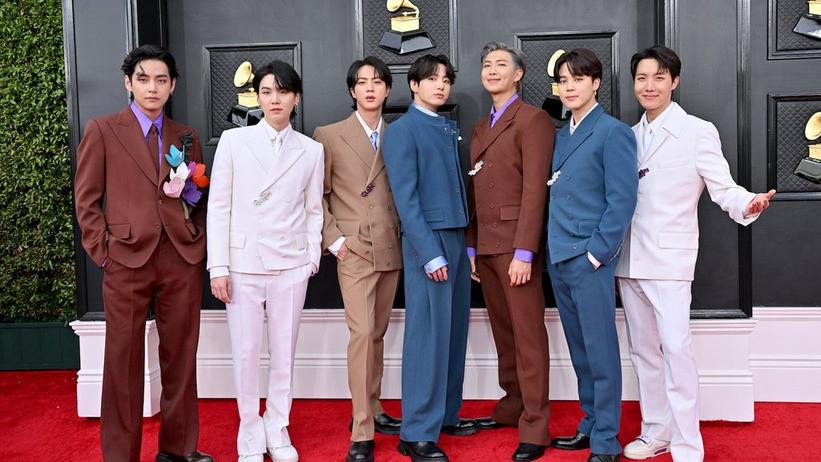 BTS (from left): V, Suga, Jin, Jung Kook, RM, Jimin and J-Hope
PHOTO: AXELLE/BAUER-GRIFFIN/FILMMAGIC
feature
Breaking Down Every Solo Act From BTS: Singles, Debut Albums & What's Next For The Septet
In 2022, BTS announced that the group would take a break as they enlist in South Korea's mandatory military service. The solo careers of Jin, Suga, j-hope, RM, Jimin, V and Jung Kook have launched a new era for the K-pop superstars.
GRAMMYs
/
May 10, 2023 - 02:14 pm
No one can deny that South Korean boy group BTS is a phenomenon. Since their debut in 2013, the septet formed by Jin, Suga, j-hope, RM, Jimin, V and Jung Kook have broken barriers and prejudices against Asian artists, reached notable milestones, and brought together one of the world's most devoted fandoms — known as ARMY.
Their relatable lyrics discuss societal issues and the pressures of growing up, while their intricate storytelling blends art classics, pop culture, and Korean heritage into something entirely new. BTS also offer a wide-range of musical genres — from hip-hop disses like "Mic Drop," to heartfelt ballads like "Spring Day" and feel-good bubblegum pop like "Butter." Regardless of any opinions, it's impossible not to be in awe of their oeuvre.
Taking all that in consideration, it's not surprising that BTS have broken numerous album and tour sales records throughout their career — they sold out Wembley Stadium and the Rose Bowl in 2019, becoming the first non-English-speaking, Asian artists to do so, for example. BTS also won a slew of trophies in South Korean and American award shows, including five GRAMMY nominations. For all of their contributions to South Korea's culture, they also became the youngest recipients of the country's Order of Cultural Merit in 2018.
BTS is, in some ways, a symbol of something bigger than themselves. An entity capable of uniting people all over the world and transmitting much-needed messages in their music. However, that wouldn't be possible if the seven humans behind it weren't as interesting as the whole. Since the beginning, BTS always encouraged its members to develop their own artistry, and all of them released several solos that spotlight their unique talents.
While 2022 brought in the news that BTS would take a break from group activities as they enlist in the South Korean mandatory military service, that meant their solo careers would take on the spotlight, launching in a new era. From Jin's "The Astronaut" to Jung Kook's "Dreamers," GRAMMY.com breaks down all of BTS's solo releases so far.
Jin
Jin isn't just "Mr. Worldwide Handsome," as he became known for his good looks. The eldest member of BTS is also a competent vocalist, whose soothing voice gave life to three solo songs under the group's roster: 2016's "Awake," 2018's "Epiphany" and 2020's "Moon."
The Anyang-born singer also contributed to the band's SoundCloud with the co-written and co-composed tracks "Tonight" and "Abyss." The former, released in 2019, was inspired by the deaths of Jin's dog and two sugar glider pets. Released in 2020, "Abyss" dealt with his fears and anxieties. "I want to find you and tell you/Today, I want to get to know you even more, yeah," he sings.
In 2021, Jin was chosen to sing "Yours," the main theme of TvN's drama "Jirisan." However, the real highlight of that year was "Super Tuna," a short song made for kicks and giggles that wemt viral on YouTube and TikTok.
As the eldest of the group, Jin was also the first to enlist in the military in December of 2022. Shortly before that, he graced fans with his official solo debut single, October's "The Astronaut." Co-written alongside Coldplay, the track placed No. 51 on the Billboard Hot 100; Jin performed the song in Buenos Aires, during the British band's Music of the Spheres World Tour. 
Suga
One of BTS' main songwriters, producers, and rappers, Suga is a prolific artist with a keen view about the world that we live in. Born in the city of Daegu, he began as an underground rapper and initially joined Big Hit Entertainment as a producer. Eventually, Suga became a trainee along with the other members.
Since BTS' debut in 2013, he contributed as a songwriter to the majority of their material, as well as producing and featuring in tracks by other artists such as Halsey's "Suga's Interlude," PSY's "That That," and IU's "Eight." He released five solo tracks as part of the group's discography: 2015's "Intro: The Most Beautiful Moment in Life" and "Intro: Never Mind," 2016's "First Love," 2018's "Trivia: Seesaw," and 2019's "Interlude: Shadow." Each release revealed his talent as a poignant storyteller on the ups and downs of growing up, dealing with fame, and remaining hopeful amid storms.
Concomitantly, he formulated the alter ego Agust D and released two solo mixtapes — 2016's Agust D and 2020's D-2. His first studio album under the alias, April's D-Day, was said to conclude the explosive, evocative trilogy that dealt with themes like anger, vengeance, and pain. Suga is also the first BTS member to headline his own tour, which is happening throughout May and June in the U.S. and Asia.
j-hope
Rapper j-hope was born in the metropolis of Gwangju, where he became known for his dancing skills. His interest in rapping, though, only came once he moved to Seoul and became a trainee under Big Hit Entertainment, where felt inspired by teammates Suga, RM, and producer Supreme Boi.
J-hope gradually developed his skills and became one of BTS' main songwriters, releasing three solo songs: 2016's "Intro: Boy Meets Evil" and "Mama" and 2018's "Trivia 起: Just Dance." Also in 2018, j-hope released his buoyant solo debut mixtape, Hope World. The album peaked at No. 38 on Billboard's 200 chart, turning him into the highest charting Korean soloist at the time. In 2019, he collaborated with Becky G on the hip hop track "Chicken Noodle Soup."
Following the announcement that BTS would be taking a break from group activities in 2022, j-hope was the first member to begin solo promotions. Jack in the Box, his first solo album, came out on July 15, and just 16 days later he became the first South Korean artist to headline Lollapalooza.
As of April, j-hope is currently enlisted in the military, but he left fans a special single to savor while they wait for his return: March's "On the Street," featuring rapper J. Cole.
RM
RM has often been the group's main spokesperson and producer. Through his work, he earned a stellar reputation both inside and outside of South Korea, collaborating with artists such as Fall Out Boy, Lil Nas X, Younha, Tiger JK, and Erykah Badu.
Born in Seoul, RM was a trainee under Big Hit Entertainment for three years before debuting, where he honed his songwriting skills in pre-debut tracks and cuts for other K-pop groups. As part of BTS, the gifted singer and rapper released a few solos: 2013's "Intro: O!RUL8,2?," 2014's "Intro: What Am I to You?," 2016's "Reflection," and 2019's "Trivia: Love" and "Persona." 
He was also the first member of the group to release a solo mixtape, 2015's RM, which showcased his distinct flow and honest self-reflections about rage and the contradictions of fame. In 2018 came his introspective, minimalistic second mixtape, Mono. Although just as honest about his emotions as the first one, Mono showcased a more pensive, or rather matured, side of RM. 
In December 2022, he released his much-awaited debut studio album, Indigo. Described as "the last archive of my 20s," RM continues his thoughtful reflections on what it means to make art and to be human, settling himself as one of today's most intelligent minds.
Jimin
Jimin always made an impression through his elegant dance moves and distinct falsettos, giving an aesthetic flair to all of BTS' releases. The Busan-born artist also showcased more of his talents through three solo tracks under the group's name: 2016's "Lie," 2017's "Serendipity" and 2020's "Filter."
In 2018, he released his first credited solo song, "Promise," followed by "Christmas Love" in 2020. That same year, Jimin collaborated with close friend and singer Ha Sung-woon on "With You," the soundtrack to TvN's 2022 drama "Our Blues," and in January 2023, he co-wrote and featured on Big Bang member Taeyang's single, "Vibe."
In March, Jimin released his long-awaited debut EP, Face. Its single, the synth-pop tune "Like Crazy," topped the Billboard Hot 100 chart, making Jimin the highest-charting Korean soloist of all time.
V
V's baritone, husky voice is one of BTS' most prominent elements, giving depth and texture to their songs. Like Suga, he was born in Daegu and dreamed of becoming a singer. After debuting with BTS, he released three solos under their name: 2016's "Stigma," 2018's "Singularity" and 2020's "Inner Child."
On the group's SoundCloud, he has slowly developed his own tracks. In 2019, he issued the self-composed ballad "Scenery," and later the all-English "Winter Bear." He also contributed to a few drama soundtracks along the years, most notably 2020's "Sweet Night," off JTBC's Itaewon Class, and 2021's "Christmas Tree," off Studio N's Our Beloved Summer.
Although V has been teasing an official mixtape for some time now, there is still no indication of when it will be released.
Jung Kook
At 25 years old, Jung Kook is the youngest member of BTS. Like Jimin, he was born in the coastal city of Busan, but moved to Seoul as a teenager to pursue his dreams of becoming a singer. In "Begin," his first solo song released on BTS' 2016 album Wings, he sings about how the group was largely his introduction to life: "When I was 15 years old, I had nothing/The world was too big and I was small."
Later came 2018's "Euphoria" and 2020's "My Time," off BTS' Love Yourself: Answer and Map of the Soul: 7, respectively. Also in 2020, he released "Stay Alive," the main soundtrack to BTS-based webtoon 7Fates: Chakho. He also publishes occasional solo work via Twitter, including the fan-loved "Decalcomanie," or SoundCloud, where he released "My You" and "Still With You" — the platform's Most-Streamed Pop Song in 2022, despite being released in 2020.
Last year, Jung Kook explored international collaborations. He participated in Charlie Puth's pop hit "Left and Right," and released "Dreamers" for the 2022 FIFA World Cup, later performing it at the opening ceremony of the event. With that, he became the first South Korean artist to release an official FIFA World Cup song.
While Jung Kook has mentioned that he intends to release a mixtape one day, it's still a mystery whether it will happen anytime soon. But judging through his output so far, he has proven to be more than ready to let the world get to know his artistic colors in full — just as all his bandmates have.
Celebrate AAPI Month 2023 With A Genre-Spanning Playlist Featuring BLACKPINK, Yaeji, Olivia Rodrigo & More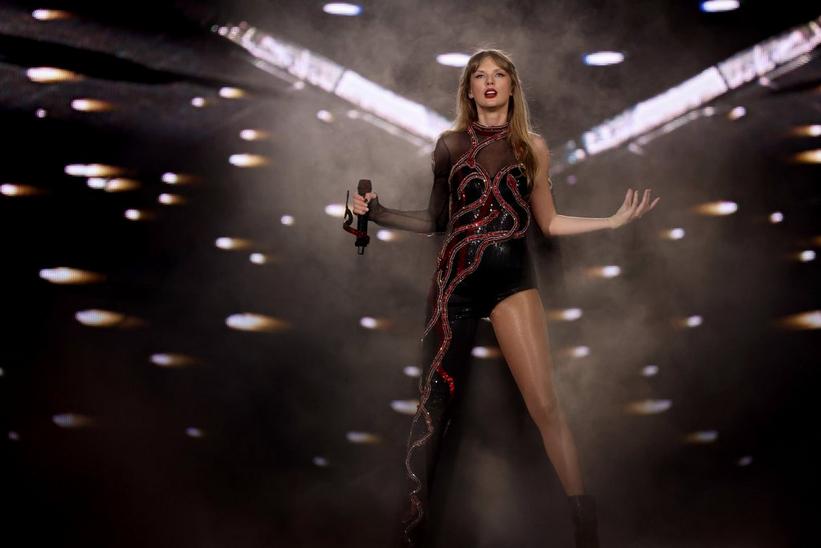 Taylor Swift performs during the Eras Tour in Nashville on May 6.
Photo: John Shearer/TAS23/Getty Images for TAS Rights Management
list
5 Reasons Why Taylor Swift's Eras Tour Will Be The Most Legendary Of Her Generation
Whether she's breaking records or breaking Ticketmaster, Taylor Swift has proven time and again that she's one of the most powerful figures in modern music — and the Eras Tour is a manifestation of that.
GRAMMYs
/
May 8, 2023 - 10:31 pm