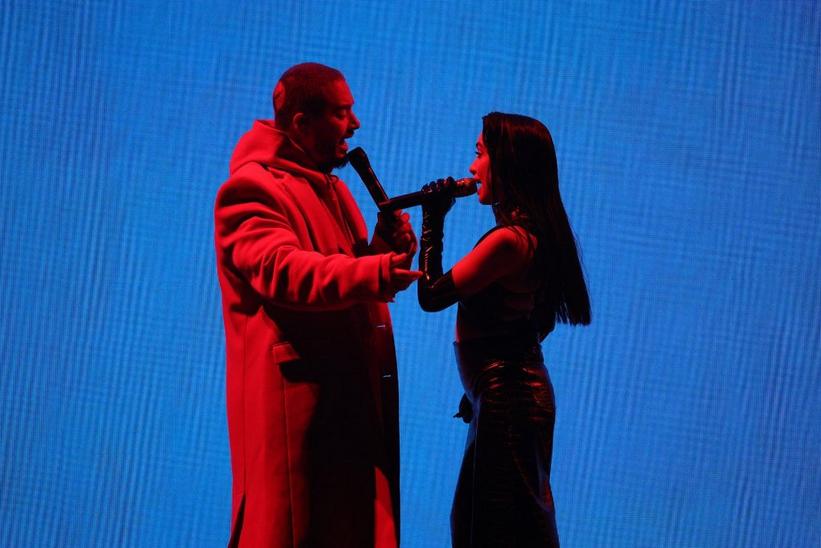 J Balvin & Maria Becerra
Photo: Rich Fury/Getty Images for The Recording Academy
news
Rewatch Every Performance At The 2022 GRAMMYs: BTS, Silk Sonic, Olivia Rodrigo & More
From BTS to John Legend to Lady Gaga and beyond, revisit every performance from the 2022 GRAMMYs — and catch up on those artists' wins and nominations — during Music's Biggest Night
GRAMMYs
/
Apr 6, 2022 - 10:20 pm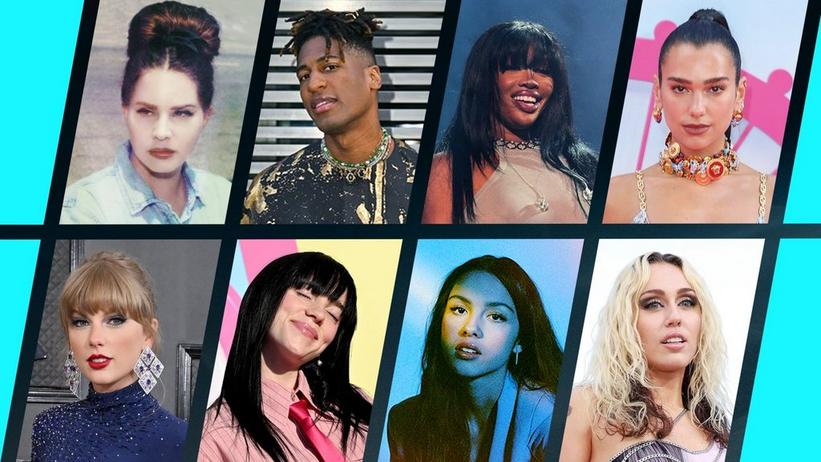 (Clockwise) Lana Del Rey, Jon Batiste, SZA, Dua Lipa, Miley Cyrus, Olivia Rodrigo, Billie Eilish, Taylor Swift
Photos: Image from TiVO; Dave Benett/Getty Images for Alexander McQueen; Prince Williams/WireImage; SAMIR HUSSEIN/WIREIMAGE; Arturo Holmes/Getty Images; Image from TiVO; Albert L. Ortega/Getty Images; Axelle/Bauer-Griffin/FilmMagic
list
Here Are The Song Of The Year Nominees At The 2024 GRAMMYs
The eight nominees for Song Of The Year at the 2024 GRAMMYs are hits from some of music's biggest names: Lana Del Rey, Miley Cyrus, Billie Eilish, Olivia Rodrigo, Jon Batiste, Taylor Swift, SZA and Dua Lipa.
GRAMMYs
/
Nov 10, 2023 - 04:24 pm
The Song Of The Year GRAMMY Award honors the best releases in the music business, and the eight nominees for the golden gramophone at the 2024 GRAMMYs come from a variety of established singer/songwriters. From dance anthems to pop bops, ballads and R&B smashes, the nominees for Song Of The Year showcase the breadth of emotions of the past year.
Before tuning into the 2024 GRAMMYs on Sunday, Feb. 4, 2024, learn more about this year's Song Of The Year nominees below.
"
A&W"
- Lana Del Rey
Songwriters: Jack Antonoff, Lana Del Rey & Sam Dew
The second single from her ninth studio album, Did You Know That There's a Tunnel Under Ocean Blvd, "A&W" is a refreshing addition to Lana Del Rey's expansive discography.
Another shattered portrait of the American Dream, the seven-minute epic, oscillates from madness to exhaustion, as Del Rey described feeling burned out by being objectified and perceived as an "American whore." What begins as a psychedelic folk ballad erupts into a defiant trap number interpolated with a doo-wop standard by the four-minute mark of the chaotic number.
"I'm a princess, I'm divisive/Ask me why I'm like this/Maybe I just kinda like this," Del Rey anxiously warbles. Later, she expresses her resignation surrounding rape culture: "If I told you that I was raped/ Do you really think that anybody would think/ I didn't ask for it? I didn't ask for it/ I won't testify, I already f—ed up my story."
"Anti-Hero" - Taylor Swift
Songwriters: Jack Antonoff & Taylor Swift
"Anti-Hero" showcased a new side of Taylor Swift — a rare moment where the 33-year-old pop star confronted her flaws in the public eye.
"I really don't think I've delved this far into my insecurities in this detail before," Swift said of the track in an Instagram video. "Not to sound too dark, but, like, I just struggle with the idea of not feeling like a person."
The self-loathing synth-pop anthem — with its cheeky chorus — catapulted "Anti Hero" into virality. With its ubiquitous meaning, the song topped charts and became a staple of pop radio. Now, it's enjoying the highest praise as a contender for Song Of The Year. 
"Butterfly" -
Jon Batiste
Songwriters: Jon Batiste & Dan Wilson
Beyond its sound, what makes Jon Batiste's "Butterfly" so stunning is the story behind it. The touching jazz-soul fusion track is an iteration of the lullabies Batiste penned while his wife Suleika Jaouad was hospitalized during her cancer treatment.
"It's just such a personal narrative song in relation to my life and what my family has gone through and my wife and all of the things she's been able to overcome," the 36-year-old GRAMMY winner told PEOPLE.
"Butterfly" is featured on Batiste's latest album, World Music Radio. Like much of his discography, "Butterfly" is inherently uplifting but there's an underlying yearning for freedom. "Butterfly in the air/ Where you can fly anywhere/ A sight beyond compare," Batiste croons over stripped-down keys.
"
Dance The Night"
(From Barbie The Album) - Dua Lipa 
Songwriters: Caroline Ailin, Dua Lipa, Mark Ronson & Andrew Wyatt
With the release of her pop-funk epic Future Nostalgia during the COVID-19 pandemic, Dua Lipa proved she could master the art of escapism. On "Dance The Night," a thrilling dance-pop number from the star-studded Barbie soundtrack, she channels that same inspiration with a side of glitter and glam.
"Greta said that the whole film was inspired by disco. There's a lot of very glittery and pop moments in it," the 28-year-old singer said of how the track fits into the movie in an interview with Dazed.
Over a sleek synth, the pop star reflects the unwavering joy Barbie outwardly emanates while she's crumbling inside: "Even when the tears are flowin' like diamonds on my face/I'll still keep the party goin', not one hair out of place (yes, I can)."
"Flowers" - Miley Cyrus
Songwriters: Miley Cyrus, Gregory Aldae Hein & Michael Pollack
Miley Cyrus has perfected the art of reinventing herself. With the post-breakup number "Flowers," she reclaimed her independence and took a hard turn from gritty rock back into pop music. "I can take myself dancing, yeah/ I can hold my own hand/ Yeah, I can love me better than you can," she belts over a disco-pop beat.
While the 30-year-old musician wouldn't share if "Flowers" was indeed about her ex-husband Liam Hemsworth, the song became an empowering earworm from a more refined version of the longtime musician.
"The song is a little fake it till you make it," she said of "Flowers" in an interview with British Vogue. "Which I'm a big fan of." It turns out she made it with a nomination for Song Of The Year at the 2024 GRAMMY Awards.
"Kill Bill" - SZA
Songwriters: Rob Bisel, Carter Lang & Solána Rowe
On the psychedelic R&B groove of "Kill Bill," which references the legendary Quentin Tarantino film, SZA dreams up her own unfiltered revenge fantasy. "I might kill my ex / Not the best idea / His new girlfriend's next / How'd I get here?" she ponders over an airy melody.
The song stands out on the R&B singer's latest album, SOS, for not only its cheeky wordplay but for how visceral she portrayed the devastation of a breakup. 
Despite its popularity, the 34-year-old singer initially thought one of the other songs on her 23-track album would have topped the charts. "It's always a song that I don't give a f— about that's just super easy, not the s— that I put so much heart and energy into. 'Kill Bill' was super easy — one take, one night," the singer told Billboard of "Kill Bill's" success.
"
Vampire"
- Olivia Rodrigo
Songwriters: Daniel Nigro & Olivia Rodrigo
Like her explosive debut "Drivers License," Olivia Rodrigo opted for a swelling power ballad for the lead single of her sophomore album Guts. On "Vampire," the singer/songwriter recalls a parasitic relationship with a swelling power ballad that erupts into a booming guitar breakdown. "Bloodsucker, famef—er/ Bleedin' me dry, like a goddamn vampire," she sings with a bitter lilt.
While many speculated the song was about a toxic relationship, Rodrigo claimed it's more nuanced than that. "It's more about my regret and kind of beating myself up for doing something that I knew wasn't gonna turn out great and kind of just taking ownership of that and dealing with those feelings," she told Sirius XM Hits 1.
Regardless, the 20-year-old artist turned something bitter into something sweet by landing a Song Of The Year nomination.
"What Was I Made For?" [From The Motion Picture "Barbie"] - Billie Eilish
Songwriters: Billie Eilish O'Connell & Finneas O'Connell
Not only was the Barbie movie a massive hit, its soundtrack was, too, thanks to a slew of chart-topping artists including Dua Lipa, HAIM and Sam Smith. So it's no surprise that Billie Eilish made that list as well, and delivered a gutting ballad that soundtracked one of the most heartbreaking moments of the film.
The wistful single, which arrives at the devastating realization that you're not real and are instead meant to be consumed, aptly embodies the narrative arc of the box office smash. "Looked so alive, turns out I'm not real/ Just something you paid for/ What was I made for," the 21-year-old musician sings with a heartbreaking lilt. 
While writing the sobering number, Eilish tried to embody the essence of the life-sized doll herself. "I was purely inspired by this movie and this character and the way I thought she would feel, and wrote about that," she told Zane Lowe of Apple Music. 
The 2024 GRAMMYs, officially known as the 66th GRAMMY Awards, returns to Los Angeles' Crypto.com Arena on Sunday, Feb. 4, 2024, and will broadcast live on the CBS Television Network and stream live and on-demand on Paramount+ at 8-11:30 p.m. ET/5-8:30 p.m. PT.
The Recording Academy and GRAMMY.com do not endorse any particular artist, submission or nominee over another. The results of the GRAMMY Awards, including winners and nominees, are solely dependent on the Recording Academy's Voting Membership.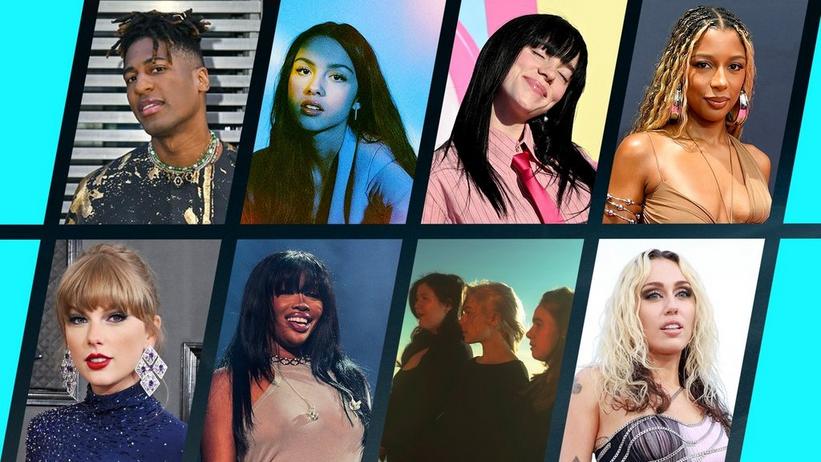 (Clockwise) Jon Batiste, Oliva Rodrigo, Billie Eilish, Victoria Monét, Miley Cyrus, Boygenius, SZA, Taylor Swift
Photos: Dave Benett/Getty Images for Alexander McQueen; Image from TiVO;Albert L. Ortega/Getty Images; Paras Griffin/Getty Images for BET;Arturo Holmes/Getty Images; Image from TiVO;Prince Williams/WireImage; Axelle/Bauer-Griffin/FilmMagic
list
Here Are The Record Of The Year Nominees At The 2024 GRAMMYs
The 2024 Record Of The Year nominees at the 2024 GRAMMYs are hits from some of music's biggest names Jon Batiste, boygenius, Miley Cyrus, Billie Eilish & FINNEAS, Victoria Monét, Olivia Rodrigo, Taylor Swift and SZA.
GRAMMYs
/
Nov 10, 2023 - 04:23 pm
Throughout the past year, Miley Cyrus, Billie Eilish, Olivia Rodrigo and Taylor Swift delivered inescapable pop anthems, while Victoria Monét and SZA proved that R&B deserves a place in the spotlight. Jon Batiste continued to evolve his artistry, while indie supergroup boygenius made an anticipated comeback.
With so many standout moments, the golden gramophone Record Of The Year — which is awarded to the artist and the producer(s), recording engineer(s) and/or mixer(s) and mastering engineer(s) — is shaping up to be a thrilling contest at the 2024 GRAMMYs, officially known as the 66th GRAMMY Awards.
Before tuning into the 2024 GRAMMYs on Feb. 4, 2024, learn more about this year's Record Of The Year nominees below.
Jon Batiste - "Worship" 
Jon Batiste has been revered for his refreshing take on jazz, but the multi-instrumentalist showed that his talents stretch beyond the genre on his seventh album, World Music Radio.
Album highlight "Worship" encapsulates the LP's message of unification and community by fusing various global sounds. The song is quite the joyride, beginning with bellowing organs before a choir joins with a glorious harmony and finally explodes with a Latin samba party. "We are born the same / Return to that place" Batiste repeats throughout the song, driving home his inclusive mission.
"Worship" is a joyous anthem and, following his Album Of The Year win at the 2023 GRAMMYs for We Are, it's clear the five-time GRAMMY winner is keeping the celebration going.
boygenius -"Not Strong Enough"  
Nearly five years after boygenius released their debut self-titled EP, the trio of Julien Baker, Phoebe Bridgers and Lucy Dacus returned again with a full-length, The Record. 
The LP beautifully captured just how well the women rockers work together, and their chemistry is best seen in "Not Strong Enough." The single's lush harmonies and feather-light guitars are a contrast to the candid lyricism, which attempts to juggle insecurities and having a God complex. 
"The two wolves inside us can be self-hatred and self-aggrandizing," Bridgers explained to Rolling Stone. "Being like, 'I'm not strong enough to show up for you. I can't be the partner that you want me to be.' But also being like, 'I'm too f—ed up. I'm unknowable in some deep way!'"
"Not Strong Enough" marks a career milestone for boygenius, as it's the group's first nomination for Record Of The Year.
Miley Cyrus - "Flowers"  
A truly great pop star knows how to make a break-up anthem for the ages. Miley Cyrus already had a few under her belt, but she kicked off the year with her strongest offering to date.
"Flowers" was suggested to be inspired by Cyrus' divorce from Liam Hemsworth, but the song's messaging goes well beyond the singer's personal life. Many can relate to having to pick up the pieces of a broken heart, but Cyrus' confident vocals paired with the soaring disco-inspired melody reassure that self-love is the ultimate healer.
"The chorus was originally: 'I can buy myself flowers, write my name in the sand, but I can't love me better than you can,'" the singer told British Vogue of the song's original lyrics. "It used to be more, like, 1950s. The saddest song. Like: 'Sure, I can be my own lover, but you're so much better.'" 
The subtle decision to flip the "can't" into a "can" showcases the brilliance of Cyrus' songwriting, which ultimately makes the meaning of "Flowers" that much more empowering.
Billie Eilish & FINNEAS - "What Was I Made For?" 
The Barbie movie was arguably this year's biggest pop culture phenomenon, so of course the soundtrack had equally big names. But among the midst of fast-paced and glittery pop songs, Billie Eilish's contribution tugged at heartstrings. The seven-time GRAMMY winner teamed with her brother and go-to collaborator FINNEAS for "What Was I Made For?"
It's a tender, melancholic ballad that ties in the movie's themes of autonomy and balancing feminism in a patriarchal world, with Eilish still holding on to hope: "I don't know how to feel / But someday I might." The song reflects a universal experience for many women, including Eilish herself — although she didn't realize it at first. 
​​"I was purely inspired by this movie and this character and the way I thought she would feel and wrote about that," Eilish told Zane Lowe for Apple Music 1. "Over the next couple days, I was listening and [realized] I was writing for myself and I don't even know it." That relatability is one of the beauties of music, for listeners and artists alike.
Victoria Monét - "On My Mama"  
Victoria Monét has a long songwriting history, penning hits for the likes of Brandy, BLACKPINK, Chloe x Halle and longtime friend Ariana Grande. And while she's released solo music in the past, her debut album Jaguar II cements her place within R&B's new crop of stars. Third single "On My Mama" took the scene by storm, bringing together millennials and Gen Z's shared love of '00s nostalgia. 
Sampling Chalie Boy's 2009 song "I Look Good" and lined with Monét's signature horns, the song is a celebration of Black southern culture. As Monét described it on "The Ebro Show" on Apple Music 1, "It's an anthem for affirmations, positive self-talk, manifestations, living in abundance, [and] speaking things into existence."
Olivia Rodrigo - "Vampire" 
What makes Olivia Rodrigo a captivating artist is her honesty. Her ability to capture her generation's emotional nature is why 2021's debut album Sour took pop music by storm (and also made her a three-time GRAMMY winner). And she's continued the movement with "Vampire", the lead single from her sophomore album, Guts. 
The song is a red herring of sorts, beginning with melancholic piano keys that often kickstart the singer's tunes. But rather than shed tears, she unleashes the fury of a woman scorned, dishing out insults to a manipulative ex-lover that ripped her heart out. "Bloodsucker, famef—er / Bleedin' me dry, like a goddamn vampire" she seethes on the chorus. The best revenge is always served cold.
Taylor Swift - "Anti-Hero" 
Taylor Swift has grown to be even more self-aware as her status ascends. She knows being a pop superstar comes with its challenges, and "Anti-Hero" reveals the woman behind the glitzy veil. Inspired by her nightmares, the chart-topping smash from tTaylor Swift has become even more self aware as her status ascends. She knows being a pop superstar comes with its challenges, and "Anti-Hero" reveals the woman behind the glitzy veil.
Inspired by her nightmares, the chart-topping smash from the 12-time GRAMMY winner's tenth album Midnights is a personal journal into feelings of self-doubt and anxiety. But in natural Swift fashion, the dark lyricism is anchored by hopeful pop synths courtesy of longtime collaborator and co-producer Jack Antonoff. The video heightens the song's themes, as Swift confronts various versions of her former selves.
"We all hate things about ​​ourselves, and it's all of those aspects of the things we dislike and like about ourselves that we have to come to terms with if we're going to be this person," Swift shared with fans on Instagram. That refreshing honesty is what makes "Anti-Hero" one of the singer's most successful songs to date.
SZA - "Kill Bill"  
Leave it to SZA to make murder sound so sweet. On SOS standout single "Kill Bill," the singer takes a page from director Quentin Tarantino by nodding to his 2003 film, as she lives out her vengeful fantasies. 
The GRAMMY winner's raging jealousy landed "Kill Bill" atop the Billboard Hot 100, making it her first-ever solo No.1 hit. SZA brought the fatal single to life with a cinematic music video, which pays homage to Kill Bill with fierce action scenes and  an appearance from Vivica A. Fox, who starred as a Deadly Viper and Thurman's enemy Vernita Green in the film.
"I've never raged the way that I should have. This is my villain era, and I'm very comfortable with that," the singer shared with Glamour about her album's themes. "It is in the way I say no. It's in the f–ked up things that I don't apologize for." And with lyrics like "I did all of this sober" on "Kill Bill," you have no choice but to believe her.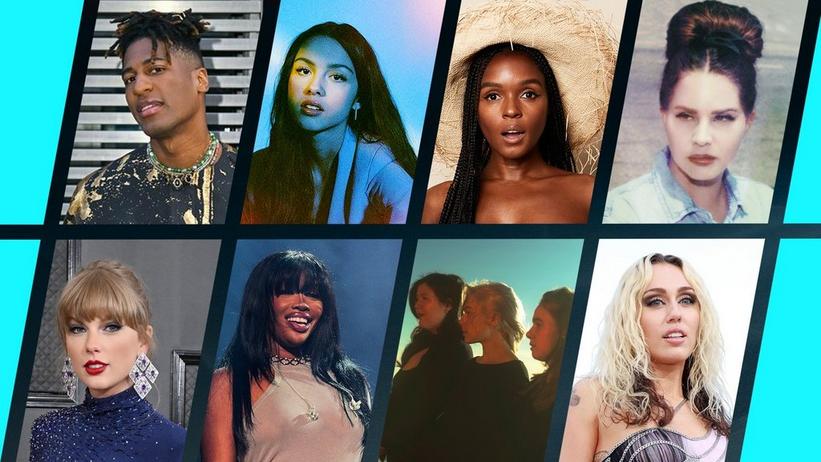 (Clockwise): Jon Batiste, Olivia Rodrigo, Janelle Monae, Lana Del Rey, Miley Cyrus, boygenius, SZA, Taylor Swift
Photos (clockwise, from top left): Dave Benett/Getty Images for Alexander McQueen; Image from TiVO; Mason Rose; Image from TiVO; Arturo Holmes/Getty Images; Image from TiVO; Prince Williams/WireImage; Axelle/Bauer-Griffin/FilmMagic
list
Here Are The Album Of The Year Nominees At The 2024 GRAMMYs
The 2024 GRAMMY nominees for Album Of The Year have arrived: Jon Batiste, boygenius, Miley Cyrus, Lana Del Rey, Janelle Monáe, Olivia Rodrigo, Taylor Swift, and SZA.
GRAMMYs
/
Nov 10, 2023 - 04:16 pm
In a world dominated by singles and streaming, it's even more important for albums to be cherished and preserved. The Recording Academy celebrates albums as essential, beloved formats of artistic expression, especially in the coveted Album Of The Year Category.
From gutsy pop to psychedelic soul, the eight nominees for Album Of The Year at the 2024 GRAMMYs — which are notably dominated by women, people of color, and the queer community — are a reflection of the joyous diversity within the music community.
Below, take a deeper dive into who's in the running for Album Of The Year on Music's Biggest Night.
Jon Batiste —

World Music Radio
On the opening track of World Music Radio, Jon Batiste importantly reminds listeners that music is not just a passive recreation, but an experience. Or, at least the interstellar radio host Billy Bob does.
Narrated by Billy Bob, Batiste's 21-song concept album is made to sound like it's an actual radio station; amid intermittent static and between-song messaging, the station welcomes a slew of high-profile musical guests, ranging from Lana Del Rey to NewJeans to Lil Wayne. Including everything from smooth DJ interludes to crystal-clear saxophone solos to sparkling piano riffs, World Music Radio has something for everyone within its one-hour runtime.
With five GRAMMYs under his belt — including one for Album Of The Year — Batiste understands the significance of pushing boundaries in music. Consequently, World Music Radio questions genre as much as it questions how we can make the world a more inclusive place.
According to an Instagram post, Batiste's album aims to "'re-examine and redefine terms like world music as they exist in the culture."' The "'re"' prefix is what music is all about: reliving memories, reinventing what's been done before, and redefining things we previously thought we understood. Riding the airwaves all the way to an Album Of The Year nomination, Batiste's latest visionary work reminds us to reconsider what we think we know — and then, dial in.
boygenius —

the record
On the vinyl version of the record, a locked groove leaves listeners perpetually listening to a single word: "'waiting."' The lyric goes eternally unfinished.
But good things come to those who wait, and for boygenius, a year like 2023 has never made this more discernible. Less than a year after the group debuted at Coachella and embarked on not one but two tours, they're now in the running for the GRAMMY for Album Of The Year.
Skyrocketing to headliner fame this year, the indie rock supergroup composed of Julien Baker, Phoebe Bridgers and Lucy Dacus released their debut album back in spring. Preceded only by a singular, successful EP from five years prior, the record proves itself to be very much worth the wait: chock-full of dreams of arson, $20 bills, and calls to kill the bourgeois, it froths with charisma and jocular amity.
This marks boygenius' first collective GRAMMY nomination, as well as the first nominations for Baker and Dacus. Bridgers' Punisher made her a 4-time GRAMMY nominee at the 63rd GRAMMY Awards. But it's not the group's only nod at the 2024 show — boygenius earned six nominations in total, including Record Of The Year.
What makes the record so momentous is its testament to the trio's vibrant, long-standing friendship — specifically, a companionship rooted in queerness, as well as in opposition to the idea that women in the industry should be pitted against each other. the record intensely and unmistakably feels the gravity of their organic bond, and in this way, it stands for so much more than 12 songs.
Miley Cyrus —
Endless Summer Vacation
It's time to give Miley Cyrus her flowers. The GRAMMY-nominated artist already struck gold earlier this year, with her liberating lead single "'Flowers"' breaking records left and right. The track blossoms with the sweet nectar of independence, and this embrace of freedom is the heart of Endless Summer Vacation.
Her album's title denotes a perpetual stretch into eternity, but if there's one thing Cyrus is known for, it's change. Whether it's radically altering her style or switching up her aesthetic, the longtime pop queen knows that creative adaptability is one of her many strengths.
Endless Summer Vacation spotlights this versatility, from Cyrus warmly soaking up "'Violet Chemistry"' to reflecting on when she "'Used To Be Young."' Her signature gravelly drawl suits the album's disco-infused, beachy production — a major shift from the unyielding, punk rock of predecessor Plastic Hearts (2020), or the power pop-trap spotlighted on her 2019 EP, SHE IS COMING.
Notably, this marks Cyrus' first Album Of The Year nomination for her own work (she received a nod for her feature on Lil Nas X's 2021 LP Montero). The honor praises not just Endless Summer Vacation as a salient career highlight, but also applauds the singer's resilience after years of musical shapeshifting — Cyrus was due for a well-deserved vacation.
Lana Del Rey —
Did You Know That There's A Tunnel Under Ocean Blvd
On her ninth studio album, Lana Del Rey honors kintsugi, or the ​​Japanese art of repairing broken pottery pieces with gold. Now, with an Album Of The Year nomination, she could be taking home GRAMMY gold.
Del Rey's last nomination in this Big Four category was for Norman Fucking Rockwell! at the 2020 GRAMMYs. While NFR! freewheeled along the West Coast, paving a soft rock landscape inspired by '70s Americana, Did You Know That There's A Tunnel Under Ocean Blvd leans away from Del Rey's habitual worldbuilding. Instead, the singer let spirituality guide her music-making process, dabbling in everything from gospel to trap.
Even though Did You Know That There's A Tunnel Under Ocean Blvd is Del Rey's most natural album yet, the work still feels otherworldly. Throwing caution to the wind, she delves into the multifaceted nature of her identity, candidly examining personal matters relating to religion, mortality and family.
In the same way a pottery artist might delicately approach kintsugi, Del Rey approaches making music with a keen eye and open heart. She searches for ways to sculpt beauty from flaws and fractures — after all, that's how the light gets in.
Janelle Monáe —
The Age Of Pleasure
The rush of a crush, the sigh from a single touch — euphoria comes in many beautiful forms, and on her latest album, Janelle Monáe wants you to experience all of them.
The Age Of Pleasure ushers in Monáe's vision of rapture, dreamily blurring the lines between reality and fantasy. The 10-time GRAMMY-nominated artist has long defied labels, whether it be regarding genre or their personal identity, and their latest album celebrates love in all its color and fluidity.
It's all smooth sailing in The Age Of Pleasure. Soulfully, the multihyphenate singer swims through romantic R&B, plunges into funky rap, and bathes in soft pop radiance — but above all, Monáe floats. She's untroubled and unbothered, and that's more than enough to warrant raising a glass.
Monáe's nomination for Album Of The Year acknowledges not just the thrill of living a life carefree, but also celebrates the divinity of all-encompassing love. The album is more than hips and lips galore: beyond giving into passion, it's about cherishing community and, most importantly, choosing joy for yourself.
Olivia Rodrigo —

GUTS
Though she's the youngest nominee on the list, Olivia Rodrigo knows she has nothing to prove.
Already a 3-time GRAMMY winner before her 20th birthday, the "'drivers license"' singer/songwriter unsurprisingly resisted the sophomore slump. On her plucky second album GUTS, she leans a little more into punkish pent-up rage than the crying-on-the-bathroom-floor heartache of her 2021 debut, SOUR — and impressively, her determination earned her a second consecutive GRAMMY nomination for Album Of The Year.
Whether her self-reflection appears in the form of piano-led balladry or pop-rock headbangers, Rodrigo tackles wilted relationships, growing pains and everything in between with her characteristically refreshing charm. From the gritty, Joan Didion-inspired "'all american b—"' to the leave-him-to-rot breakup anthem "'vampire,"' GUTS knows how to make a statement without forgetting to have a bit of fun.
Rodrigo, who won the GRAMMY for Best New Artist at the 2022 ceremony, understands the resonant power of her pen, and the singer's swift ascent to fame mirrors her swelling talent. It's already been almost two years since the smash success of "'drivers license,"' but Rodrigo isn't taking her foot off the gas.
Taylor Swift —

Midnights
Best believe Taylor Swift is still bejeweled.
Of the megastar's extensive discography, Midnights might just be its crowning jewel thus far. Swift's tenth studio album dives deeper into pop experimentalism, steering away from the indie folk journeys that folklore and evermore so calmly encompassed; Midnights silhouettes the life of a beloved, high-profile "'Anti-Hero"' and assertively offers some of Swift's most ambitious work yet.
It's this fearless ambition that makes Swift no stranger to the GRAMMYs. On top of nearly 50 nominations total, the 12-time GRAMMY winner is the first and only woman solo artist to win Album Of The Year three times for her solo recordings. As Swifties know, she loves to break her own records — and if Midnights takes home GRAMMY gold, Swift would become the artist with the most Album Of The Year wins of all time.
This Midnights nomination marks a climax for Swift's career, and even though the singer has collected countless milestones, this year might be her most colossal yet. As she continues to bring all of her musical eras to life, Swift isn't just reliving her musical past — she's writing her future.
SZA —

SOS
SZA knows how to build anticipation. Keeping her fans in suspense for five years, the prolific GRAMMY winner released her 2022 sophomore album SOS to wide critical acclaim — and while its title suggests a sense of helplessness, SOS puts forth plenty of strength.
SZA understands the vast power of vulnerability, and she wields this power expertly, whether it be forcefully or delicately. During the album's wade through loneliness and insecurity, the singer occasionally employs features from friends like Don Toliver, Phoebe Bridgers, and Travis Scott, but above all, SZA's self-discovery remains in the spotlight.
The R&B star scored her first GRAMMY just two years ago, sharing the award for Best Pop Duo/Group Performance with Doja Cat for their lovable collaboration "'Kiss Me More"' at the 2022 GRAMMYs. While the pop-rap collaboration bubbles with lost-in-the-moment delight, SOS looks at life with a wider lens; in her single "'Shirt,"' SZA admits that she's "'in the dark right now/ feeling lost but I like it,"' and it's these glimmers of self-assurance that show her a light at the end of the tunnel.
This Album Of The Year nomination nods to the singer's personal growth since her 2017 debut Ctrl. Although SZA sings about a fear of letting other people define her, SOS rejects other people's terms and soars as a bold reclamation: by defying others, she rediscovers herself.
The 2024 GRAMMYs, officially known as the 66th GRAMMY Awards, returns to Los Angeles' Crypto.com Arena on Sunday, Feb. 4, 2024, and will broadcast live on the CBS Television Network and stream live and on-demand on Paramount+ at 8-11:30 p.m. ET/5-8:30 p.m. PT.
The Recording Academy and GRAMMY.com do not endorse any particular artist, submission or nominee over another. The results of the GRAMMY Awards, including winners and nominees, are solely dependent on the Recording Academy's Voting Membership.
Lady Gaga performs onstage during The ARTPOP Ball tour
Photo: Kevin Mazur/WireImage
news
10 Reasons Why 'ARTPOP' Is Lady Gaga's Bravest Album
Released in 2013 and following the iconic 'Born This Way,' Lady Gaga's 'ARTPOP' was maligned and misunderstood. Yet the avant garde album took admirable leaps in genre, style and presentation — and deserves serious applause.
GRAMMYs
/
Nov 6, 2023 - 02:27 pm
A decade ago, the music industry was practically eulogizing Lady Gaga's career. Cause of death: her fourth album, ARTPOP.
Universally deemed a misfit (even among Gaga's off-kilter discography), it was all too easy to crack "artflop" jokes as the record's reception paled in comparison to the thunder of 2011's Born This Way. In addition to Billboard-charting bangers aside, Born This Way pledged to be a champion for LGBTQIA+ rights, employing the word "bravery" so frequently that the two are now inextricably bound. The album's daring demeanor had created a tough spectacle to follow, even for the shock-pop maven.
But rebukes of ARTPOP's avant-garde concepts and stylings, disregard the record's brazen interweaving of music, fashion, technology, and digital art. Released after Gaga broke her hip and canceled the  Born This Way Ball tour, ARTPOP was a canvas of earth-shattering bursts of pain and passion, and an electronic confessional.
For her efforts and vision, Gaga's maligned 2013 album would become a blueprint for contemporary alt-pop artists — not just with its experimental clash of genres, but through its winking subversion of industry expectations.  
In honor of ARTPOP's tenth anniversary this month, read on for 10 reasons why  the overlooked outcast of Gaga's catalog is actually the bravest album of them all.
It Prioritized Creativity Over Sales And Charts
When the public slams an artist for "only" selling one million copies of an album in a week, record sales lose their shine. After facing flack for her Born This Way numbers in 2011, Lady Gaga entered the ARTPOP era with clear intentions: creativity for creativity's sake.
"Really, it's about freeing yourself from the expectations of the music industry and the expectations of the status quo," she explained during an interview at SXSW. And you know she meant it, because that same week she bucked those pressures by climbing atop a mechanical bull, where she served as the human canvas for the "creative output" of vomit artist Millie Brown.
"I write for the music not for the charts," she tweeted, addressing a comparison between her lead single "Applause" and Katy Perry's song "Roar," which outperformed "Applause" on the Billboard charts. The singles were released days apart, stirring up a heated conversation about which singer was a more powerful pop star. Gaga was, of course, quick to crush the debate.
"Applause" peaked at No. 4 on the Billboard Hot 100, and despite being released in mid-November, ARTPOP nabbed 2.3 million album sales worldwide by the end of 2013. In contrast, Born This Way sold 2.1 million copies between its May 2011 release and the end of its debut year in the United States alone. 
It Put Gaga In The Producer's Seat — Alone 
By 2013, Lady Gaga boasted an impressive list of co-producing credits from working alongside collaborators like RedOne, DJ White Shadow, and Fernando Garibay. Yet ARTPOP marks the first time she slipped behind the soundboard by herself.
For "Venus," an intergalactic ode to lust that blossoms into starry-eyed infatuation, she saluted the titular goddess of love and pushed the men out of the room, folding a hybrid Sun Ra reference/Zombie Zombie sample into her sexually-emboldened EDM. Gaga cites "Venus" as the first song she ever self-produced, a major milestone for the multi-hyphenate and for women producers as a whole.
It Wasn't Afraid To Get Messy
One decade's definition of "sloppy" is the next decade's epitome of style. In 2013, the general consensus among critics was that ARTPOP's sound was often too messy to take seriously. Their examples were copious; "Aura," for instance, dedicates 15 seconds to nothing but hysterical, autotuned laughter over an unraveling country western guitar riff. Manic deep cuts "MANiCURE" and "Jewels N' Drugs" were labeled choppy and sonically inconsistent, as Gaga allegedly struggled to find common ground between rock, trap, and electronic music.
Compared to the streamlined pop sound of the time — including some of Gaga's prior hits — ARTPOP's frenetic mishmash of sounds felt totally alien. "I was desperate, in pain, and poured my heart into electronic music that slammed harder than any drug I could find," Gaga reflected, explaining her need for catharsis over catchiness (a choice that she was lambasted for at the time). 
Ten years later, her avant garde approach to pop suddenly seems remarkably en vogue, as genre-hopping and highly-textured sonic palettes become the norm — especially in the alt-pop sphere. In hindsight, it's apparent that ARTPOP was ridiculed so artists like SOPHIE, Charli XCX, and Dorian Electra could rave.
It Was, Literally, Designed To Be Out Of The World
ARTPOP prioritized pushing art into uncharted territory, and not just on Earth.In addition to a naked Jeff Koons sculpture of Gaga herself, the album's release was feted with the debut of a flying dress named Volantis. The original creation from Gaga's TechHaus (a branch of her Haus Labs team) is technically an "electric powered hover vehicle" that fits around Gaga's body to hoist her into the air. Gaga offered a less technical term for it, calling the dress a metaphor. "I will be the vehicle of their voices," she said during a press conference, sharing her vision for representing young fans in the sky.
Volantis arrived alongside news that Gaga would become the first musician to perform in space aboard a Virgin Galactic ship. The flying dress successfully cleared its first flight; the Virgin ship unfortunately did not. After a fatal test flight, the plans for Gaga's galactic debut were canceled.
It Crushed Tabloid Trash-Talking  
It's admittedly hard to recall ARTPOP's ill-conceived R. Kelly collaboration "Do What U Want" without wincing. Beyond Kelly's unnerving presence on the track, his lone sexually-charged verse ultimately skewed the true message of the song, transforming a kiss off to tabloid journalism into randy radio fodder.
Gaga scrubbed the song from streaming services in 2019, sparing the alternative version that instead features Christina Aguilera. Here, Gaga's intended retaliation shines: "You can't have my heart / and you won't use my mind / but do what you want with my body," she taunts on the chorus, welcoming the public's superficial — and therefore meaningless — judgments.  
When unveiling the track in October of 2013, she took to X (then named Twitter) to trounce a litany of rumors and nitpicks about her weight, likeness to Madonna, and erroneous identity as a hermaphrodite. At its core, "Do What U Want" proved that the only gesture more pointed than a middle finger is cackling while inviting the world to do its worst. 
It Invented A New Artistic Concept 
Lady Gaga can't take credit for the notion of art-pop, but she did coin a new phrase, calling the conceptual glue of ARTPOP a "reverse Waholian expedition." Translation: if Andy Warhol transformed mass-produced items like Campbell's soup into high art, then Gaga wanted to flip the process, placing high art where it could be easily accessible to the public.
As a result, the visual aspects of ARTPOP present a mosaic of the most esteemed masterpieces of all time. The busy album cover fuses the brilliance of American sculptor Jeff Koons with fragments of Sandro Boticelli's magnum opus "The Birth of Venus," while her outfits for public appearances nodded to greats like Pablo Picasso and Salvador Dali with brash makeup and fake mustaches. The concept opened her up to mockery — including from Maroon 5 frontman Adam Levine — but introduced the basics of art history to millions of listeners worldwide.
It Openly Examined Gaga's Relationship With Drugs And Alcohol
Many of ARTPOP's most exuberant moments orbit high or drunken states, such as Gaga sneaking around Amersterdam while stoned and incognito on "Mary Jane Holland." Trap outlier "Jewels N' Drugs," which collects verses from T.I., Twista, and Too $hort, packs the same giddy punch despite its somewhat awkward execution. Yet the party pauses on "Dope," ARTPOP's sole piano ballad.
The sobering single gazes inward, where Gaga finds a startling void, her spirit gutted after years of addiction. While the song's lyrics vow to prioritize loved ones over drugs and liquor, Gaga revealed the most personal promise during her album release show.
"I do not have to be high to be creative," she professed from behind her piano, hand raised in the air as if taking an oath. "I do not need to be drunk to have a good idea. I can sit with my thoughts and not feel crazy." On an album bursting with innovation, "Dope" is her firmest pledge to self-improvement, delivered with aching sincerity.
It Ventured Into The Tech World 
Designing mind-bending art? There's an app for that. Or there was, anyways. ARTPOP arrived with a supplemental app, designed to enhance Gaga's multimedia approach to the album's release. As a way to empower fans to dabble in digital art, one of the app's main features was a gif and still image generator that allowed users to choose from a rainbow of gyrating geometric shapes and backgrounds. Most creations straddled the line between optical illusion and Tumblr-ready art. The app also offered fans the ability to stream the album and chat with each other.
It was an entertaining endeavor, albeit ultimately a short-lived one. Despite an in-app countdown for other features, including a stream of new behind the scenes videos and a digital audio workshop called TrakStar, neither element came to fruition. Due to Gaga's shift in management, the project was never developed further. 
Still, the ARTPOP app remains a unique addition to pop's first brushes with modern tech, long predating crossovers like Charli XCX performances on Roblox and AI-created music.
It Refused To Shy Away From Themes Of Sexual Assault
When ARTPOP hit shelves, the world was still three years away from the awareness about pervasive sexual assault revealed by the #MeToo movement. But a hush around the topic didn't stop Gaga from eeking out a screech or two about her own experiences with abuse in 2013. While Gaga has since divulged more information about her unfortunate experiences with predators as a fledgling popstar, the ARTPOP track "Swine" dropped some of the first angsty breadcrumbs about her survival story.
"I know you want me / You're just a pig inside a human body / Squealer, squealer, squealer, you're so dis-GUS-ting," she practically spits with revulsion on the chorus. The deep cut is an exorcism dressed up as a rave, revealing a gut-churning snapshot of a woman publicly processing her own violation years before the act was deemed acceptable.
It Was Her First Record After Canceling The Born This Way Ball 
Scrapping a major tour over an injury shouldn't warrant a comeback, but that's what the world demanded of Lady Gaga when her Born This Way Ball hit the brakes. Gaga was forced to end the tour early in February 2013 when she broke her hip, thwarting her ability to walk, let alone dance. As she underwent surgery and paparazzi vied for photos of her in a Louis Vuitton wheelchair, the public largely viewed the truncated Born This Way Ball as a personal failure on Gaga's part. 
By the time ARTPOP arrived, the expectations for her next move couldn't have been higher — which made Gaga's spasmic, genre-jumping, vomit-covered return to pop all the more daring.
10 Reasons Why Outkast's 'Speakerboxxx/The Love Below' Is One Of Rap's Most Influential Double Albums