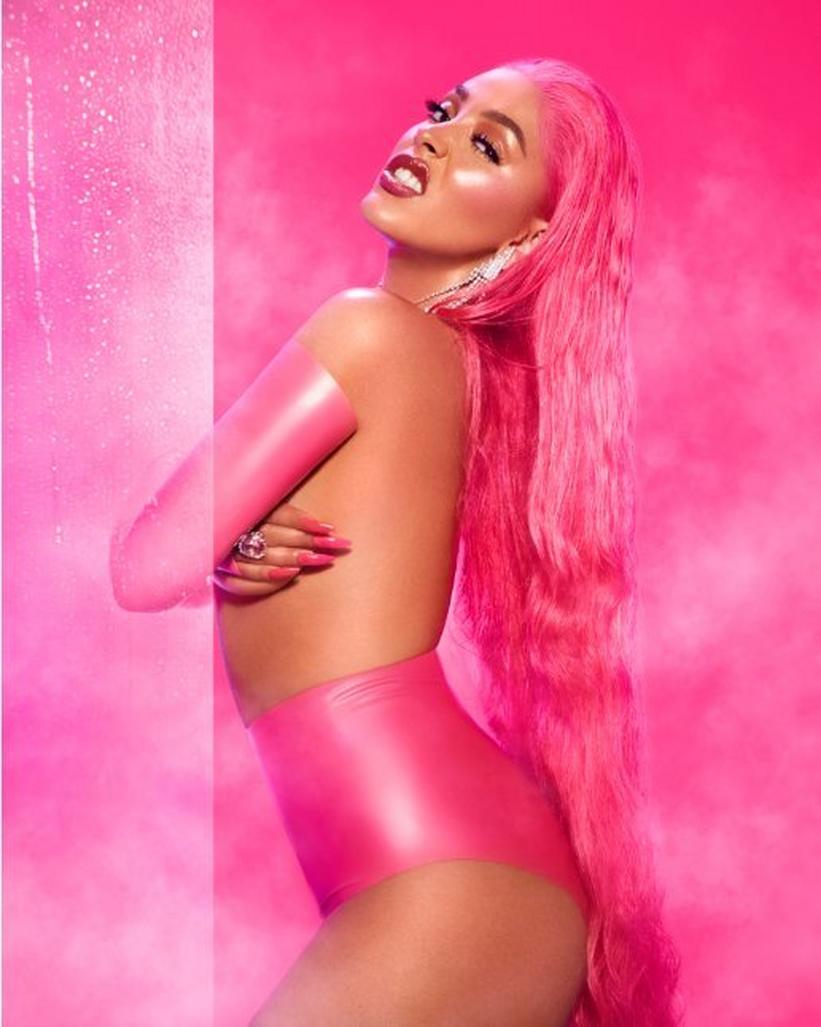 Photo courtesy of Doja Cat
news
Backstage At The 63rd GRAMMYs: Doja Cat Looks Forward To The 2021 GRAMMY Awards Show, Backward To Her Beginnings
Doja Cat, who is up for Best New Artist, Record Of The Year and Best Pop Solo Performance at the 2021 GRAMMY Awards show, surveys her past trajectory ahead of her performance at the ceremony
GRAMMYs
/
Mar 12, 2021 - 04:03 am
When Doja Cat is asked how the phrase "Best New Artist: Doja Cat" sounds in her estimation, memories of her unassuming beginnings as a cow-suited TikTok provocateur briefly flicker across her visage.
"It sounds crazy," finally allows the three-time nominee, who first garnered applause by penning the bovine viral hit "Mooo!" back in 2018. "Also, because I didn't like my name for a long time. I named myself when I was, like, 16." (The artist born Amala Ratna Zandile Diamini takes a simulated drag to illustrate the headspace behind her nom de plume.)
"But now, I feel like it makes sense," Doja Cat continues, constellating her early work with her full-fledged performance on CBS this Sunday. "It's all coming together. It's all full circle, and I'm very happy about that."

Watch Doja Cat's final expressions before her performance at the 2021 GRAMMY Awards show on Sunday, March 14, and be sure to tune in to see if she'll win Record Of The Year, Best Pop Solo Performance (for "Say So") and/or Best New Artist.
Backstage At The 63rd GRAMMYs: Taylor Swift Reveals Her Live Guests For Performance At 2021 GRAMMY Awards Show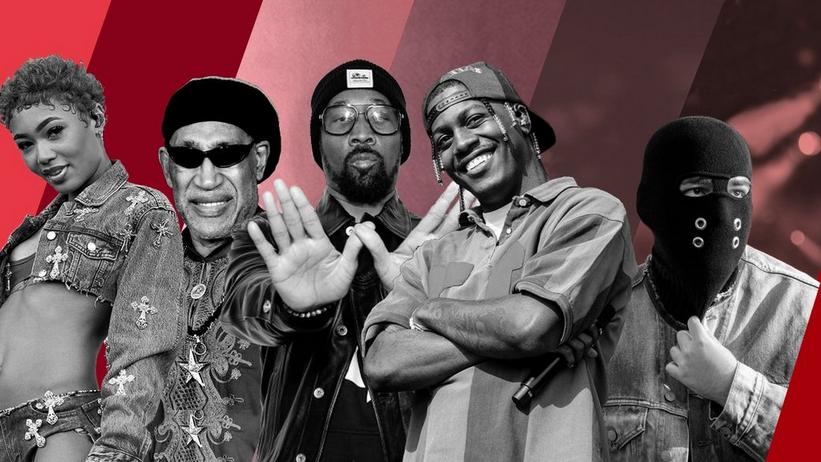 (From left) Coi Leray, DJ Kool Herc, RZA, Lil Yachty, Yeat
Photos: Gary Miller/Getty Images; ANGELA WEISS/AFP via Getty Images; Jason Mendez/Getty Images; Erika Goldring/FilmMagic; Joseph Okpako/WireImage
list
2023 In Review: 5 Trends That Defined Hip-Hop
While hip-hop's lack of chart success was rife for discussion during the first half of the year, there was plenty of great rap music in 2023. It may not be reaching the top of the charts as frequently, but the genre is as vibrant as ever.
GRAMMYs
/
Dec 6, 2023 - 04:18 pm
For the first half of 2023, hip-hop's lack of chart success seemed to be all anyone could talk about. 
No hip-hop album went No. 1 until Lil Uzi Vert's Pink Tape in July, and it wasn't until September that Doja Cat broke a 13-month dry spell for the genre on Billboard's Hot 100 singles chart with "Paint the Town Red" (the single is nominated for Best Pop Vocal Performance at the 2024 GRAMMYs, alongside Miley Cyrus' "Flowers," "Vampire" by Olivia Rodrigo, Taylor Swift's "Antihero" and Billie Eilish's "What Was I Made For?").
This situation caused a bunch of hand-wringing. As hip-hop celebrated its 50th anniversary, was the genre past its prime — artistic, commercial or both? Was it, as one popular radio personality proclaimed, being eased out by mysterious powers-that-be in favor of Afrobeats or reggaeton?
While it may not be reaching the top of the charts as frequently as in years past, hip-hop is as vibrant as ever. As it turns out, there was plenty of great hip-hop around in 2023, thanks to both new and veteran artists. As hip-hop enters its next 50 years, look back on some of the trends that are keeping the genre one of the most innovative.
SoundCloud Rap Returns
"SoundCloud rap" was an appellation given to a group of artists starting sometime in the mid-2010s. It referred to artists like XXXTentacion, Trippie Redd, Smokepurpp, Lil Pump, Denzel Curry, and many more. Often the artists looked as colorful as the music sounded — face tattoos were the norm — and its approach was structurally experimental, emo-influenced, and raw. (A good summary of the movement is here). 
SoundCloud rap as a movement ran out of steam in 2019 after a string of tragic deaths (Lil Peep, XXXTentacion, Juice WRLD). But now a new iteration of it is back. 
Yeat, who in 2018 back at the tail of SoundCloud rap's initial run was hailed as "SoundCloud's latest sensation," has developed into a major star who duets with Drake on the latter's For All The Dogs. He and a crew of artists such as Ken Car$on, Midwxst, and SSGKobe are taking the high-energy vibe of the initial wave of SoundCloud rap artists like Playboi Carti, and updating it for a new generation. 
This new slate is, as other coverage has pointed out, overall less chaotic and noisy, and more professional-sounding, than its predecessors, while still having similar youthful energy.
Women Are Leading The Way
For far too long in mainstream hip-hop, women have been relegated to "the one girl in the crew" status, or been pitted against each other by fans, media, and pretty much everyone else with a there-can-only-be-one mentality. Despite that, girls and women have always played a key role in the genre, both in front of the mic and behind the scenes.
Fortunately those retrograde notions are dead in 2023. A diverse array of female rappers are leading the way artistically and commercially. On the commercial side of the ledger, last year's GRAMMY Best New Artist nominee Latto was the first rapper to score a No. 1 hit in 2023, while GloRilla, Coi Leray and Best New Artist nominee Ice Spice (who is nominated in the category alongside Gracie Abrams, Fred again.., Jelly Roll, Coco Jones, Noah Kahan, Victoria Monét, and the War And Treaty) have all had big chart wins.
Other female artists who are making big noise include Tierra Whack (who this publication pinpointed as someone "leading the next generation"), Rico Nasty, Flo Milli, Kash Doll, BIA, and countless others. For a primer on both how we got here and what the current generation is up to, make sure to watch the Netflix documentary Ladies First: A Story of Women in Hip-Hop.
Change Is Happening At The Margins
As with most art forms, the real excitement happens at the edges. Whether it's people who are operating outside of the commercial mainstream, or artists who are pushing to expand the idea of what being a rapper even means by incorporating other types of music, the margins are where all the fun is.
In 2023, artists continued to incorporate other genres to the point where questioning whether their music is still hip-hop becomes impossible to answer — see Lil Yachty's recent psychedelic turn and Kassa Overall's jazzy explorations. There are also the truly outré, experimental artists like Fatboi Sharif, whose dark and abstract vision is unlike anything else; and psychedelic deep thinker Gabe 'Nandez.
And there is a vibrant, arty underground scene that has its own revered veterans like billy woods whose profile (both solo and as a member of the duo Armand Hammer with ELUCID) has been rising rapidly over the past few years; as well as a contingent of younger aligned musicians like Fly Anakin and Pink Siifu. 
Veterans Are Killing The Stage
Hip-hop officially celebrated 50 years of groundbreaking culture in August, but 2023 became a year-long celebration of the genre's past. Figures going all the way back to Kool Herc and  DJ Hollywood had huge moments and a renewed focus on their achievements.
The celebration wasn't limited to one single Yankee Stadium concert or one media outlet. It was instead a long and well-needed look back that spanned live events, museum exhibits, documentaries, books, and more. The retrospective really kicked off in February, with a killer showcase of hip-hop history at the 2023 GRAMMYs. And it continues all the way through to December with the Recording Academy's "A GRAMMY Salute to 50 Years of Hip-Hop" special.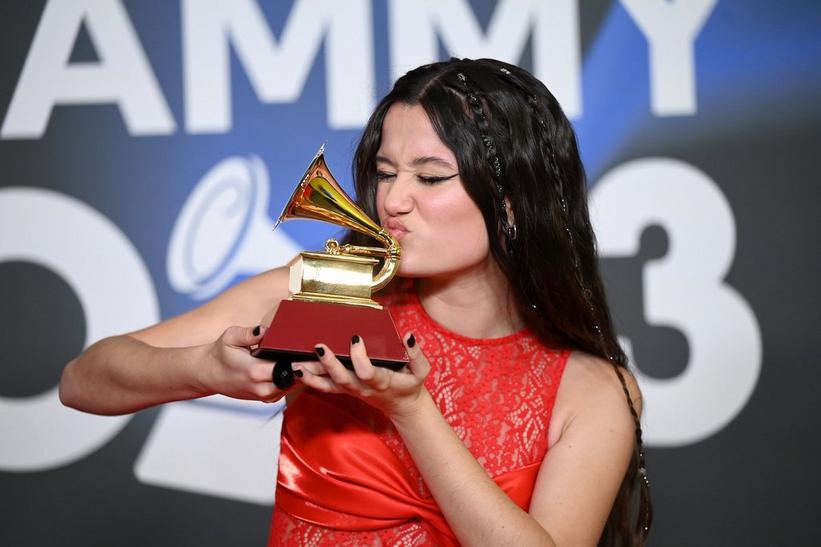 Joaquina wins the Latin GRAMMY Award for Best New Artist at the 2023 Latin GRAMMYs on Thursday, Nov. 16, 2023, in Seville, Spain
Photo: Courtesy of The Latin Recording Academy/Borja B. Hojas, Getty Images © 2023
news
2023 Latin GRAMMYs: Joaquina Wins Best New Artist
Joaquina won the Latin GRAMMY for Best New Artist at the 2023 Latin GRAMMYs.
GRAMMYs
/
Nov 16, 2023 - 11:57 pm
Joaquina won the Latin GRAMMY for Best New Artist at the 2023 Latin GRAMMYs.
Borja, Conexión Divina, Ana Del Castillo, Natascha Falcão, Gale, Paola Guanche, Paola Guanche, Leon Leiden, Maréh, and Timø were the other nominees in the category.
Along with Paola Guanche, Joaquina is an alumnus of Julio Reyes Copello's Art House Academy; she graduated last year.
The Venezuelan singer/songwriter was taken under the wing of Reyes Copello — the Latin GRAMMYs Producer Of The Year winner from 2022.
Joaquina has since flourished with her debut EP, Los Mejores Años. Therein, she explores teen ennui with the melodic, anthemic title track and the emotionally searing "Rabia."
Check out the complete list of winners and nominees at the 2023 Latin GRAMMYs.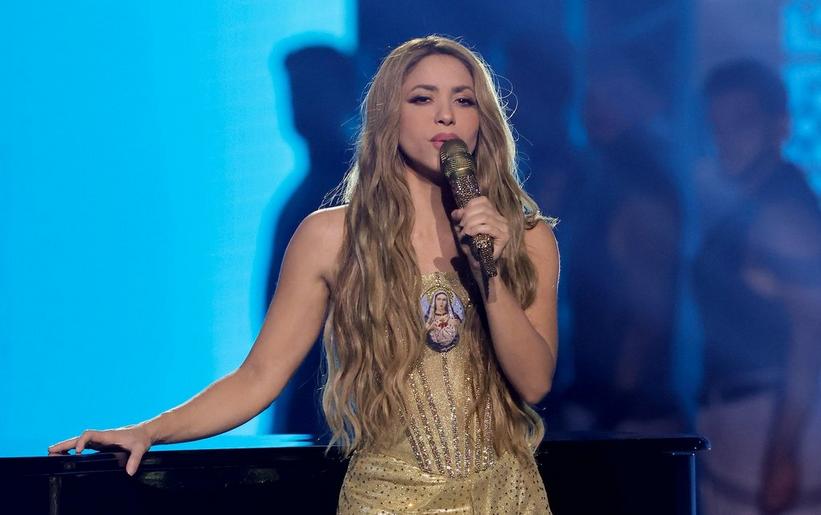 Shakira performs at the 2023 Latin GRAMMYs on Thursday, Nov. 16, 2023, in Seville, Spain
Photo: Courtesy of The Latin Recording Academy/Kevin Winter, Getty Images © 2023
news
Shakira Brings Her Explosive Star Power To The 2023 Latin GRAMMYs With "Acróstico"
After Shakira breaking records — and the internet — this year, the hit-making superstar took the 2023 Latin GRAMMYs stage for a victory lap, performing "Acróstico."
GRAMMYs
/
Nov 16, 2023 - 10:46 pm
Shakira has had a massive year — so massive, in fact, that she's performing not once, but twice, at the 2023 Latin GRAMMYs.
For her performance, the Colombian superstar performed a moving rendition of her "Acróstico," which has been nominated for Song of the Year. Wearing a glittering gold high-cut gown adorned with an image of the Virgin Mary and clutching a rhinestone encrusted mic, she glided across the stage to a grand piano where her accompanist played along.
The Latin phenom maintained devastatingly regal bearing, even while conveying the tenderest love and most fragile emotion in the pop ballad, which is directed at her two children Milan and Sasha. The telecast included clips of Milan and Sasha, who are featured on the track.
Latin pop's reigning queen first reconfirmed her claim to the throne in early January, when her collaboration with Argentinian DJ and producer Bizarrap lit the internet on fire. "Bzrp Music Sessions, Vol. 53" — a scorched-earth rebuke to Shakira's ex — earned Shakira her first top 10 hit on the Billboard 200 in over 16 years, landing at No. 9 in January.
Less than two months later, Shakira scored another top 10 hit thanks to "TQG," her reggaeton collab with fellow Colombian juggernaut Karol G. Along with reaching No. 7 on the Hot 100, the track hit No. 1 on Billboard's Global 200 and Hot Latin Songs charts. 
"TQG" earned Shakira her first win of the night before the 2023 Latin GRAMMYs telecast began, as it was awarded Best Urban Fusion/Performance in the Premiere Ceremony. The smash collaboration also received nominations for Song Of The Year and Best Urban Song. 
"Bzrp Music Sessions, Vol. 53" marked the first win of the 2023 Latin GRAMMYs telecast, taking home Best Pop Song. It also received Latin GRAMMYs nominations for Record Of The Year and Song Of The Year; the latter category also includes her single "Acróstico."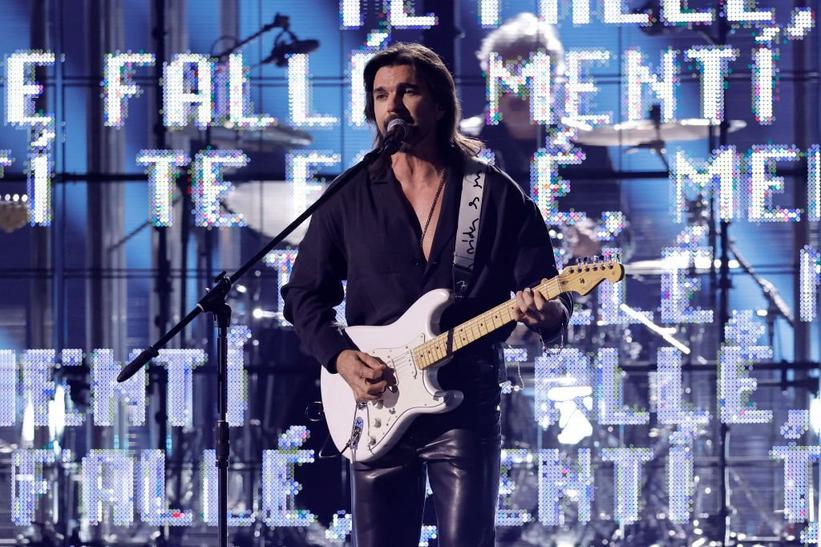 Juanes performs at the 2023 Latin GRAMMYs on Thursday, Nov. 16
Photo: Kevin Winter/Getty Images for Latin Recording Academy
news
Watch: Juanes Performs "Gris" With The New Faces Of Latin Music At The 2023 Latin GRAMMYs
At the 2023 Latin GRAMMYs, the legend of Colombian music led the nominees for Best New Artist in a stirring performance that bridged the present and the future of Latin Music.
GRAMMYs
/
Nov 16, 2023 - 10:24 pm
After winning 24 Latin GRAMMYs prior to this year, Colombian rock star Juanes was tapped to take on the role of an elder statesman at the 2023 Latin GRAMMYs. 
On the stage in Sevilla, Juanes performed with the 10 nominees for Best New Artist: Borja, Conexión Divina, Ana Del Castillo, Natascha Falcão, Gale, Paola Guanche, Joaquina, León Leiden, Maréh, and Timø.
With vocal back up from the the brightest new voices in Latin music Juanes rendered a stirring performance of his emotional single "Gris" from his 2023 album Vida Cotidiana. In recent years, Juanes has explored a variety of sounds in his music, including traditional Colombian sounds such as cumbia. This year, he returned to his roots in rock with the intensely personal full-length album, which was inspired by the complexities of his marriage and family life during COVID-19 lockdown.
Juanes' number was a satisfying full arena rock moment, complete with dazzling lights and artistic video projection of the song's lyrics. The power ballad has a somber and aching tone, and with the chorus behind him the feeling of the song rang out loud and clear.
The record came out in May to critical acclaim and has received nominations for both Album Of The Year and Best Pop/Rock Album, categories Juanes has won multiple times in the past. The "La Camisa Negra" singer is nominated in the Best Rock Song category for "Gris," as well.
Vida Cotidiana is also nominated for Best Latin Rock or Alternative album at the 2024 GRAMMYs, alongside worlds from Cabra, Diamante Eléctrico, Natalia Lafourcade, and Fito Paez.