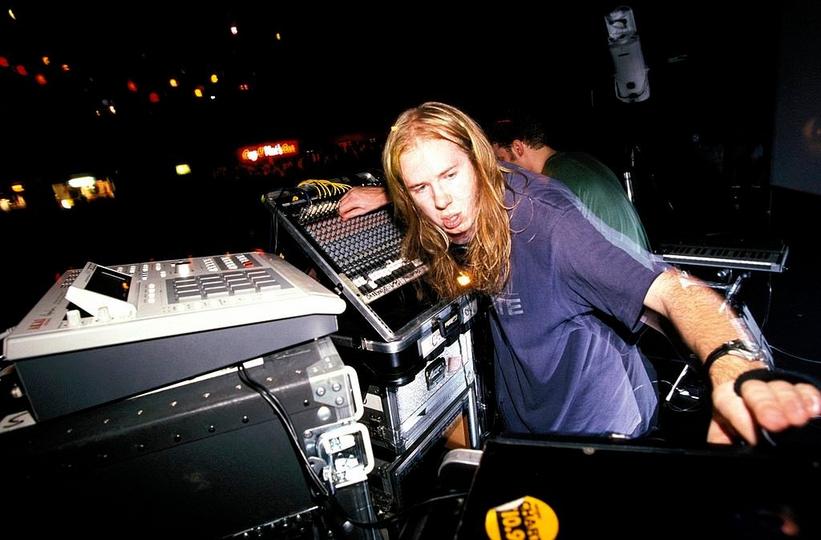 The Chemical Brothers perform live in 1995
Photo: Mick Hutson/Redferns
news
How 1995 Became The Year Dance Music Albums Came Of Age
In the mid-'90s, then-scrappy acts like The Chemical Brothers, Leftfield, Goldie and Aphex Twin released landmark albums, upending misconceptions about electronic music and setting the standard for a new dance generation
GRAMMYs
/
Jul 19, 2020 - 06:00 pm
Back in 1995, years before the rise of Coachella, Lollapalooza was the U.S. festival to beat. Founded in 1991 by Jane's Addiction frontman Perry Farrell, the multi-city roadshow quickly became a peak summer institution.
Lollapalooza's 1995 lineup featured alt-rock royalty like Sonic Youth, Pavement and The Jesus Lizard alongside artists as diverse as Beck, Cypress Hill, Sinead O'Connor and Hole. For all its genre-hopping, though, the festival largely missed one sound close to its founder's heart: electronic music. Even Moby, the former punk and sole raver on the bill, turned up with a guitar and his best rock snarl.
Across the Atlantic, iconic U.K. festival Glastonbury took an alternative view on 1995: In its universe, electronic music was on the ascent. For the first time in Glastonbury's then-25-year history, the festival introduced a Dance Tent, which featured trip-hop collective Massive Attack alongside homegrown DJs Carl Cox, Spooky and Darren Emerson.
Elsewhere, from the main stage to the Jazz World stage, Glastonbury lined up the best and brightest of U.K.-made electronic music: The Prodigy, Portishead, Tricky, Goldie and Orbital among them. That June weekend, a musical movement coalesced on a farm in the English countryside.
One year prior, The Prodigy's Music For The Jilted Generation lit the fuse on the momentum to come. Released in July 1994, the album was an immediate outlier in a golden age of alternative rock. Soundgarden, Green Day, Pearl Jam and Nine Inch Nails loomed large Stateside, while in the U.K., Blur's Parklife and Oasis' Definitely Maybe battled for Britpop supremacy. Liam Howlett, The Prodigy's beatmaker-in-chief, came from a different world. Music For The Jilted Generation cut the grit and aggression of punk rock with the ecstatic highs of raving, producing indelible anthems like "Their Law" and "No Good (Start The Dance)." The album topped the charts in the U.K., but it failed to break through in the U.S.
By the next year, a varied cast of then-newcomers was ready to make its mark. Not all fit The Prodigy's fast and furious mold. The crop of albums released in 1995, including several remarkable debuts, showcased the many moods, textures and possibilities in electronic music. The year brought legitimacy and studio polish to the format, while also sparking an era of intense, analog-heavy live shows.
Released in January 1995, Leftfield's Leftism reached for a more transcendent plane than the rave anthems of the day. "At the time, a lot of people thought dance music was this fake thing," Neil Barnes, one half of the duo, alongside Paul Daley, told The Guardian in 2017. "[Leftism] came out in the middle of Britpop, which we didn't really understand."
Leftfield called on surprising voices, including Toni Halliday of alt-rock group Curve and The Sex Pistols frontman John Lydon, to challenge the demarcation of dance music. While the album was nominally "progressive house," its songs channeled the thrum of London through dub, reggae and pop hooks. Over two decades later, Leftism remains thrillingly true to its time and place.
Across the country from Liam Howlett's Essex studio, Bristol natives Massive Attack had their own designs on the jilted generation. Where The Prodigy raged, Massive Attack seethed. Like Leftfield's Leftism, Massive Attack's Blue Lines (1991) and Protection (1994) drew on dub, reggae and soul, arriving not at house music, but at the slow creep of Bristol's signature trip-hop sound. Protection collaborator Tricky broke through in 1995 with his own trip-hop masterpiece, Maxinquaye; its opener, "Overcome," is an alternative version of Protection cut "Karmacoma." Björk, a then-recent '90s transplant to the U.K. from Iceland, also called on Bristol connections for her startling second album, Post (1995).
Read: 'Post' at 25: How Björk Brought Her Ageless Sophomore Album To Life
Meanwhile, in London, motor-mouthed DJ/producer Goldie emerged from the basement clubs with a fully realized debut album. Released in July 1995, Timeless exemplified the drum & bass genre in LP form, stretching from deep and sonorous atmospherics to heads-down jungle roll-outs. Audacious to a fault, Goldie packaged his star-making single, "Inner City Life," inside a 21-minute opening track. (The opener on his next album, 1998's Saturnz Return, runs an hour long.) Grounded by vocals throughout from the late Diane Charlemagne, Timeless brought widescreen validation to an underground culture. Recognized as a key moment in dance music history by The Guardian, the album became a surprise Top 10 hit in the U.K. "Timeless was a f*cking good blueprint," the producer told Computer Music in 2017. "There were ten years of my life in that album."
The mid-'90s also introduced one of the dominant dance headliners of the next 25 years, sharing a tier with The Prodigy and two French upstarts called Daft Punk—that is, if Daft Punk played the festival game.
After a couple of releases as The Dust Brothers, including the propulsive steamrollers "Chemical Beats" and "Song To The Siren," Tom Rowlands and Ed Simons became The Chemical Brothers with 1995's Exit Planet Dust. (The Dust Brothers name already belonged to a songwriting/production team out of Los Angeles.)
Exit Planet Dust contains none of the reticence you might expect from a debut album. Right from the sleazy chug of opener "Leave Home," it's a dance record with classic rock heft. Even the hippieish cover art, lifted from a 1970s fashion shoot, references a world beyond the rave. (A favorite of early fans, Exit Planet Dust set the stage for the true breakout of 1997's Dig Your Own Hole, which featured the group's career-defining single, "Block Rockin' Beats.")
Crucially, "Chemical Beats" and "Song To The Siren" put The Chemical Brothers on lineups alongside fellow gear geeks Underworld, Leftfield and Orbital. Each act brought a version of their studio hardware to the stage, working the synthesizers, drum machines and mixing consoles under the cover of darkness.
This period of live innovation dovetailed with the superstar DJ phenomenon, ushered in by landmark mix albums like Sasha & Digweed's Northern Exposure (1996) and Paul Oakenfold's Tranceport (1998). A new rank of DJs, predominantly British and male, commanded skyrocketing fees, foreshadowing the excesses of America's own EDM boom more than a decade later. In the run-up to the 2000s, DJs and live acts struck a sometimes-uneven alliance. Fast-forward to Miami's dance massive Ultra Music Festival in the 2010s: DJs represented the main stage status quo, with live acts neatly billed in their own amphitheater.
In the pre-Facebook days of the mid-'90s, dance stars turned to magazines to vent or cause mischief. Aphex Twin, who released his bracing third album, …I Care Because You Do, in 1995, enjoyed derailing interviewers with fanciful responses. Goldie took the opposite approach, talking on and on without a filter. Ed Simons of The Chemical Brothers, on the other hand, got right to the point.
"I'm amazed at the low expectations which have always been centered on dance music," Simons told Muzik Magazine in 1995. In the same interview, he rankled at the critique that his music lacks soul: "Not everyone wants to be like Portishead, making music for people to put on when they have little dinner parties." (Later, in a 1997 Paper profile, Björk mocked America's adoption of The Chemical Brothers as electronic saviors: "The Chemical Brothers are hard rock!")
In the U.S., the top-selling album of 1995 was Hootie & The Blowfish's Cracked Rear View, ahead of the likes of Mariah Carey's Daydream, 2Pac's Me Against The World and The Lion King soundtrack.
Alanis Morissette's Jagged Little Pill went on to win big at the 1996 GRAMMYs, picking up the Album Of The Year award. For now, dance acts were left watching the party from the kids' table. (The GRAMMYS would later introduce the Best Dance Recording category in 1998.)
By 1997, dance music's outsider reputation was starting to shift, thanks in large part to the streak of groundbreaking albums two years prior. The Prodigy, previously overlooked in the U.S., sparked a label bidding war for its third album, The Fat Of The Land; Madonna's boutique imprint, Maverick Records, won out. Propelled by a polished big beat sound and the introduction of livewire hype man Keith Flint, The Fat Of The Land went to No. 1 in the States. That year, the floodgates opened, delivering Daft Punk's Homework, The Chemical Brothers' Dig Your Own Hole and Aphex Twin's still-creepy Come To Daddy EP.
Lollapalooza's 1997 lineup, in turn, looked a lot different from its 1995 run. This time, founder Perry Farrell brought electronic music to the fore. The change-up had mixed results: Attendance overall was down, The Prodigy protested the venue choices, Orbital and fellow U.K. beatmakers The Orb had to follow Tool, and Tricky felt askew sharing a main stage with Korn. But Lollapalooza's gamble signaled changing times.
Coachella debuted in 1999 with The Chemical Brothers, Underworld and Moby among the headliners. Like Glastonbury before it, the new desert festival even had a dedicated dance tent: the Sahara stage. At last, the underdog genre of 1995 had stepped into the light.
How Will Coronavirus Shift Electronic Music? Maceo Plex, Paul Van Dyk, Luttrell, Mikey Lion & DJ Manager Max Leader Weigh In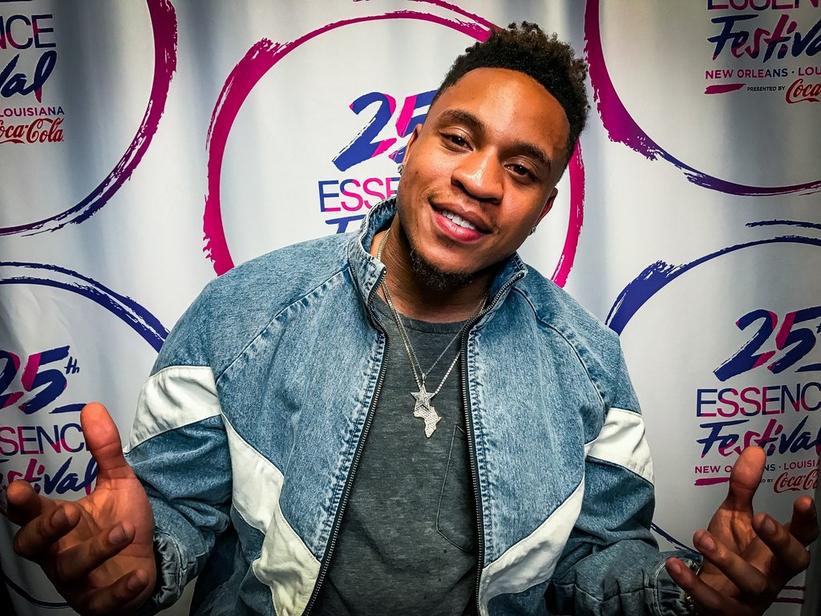 news
Rotimi On Performing At ESSENCE Fest, Growing Up African-American & More
The Nigerian-American singer and actor sat down with the Recording Academy to talk about what inspired his latest album, 'Walk With Me'
GRAMMYs
/
Jul 8, 2019 - 10:04 pm
In 2015, Rotimi stepped into the New Orleans Superdome for the first time to experience the magic of ESSENCE Fest. Four years later, in 2019, the "Love Riddim" singer returned to the celebration as a performer, something he said was spoken into existence.
"Last year me and my manager had a conversation and I said, 'Listen, I'm going to be on the [ESSENCE] mainstage this year. 365 days later, we did it," Rotimi told the Recording Academy at the 25th annual ESSENCE Fest.
Rotimi, also an actor on Starz' "Power," has evolved since his last album, 2017's Jeep Music, Vol.1. The singer said he really hit home with its follow-up, the recently released Walk With Me, a project he worked hard for, putting in hours in the studio after filming on set.
"Walk With Me is the first time I actually felt like I was giving myself as an artist, and personally I feel like with everything else I have going on I wanted to show people that this is really what I do," he said. "I wanted people to understand who Rotimi is, who Rotimi was before, who I want to be and just understand my growth and the journey and my passion for what I do."
Part of why the album felt like such a representation of him is because it embodies beats of his African roots, something he said was very present growing up Nigerian-American.
"I grew up with a lot of Fela Kuti and I grew up with Bob Marley," he said of his musical roots. "But I also grew up with Carl Thomas and Genuine and Usher, so there was a genuine mixture of who I am and what I've grown up to listen to. The actual Walk With Me project was a mixture of influences of Akon and Craig David."
Mumu Fresh On What She Learned From Working With The Roots, Rhyming & More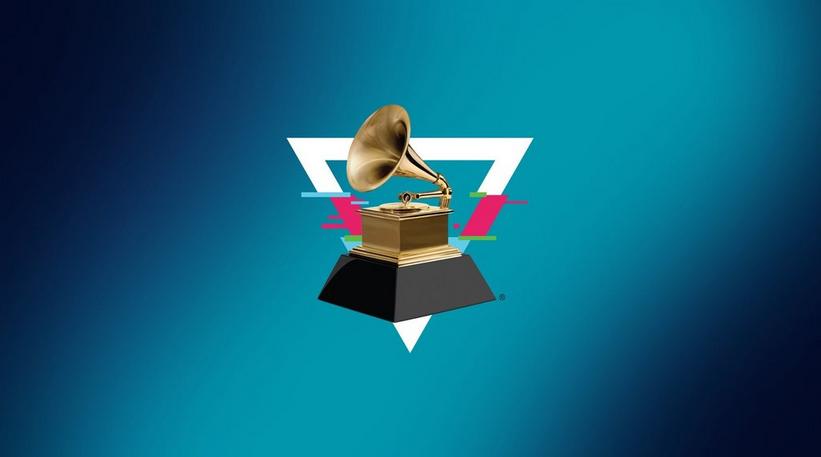 news
Find Out Who's Nominated For Best Rap Album | 2020 GRAMMY Awards
Dreamville, Meek Mill, 21 Savage, Tyler, The Creator, and YBN Cordae all earn nominations in the category
GRAMMYs
/
Nov 20, 2019 - 06:28 pm
The 2020 GRAMMYs are just around the corner, and now the nominations are in for the coveted honor of Best Rap Album. While we'll have to wait until the 62nd GRAMMY Awards air on CBS on Jan. 26 to find out who will win, let's take a look at which albums have been nominated for Best Rap Album.
Revenge of the Dreamers III – Dreamville
This star-studded compilation album from 11-time GRAMMY nominee
J. Cole
and his Dreamville Records imprint features appearances from some of the leading and fastest-rising artists in hip-hop today, including label artists EARTHGANG, J.I.D, and Ari Lennox, plus rappers T.I, DaBaby, and Young Nudy, among many others. Recorded in Atlanta across a 10-day recording session,
Revenge of the Dreamers III
is an ambitious project that saw more than 300 artists and producers contribute to the album, resulting in 142 recorded tracks. Of those recordings, 18 songs made the final album, which ultimately featured contributions from 34 artists and 27 producers.
Dreamers III, the third installment in the label's Revenge of the Dreamers compilation series, debuted at No. 1 on the Billboard 200 chart and achieved gold status this past July. In addition to a Best Rap Album nod, Dreamers III is also nominated for Best Rap Performance next year for album track "Down Bad," featuring J.I.D, Bas, J. Cole, EARTHGANG, and Young Nudy.
Championships – Meek Mill
In many ways, Championships represents a literal and metaphorical homecoming for Meek Mill. Released in November 2018, Championships is the Philadelphia rapper's first artist album following a two-year prison sentence he served after violating his parole in 2017. Championships, naturally, sees Meek tackling social justice issues stemming from his prison experience, including criminal justice reform. The album debuted at No. 1 on the Billboard 200, his second chart-topper following 2015's Dreams Worth More Than Money, and reached platinum status in June 2019. Meek Mill's 2020 Best Rap Album nod marks his first-ever GRAMMY nomination.
i am > i was – 21 Savage
Breakout rapper and four-time GRAMMY nominee 21 Savage dropped i am > i was, his second solo artist album, at the end of 2018. The guest-heavy album, which features contributions from Post Malone, Childish Gambino, J. Cole, and many others, has since charted around the world, topped the Billboard 200 – a first for the artist – in the beginning of 2019, and achieved gold status in the U.S. As well, nine songs out of the album's 15 original tracks landed on the Hot 100 chart, including multi-platinum lead single "A Lot," which is also nominated for Best Rap Song next year. 21 Savage's 2020 Best Rap Album nomination, which follows Record of the Year and Best Rap/Sung Performance nods for his 2017 Post Malone collaboration, "Rockstar," marks his first solo recognition in the top rap category.
IGOR – Tyler, The Creator
The eccentric Tyler, The Creator kicked off a massive 2019 with his mid-year album, IGOR. Released this past May, IGOR, Tyler's fifth solo artist album, is his most commercially successful project to date. The album debuted at No. 1 on the Billboard 200, marking his first time topping the coveted chart, while its lead single, "Earfquake," peaked at No. 13, his highest entry on the Hot 100. Produced in full by Tyler and featuring guest spots from fellow rap and R&B stars Kanye West, Lil Uzi Vert, Solange, and Playboi Carti, among many others, IGOR follows the rapper's 2017 album, Flower Boy, which received the Best Rap Album nod that same year.
The Lost Boy – YBN Cordae
Emerging rapper YBN Cordae, a member of the breakout YBN rap collective, released his debut album, The Lost Boy, to widespread critical acclaim this past July. The 15-track release is stacked with major collaborations with hip-hop heavyweights, including Anderson .Paak, Pusha T, Meek Mill, and others, plus production work from J. Cole and vocals from Quincy Jones. After peaking at No. 13 on the Billboard 200, The Lost Boy now notches two 2020 GRAMMY nominations: Best Rap Album and Best Rap Song for album track "Bad Idea," featuring Chance the Rapper.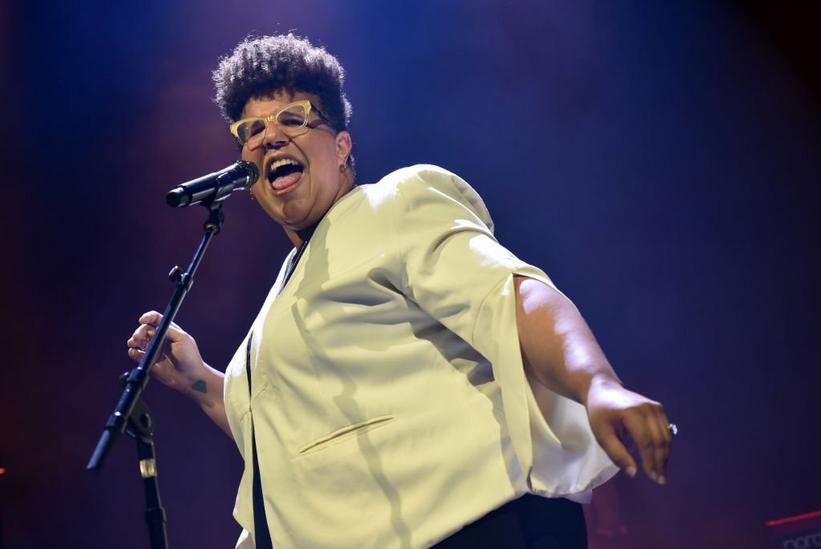 Photo: C Brandon/Redferns/Getty Images
news
Brittany Howard, Brandi Carlile, Leon Bridges, 2 Chainz & More Join Small Business Live Benefit Livestream
Proceeds from the event will be go toward loans to small businesses founded by people of color, with additional support to women-owned and immigrant-owned businesses, via Accion Opportunity Fund
GRAMMYs
/
Jun 16, 2020 - 04:13 am
This Saturday, June 20, artists including Brittany Howard, Brandi Carlile, Leon Bridges, 2 Chainz and more will come together for Small Business Live, a livestream fundraiser event for small businesses facing challenges from the COVID-19 pandemic.
Proceeds from the livestream will go to Accion Opportunity Fund to support small businesses founded by people of color, with additional support to women-owned and immigrant-owned businesses.
"Entrepreneurs of color are denied credit more often and charged higher rates for money they borrow to fund their businesses. We need to accelerate support to underserved businesses in order to reach our full potential," Accion Opportunity Fund CEO Luz Urrutia said. "We have to decide what we want our Main Streets to look like when this is over, and we must act decisively to keep small businesses alive and ready to rebuild. This is a fun way to do something really important. Everyone's support will make a huge difference to small business owners, their families and employees who have been devastated by this pandemic, the recession, and centuries of racism, xenophobia and oppression."
Tune in for Small Business Live Saturday, June 20 from 4:00 p.m. to 10:00 p.m. EDT on smallbiz.live. The site also provides a full schedule of programs and links to watch the livestream on all major digital platforms. To learn more about Accion Opportunity Fund, visit the organization's website.
Ivan Barias On Silence As Complicity, Holding Major Labels Accountable & How To Be A Non-Black Latinx Ally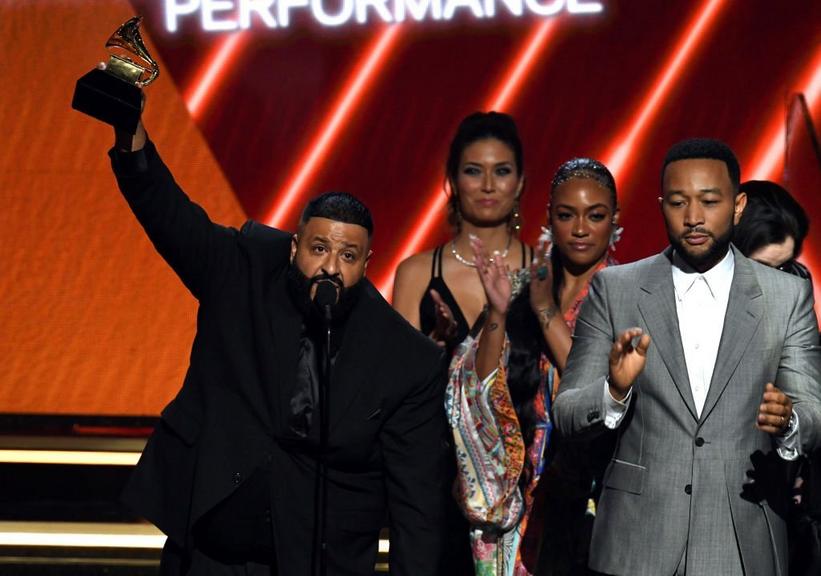 DJ Khaled, Samantha Smith and John Legend
Photo: Kevin Winter/Getty Images
news
DJ Khaled, Nipsey Hussle And John Legend Win Best Rap/Sung Performance For "Higher" | 2020 GRAMMYs
DJ Khaled, Nipsey Hussle and John Legend take home Best Rap/Sung Performance at the 62nd GRAMMY Awards
GRAMMYs
/
Jan 27, 2020 - 09:05 am
DJ Khaled, featuring Nipsey Hussle and John Legend, has won Best Rap/Sung Performance for "Higher" at the 62nd GRAMMY Awards. The single was featured on DJ Khaled's 2019 album Father of Asahd and featured Hussle's vocals and Legend on the piano. DJ Khaled predicted the track would win a GRAMMY.
"I even told him, 'We're going to win a GRAMMY.' Because that's how I feel about my album," DJ Khaled told Billboard. "I really feel like not only is this my biggest, this is very special."
After the release of the song and music video -- which was filmed before Hussle's death in March -- DJ Khaled announced all proceeds from "Higher" will go to Hussle's children.
DJ Khaled and co. beat out fellow category nominees Lil Baby & Gunna ("Drip Too Hard"), Lil Nas X ("Panini"), Mustard featuring Roddy Ricch ("Ballin") and Young Thug featuring J. Cole & Travis Scott ("The London"). Hussle earned a second posthumous award at the 62nd GRAMMYs for Best Rap Performance for "Racks In The Middle."
Along with Legend and DJ Khaled, Meek Mill, Kirk Franklin, Roddy Ricch and YG paid tribute to Hussle during the telecast, which concluded with "Higher."
Check out the complete 62nd GRAMMY Awards nominees and winners list here.